There's something so satisfying about taking a bubbling Gratin Dauphinois out of the oven, isn't there?  This classic French creamy potato gratin is very easy to make. Find out why it got its name and what ingredients make this an authentic recipe.
What Does Dauphinois Mean in French?
Le Gratin Dauphinois gets its name simply as it originates from the Dauphiné region of South-East France.
As a gratin is masculine in French (le gratin), the word, Dauphinois does not have an 'e' on the end. However, if it's Pommes de Terre à la Dauphinoise, an 'e' is at the end (OISE) as 'pommes de terre' is feminine in French. French grammar lesson over!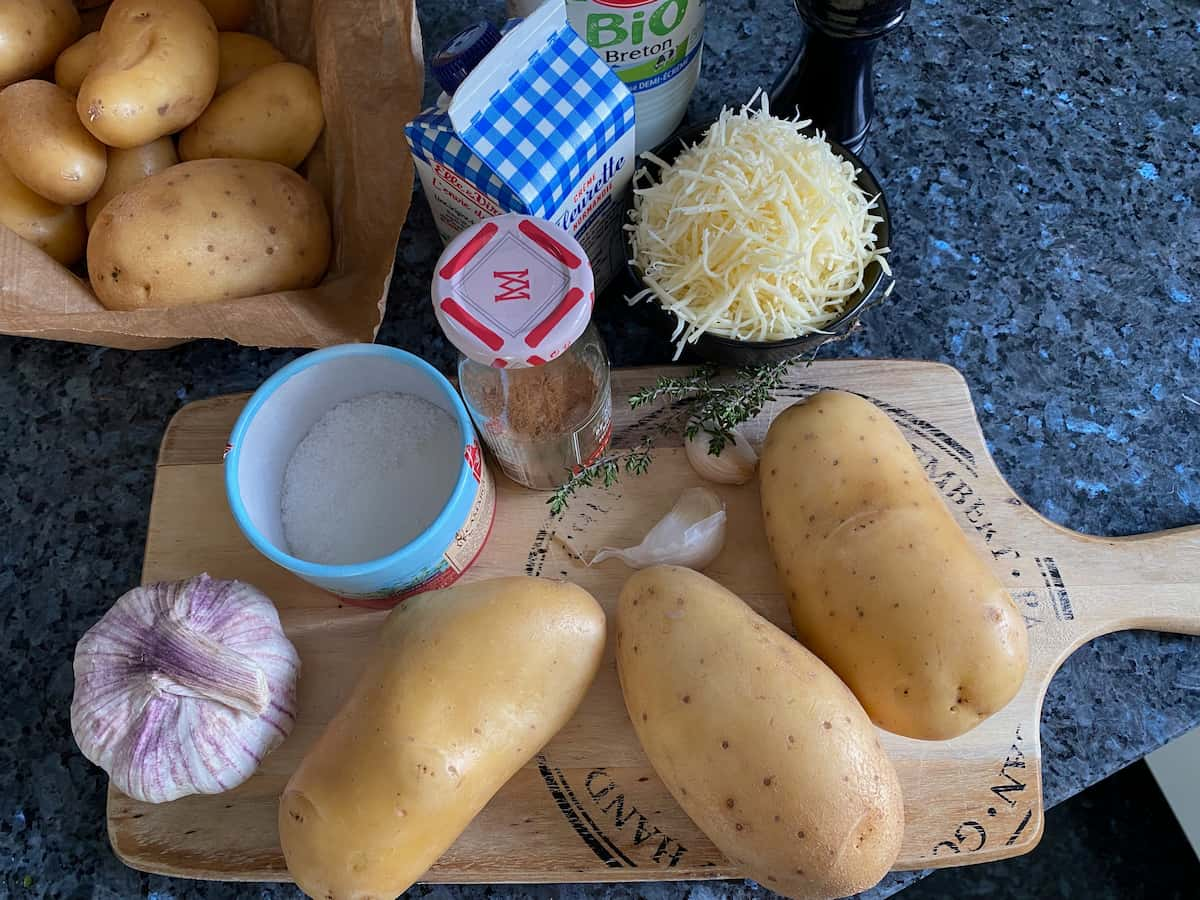 What is Le Gratin Dauphinois Made Of?
An authentic Gratin Dauphinois has very few ingredients. It's basically made of potatoes, milk and cream, garlic, salt, pepper and grated nutmeg.
Although cheese is often added, it's not included in the authentic recipe so adding it is optional.
Best Potatoes for a Gratin?
First and foremost, choose a waxy potato variety such as Charlotte, Jersey Royal or Belle de Fontenay, as they keep their shape and have just enough starch to thicken up the creamy sauce as it bakes in the oven.
For more on potato varieties and cooking them, see my French Market Potato Page.
Gratin Dauphinois: with Cheese or Without Cheese?
According to Larousse Gastronomique, it states that you "can add cheese" to the Gratin Dauphinois, which leads me to mention the true definition it gives of the French verb "Gratiner":
To cook or finish cooking a preparation in the oven, so that it presents a thin golden brown crusted layer on the surface. It's quite delicate to obtain such a result by using breadcrumbs to a point where it bakes further than a brown colour. On the other hand, it's relatively easy to add a superficial browning to the surface by adding grated cheese or breadcrumbs ...

Larousse Gastronomique
Chef Auguste Escoffier based his recipe on adding plenty cheese but, like Larousse Gastronomique, it's a classic recipe where cheese is optional.
In general, I personally prefer it without the cheese, as it's easier to pair with the rest of the meal (particularly if serving with salmon, for example). If entertaining, I find it's best without so that we can still serve a plateau de fromages cheese board.
How to Make a Creamy French Potato Gratin
The process is very easy. Slice the potatoes and coat them in hot milk and cream infused with chopped garlic and fresh thyme, nutmeg and seasoning, throw into a greased baking dish and bake. Adding cheese is purely optional.
It's normal that there's a lot of creamy milk mixture - this will be slowly absorbed by the thin potato slices in the oven.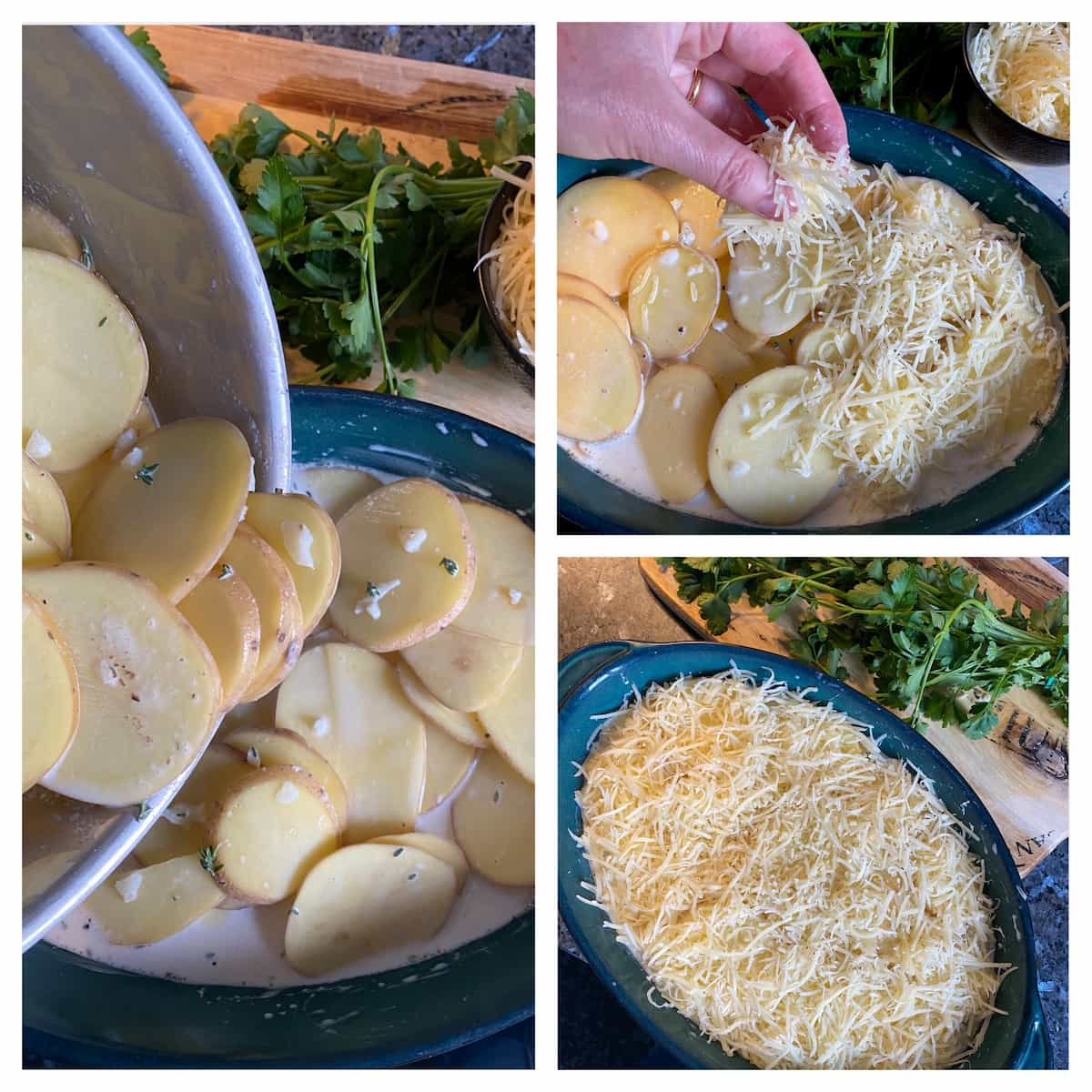 Make-Ahead for Entertaining
I often make this in advance earlier in the day if making for dinner guests - it takes the stress out of the meal preparation. Just reheat the gratin for about 15-20 minutes in a warm oven.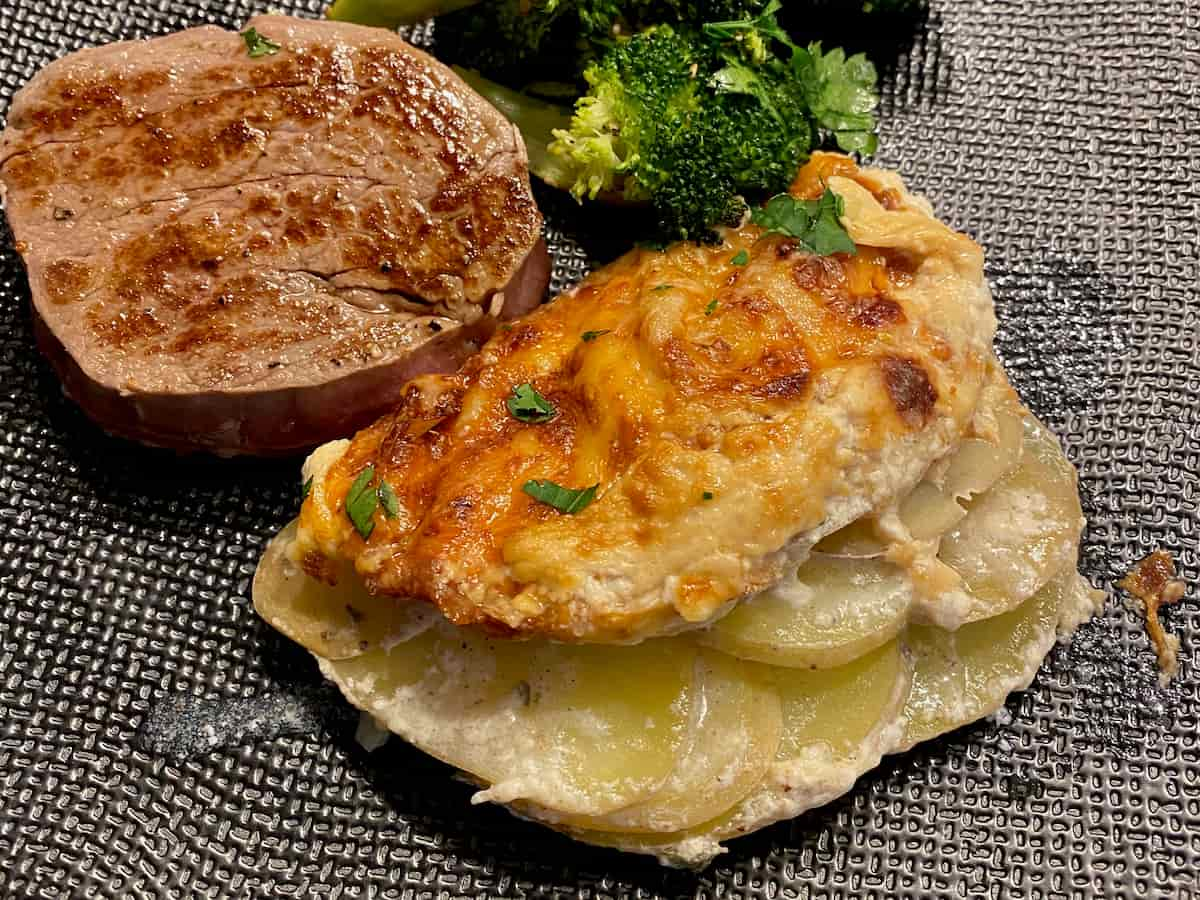 What do you Eat with Gratin Dauphinois?
Normally a Gratin Dauphinois is served as a side-dish. We love to serve it with the following. It's so versatile.
With cheese added, the le gratin dauphinois is best with the following meats:
pork tenderloin or filet mignon
fillet steaks - tournedos for a special occasion and a little mustard;
Serve with plenty of green vegetables and fresh, chopped flat parsley to serve.
Without the cheese, it's also delicious with salmon dishes. Try the smoked version below if you want to tease your tastebuds!
However, it's also great on its own as a light supper and ideal for vegetarians.
Creamy Potato Gratin Variations
So, as a main dish, here are just a few variation ideas to le Gratin Dauphinois potato bake.  Add these to the classic dish to take it to the next level.
Why not add a special touch of truffle salt? It gives a subtle background of earthy festive luxury;
Add extra fresh herbs while it's cooking. I prefer using fresh thyme but try with tarragon, sage or rosemary -  depending on what you're serving the Gratin with;
Smoked tea! Perfect with chicken or salmon. Add a Lapsang Souchong teabag to the milk as it's heating. The result is a most wonderful, subtle smoky hint to the potato gratin, which is perfect for an Autumnal or Winter dish - just with using a teabag of smoked tea! I was inspired by the same idea to make a smoked tea beurre blanc sauce.
Potato Gratin Recipe Without Cream
Normally a Gratin Dauphinois is a pretty hearty potato dish with cream and so I like to lighten it up by mixing the cream with whole milk.
If you love a potato gratin without the cream - yes, believe me, it's just as delicious - then you'll love this melt-in-the-mouth Potato Gratin Savoyard recipe. This gratin recipe instead bakes the potatoes slowly in chicken (or vegetable) stock and is smothered in plenty of grated, bubbling cheese.
Gratin Dauphinois
Easy recipe for the French classic, Gratin Dauphinois - a creamy potato bake enjoyed as a delicious side-dish with or without cheese. Serve with grilled meats or salmon.
Equipment
baking dish

(26x18cm/10x7inch)
Ingredients
750

g (1lb 10oz)

potatoes

Charlotte, Yellow or Yukon Gold (or waxy varieties: Belle de Fontenay, Jersey Royals)

2-3

cloves

garlic

finely chopped (vein removed)

275

ml (10fl oz/ 1 cup)

full fat milk (or half fat)

(half pint)

150

ml (5.5fl oz/ 0.6 cup)

double or heavy cream

(or liquid crème fraîche)

¼

teaspoon

nutmeg

freshly grated or ground (no more than this)

salt and ground black pepper

to taste*

½

teaspoon

fresh thyme

knob

butter

to grease the dish

100

g (3.5oz/ 1 cup)

emmental or gruyère cheese

finely grated (optional)
Instructions
Peel the potatoes (although not always necessary - I love them cleaned with skins still on), wash and pat dry on kitchen paper. Slice them as thin as you can (3mm) either by hand or with a mandoline (watch your fingers!) or the slicer attachment of a food processor.

Preheat oven to 190°C/170°C fan/ 375°F/Gas 5.

Heat the milk, cream and chopped garlic in a medium saucepan (able to hold all the potatoes) until boiling. Turn down the heat to low, add the nutmeg, salt and pepper (a few turns of the pepper mill) then add the sliced potatoes.

Cook for about 5 minutes, turning the slices over with a spoon so that the potatoes are well covered and heated in the creamy milk.

If adding cheese, either add it in the pan here or sprinkle on at the end on top.

Butter a baking dish (26x18cm/10x7inch). Add the potato mixture to the dish, spreading them out evenly with a spatula. Bake for about 45 minutes or until golden brown.
Notes
Make-Ahead: If making for guests, prepare 2-3 hours in advance and reheat covered in foil for 15 minutes.  Measures: Please note that all my recipes are best made using digital kitchen scales in precise metric grams. Both ounces (and cups) are given as a guide.  * Variations: - Add a few pinches of truffle salt;
- If serving this with salmon, add a Lapsang Souchong teabag when initially heating the milk then remove before adding the potatoes. The result is a lovely subtle smoky flavour - perfect for Autumn or Winter warming suppers. Nutritional Values: 210 Calories per serving (without the cheese); 5g protein; 9g carbohydrates; 27g fat. Matching wines: As this is a side-dish, it all depends on what you're eating with it but since it's a real winter warming dish I'd go for a gutsy, oily white such as a Chardonnay, Voignier or Chenin Blanc and for a red, a good Burgundy (Pinot Noir) or Beaujolais Cru such as Morgon or Brouilly.
This recipe was first published 15 November 2018 but has now been completely updated.