A Paris visit to Pascal Caffet, Meilleur Ouvrier de France in pâtisserie, twice over world champion in pastry and chocolate, and specialist in the best French pralines.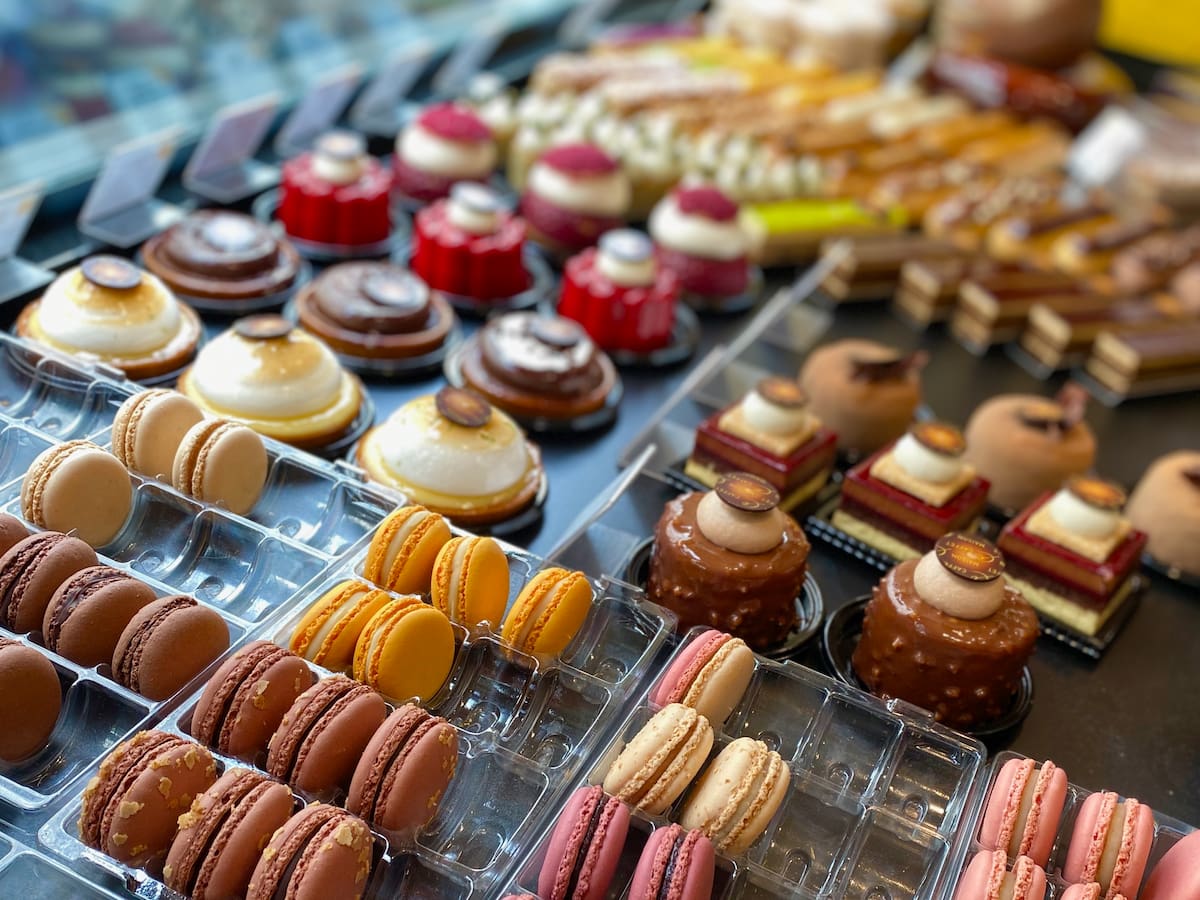 Best French Pastry Confectioner (Meilleur Ouvrier de France)
Don't be fooled by McDonalds on the corner of Place de Passy in Paris's 16th arrondissement. It marks the start of Rue Duban, where the Marché de Passy indoor market adds to the hustle and bustle with delivery vans and upmarket florists. Just a few steps further and you're looking at the creations of one of France's top pastry chefs, Chocolatier and Pâtissier. This is where you'll find the best chocolate and pralines in Paris.
Pascal Caffet earned the youngest ever title of Meilleur Ouvrier de France (aka MOF, the highly coveted Olympian of French craftsmen in France) as best French pastry confectioner at just age 27 in 1989. Following that to become twice over world champion in pastry and chocolate, he is famous en plus for his top speciality: making the best pralines.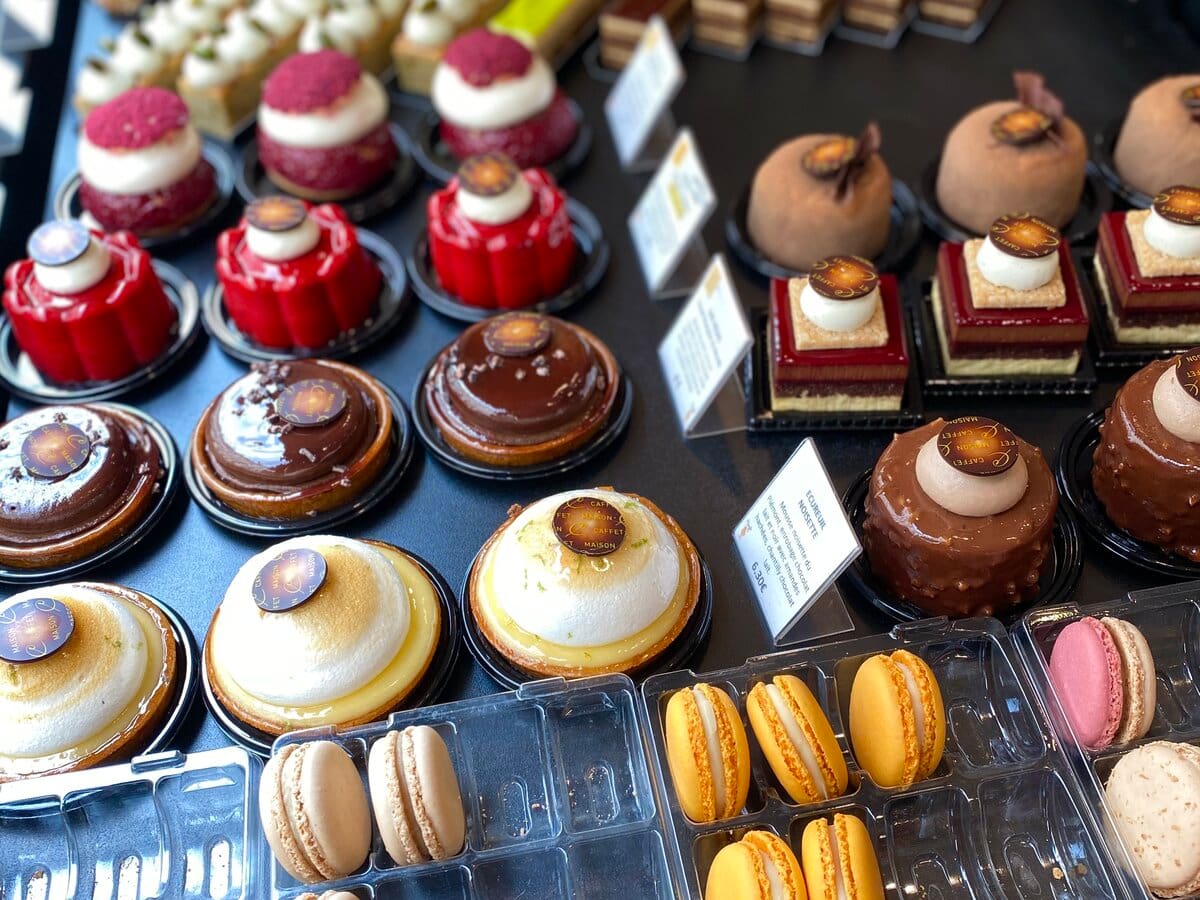 The Best French Chocolate from Troyes
Our family has always had a sweet spot for Caffet. Our daughter, Lucie, had a Caffet christening cake delivered from Troyes, thanks to  Antoine's uncle, tonton Claude, who lived there for many years - and today, still gets palpitations on seeing the characteristic orange and chocolate brown packaging announcing ... pralines! Pascal Caffet is THE reference in the Champagne region with 3 boutiques in Troyes alone, with his HQ and laboratory nearby in Ecrevolles, Pont Sainte Marie.
It's here that in October 2018 a fire completely destroyed 1700 square meters of his chocolate factory.  It took two long years to rebuild and with the support of his fellow pastry chefs who lent their labs and support from his fans, the Maison Caffet is stronger than ever.
With another 9 boutiques in the rest of France - plus in Milan and Japan - thankfully for us, there are also two in Paris.
Top French Pastries
On entering the boutique in Paris's 16th, it's difficult to tell what hits you best first. Is it the aromas of chocolate? The overwhelming gourmand selection of everything in that window? Or is it the warm welcome from Charles Benchetrit?
Charles couldn't be a more friendly and passionate ambassador of Pascal Caffet's creations. Each time I pop in after a visit to the dentist on rue Raynouard - yes, I've kept this hidden from him for years! - it takes time for a gourmet tour around the chocolate pralines, macarons and the pastry counter.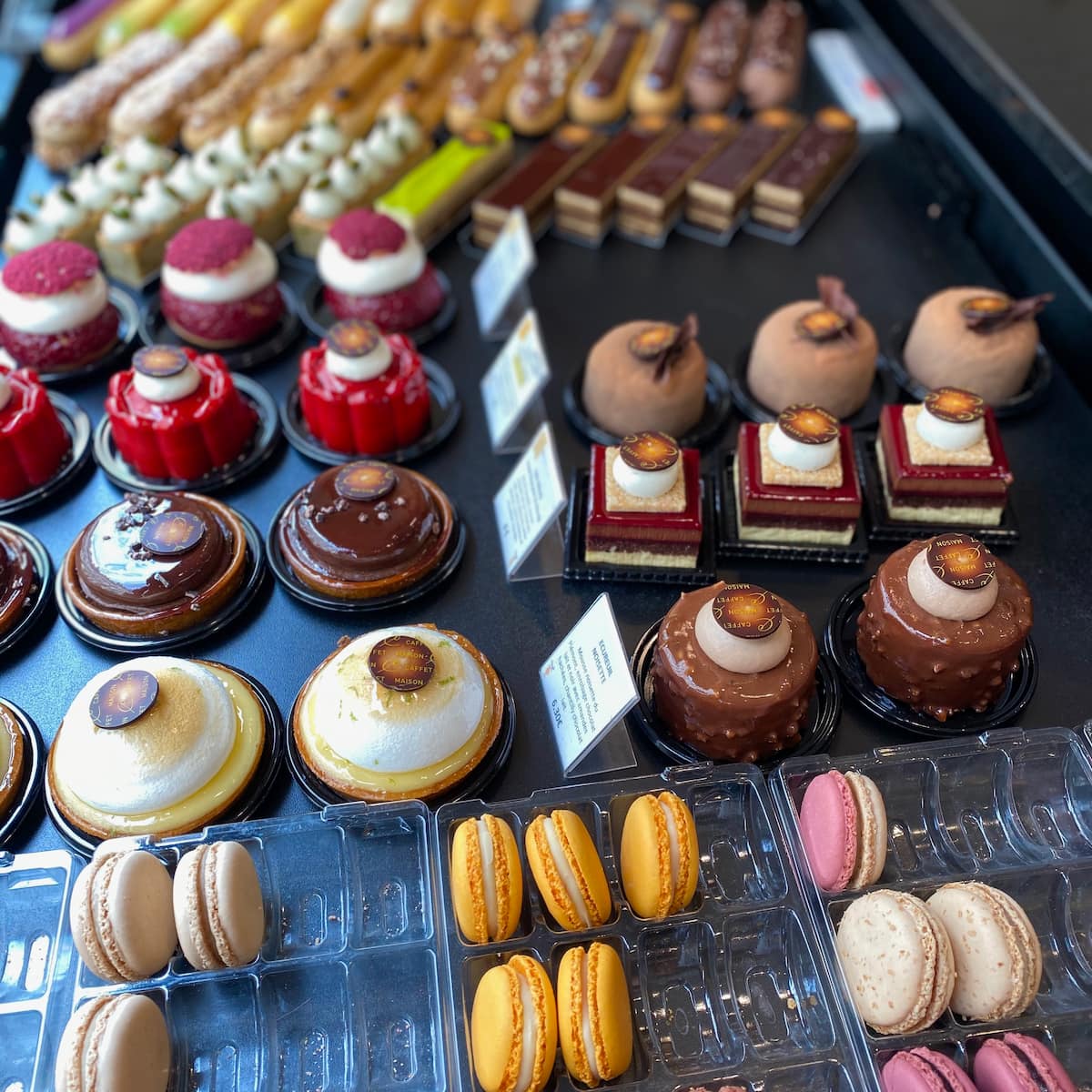 His signature pastry is Las Vegas. It's far from just being "square" - with its layers of different textures of chocolate biscuit, dark chocolate mousse (Venezuela 70%), Madagascan vanilla crème diplomate, crispy almond and raspberries. You can see why this earned him the title of MOF - and thankfully, remains on his selection of pastries.
Écureuil Noisette (Squirrel hazelnut) is a light, nutty taste of his praline in a pastry. Hazelnut mousse is coated in a crunchy pecan nut and hazelnut praline with a runny heart (spoiler alert!). We always go for the smaller pastries so we can taste more - but each small one comes in a Big family size.
However, for the ultimate praline pastry with intense chocolate, look no further than the Sans Doute. Why the name? In 2011, he registered "Sans doute les meilleurs pralinés du monde"® (without doubt the best pralines in the world). No doubt about that! Of course, if it's more fruity you're after, there are many choices. We love the lemon meringue tart, raspberry tarts (topped with a delicious raspberry macaron), Virgilia (raspberries and blueberries), and a light, raspberry lemon Charlotte - shining bright red in that window!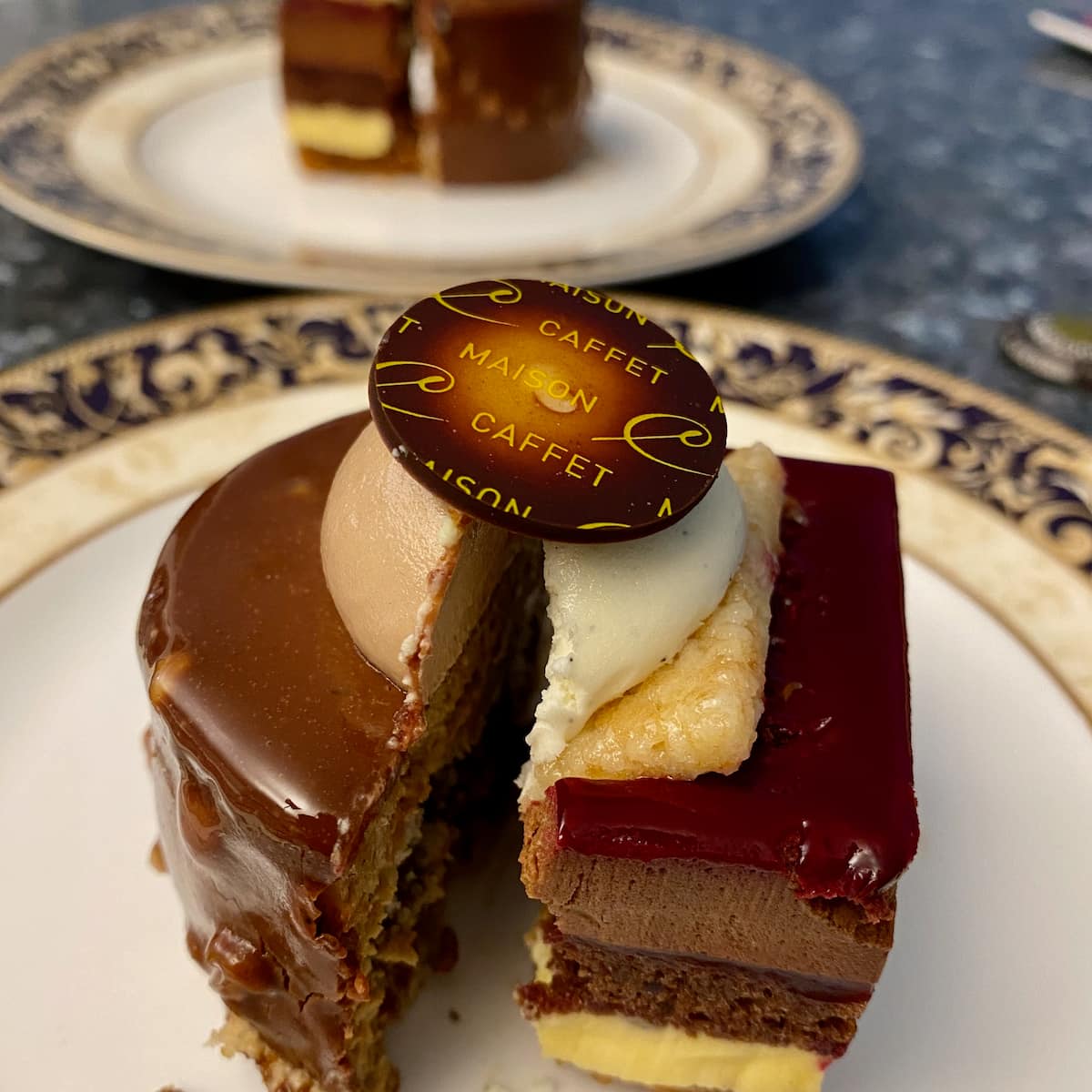 Caffet Gourmand
Our family have also done his éclairs proud over the years, les éclairs au Caffet! Intense coffee; passion fruit and raspberry; pistache exceptionnelle; façon Paris-Brest; praline à l'ancienne; luscious lemon and salted caramel (fleur de sel)... and chocolate.
Wait for it; want a chocolate éclair? He has not one but three of them: milk chocolate, 62% dark chocolate, and 100% chocolate.
With a name such as Caffet (pronounced café), you can imagine the word games he can play: such as with the Caffet Gourmands. Normally this is a selection of mini pastries served with coffee in many restaurants, but here it's a mini verrine with either fruits (lemon like a cheesecake, mango passion fruit; raspberry with vanilla white chocolate), praline tiramisu and praliné d'exception. Ohh ouiii!
Best Macarons in France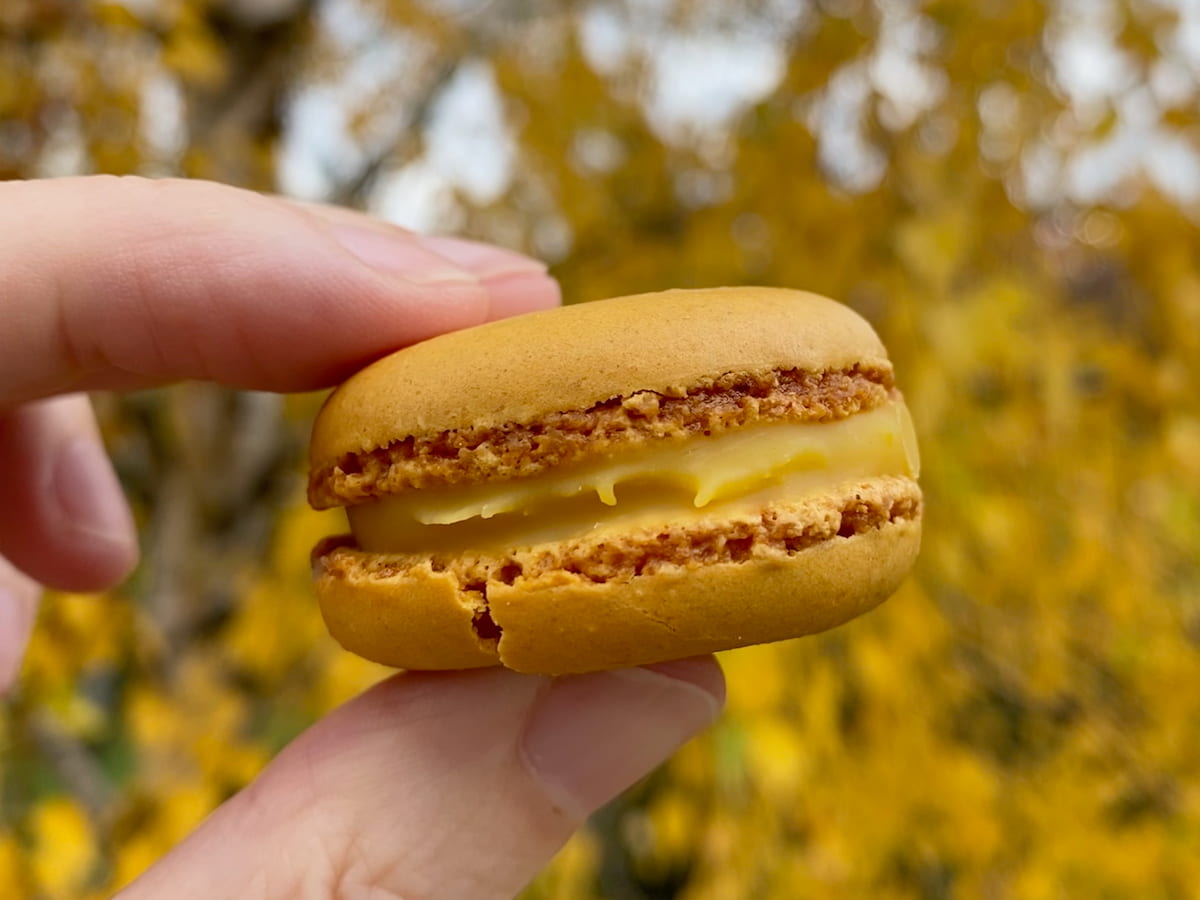 Chef Caffet is also mad about macarons. With 20 different flavours to choose from, they're all perfectly meringue crispy on the outside and fondant in the inside, packed full of zingy fruit or chocolate ganache fudginess.
Amongst my favourite macaron flavours he does, is the Chocotartiné, Chocolat passion, vanille, framboise, caramel, cassis-violette - and café - or should we say Caffet? This one is one of his newest flavours, bursting with mango with perfect acidity.
For more, see my article on the Best Macarons in Paris.
What is a Good French Chocolate?
If you're looking for the best French chocolate pralines in Paris (and in France), this is the place to come. Without any doubts.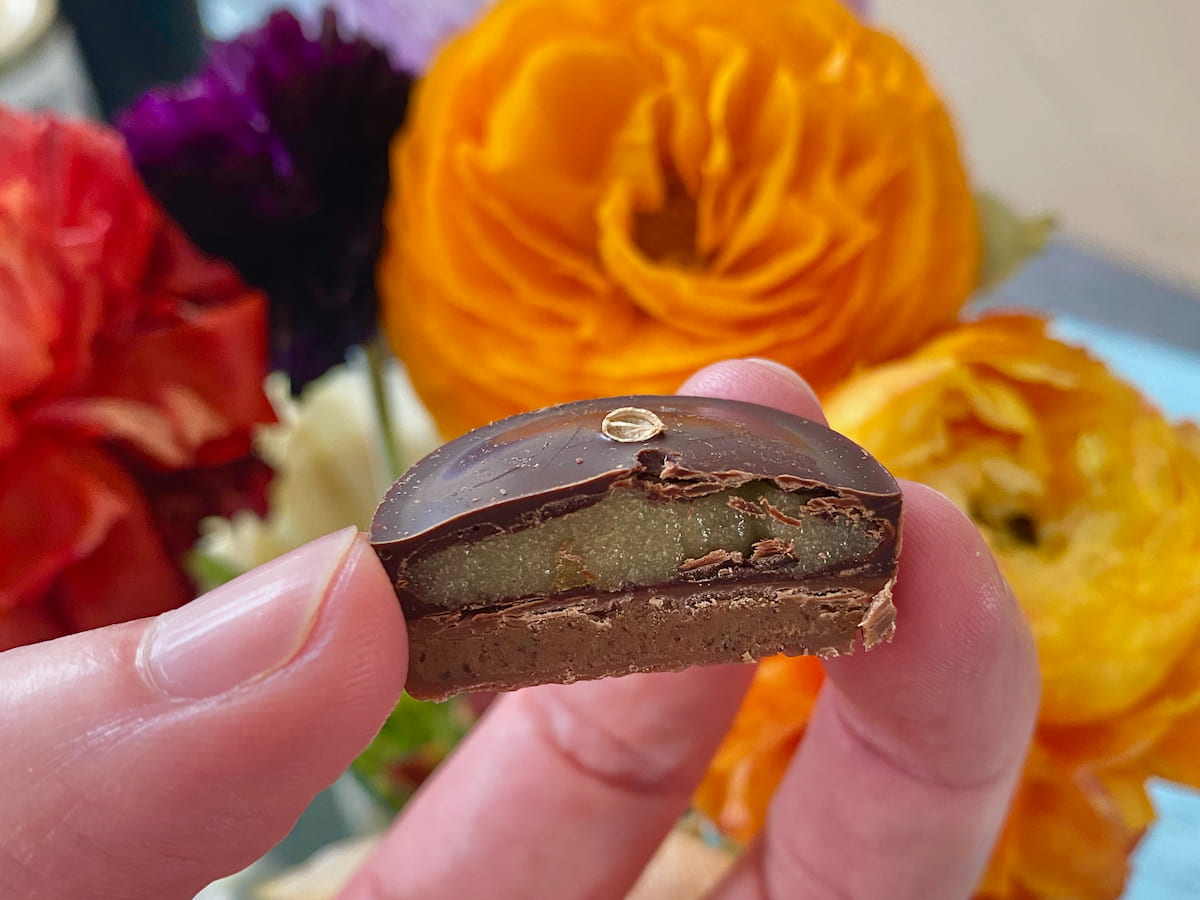 Meet one of my personal favourites, Entre Deux Citron. Look at these layers of dark and milk chocolate with a coriander praline, rebellious acidic lemon inside an almond paste. The touches of coriander seed on top just give the extra lemony experience at the last taste. On the same double decker theme, there's an orange version; pistachio; café; and a douceur d'enfance, with praline and flower salted caramel.
Each individual chocolate is a gourmet experience in itself. You think it sounds flowery? If you've tasted his pralines, you'll understand why it's worth raving about them. One wee post on my little blog just doesn't do it justice. But try the Valencia noir, Paradis, Piémont, Mortier d'Or and Rocher (they all exist in both milk or dark chocolate).
Let me just taste that one again... Jings there are more, of course.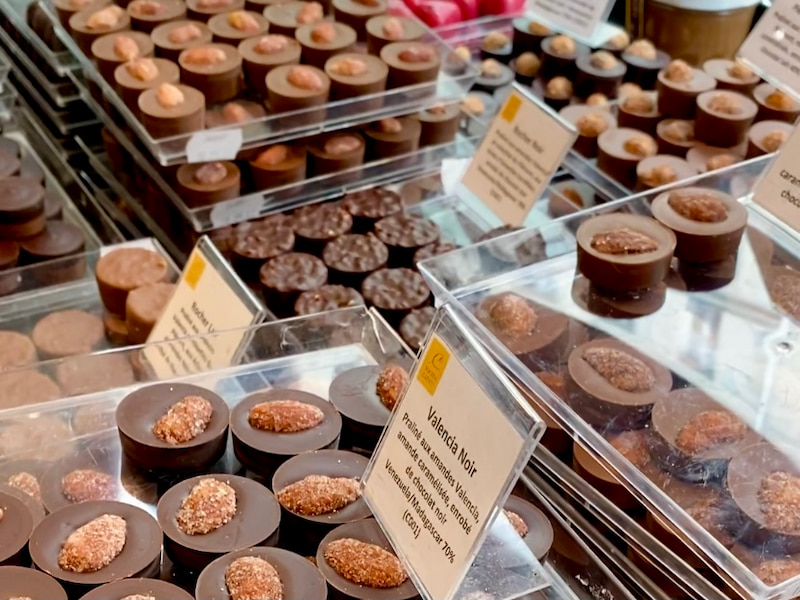 French Chocolate Hazelnut Spreads
Careful at the counter, as there are also pots of salted caramel and range of artisanal chocolate-hazelnut spreads (pâte à tartiner). The kids loved Nutella growing up - until they discovered the Chocopraliné.
Pascal Caffet certainly batted that one out of the ballpark. It's not just in another league but it's the chocolate and hazelnut praline spread for special occasions. For the gods really. Made also with the best hazelnuts from Piemonte.
Did I mention that the chef is also extremely down to earth and fun too? I took this in 2015, when he popped in the frame at the last second, during a surprise visit (then without the beard) at the boutique. For all this French chocolatier's prestigious line-up of awards, it hasn't gone to his head!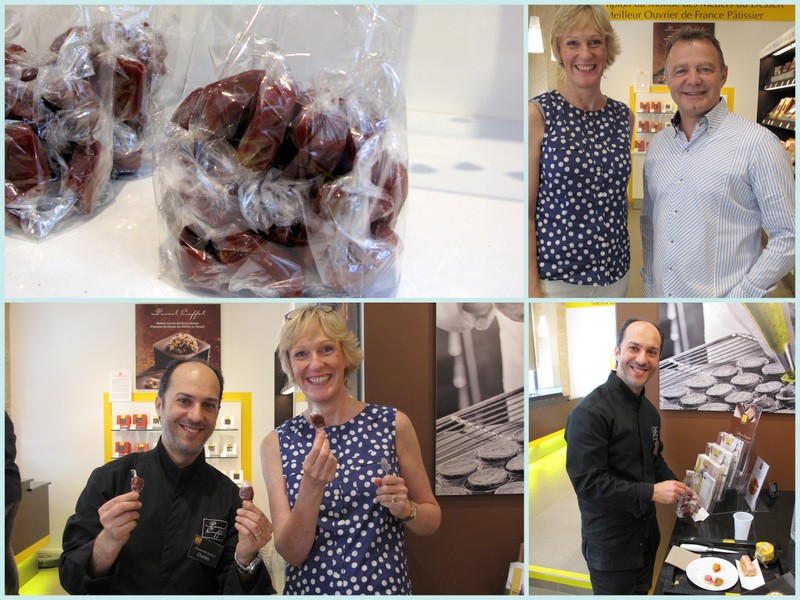 After that, I wonder if we get a tasting medal? Well, no - we still have many more treats to try out. His ice creams and ice cream desserts are also legendary. However, to eat like the French, we'll dive in avec modération... I thoroughly recommend you help me out and taste them for yourself.
Pascal and Charles - you rock! Thanks for coming to Paris.
Maison Caffet
13 rue Duban, 75016 Paris
Metro: La Muette
Also at 93, rue de la Glacière, 75013 Paris.
---
This post is not sponsored in any way. I was not asked to write anything about the store and, as always, all comments and views are entirely my own. First published 8 June 2015 but now updated with new images and text.