A guide to French plums in France and when they are in season. Also includes healthy and easy recipes using fresh plums and dried prunes.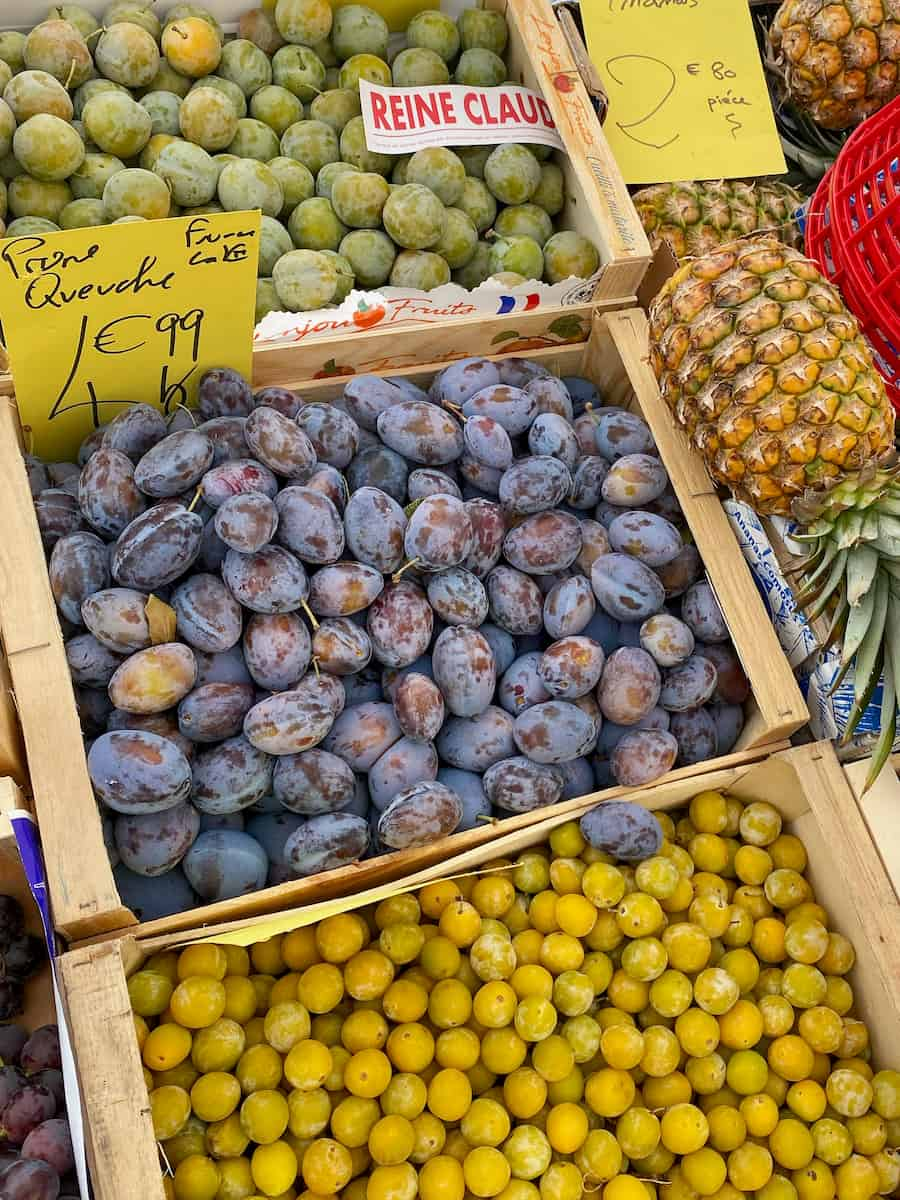 Plum Season
Summer: end July, August to mid September.
What is a French Prune or Plum?
It can be confusing in France but plums are known as prunes in French (pronounced 'proon'), while prunes are known as pruneaux (pronounced 'proo-noh').
According to the French Ministry of Agriculture, on average, nearly 2 kilos of prunes (pruneaux d'Agen) are consumed each year by the French.
80% of plums in France are grown in the Lot-et-Garonne. So much so, there's even a Prune museum. It's the Musée du Pruneau (Ferme de Pruneau Bérino-Martinet) in Granges-sur-Lot in the Lot-et-Garonne region.
Plum Varieties
There are more than 2000 varieties in the world.
The main French plum varieties:
Ente (also known as prune plum, as uniquely used for making French prunes or dried plums (pruneaux) - see below;
la Quetsch d'Alsace (Italian plum), which are slightly sweet and tart. Stanley are the most vigorous;
Reine-Claude or greengage; and
Mirabelle, particular to France, are more juicy and the size of cherries.
What are Mirabelle Plums?
Small yellow plums, known as les Mirabelles de Nancy (most famous from the Lorraine - not just for quiches!) are sweet and moderately acidic.
Particular to France, they are popular at the King's Vegetable Garden in Versailles (potager du roi).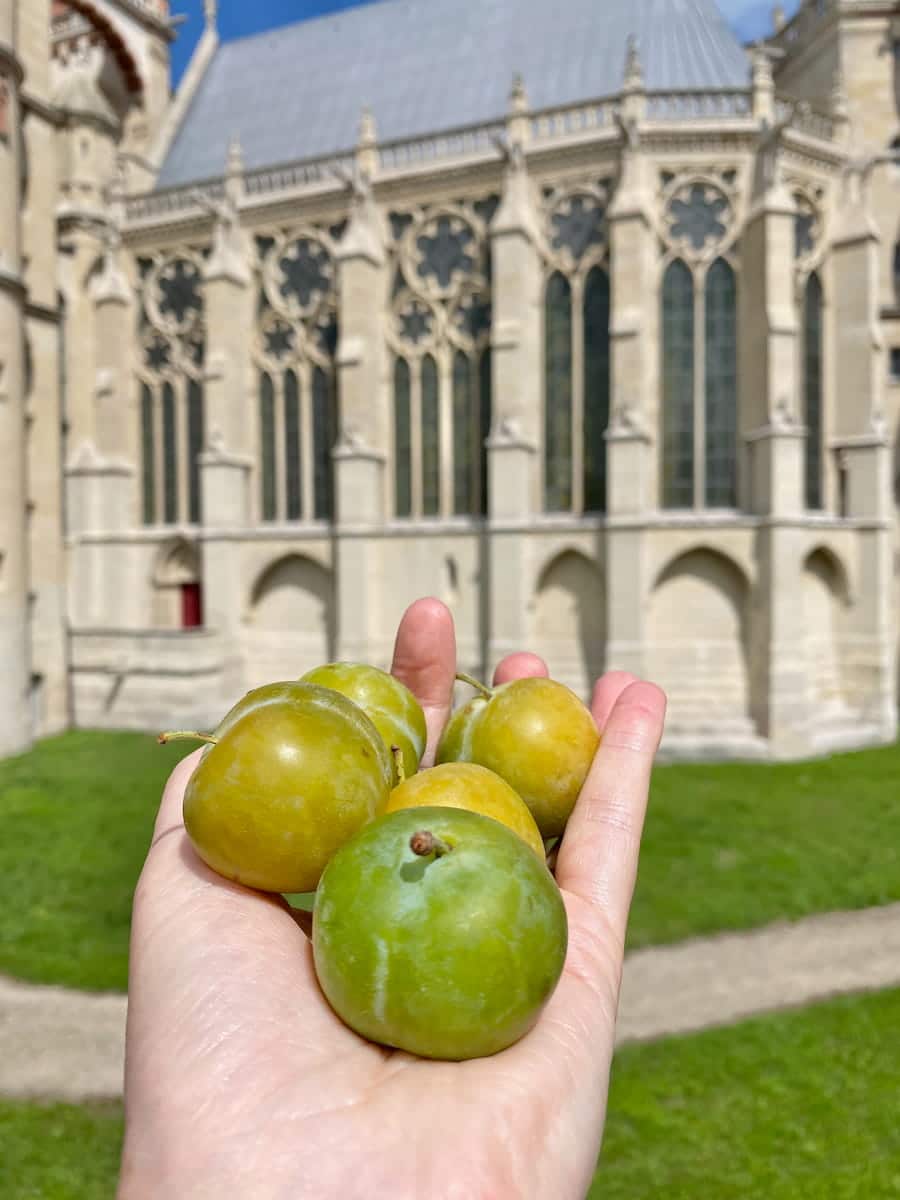 What is a Reine Claude?
Best eaten at the table but also delicious in tarts. They make an excellent change to cherries in the classic French clafoutis.
Many people associate greengages as acidic and downright tart. However, in France, these famous green plums are beautifully sweet, round and juicy.
Called Reine Claude in French (literally 'Queen Claude'), they're so named after King François I's wife, la Reine Claude, who adored them. The royal couple (roi et reine) were married in the Royal Chapel in Saint-Germain-en-Laye, just outside Paris. So visit the chapel with a bag of them from the local market to set the scene!
There are a few juicy varieties of Greengages: Reine-Claude d'Oullins, Vert (Dorée) and Bavay are all particularly sweet, not acidic and really juicy - so ideal for eating at the table.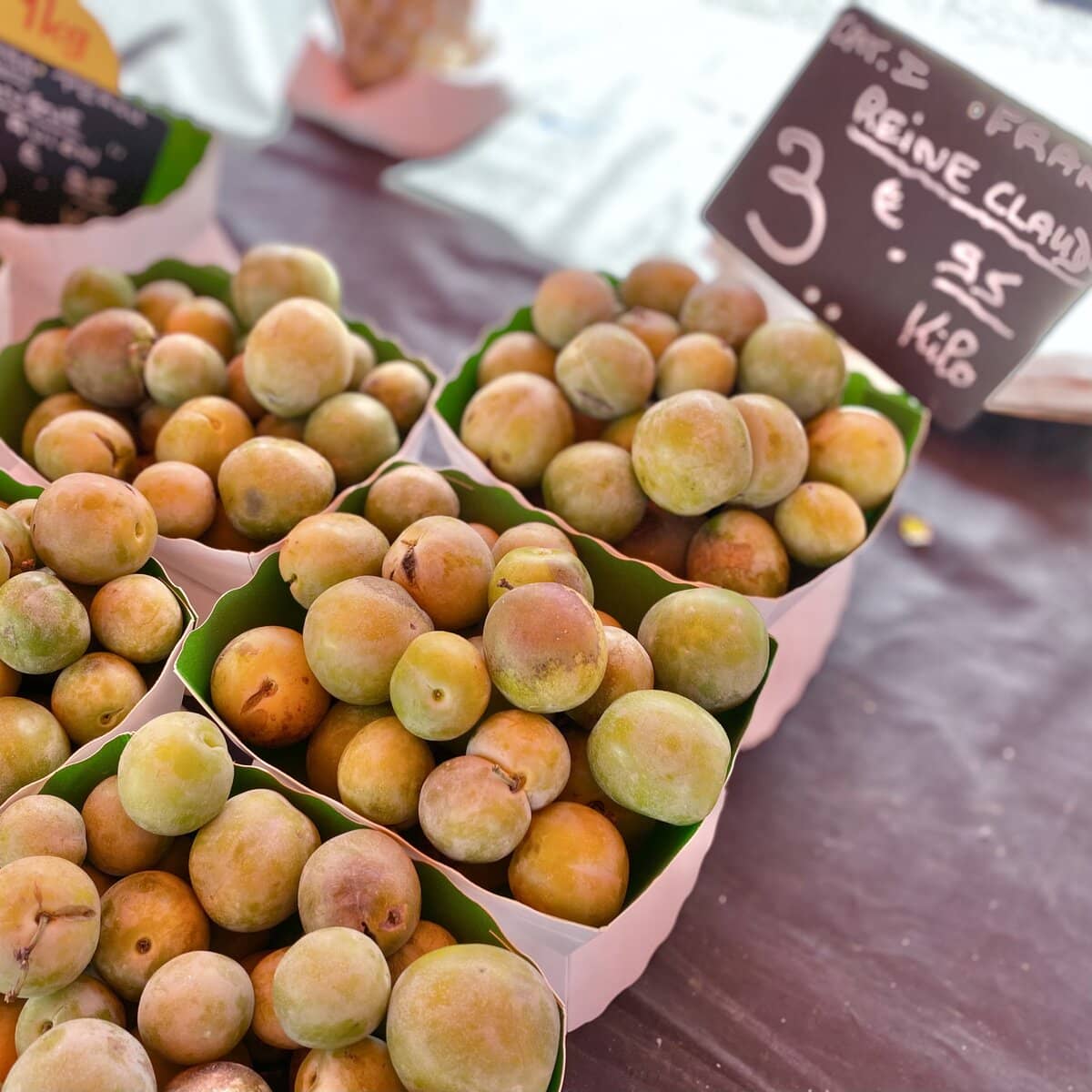 Do Plums Contain Pectin?
Plums are high in pectin, which helps set jams naturally, so it's ideal to make this spiced plum jam - delicious served with French cheeses and foie gras.
"Attention, c'est le noyau dur"
Means "It's at the heart or the core of something" (literally translated as "be careful, it's the tough fruit stone").

French Expression for Plums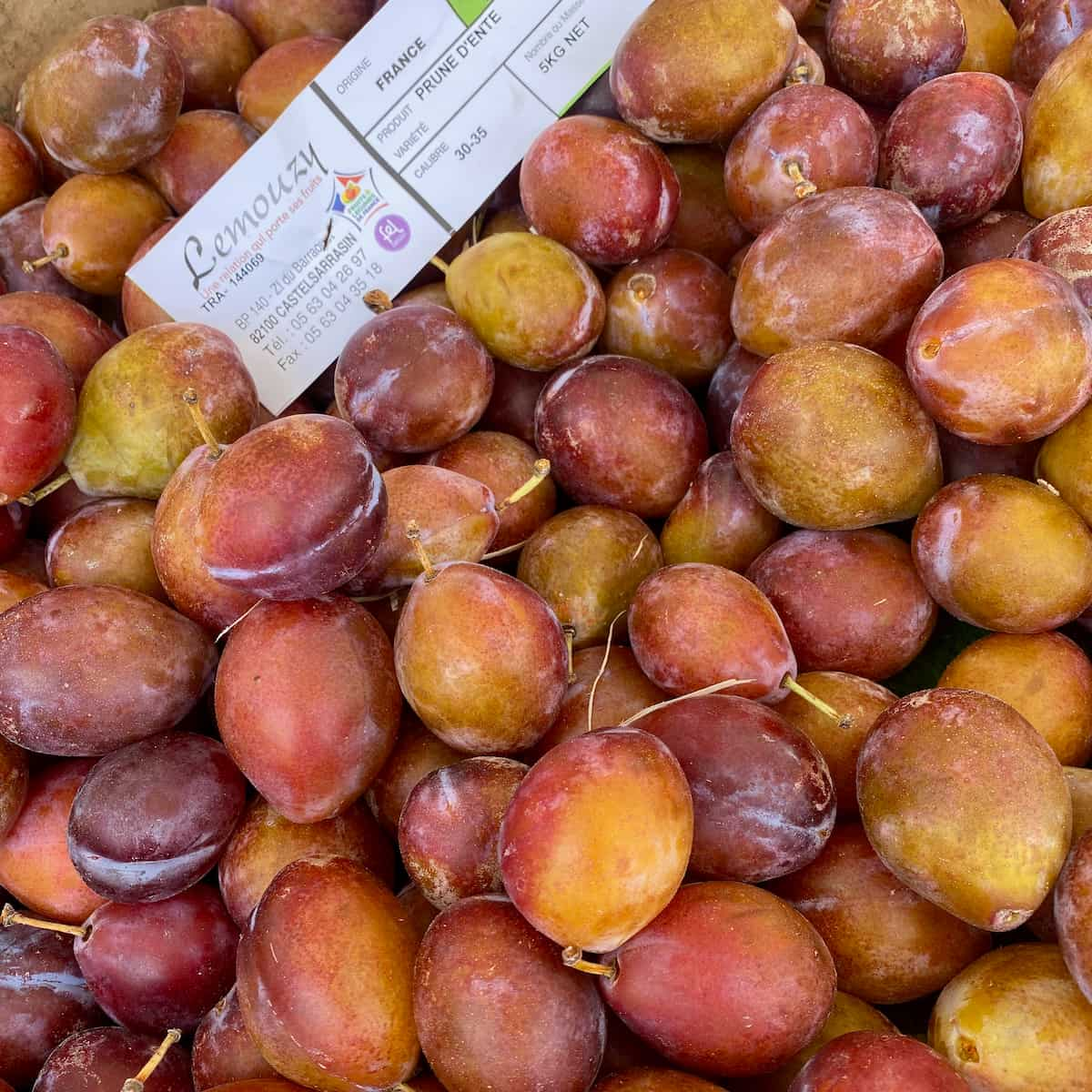 French Prunes (Pruneaux)
France is famous for its prunes (dried plums), particularly les pruneaux d'Agen in the Lot which have benefited from French IGP (Indication Géographique Protégée) quality since 2002.
They are so popular that the French consume 1.9kg of prunes a year!
How did prunes first arrive?
In 1991, Hubert Caillavet, an agricultural engineer, made a historical study on the famous prunes. He believes the Ente plums were introduced in the Middle Ages (from the far East) to the Lot region. Thereafter, Benedictine monks grew them in their orchards in Clairac and were the first to dry them, giving birth to the prune (Source: Prefet de la région Occitanie - Institut National de l'Origine et de la Qualité);
What French Brand of Prunes are the Best?
Ensure they are from the Agen region (le Pruneau d'Agen) with its quality IGP label.
How are the best Agen prunes made? They're made solely using the Ente variety of plums which are harvested only when fully mature. They are then washed and dried to up to 35% in the oven for up to 24 hours.
To obtain 1kg of Agen prunes, it takes up to 3.5kg of Ente plums. According to the official Agen Prune website, 42 000 prunes are produced each year in France. 70% are for France, the rest are for export.
Healthy Plum Recipes
Quetsch and Ente plums are best for jams, tarts and roasting in the oven. The little French Mirabelle plums are excellent in this Clafoutis.
Mirabelle Plum Clafoutis. Just replace the strawberries in this gluten free clafoutis made with almonds with the small, bright yellow Mirabelles. The combination of plums with almond is divine.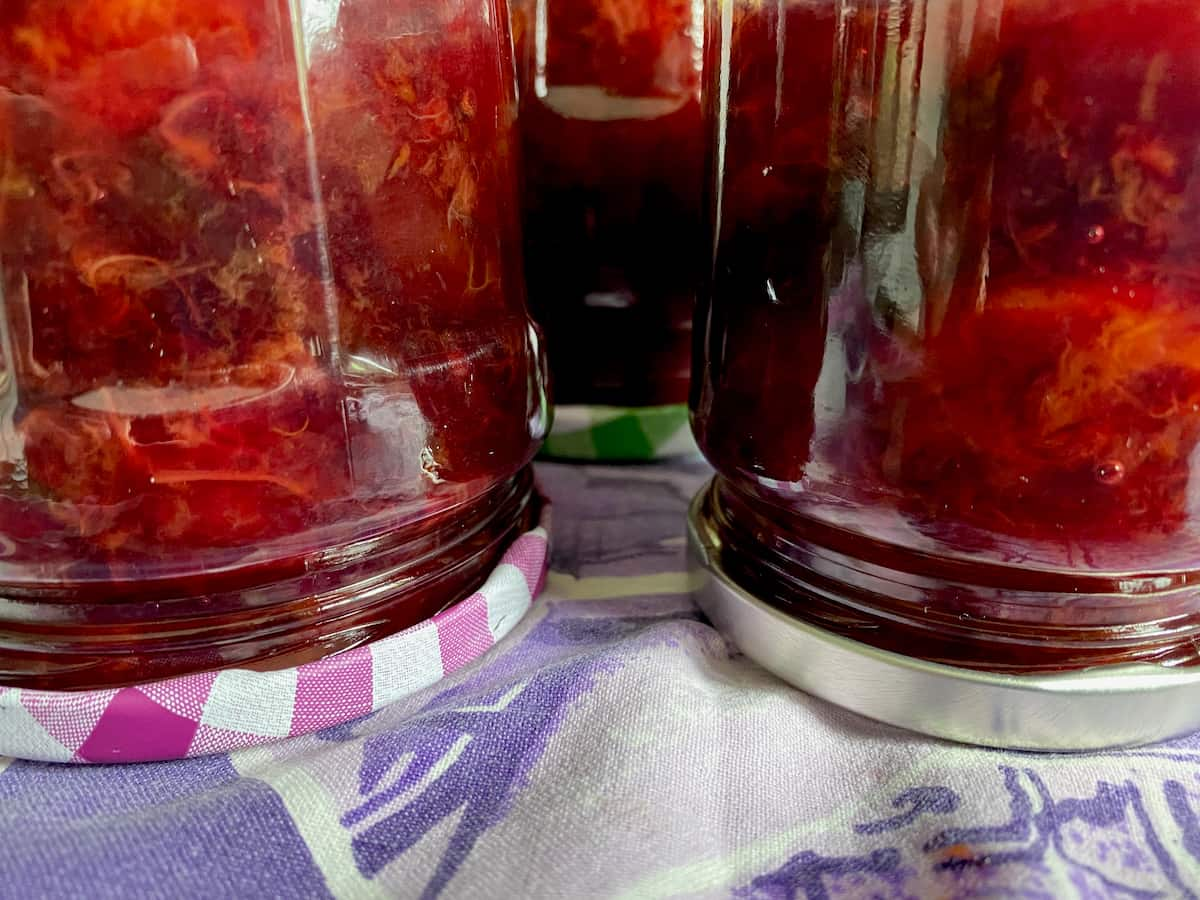 Spiced plum jam is best served with a French cheese board or just spooned on fluffy French brioche.
This jam also is especially appreciated over the holiday season - so prepare it during plum season and your food gifts are ready made in advance!
How to Roast Plums
Half and stone plums, sprinkle with ground cinnamon and dot with a few knobs of butter. Add 2 tablespoon water (no need for sugar). It's about the same method I use for baked apricots without sugar.
How to serve: great with rice puddings and maple granola for breakfast - or served with a spicy chicken tagine.
Inspired by a Paris restaurant, roast Mirabelle plums this way and serve with lemon verbena ice cream. It's divine.
Healthy Prune Recipes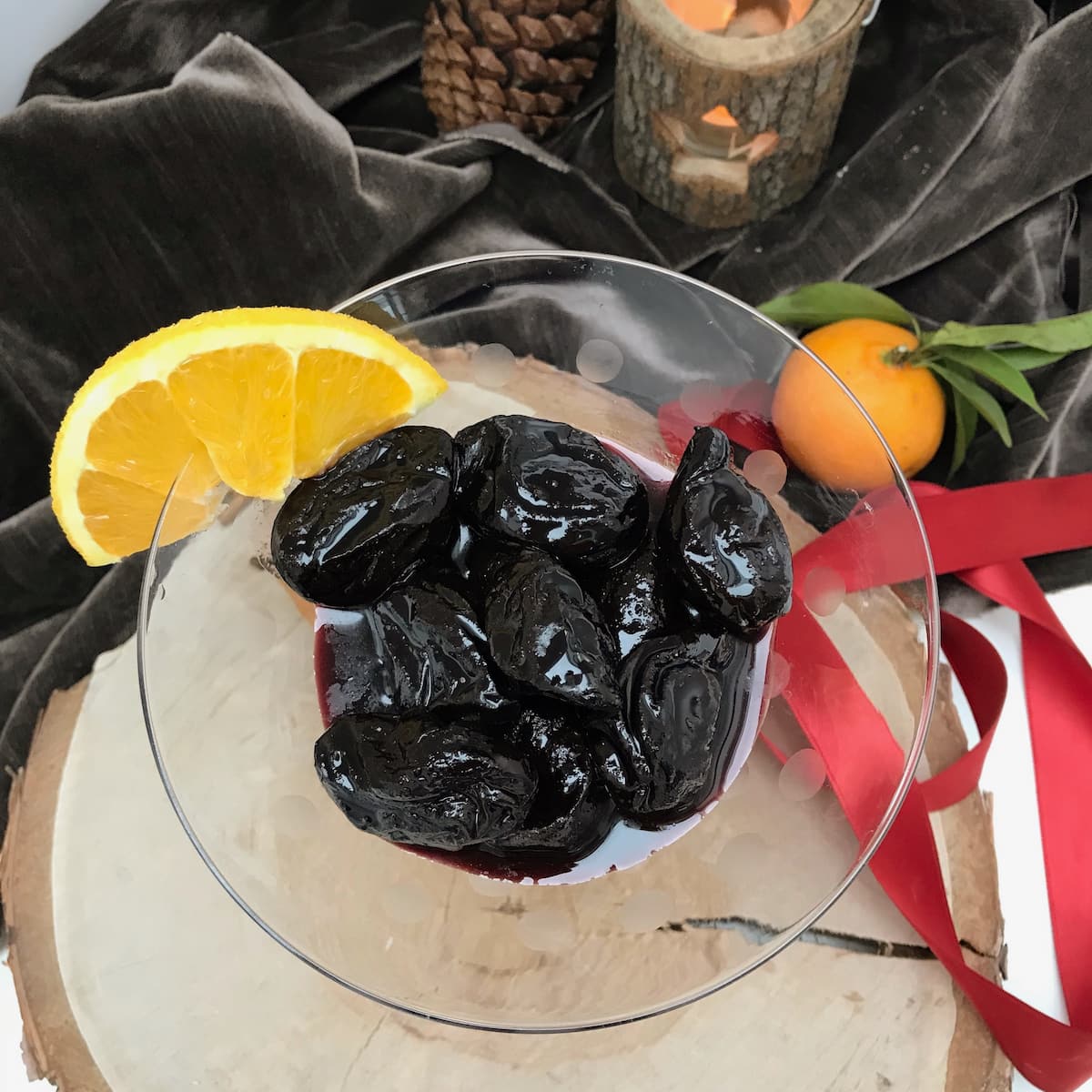 Mulled wine prunes are my answer to the classic French poached prunes in red wine but especially for the holiday season with warming spices and a hint of orange.
Serve chilled - they're budget friendly and a healthy dessert during the excesses of the season!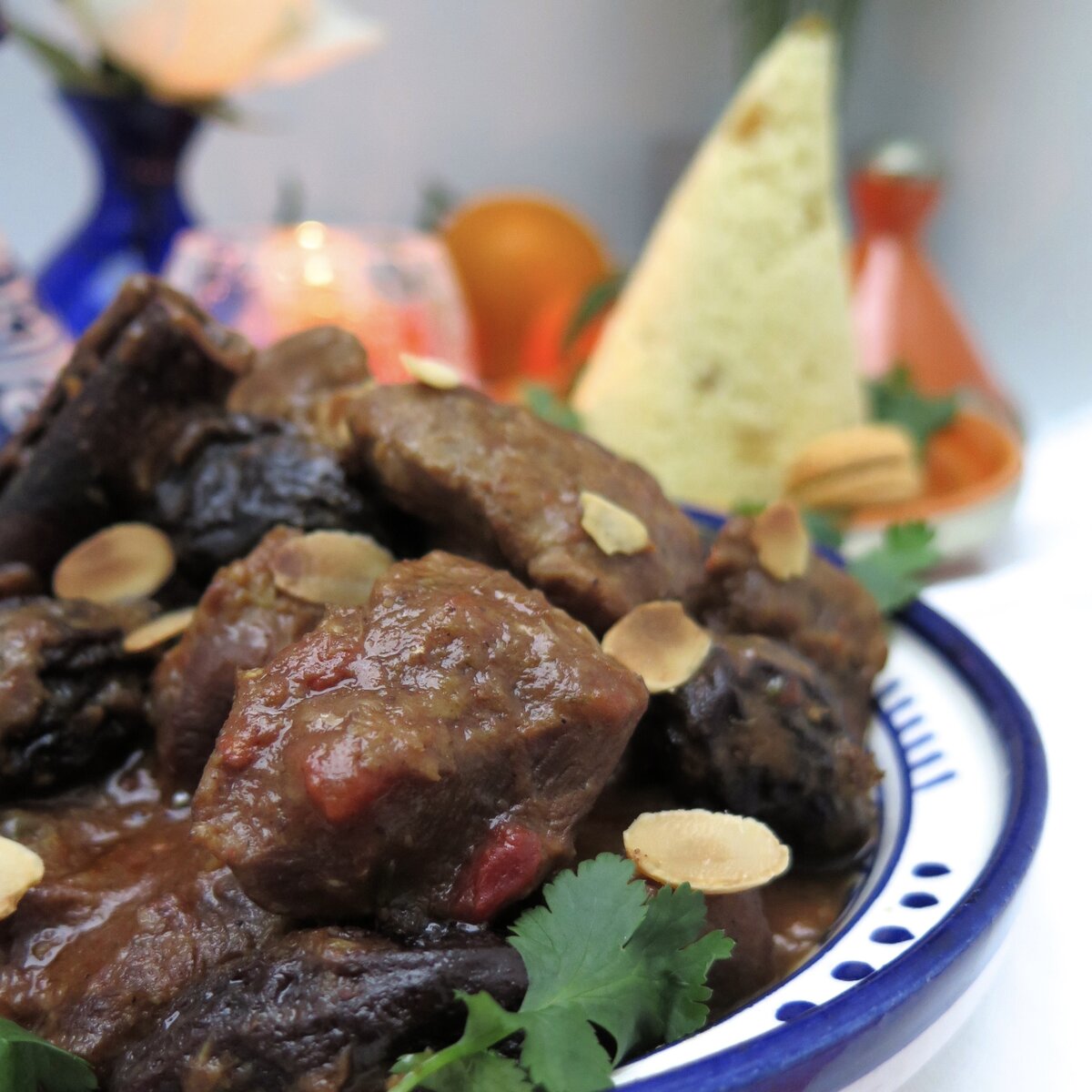 Chicken Tagine with Prunes is a Moroccan speciality but very popular in France. Add prunes (dried plums) to the tagine 30 minutes before the end of cooking to this wonderful stew. The prunes add a sweetness and thicken the sauce naturally.