Mulled Wine Prunes, my festive variation on a theme of the classic French dessert from the Loire Valley, Pruneaux au Vin, or Prunes Poached in Wine.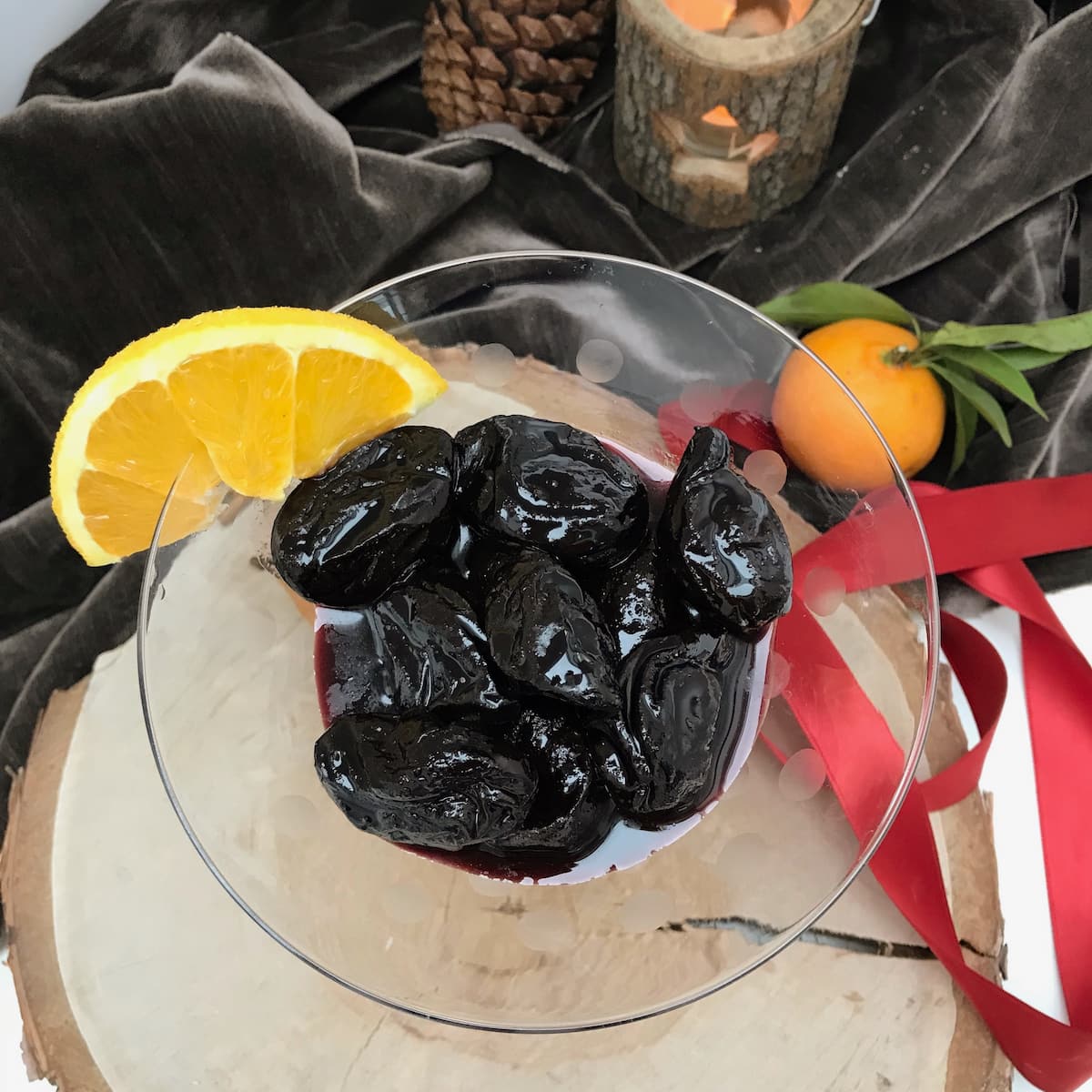 Do You Need to Soak Prunes?
Normally, we love to eat prunes straight from the bag - especially if they are the French prunes from Agen (pruneaux d'Agen), the town's speciality. When prunes are extra big and juicy like this, there's no need to soak them.
However, to enjoy prunes to their best potential, I believe that soaking them in tea or wine is the best way to serve prunes - for either breakfast or dessert, respectively (more on that below).
For more about how prunes are made in France,
see the page on market plums (prunes).
Mulled Wine Prunes - A Healthy Holiday Dessert
You've no idea how happy I was that my Corsican Mother-in-Law particularly loved them for dessert last week, in between the more traditional Christmas desserts (My father-in-law's favourite is a Vacherin ice cream cake).
As she's often on the topic of constipation and things moving in the right direction, these mulled soaked prunes are perfect!  Moreover, she doesn't drink wine - the alcohol is all boiled off, leaving just the gorgeous flavours. Happy Mother-in-Law = Happy life.
French Poached Prunes in Wine
Somehow this recipe just took off on its own.
With a bottle of red wine on the kitchen counter (surprise!) and some juicy French Agen Prunes, meant for eating straight from the bag at breakfast. Inspired by the 'Pruneaux au Vin' recipe in France the Beautiful Cookbook by the Scotto Sisters, with Christmas songs jingling in the background, I threw in some star anise and cloves, plus replaced the traditional lemon with an orange. Et voilà - Mulled Wine Prunes were born!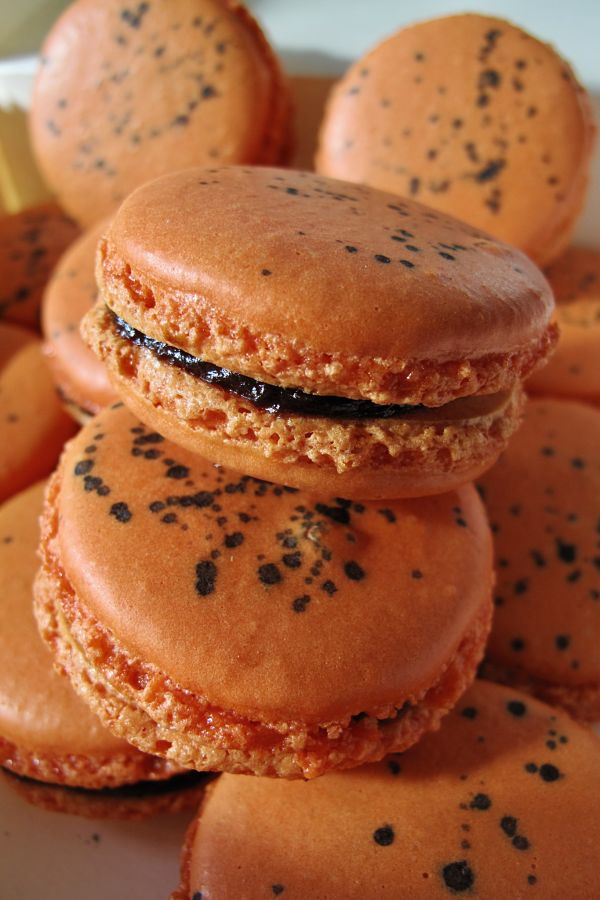 What Goes With Prunes?
The Corsicans serve sticky prunes with oranges or clementines as one of their confectionary specialities. Prunes and orange are the perfect partner, so try it in these recipes:
For breakfast, soak prunes the night before in black tea and some orange zest then poach them for 10 minutes.
Next morning, they're delicious topped on homemade granola.
Serve mulled wine prunes with macarons such as Prune, Orange & Armignac Macarons (photo above), one of the more adult recipes from my first book, Mad About Macarons.
On top of French rice pudding or quick almond milk rice pudding;
These mulled wine prunes go well with Almond Tuiles with orange or with financiers.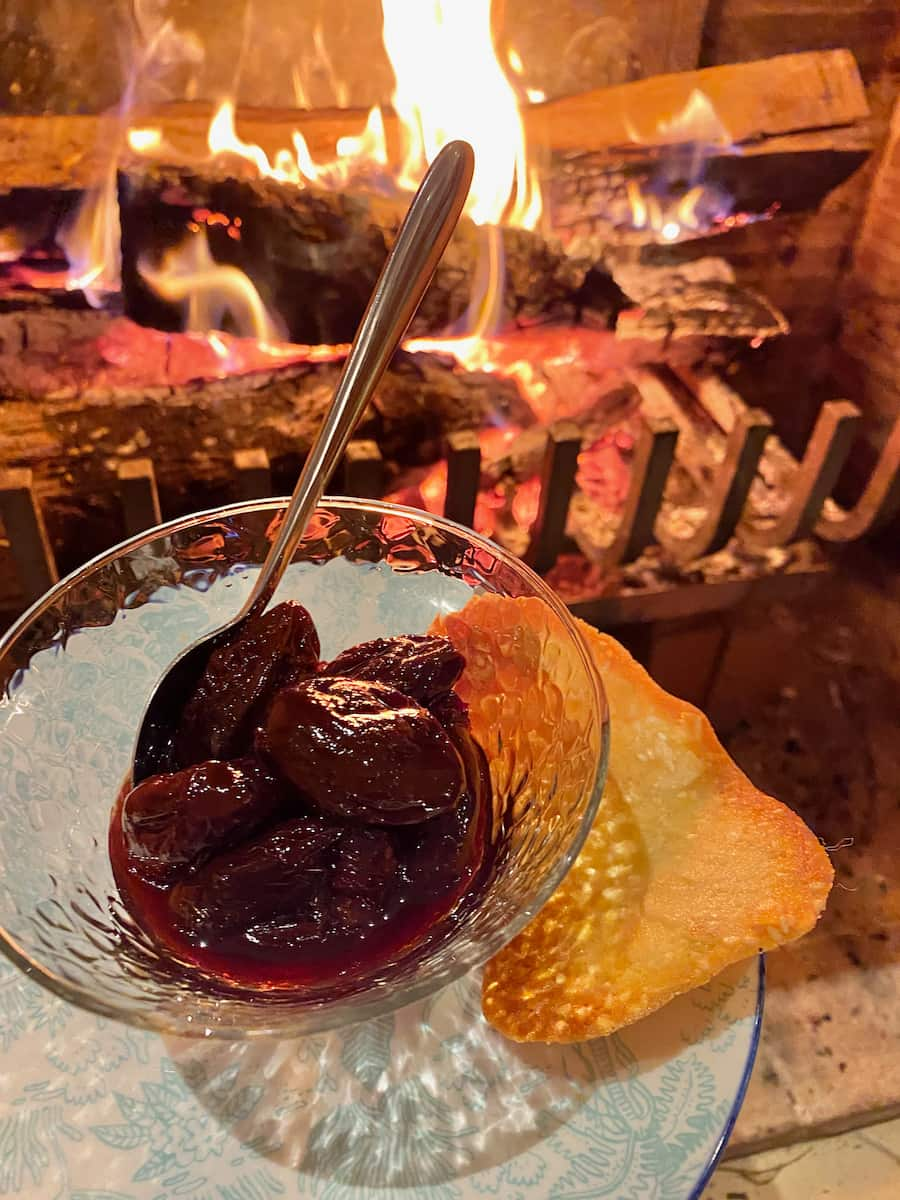 How Long Can You Keep Mulled Wine Prunes?
The good news is that the mulled wine prunes can keep for 5 days covered in the fridge, and so they're handy as the quickest, healthiest Christmas dessert in between the more decadent festive finales.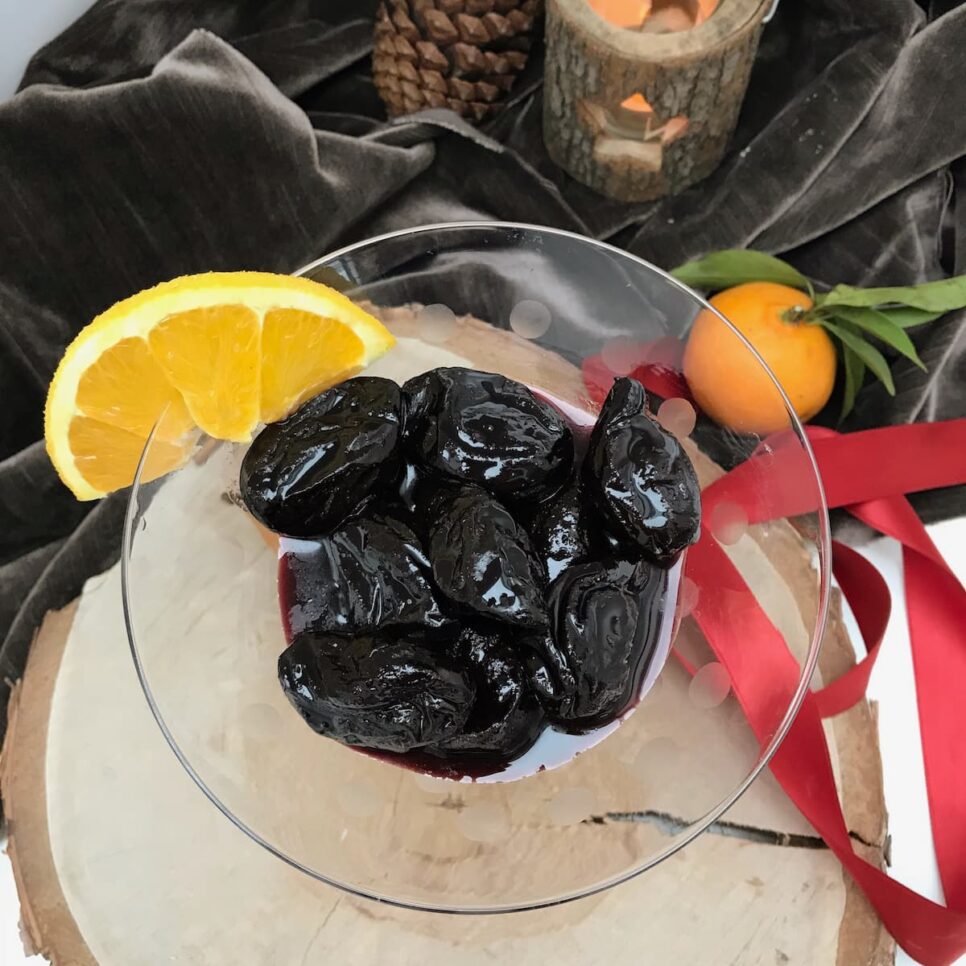 Mulled Wine Prunes
A festive version of the French classic of Poached Prunes in Red Wine, adding warming spices to make a healthy dessert during the holiday season
Ingredients
1

Large orange, organic

unwaxed

1

kg (2lb)

Large sticky prunes

non pitted

1

bottle (75cl)

Red wine

(ideally from the Loire, e.g. Chinon)

1

Cinnamon stick

3

Cloves

2

star anise (badiane)

75

g (2.5oz)

Sugar

(⅓ cup)
Instructions
First wash the orange and wipe dry using kitchen paper. Using a zester or a sharp knife, remove the zest in long strips.  Keep the orange aside for decoration.

In a large bowl, place the prunes, wine and spices. Cover and leave the prunes to soak for 4 hours or overnight.

Using a sieve, drain off the prunes and pour the wine into a saucepan with the spices, zest and add the sugar. On a high heat, stir to dissolve the sugar and bring to the boil. Turn down the heat and add the prunes, poaching gently for 10 minutes.

Drain the prunes into a large bowl (that has a cover) and set aside.  Boil the mulled wine with the spices and zest until reduced by about a third or until it looks like a syrup. Remove the zest and spices then pour over the prunes.

Cool then refrigerate the prunes covered for at least 2 hours (or overnight).
Notes
The mulled wine prunes can keep in the fridge (covered) for up to 5 days.
Serve with almond tuiles, financier teacakes or macarons.