Baked apricots are transformed in a few minutes to concentrate their flavour. Bake them with just a little honey and lavender (rosemary or vanilla) and they are ready in 25 minutes.
What Can I do with Tasteless Apricots?
You would think that buying apricots at the Provençal market of Apt would result in an apricot tasting sensation? Wrong.
This summer, we were taken by surprise at downright tasteless apricots back home. How on earth could we have got that wrong? They looked good - but we hadn't tasted one before buying. They were expensive too. Tonton (uncle) Claude was so annoyed - until I told him they weren't lost.
I'd just bake them. Well, it worked with flavourless tomatoes in this roasted tomato recipe and with baked peaches (or nectarines). He was sceptical at first - till he tasted the result for dessert.
Like tomatoes, baking fresh apricots is the best way to eat apricots that lack flavour. Roasting them for only 20 minutes in the oven concentrates their flavour.
So, next time you return home from shopping and tuck into that bag of disappointing apricots, take heart. Here's how.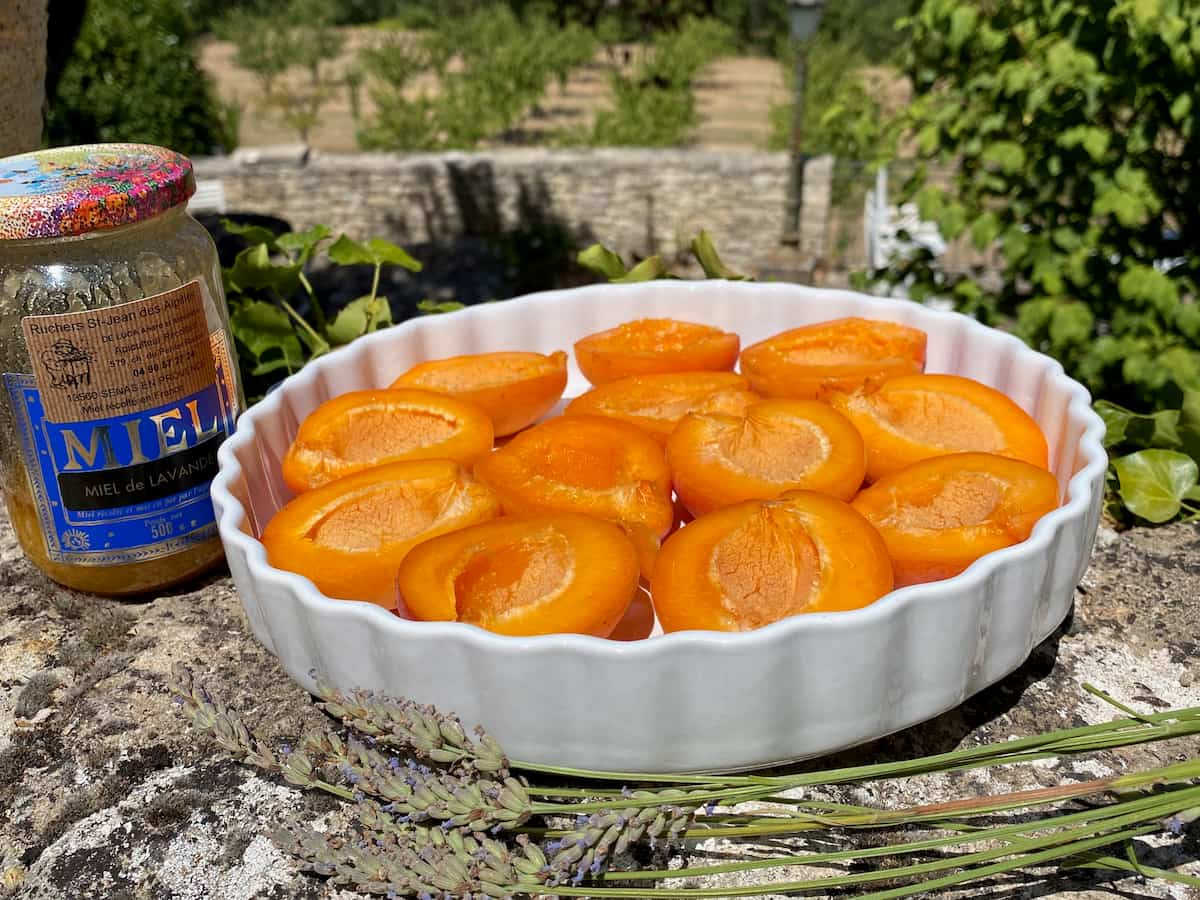 What's The Best Way to Cook Apricots?
This, in my humble opinion, is the best way to cook apricots as they're quick and easy to prepare.
Moreover, baking them in the oven for just 20 minutes concentrates their flavour. Add a touch of lavender or vanilla with some honey and they're healthy too.
Just halve them, take out their stones and lay them flat in a glass or porcelain ovenproof dish. Using a metallic dish will toast them more with a higher heat if you prefer a slightly singed finish; a glass/china dish will give a more even bake.
Dribble over some honey (I used lavender honey but acacia or any other of your favourite is good) and add either some dried lavender flowers, (or a sprig of chopped rosemary or ½ teaspoon of vanilla powder). Dot each apricot half with a tiny knob of butter and roast in a medium hot oven for 20 minutes.

How to Serve
Baked apricots can be served on their own for dessert, or with ice cream - either warm or chilled.
Have you tried this lemon verbena ice cream? These baked apricots are heaven together - much like roasted peaches or nectarines done this way too.
For breakfast top them on toasted oats and maple syrup granola or even in savoury dishes.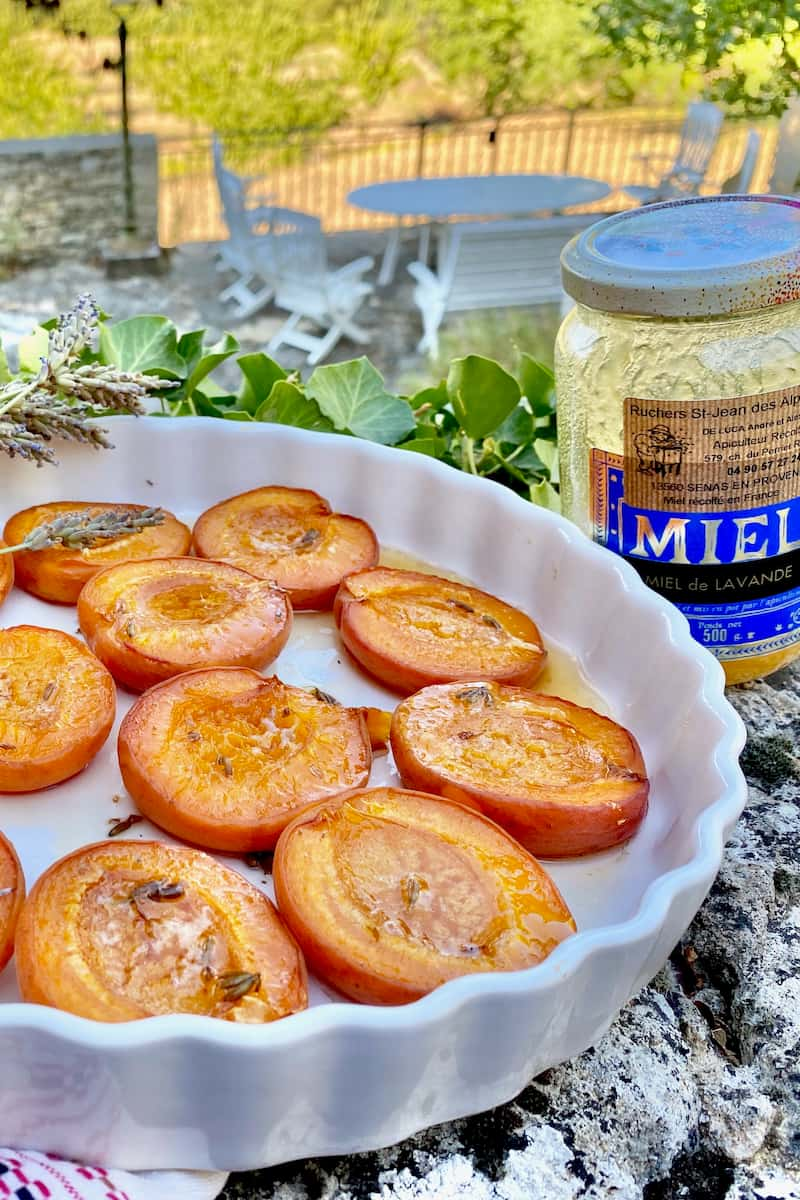 Roasted Apricots for Savoury Dishes
This recipe is ideal for savoury dishes as no sugar is added to the roast apricots.
So, only with a little honey, they're delicious added to this Chicken Tagine dish. Just replace the prunes with the baked apricots just before serving (so they don't turn into mush). It's divine.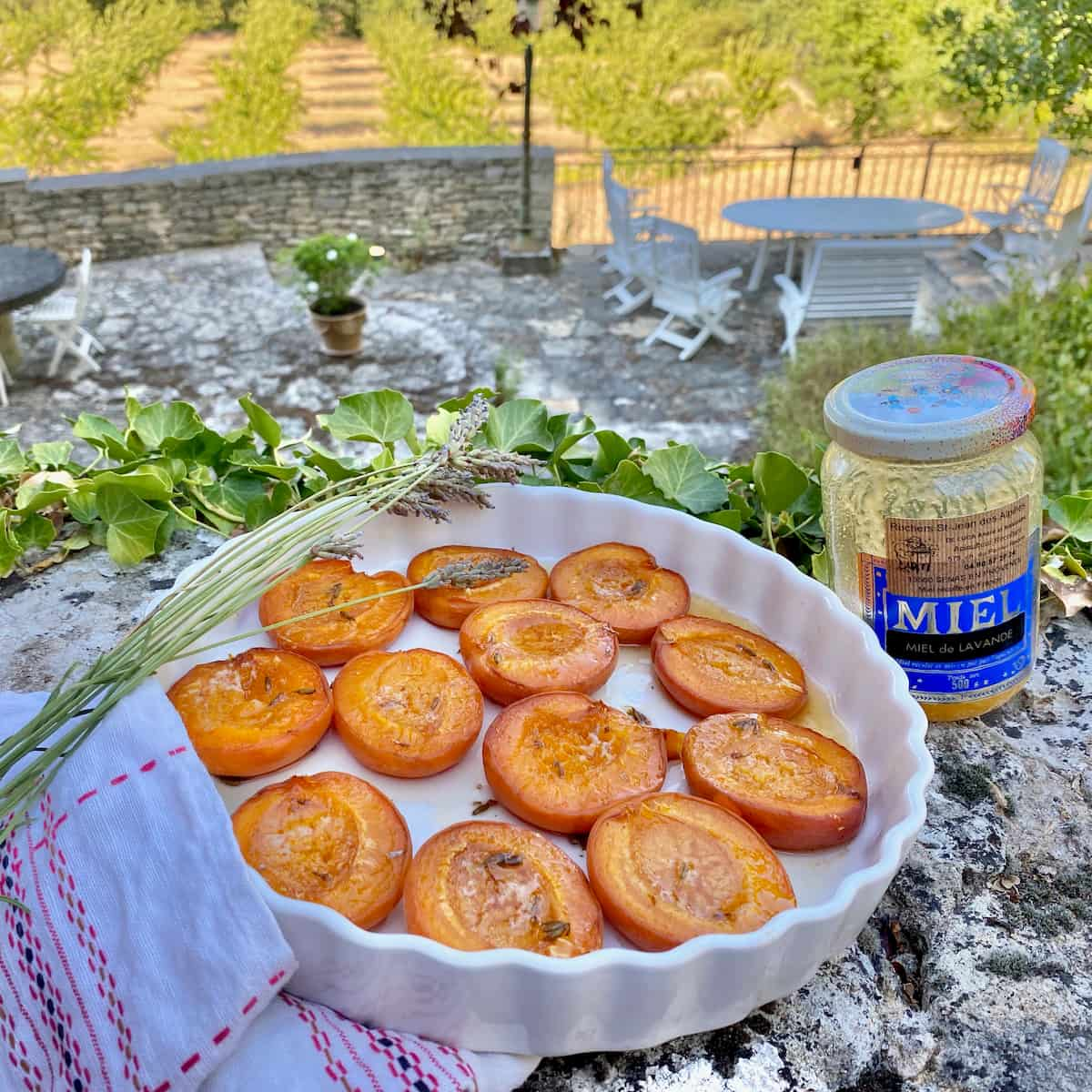 Baked Apricots - Easy Recipe without Sugar
I love to use honey instead of sugar for baking apricots. How would you enjoy them? Let me know below if you make them.
We saw a few dessert menus in Provence pairing apricots and rosemary - give that a try too.
Baked Apricots with Honey and Lavender
Baked apricots are the best way to use tasteless fruit. Just add a little honey, butter, lavender or rosemary and roast for only 20 minutes. Great for dessert or savoury dishes
Equipment
1 ovenproof dish

ideally glass or china (otherwise metallic non-stick)
Ingredients
6

apricots

or 2-3 more depending on size

2

tablespoon

honey

(lavender, rosemary or acacia honey)

½

teaspoon

dried lavender flowers

(or vanilla powder)

1

tablespoon

butter

unsalted
Instructions
Preheat the oven to 180°C fan/200°C/400°F/gas 6.

Wash and dry the apricots then half them and remove their stones. Arrange them skin face underneath in a single layer in an ovenproof dish.

Dribble the honey evenly over the apricots. Add either some dried lavender flowers, a sprig of chopped rosemary or ½ teaspoon of vanilla powder, according to taste.

Dot each apricot half with a tiny knob of butter and bake in the oven for 20 minutes.