Roasted Tomato Mozzarella Bites – roasting tomatoes to give the best flavour and simplest, most delicious summer nibbles with drinks. Or for any time of year with tomatoes lacking flavour. Makes an elegant, healthy starter too!
The beauty about these nibbles is the roasted tomatoes.  I know; slicing up fresh tomatoes, plopping on some fresh mozzarella and basil, dribbled with some olive oil and sea salt and it's done, right? OK. Yes, I hear you.  But we don't always get the greatest of tomatoes ALL the time.
There's nothing to beat homegrown but when we can't grow our own tomatoes and we're left with slightly tasteless ones when they're out of season or a bit tired at the supermarket, then this is the answer. Roasting the tomatoes for a few minutes first makes all the difference.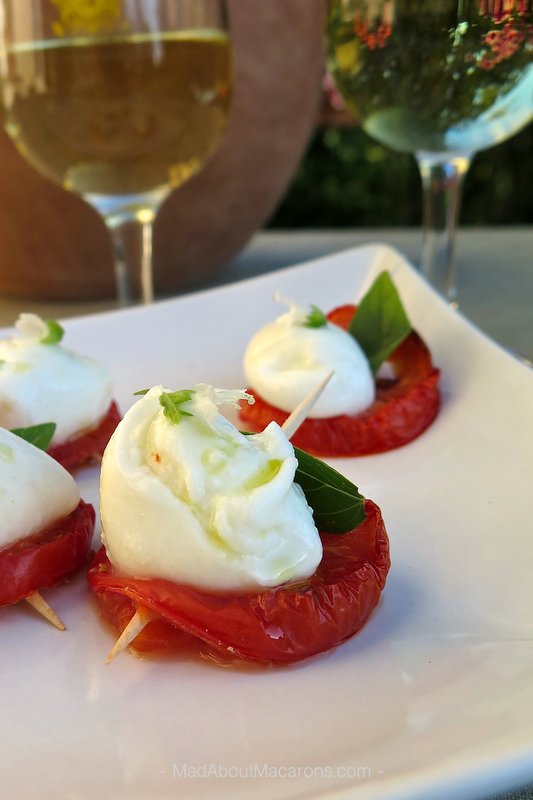 Quick Roasting Tomatoes Concentrates Flavour
The concentrated tomato flavour by quick-roasting in the oven means that there's no need for any fancy extra ingredients.  Keep it simple. I use the longer tomatoes, as they give off less juice and so ideal for roasting quickly (e.g. Torino, Roma).
You'll just need good quality fresh mozzarella (bufala even better): either balls or chopped into little bite-sized pieces.  Top each tomato slice along with a bit of fresh basil, salt and olive oil – if you really need to. To top it, here's my Italian-blooded friend, Christina Conte, talking about the reasons to hold back on balsamic etc. on Caprese salads!
The flavour ends up being so full of blissful tomato, that you'll just want to eat it as is. Don't believe me? Just try it!
As I watched our cherry tomato plant just roast in the soaring temperatures this week to over 40°C, I could have probably done this recipe just by picking them directly off the plant and forgetting about the oven! Speaking of which, have you tried these salted toffee cherry tomatoes?
Luckily for us, our mini dwarf basil plant hasn't grilled completely in this Parisian heatwave. To top it, we've got some pretty little basil flowers that are totally edible too. If you're one of these people who puts the flowers to the side of the plate or picks them off, please don't. The herb flowers pack a punch with a concentrated basil that explodes on the palette!
Bland Tomatoes? Roast them!
Great party food, excellent served with drinks at any time of year.  By roasting the tomatoes, the flavour is concentrated and so even the blandest of tomatoes can be livened up for a party – although the better the tomatoes, the more your toes will curl with the pure and simple taste. Cheers!
Roasted Tomato Mozzarella Bites
Roasted Tomato Mozzarella Bites
---
Description
Easy Caprese tomato mozzarella & basil bites are concentrated in flavour with roasted tomatoes, making them great party food and full of flavour at any time of year.
Ingredients
5

Tomatoes (organic)

(I use Roma, long tomatoes)

1

tsp

fleur de sel sea salt

pepper, to taste

(optional)

2

tbsp

olive oil

extra virgin

300

g (11oz)

fresh mozzarella balls

(if small, one per tomato slice, otherwise cut in half)

1

tbsp

fresh basil leaves

to top each tomato
Instructions
Slice the tomatoes not too thinly (about 1.5cm) so that they'll roast and not burn (they should be still wet when done). Place slices on baking parchment on a baking tray. Roast in the oven at 170°C/150°C fan/340°F/Gas 3 for about 20 minutes until roasted but not brown.

Leave to cool on the baking tray. Meanwhile, place the mozzarella balls in a bowl with the olive oil, sea salt and pepper, if using.

Place the basil then mozzarella balls on each tomato slice and using a tooth pick, lift off each tomato slice, skewering the pick into the tomato and mozzarella and transfer to a serving plate. If there are leftover tomato slices, place one on top to make a sandwich.