Looking for a recipe for cherry tomatoes? Then have some fun with pre-dinner drinks and serve these salted toffee cherry tomatoes. Dip them in fleur de sel salt and add some flaxseeds, sesame or poppy seeds.
Cherry Tomatoes Recipe (Vegan)
What did we do before cherry tomatoes came along? We normally eat them plain as an apéritif for pre-dinner drinks with friends in summer and for end of year festive celebrations. So what about a recipe for cherry tomatoes for something a bit fun and different?
Here's how they came about! A few years ago, together with my French girlfriends who live in the Provençal tomato-sun-kissed south, we made these quick and fun nibbles for a delicious aperitif.  Valérie had seen the idea in a French magazine (don't even ask which one as this is going back a bit!).
Although we were a bit sceptical of crunchy caramel for an apéro with Chablis, we decided to give it a go as they looked so pretty. We first experimented with one batch plain (as in the magazine) and another batch with the addition of salt directly in the caramel.  The salted version won hands down.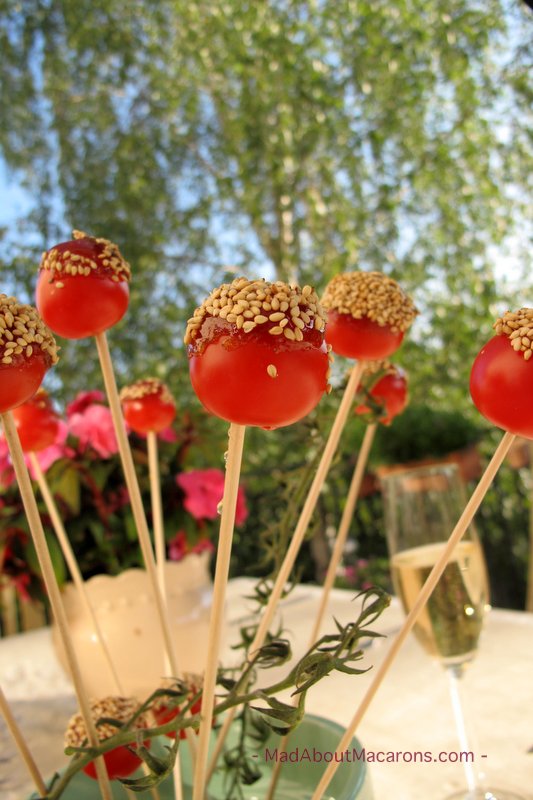 Salted Toffee Cherry Tomatoes with Seeds
Now, over time, I have experimented further with these salted toffee cherry tomatoes.  Add different seeds such as sesame, black sesame, poppy seeds and/or flaxseeds. Add even more salt, and use different varieties of cherry tomatoes.
On that note, do try your best to find the best quality produce and experiment with different colours and sizes of cherry tomatoes. Roll each toffee cherry tomato in a mixture of your favourite seeds – adding the most beautiful of flower salt, or fleur de sel (I use fleur de sel from the Guerande) to add that extra salted toffee intrigue which renders them addictive.
Here I also added just a touch of thyme from the garden. I'll leave you to be adventurous on the toppings!
How to Make Salted Toffee Cherry Tomatoes
Cherry Tomato Macarons?
Also served for an aperitif, have you tried my Bloody Mary mini macarons yet?
The recipe is in my first book, "Mad About Macarons", as part of the mini savoury macaron chapter.
Cheers, Santé!
Salted Toffee Cherry Tomatoes
---
Description
Enjoy pre-dinner drinks with salted toffee cherry tomatoes. Dip them in fleur de sel salt and add healthy sesame, poppy seeds or flaxseeds (vegan recipe).
Ingredients
12

Cherry tomatoes

washed & thoroughly dried

100

g (3.5oz)

Sugar

50

ml (1.75floz)

Water

1

tsp

fleur de sel salt

1

tbsp

sesame, flaxseeds or poppy seeds

or a mixture
Instructions
Ensure the cherry tomatoes are washed but that no water is left on the surface.  Lay out everything in advance since you'll need to work quickly once the hot caramel is ready:

Prepare a baking tray covered in parchment, 12 cocktail sticks (or brochette/cake pop sticks), a plate coated in the seeds and fleur de sel salt, plus a bowl filled with warm water that can hold the saucepan of caramel (this is so that the caramel doesn't harden too quickly while you work). Pierce each cherry tomato with a cocktail stick.

In a saucepan, place the sugar and water together and stir until the sugar is dissolved.

Put on a medium heat and, without stirring, leave for about 6 minutes until the caramel starts to form.  The sugar will bubble furiously.  After about 6 minutes the sugar will start to brown very slightly - keep your eye on it for the next couple of minutes.

Take off the heat as soon as the colour is light brown and place the saucepan in the warm water bath and work quickly. Dip each cherry tomato into the caramel then immediately roll in the seeds and the salt.

Place on the baking tray while they set then serve pierced in a giant tomato (e.g. coeur de boeuf variety) or half a grapefruit covered in aluminium foil, for example.