How do you make tomatoes taste like candy? Dip cherry tomatoes in salted caramel then quickly roll in seeds (sesame, poppy seeds or flaxseeds). These elegant yet fun bites are great for parties or pre-dinner drinks and make a pretty edible table decoration.
Cherry Tomatoes Recipe
Ever since the children have been little, they love eating cherry tomatoes plain - and, as adults, we we love them too. They're healthy. However, what about a different kind of recipe for cherry tomatoes to liven up the party? These candied cherry tomatoes are great fun for parties in summer and for the festive season.
I discovered them a few years ago in the south of France. Together with a group of French friends who live in a tomato-sun-kissed Provence, we were looking for something fun for both the adults and our kids one summer evening.  Valérie had seen this idea in a French magazine (don't even ask which one as this is going back a bit!)
Although we were a bit sceptical of crunchy caramel on tomatoes for an apéritif we tried the recipe out, as they looked so pretty. Our drinks were a mixture of either Champagne and a French Kir Royal. We first experimented with one batch plain batch: the magazine's recipe just used caramel and seeds.
They were missing salt. So we experimented with another batch adding salt crystals with the seeds - then added salt directly to the caramel. This latter salted version won hands down.
Candied Cherry Tomatoes - How to Serve
Now, over time, I have experimented further with these candied cherry tomatoes. The salt adds that extra salted toffee intrigue which renders them addictive. Add different seeds such as sesame, black sesame, poppy seeds and/or flaxseeds. Use the best quality produce, ideally tomatoes on the vine and experiment with different colours (red, orange, yellow). 
Sometimes I add a pinch or two of fresh thyme or finely chopped rosemary from the garden. I'll leave you to be adventurous on the toppings! Even a pinch of dried herbs works well too.  
They are a bit different with the sweet and salty - so about 2 per person is usually a good serving. Moreoever, they make a pretty edible table decoration for parties.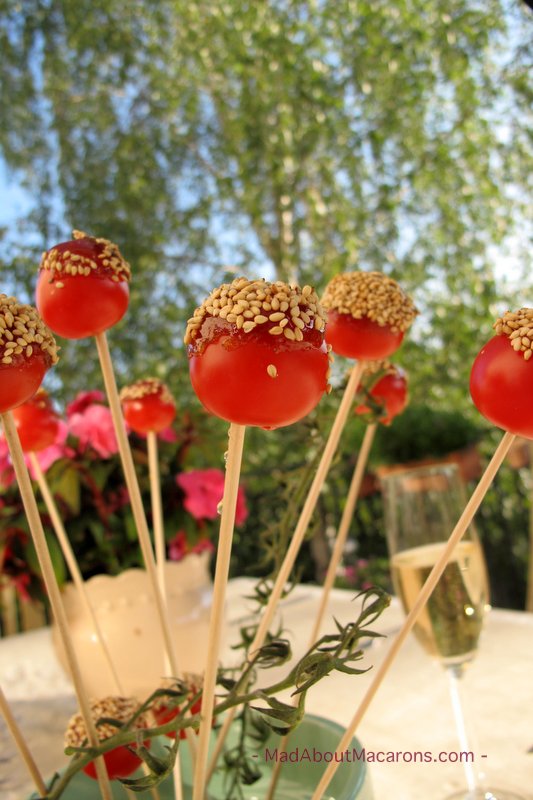 How to Make Cherry Tomato Candy
Although quick to make in just 20 minutes, the secret is to prepare your work station well. By preparing everything in advance, it's easy to dip and roll. A water-bath of hot water ensures the saucepan of caramel won't harden quickly while dipping in the tomatoes;
First place each cherry tomato on a cocktail stick or skewer;
Concentrate on making the caramel - which will take between 6-8 minutes. Add the salt to the caramel when it starts to caramelise - or roll on top with the seeds. (I use French fleur de sel from the Guerande);
Working quickly, dip the top of each into the salted caramel then place the candied tops on a plate of seeds;
Serve as close as possible to making them. Keep aside at room temperature and avoid transferring to the fridge, as the caramel will melt.
Cherry Tomato Macarons
Also served for an aperitif, have you tried my Bloody Mary mini macarons yet? Strictly for adults only and also just as fun.
The recipe is in my first book, "Mad About Macarons", as part of the mini savoury macaron chapter.
Candied Cherry Tomatoes
Elegant yet fun edible table decorations for parties or pre-dinner drinks. Cherry tomatoes are quickly dipped in salted caramel then rolled in seeds (sesame, poppy seeds or flaxseeds) and herbs.
Ingredients
12

Cherry tomatoes

washed & thoroughly dried

100

g (3.5oz)

Sugar

50

ml (1.75floz)

Water

1

teaspoon

fleur de sel salt

1

tablespoon

sesame, flaxseeds or poppy seeds

or a mixture

1

teaspoon

mixed fresh herbs

finely chopped (or pinch dried herbs)
Instructions
Ensure the cherry tomatoes are washed but that no water is left on the surface.  Lay out everything in advance since you'll need to work quickly once the hot caramel is ready:

Prepare a baking tray covered in baking paper, 12 cocktail sticks (or brochette/cake pop sticks), a plate coated in the seeds, plus a bowl or tin (waterbath) filled with hot water that can hold the saucepan of caramel (this is so that the caramel doesn't harden too quickly while you work). Pierce each cherry tomato with a cocktail stick.

In a saucepan, place the sugar and water together and stir until the sugar is dissolved.

Put on a medium heat and, without stirring, leave for about 6 minutes until the caramel starts to form.  The sugar will bubble furiously and the caramel will start to brown slightly - keep your eye on it for the next couple of minutes. Add the fleur de sel salt to the caramel or roll in the salt with the seeds.

Take the caramel off the heat as soon as the colour is light brown and place the saucepan in the warm water bath and work quickly. Dip each cherry tomato into the caramel then immediately roll in the seeds and the salt.

Place on the baking tray to set for a minute.
Notes
Serve pierced in a giant tomato or half a grapefruit covered in aluminium foil, for example.
It's best to serve them as close as possible to preparation. I recommend keeping them out at room temperature, as placing them in the fridge could result in the toffee melting.
This post was first published 10 September 2017 but has now been completely updated
Have you made this recipe?
I'd love to know how it turned out. Please let me know by leaving a rated review below. It means so much to have your support. On Instagram? Share a photo and tag @JillColonna and hashtag it #madaboutmacarons. À bientôt!