You read me correctly. I normally talk about French macarons, or the difference between Macarons and Macaroons – but this time I'm rolling my sleeves up by converting traditional Scottish Macaroon Bars into these Scottish Macaroon Bar Snowballs!
The advent calendar is up, filled with riddles and surprises; I didn't think that Lucie would still want it this year but I suppose at 12, the bags are expected to be more thought-provoking or just filled with chocolate.
She's already worried about the 4th, as that bag looks empty but hopefully, she'll remember that day well, as there's a wee note inside for something a bit bigger that didn't make it into the bag.  I get as much fun out of it as she does – but that's what it's all about, see? Oh, hokey cokey cokey …
The Scottish Macaroon Bar
Times like this evoke childhood memories, don't they? Take teatime: do you have an afternoon treat that rekindles a warm, sweet blast from the past?
As a Scottish lass, there are a couple of sweet treats that can still instantly conjure up an instant glow: Tunnock's teacakes and a Lee's macaroon bar. I say the macaroon bar in the singular, since it's so densely sweet that one rectangular bar is more than enough!
It isn't  a macaroon as such – you know, the sticky baked coconut confection using egg whites, sugar and coconut – and it's far removed from (read nothing like!) a Parisian macaron, made with ground almonds (almond flour), sugar and egg whites, that's in my book.  No, a Macaroon Bar is made with a hard fondant centre of mainly icing (powdered) sugar and mashed potato (yes, you heard me right), which is coated in chocolate and toasted coconut.
The Macaroon Bar in Scotland was originally manufactured in Glasgow by Lee's in 1931 and they still make them today. It's a classic.  I even see they're sold on Amazon.co.uk for homesick Scots!  And the song that accompanied it was pretty catchy…
The other day I wanted to prepare some British treats for the Lycée International's school Christmas Fête, west of Paris. Why didn't I just make shortbread?  Since I was already on a roll with chocolate-coconut snowballs, I wanted to give these a go and besides, they look pretty Christmassy, don't they?
To be honest, I couldn't eat a whole bar these days, as it really is FAR too sweet but the sensation of the fondant centre and the memory makes this smaller snowball size just perfect! I discovered a fellow Scot's blog at TinnedTomatoes.com, where Jacqueline posts delicious vegetarian and vegan recipes. She had also produced smaller macaroon bars but in the smaller guise as snowballs. Parfait! So time to get rolling…
Scottish Macaroon Bar Snowballs Recipe
Inspired by Jacqueline's blog at TinnedTomatoes.com.  I've found that the amount of sugar will vary, depending on how dry your potato is (the drier the potato the better, Russett – I use Bintje in France).  You may need more or less but the fondant should be thick and quite difficult to stir at the end, when it's just right and ready to roll. They may be packed with sugar but they're gluten free!
Update December 2017: My friend, Christina Conte also has a recipe for Macaroon Bars – but at the time of writing I hadn't discovered her yet!
Makes approx. 36 balls
Preparation Time: 40 minutes
Chilling Time: Approx. an hour total
1 potato (about 120g) a dry potato like Russett, Maris Piper or Bintje
460g icing (powdered) sugar (more or less)
1 tsp vanilla extract (or vanilla powder)
200g dark chocolate (64% cocoa solids – I used Nestlé's Corsé brand)
200g finely shredded coconut
1.  Peel the potato and cut it into quarters, then boil until soft.  Rinse off the extra starch in cold water.  Mash until smooth in a large mixing bowl and leave to cool completely.
2. Using a wooden spoon, add the vanilla extract (or powder) then a few spoonfuls of icing sugar at a time, stirring well to mix.  Don't worry: the mix will be runny and rather unappetising at first but eventually, as you add more and more icing sugar, it will thicken.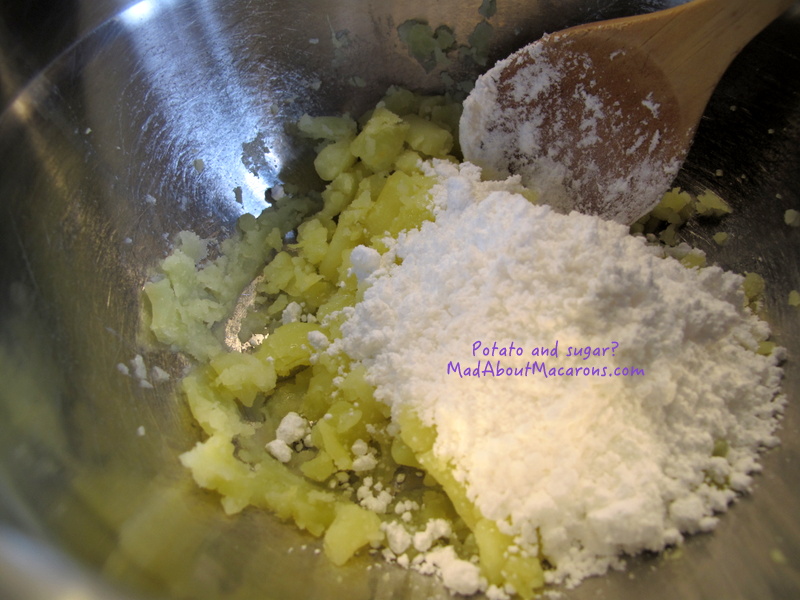 3. The sugar-potato fondant will be ready as soon as it's difficult to worth with: it will be stiff and difficult to stir.
(Not the case? Add more icing sugar.)  At that point, cover it in cling-film or plastic wrap and chill in the fridge for at least 30 minutes.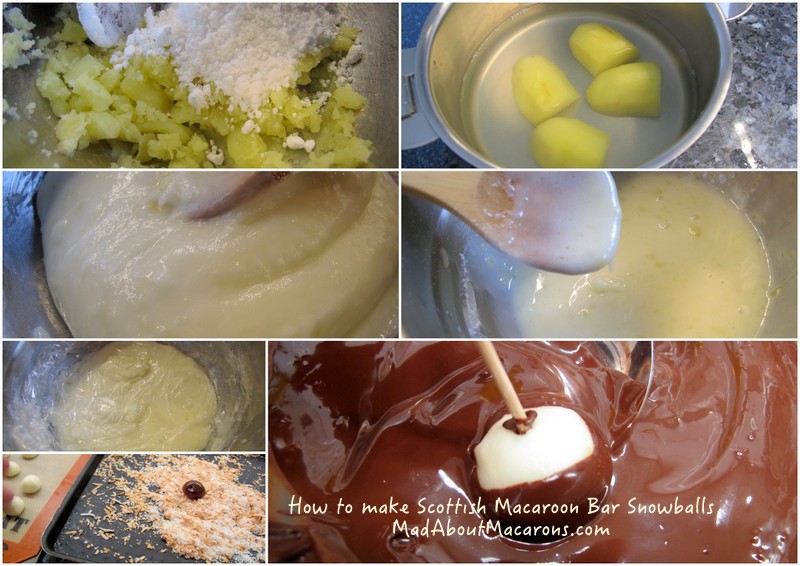 4. Cover two baking trays with baking parchment/greaseproof paper or a Silpat mat.  Tear small balls of the macaroon fondant and roll into smooth balls the size of a one pound coin (I find it easier washing hands every 10 balls, as it can get rather sticky!)  Once all the balls are prepared, chill them directly on the trays in the fridge (update: I made mine in the winter when my kitchen was cool – you may need to put yours in the freezer).
5. Pour half of the desiccated/shredded coconut onto a non-stick baking tray and toast under a hot grill for a couple of minutes.  Keep your eye on it, as it burns far too easily!  Mix the plain coconut with the toasted batch.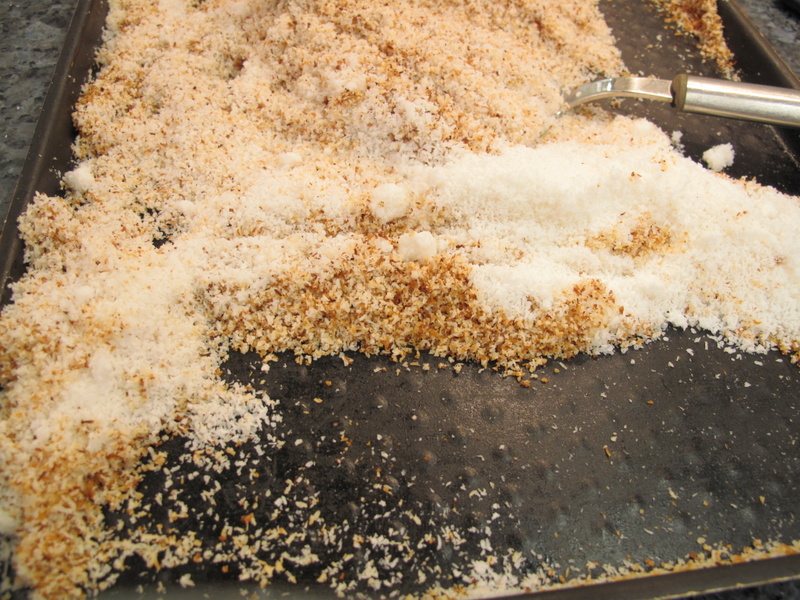 6. Break the chocolate into bits and melt over a pan of simmering water (bain-marie).  Leave to cool slightly for about 5 minutes.
7. This is when fun and messy fingers take over the kitchen: dip each macaroon fondant into the melted chocolate (I started using a cocktail stick then gave up – too long!), then immediately roll each in the coconut then place back on the baking tray.  Ideally use separate hands for each.
8. Place the baking trays with the coated macaroon snowballs in the fridge to set.
The macaroon bar snowballs can keep in a tin or airtight container in a cool, dry place for 7-10 days.  There's no need to keep them chilled in the fridge.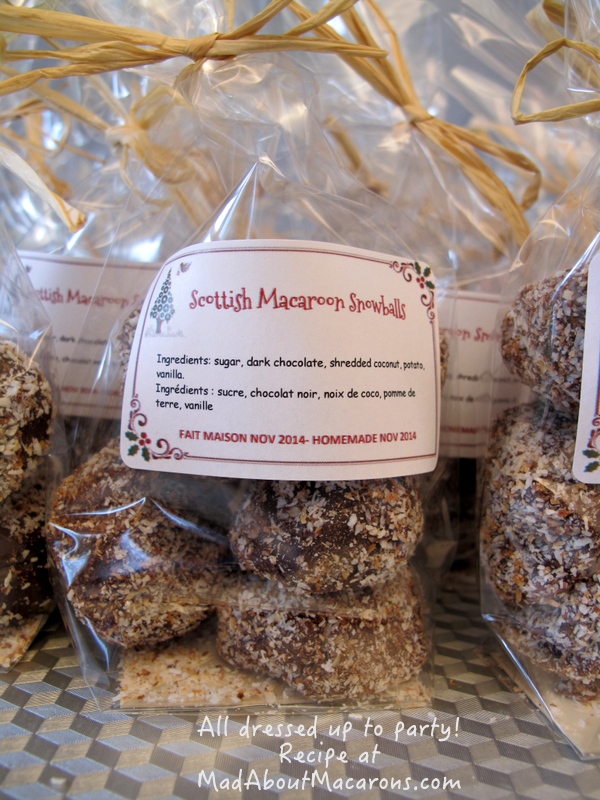 Here are some I made earlier, all packaged up and ready to party at the Christmas Fête… Wish I'd manage to see the expressions at the potato ingredient!
And, like macarons, they're GLUTEN FREE!