Matrimonial Cake that Granny used to make. Whether it's Canadian or Scottish, the result is just as delicious: dates sandwiched in an oat shortbread crumble crust. Plus ideas where it got its name.
I've baffled even myself as to why I haven't made these oaty date squares until recently. Granny called the recipe "Matrimonial Cake" and it was my personal favourite of all of my childhood baking with her and Auntie Shirley in Musselburgh. There was only one problem and so it comes with a warning to you: it's so blooming addictive!
By now, if I'm able to control myself like the French women with sumptuous Parisian macarons, tartlets, buttery financiers, Madeleines, Mille-feuilles and éclairs (all in my book, Teatime in Paris), plus the likes of palets bretons butter biscuits, I can also safely make Granny's Matrimonial Cake and leave it sitting in the box for up to a week.
Right?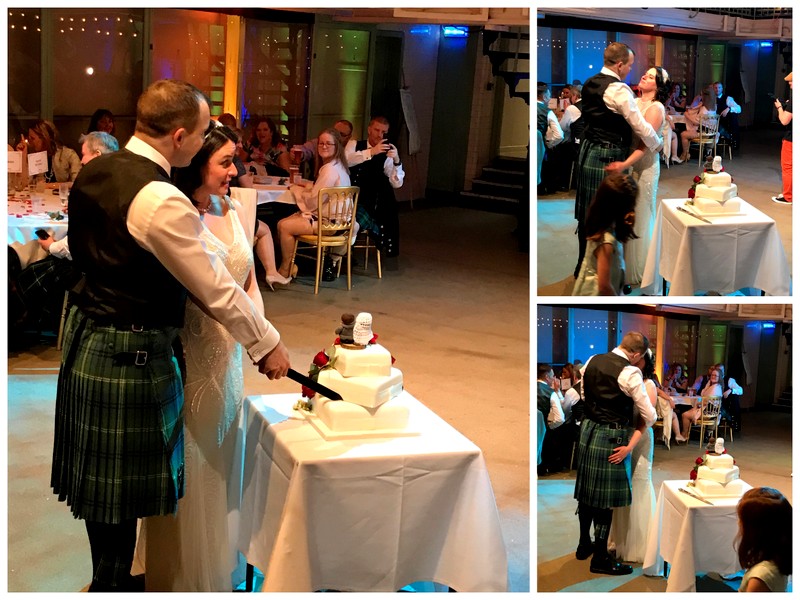 Wrong.
It was wonderful to be back in Scotland celebrating Lindsay and Eddie's wedding in Edinburgh.
My cousin, Lindsay, is the life and soul of every family party and at Christmas time, before you know it after Auntie Catherine lights up her homemade Figgy Pudding with brandy, there's no snoozing by the fire; you can pretty much guarantee being put into a team as Lindsay puts on the entertainment for the rest of the evening with a whole variety of party games, quizzes and prizes. Eddie, you're in for a most fun-loving life together and wish you both matrimonial bliss for a long, healthy and happy vie à deux en amoureux.
As they say in Scotland, "lang may yer lum reek" (long may your chimney smoke)!
Back home in France - as the honeymooners had found the sunshine - we were unexpectedly snowed in. For the first time in five years, Paris was briefly coated in a giant duvet of snow and with the girls' lycée closed, it meant I turned to Granny's Black Book of Scottish Recipes for our golden sunshine in the cosy kitchen.
Thinking of the wedding, it had to be Matrimonial Cake! As the recipe calls for cups, I've double- checked the quantities in more modernised measurements in grams (but also included ounces and cups as a guide).  As always, I've  reduced the sugar slightly to make this healthy.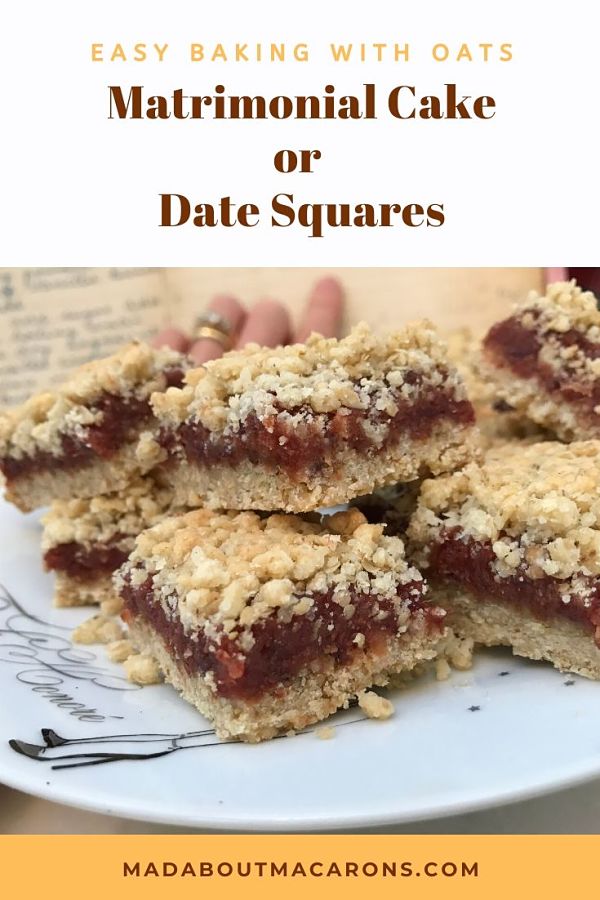 Why is it called Matrimonial Cake?
Goodness knows why the recipe is called "Matrimonial Cake". Do you know of its origins? If you do, then please leave a comment below this post - I'd love to hear from you! All I know is that it's popular in Canada, with some Canadians mentioning that the recipe originally came from Scotland.
This is when I wish I could have asked Granny tons of questions today, as this recipe probably has a lot more to it than meets the eye. All I know is that before life with Grandpa, she'd left Scotland and lived in Canada for about 3 years with a most adventurous life as nanny to five children of a business tycoon of a canning factory, originally from Kinlochleven in Scotland. Mr & Mrs Stewart loved entertaining and while travelling in their private plane, Granny had full control of their children, taking them on holiday, baking, sewing etc. and keeping up with the glamorous life.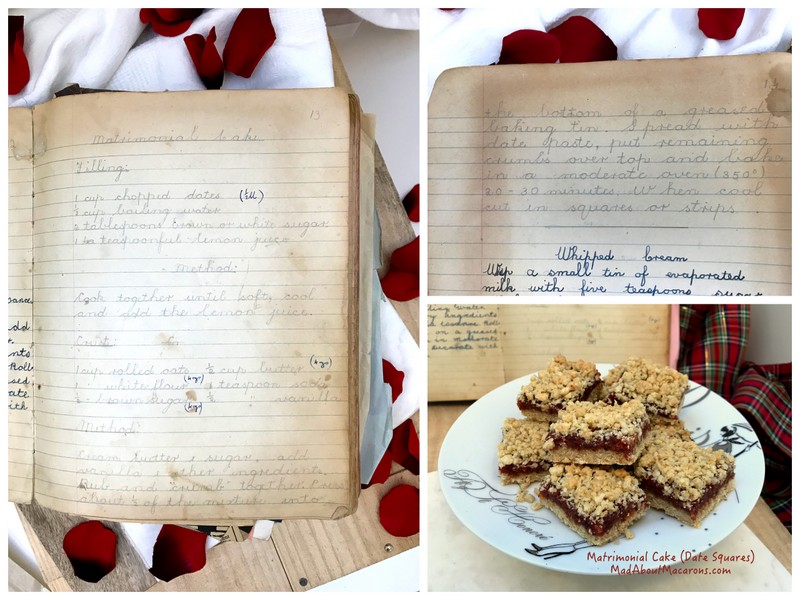 When she baked these date squares with us, who knows what was running in her mind of memories? Questions were taboo back in these days but knowing just this now, I'd be dying to know the children's names. Were they named after her own 5 children later: Ronald, Shirley, Irene, June and Catherine?
So, Matrimonial Cake looks like it came from her previous life in Canada. Its name is probably just because it was served at weddings at some time. It's ideal for a winter wedding, as dates are easy to keep in store. My theory is that it's simply so deliciously addictive that it had to be kept for weddings or special occasions - what do you think?
Whatever its origins, this Matrimonial Cake is just as addictive as I remember it and Lucie is pleading we make it again. What's more, there are plenty more goûter (teatime) recipes to choose from.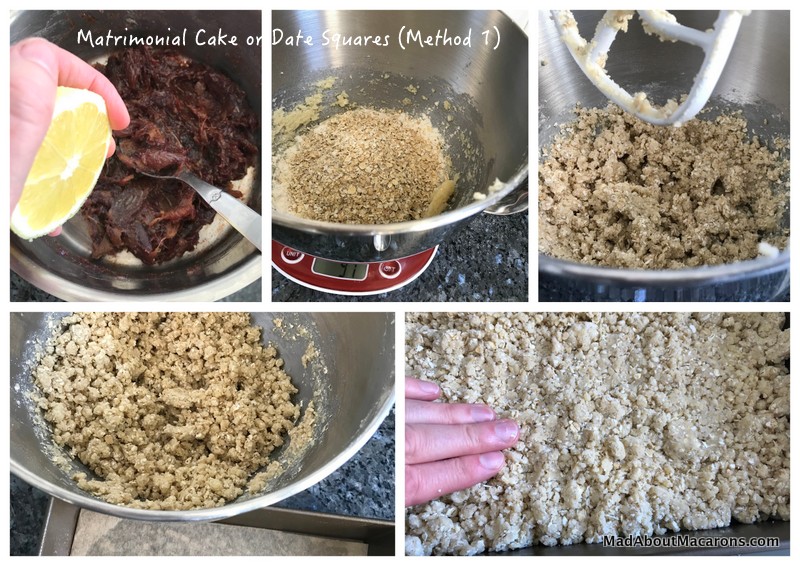 Matrimonial Cake: The Recipe
Granny mentions using lemon juice so I'm sticking with it - and even added a bit more which made the date paste turn a bit pinkish in colour but I loved this, as it ended up being rather appropriate for Valentine's Day, too. I see in other Canadian recipes that they use orange juice instead plus even some zest but I prefer keeping it simple as I remember it. If you feel some zest coming on, then go for it!
Once the delicious shortbread-like oat crumble is pressed in to the bottom of the tin and spread with the date paste, just drop on the crumble topping and only gently pat it down so that the effect is still a bit crumbly on top.
Granny didn't use much crumble on top (if you like a lot then increase the crumble recipe but the magic is the recipe below) which meant that you could still see the date nectar underneath and the crumble was more of a slightly sparse hint - which is why we craved even more.
Don't have dates for Matrimonial Cake?
No worries if you don't have dates - although it's still best with them. Make a different matrimonial cake with:
prunes and add some orange zest (I have a prune, orange & Armagnac recipe for macarons in my first book, Mad About Macarons!)
spread on sweetened chestnut & vanilla paste (Clément Faugier or Sabaton), known as Crème de Marron. See more about chestnuts. Most top patisseries in Paris also sell them in jars.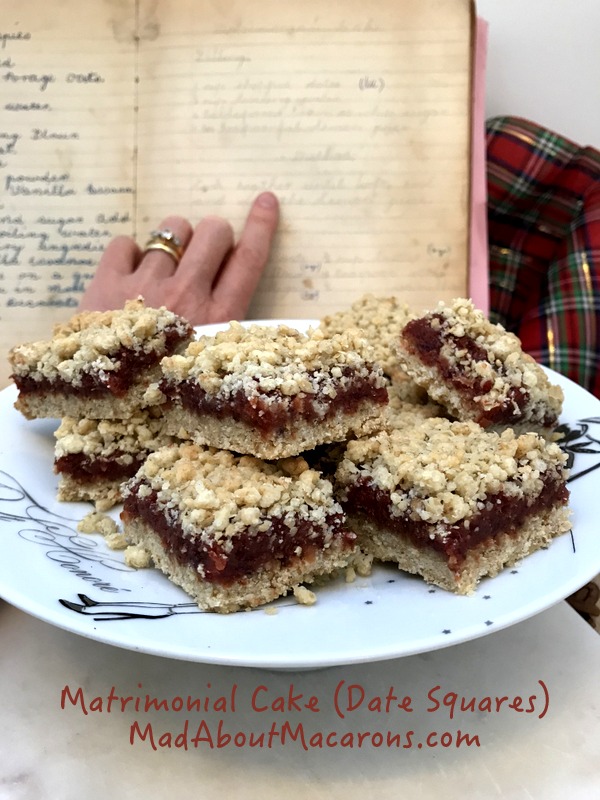 More Recipes with Dates from the Pantry
If you love dates, then try these recipes on a date theme: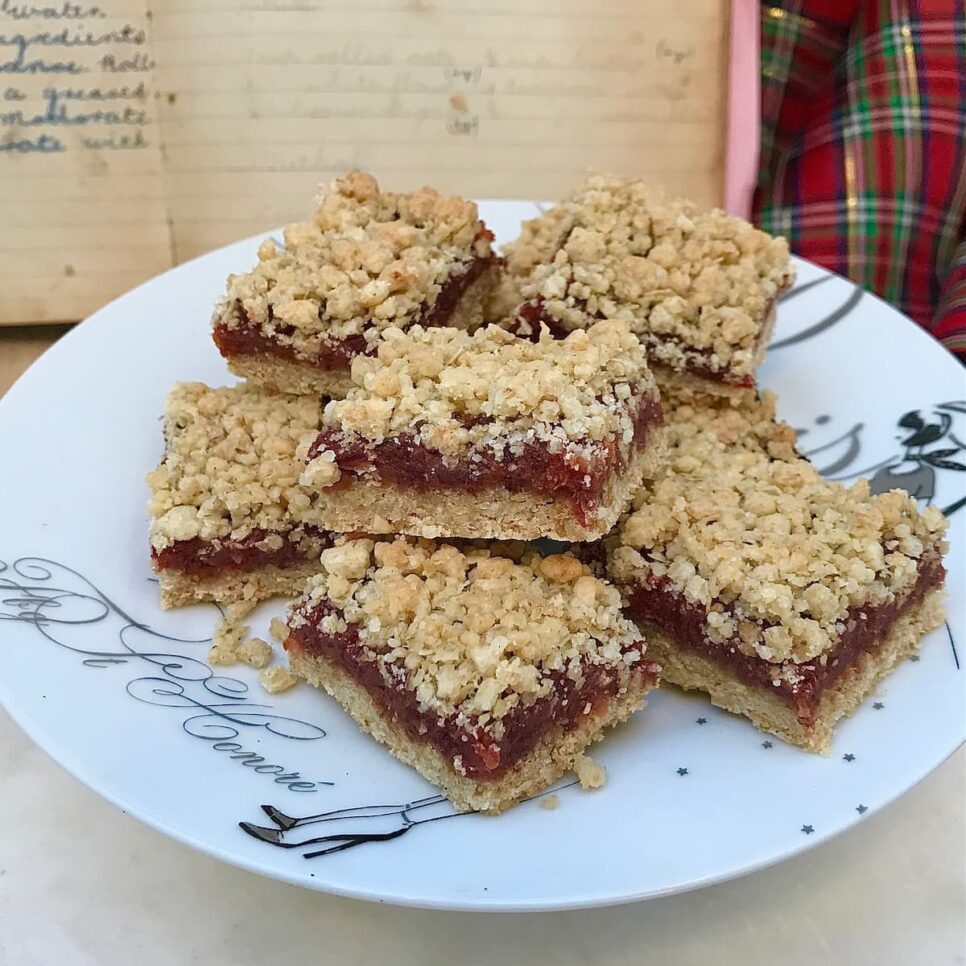 Matrimonial Cake - Oaty Shortbread Date Squares
Matrimonial Cake that Granny used to make. Whether it's Canadian or Scottish, the result is just as delicious: dates sandwiched in an oat shortbread crumble crust.
Equipment
baking tin (27x19cm tin with lip of at least 3cm)
Ingredients
Date Filling
255

g (9 oz/2 cups)

Pitted dates

either in a block or separate in packets

110

ml (4 fl oz/½ cup)

boiling water

1

tablespoon

soft light brown sugar

(optional)

1

lemon

juice of lemon only
Oat Shortbread
110

g (4 oz/½ cup)

butter (unsalted)

softened

100

g (3.5 oz/½ cup)

soft light brown sugar

90

g (3 oz/1 cup)

porridge oats

120

g (4 oz/1 cup)

plain flour

all-purpose

1

teaspoon

baking soda

1

good pinch

salt

(fleur de sel)

½

teaspoon

vanilla extract

(or vanilla powder)
Instructions
For the Date Filling:
In a saucepan, cook together all the ingredients except the lemon juice. Cook gently until soft (about 20 minutes). It's ready when the dates soften into a paste. (If you prefer having a perfectly smooth paste, then blitz it for a few seconds in a food processor.)  Set aside to cool then add the lemon juice.
For the Oat Shortbread Crumble:
Preheat the oven to 180°C/160°C fan/360°F/Gas 4 and grease a baking tin (I use a 27x19cm tin) with either butter or even better, use a non-stick tin.

Cream the butter and sugar together either by hand using a wooden spoon or better, in a food mixer/processor.

Add oats, flour, soda and vanilla until well combined.

Press no more than half of the mixture into the greased baking tin - either with your fingers or using a flat spatula to make the bottom layer even and thin. Spread on the date paste using a spatula and smooth it out until even.

Top with the oaty shortbread crumbs and gently pat it on top to keep it in place but not too much - it's better to have a crumbly look to the light topping. 

Bake in the oven for about 30 minutes or until the oats are lightly toasted.

Cool on a wire rack then place in the fridge for about 30 minutes, remove from the tin and cut into squares - or bars, if you prefer.
Notes
Like macarons, this is even better eaten next day - and the next and next...
Storage: up to a week in an airtight container in the fridge. Best eaten at room temperature so remove from the fridge about 20 minutes before serving.
Variation: Don't have dates? Replace dates with prunes and add the zest of an unwaxed orange (see more on oranges on my market produce guide). 
Measures: Please note that all my recipes are best made using digital kitchen scales in precise metric grams. Both ounces (and cups) are given as an approximate guide. 
Have you made this recipe? Please leave a rated review below - it means the world. Thank you!
If it's Scottish recipes you're after, see my Macaroon Bar snowballs, my French iced parfait twist to a Honey and Raspberry Cranachan dessert and fluffy cheese scones.