A quick vegetarian no-suet mincemeat recipe with a much shorter mature time compared with traditional mincemeat. It also makes a fabulous filling for gluten free mince pie macarons - without the pie.
Feeling Festive on Stir-Up Sunday
As Stir-up Sunday falls upon us at the end of November, it's a time to start thinking about being festive in the kitchen.  Seeing prompts on social media reminded me.
So what is Stir-up Sunday? Stir-up Sunday takes place the last Sunday before Advent. Traditionally, it's the day that good British home cooks get stirring the Christmas pudding and top it up with more Brandy. The whole family gets to stir it around, making a wish while doing so.
At home in France, however, Antoine isn't a fan of Christmas pudding - although sticky toffee pudding with apple is, however, a great hit.
So, instead, I get around this catastrophe of keeping a little bit of my Britishness by stirring up some homemade mincemeat and finding ways to French it up a bit.
No-Suet Vegetarian Mincemeat Recipe
Whilst Christmas pudding needs time to mature before Christmas, the bonus is that this mincemeat doesn't need as long to mature. It only requires a few days and can keep for up to a year - although I haven't even tried it as it disappears pretty quickly! Moreover, as traditional mincemeat uses beef suet, I prefer making this vegetarian version, using butter instead.
So it has all the traditional ingredients of mincemeat without the suet.
My daughters are absolutely nuts about mincemeat and mince pies - especially when homemade with this mincemeat.  So we can make pies with more filling rather than more pie dough, so they are lighter than store-bought mince pies. It's also great for filling these deliciously quick and easy Mincemeat Pinwheels.
Mincemeat Macarons (Vegetarian & Gluten-Free)
Now that we have homemade British-style mincemeat, it's time to French them up a bit. Consequently, we said Bonjour to mincemeat macarons!
Make a batch of dark coloured macarons (adding ¼ teaspoon of cinnamon in the shells) and fill them with this vegetarian mincemeat. Recipes for macarons are in my books: Mad About Macarons!
If you close your eyes, you'll discover the taste is just like a mince pie without the pastry.
Moreover, it's also like a light gluten free Christmas pudding! It's festive. It's fruity. It's spiced.
Healthy too with apples, pecan or walnuts.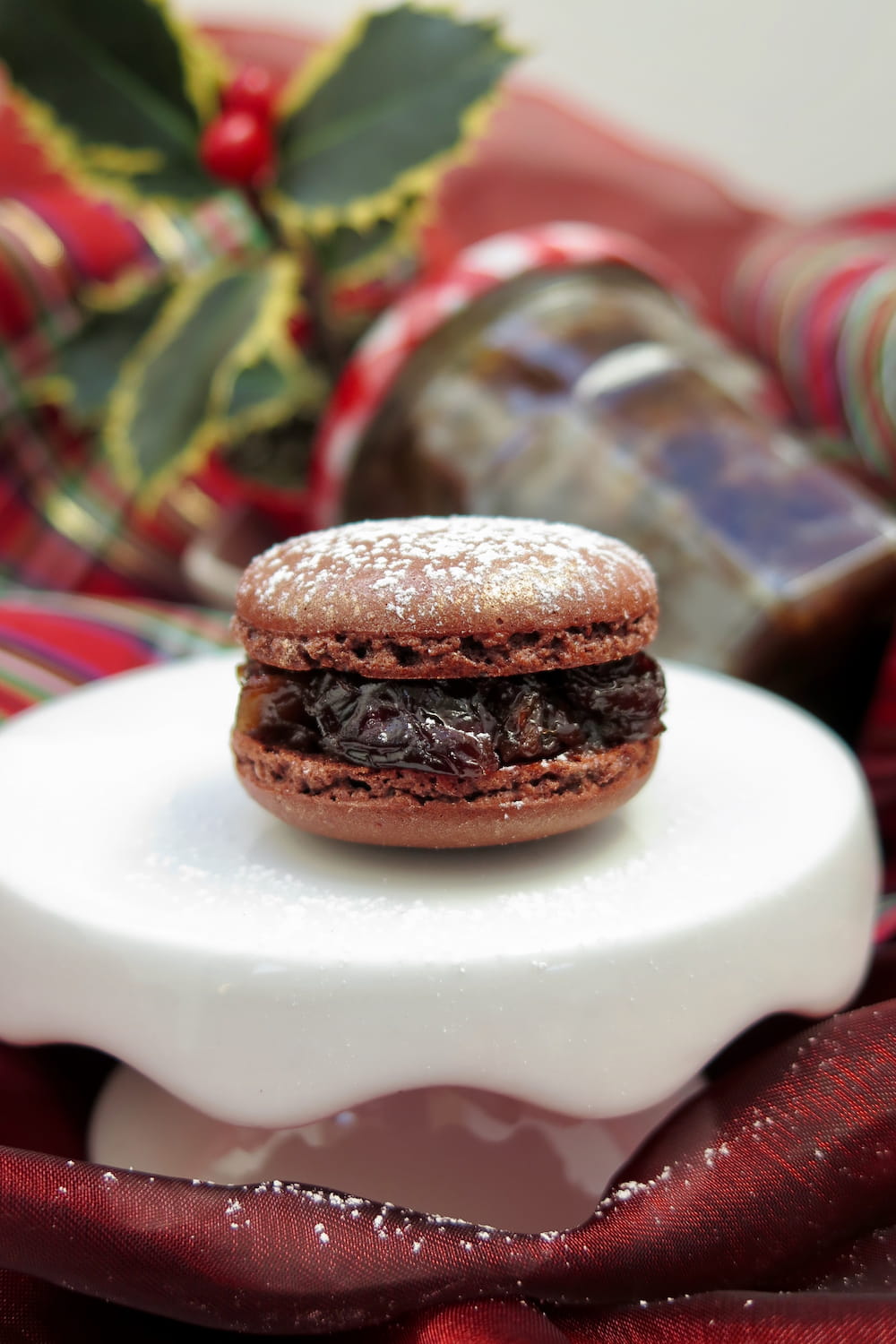 When you follow the mincemeat macaron filling recipe below, there are two versions:
Either blitz the filling to make a smooth paste, making it easy to pipe out using a piping bag.
Alternatively, just spoon it on (like in the photo). Don't forget, however, to let your mince pie macarons mature patiently in the fridge for at least 24 hours. What? The macarons are patient or are you?
As this uses butter instead of suet, this is suitable for vegetarians and, like all macaron recipes in my books, are gluten free.
What Can I Make with No-Suet Mincemeat?
Plus, it goes without saying - you don't need to just fill macarons with this.
It's great for making your own mince pies or for spooning over creamy rice pudding for something festive.
Or top on Palets Bretons (French butter biscuits from Brittany) for a French style mince pie.
Quick No-Suet Mincemeat
An easy, quick no-suet mincemeat recipe, ideal for vegetarians and gluten free. Little time needed to mature compared with traditional mincemeat. It also makes a fabulous filling for macarons!
Ingredients
275

g (10oz)

Apples (about 2-3)

peeled, cored and grated (I used Granny Smith)

200

g (7oz/ 1¼ cups)

Golden sultanas

200

g (7oz)

Cranberries

100

g (3.5oz/ ⅔ cup)

Raisins

100

g (3.5oz)

Currants

100

g (3.5oz)

Dates

chopped

50

g (2oz/ scant ½ cup)

Slivered almonds

broken

100

g (3.5oz)

candied orange peel

25

g (1oz/ 2 tbsp)

pecan nuts (or walnuts)

chopped finely

200

g (7oz / 1¼ cups)

soft dark brown sugar

1

teaspoon

mixed spice

pain d'épices

½

teaspoon

ground cinnamon

1

orange (grated zest and juice)

unwaxed/organic

100

g (3.5oz/scant ½ cup)

butter

unsalted

10

tablespoon

Cognac

Brandy, apple or orange juice
Instructions
Throw all the ingredients and 8 tablespoon of the Brandy (or apple juice) in a heavy-based pot with a lid and cook on a low-medium heat for about an hour.

Allow to cool, stir in another 2 tablespoon of Brandy, then fill sterilised jars with the mixture

For filling macarons, blitz the mixture in a food processor (or hand blender) until a smooth paste.

Leave to cool then fill your macaron shells with the mincemeat paste and sandwich them together. Leave to mature in a container in the fridge for 24 hours, to let the macaron magic do its work.
Notes
Once cooled and in jars, the butter will appear but that's normal. When used in mince pies or other dessert recipes, this will disappear.
Storage: As long as this mincemeat is kept in sealed, sterilised jars, it can keep for a year in a cool, dry place. Once opened, keep refrigerated.
Measures: Please note that all my recipes are best made using digital kitchen scales in precise metric grams. Both ounces (and cups) are given as an approximate guide. 
This post was originally published December 1st 2016 but is now republished to include new images and updated text.