Looking for pâtisseries for diabetics in Paris? These specialised sugar free pâtisseries are aimed at diabetics for type 1 or 2 with certified low glycemic level pastries. Although, not just for diabetics, these French pastry and chocolate shops are for anyone sensitive to sugar in their diet, or just looking for a slightly healthier alternative.
Les Belles Envies
When she was only 13, Alixe Bornon was diagnosed with diabetes and so had a driving urge to create her own low glycemic pastries. Since 2019 she now has two boutiques specialising in the most sumptuous low glycemic cakes, tarts, biscuits and chocolate with her mantra,
"Oubliez le sucre, pas vos envies!" (Forget sugar, not your desires).
Pastries are classified with the IGC (Index Glycémique Contrôlé) certificate and aimed at those with Diabetes levels 1 or 2. They contain a low glycemic index less than 30, representing 60% less than ordinary pastries, giving a low impact on sugar levels to the body. This is thanks to:
Top quality coconut flower sugar and maltitol are used to replace standard refined sugar.
Likewise, zero white flour is used in favour of flours high in fibre: lupin flour, semi wholemeal flour (T80) and coconut flour.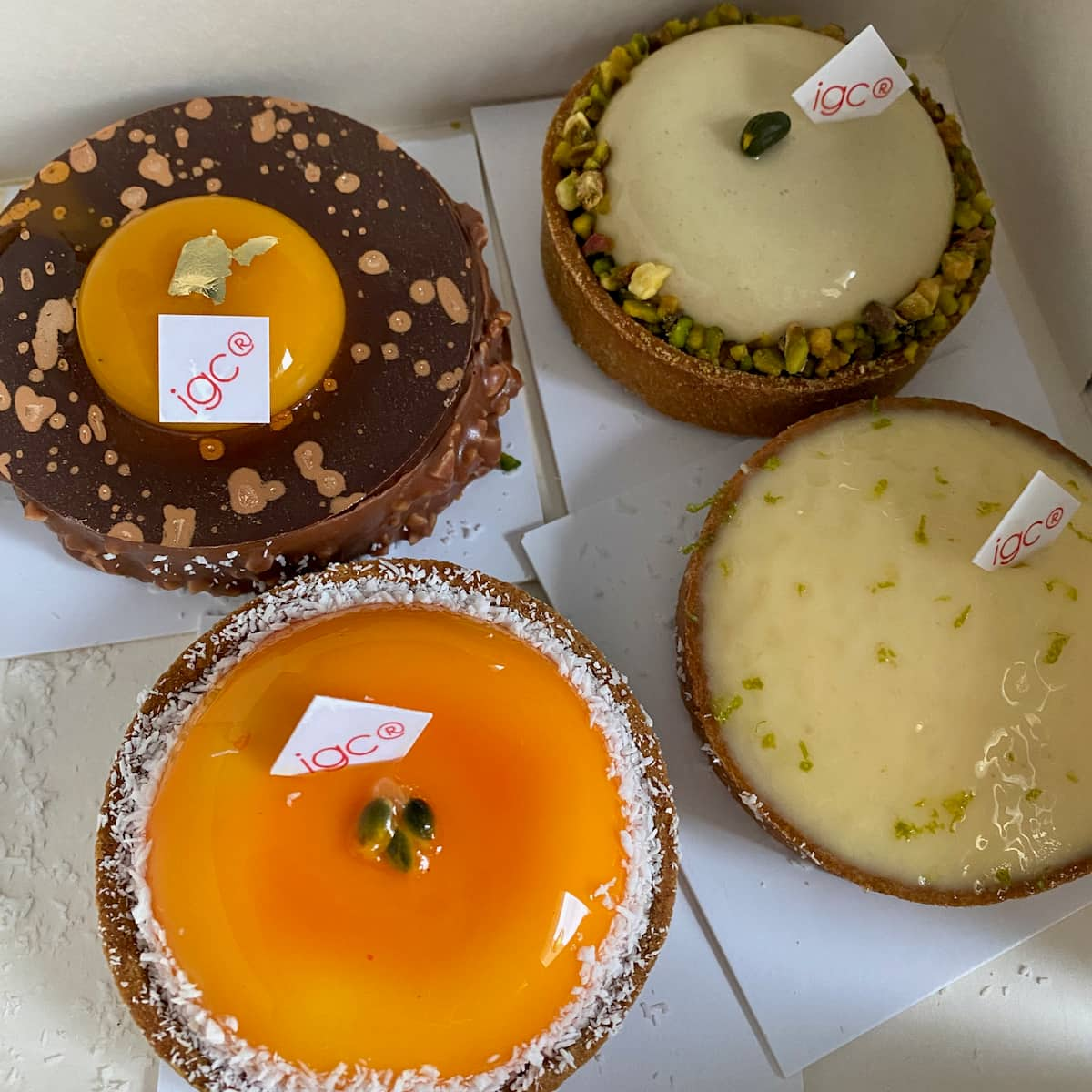 Low Glycemic Level Pastries - Tasting Test
From our tasting, the tarts were simply divine with amount of sweetness perfectly balanced. This is by far our favourite.
For their winter season, the pistachio tart (IGC 25 glycemic level) is nothing short of spectacular as well as the bestseller, Oeuf Chocolat Passion (IGC 18 glycemic level). With its mix of dark and milk chocolate with hazelnuts and almonds, it's topped with the most playful mango and passion fruit coulis, playfully resembling egg yolks.
Next was the passion fruit and coconut tart's perfect play of fruit acidity - even if the pastry base detached itself from the filling but we're not on a pastry competition jury! Fans of the classic French lemon tart will also be far from disappointed.
Their Parisian flan is speckled with vanilla - something that's a sure indicator of quality. Perfectly creamy and a lovely crust, I personally found it could merit just a few grams more of sugar, but not much more. It's the least sweet flan I've had in Paris, although wouldn't think twice about buying it again.
Plenty of choice of biscuits, chocolate marble cake, mendiants, ice creams and sorbets and chocolates - including plenty of choices of chocolate for Valentine's Day and Easter.
Bravo to pastry chef, Anna Bellandi, who produces for the two boutiques: the original shop in the Rive Gauche (rue Monge) and another in the Rive Droite (17 rue Poncelet, 75017 Paris).
Les Belles Envies, 3 rue Monge, 75005 Paris
Oh Oui! Oh Yes! Another Pâtisserie for Diabetics in Paris
I already previously wrote about this pâtisserie in my post on rue du Bac, Paris Pastry Street.
With "Minimum sugar and ultimate pleasure", Oh Oui! also specialise in 30% less sugar than traditional pastries (some are up to 65% less sugar) and create pâtisserie that diabetics (type 1 & 2) can enjoy with a glycemic index (indice glycémique) between 27-32. All while preserving flavour.
They replace normal plain white flour with either wholemeal flour or chickpea flour, for example. White sugar is replaced with ingredients that have a natural low glucose level such as coconut sugar, agave syrup or grape sugar; no synthetic sugars or extracts are used.
They prioritise fibre (e.g. oat bran), use only natural extracts and palm oil is a strict no-no. Like Les Belles Envies, they deliver online around France and also have a frozen section.
During our family tasting, their Finger Citron and Sicilian lemon tart are beautifully dosed. Our favourite, the Allumette Truffée, gave a lovely contrast of textures, an intense dose of chocolate with its layers of crumble and hazelnut ganache.
What's more, they now have a few low glycemic desserts to choose from at the French frozen food store, Picard.
Oh oui - oh yes, you can taste the difference that it's a healthy alternative but, as they say, "Indulge yourself without feeling guilty!"
Oh Oui !, 95 rue du Bac, 75007 Paris.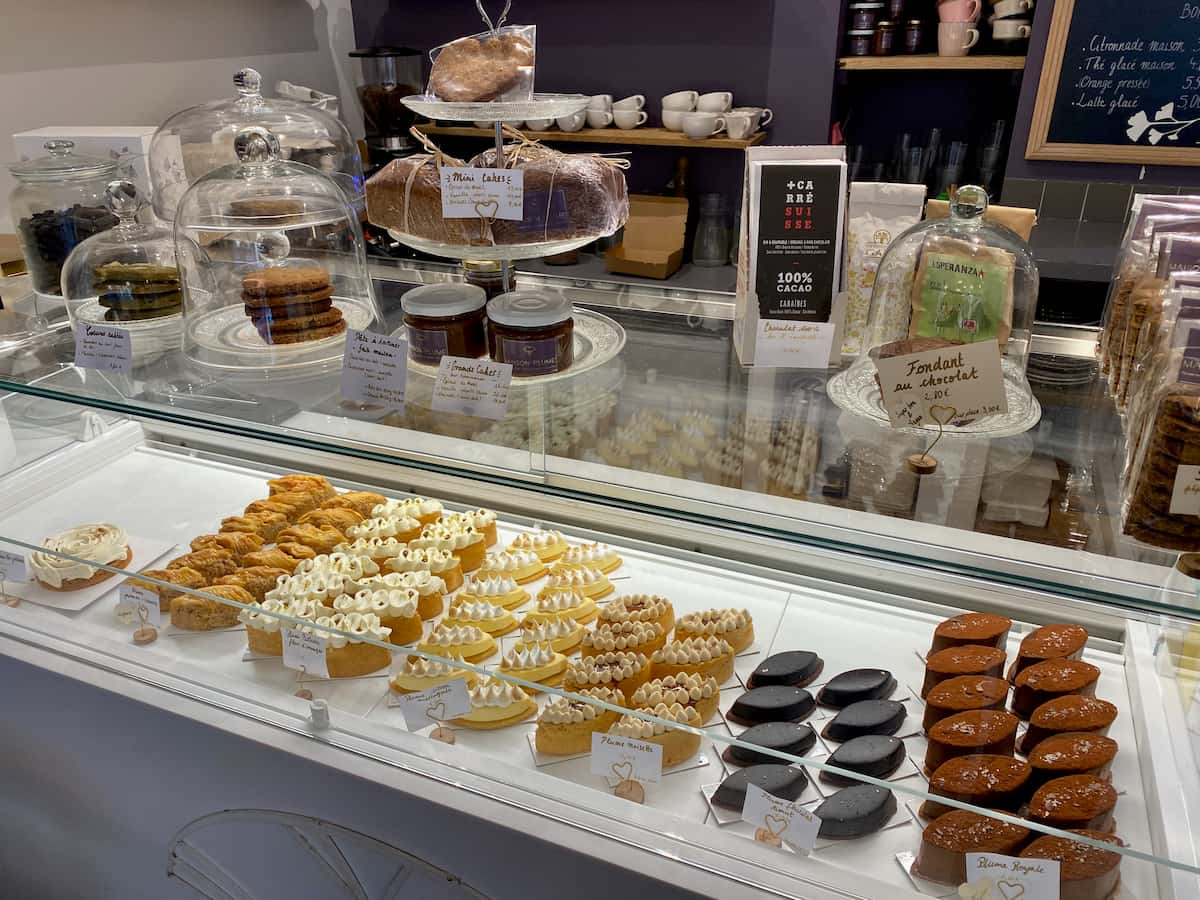 Maison Plume
This little boutique is tucked away in the Marais, just parallel to the famous chocolate and caramel shop of Jacques Genin. I'd heard so much around this pastry shop so was glad to finally taste all of their patisseries, with help with the family on our taste tests.
Pastries are beautifully presented in their signature oblong shapes. If you're looking for exact IG details, I would ask directly at the counter, as each pastry isn't marked like les Belles Envies. Although we preferred the Plume pistachio and orange flower pastry and the Plume Noisette, it is particularly noticeable that they are very low in sugar and intense flavours.
This is perhaps because their pastries are not just catering for diabetic clients but also gluten free. What's more, there's a good choice of treats for vegans. Gluten free cakes and sablé biscuits also line the counter, along with chocolate bars.
They also have a very small and cosy tea salon - see my complete Guide to the Best Tea Rooms in Paris under the Marais Paris 3.
Maison Plume, 61 rue Charlot, 75003 Paris.
This post, like my other articles, is not sponsored in any way (I paid for all the pastries)
and I was not asked to write a review.