Moist chocolate marble cake with banana, reduced in sugar. Simple recipe with cocoa powder and chocolate chips with tips how to make a swirl or marble effect. For a special treat, serve at teatime with a fudgy dark chocolate glaze.
How to Keep Marble Cake Moist
There's nothing more disappointing than a dry marble cake so this is why I created this recipe. This simply uses good quality chocolate, chocolate chips and is extra moist thanks to mashed banana in the batter.
Check your oven temperature isn't too hot - so just follow the recipe instructions and ensure you set an alarm timer so not to over-bake. It sounds obvious, but I still often leave cakes in the oven while working and by the time it smells slightly overdone, it's too late!
This marble cake is even better next day. To keep it from going dry, keep the cake moist in aluminium foil or in a greaseproof bag.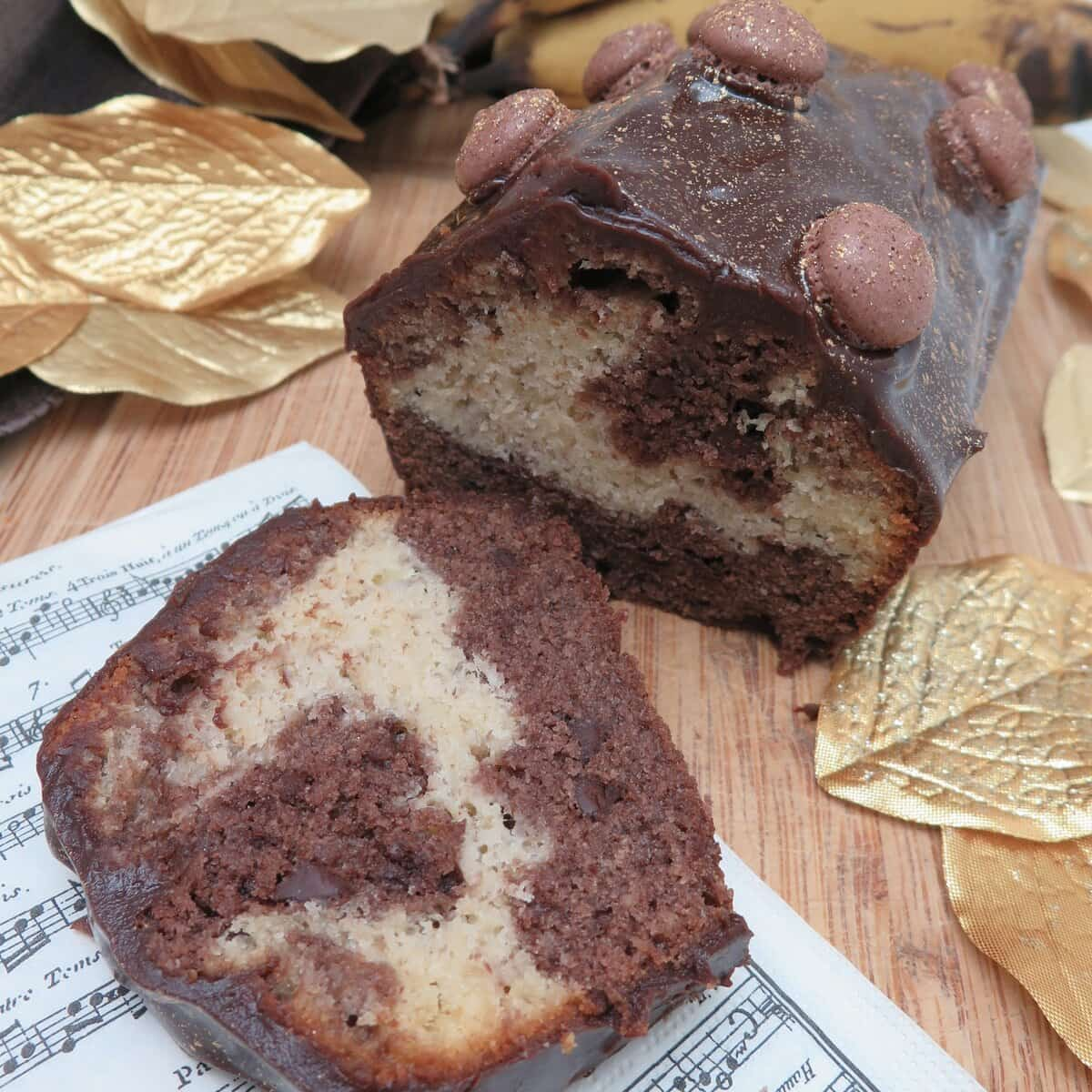 A Simple Marble Cake Recipe with Cocoa Powder
While many fancy marble cakes melt the chocolate for the 2nd batter, I have been a lazy gourmet. For the chocolate batter, simply use unsweetened cocoa powder and, to make it extra chocolatey, add good quality dark chocolate chips.
It's perhaps less glamorous in the beauty pageant, such as in the French bake-off (Mercotte and Cyril Lynac's longer version). However, the most important factor here is in the texture and taste. This gets the thumbs up every time.
How to Make a Swirl Cake Effect
To create a marble effect, or swirl like a tiger (hence its other name), divide up the mashed banana batter into two bowls. Add the chocolate powder and chips to one of them.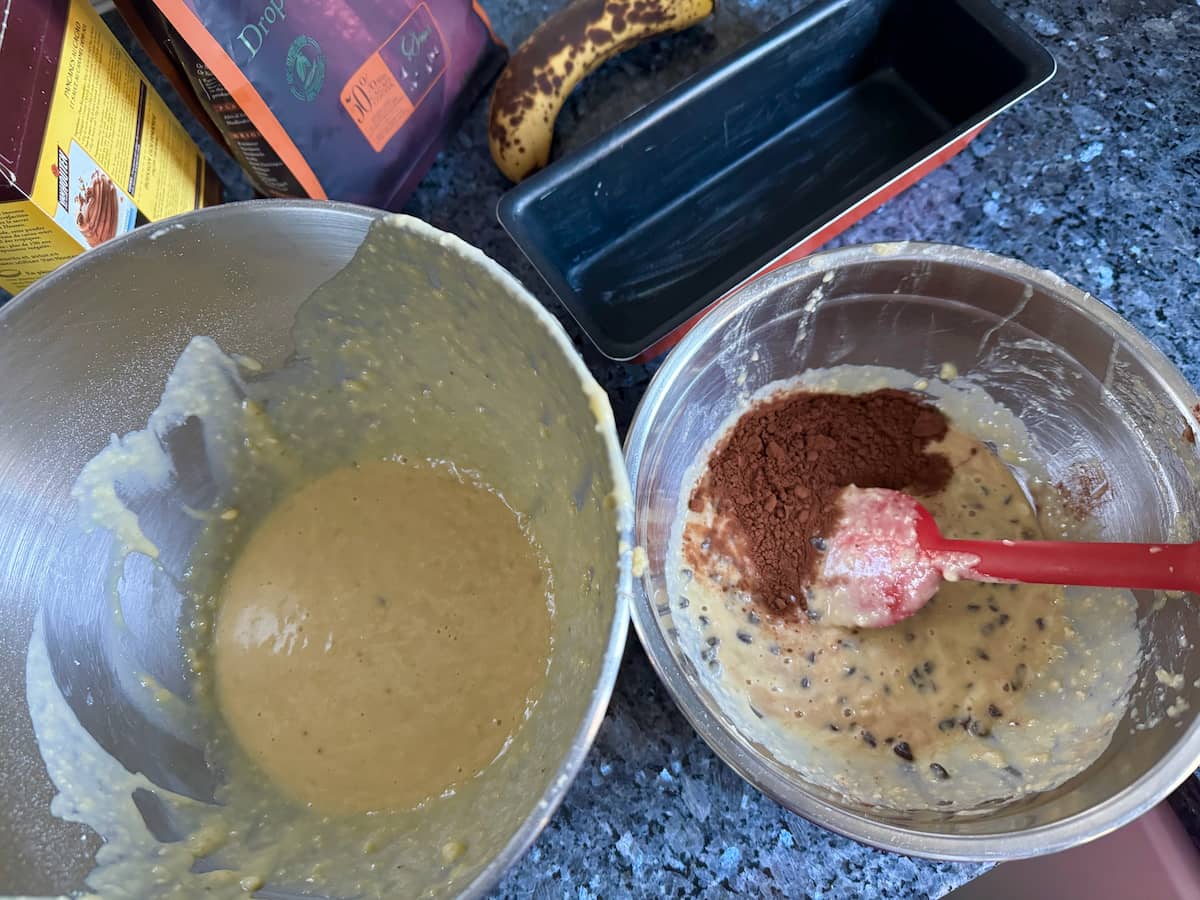 Layer each of the batters in turn, then swirl once from one end to the other with a knife, end of a spoon, skewer or cocktail stick.
When I say 'swirl', loop the skewer in a spiral pattern.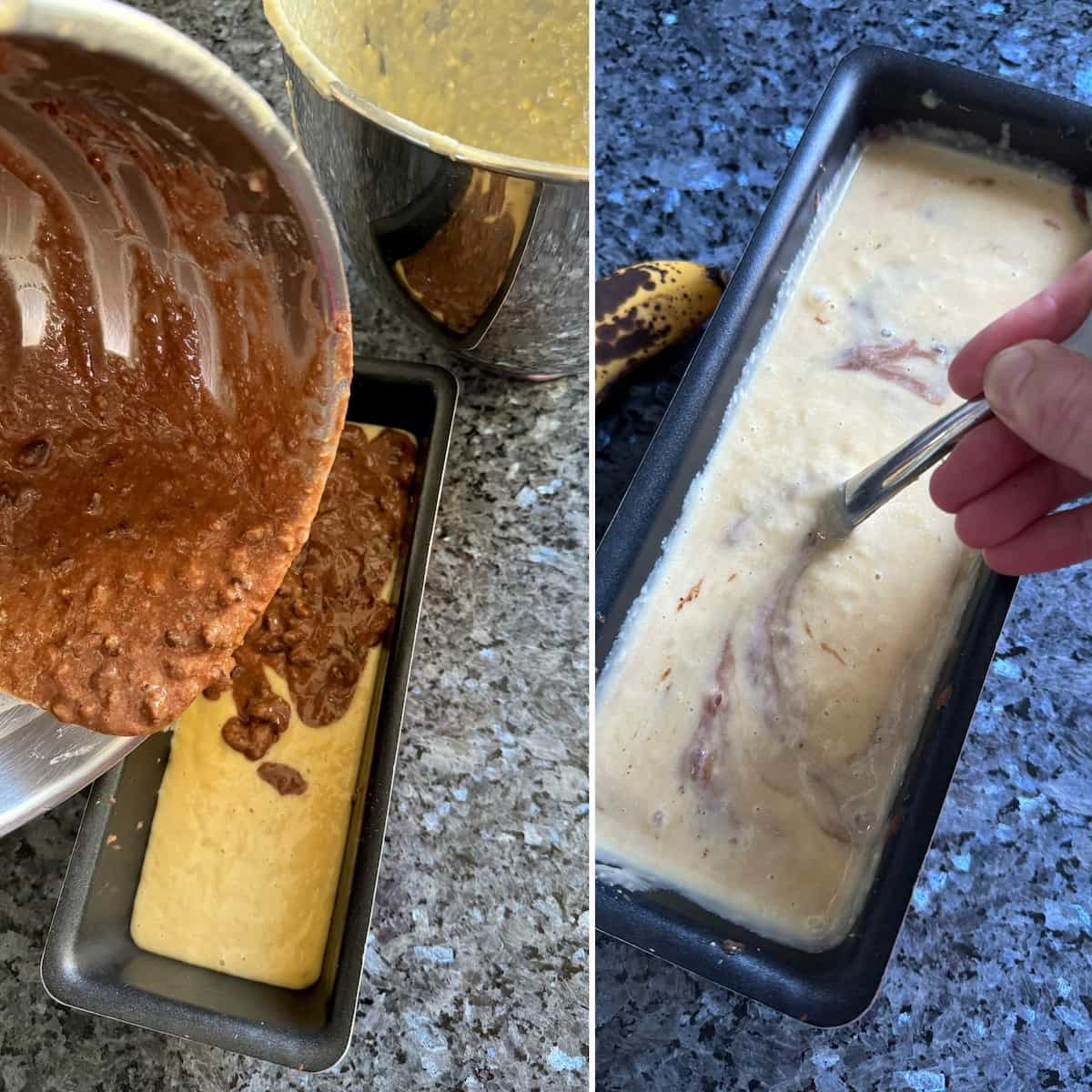 Swirling the batter once is just enough.
Sometimes we are carried away and over swirl going back and forth. The result? It's an over-swirled cake that's 'lost its marble!'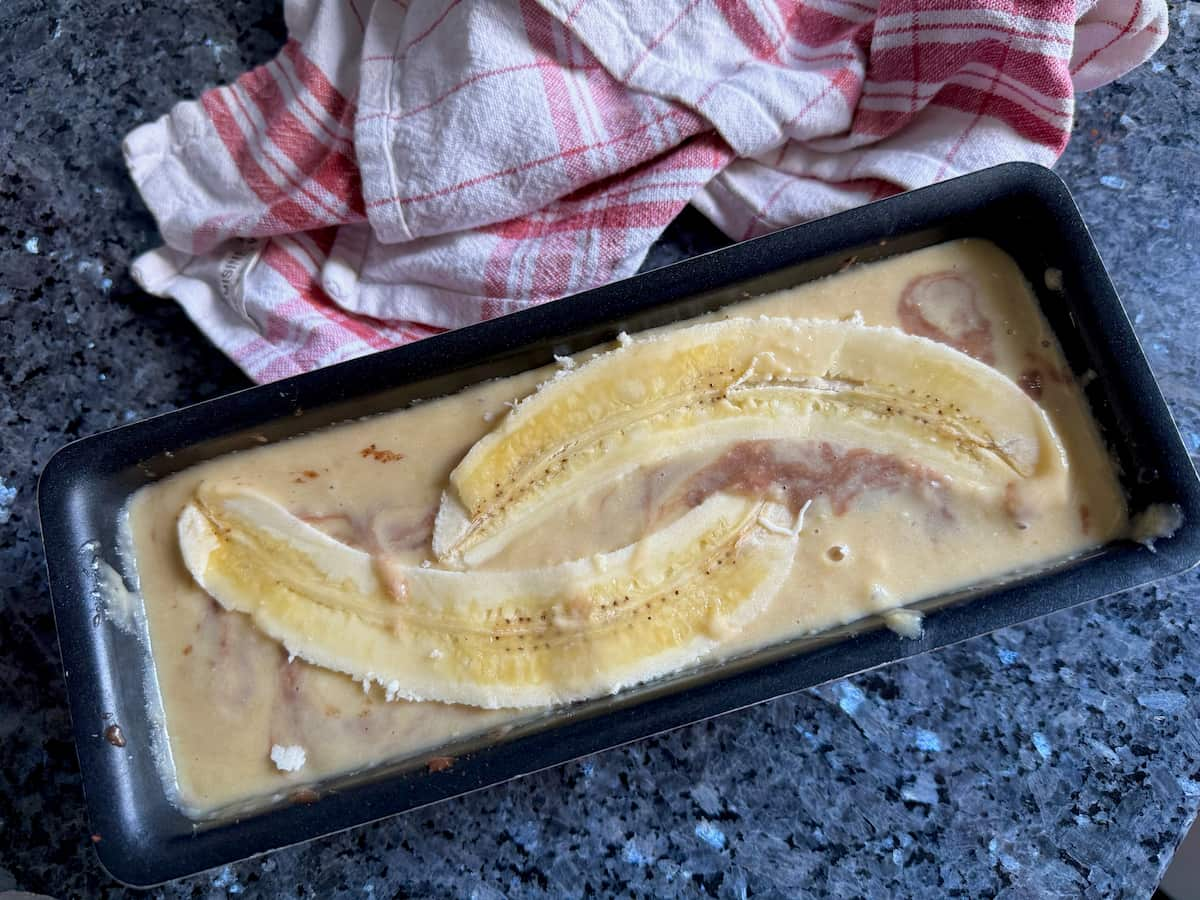 If not planning to top with fudgy chocolate glaze, grab an extra banana, cut it horizontally and place on top before baking in the oven.
Leave to cool for about 10 minutes then transfer to a wire rack to cool further.
Try and resist temptation to eat it straight away. It still tastes great but tomorrow it will taste even better.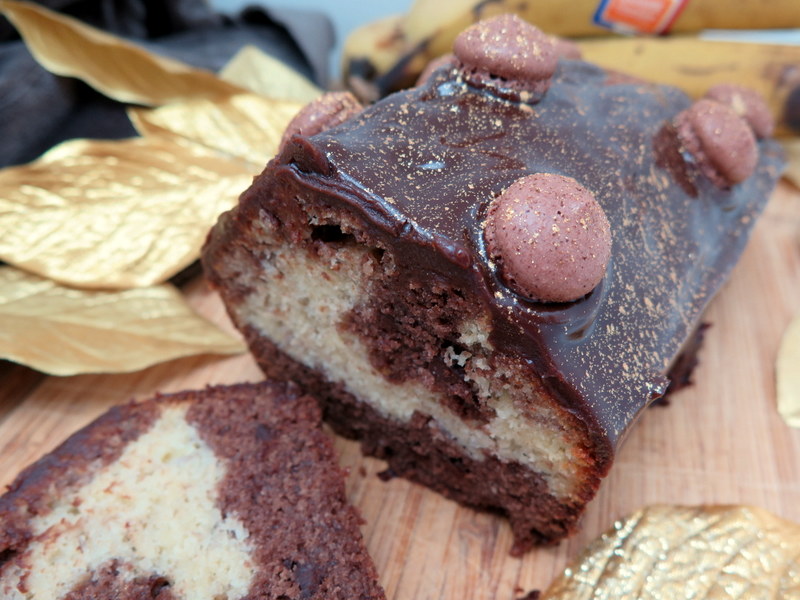 Easy Decorating Ideas for Chocolate Marble Cake
Some easy decorating ideas for this cake, especially for special occasions such as birthdays:
Simply top with a whole banana cut horizontally before baking.
Top with the fudgy dark chocolate glaze and decorate with chocolate macaron shells (see recipes in my pastry books), for a soft yet almond crunch for texture.
Top with nougatine of caramelised toasted nuts.
To create an instant holiday decor, sprinkle on some edible glitter (edible metallic lustre powder) for an instant golden effect.
Plop on some nuts (toasted hazelnuts, almonds, candied chestnuts or walnuts), or dried fruits (apricots, candied ginger or glacé cherries).
How to Serve
The family enjoys this for breakfast with a typical large French bowl of tea or coffee. However, chocolate marble cake is also delicious coated in a fudgy dark chocolate glaze for a special teatime or birthday party.
For more healthy banana cake recipes, try the moist banana nut bread, banana coffee cake and banana oat muffins.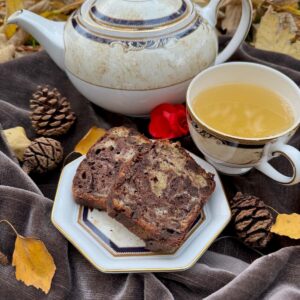 Chocolate Marble Cake with Banana
Easy recipe for chocolate marble cake with cocoa powder and chocolate chips. Made extra moist with banana and healthy with reduced sugar. Either top with a banana for breakfast/brunch or top with a fudgy dark chocolate glaze for teatime.
Ingredients
85

g (3oz/ 6 tbsp)

butter (unsalted)

softened

75

g (2 ¾ oz/ ⅓ cup)

cane sugar

3

eggs (organic)

at room temperature

170

g (6oz/ 1 ⅓ cups)

plain (all-purpose) flour

2

teaspoon

baking powder

2

(225g/ 8oz)

very ripe bananas

+ 1 for decor (optional)

15

g (1 tbsp)

unsweetened cocoa powder

100

g (3.5oz/ ¾ cup)

dark chocolate chips

good quality (bittersweet)
Teatime Chocolate Glaze (optional):
50

g (2oz/ scant ½ cup)

dark (bittersweet) cooking chocolate

good quality (64-74% cacao)

50

g (2oz/ ⅓ cup)

icing (confectioner's) sugar

sifted

50

g (2oz/ ¼ cup)

butter (unsalted)

50

g (2oz/ ¼ cup)

single or whipping cream

at least 30% fat
Instructions
Grease and flour a loaf tin, otherwise no need if you're using a non-stick tin. Preheat the oven to 160°C fan/180°C/360°F/Mark 4/.

In a large mixing bowl, cream the butter and sugar until soft, light and creamy (this is even easier if you beat together in a stand mixer). Gradually add the eggs, one by one until well mixed. Incorporate the flour and baking powder until the batter is smooth.

In another bowl, mash the banana with a fork and add to the batter. Transfer half of it to the other bowl. In one of them, add the chocolate powder and chocolate chips and mix well.

Pour half of the chocolate mix into the bottom of the tin, then pour in all of the banana batter, then finish with the rest of the chocolate.

Marble the cake by making zig-zags with a fork from one end to the other - or swirl a couple of times in a figure 8 with a skewer. (If making this without the teatime glaze, cut the extra banana horizontally, if using, and place on top of the batter.)

Transfer to the oven and bake for 45-50 minutes. 

The cake is ready when a knife inserted in the middle comes out clean. If not, bake for another 5 minutes. Leave the cake to cool then remove from the mould to a wire rack to cool.
For the Teatime Glaze (optional):
Melt the chocolate, icing sugar and butter in a bowl placed over a pan of simmering water (bain-marie). When melted, stir in the cream until the glaze is well blended.

Leave to cool for about 5 minutes then pour over the cake, even the glaze with a knife and decorate whatever takes your fancy. I added some mini macaron shells and dusted it with edible gold lustre, just tapping it over with a couple of fingers.
Notes
Please resist temptation to eat this straight away, as the marble cake tastes even better the next day.  
Storage: Can keep for up to 4 days in a cool place stored in an airtight tin or in aluminium foil (although not in the fridge) - if you're lucky not to have tigers around!
This recipe was first published 29 October 2018 but is now completely updated with better explanations and photos.