Healthy Chocolate Banana Marble Cake, a reduced sugar moist whirl cake. For breakfast, brunch or teatime with a fudgy dark chocolate ganache for extra decadence.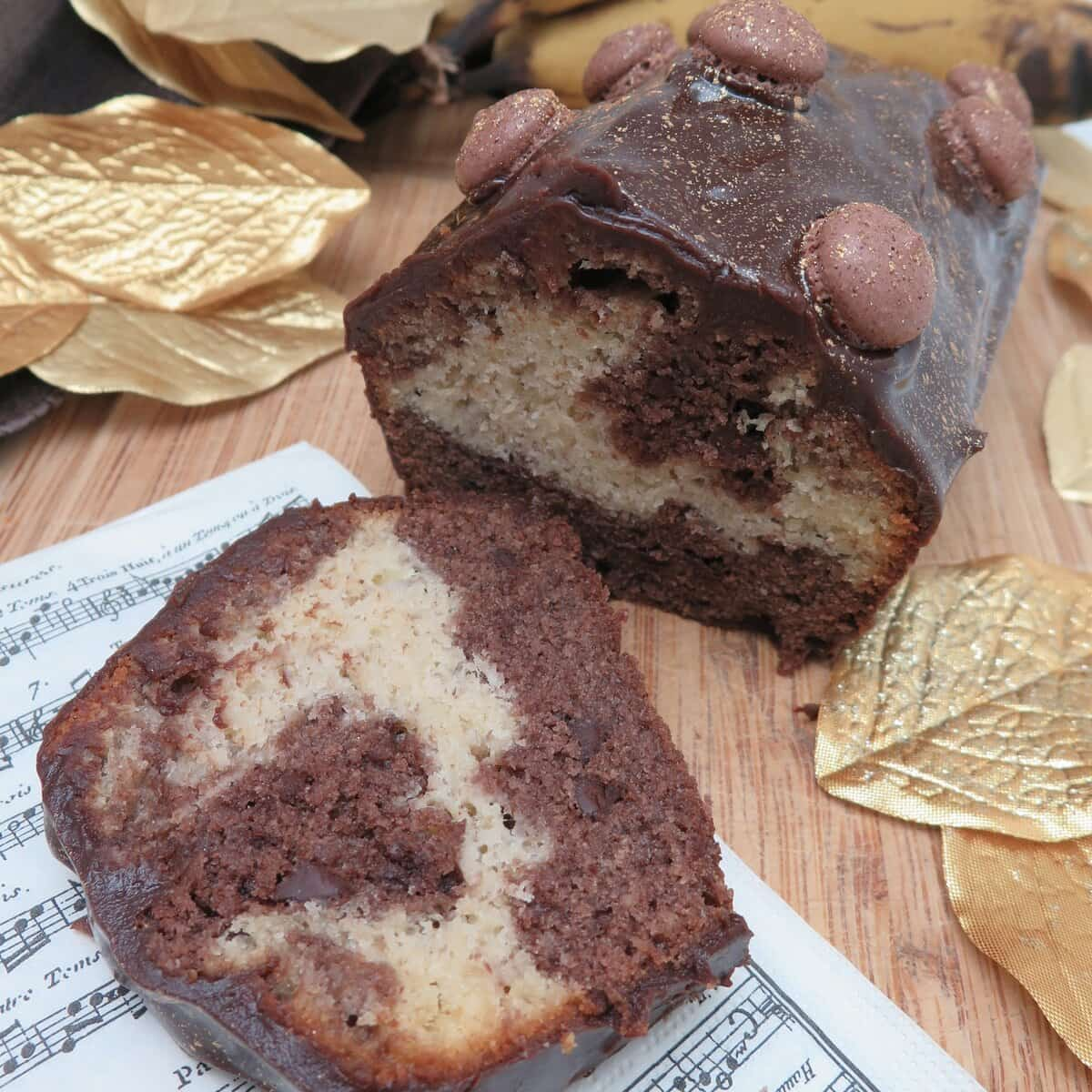 Lucie squealed when she saw this Chocolate Banana Marble Cake peeking out from the aluminium foil in the kitchen for breakfast. I squealed since that bottom layer wasn't very marbled and the top was a bit too browned – but hey, nobody's perfect.
To see the marble effect, of course, someone had already cut a few slices before the 'official opening'. By the opening, you'll understand what I mean if you want to photograph a whole cake for a blog or book before it's attacked.
Really, the girls think I'm some kind of expert French police detective but it doesn't take much to notice when a squirrel has sneaked off with the hidden edibles in the kitchen, does it?
How to Make a Marble or Swirl Cake
To create a marble or swirl effect like a tiger (hence its other names), divide up the batter towards the end, layer each of the batter in turn, then make zig-zags with a fork from one end to the other – or swirl a couple of times in a figure 8 with a skewer.
Although, in this case, you could say it's a chocolate banana cake that's a bit 'lost its marble!'
Normally we enjoy this for breakfast with a typical large French bowl of coffee to accompany it and take our time. However, this chocolate banana marble cake is also delicious coated in a fudgy dark chocolate glaze for teatime.
Chocolate Cake Glaze Festive Decor
If you have any chocolate macaron shells handy, then stick them on top for a soft yet almond crunch. To create an instant holiday decor, sprinkle on some edible glitter (I use edible metallic lustre powder to brush on macarons from DecoRelief in Paris) for a quick golden effect.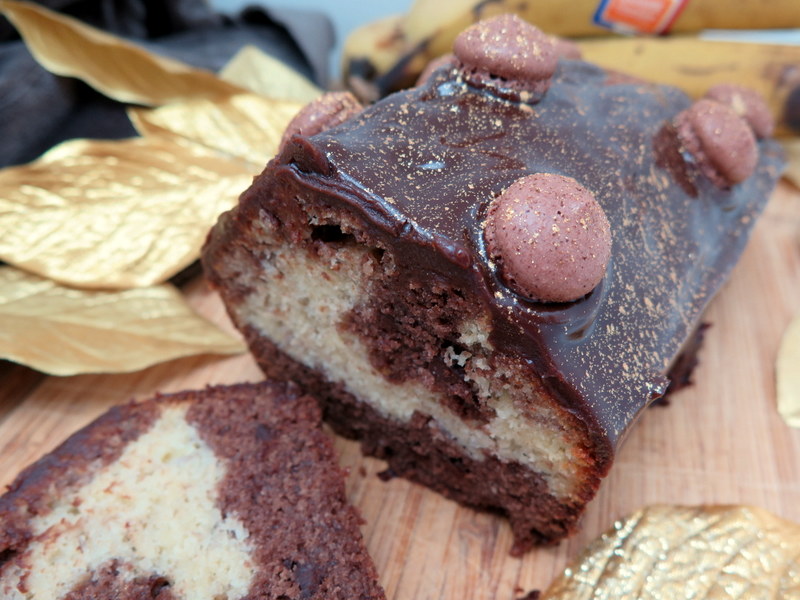 For more banana bread, loaf or cake recipes, see this banana, chestnut flour and coffee cake.
Healthy Chocolate Banana Marble Cake
Chocolate Banana Marble Cake
---
Description
A reduced sugar chocolate banana marble cake (or banana bread) perfect for breakfast or brunch, either topped with roasted banana or served at teatime with a fudgy dark chocolate ganache.

Ingredients
100

g (3.5oz)

butter (unsalted)

softened

75

g (2.75oz)

cane sugar

3

eggs (organic)

at room temperature

170

g (6oz)

plain (all-purpose) flour

2

tsp

baking powder

2

(approx.225g/8oz)

very ripe bananas

+ 1 for decor (optional)

1

tbsp

unsweetened cocoa powder

100

g (3.5oz)

dark chocolate chips

good quality (bittersweet)
Teatime Chocolate Glaze (optional):
50

g (2oz)

dark (bittersweet) cooking chocolate

good quality (64-74% cacao)

50

g (2oz)

icing (confectioner's) sugar

sifted

50

g (2oz)

butter (unsalted)

50

g (2oz)

single or whipping cream

at least 30% fat
Instructions
Grease and flour a loaf tin, otherwise if you're using a silicone mould there's no need. Preheat the oven to 180°C/360°F/Mark 4/160°C fan.

In a large mixing bowl, cream the butter and sugar until soft, light and creamy (this is even easier if you beat together in a stand mixer). Gradually add the eggs, one by one until well mixed. Incorporate the flour and baking powder until the batter is smooth.

In another bowl, mash the banana with a fork and transfer half of it to the other bowl. In one of them, add the chocolate powder and chocolate chips and mix well.

Pour the chocolate mix into the bottom of the tin, then pour in the banana batter, then the chocolate again then banana.

Marble the cake by making zig-zags with a fork from one end to the other - or swirl a couple of times in a figure 8 with a skewer. If making this without the teatime glaze, cut the extra banana horizontally (if using) and place on top of the batter. Transfer to the oven and bake for 45-50 minutes.

The cake is ready when a knife inserted in the middle comes out clean. If not, bake for another 5 minutes. Leave the cake to cool then remove from the mould to a wire rack to cool.

For the Teatime Glaze (optional):
Melt the chocolate, icing sugar and butter in a bowl placed over a pan of simmering water (bain-marie). When melted, stir in the cream until the glaze is well blended. Leave to cool for about 5 minutes then pour over the cake, evening the glaze with a knife and decorate whatever takes your fancy. I added some mini macaron shells and finally dusted it with gold food powder, just tapping it over with a couple of fingers.
Notes
Please resist temptation to eat this straight away, as the marble cake tastes even better the next day.  Can keep for 3 days in a cool place stored in an airtight tin or in aluminium foil (although not in the fridge) - if you're lucky not to have tigers around!