A guide to fresh and dried apricots in France. From when they are in season to easy and healthy apricot recipes (mainly French). Did you know there's even a French baking expression, 'to apricot a tart'?
Apricot Season
Summer. End June - mid/end August
A Guide to Apricots in France
Fragile Summer fruit grown in 3 main sunny regions in Southern France: the Rhône Valley (Bergeron apricots, pale and slightly tart), Roussillon and Provence-Alpes-Côte-d'Azur.
Although there are about 40 varieties, two are particularly popular for their deep orange and reddish blush and sweet, juicy characteristics: Bergarouge (large) and Orangered.
Fragile to Grow: due to extreme rain conditions in 2021, apricot production was down by a staggering 80%, hence little at the market and increased prices. Thankfully with the more sunny climes in 2022 and 2023, they are more in abundance at summer markets around France.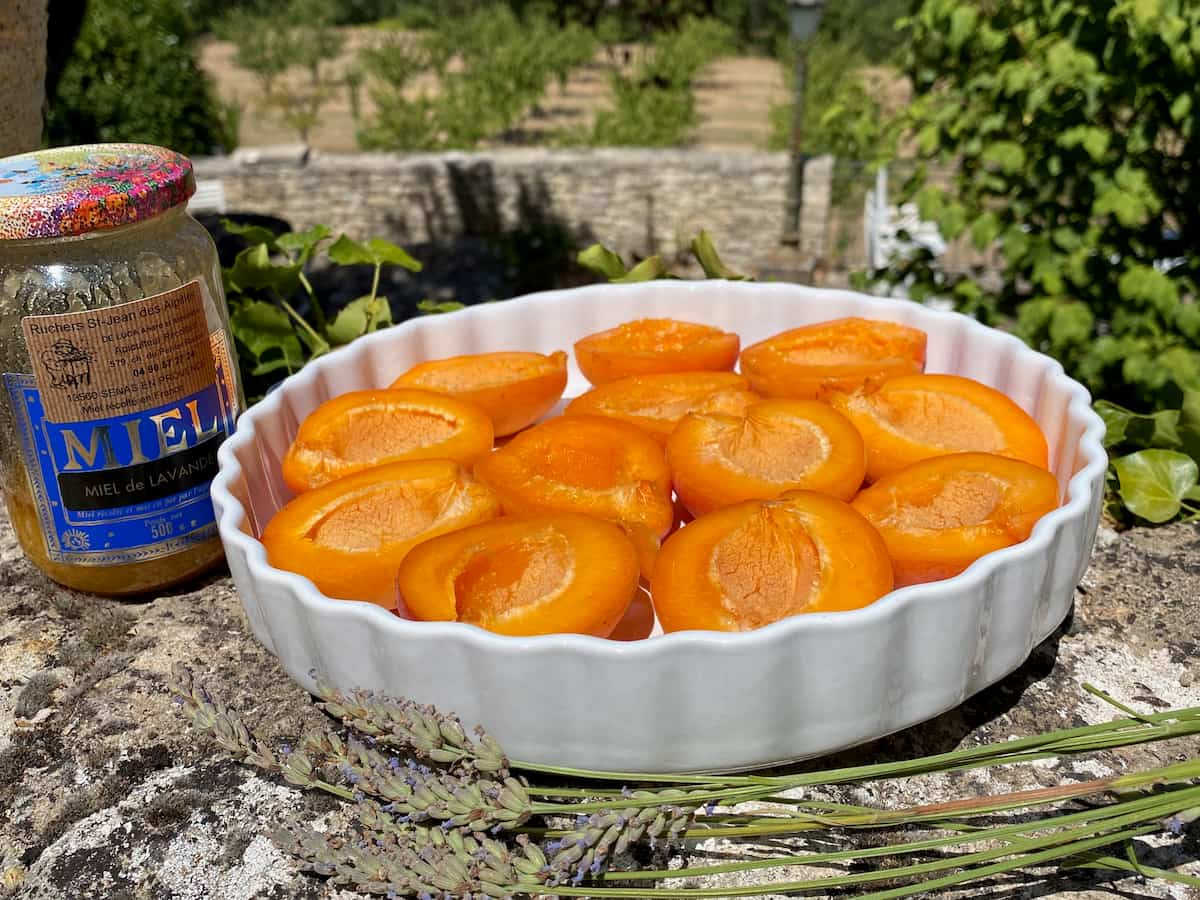 How to Choose Fresh Apricots
When choosing apricots, pick them quite ripe. Avoid them if slightly green, as apricots don't mature further once they're picked.
So if you have greenish looking apricots that you want to ripen in that fruit bowl, they won't budge!
How to Store Fresh Apricots
Store fresh apricots in a cool place and try to avoid keeping them in the fridge. Consume within the week.
What are the Health Benefits of Eating Dried Apricots?
Fresh and dried apricots are not just a good source of fibre. Did you know that dried apricots are a valuable pantry ingredient at any time of year?
Dried apricots are high in magnesium so good for a little seasonal fatigue.
Have a flickering eyelid? French eye doctors have told me to eat a few dried apricots a day and the flicker disappears!
No need for expensive Magnesium capsules from the Pharmacy - eat 2-3 dried apricots with your breakfast granola to start the day!
French Expression with Apricot
"Abricoter une tarte"

or to apricot a tart, means to brush some warmed apricot jam over the top of a tart or galette des rois to give it a delicious shine.
Perfect for this Quick Apple Tart or French Apple Custard Tart.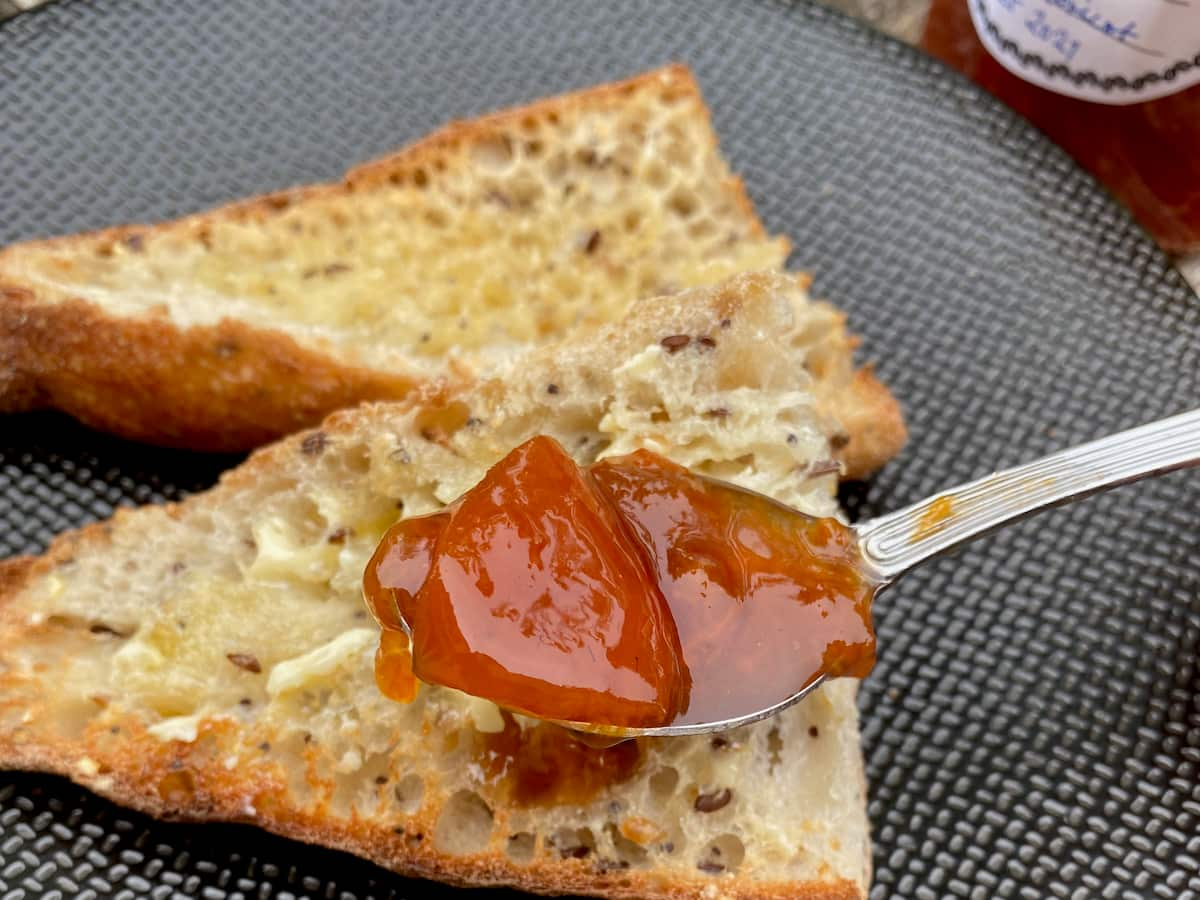 What's the Best Way of Cooking Apricots?
My favourite, quick way to cook them is to roast them in the oven for just 20 minutes. This helps concentrate their flavour, which is the best if you have tasteless apricots.  No need to peel them before baking.
See the recipes below.
Fresh Apricot Recipes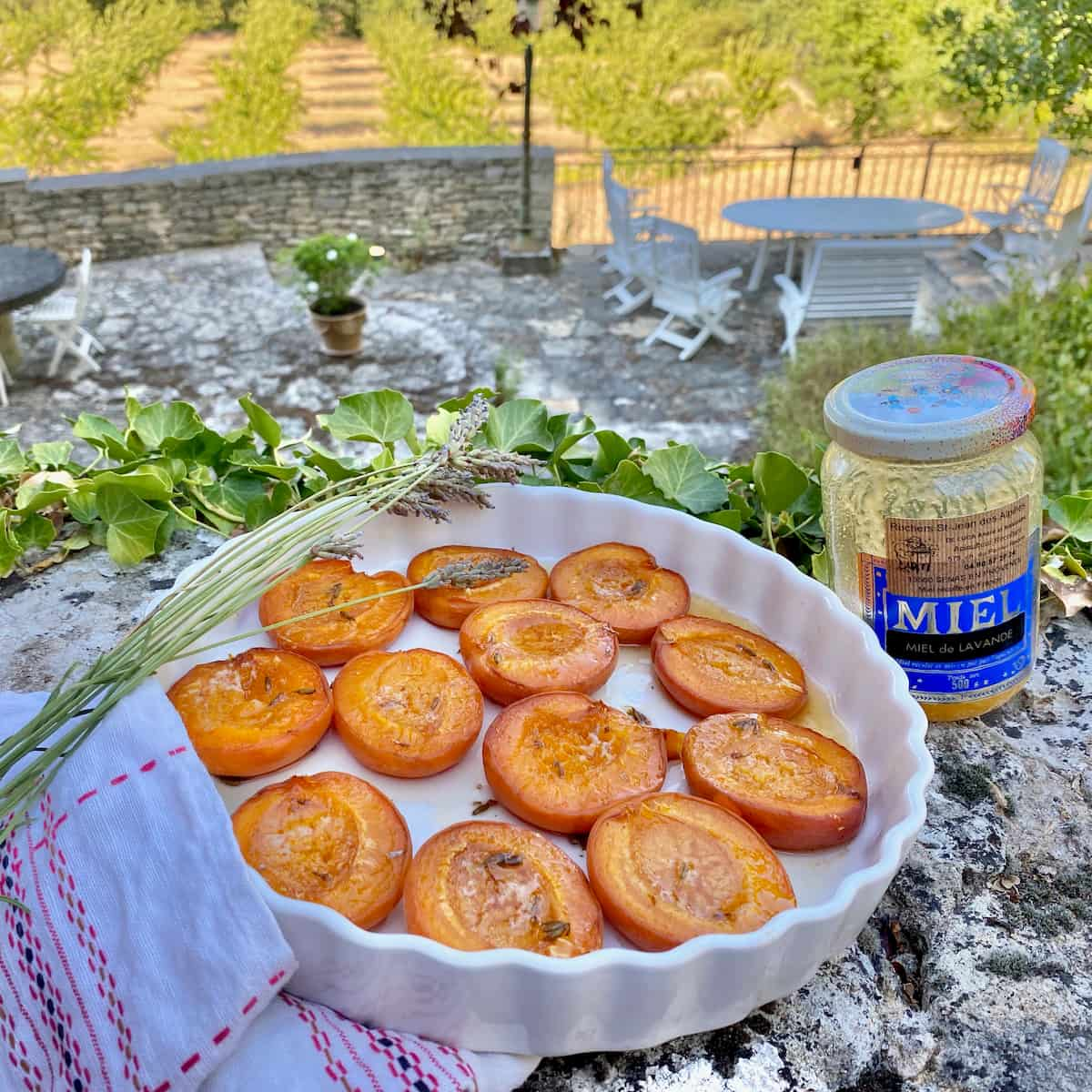 Baked Apricots: halved apricots are delicious dribbled with some good honey and roasted quickly in the oven. Great as a side dish or on its own for a light, summery end to any meal.
Not sure if your honey is the genuine article? Find out my tricks to see if it's good honey in my pork and honey recipe.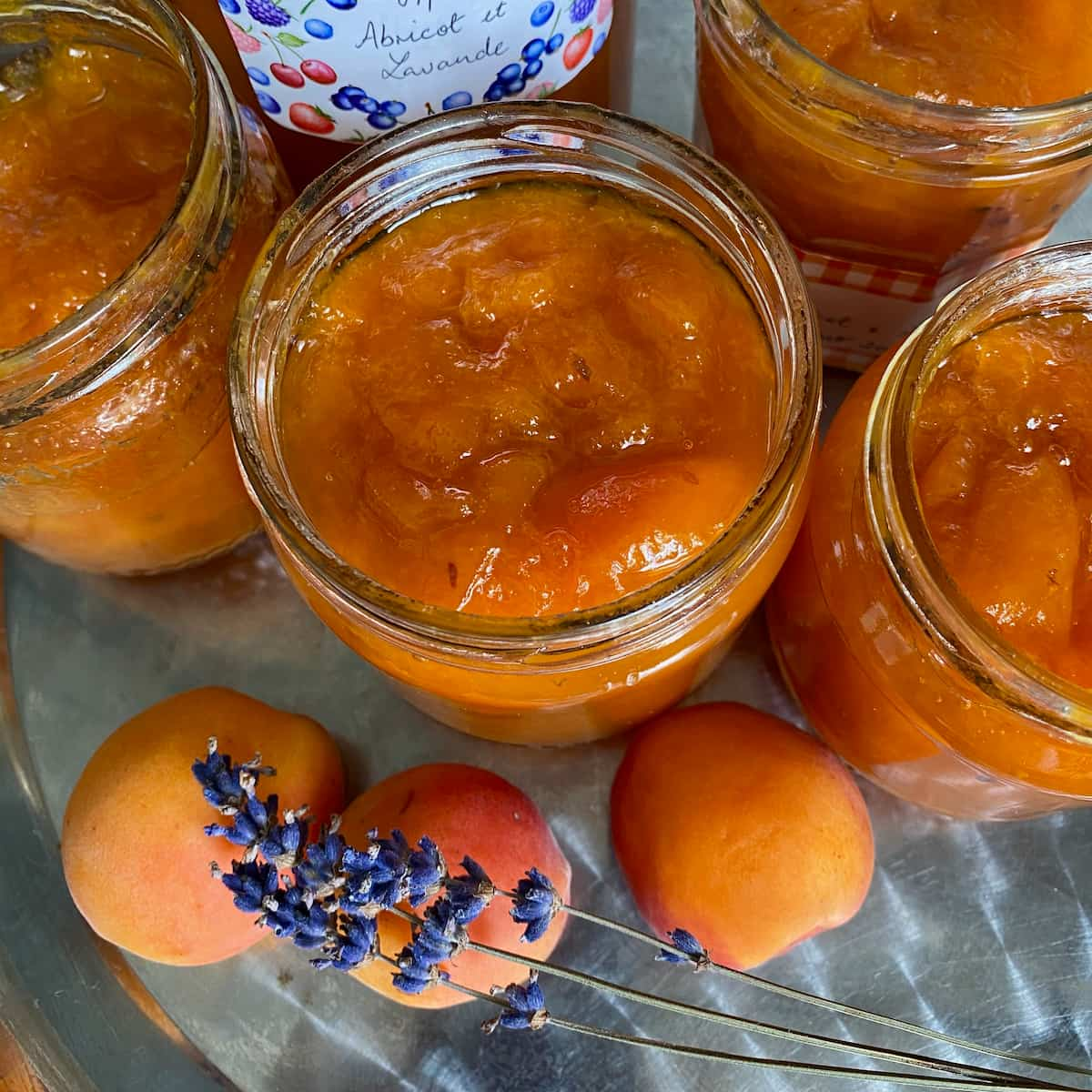 Apricot and Lavender Jam - when summer gives you a surplus of apricots, then this jam recipe is your friend. Add just a touch of lavender and it's bliss.
Why not try an apricot clafoutis twist to the French cherry classic? We love this gluten free, low sugar version with almonds - the recipe is also on video. Top with a little lavender too for the ultimate flavour sensation.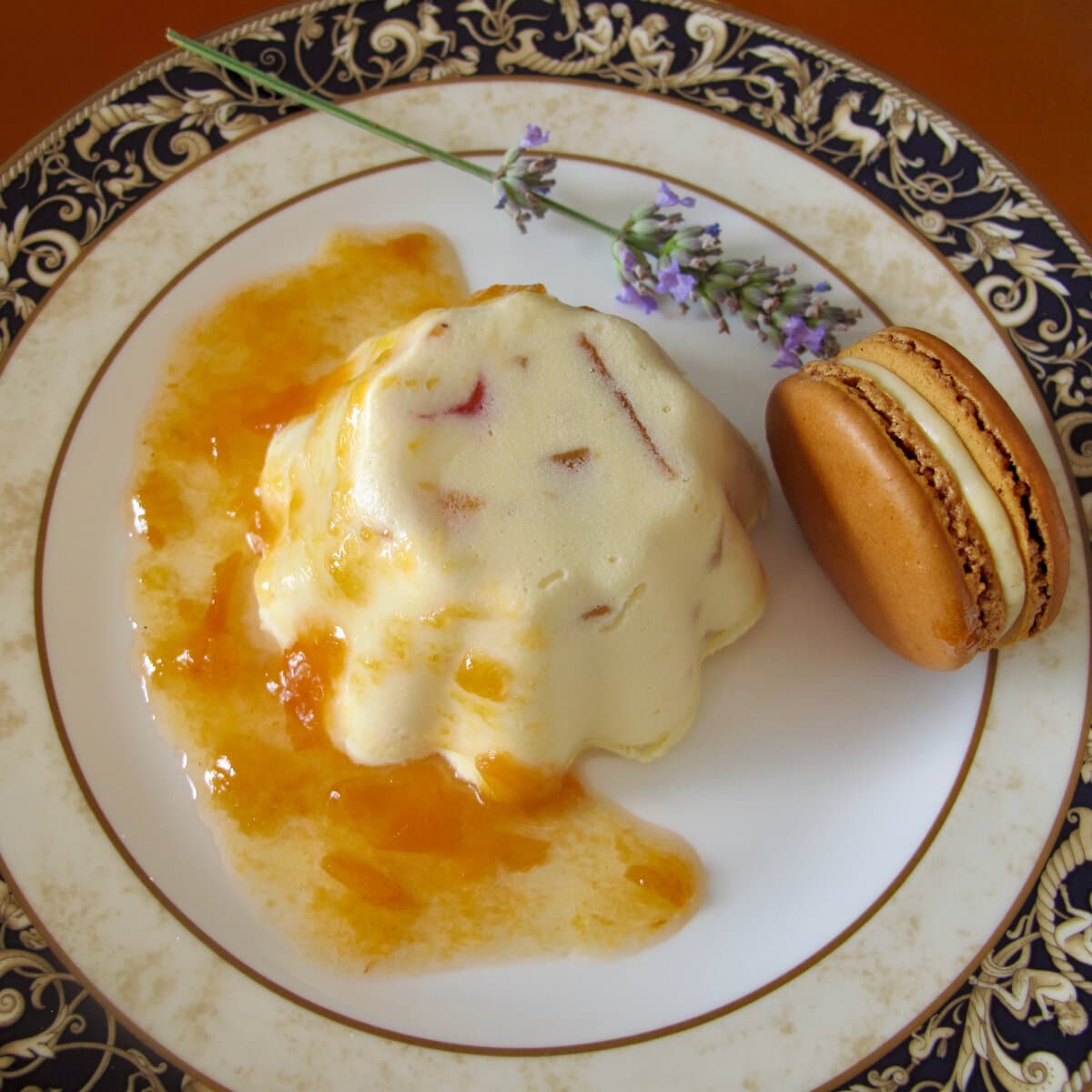 Apricot jam can be converted into a sauce to accompany this no-churn candied fruit ice cream, known as Plombières in France.
For more on candied fruits from the world capital of fruits confits,
see my post on cherries.
Brushing on apricot jam to a French tart is the best kind of delicious glaze. Glaze this quick apple tart or galette des rois for the ultimate shine.