A guide to French onions from France, including the sweetest varieties, how to stop them from making you cry and even French expressions using them.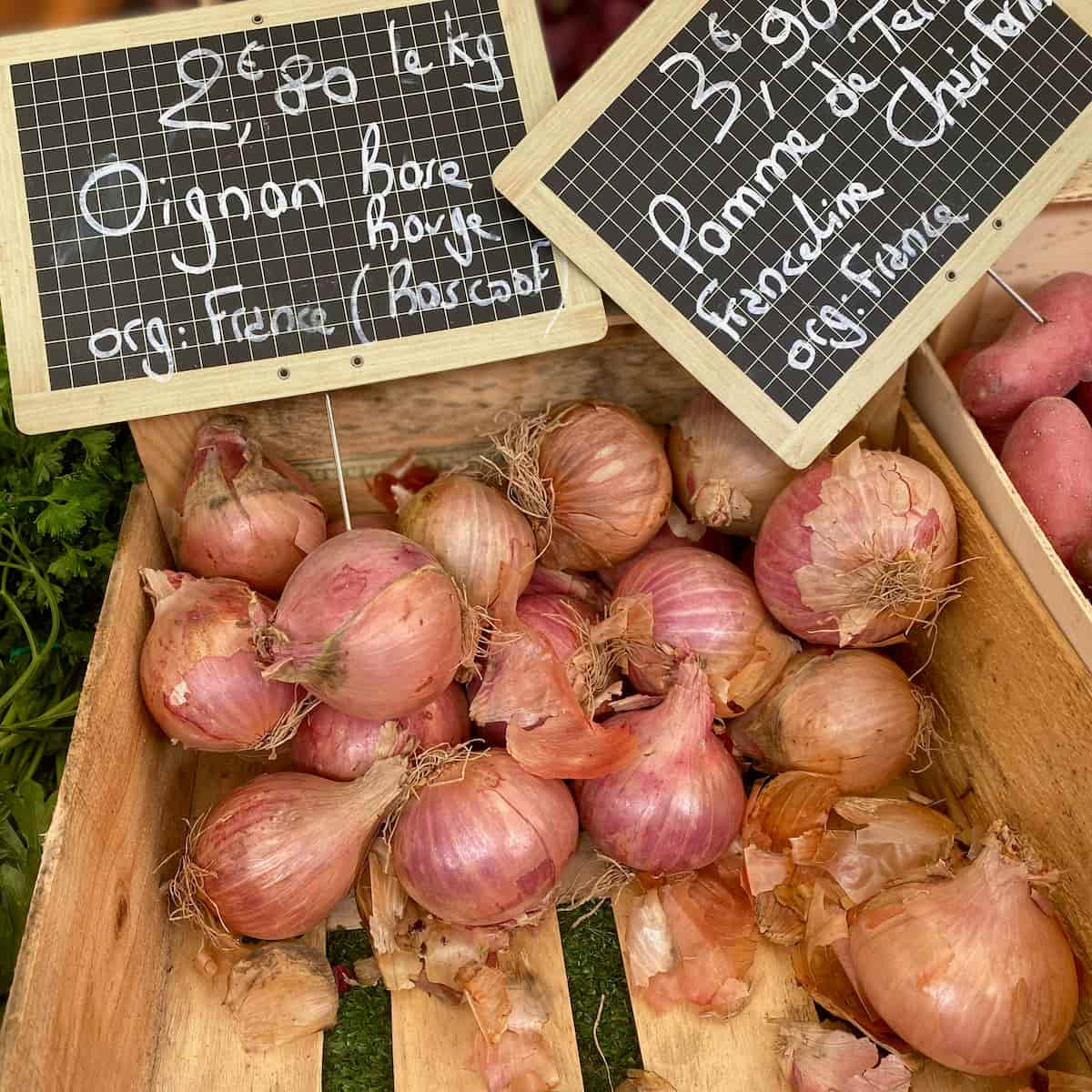 Onions in French
Onions are known as oignons in French - pronounced "awe-nyongs".
Are French Onions from France?
French onions have received so much attention lately, largely to the popularity of French onion soup (our favourite recipe coming very soon!).
Although we eat this soup in France it's, surprisingly, not something you'll find on every menu here. It's enjoyed more in the winter months in brasseries and bistros with varying quality, depending on how touristic the establishment. It can either be incredibly good or disappointingly soggy and overcooked (I've had a few awful ones reheated in the microwave).
Perhaps the biggest confusion over French onions is the mass marketed French's fried onions, which are not French but the name of a brand in the USA.
So the most popular onions from France are yellow, pink, red, green/spring onions (known as oignon blanc), shallots and baby (pearl) onions.
White onions are less popular here. However, there are still many more varieties, all from the Allium family (including leeks, garlic and chives).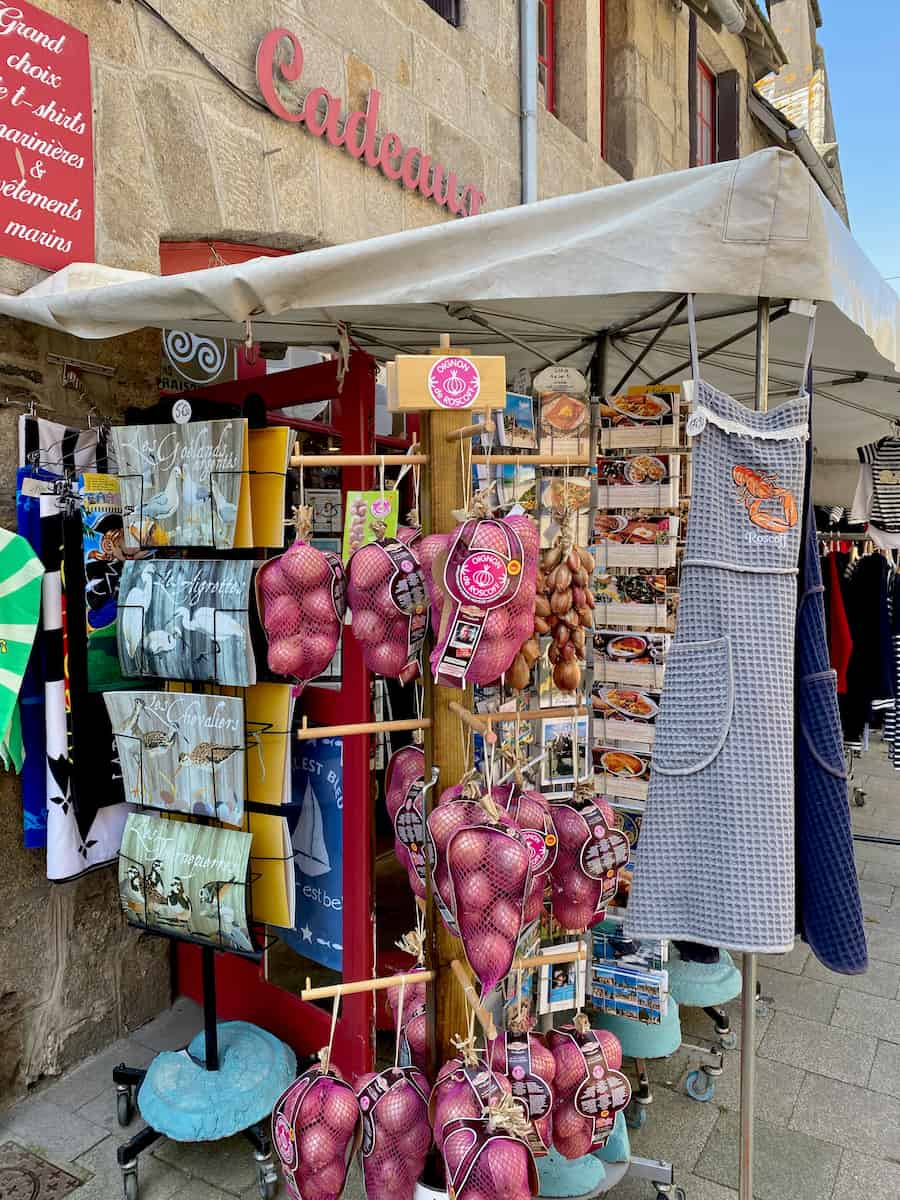 What is the Sweetest Onion Called?
Onions naturally contain sugar (5-10%) with yellow onions containing the highest sugar content (10%), so they naturally caramelise when cooked over a low heat. As a result, yellow onions work best in an onion tarte tatin.
The two sweetest, most reputed French onion varieties with AOC & AOP quality status respectively are the Cévennes and Roscoff onions, both particularly fruity and favoured for their long preservation qualities.
Other less-known sweet French onions: Lézignan (grown since the 18th century) and Sisco in Corsica (Cap Corse).
For more than 300 years, the famous pink Roscoff Onions are particularly sweet thanks to the gulf stream's mild climate on Brittany's Finistère coast and has had AOC quality status since 2009 and AOP since 2013.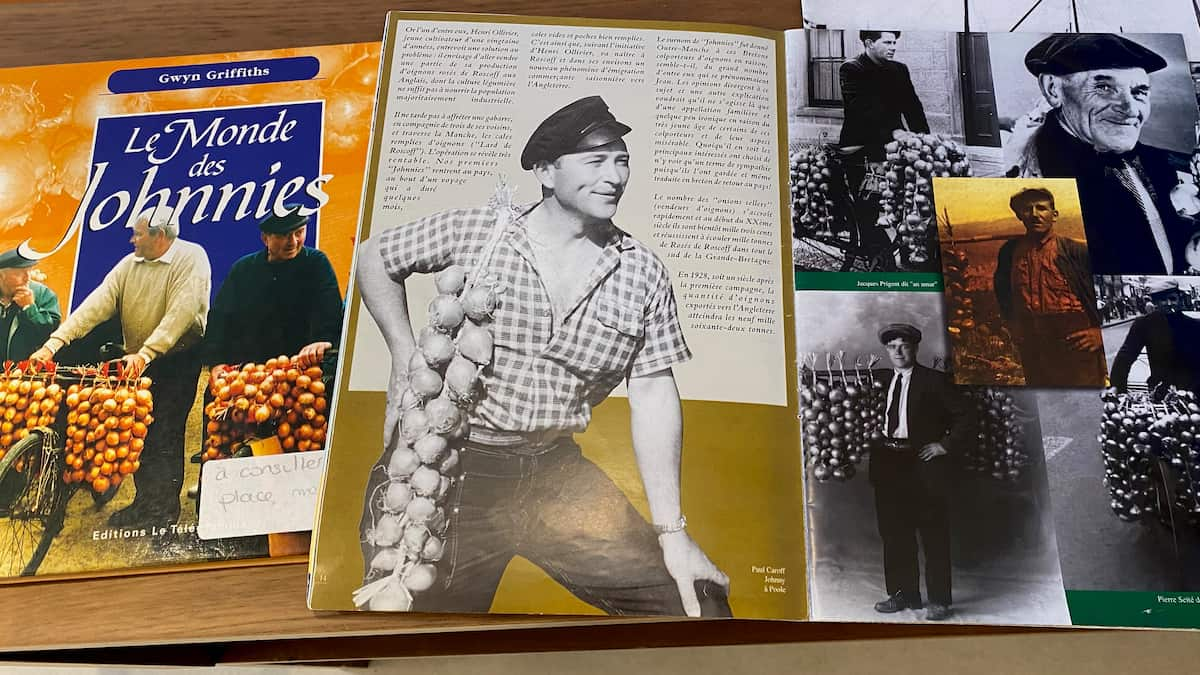 Who were the French Onion Johnnies?
Clichéd images of Frenchmen cycling with onion tresses around their necks were actually a thing and popular in the UK in the 19th-20th century. Starting from 1828, these Johnnies from Léon in the Finistère region of Brittany went to Britain to sell their onions.
These famous French Onion Johnnies, cycled around England, Wales - even Scotland (my aunt remembers seeing them in Edinburgh just after WWII), touting their famous pink Roscoff onions from Brittany door-to-door in the UK.
Why did they get their name, Onion Johnny? According to the Onion Johnny Museum in Roscoff, one theory is that onion sellers were mainly called Jean (John in French).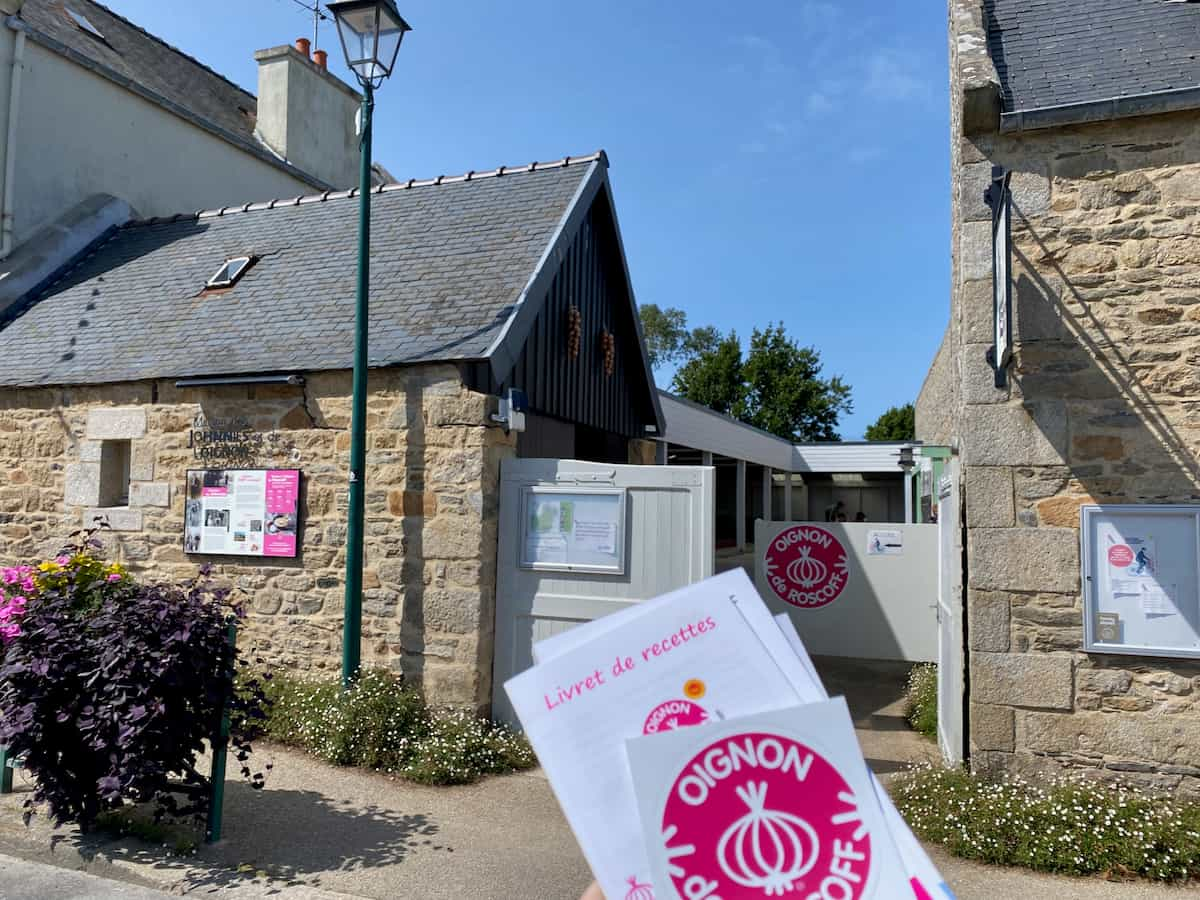 It wasn't all plain sailing for these Roscovites. From about 1830, onions in the UK were not as plentiful so daily cargos of these pink onions would leave from Roscoff to the ports of Wales and Cornwall. The onion sellers would leave for months at a time which was always a tough departure for the locals. By 1928, 9 062 tons of Roscoff onions would be exported this way to the UK with around 1300 sellers. After WWII the British Ministry of Food stopped imports of them and so became the end of an era.
Today nearly all shops in Roscoff either sell or make reference to their onions (including bakeries and tea rooms!). There's even a Roscoff Onion Festival every 3rd week in August.
What are the Benefits of Eating Onions?
Onions are antioxidant, containing vitamins and minerals such as vitamin A, B, C & E, selenium and potassium. They also have anti-inflammatory, anti-viral and antiseptic health properties, so are best to effect if eaten raw.
How Best to Eat Raw or Cooked Onions
What onions are best to eat raw? Red onions (oignons rouge or rosé), white and green/spring onions (oignon blanc) and shallots are mild. These are best to add uncooked to salads and vinaigrettes. Also, chop spring onions into the batter in these fluffy cheese scones.
Best for cooking: yellow onions, as they're most concentrated in taste; use baby pearl onions in the famous French dish, Blanquette de Veau.
Best for Sauces: shallots (échalotes) are best used finely chopped in sauces: the classic beurre blanc and Bearnaise sauce, plus this chorizo sauce).
How to Choose and Store
To choose the best onions, ensure the skins are tightly formed on the onion and not flaking off. Avoid frozen chopped onions, as they lose tons of flavour during freezing.
Store onions in a cool, dry and dark place, never in the fridge.
According to a BBC report, avoid storing near potatoes or in metal containers, as this will discolour them.
Why do Onions Make us Cry?
Onions contain a sulphur-based gas which produces syn-propanethial-S-oxide which together react with the lacrimal glands in our eyes. It irritates them, makes us cry, so our tears try to dilute and flush out the irritant.
How Do you Stop Onions from Making you Cry?
Our eyes naturally cry to flush out this irritating mixture that onions create. However, if you are more prone to crying when chopping onions, there are a few tips to stop them from making you cry:
Chill onions for 10 mins in the freezer and wash hands in cold, soapy water afterwards (avoid touching the eye area after!).
Cook onions - the irritating gas disappears when onions are cooked.
Otherwise, according to French MOF chef, Philippe Etchebest,
"If you don't want to cry when chopping onions, ask someone else to do it!".
Expressions with French Onions
There are two familiar French expressions that use onions in them. Both are familiar or slang:
Occupe-toi de tes oignons or Mêle toi de tes oignons
Familiar expression meaning "it's none of your business" (literally translated as "look after your onions" or "mix yourself up in your own onions");

"Être vêtu comme un oignon" meaning to be dressed like an onion.
Like the layers of an onion, meaning to be dressed with many layers.

Popular French expressions
French Onions - Best Recipes
The following recipes highlight sweet, French onions - more to come soon!
French Onion Tarte Tatin is so easy and made without sugar. Thanks to the onion's natural sugar content, they caramelise beautifully upside down in the oven. Either make a large version or individual portions as an elegant starter/appetizer for a dinner party.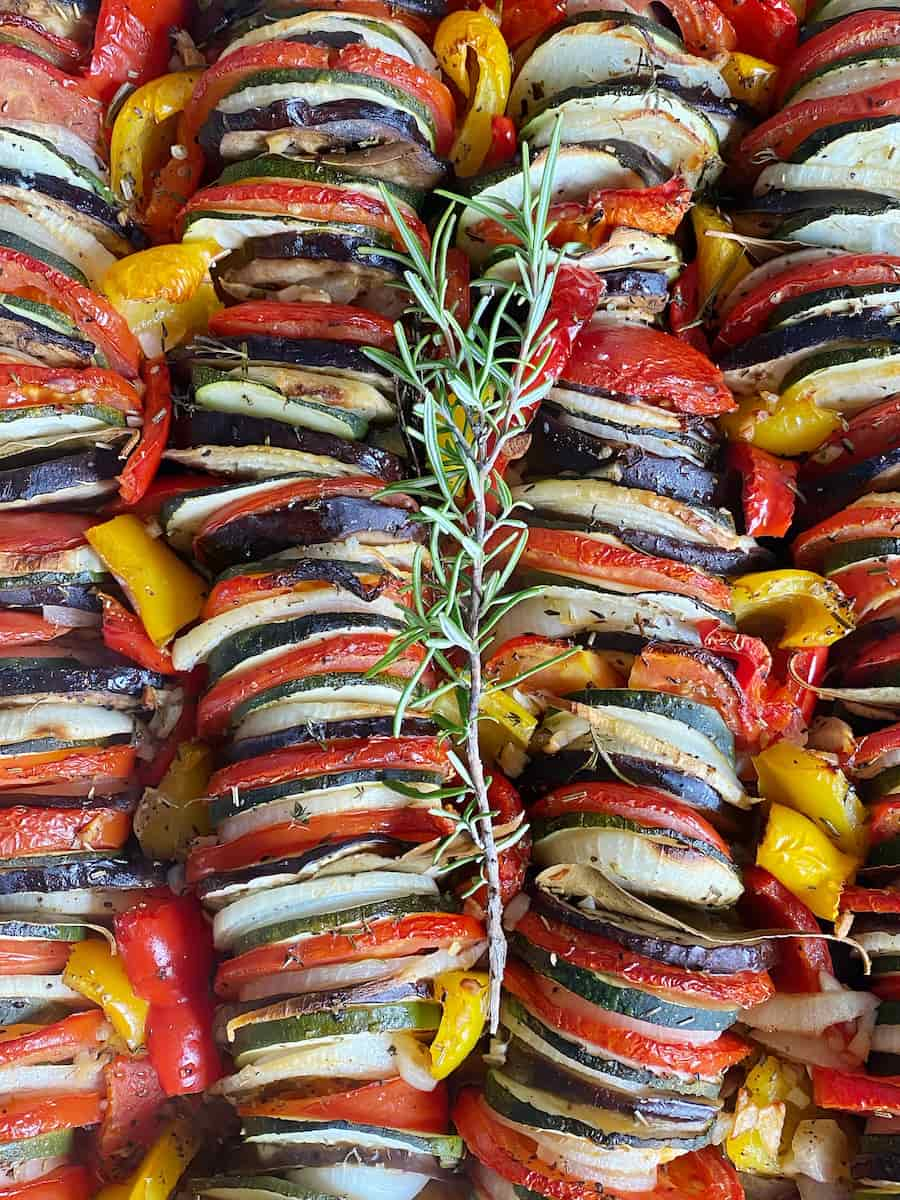 A French Tian is a simple yet elegant dish of sliced roasted summer vegetables.
Mild onions such as yellow, rosé or red onions complete the delicious combination, which uses the same vegetables as a French ratatouille.
The French's favourite stew, the Blanquette de Veau, relies on a large yellow onion, studded with cloves to give the sauce it's initial depth of flavour.
Baby pearl onions are fried separately and added near the end of cooking to give the classic dish its wonderful flavours.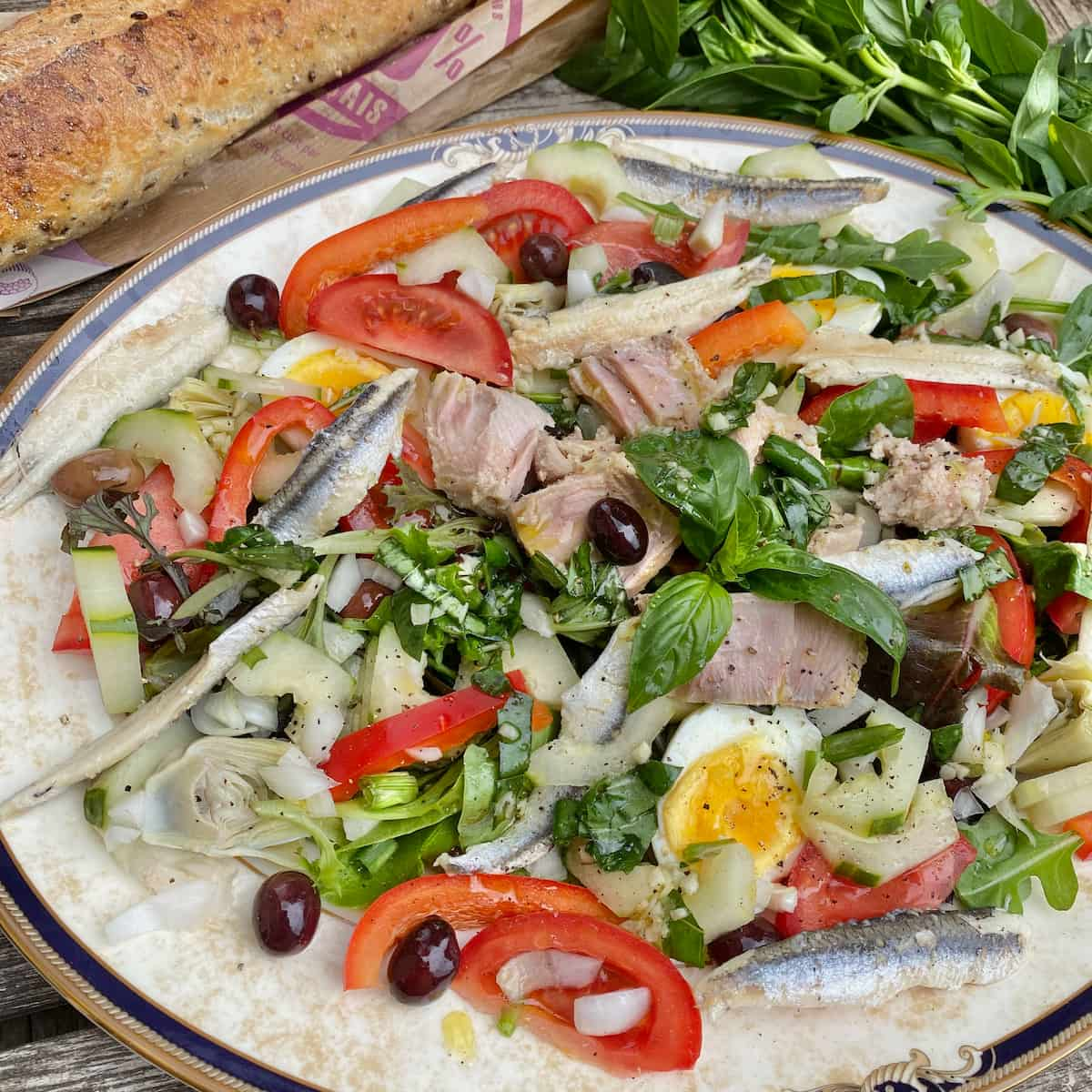 Enjoy raw onions in this classic French Niçoise salad from Nice.
Either use a shallot, a mild red/rosé onion or chopped spring onions to enhance the salad's flavours from the Mediterranean.
Shallots are the signature flavour along with tarragon and parsley in this classic French Béarnaise sauce.