A tian dish of simple roasted summer vegetables is a popular Provençal French classic. Discover its difference between a ratatouille, how to pronounce it in French and why it's an easy make-ahead side dish for entertaining.
What is a Tian in Cooking?
A Tian is the Provençal name given to the ovenproof stoneware or ceramic baking dish. Tian is similar to the Berber Tajine or Tagine. While it refers to the actual dish, a tian also refers to the gratin of vegetables or vegetables with meat or fish that's cooked in it.
The most popular version is this French classic from the south with Provençal summer vegetables.  It's vegan, as it contains only vegetables, olive oil and aromatic herbs - but other tians vary with different vegetables, meat, fish (such as anchovies, or in Carpentras with cod and spinach), or eggs. In Apt (seen in the distance from the garden in this photo), the tian version is made with a mix of potatoes, onions, tomatoes and cheese.
How do you pronounce Tian in French? Say tee-on very quickly.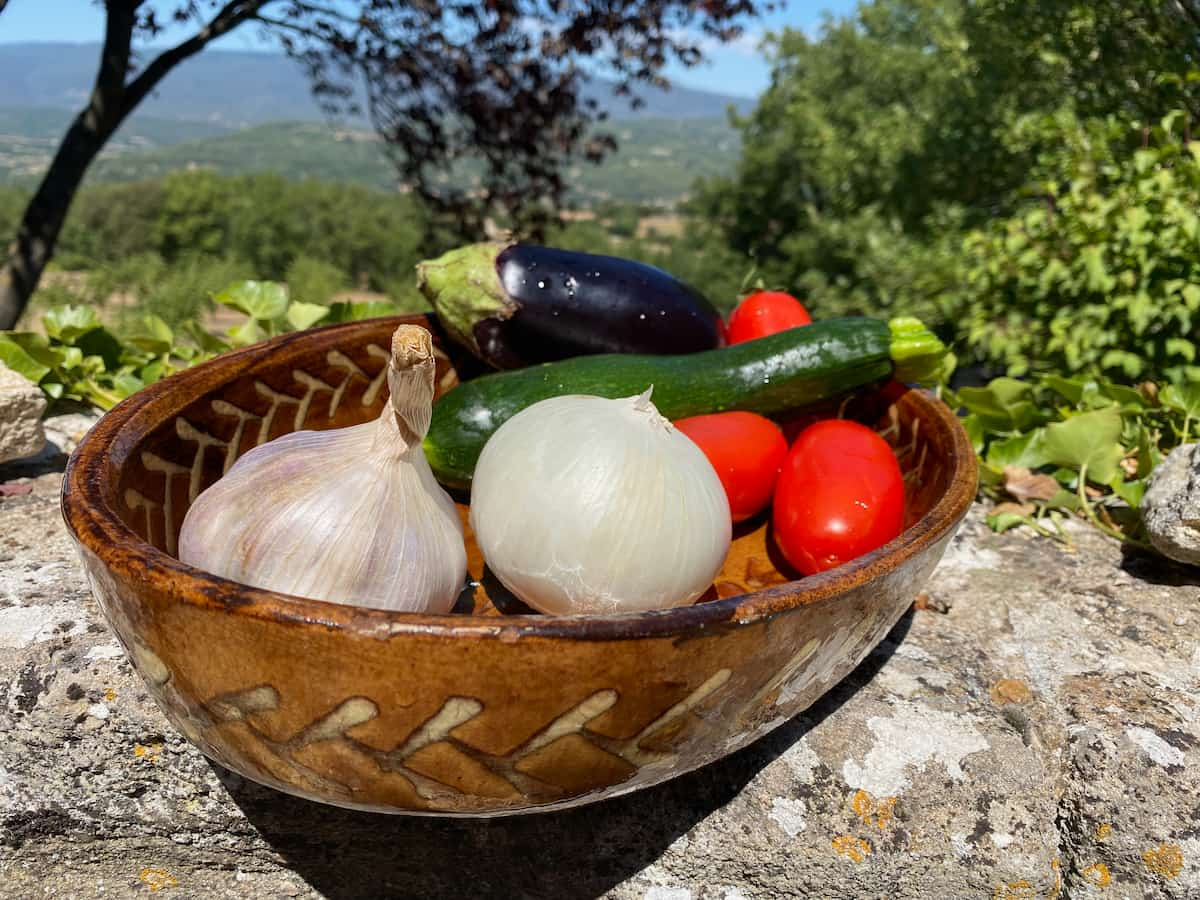 Is Ratatouille the Same as Tian?
While a tian is presented as neatly stacked baked vegetables in an ovenware dish, ratatouille is a vegetable stew prepared on the stove.
What does a ratatouille and classic vegetable tian have in common? They use the same ingredients. According to my culinary Larousse dictionary, both officially use aubergines (eggplant), courgettes (zucchini), onion, tomato, pepper, garlic, thyme, bay leaves and olive oil. Add fresh basil or parsley just before serving for added flavour and vitamins.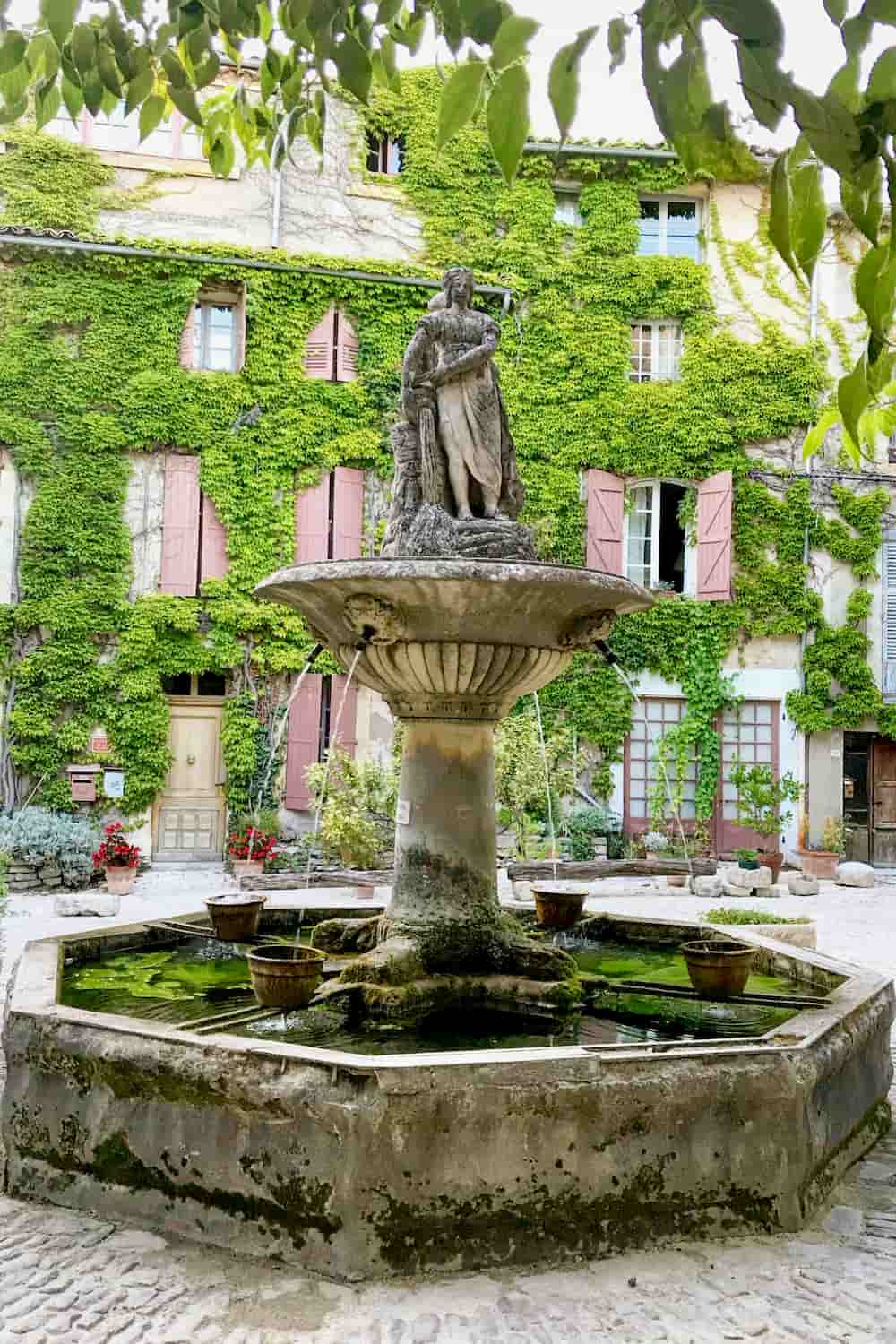 Summer in Provence
My parents-in-law have lived near the town of Apt in the Vaucluse for many years. Even if they live at the top of the hilltop village of Saignon and there's often the strong Mistral winds (hot in summer, chilly in winter), it does get rather hot in Provence in the summer.
As a result, my mother-in-law cooks early in the morning when it's cooler. This summer, temperatures reached 40 degrees (over 100°F). So when it was my turn to cook, it was definitely worth getting up early to make dinner for later!
Can Roasted Vegetables Be Made Ahead and Reheated?
So, as this is a summer dish, it can be made in advance in the cooler mornings. Who wants to have the oven on when it's between 30-40 degrees? Just prepare the dish earlier in the day and it's all ready to reheat later.
Once cool, keep refrigerated until ready to serve. Simply reheat in a warm oven for about 10 minutes and scatter over some freshly chopped flat-leaf parsley or basil. What's more, the leftovers are delicious next day.
What Seasoning is Good to Put on Vegetables?
As in this dish, use the kind of aromatic herbs that are best used in stews. So this is the basis of a bouquet garni: bay leaf, rosemary and thyme.  If you don't have them, then use a teaspoon of dried Herbes de Provence. As with most dishes, add chopped fresh parsley (or basil, tarragon) at the end, just before serving.  This keeps not only their flavours but their vitamin content too.
Plus don't forget to season with a few turns of the peppermill and with a generous pinch of fleur de sel salt.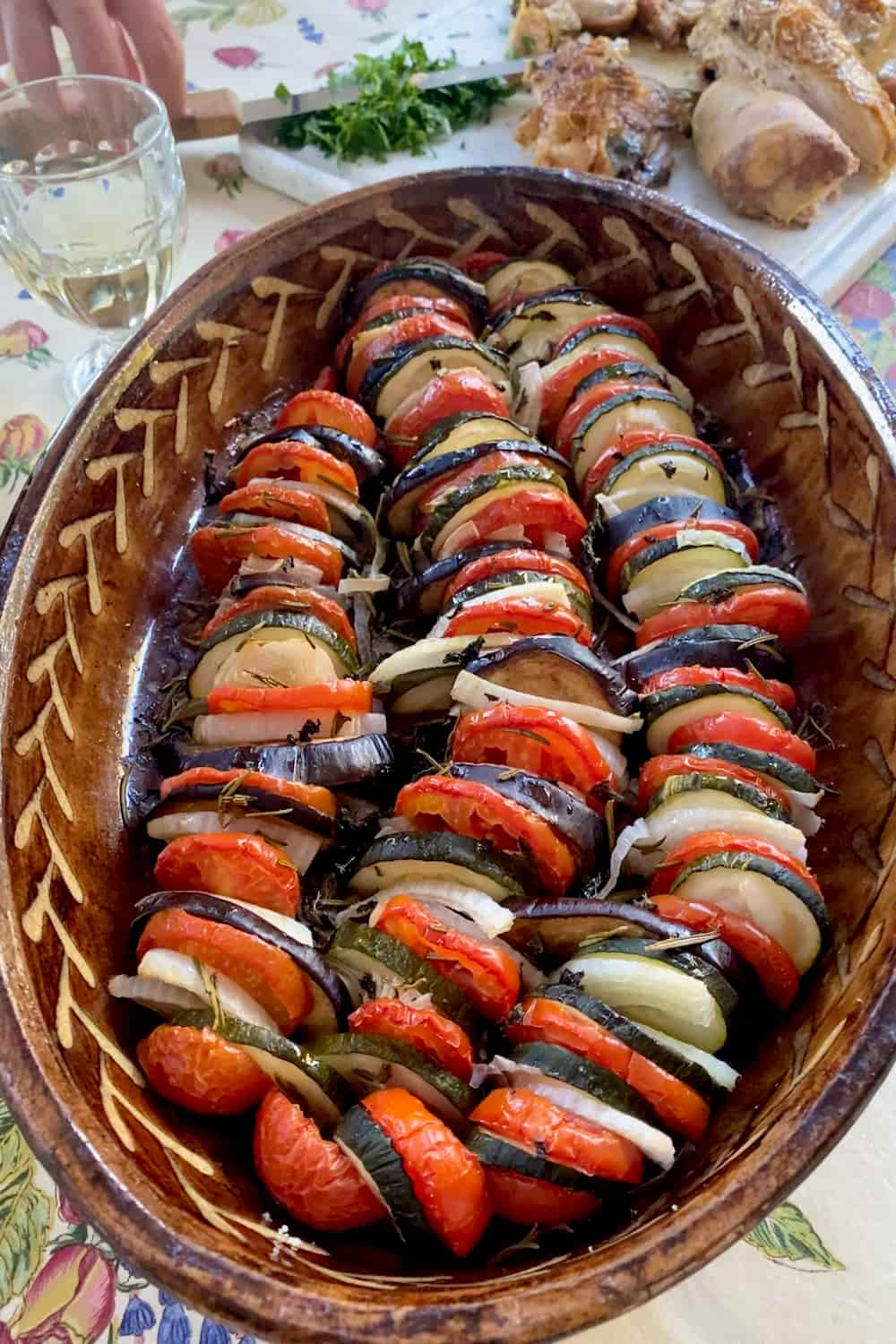 What Goes Well with a Vegetable Tian?
A vegetable tian goes well with all kinds of grilled meats or fish. Many of us perhaps don't feel like cooking much in the summer heat. So this is ideal as a healthy side for BBQs or ready-prepared roasted chicken from the market.
As the French roasted vegetables are served directly from the traditional ceramic tian dish at the table, this is a gloriously colourful side dish for entertaining en famille (with family) or with friends.  However, for more formal entertaining, serve mini stacks separately in individual ceramic dishes.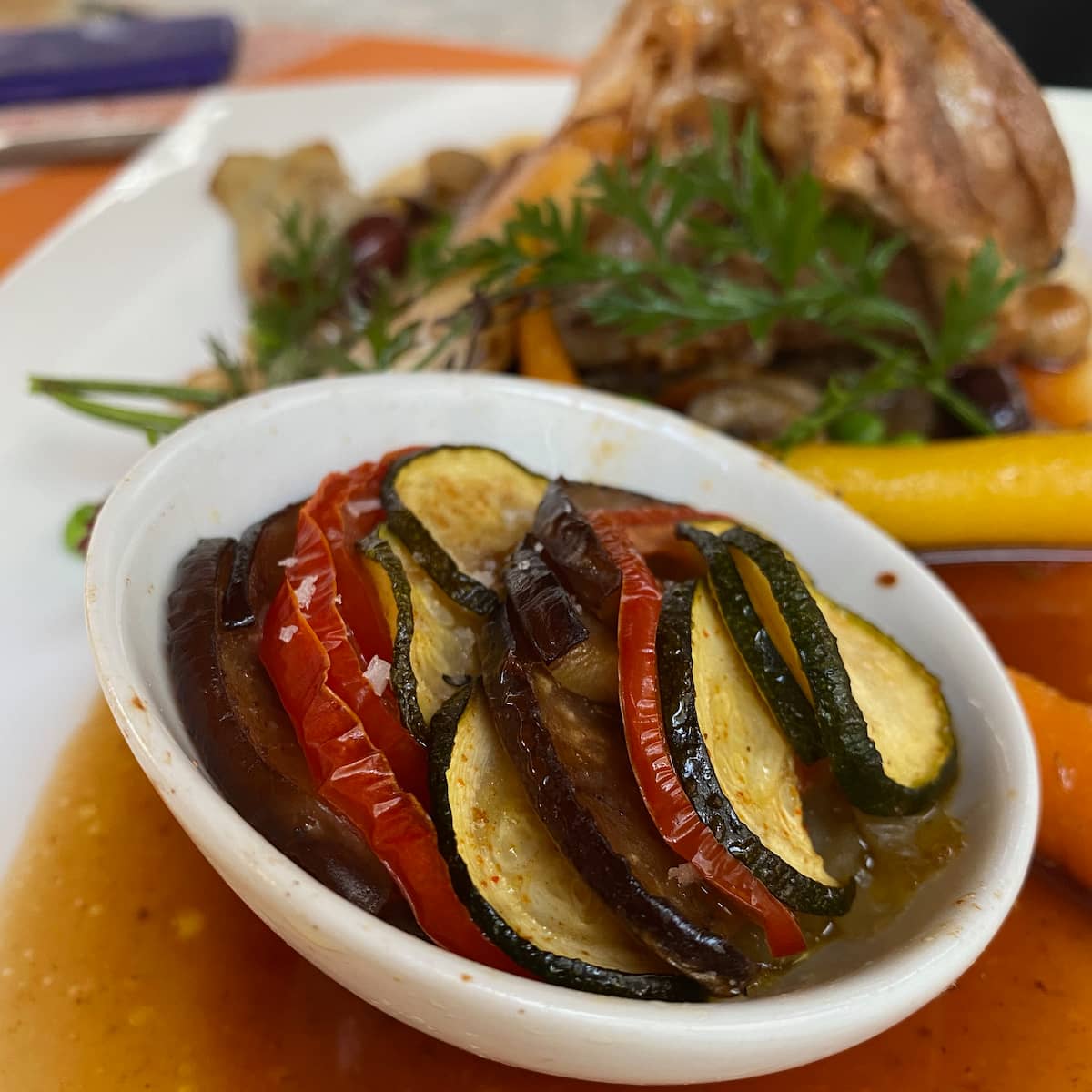 Roasted Veggies with Zucchini
This is such an easy classic in France that the recipe can be found in all forms. Such as imprinted on the back of a brown paper vegetable bag at the market - to the back of my non-stick French roasting dish!
When I first arrived 30 years ago, my French mother-in-law gifted me a lovely recipe book by local author, Andrée Maureau, 'Recettes en Provence'.  Full of authentic Provençal recipes, she makes many Tians in her book. For example, there are a few with zucchini (courgettes) and onions, another with added pork, another with just aubergines (eggplant) and onions, plus with white haricot beans and lamb.
This is our family's vegetable version, which adds to our vegan recipes.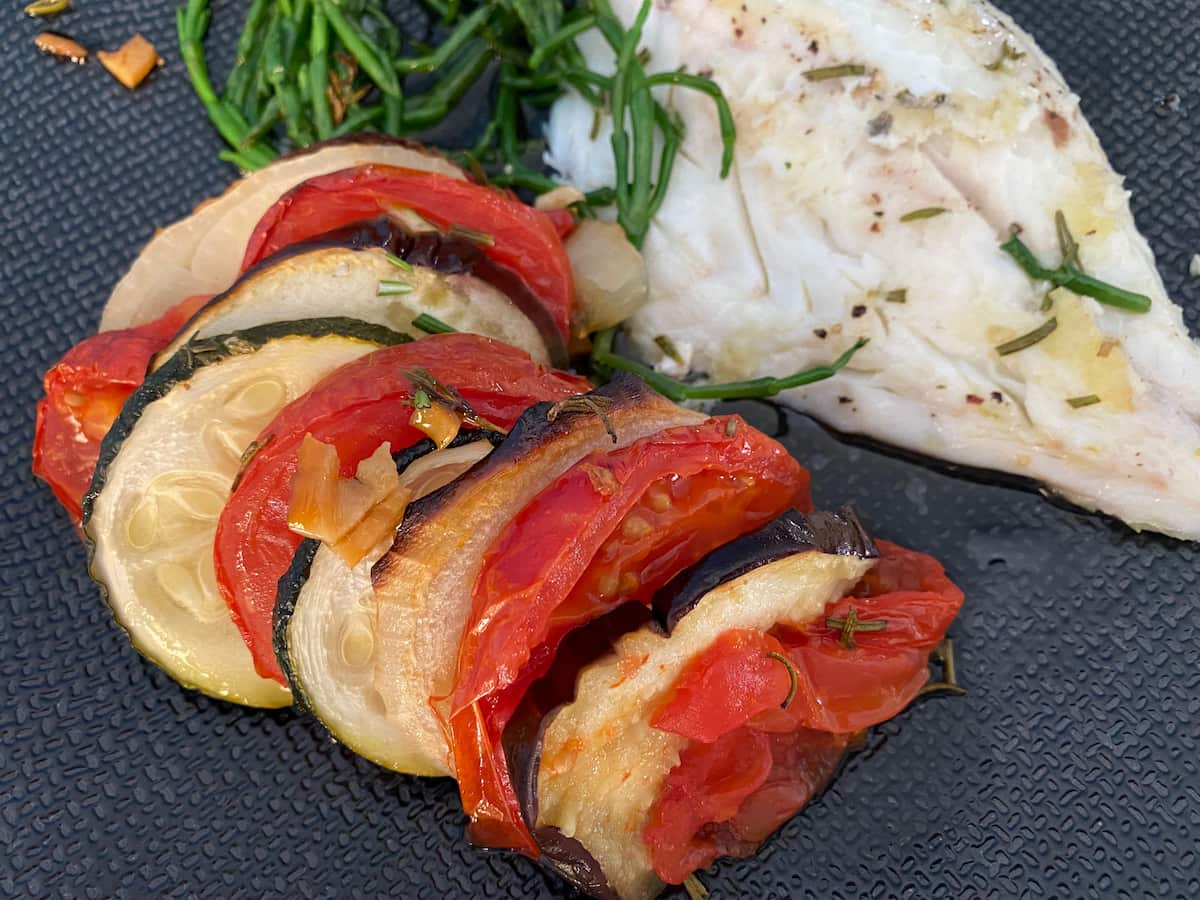 How Do I Know My Tian Will Not Be Dry?
Many French pre-cook the onions and garlic in olive oil and layer it on the bottom of the dish before layering the rest. Personally, I don't see the need for this extra step (why? Because I make this often and have tested different methods over many years here). Instead I place chopped garlic at the bottom of the dish and top with the sliced vegetables, pressed tightly into neat stacks.
My top tip is in the length of cooking. As long as you stick to the 45 minutes baking time and don't overcook (this makes it dry), the natural juices makes the tian juicy and full of concentrated flavour.
It goes without saying that all ovens are different, so do check on yours if your first time making this.  If it looks ready or looks like it could do with a little more, then I leave that to your own expertise and knowledge of your own oven.
Summer Roasted Vegetables (Tian de Légumes)
A tian dish of roasted summer vegetables is a popular Provençal classic. So easy to prepare, this is basically sliced tomatoes, eggplant, zucchini and onions baked with olive oil, herbs and garlic to concentrate their flavours. Excellent with BBQs or grilled meats and fish.
Equipment
1 ceramic ovenproof dish

or non-stick roasting tin
Ingredients
1

small aubergine (eggplant)

cut into slices

2

courgettes (zucchini)

sliced diagonally

4

firm/ripe tomatoes

sliced

1

white onion

sliced

1

red pepper

sliced (optional)

2

cloves

garlic

finely chopped

3

tablespoon

olive oil

extra virgin

1

tablespoon

fresh thyme or rosemary

finely chopped (or 1 teaspoon dried Herbes de Provence)

2

bay leaves

1

tablespoon

fresh parsley or basil

finely chopped, to serve
Instructions
Cut the tomatoes, onion, courgettes and aubergine into slices no bigger than 1cm (? inch). Peel and core the garlic cloves, discarding any middle shoot and chop or grate finely.

Preheat the oven to 180°C fan/200°C/400°F/Gas 6.

Scatter over the chopped/grated garlic over the base of the dish with the bay leaves.

Stack each slice alternately and tightly together, directly into the dish in rows. (If a vegetable is much larger than the other, cut in half). When arranged to completely cover the dish, sprinkle over the chopped rosemary or thyme (or dried herbs). Dribble over evenly the olive oil and season with salt and pepper.

Bake for about 45 minutes until the vegetables are slightly browned and still very soft. Scatter over the freshly chopped parsley or basil and add another pinch of fleur de sel salt and pepper.
Notes
Serve hot or at room temperature (ok, if in a Provençal heatwave, let's say serve lukewarm). Make-Ahead: This side dish is so easy to prepare in advance up to a day ahead of serving. Delicious reheated next day and ideal for freezing.
Love roasted vegetables? Then try these quick oven roasted tomatoes with mozzarella. Roasting veggies in the oven concentrates their flavours - delicious at any time of year.