Crack into this easy recipe for milk chocolate crème brûlée with passionfruit. A French classic dessert with a fruity, acidic twist with chocolate - or surprise guests instead with centre of melted dark chocolate.
This post just had to be updated. I mean, I talked about this crème brûlée like it was walking on Mars. It just went from fun to sheer madness. Sadly, I have made this a more serious recipe post!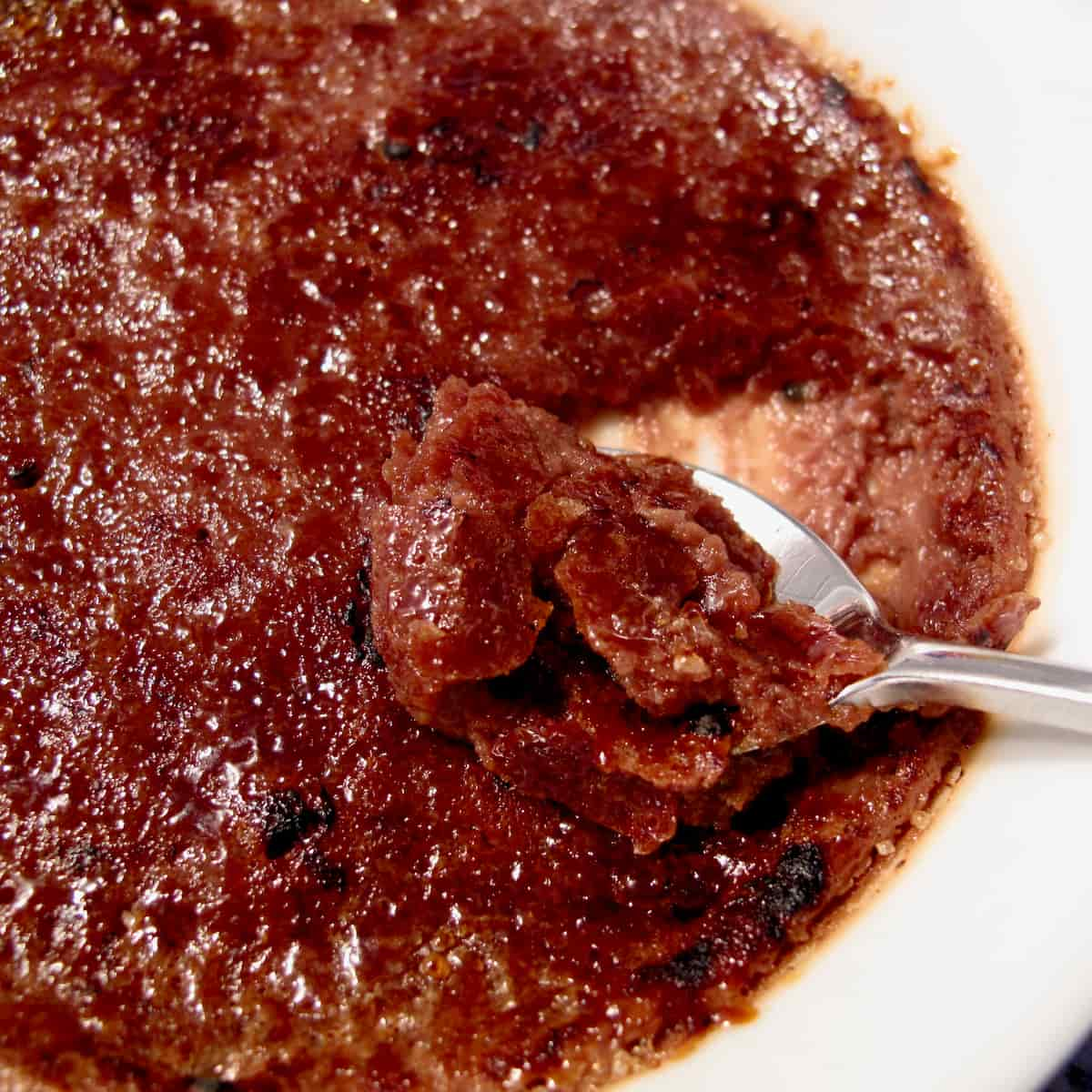 What is Crème Brûlée?
French Crème Brûlée, literally translated in English means burned cream. It's a popular dessert on French restaurant menus.
This classic dessert is essentially a cooked cream with few ingredients. It's made of egg yolks, cream, vanilla and sugar and topped with a crackling layer of caramelised sugar. It's not technically burnt but the sugar is melted quickly either using a blowtorch or placed under a hot grill to caramelise the sugar topping.
The basic recipe is not unlike the Crème Catalane.
The only difference between the two is that the Catalane version uses milk instead of cream and is often given a touch of lemon and cinnamon.
This easy recipe, however, is a milk chocolate twist with a touch of passionfruit to surprise guests and turn it into something extra special.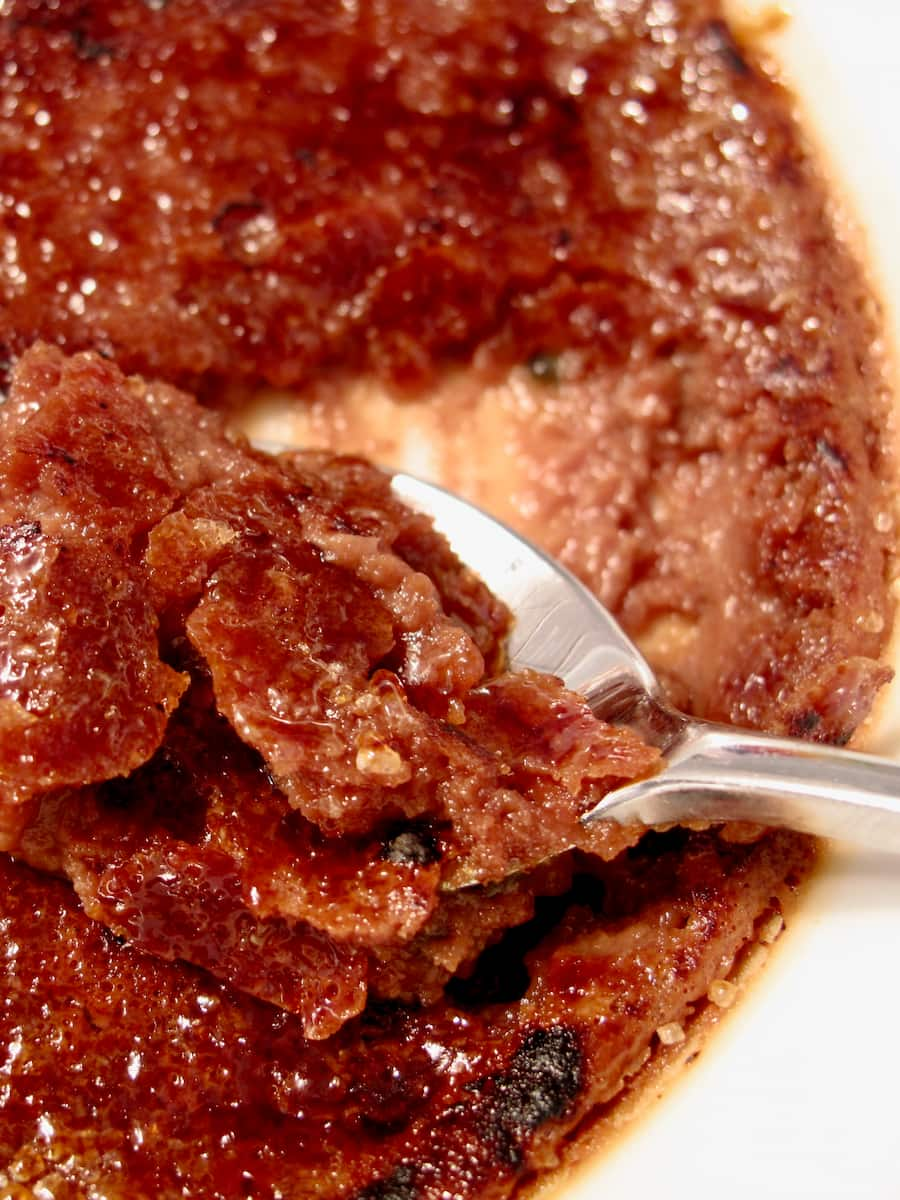 Passionfruit and Chocolate Flavour Combination
As one of my favourite flavour associations is passionfruit with chocolate, I came up with this taste sensation in a crème brûlée. As the passionfruit makes this more liquid, instead of using half and half of cream and whole milk, I use the passionfruit in place of the milk in this recipe. C'est tout. That's it!
To give you an idea what the combination tastes like, next time you order 2 scoops of ice cream, choose passionfruit and chocolate together. I love it so much, I combined them into a macaron in my first book, Mad About Macarons.
Speaking of macarons, as they need egg whites, Crème Brûlée is one of my favourite recipes to use up egg yolks in order to make them.
For more, see my database of egg yolk recipes.
Dark Chocolate Crème Brûlée
A variation of this recipe is just as delicious. Omit the milk chocolate in the passionfruit cream and instead plop in a piece of dark, bittersweet chocolate just before putting each ramekin in the oven.
The result is a surprising centre of melted dark chocolate which guests discover as they crack into the top caramelised layer and into the passionfruit cream.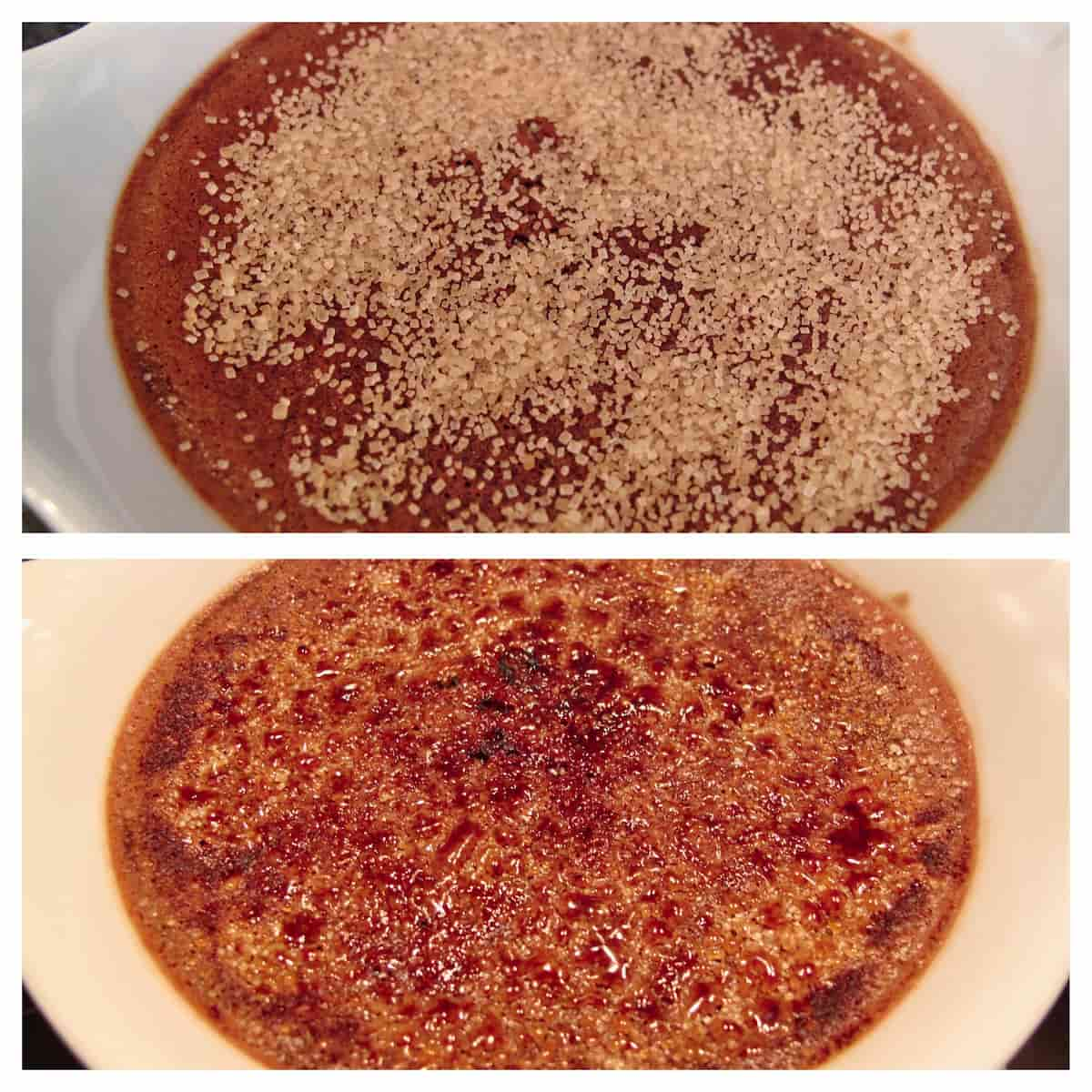 How to Make a Crème Brûlée Topping
One word on preparing the crunchy caramelised topping. Please don't make this part until just before serving. The rest of the dessert recipe can be made in advance - even a couple of days in advance. Conversely, the topping cannot keep.
So if your topping is no longer crunchy and is soft, it's because the sugar has dissolved.
So prepare the topping before you are ready to serve dessert. Just sprinkle with a thin layer of cane sugar (cassonade in France), ensuring it covers the whole surface area. Then caramelise the sugar.
Can I Make It Without a Torch?
This is such an easy recipe. To caramelise the sugar, use a blowtorch to quickly melt the sugar crystals. Although a torch is a luxury it's not absolutely needed to make this.
To caramelise the sugar without a blowtorch, simply place under a hot grill for a few minutes until the sugar completely melts - but keep your eye on it. Unlike its name, do not burn it.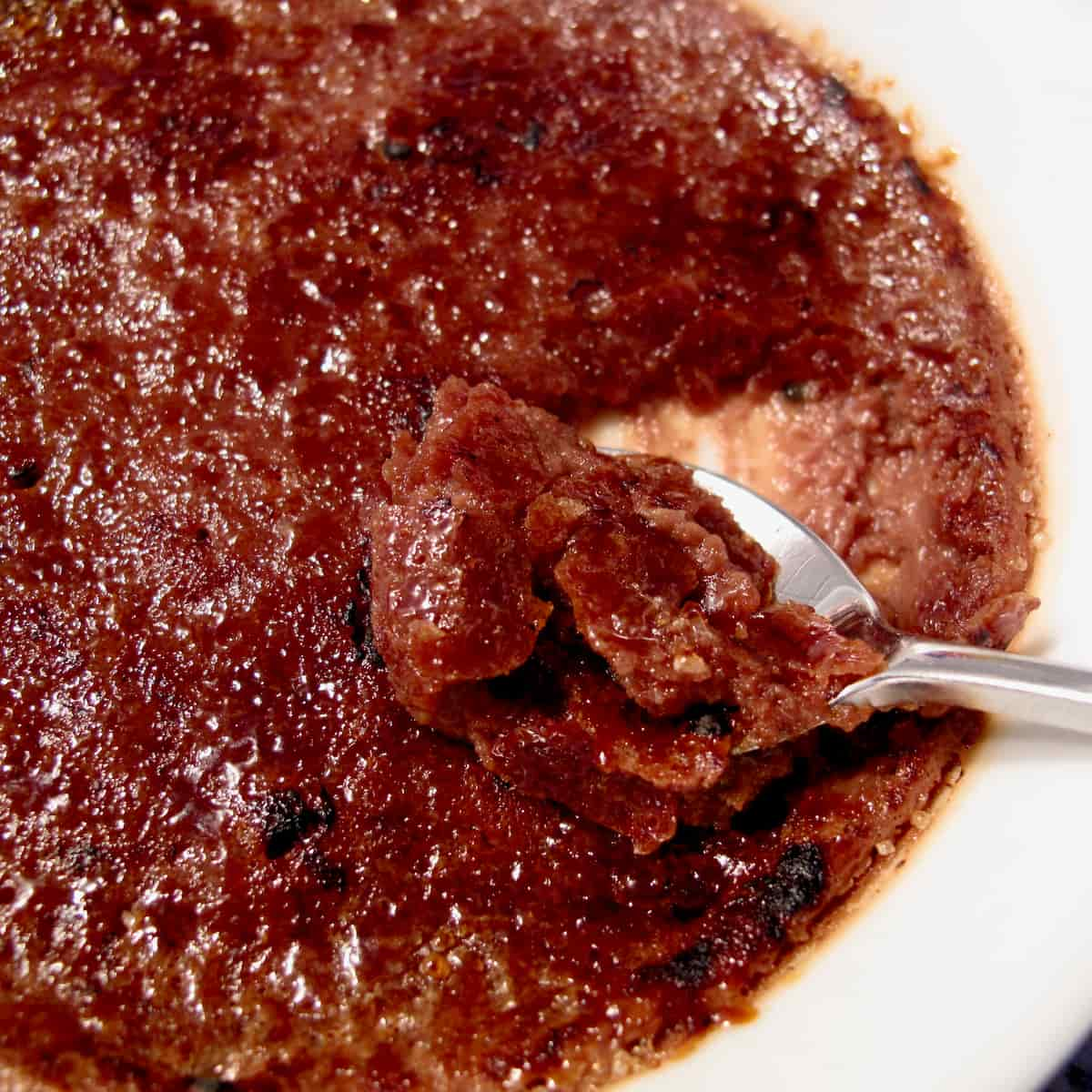 Who also loves cracking the crispy top caramel layer with the spoon?
Like Amélie Poulain, cracking through the caramelised sugar is one of life's incredible thrills. Living dangerously, eh?
What to serve with it
Crème Brûlée is so rich, it's not normally served with anything else in French restaurants and believe me, I have had more than plenty of them living here to agree! If you really want to add something, I'd simply suggest some fruit such as a few fresh raspberries, blueberries or serve a few thin slices of mango on the side - or half a passionfruit.
Milk Chocolate Crème Brûlée with Passionfruit
An easy recipe for milk chocolate crème brûlée with passionfruit. A deliciously cracking dessert that uses up egg yolks.
Ingredients
4

egg yolks

organic

40

g (¼ cup)

caster sugar (superfine)

2

passion fruits

200

ml (¾ cup)

whipping (or heavy) cream

115

g (4oz)

milk chocolate

(good quality couverture, at least 35% cacao)

4

tablespoon

brown cane sugar (Cassonade)

for caramelising
Instructions
Preheat oven to 110°C fan/130°C/250°F/Gas ½. 

Remove the pulp from the passion fruits and using the back of big spoon, press the pulp through a sieve to remove the seeds.

Mix the yolks and sugar until creamy, then whisk in the passionfruit pulp. Gently heat the cream and milk chocolate in a pan until warm until the chocolate has just melted (don't boil.) Pour over the egg mixture and mix thoroughly.

Pour into individual ramekins and place in a bain-marie (a roasting tray filled halfway up with water will suffice) in the oven for about one hour.

Remove from the water bath to cool, then chill for 2 hours in the fridge.

Before serving, dust with the brown sugar then caramelise them quickly with a blowtorch or under a hot grill.
Notes
Dark Chocolate Variation: omit the milk chocolate in the passionfruit cream and instead add a square of bittersweet, dark chocolate in the middle, just before putting each ramekin in the oven. It's a delicious surprise to crack in the spoon and discover a centre of melted chocolate in the centre.
Note on sugar: as using milk chocolate, I have reduced the sugar content, otherwise the crème brûlées would be too sweet.
Measures: Please note that all my recipes are best made using digital kitchen scales in precise metric grams. Both ounces (and cups) are given as an approximate guide. 
This recipe was first posted 29 March 2012 but is now completely updated, including with new images.
Love caramel? Enjoy more of these recipes: