Easy recipe for a classic French Crème Caramel, made extra light without cream. Our French family's favourite, it's made with whole milk and egg yolks for a silky, melt-in-the-mouth dessert.
Popular in Parisian restaurants, it's also a great make-ahead recipe at home served as individual portions or a large version. Want to know the difference with a French flan and crème brûlée? Read on below for more plus all my tips.
I just tried this today and it was perfect, Jill! I wouldn't say I'm an amazing cook/baker, but this recipe was so easy and simple! - Ly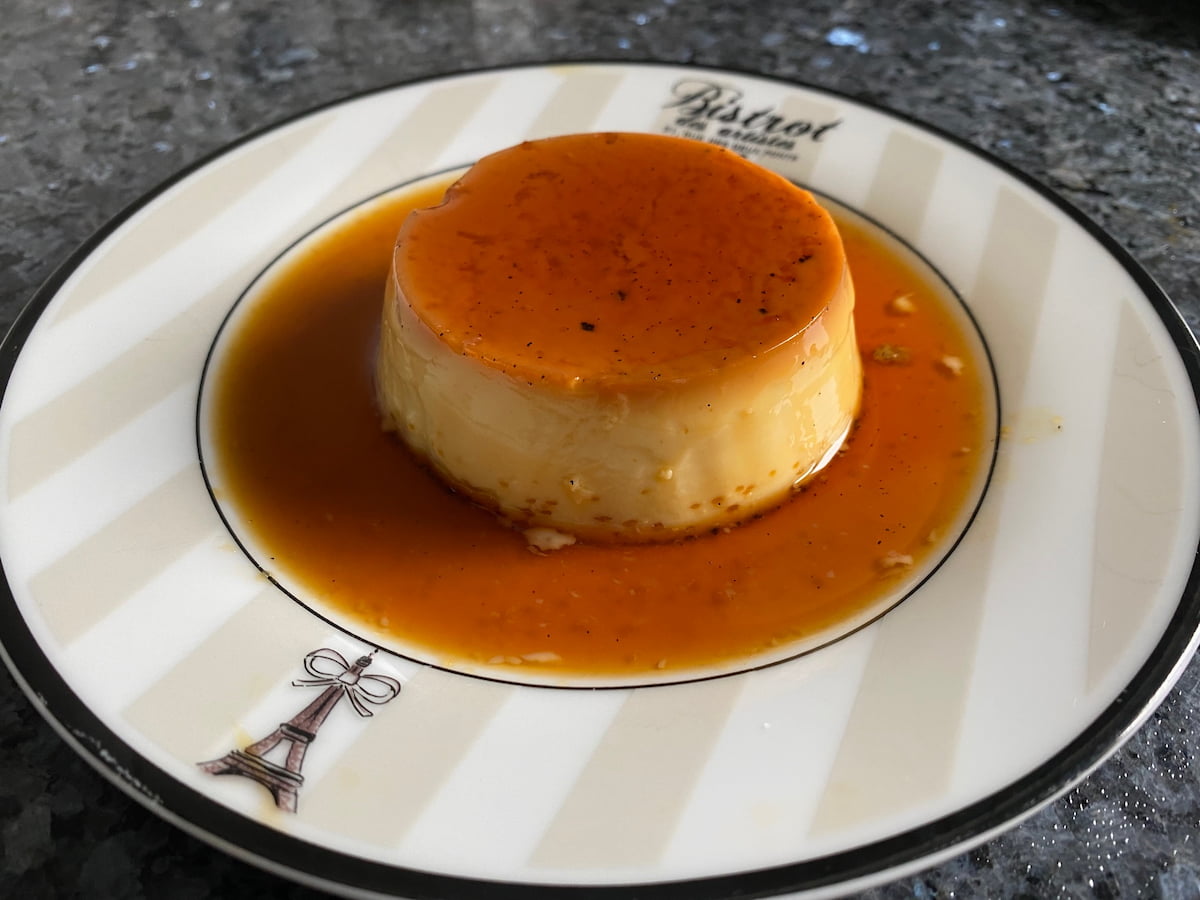 Best Make-Ahead Dessert Recipe
Thanks to the famous French chef, Auguste Escoffier who modernised French cuisine, the French crème caramel has been a staple on many dessert menus since the 1930s. It's a win-win in brasseries and restaurants as it's not only delicious but a most practical dessert too. It's cheap to make and can keep for up to 5 days in the fridge so it's easy to prepare a day or two in advance.
Today, it's still a popular classic in Paris. So make this at home, close your eyes and be transported spoon after spoonful to a Parisian brasserie.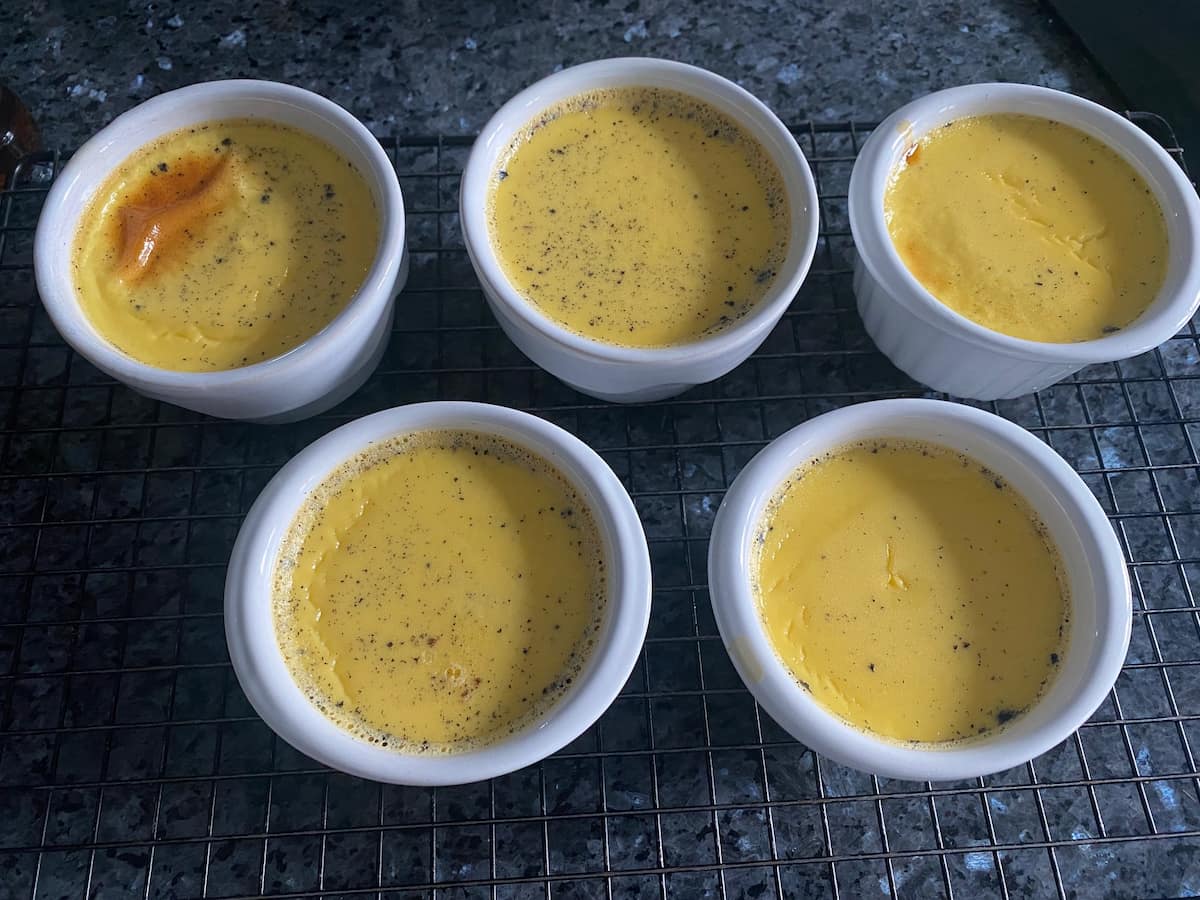 Not sure how to upturn them? I've got you covered in my demonstration video and in the tips below. It's easier than you think.
However, many cafés or brasseries serve them directly in their individual ramekins direct from the fridge. So, if you're worried about upturning them, don't worry. Serve it the Parisian Bouillon Chartier way!
Large Crème Caramel
Madeleine, my French mother-in-law, makes her French Crème Caramel as a large family-sized version. When I first saw her make this when I arrived in France in 1992, I thought it was more difficult to make. Instead I discovered just how easy it was!
To make a large crème caramel, simply follow the recipe below. Instead of individual ramekins, use a large ramekin dish (cake/loaf tin, pyrex glass or pie dish) and bake for an extra 10-15 minutes.
Reduced Sugar
Please avoid packet mixes to make this, as they add far too much unnecessary sugar. That's one of the main reasons why we make our desserts homemade, to control the sugar content.
Many pâtisserie chef friends agree that too much sugar destroys flavour. So, as there is enough in the caramel, I reduced the sugar in the recipe's caramel custard - and nobody even notices! That way, we can enjoy the flavours of the vanilla and that amber caramel.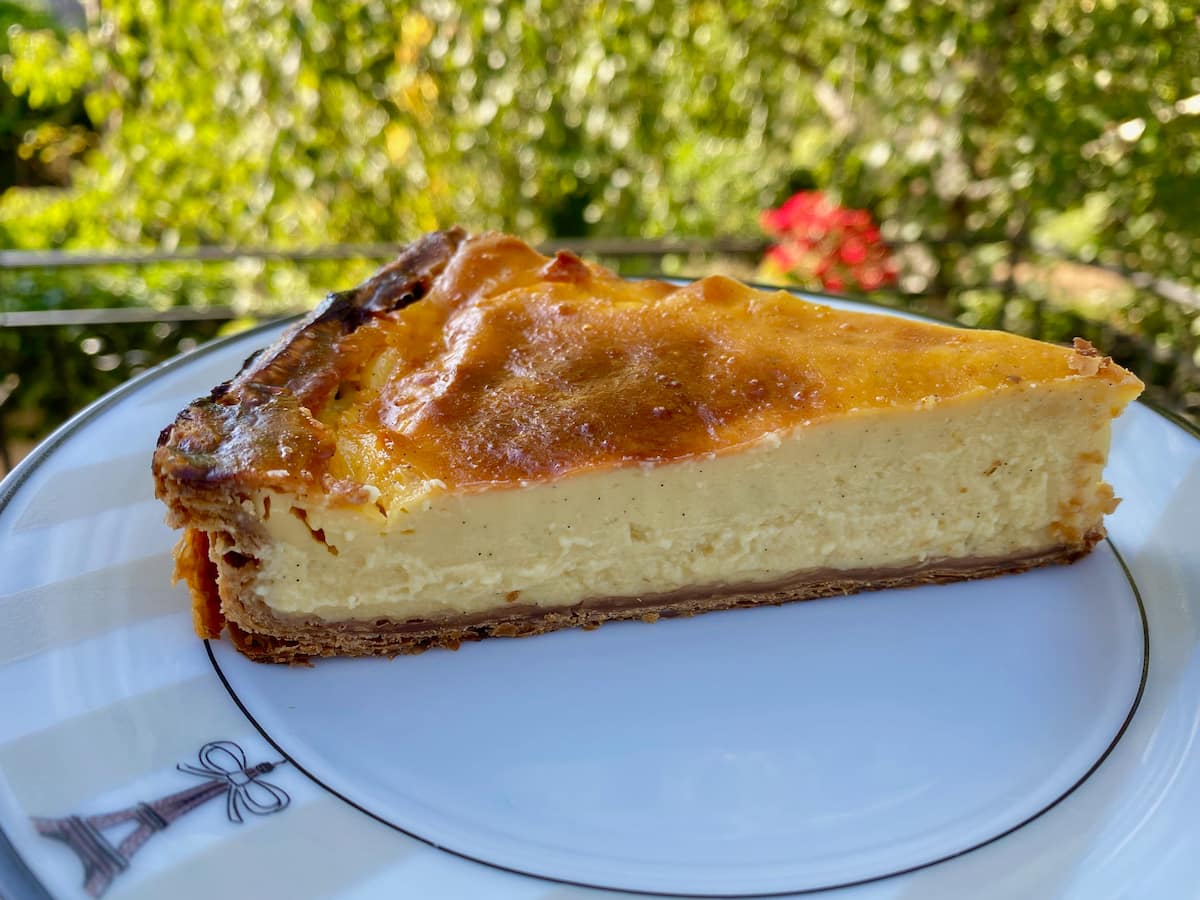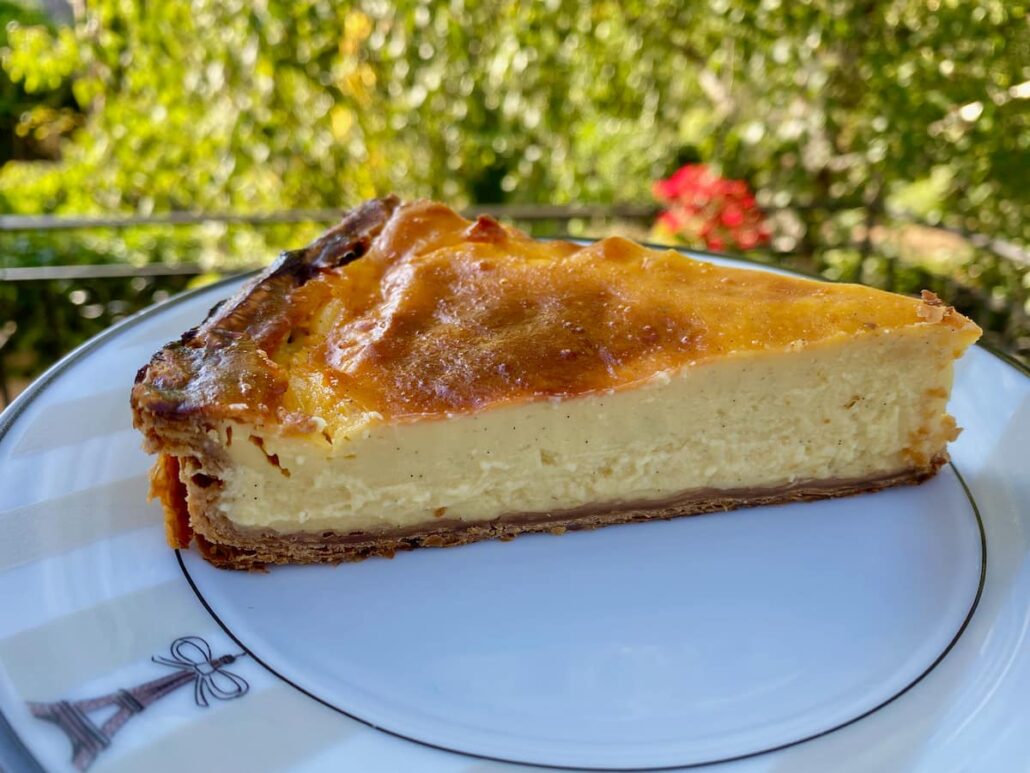 Is Crème Caramel the Same as Flan?
It's known in the rest of the world as Flan, particularly in South America and the Philippines. The French Crème Caramel is similar (if not the same) as flan but it doesn't use sweetened or condensed milk. In Japan, there's purin, a gelatine no-bake version and, thanks to my friend Nami who guest posted here, check out her Japanese recipe for Purin at JustOneCookbook.
At home, the French (including my in-laws) often call it a Flan aux oeufs au caramel - and a simple Flan aux oeufs doesn't even include caramel. It's also called a crème renversée, when served upside down.
So, why don't the French just call it Flan? The main reason is not to confuse a crème caramel with a Flan (pronounced flong).
Bought by the slice at our bakeries, the Flan pâtissier or Flan Parisien (Parisian flan) is a more compact custard made with flour with a slightly flaky pastry base (using either puff or shortcrust). Although labelled as 'Flan nature' or with variations - such as coconut, chocolate or even pistachio (try the one at KL patisserie - see my guide to the Best Tearooms in Paris), it's simply known in Paris and the rest of France as 'Flan'.
Difference Between Crème Caramel and Crème Brûlée
Both desserts are served chilled but prepared very differently. Whilst crème caramel has a smooth, creamy texture, it's almost gelatine-like (without using gelatine) and wobbly. It's much lighter made with full-cream milk (or a mixture of milk and some cream).
A crème brûlée is made just with cream and more compact. The sugar (normally cassonade or cane sugar) is sprinkled on top just before serving then either grilled or "burned" with a blow-torch to make a crackling top. The result is not smooth like the crème caramel, but in order to get to the cream the spoon cracks open the caramel.
See my milk chocolate crème brûlée recipe for more.
French Crème Caramel Ingredients
This classic French Crème Caramel is made with just 4 ingredients: milk, eggs, sugar and vanilla. The fresher the milk and eggs (organic or free-range), the better. It's best 'plain' with vanilla - but the recipe can easily take on many flavour variations: teas, coffee, herbs and orange work well. Just infuse in the milk in place of the vanilla.
For another infused type of French custard,
see my recipe for Crème Anglaise with Chai tea.
However, vanilla isn't plain if you use a sticky vanilla pod/bean or powder for this recipe. At a pinch, replace with good quality vanilla extract. Please do not use vanilla essence or aromas. The resulting taste is synthetic. Try both versions: you'll taste the big difference.
Over the years, I prefer this recipe, as I've experimented making Crème Caramel with milk and cream. In the end, this is by far the family's favourite, initially based on Raymond Blanc's recipe but with less sugar in the custard. It uses fresh whole (full-fat) milk - not cream. Plus, the addition of 3 egg yolks gives it that silky, melt-in-the-mouth feel of the custard, keeping it light.
Cooking Tips - What Could Go Wrong With Crème Caramel?
This is such an easy recipe. For the complete step-by-step instructions how to make it, see the video below.
However, based on many mistakes made over the years, I've learned these cooking tips along the way:
Air Bubbles. Don't worry. It's a sign the caramel creams have been slightly overcooked. An example of an overcooked cream is in the photo above but, even a little overdone, it's still soft and silky. As you can see, the creams behind were just right, but this one broke out as I left it in the oven another 10 minutes. The taste is still wonderful; it doesn't bother us - either at home or in many restaurants (personally, I love them!).
However, to avoid air bubbles, stick to the timing and place a sheet of baking paper at the bottom of the water bath (bain-marie) before filling with water in the oven. This stops the water from boiling up to the top of the dishes while cooking, enabling a more even temperature.
Why has my caramel turned white and solidified? This is either because the temperature was too low or you stirred the sugar while on the heat. Don't disturb the sugar crystals. Once it's on the heat, leave it alone (see my upcoming video) and ensure the heat is medium to high;
Why do I have custard foam? Don't over-whisk after adding the warm milk. Whisk very gently just to combine then leave the custard to settle for a few minutes and the foam will subside. A few bubbles are ok!
My vanilla pod is dry. Leave for a few days in a jam jar with a tablespoon of dark rum. The result is a stickier vanilla pod and the aromas are brought out at their best (I picked this one up from a vanilla seller at the market in Apt, Provence);
I don't sieve the custard as I don't find it necessary. If you think you may have egg shell in there, then pass it through a sieve before pouring into the ramekins;
How do I release the caramels easily? Run a sharp knife around the ramekin then upturn on to a lipped plate (to catch the juice). Either tap or jiggle the ramekin and it will eventually come out! However, to be really sure, place the ramekins for 30 seconds in the roasting tin filled with boiling water. It's so much easier.

What to Serve with French Crème Caramel
In Antoine's family, they always serve it on its own chilled. Likewise, in Parisian restaurants, it's rare that it comes with something on the side. At most, you'll find crème caramel served with some strawberries, raspberries, blueberries or exotic fruits.
When I had it for dessert at the Café Varenne recently (see my post, rue du Bac, Paris pastry street), they topped it with a salted buttery biscuit, a sablé breton (see my recipe for palets bretons to make yours at home).
What Can I Do with the Leftover Egg Whites?
As this crème caramel recipe uses 3 egg yolks, keep aside the egg whites. They can keep easily covered in the fridge for up to 5 days and freeze well. When ready to use, make:
This French Crème Caramel recipe below does look long to make it home from scratch - but it's the opposite. I've given detailed recipe steps below to explain how easy it is. Et voilà !
Love caramel? Stick around (groan) and enjoy more caramel recipes:
Classic French Crème Caramel
An easy recipe for the classic French Crème Caramel. No cream but made with whole milk and egg yolks for a light, silky dessert found in many Parisian brasseries. Either served directly in their ramekins or upturned on a serving plate to show off the shiny caramel.
Ingredients
Caramel:
100

g (3.5oz/½ cup)

granulated sugar

3

tablespoon

water
Custard Cream:
500

ml (17 fl oz/2 cups)

whole (full-cream) milk

1

vanilla pod/bean

(or ½ teaspoon vanilla powder/vanilla extract)

2

large

eggs

(organic)

3

egg yolks

(organic)

70

g (2.5oz/ ⅓ cup)

sugar
Instructions
Make the caramel:
Put the granulated sugar and water in a small saucepan. Shake the pan first to half dissolve the sugar in the water. Then, over a medium-high heat, leave the caramel to form without stirring. This should take about 10 minutes (don't multitask and leave the pan - keep your eye on it). It should start to smell like caramel when light brown. Swirl it around a bit and wait until the caramel is medium to dark brown (too light and it will just be too sweet; too dark, it will be bitter).

Pour the amber caramel into 5-6 ramekin dishes (or one big dish), ensuring that it coats completely the base.  Set aside to cool so that the caramel sets and immediately put the saucepan in the sink and soak in water, making it easier to clean later.
Make the custard cream:
Preheat the oven to 170°C/340°F/150°C fan/Gas 3.  Split the vanilla pod down the middle if using. Pour the milk into a medium saucepan, adding the vanilla (or other infusions if using) and just allow the milk to heat to simmering point (not boiling). Cover and take off the heat to cool slightly and remove the vanilla pod (scraping out the seeds and adding to the milk).

Whisk the eggs, yolks and sugar vigorously in a medium bowl until paler.

Pour in the WARM vanilla milk (not hot - if hot, temper by adding a little at a time) and whisk gently just until combined. Leave to rest for a minute to let the foam subside.

Place the ramekins or large dish into a large roasting tin lined with baking paper. Pour the warm thin custard over the caramel in each ramekin, filling near to the top.

Place the roasting tin in the middle of the oven and pour in warm-hot water around the ramekins or dish so that it comes to about half or ⅔ of the way up.

Bake for about 40 minutes or until set (they're not cooked properly if there's a dip in the middle. A knife inserted should come out clean). Remove from the oven carefully, and after 10 minutes, gradually remove the ramekins onto a cooling rack. When cool, transfer to the fridge and chill for at least 2 hours - ideally overnight.
Notes
Presentation
Many Parisian brasseries serve crème caramel directly in their ramekins. If you like to see them upturned as shown in the photos above, un-mould them just before serving. Using a thin sharp knife, loosen the creams all around the sides ensuring it reaches the bottom (for an even easier release, plunge the bottom of the ramekins in boiling water for 30 seconds.) Quickly turn upside down directly on to the serving plates and shake/tap to release them. 
Best served chilled. 
What to Serve with Crème Caramel? It's always served on its own but with the leftover whites, make macarons from my books. Or these quick financiers or tuiles to accompany the dessert - or serve with strawberries.
Make-Ahead: the crème caramels can be made 1-2 days in advance.
This recipe post was first published 4 May 2018 but is updated with new photos, more explanatory text and a video.