I'm posting something a bit unusual for me, as I'm not a huge fan of things particularly sweet. However, after trying this recipe, I'm loving this confiture de lait recipe, also known as Milk Jam or Dulce de Leche. Let me also share an easy trick I learned how to store vanilla beans (or pods) to keep them sticky and plump.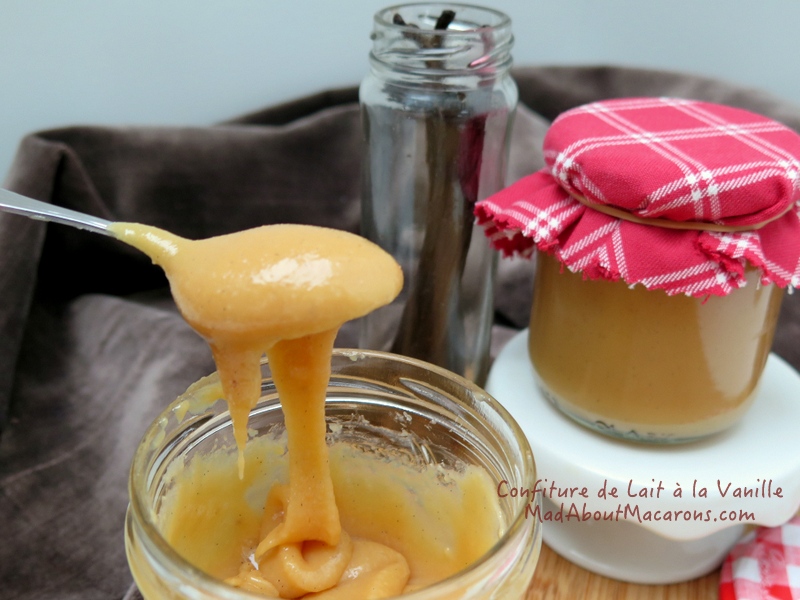 I have a confession to make. I'm glad it hasn't really snowed in Paris this winter but I caught myself displaying a surprise tinge of jealousy the other day, admiring our Provençal friends' snowy winter wonderland photos. They'd taken them just before they left Avignon on the TGV (speed train) to visit us snow-deprived souls "dans le nord".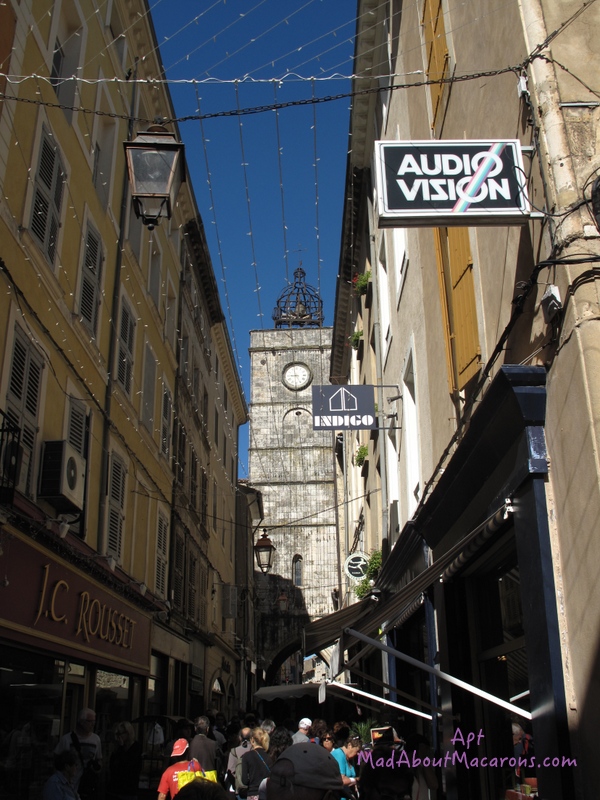 The paradox is that when it's cold in the south, it can be lovely in Paris, and vice-versa. In winter, Provence can have the added wind-chill factor with the southern Mistral winds but in summer, they are blessed with the most sun-kissed, flavoursome fruit and vegetables.
We have our favourite farmers' markets all around Paris but there's something much more laid back about the south. My favourite Provençal market is in Apt. My parents-in-law live nearby in the hilltop village of Saignon, so this is our local market pilgrimage during summer visits. Apt is also where we stock up on candied fruit.  Renowned as the world capital for fruits confits, buying direct from the factory by kilo is far cheaper and better quality than we can find at our Parisian supermarkets.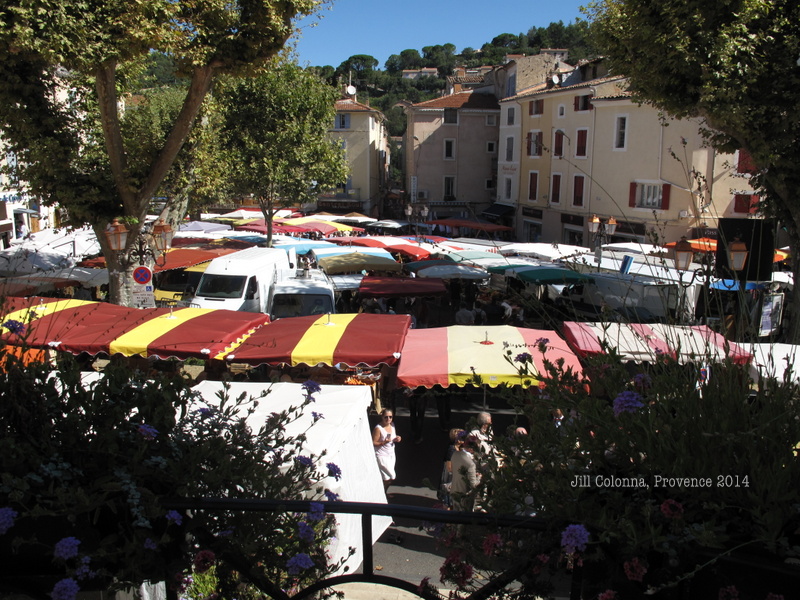 Apt's market is huge. Here's just a fraction of it in the square of the Hôtel de Ville (town hall), as it snakes out into the main cobbled street, the shady side streets, and a few more animated squares. In the summer, it's crammed with more Dutch, Belgian and British tourists than locals, and musicians from around the globe come to busk in the atmosphere.
Stocking up on our favourite lavender honey, this time around we also met Monsieur Jean-Pierre Setti, selling the most plump, natural sticky Bourbon vanilla pods/beans from Madagascar.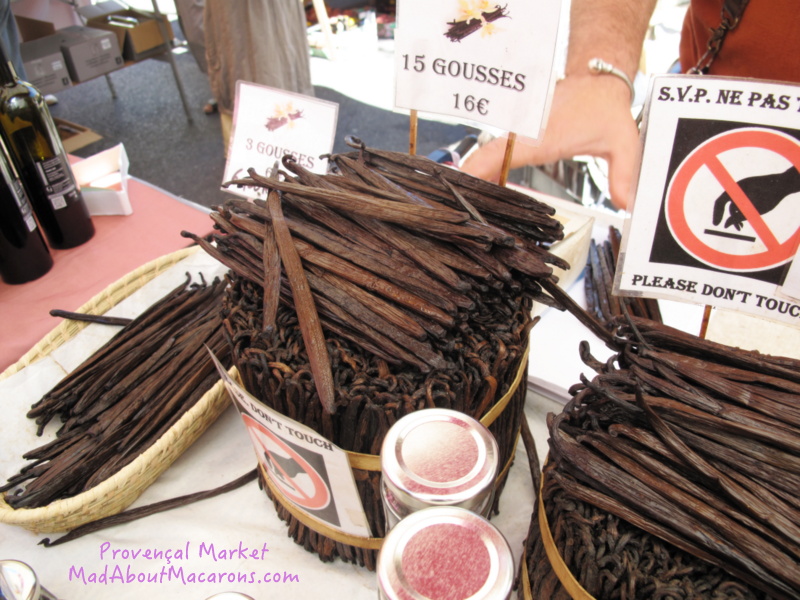 Can you smell their perfume? Counting up each exotic stick of fragrant magic, he gave some simple advice how to preserve vanilla pods/beans: put them in a long, sealable jar with just ½ cm of rum, close the lid, et voilà!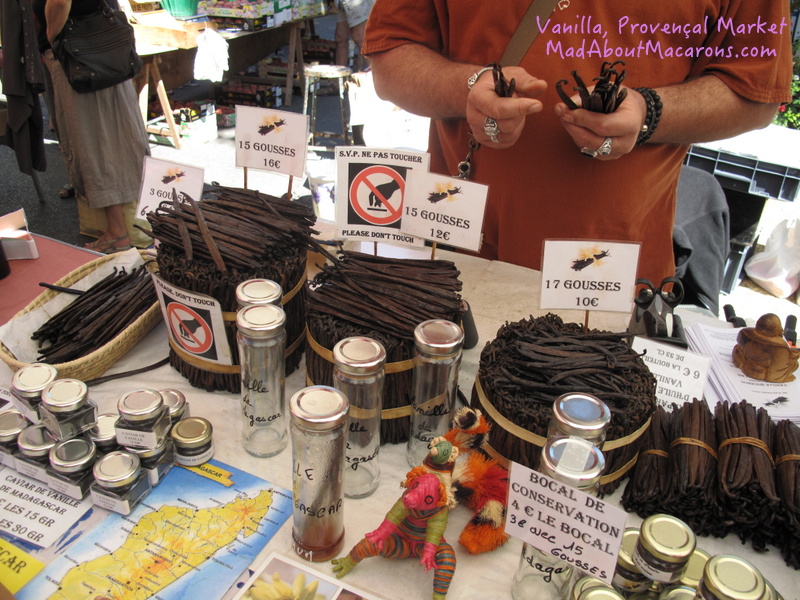 The girls were fascinated at the next stand by these vibrant Crête de Coq flowers, as they resemble a rooster's head.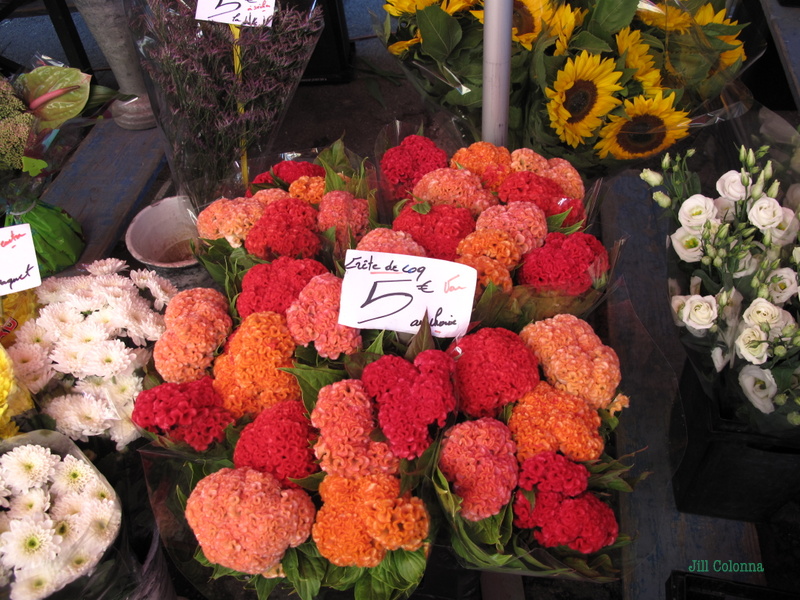 How Best to Store Vanilla Beans/Pods
So after Monsieur Setti's top vanilla tips, I set about his trick of storing them in rum. Back home, I found a few long jars that used to hold shop-bought fruit coulis and sterilised them.
For details on how to sterilise jars, see my recipe for fig jam.
In each long jar, pour in a tablespoon of rum and place the vanilla beans in it. That's all it takes! Just smell that jar after a week.  I'd developed a new daily ritual of opening the jar to sniff the aroma jumping out of it. Better to sniff vanilla, right?
I took a look at Mr Setti's recipe flyer that he'd thrown in with our goodies.  One of the recipes was for confiture de lait (literally, "milk jam" - or more widely known as dulce de leche). Like salted caramel sauce, it's more of a perfect winter treat.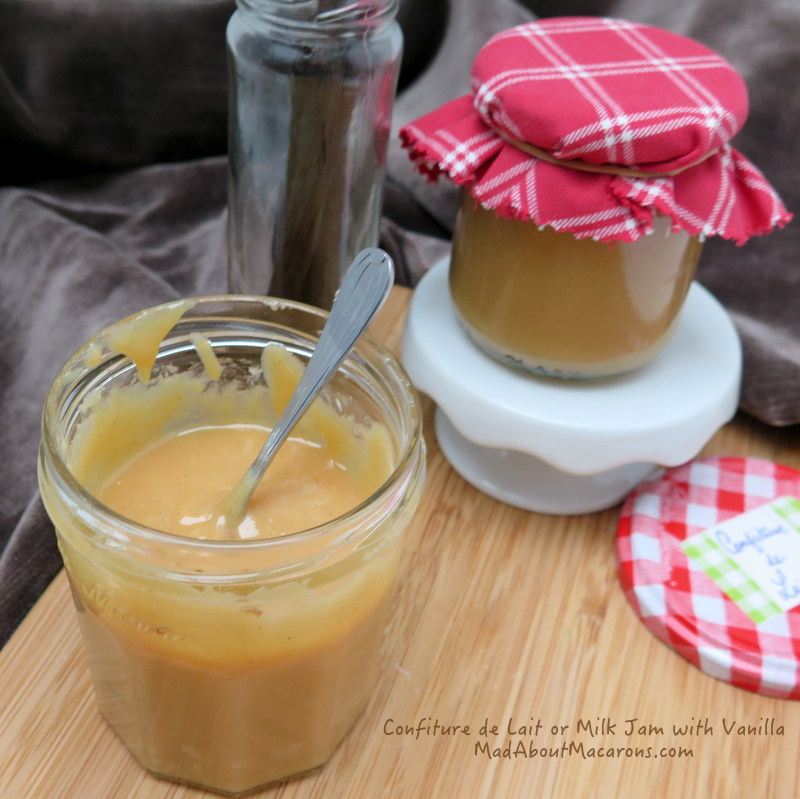 Easy Confiture de Lait Recipe
There are many express recipes on the internet for Confiture de Lait using a can of sweetened condensed milk and cooking it with some water in a pressure cooker. It's quicker way to make it.
However, this recipe is easy but takes a lot longer: over 2-3 hours. It's basically slowly and gently cooking milk, sugar and a sticky vanilla bean/pod on a low heat and stirring it every now and again to ensure the mixture is smooth.
Call me old-fashioned but I love this as a winter recipe. There's something so satisfying about stirring it now and again while it's gently heating. What's more, the house smells so fabulously sweet on a dull and nippy Sunday afternoon.  It's a simple, soothing way to cheer up the senses!
How Long Can you Keep Confiture de Lait?
As it's a caramel, Confiture de Lait (milk jam) will last a couple of months kept in the fridge, although I found it best kept within a month.
Reheat it for a few seconds in the microwave and dribble it on crêpes, waffles and about anything that you fancy.
What's Good with Confiture de Lait?
I made just a few macarons with Confiture de lait as a filling.  I personally find them far too sweet in a macaron, however, and much prefer "plain" vanilla macarons (recipe in Mad About Macarons) but I'll leave that for you to try.
This is best slightly warmed and spread on thin French crêpes. My kids spread so much of this on crêpes that the stock didn't last long! Otherwise also good served as a little on Scotch pancakes, banana bread and fluffy brioche.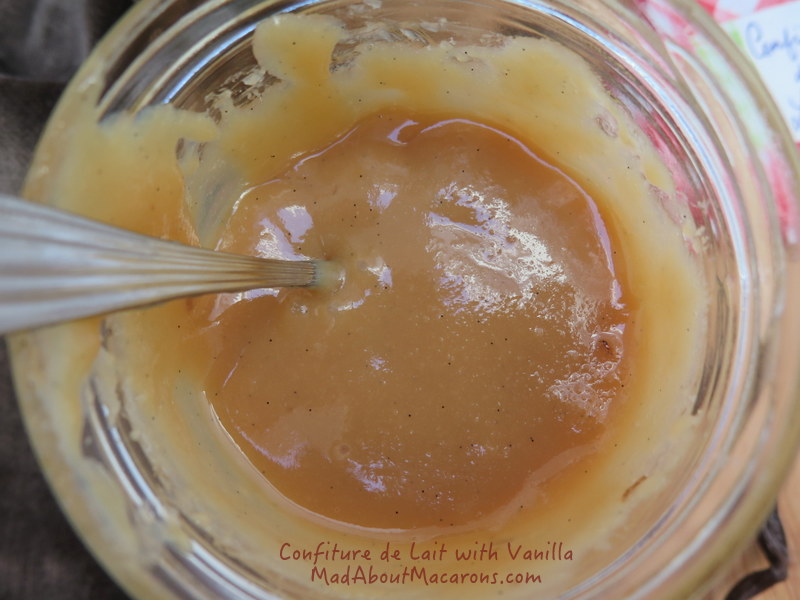 Confiture de Lait (Milk Jam) with Vanilla
Deliciously easy recipe from Monsieur Jean-Pierre Setti from the market in Apt, although I've lowered the sugar quantity slightly.
Ingredients
1

litre (1¾ pints)

whole milk

(full-fat)

450

g (1 lb)

sugar

1

vanilla pod/bean
Instructions
Put the milk and the sugar in a thick-based large pan. Cut the vanilla pod or bean right down the middle from top to bottom and add it to the milk.

Heat until boiling then reduce the heat to low and leave to simmer away for 2h30 to 3 hours. Every so often, stir well with a long wooden spoon. It's normal that nothing much happens in the first couple of hours, then you'll see that it does thicken quite quickly towards the end.

Take out the vanilla pod and as soon as the jam becomes caramel-like and coats the back of a spoon nicely, take off the heat and pour into a couple of clean jam jars.
Notes
The confiture de lait will harden as it cools. Store in the fridge.
NUTRITIONAL INFORMATION: 446 Calories per half a jar