We can never have too many apple desserts, can we? French Apple Nougat Tart is a delicious tart filled with apple chunks tossed in vanilla and topped with a crunchy almond nougat.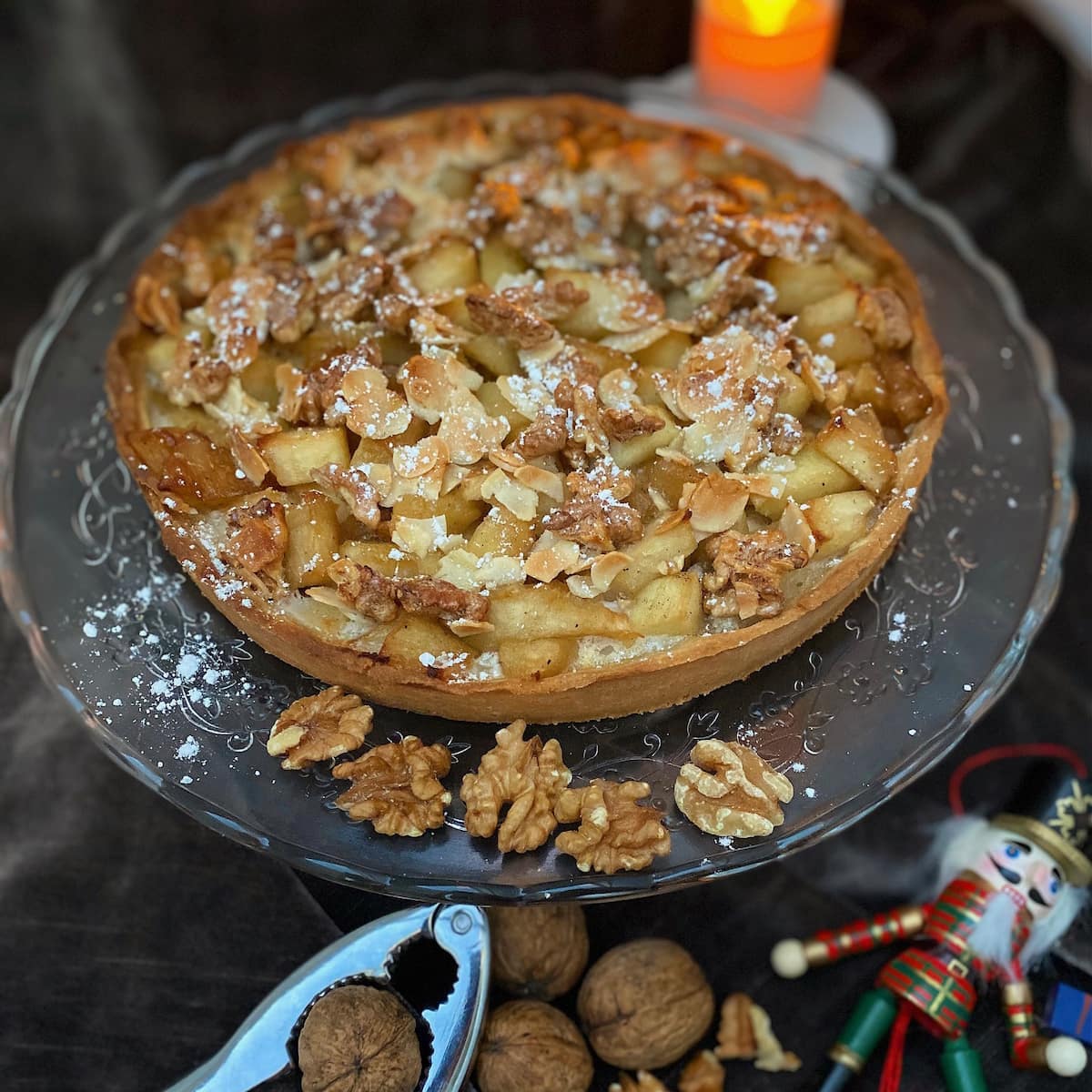 Apples with Almonds
Like the previous Quick Apple Tart recipe, it pairs almonds with apples and, while I used ground almonds in the base with a splash of Calvados, this tart uses slivered almonds as a crunchy nougat topping with just sugar and egg whites.
Moreover, if you fancy being extra decadent, make a batch of salted caramel sauce and serve it warmed to dribble on top.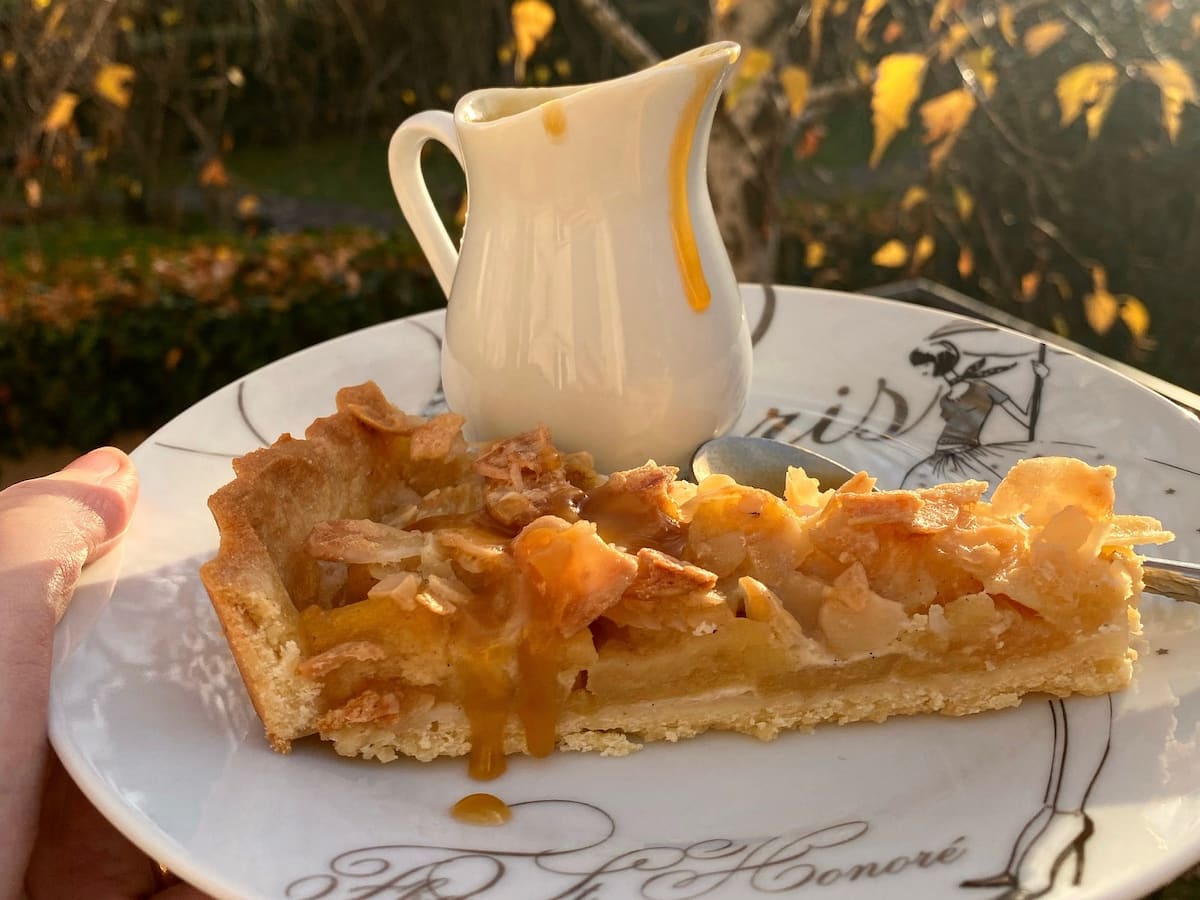 I discovered the recipe for Apple Nougat Tart in Jacquy Pfeiffer's cookbook, The Art of French Pastry. If any of you have seen the 2010 video on The Kings of Pastry (this link is a trailer), he's the prime subject and I thoroughly recommend you watch it. Hailing from Alsace, this outstanding pastry chef co-founded the French Pastry School in Chicago.
French Sweet Tart Pastry Recipe
The chef's sweet tart base is prepared the day before. Shame on me but, instead of waiting 24 hours, I adapted the Sweet Tart base recipe in Teatime in Paris (there's a whole chapter on Tarts in the book) by replacing some of the flour with ground almonds (almond flour). The result worked really well and so I've posted this alternative pastry base recipe below.
As in Teatime in Paris, the method of making the tart base is all explained, step-by-step using a tart pan or a tart ring.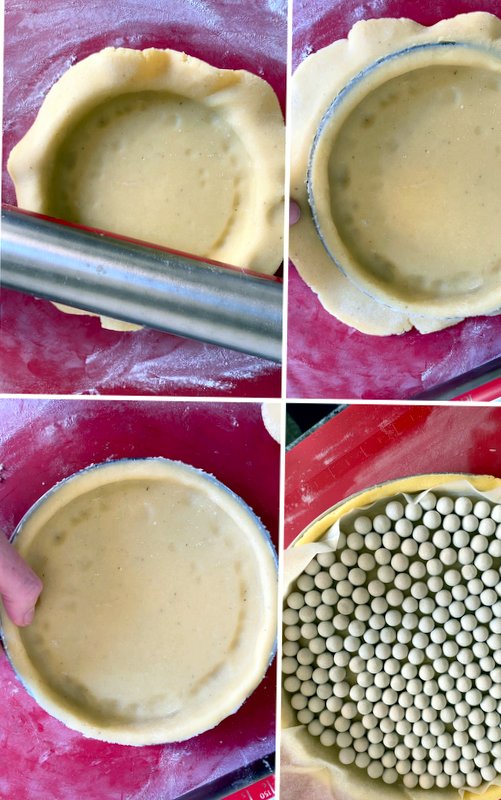 Best Tart Apples for Making Tarts
The chef's secret to preparing the apples for this French Nougat Tart is to cook the apple chunks on a high heat in butter quickly until the apples are seared, then cool them off on baking paper. It's a cracker of a pastry tip for making this. Braeburn apples are good for this; so are a mixture of Pink Lady and Granny Smith. See my post on apples for more on the best apples for cooking and baking.
However, lately I've been experimenting without using lemon juice with apples.  If you peel, core and chop your apples quickly enough and immediately throw them into a hot pan, there is no need to go through soaking them in lemon juice.  Good news if you're in a hurry.
Apple Nougat Tart Almond Topping
The recipe calls for just slivered almonds for the topping but I also experimented using a mixture of sliced almonds, fresh walnuts, hazelnuts and pecans too.  The result is deliciously fabulous.
However, in my humble and honest opinion, there's nothing to beat the original recipe using just almonds to let the apples shine through. Chef Pfeiffer adds a touch of cinnamon to the topping, although I like it also without, sticking with the vanilla. It's all a matter of personal taste, bien sûr.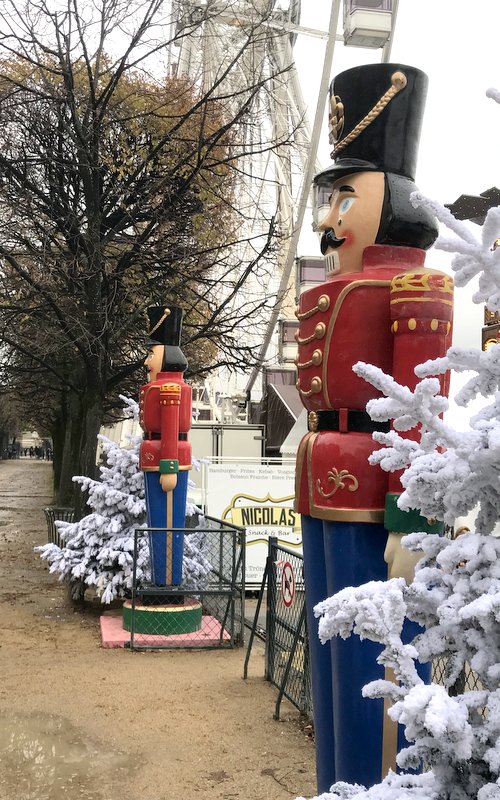 We're seeing Christmas figurines from the Nutcracker all around Paris.  I particularly love seeing them at each entrance to the Tuileries Gardens.
Inspired by chestnuts around Paris, add a few marron glacés (candied chestnuts) on top to complete a Parisian Christmas touch. If you love French tarts, then try this Saint-Germain Almond Tart.
I love this tart on its own but serve with vanilla ice cream,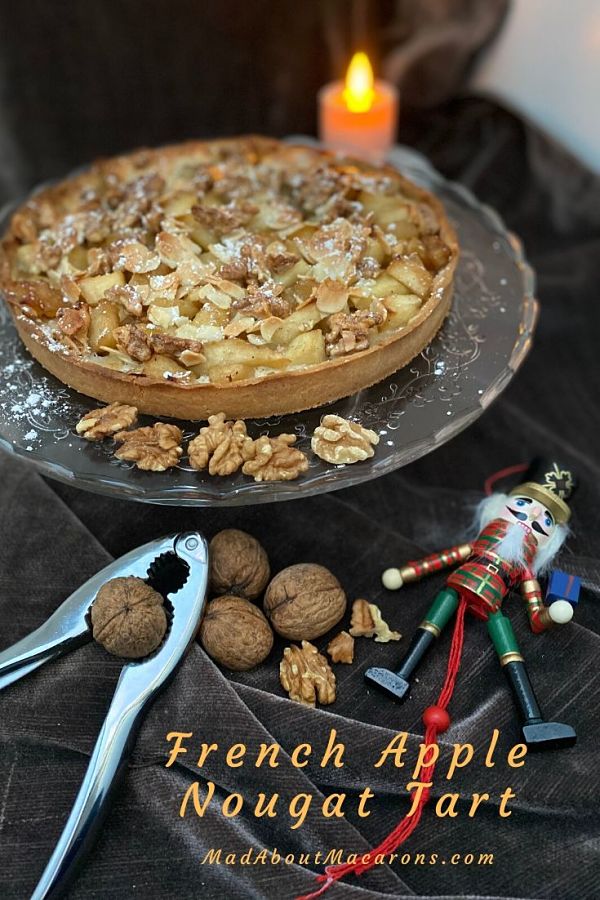 French Apple Nougat Tart Recipe
French Apple Nougat Tart
---
Description
A delicious tart with apple chunks in vanilla and topped with a crunchy almond nougat, inspired by French pastry chef, Jacquy Pfeiffer. Sweet pastry dough from 'Teatime in Paris'.
Ingredients
Sweet Pastry
125

g (4.5oz)

unsalted butter

softened

75

g (2.75oz)

icing (confectioner's) sugar

1/2

tsp

salt

(fleur de sel)

1

medium

egg

(organic)

1/4

tsp

vanilla powder

or extract

200

g (7oz)

plain, all-purpose flour

(type 45)

40

g (1.75oz)

ground almonds (almond flour)
Apple Filling
3

Organic apples (Braeburn, Golden or Granny Smith)

peeled & cored

30

g (1oz)

butter

1/2

tsp

vanilla powder

(or 1 3/4 tsp extract)

2

tbsp

cane sugar

(or Turbinado)
Nougat Topping
55

g (2oz)

organic egg whites

55

g (2oz)

sugar

55

g (2oz)

slivered almonds & broken walnuts

(or mix including pecans, hazelnuts)
Instructions
Sweet Pastry Base
For more complete instructions, follow the recipe on pages 106-109 in my book, 'Teatime in Paris'. Mix the butter and sugar in a stand mixer until creamy. Add salt then other ingredients until just mixed, then stop. Form the dough into a ball, wrap in cling film or in a bag and chill in the fridge for at least an hour.

Take the pastry out of the fridge. Roll out the pastry on a very lightly floured surface to 4mm thickness. Press into the pastry ring or pan. Roll over the rolling pin on top to trim then push the pastry again into the ring to ensure it's straight against the sides. Set aside the remaining pastry, returning it to the fridge for at least 30 minutes.

Preheat the oven to 180°C/160°C fan/360°F/Gas4.

Blind bake the pastry by topping with parchment paper and fill with baking beans, washed coins, rice or dried beans. Bake in the oven for 15 minutes, then set aside to cool on a wire rack, removing the baking beans (this seems short but it will be baked again later with the apples).
Apple Filling
Prepare a sheet of parchment paper on the side.

Heat a large frying pan over high heat and add the butter. Meanwhile, chop the apples into large dice (cut them quickly and there's no need to use lemon juice). When the butter is golden, fry the apples in sugar and vanilla for at least 5 minutes until seared a golden brown on one side. Turn the apples, cooking on high still for another 2 minutes then transfer to the parchment to cool.
Nougat Topping
In a bowl, whisk the egg whites with a fork until loosened up then stir in the sugar and sliced/chopped) nuts.

Evenly spread the cooled apples into the pastry base and top with the nougat. Bake in the oven for 25-30 minutes or until golden brown. Cool on a wire rack.
Notes
Best served on the day but can be kept refrigerated until next day. Also freezes well (double wrap).
Serve with vanilla ice cream, a dollop of crème fraîche, chestnut ice cream or a warmed pot of salted caramel sauce.