Ten reasons to visit Honfleur Normandy: what to do, restaurant recommendations and useful tips on France's popular coastal town, only 2 hours drive from Paris and 3 hours by train.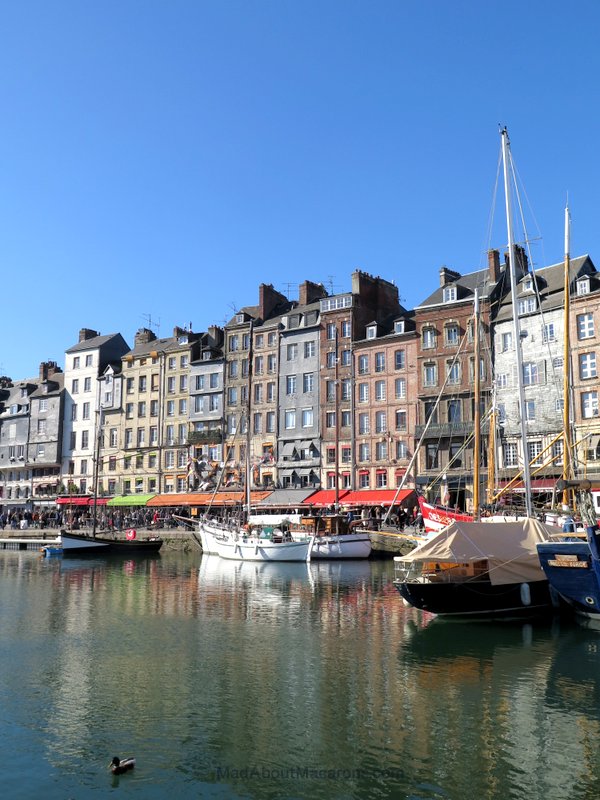 10 Reasons to Visit Honfleur
So, what is there to do in Honfleur? What is Honfleur famous for? Find out in my 10 reasons to visit Honfleur and what makes it such a special, popular getaway in Normandy.
As Honfleur is possibly the nearest coastal town to Paris, it's easy to take off for a weekend or spend a few days here.  Over the years of living in France, it's my pleasure to share some of its gems.
Enjoy a taste of their top restaurants, the local museums, walks around interesting landmarks, and the bustling markets. You'll want to soak up the wonderful general ambience of France's historical and pretty port nestled on the Seine's Estuary before it opens up to the English Channel.
Honfleur's Historic Harbour (Vieux Bassin)
The top landmark in Honfleur is the Vieux Bassin, or inner harbour. It's the heart of the medieval town that has attracted writers, musicians, and painters over the centuries. Listen to the hypnotic bells vying with the tinkling yachts from the nearby churches and at the end of the harbour, is the 17th-century watch-tower, the Lieutenance.
It was here that Samuel de Champlain set sail from Honfleur in 1608 to colonise Canada and led to Quebec's foundation.
The harbour is witness to its ever-changing mix between the weekday and weekend. Dotted with colourful boats, the quietly humming fishing haven during the week (especially off season) turns into a holiday cacophony of happy tourists on the weekend.
No wonder! Just the harbour alone is full of interest, lined with bustling restaurants, seafood bars, cafés and art galleries. It's also a famous town for artists: often seated quietly behind easels around the port, their brushes squiggle to capture the varying scenes and ambience.
Daily Fresh Fish and Seafood
This giant pot of steaming moules (mussels) sums up the fresh seafood and fish that's caught daily in Honfleur. We often see bikers whizz up the autoroute from Paris just for their Sunday lunch plate of oysters or mussels sold on the harbour!
Depending on the daily catch, the fish market is every morning, Thursdays to Sundays at the Jetée de Transit. Here you'll find everything from cod and mackerel to scallops (coquilles Saint-Jacques) and prawns or shrimps.
Love scallops? Then you'll love this recipe for Creamy Chorizo Risotto with Scallops.
Old Town
The old town is what makes Honfleur so particularly charmant and so French. Its quaint narrow streets and pretty cobbled squares are crammed with half-timbered houses, juxtaposed with wooden and slate houses, many on 7 floors.
Don't forget to look up, as there are many historical plaques indicating famous birthplaces (Eugène Boudin, Erik Satie, Alphonse Allais...). More on composer, Erik Satie, below. Incidentally, he lived in Paris next to the Montmartre museum - for more, see my online chocolate and pastry guide to Montmartre.
Honfleur's Beautiful Churches
St Catherine's Church dates back to the 15th century. Constructed by local ship-builders, it's primarily made of wood and resembles an upturned ship's hull. St Catherine's tower is separate across the square and houses the bells.
St. Leonard's Church - With its 15th century portal, just a step inside reveals two spectacular fonts made out of natural seashells, with gigantic oyster shells crowning them (my photo wasn't good enough here).
Notre Dame de Grace (Our Lady of Grace) - this chapel is in the heights of Honfleur and is accessible by a short, steep climb (really recommend the walk) or easily reached by car to Le Mont-Joli. I can't recommend this highly enough - especially out of peak season to appreciate its special tranquility. Inside, boats and relics decorate the ceiling with thanksgiving plaques by the Honfleurais and pilgrims. Every 15 minutes, the impressive external bells ring. Don't miss the bells playing Bizet's Carmen from l'Arlésienne on the hour.
It's also here that the last king of the French, Louis-Philippe and his wife, Marie-Amélie, spent their last days in France before leaving for England.
Pont de Normandie: Largest Cable-Stayed Bridge in the World
From the Mont-Joli next to the Chapel of Notre Dame de Grace, is a fabulous view of the River Seine's Estuary and the Pont de Normandie - 2.14 kilometres across the Seine from Honfleur to Le Havre.
Opened in 1995, the Normandy Bridge is the largest cable-stayed bridge in the world. It's a motorway toll bridge but for walkers and cyclists it's free, with a footpath. Check out the monument just at this panoramic viewpoint: it glorifies Notre Dame de Grace for sparing Honfleur during the 1944 Battle of Normandy.
Honfleur's Museums
With Honfleur being the birth-town of major artists such as Eugène Boudin (who inspired Claude Monet) and Erik Satie, it's great to delve deeper and discover more about them and other artists and writers (Alphonse Allais) that worked here.
Feel the history of the Honfleurais of its fishing, maritime world and way of life over the centuries. We purchased a reduced-priced collective ticket for the following 4 museums (except the separate salt lofts):
The Eugène-Boudin museum is above all devoted to art about Honfleur, daily Norman life in the 18-19th Centuries,  the estuary and showcases nearly a hundred works by Eugène Boudin - known as the painter of the sky and sea, who influenced Claude Monet - among others. I particularly loved discovering artists such as Adrien Voisard-Margerie with his painting of Toulouse-Lautrec and his model. Also featured are 20th Century artists (Dufy, Villon) who worked in the region and more recent works from Denis River, who was also born in Honfleur in 1945.
On entry to The Satie Houses - Erik Satie's birthplace in 1866 - we're told that it's not a museum as such; instead a whimsical discovery through sound, light, images and objects to appreciate the musician and composer's eccentric character. Via movement-sensitive audiophones (tour is also in English), listen to his life and anecdotes to the sound of the Gymnopédies, Gnossiènes or the Morceaux en forme de poire. The final theatrical show is, alas, only in French but you can appreciate the character of Satie, including one-page works that were written, for example, when he hadn't had breakfast yet and was about to venture out from his home in Montmartre (rue Cortot).
Musée de la Marine is about the history of the port, housing a collection of model ships and marine artefacts on just one floor in St Stephen's Church (the oldest church in Honfleur), on the old harbour. It is paired with the Ethnographical and Popular Arts Museum around the corner - presenting the inside of ten 16th-century Normandy dwellings.
Greniers de Sel (Salt Lofts) salt lofts, 17C buildings made of stone and covered with tiles. These lofts were built under the salt tax agreement to store 10,000 tons of salt needed by the cod fishing boats to preserve the fish.

Honfleur's Markets
In St Catherine's quarter, under the shadow of St Catherine's Bell Tower, is the local farmers' organic market on Wednesday mornings. Here you'll regularly find an abundance of locally harvested watercress (to see how it's grown, see my post from Veules-les-Roses, including a recipe for French watercress soup.)
The main market is on Saturday mornings, with fruits and vegetables, other Normandy local specialities such as Cidre, Calvados from famous Normandy apples, cheeses (such as Pont l'Evèque, nearby), plus plenty of fish and seafood. Head to Place Arthur Boudin for the flower market and for clothes, accessories and souvenirs, you'll find them at the Cours des Fossés et Rue de la Ville.
For more, see the Mairie/Tourist Office's information on Market Days in Honfleur.
Arriving in Honfleur on non-market days is not a problem, as shopping is also great for local produce to quaint antique shops. Try the Crottes de Mouettes (translated as seagull droppings), which are delicious morsels of chocolate and caramel.
Best Restaurants in Honfleur
Whether it's fine dining in any of the numerous Michelin-listed addresses, enjoying a plate of oysters or mussels by the harbour, or a good quality traditional Normandy crêpe, there's something for all budgets and tastes in Honfleur.
Note that during January and February, many restaurants close for their annual holidays (I loved the humour in one window - although closed it finished off saying "sending salty iodine kisses").
Here is my personal list of favourites:
La Fleur de Sel - Chef Vincent Guyon sets the bar high with gastronomic dishes at great value. Ensure to book, as this small gem has already been discovered. Perhaps my favourite.
SaQuaNa - Chef Alexandre Bourdas shows just why he received 2 Michelin Stars. Just watch opening times, as when we were there previously, they were shut for their annual holiday. Ensure to book.
Le Bréard - I mention this, as it serves great food but, from our experience, the service needs work: not in speed but in politesse.  It's up to you if you don't mind and just concentrate on the dishes, although it's the first time I've been served bread and told not to eat it yet. There were more issues, but I'm far too polite...
Entre Terre et Mer - although also a super restaurant, just across the road we love their oyster bar where a simple, fresh plate of oysters or mussels are great value.
La Chaumière - slightly out of town, this characteristic thatched hotel-restaurant has a homely feel.  Outside eating in summer with views over to Le Havre, and cosy nooks by the roaring fire, friendly service and super menus. Great for celebrating a birthday, too.
Le Manoir des Impressionnistes - Also slightly out of town, this is an ideal quiet haven away from it all with good, simple yet beautifully presented food. We just found the wine list a bit pricey but the list is excellent. If you're looking to speak English, the British owner, Brigitte, usually comes around the tables to say hello.
La Crêperie des Arts -  We've tried many crêperies in Honfleur and this one gets our top vote each time as the thin, savoury buckwheat pancakes (galettes de sarrasin) are beautifully lacy thin. All fillings use fresh ingredients (alas, more establishments serve the likes of tinned fruit with the local cheesy galettes or on sweet crêpes). Great friendly service.
Laurence - At first glance, you'd think this was an antique shop but it's the cutest restaurant with curious nick-nacks on rue des Lingots. Laurence herself, like the ambience, is charming. Enjoy French traditional family dishes such as the blanquette de veau and you'll love its speciality: no phones are permitted.
Only 2 Hours Drive from Paris
Honfleur is so near to Paris! With only 2 hours drive north of Paris, Honfleur is particularly accessible. It's pretty much a straight drive up the Autoroute (A13), passing Giverny. So, if you have time en route, visit Monet's house and garden. However, if you're looking to spend time between Paris and Honfleur, it's a "straight" sail on the buckling River Seine all the way up to the Estuary.
Nearby or en route, it's also great for discovering the nearby Cidre and Calvados farms (see more on the market page on French Apples), as well as cheese in nearby Pont l'Evèque.
Good Base for Visiting Normandy Beaches
If you're staying in Honfleur for a few days, it's a perfect base for visiting the nearby coastal towns of Étretat, Deauville, Cabourg, which all have popular beaches. It's also a good base to visit Veules-les-Roses, and Le Mont Saint-Michel (from Honfleur, it's about 3 hours' drive).
How far is Honfleur from the Normandy landing beaches? It's between 1.5 - 2 hours' drive to Omaha, Utah, Gold, Juna & Sword Beach;
Does Honfleur have a beach? Yes, there are two beaches: Plage du Butin is nearest town (indicated on Boulevard Charles V) with easy access and free parking along the road. However, the better end is the Plage Vasouy.  It's quieter the more you walk away from the more crowded end closest to town.  Although many people find it disturbing seeing Le Havre's industrial port across the water, we just ignore it, as find the beach here most quiet as a result. So it's great for picnics!
Top Tips for Visiting Honfleur
If arriving by car, try to park on the outskirts of the town using the various car parks as much as possible.  Busy periods mean busy traffic and, as many streets are one-way and pedestrian only, this will make everyone's lives easier. Please note that the harbour is closed to traffic after 1 May;
If going by train from Paris, it takes about 3 hours. There are about 7 trains a day;
For boat trips, information on timings for museums and other visits including Calvados tastings, see Honfleur's Office de Tourisme (tourist information office);
If you can, do try and speak as much French as you can.  The locals appreciate visitors but, as we are in France, it's only polite to try and speak the language. No matter how little you speak, if you show willingness to try, it helps keep the local Honfleurais smiling;
Personally speaking, the best time to visit Honfleur is off season (particularly avoiding the French summer holidays in July to August), as it is much less crowded. If you visit in summer, ensure to book your restaurants and do some advance planning using the links on this post.
Disclaimer: This post is not sponsored. This was a personal trip. As we live in the Paris region, this is to share one of the top places to visit near Paris.