Quick to make and healthy, this pure vegetable soup recipe is low in calories and perfect for any time of year, using the freshest seasonal vegetables and fresh aromatic herbs.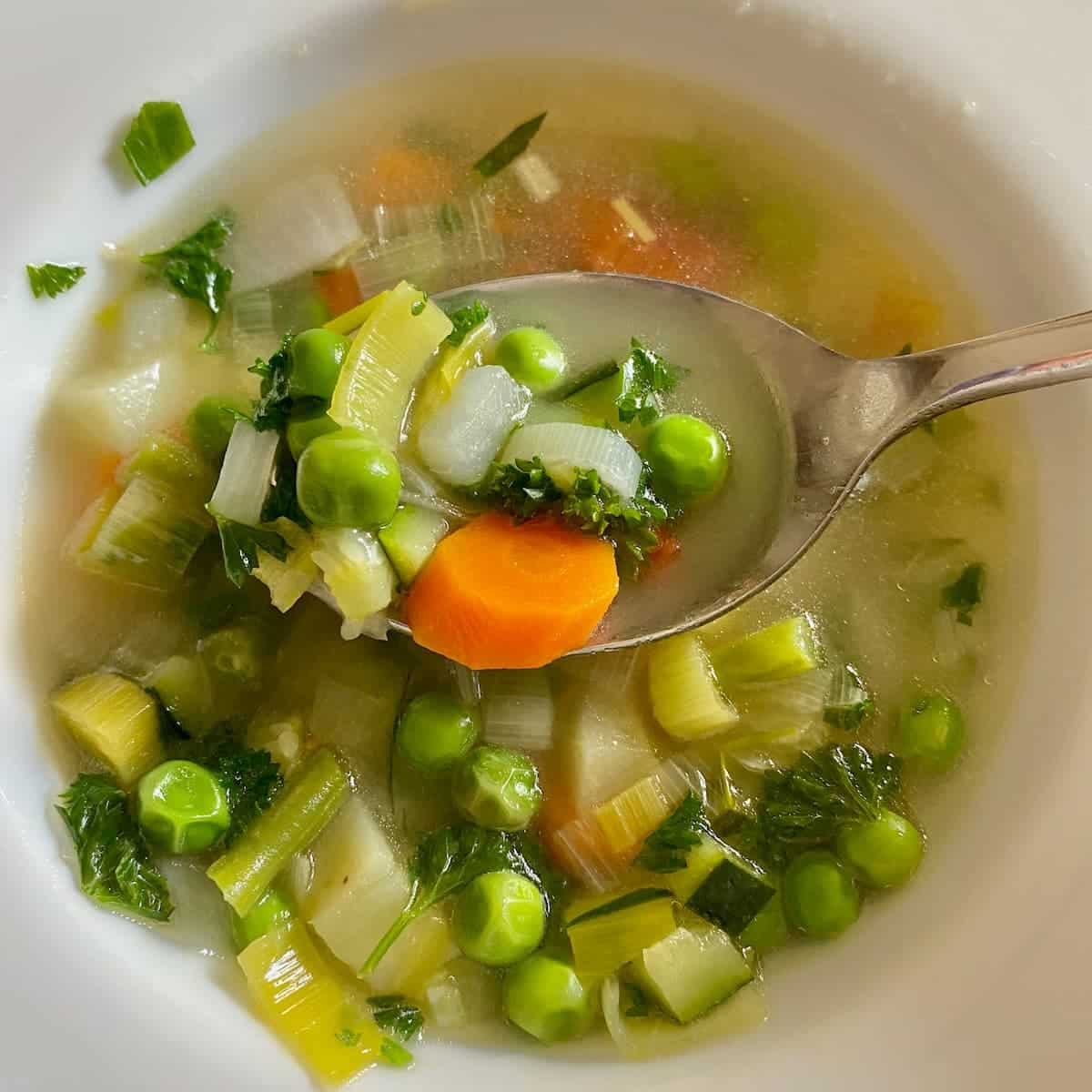 Vegetable Soup with No Cream
Pure vegetable soup is so simple, quick to make and satisfying. What's more, there's no chicken stock, milk or cream.
Instead, it's made with some good French butter (or olive oil for vegans) and extra fresh seasonal vegetables. It's chunky, healthy, low in calories and the ultimate flavour is fresh aromatic herbs added at the end of cooking.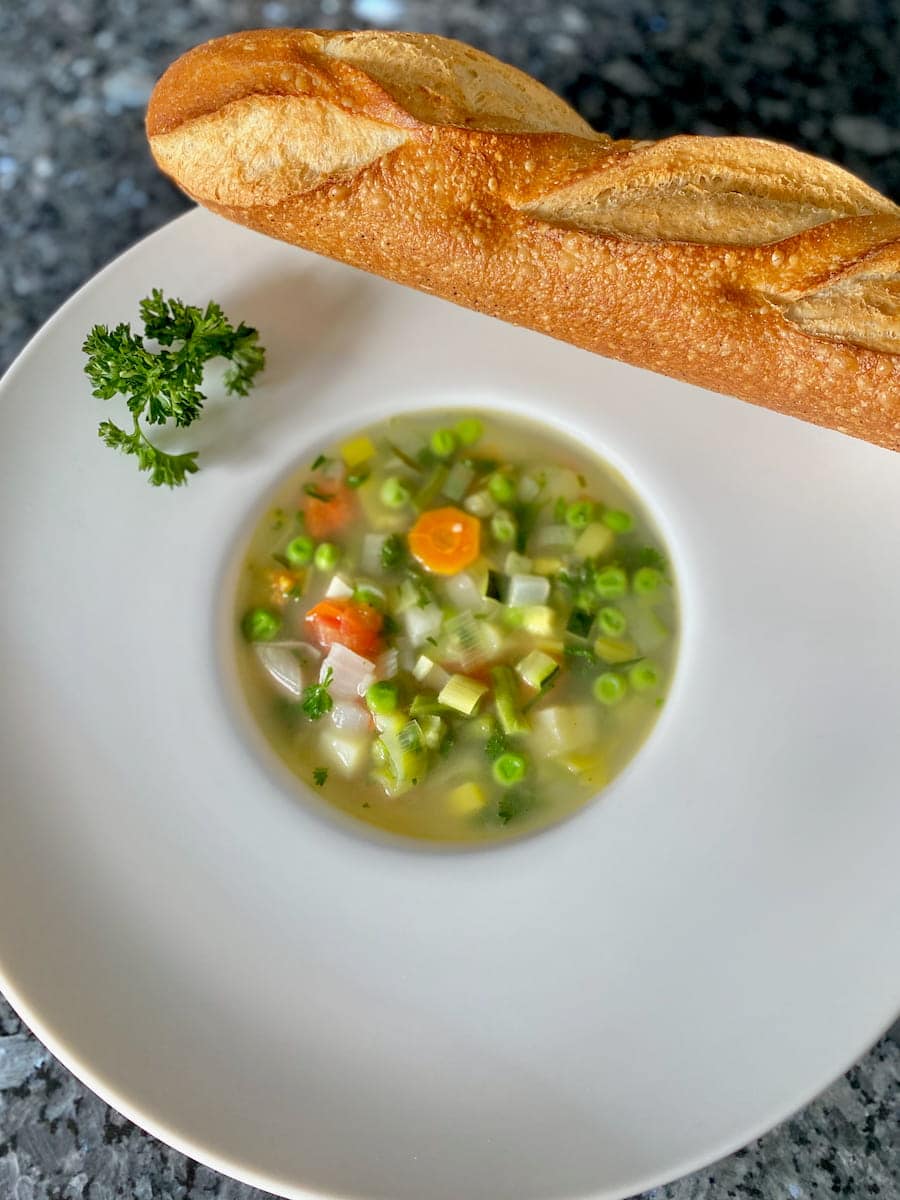 What are the Main Classifications of French Soups?
According to Larousse Gastronomique, there are a few major classifications under soup. However, over time, things have simplified in modern French cooking and so both soupe and potage are used to mean the same thing.
Soupe (from 'souper', meaning supper): rustic soup or broth served on slices of bread;
Potage: (from the word 'pot'): liquid preparation served hot or cold at the start of a meal;
Velouté (from the word, 'velours' meaning silk): soupe/potage thickened with a roux of flour and butter and blended with egg. For examples, see my recipes for Crème Dubarry and this Mushroom Cappuccino;
Consommé: liquid soup made with beef stock or clarified chicken broth.
In English, there are National soups too - such as Cullen Skink in Scotland. For more French soups, I have more to come!
This is such a French classic. Apart from a few different vegetables, there's no need to change anything from Raymond Blanc's original recipe for fresh vegetable soup in my favourite cookbook, "Mange". When I first received a signed copy of it as our engagement present in 1996, I was secretly terrified at French cuisine, as the French gourmet recipes for guests all looked complicated.
Years later, however, I realised with a little bit of confidence, the gourmet French recipes were much easier than they looked - and this pure vegetable soup can't be any easier!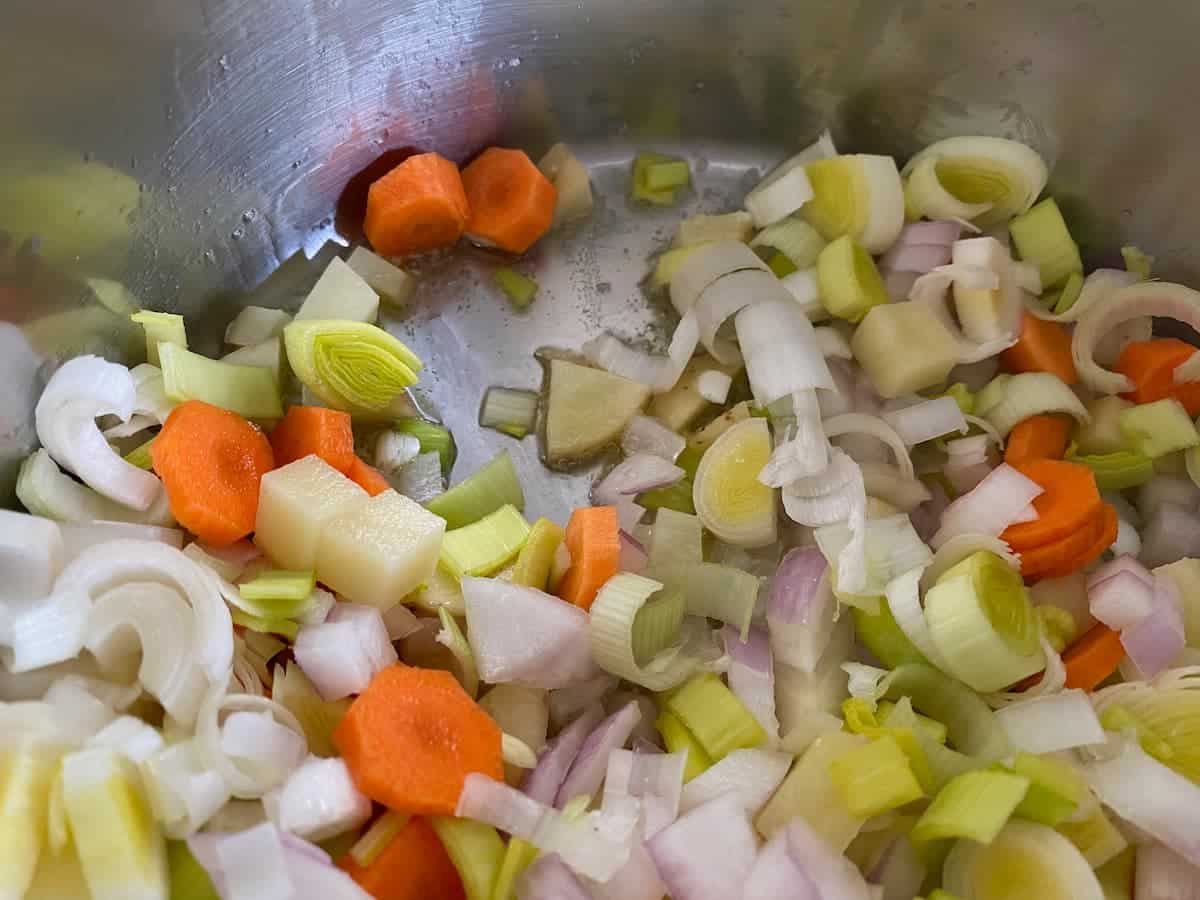 What is Pure Soup Made Of?
Unlike soups that use chicken or vegetable stock (such as this pumpkin and ginger soup), this pure soup relies on the fresh vegetables themselves with the addition of just water. It's very like my sweetcorn soup with bell pepper, as I use only the cobs to make the natural stock.
Here the root vegetables are sweated first in good quality unsalted butter with salt and pepper added.
There is no milk or cream used.
There are two secrets to this recipe:
Use the freshest of vegetables and herbs; and
Respect the short cooking time of just 15 minutes.

Chunky Vegetable Soup
These days, I normally blend soups to a smooth consistency (see all my soup recipes). So serving this soup to the family as chunky seems almost D-A-R-I-N-G. Is this perhaps life in the fast lane?
I served this to my French (Corsican) parents-in-law recently, as they're total soup addicts like myself. Madeleine gave it a confirmed nod of approval but she seemed surprised. They had soup with chunks in it growing up in Corsica. Likewise, growing up in Scotland, we had chunky vegetables in Scotch Broth and Lentil Soup.
Somehow, going back to the "bits in it" is somehow satisfying and, while not a thick, hearty soup, the freshness of the herbs makes this a welcome starter.
What is the Secret to Making Good Soup?
In a nutshell, the secret to making good soup is to use only good, fresh ingredients. Make your pure vegetable soup fresh and vibrant.
I know it's tempting to use up these veggies at the bottom of the fridge that may be starting to wilt - but please don't! Gone are the days I made veggie soup with the sorry leftovers. Fresh peas from the pod and French green beans in summer? Use them. Peas are brilliant in this. As is broccoli or cauliflower - add tiny florets. Use extra fresh vegetables, there's no need for any pre-made vegetable, chicken or beef stock. The butter gives that added French touch and brings out the taste of both the veggies and herbs.
So here are my top tips to making flavoursome, healthy pure vegetable soup:
Please use good quality butter. Don't use low-fat spreads, spreadable butter or margarine. It's not the same!
Don't chop up your vegetables too far in advance. They will not only lose their flavour but also their vitamin content. So prepare this as close as possible to when you will serve.
Don't keep the soup on the boil. This will not just destroy the vitamin and mineral content but above all, the vegetable textures and flavours. Instead, once initially boiled, immediately lower the temperature and keep it at a simmer.
Fresh aromatic herbs: Add the chopped fresh herbs at the end of cooking to preserve their flavour and vitamins. Chervil is best if you can find it, otherwise tarragon is good. Flat-leafed or frisée parsley is excellent as it contains a lot of vitamin C.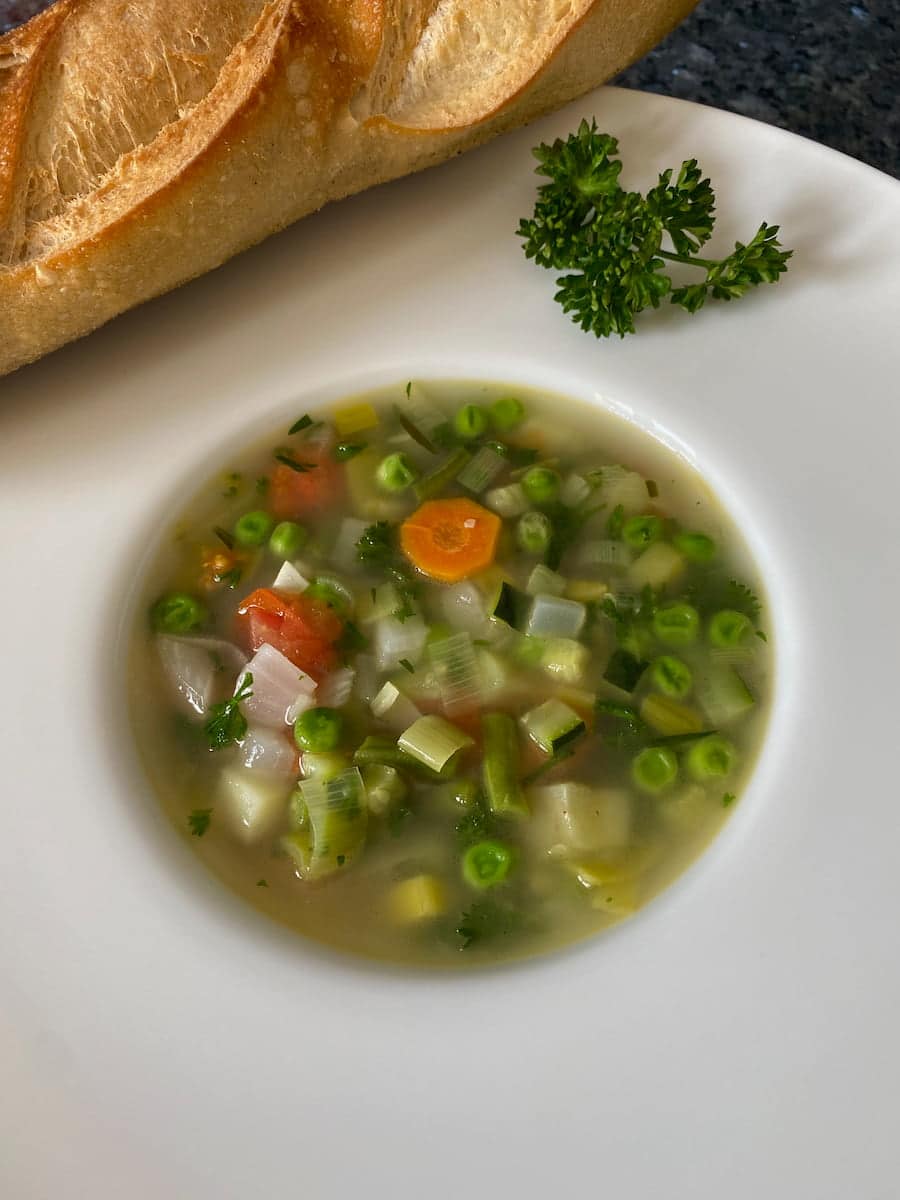 What Can I Add to Vegetable Soup to Make it Taste Better?
As I say above, the secret to this soup is using good quality and the freshest ingredients. However, if you feel it still lacks a bit of flavour, then here are some ideas. Just add at the end of cooking:
Add an extra dollop of butter in the last minute of cooking;
Liquidise the soup and add a little cream or crème fraîche;
Add a garnish pinch of smoked paprika or piment d'espelette to serve;
Add a squeeze of fresh lemon juice. The acidity will help to bring out the flavours;
For a touch of luxury, add a little saffron. This is a natural flavour enhancer and so will bring out the taste of each vegetable.
What Herbs Go Well in Soup?
I love fresh parsley in this vegetable soup, along with chervil or tarragon. However, other fresh herbs that are great to add at the end of cooking are freshly chopped chives, basil, lovage and sorrel.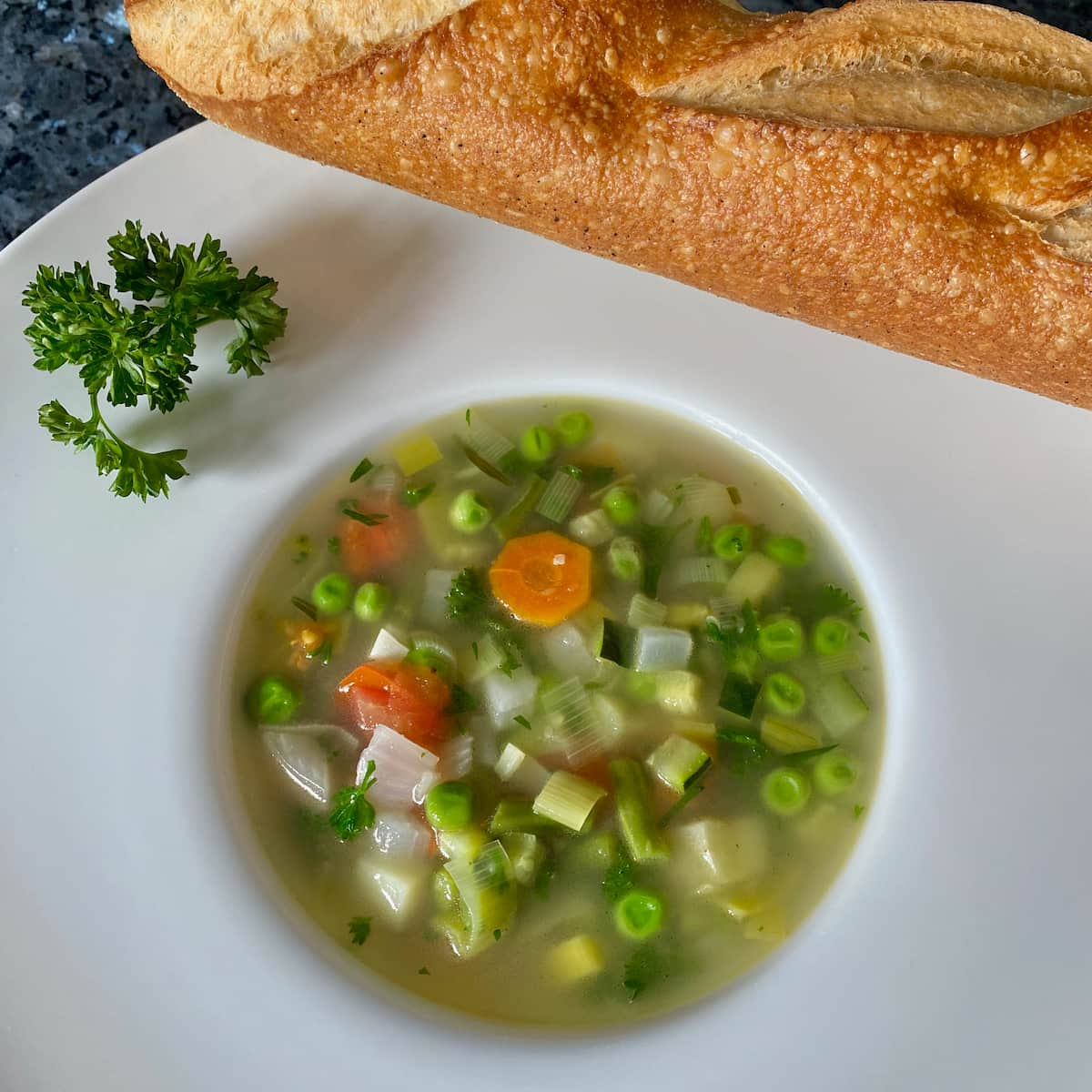 Low Calorie Vegetable Soup
This vegetable soup is healthy and low in fat with only 54 calories a bowl. Although that's before we add ripped off hunks of crispy French baguette and lightly salted Normandy butter!
Enjoy this at any time of year using the freshest vegetables in season. Check the vegetables from the French market produce guide for inspiration.
Pure Vegetable Soup
Quick to make and healthy, this vegetable soup recipe is low in calories and perfect for any time of year, using the freshest seasonal vegetables and fresh aromatic herbs.
Ingredients
25

g (1oz)

butter

unsalted (or 2 tablespoon olive oil for vegans)

1

onion

finely chopped

1

medium

carrot

finely sliced

1

medium

leek

outer leaves discarded, finely sliced

1

small

turnip (French navet) or potato

finely chopped into cubes

1

tablespoon

french beans

chopped (see notes)*

1

litre / 1.75 pints

water

2

ripe

tomatoes

chopped

2

tablespoon

fresh peas from the pod

(if fresh in Spring - optional)

1

teaspoon

salt

freshly ground pepper

according to taste

1

tablespoon

fresh tarragon or chervil

finely chopped (stalks removed)

1

tablespoon

fresh parsley

finely chopped (stalks removed)
Instructions
In a large pan, gently melt the butter over a medium heat (don't allow it to brown). Sweat the chopped onion, carrot, and leeks gently for about 5 minutes.

Add the turnip/potato, water, salt and pepper. Bring briefly to the boil, skimming off any impurities (foam) then immediately reduce the heat, cover but allow a little air to escape. Simmer for up to 15 minutes or until the vegetables are softened.

Add the tomatoes, peas (if using), and chopped fresh herbs. Cook for no more than a minute to retain the flavours and vitamins. 
Notes
Inspired by Raymond Blanc's Fresh Vegetable Soup with Chervil recipe in his book, Mange. If you prefer your soups smooth, then liquidise with a hand blender or food processor.
Vegetable Alternatives: Adapt vegetables according to what's in season. As I personally don't like celery, I have replaced one stalk of it with a small turnip (French navet). Fresh peas from the pod are delicious, as are mini broccoli or cauliflower florets.
Stock: vegetable or chicken stock can be used in place of the water but I find it's not necessary when using the fresh herbs.
This recipe was first published 30 April 2018 but is now completely updated.