Beetroot horseradish risotto - a fun recipe that pairs well with spicy beetroot (beet) savoury macarons as a starter/appetiser. I created this recipe to accompany the beetroot and horseradish savoury mini macarons from my first book, Mad About Macarons.
When do you Eat Savoury Macarons?
The other day I was walking on the sweet side in Paris with a lovely group of Americans as part of my chocolate and pastry tour in Saint Germain des Prés and, as you can imagine, I tend to become particularly passionate when somebody asks about macarons.
One question was: "Do you like savoury macarons - and when would you eat them?"
Well, I love them served as an apéritif with drinks and even served with a starter - especially if they have a wee kick to them.
Let me explain.
Savoury Macarons - Great with Risotto
By adding some heated spice to the filling, the intriguing sweetness of the macaron shell puts out the fire.  Have you tried these beetroot (or beet) and horseradish macarons? (The recipe is in Mad About Macarons). They're great with bubbles such as a Kir Royal cocktail or red wine as an apéritif, the French art of pre-dinner drinks.
However, they also go so well with risotto recipes (such as the creamy chorizo risotto with seared scallops), ideal as a starter.
Moreover, it's a wonderful talking point at the table: once friends thought I was serving a steak tartare - as an ex-vegetarian, I was just as surprised as they were!
Normally you'd expect the beetroot to give the risotto or macarons an earthy taste but the result is instead ever so delicately sweet.  Try this chocolate beetroot cake - it's not unlike the philosophy behind carrot cake (even this purple carrot cake!) or chocolate and zucchini/courgette cakes, where the vegetable just acts as a fun and extra squidgy ingredient.  But here, in a gluten-free macaron, it's a colourful change!
See the French market produce pages for more on beetroot or beets.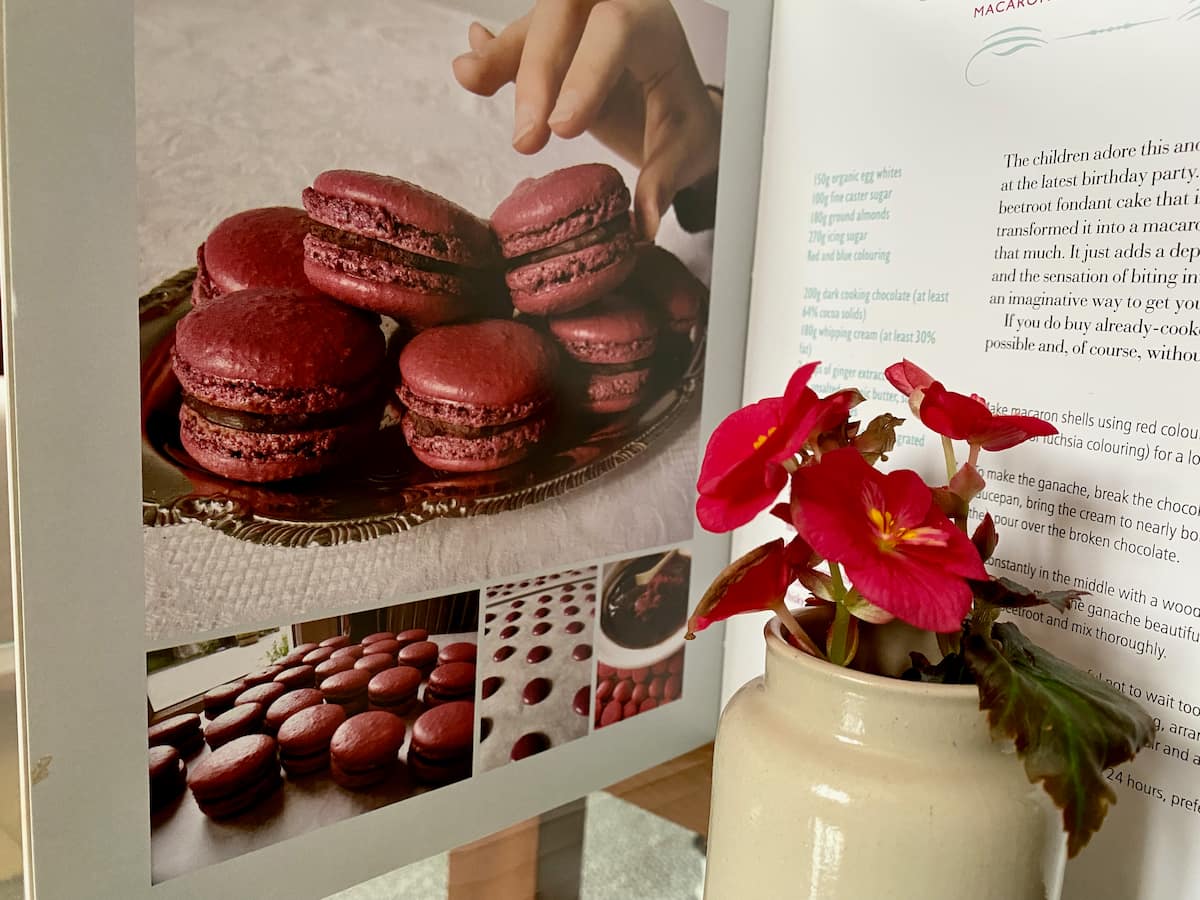 Beetroot Horseradish Risotto with Savoury Macarons
This light risotto blushes with the beetroot, taking on the most vibrant natural red colour.  The added touch of creamy horseradish just gives it that je ne sais quoi. It's healthy, cheap to make, and ideal to serve at any time of year - and great fun for the holiday season.
Serve in small pasta bowls, decorate with fresh herbs and more parmesan shavings and a mini beetroot and horseradish macaron (recipe on page 103 of Mad About Macarons!)
Looking for more ideas? See my recipe ideas to serve with savoury macarons.
Beetroot and Horseradish Risotto
A light risotto with beets and with a subtle kick of horseradish as a quirky twist to a classic Italian risotto - and served with mini savoury beetroot and horseradish macarons from my book, Mad About Macarons!
Ingredients
400

g (14oz)

pre-cooked beetroot / beet

or 2 small raw beetroots

1

tablespoon

olive oil

knob of unsalted butter

1

onion

finely chopped

1

garlic clove

finely chopped

250

g (9oz)

risotto rice

carnaroli

150

g (5.5oz)

or glass white wine

800

g (1.75 pints)

vegetable or chicken stock

60

g (2oz)

freshly grated parmesan

salt & pepper to taste

2

tbsps

crème fraîche

2

tsps

horseradish sauce
Instructions
Wearing rubber gloves to avoid staining your hands, peel and grate the beetroot. (If using raw beetroot, rub on coarse sea salt and wrap them up in aluminium foil and bake at 180°C for 45 minutes and leave to cool.)

Fry the onion in the olive oil and butter over a medium heat until softened (do not brown) for about 5 minutes.  Add the chopped garlic and stir until softened for another couple of minutes.  Add the rice and stir until the grains are all coated and shiny.

Add the wine until it has disappeared into the rice.  Gradually add the hot stock, a ladle at a time and stir continuously until each time the stock has soaked in.  Cook for 15-17 minutes.  After about 10 minutes, stir in the grated beetroot.

When the rice is cooked, stir in the crème fraîche, parmesan and horseradish and take off the heat.  Add salt (fleur de sel) and pepper to taste.
Notes
Serve in small pasta bowls, decorate with fresh herbs, more parmesan shavings and a mini beetroot and horseradish macaron (recipe on page 103 of Mad About Macarons!)
Pair with a fruity red wine with a hint of spice such as a Médoc, Pinot Noir from Alsace, Côte-du-Rhône - or a chilled rosé from Provence.