How to make delicious fresh broccoli hummus in just 15 minutes. A quick and easy healthy dip replacing the traditional chickpeas with broccoli - and just so happens to be vegan and dairy free too. Great party food, for picnics and a handy make-ahead recipe.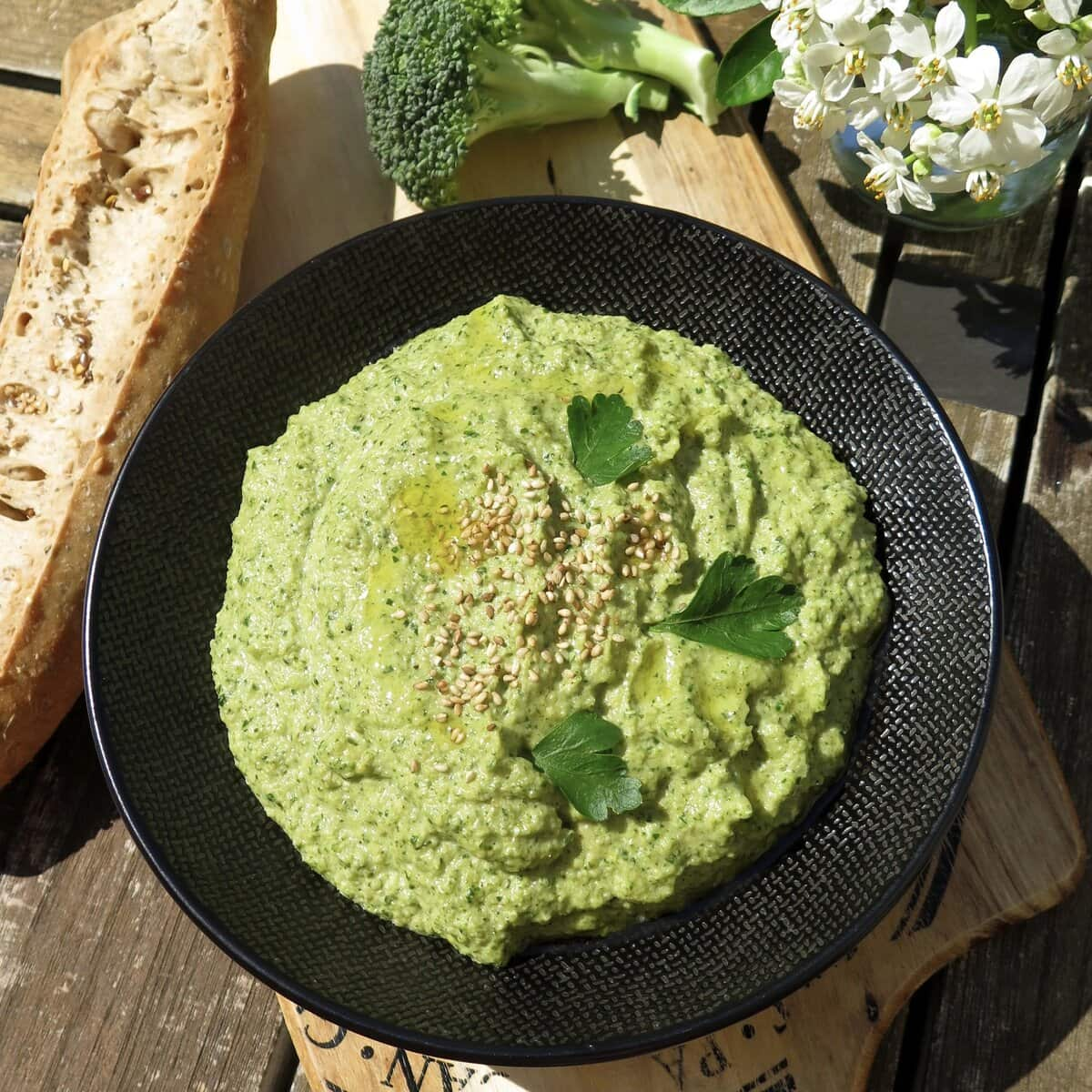 Who would have thought that this Broccoli Hummus would be so popular with the family? You probably expect just sweet treats here but I adore savoury, big time, too. I'm sure this would be fabulous as a filling in my mini savoury herb macarons (recipe in my book, 'Mad About Macarons').
Moreover, when something is as easy to make and deliciously healthy too, I feel it's my duty to shout it from the rooftops and say: 'Please eat broccoli this way!'
This broccoli hummus is made in just 15 minutes, it's so tasty and creamy yet dairy free! Have I convinced you to make this yet?
Freshly Homemade Hummus: Tinned vs Dried
I love making my own hummus with the traditional chickpeas. It's so quick and easy - BUT I have to remember to soak the dried chickpeas the night before. Tinned or jarred chickpeas just don't produce the same delicious creamy result. Apologies - I don't want to be a kill-joy but it's true.
Try it for yourself and see. We've tested so many versions at home that soaked dried chickpeas won without any doubt over the tinned, quick version. See the recipe picked up from my French friends with the twangy accents from the south with their creamy Poichichade Recipe (as in pois chiches converted like olive tapenade, anchoiade ...).
When the sun shines, there's nothing quite like spreading on some creamy hummus spread on crackers or crusty bread for an apéritif in France, served with a chilled glass of wine with friends and family.
Quick & Easy Broccoli Recipe
Fresh, vibrant broccoli doesn't last that long and so it needs to be used up pretty quickly. We love broccoli but sometimes it's good to make something a bit different with it.
I first discovered that replacing cauliflower with broccoli in this velvety Crème Dubarry soup is exquisite; Antoine thinks it's even better with broccoli, convinced there's cheese in it when there isn't. Try it. You'll be convinced there's cheese in it too!
Broccoli Hummus - the Recipe (Vegan, Dairy-free, Gluten-free)
I discovered this easy recipe in a French magazine (last October's Gourmand). It caught my eye, as it had simple ingredients. The broccoli was only cooked al dente for 5 minutes, retaining its vibrant colour and flavour and then whizzed together with a lemon zest/juice, parsley, tahini, garlic and oil.
The recipe asked for some pistachio oil (so if you have some, add a tablespoon) but instead of a neutral oil to accompany it, I used olive oil and added some sesame seeds.
THAT'S IT ! So, thanks to Antoine for doing the grocery shopping. I love it when we're presented with delicious challenges like this, don't you?
As you can see from the ingredients, this recipe just happens to be not just vegetarian but it's also vegan, dairy-free and gluten free (as long as you serve it with GF bread or crackers) and sugar-free.
How to Serve Broccoli Hummus
Serve it as a dip with crusty French bread, crackers, toasted pita bread, tortilla chips, potato chips, potato wedges or oatcakes.
(I love this gluten-free all oatmeal oatcake recipe from Christina's Cucina).
Leftovers? Toss Broccoli Hummus in Pasta
Ensure that any leftovers are sealed tight in a jam jar and covered with a little olive oil to retain its freshness.
It's so incredibly tasty that I even tossed it in pasta with some of the leftovers. Just add a little extra olive oil and a little of the pasta water.
Green Vegetable Hummus
Don't have fresh broccoli?
Then frozen would work so well with this recipe too. I'll leave you to tell me in the comments below if you find a good alternative if you don't have fresh broccoli. It's all part of the most delicious, creative challenges in the kitchen!
Broccoli Hummus Recipe (Vegan)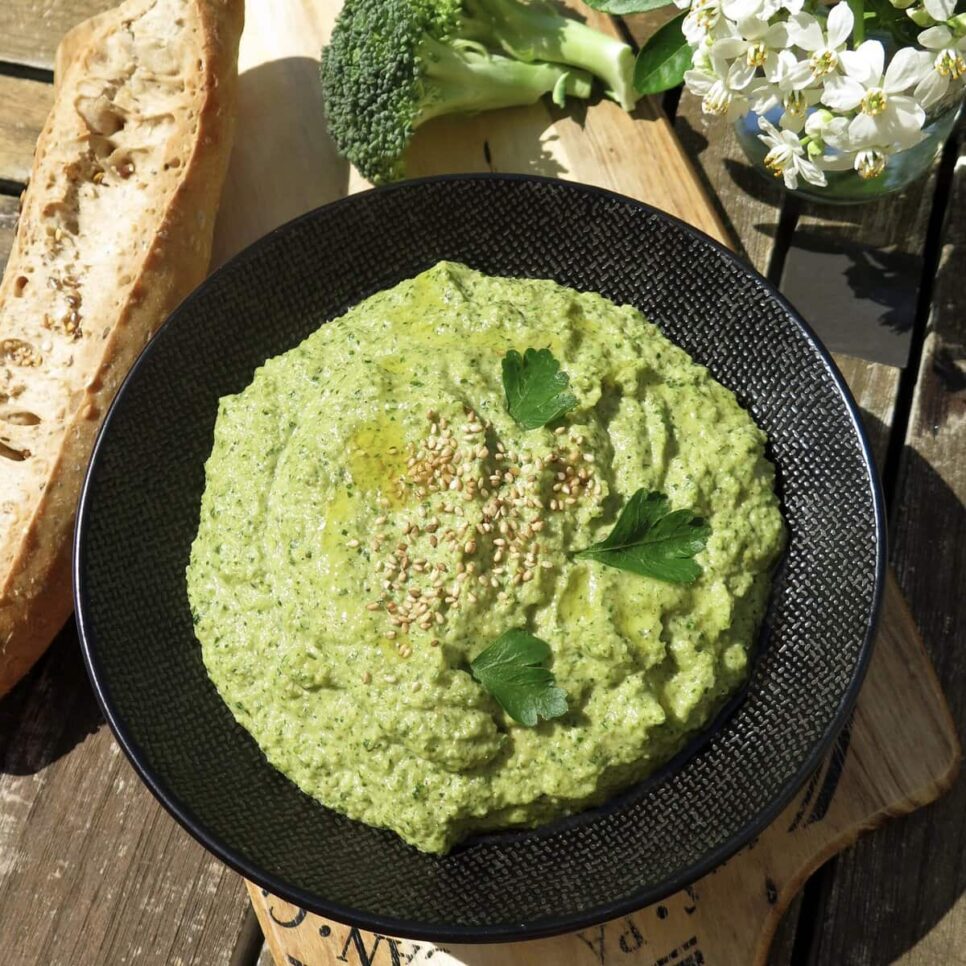 Broccoli Hummus
A quick and easy healthy spread replacing the traditional chickpeas with broccoli. Just so happens to be vegan, dairy free and gluten free.
Ingredients
250

g (9oz)

broccoli florets

(approx. 3 cups)

2

cloves

garlic

roughly chopped

1

unwaxed lemon, zest & juice

75

ml (3 fl oz)

olive oil

(or 5 tbsp)

2

tbsp

tahini

(or almond/pistachio butter)

2

tablespoon

fresh parsley

½

teaspoon

each of salt & pepper

to taste

1

tablespoon

toasted sesame seeds

(optional), for decor
Instructions
Cut the broccoli into florets and cook in salted boiling water for just 5 minutes. Remove with a slotted spoon or sieve and place in a mixer or food processor.

Add to the mixer all the other ingredients: lemon zest and juice, the tahini (or other nut butter), parsley, salt and pepper. Gradually add the oil while blending the lot in the mixer.

Transfer to a serving dish. Top with sesame seeds (if using), dribble on some extra olive oil and garnish with extra parsley.
Notes
Serve with crusty bread, oatcakes or crackers (for those following a gluten-free diet, serve with your favourite gluten-free bread, crackers or oatcakes.)
This broccoli hummus is also excellent as a pasta sauce - just add a little more olive oil and a little of the pasta cooking water.
Can keep for up to 5 days if stored in a sealed jar and topped with olive oil in the fridge.