Curried cauliflower soup with seared scallops in turmeric and topped with Scottish smoked salt. It's a deliciously easy dish to celebrate Paris Scallop festival with the spirit of Scotland.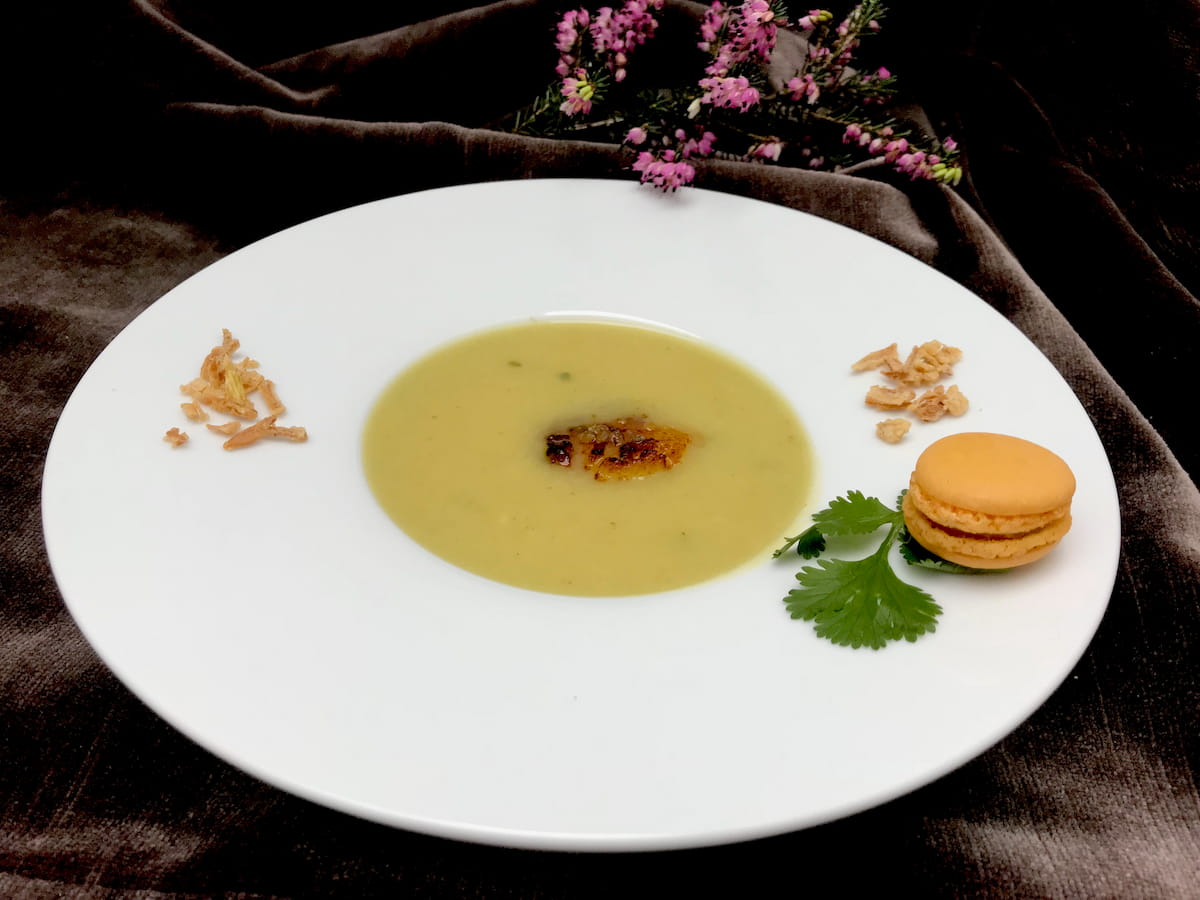 This weekend, as we're waiting for the flooded Seine to rise to its peak in Paris and upstream today or tomorrow, we're also keeping spirits high - both here and in Burgundy.
First with the Fête de Coquille de Saint Jacques (Scallop Festival) high on the hill in Montmartre and the Fête de Saint-Vincent Tournante wine festival in Burgundy. As I'm not able to go to either of them, I've instead made a comprise of the two in a dish: Curried Cauliflower Soup with Seared Scallops.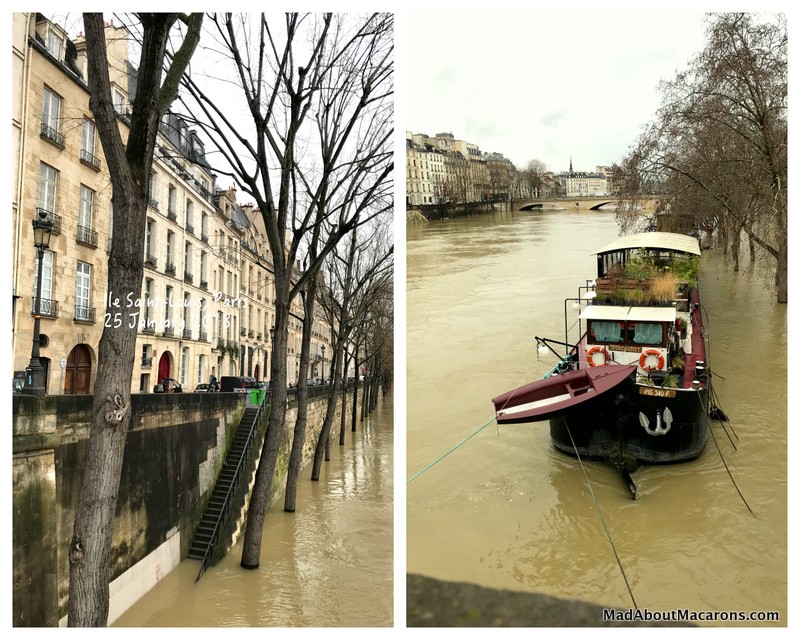 The Seine Floods January 2018
France's meteorological service has confirmed that this is now the third-wettest last couple of months on record since data collection began in 1900.  Luckily, it looks very unlikely that we'll reach the record flooding of 1910, when the river Seine rose to a whopping 8.62 metres.  Even although we live near the Seine next to Saint-Germain-en-Laye, west of Paris, in 1910 the flooding came as far as the bottom of our garden!
The tourist river cruises and all other boat traffic on the Seine in Paris and upstream has been stopped. It's not difficult to see why by these photos I took on Thursday afternoon.  Already it was approaching close to 6 metres, more than four metres above its normal height. But apart from some RER and metro lines closed, the City of Light is in good hands and the skies are holding off on the forecasted rain - for the moment!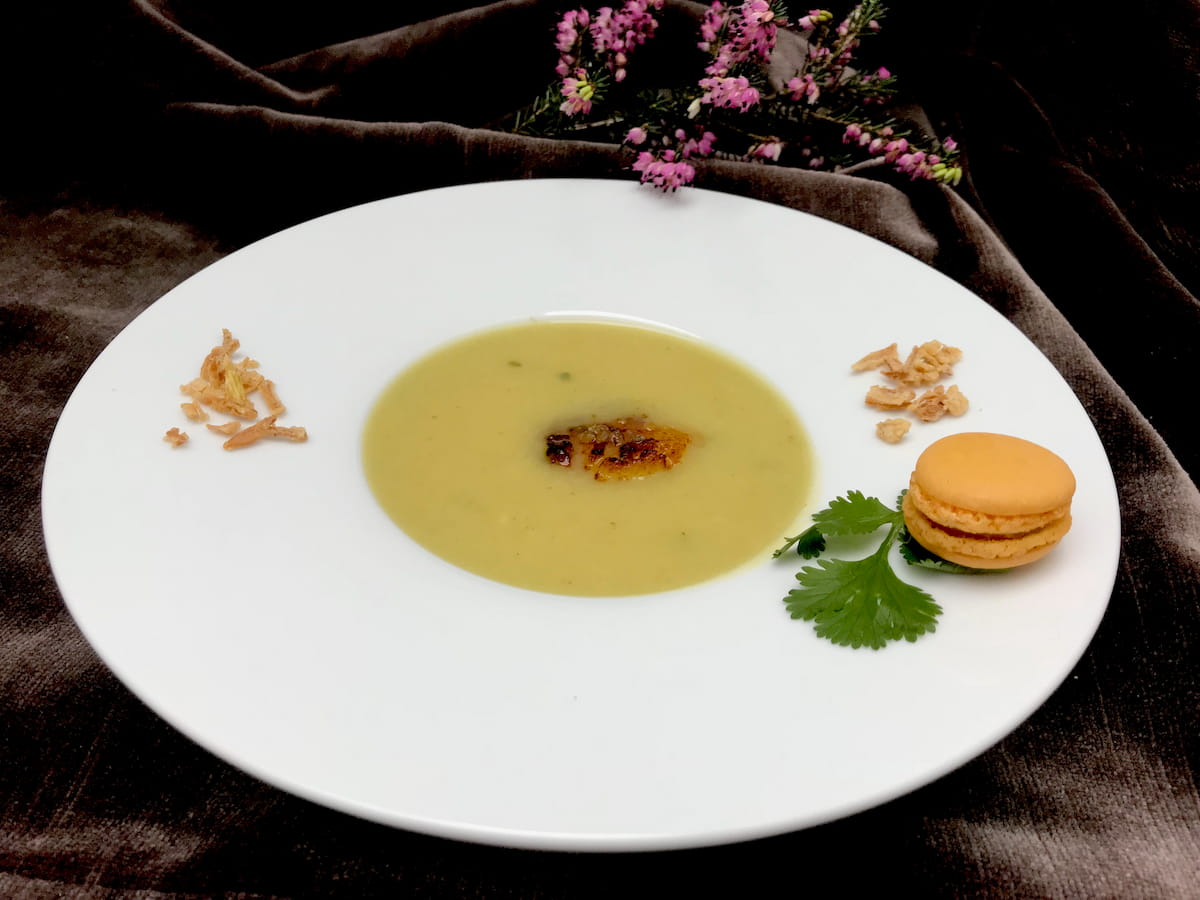 Annual Burgundy Wine Festival Inspiration
This year's Burgundy wine festival, la fête de Saint Vincent Tournante, is taking place in Prissé, Macon.  I've been thrilled to take part in previous festivals - and even interviewed on French radio! Join me in the typical ambience by reading these posts on Clos Vougeot, 2015 and Saint Aubin in 2014: the chosen village gears up to the event by decorating trees, houses, wine casks and the likes with coloured crèpe paper flowers (representing the wine qualities - white flowers or fleurs blanches) and interesting sculptures. As we're given the list of local wine producers taking part with their special festival blends, we flit between tastings trying to keep warm with stands offering simple dishes that compliment the wines.
In 2014, I distinctly remember a welcoming bowl of curried cauliflower soup with seared scallops.  The French are not known as being soup lovers but this chef was popular that day, as he served out this comforting, healthy soup - with the crème de la crème of seared, almost sweet, scallops fried in front of us and left to sink into the soup as we were holding our glasses of Saint Aubin white wine balanced on a string around our necks.
Ever since that delicious moment, I have been making this at home as it's so easy to reproduce.  When it comes to curry, the French never serve it hot and spicy: instead it's usually only lightly fragranced with curry powder - perfect so as not to overpower the scallops, as we're left to appreciate their nutty flavours in browned butter and hint of turmeric.
I've recently discovered a Scottish Hebridean smoked salt from the Isle of Lewis which, topped to finish, is a most subtle compliment to finish it all off - and, if you have my book, Mad About Macarons, it's brilliant served with a mini curry Tikka Macsala macaron!  The spicy curry's fire is put out by the balancing sweetness of the macaron shells.
Curried Cauliflower Soup with Seared Scallops
Love cauliflower? Then try this French classic soup, Crème Dubarry.
Curried Cauliflower Soup
A lightly curried cauliflower soup given the French touch with sweet, seared fresh scallops in turmeric and Scottish smoked salt.
Ingredients
3

tablespoon

olive oil

1

large onion

finely chopped

1

large cauliflower

weighing about 1kg/2lb, leaves & core removed, cut into florets

1

tablespoon

curry powder

(or ground cumin)

ground pepper

2

teaspoon

salt

fleur de sel

900

ml (30 fl oz/ less than 4 cups)

chicken/veg stock

6

fresh scallops

20

g (¾ oz/ 1½ tbsp)

butter

unsalted

1

teaspoon

ground turmeric

1

teaspoon

smoked salt

optional

fresh coriander leaves & dried onions for garnish

and curry macarons!
Instructions
Heat the olive oil in a large, heavy based pan and add the onion. Cook gently for 5 minutes without browning. Add the cauliflower florets and curry powder and sauté in the oil for another 5 minutes until the curry coats the florets. Add the pepper, salt and stock (the stock should be at the same level as the cauliflower, just enough to cover).

Bring to the boil, then cover and simmer for about 20 minutes until the vegetables are soft.

Blend until smooth.

Melt the butter in a frying pan over medium-high heat and once foaming, add the turmeric and scallops. Sear them for about one minute on each side (depending on their thickness – please don't overcook as they'll turn rubbery). Top with a pinch of smoked salt, if using. You may want to cut the scallops in half.

Pour the soup into bowls, add a scallop each to sink into the soup and serve with crispy onions, fresh coriander and a mini curry macaron (optional! Recipe in my 1st book, Mad About Macarons)
Notes
Food & Wine Pairing:
What wine to accompany this curried cauliflower soup with seared scallops? A chilled glass of white Burgundy or a Chenin Blanc.