My silicone macaron mat review. Expensive macaron mats are a luxury and not always needed to make perfect, round macarons. You just need good quality baking paper and a good macaron recipe. However, find out how I use the mat most today and the difference between making macarons with the mat and baking paper.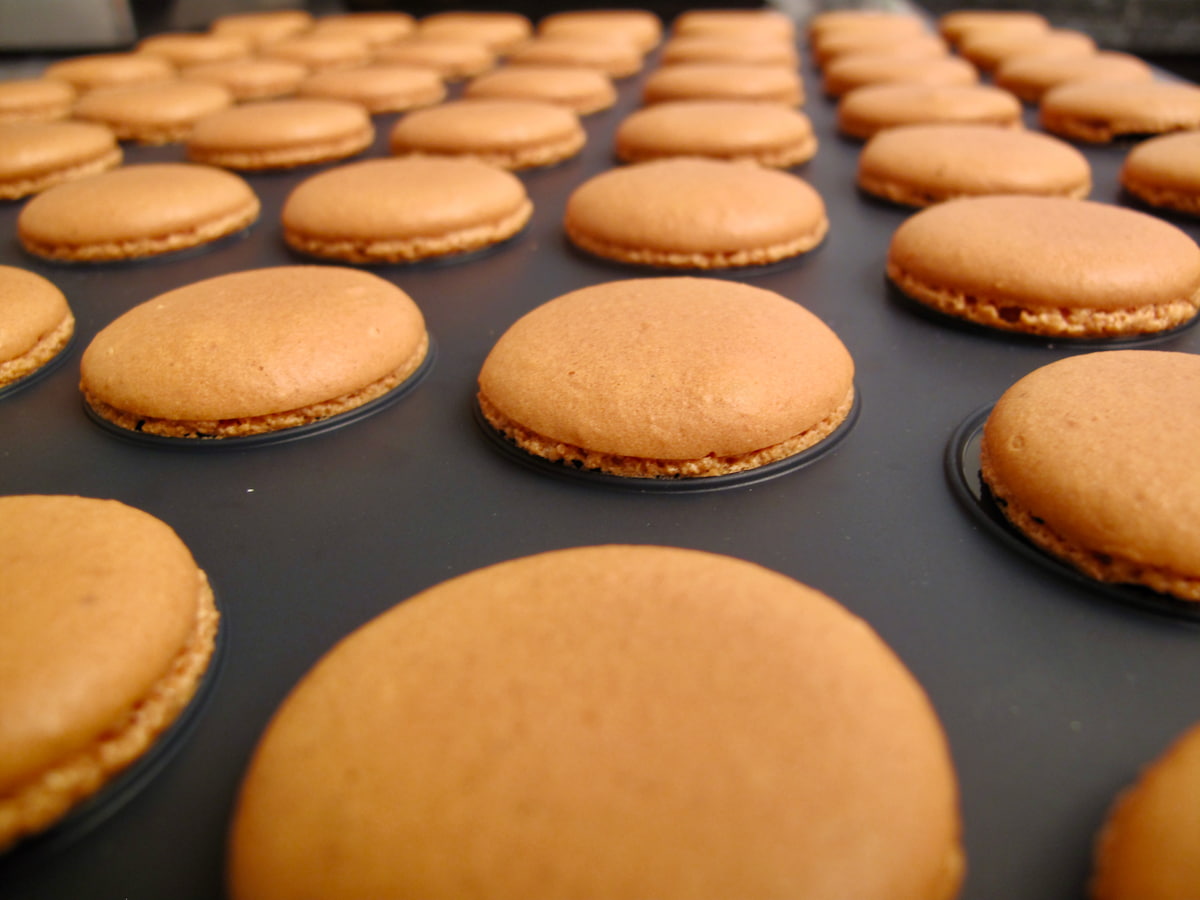 Note: this post is not sponsored.
Experimenting with a Silicone Macaron Mat vs Baking Paper
For all the macarons I've churned out over the years, I had never used a silicone macaron mat. I see them in specialised baking shops and advertised online? Surely they're bound to make your macarons even easier and perfect, right? So I bought myself one to experiment and help you decide if it's worth buying one or not by this silicone macaron mat review.
So I bought a Mastrad macaron mat. This post is not referring to a silicone Silpat mat, but a special macaron mat with pre-defined circles. (Incidentally, I don't use a plain Silpat mat as it tends to overcook macarons…)
Although it's referred to as a "small" macaron baking sheet, it's rather a large mat (42cm x 33cm; 17″x13″) and so the small is referring to the size of macarons, not the macaron mat itself. In America this may be an extra small size, but in France this is the normal size found in the pâtisseries in Paris. The mat produces 56 shells for 28 macarons.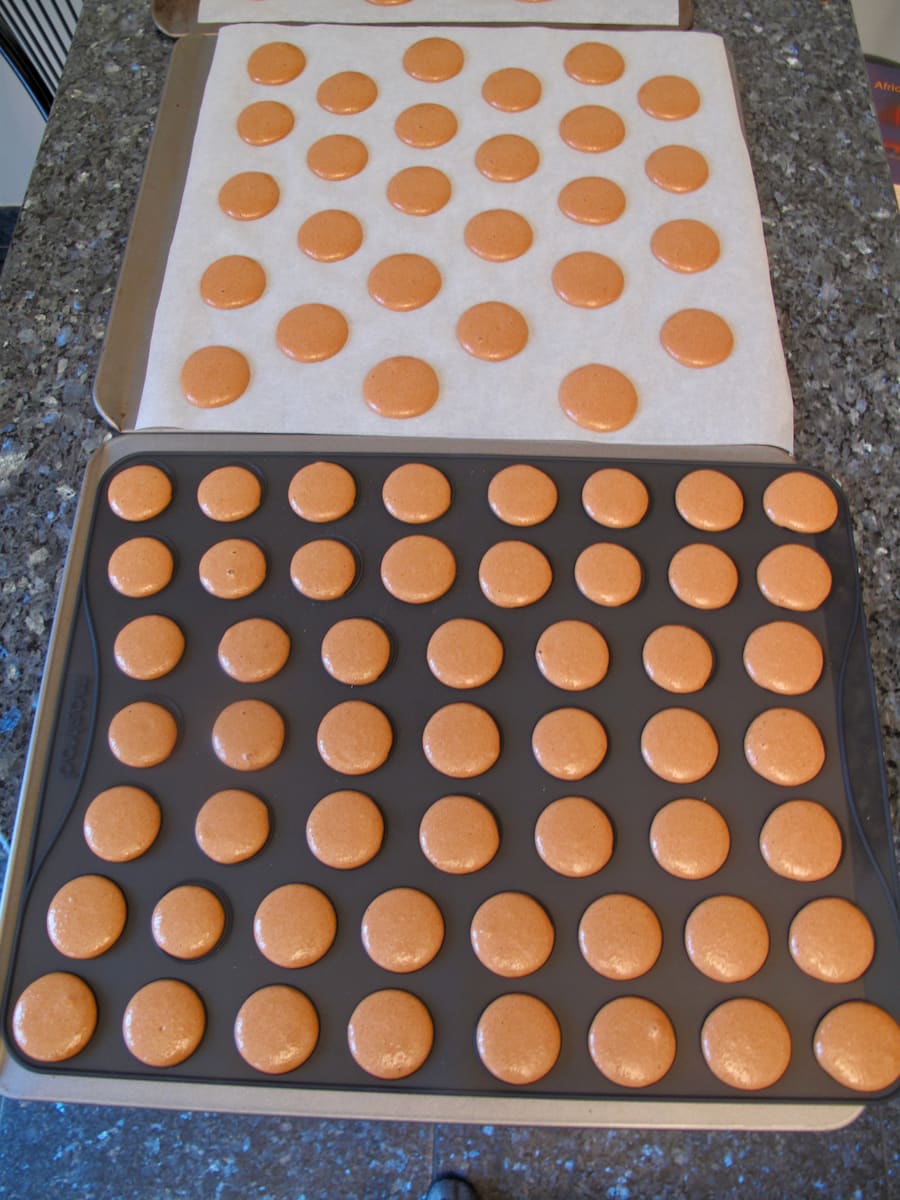 It was great to see so many macarons condensed onto one tray. Look at how many I managed to pipe out on the mat compared with the usual free-hand piping on baking paper.  So that's a winner in the contest for making large batches for parties.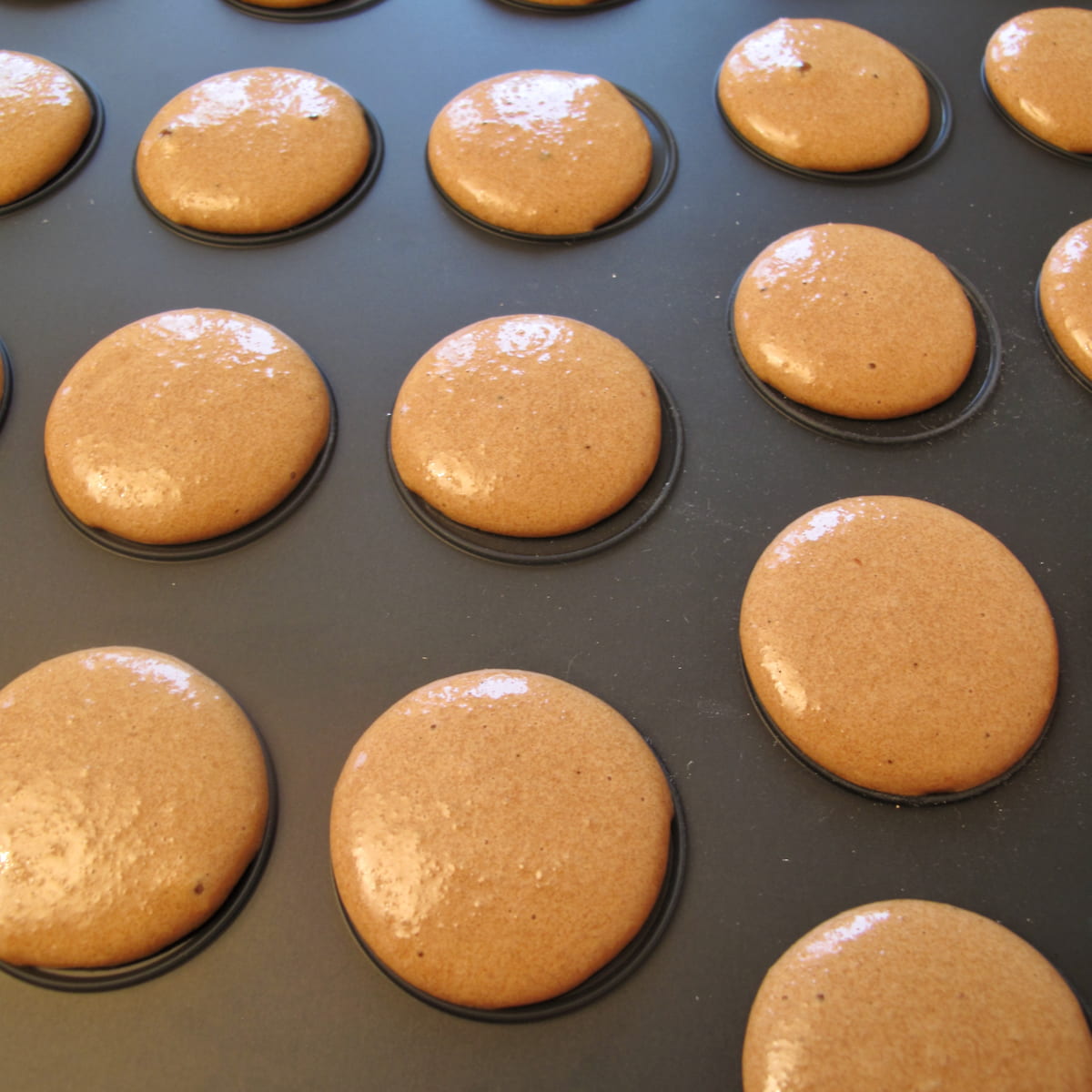 If you look closely at the photo above, however, you will see that my macarons are not quite round. Why? Well, although it may look easy I had to pipe the batter right into the middle of the raised rounds. By the time the batter spread out a little (as they normally do), I realised that some of my piping wasn't quite directly in the middle. I'm so used to piping quickly free-hand.
Although I missed the centre on some of them, the majority turned out in perfect circles.
On the other hand, the mat was too big for my large baking sheet. The result was that the batter moved and produced some oval macarons which were not so pretty. I would, therefore, recommend that you use a baking sheet that is large enough to support the mat, such as an aluminium 18x14cm baking sheet.
Baking the macarons using the silicone macaron mat took an extra 4-5 minutes compared to the ones being baked just on baking parchment.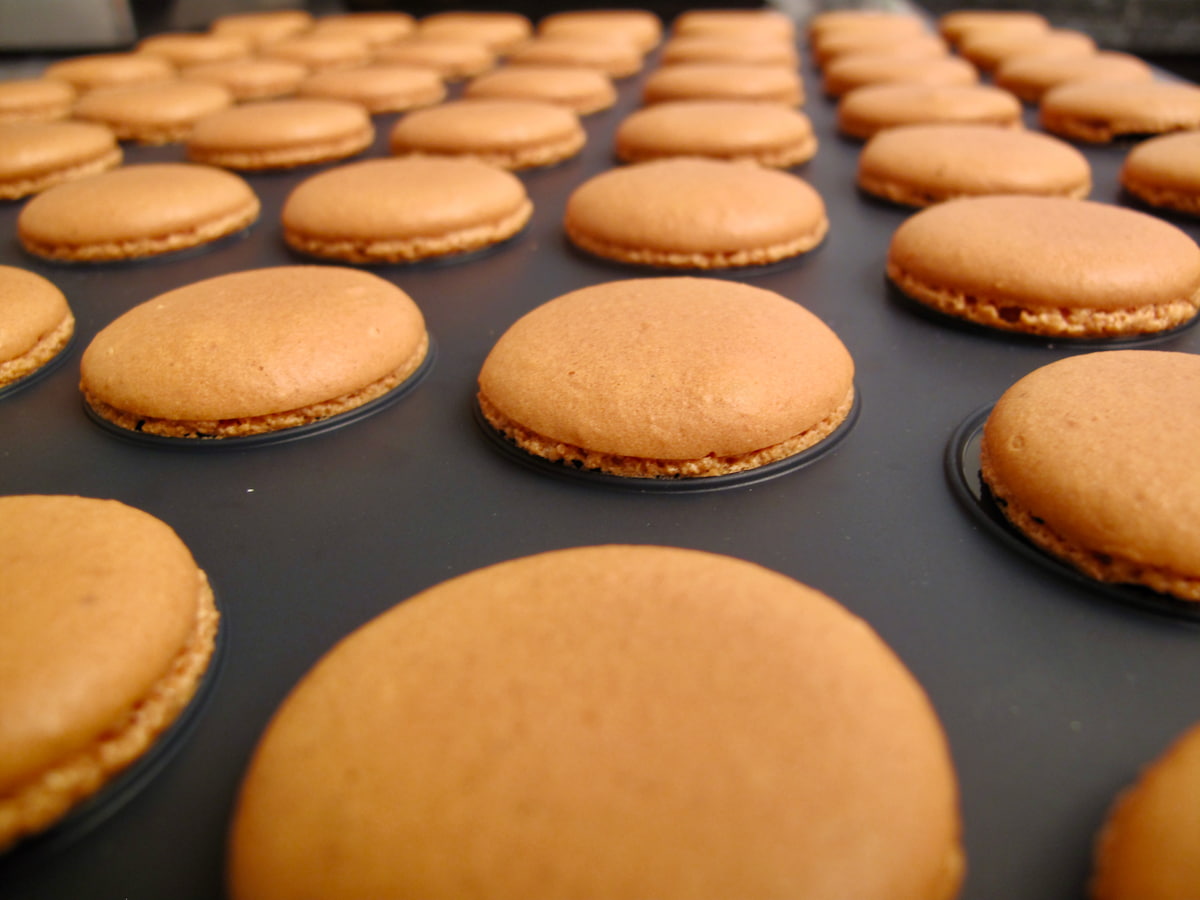 Macaron Feet using the Silicone Macaron Mat
In general, the end result was satisfactory but I really wasn't happy with the macarons' feet. Using the silicone macaron mat, they were much flatter than I normally achieve by piping directly onto good quality baking parchment/paper. I also found that the macarons tended to stick to the mat, creating a shiny surface underneath. I would recommend oiling the mat slightly before piping to avoid this. Who wants to add oil in making macarons, though? That's adding criteria for failure.
Macaron Feet Using Baking Parchment
Being so used to piping out macarons free hand, I find it much easier to use simple baking parchment (good quality) and pipe out rounds quickly. Look at the feet using baking parchment below.  They have a much bigger, pronounced foot which gives macarons their characteristic look.
How I use a Silicone Macaron Mat
After a few batches I stopped using the silicone mat for macarons. It's too time consuming to relearn how to pipe the batter into the centre of the silicone rounds on the mat – although I'm not stopping you from doing this. Instead, I prefer to make French chocolate mendiants using it. The round circles are just the perfect size.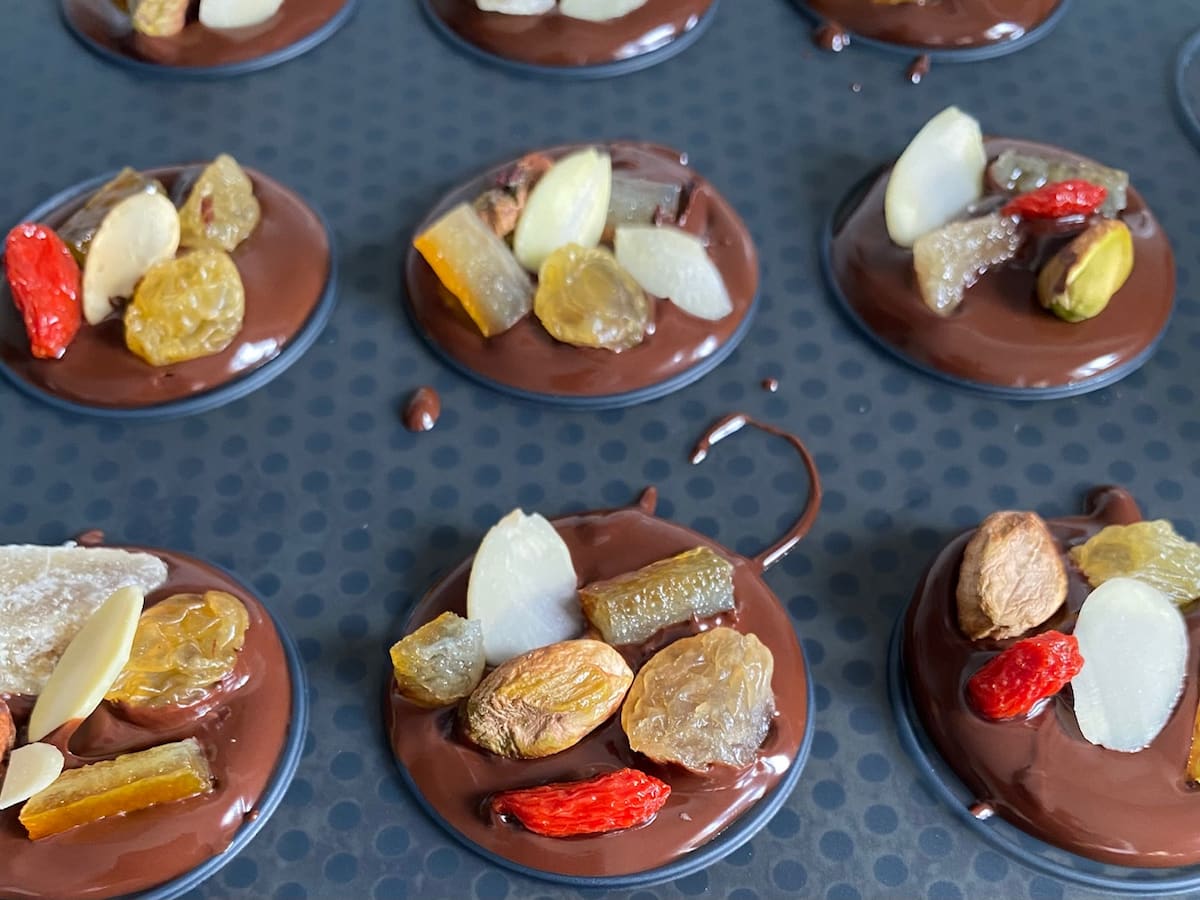 As you can see, the whole process is made easy with the mat's round grooves to make perfectly round mendiant chocolate disks when they harden.
Just peel off the mat!
I also used the macaron mat to make French chouquettes (mini choux buns topped with pearl sugar) It was interesting to see that they turned out slightly flatter compared to ones piped out onto my Silpat silicone baking mat.
For chouquette, profiteroles and éclair pastry lovers, I have a whole chapter of easy choux bun recipes and pastry treats in my second book, Teatime in Paris.
Silicone Macaron Mat Review – Verdict
The mat is an extra luxury; you don't need it, especially if you already enjoy baking and have a few practises with the piping bag.
First-time users with a piping bag can find it awkward at first and, although the mat provides extra confidence in piping out uniform rounds, you still need to practise piping out the rounds directly in the middle and just enough so that the batter doesn't go over the raised rounds. The positive side is that you can fit more macarons on to the one sheet.
If you do prefer using the mat, I would ensure you have a baking sheet that is large enough to hold the full mat, so check your sizes first as I recommend above. It's good for making large batches of macarons for parties.
For the best macaron feet results, however, I still prefer using good quality baking parchment.
Have you bought a macaron mat recently? What do you think?
Looking for the Easiest Step-by-Step Macaron Recipe?
And on saving the money after reading this silicone macaron mat review, you just need a good macaron recipe. So, please support my homemade macarons and get my book, Mad About Macarons! (update: reprinted 2021, translated into Dutch, Spanish and Hungarian).
---
Note: This is a personal review and not sponsored by anybody: Mastrad did not contact me. As I see them in so many shops and readers ask me if they should buy it, I bought the mat myself, curious to try. All ideas and opinions are my own in the interest of my macaron-making friends. 
This post was first published 31 August 2012 but has now been updated.