What are Lyon's sweet specialities? What not to miss in France's gourmet capital. From pink pralines, chocolate, macarons and confectionary to some of the best French pâtisseries.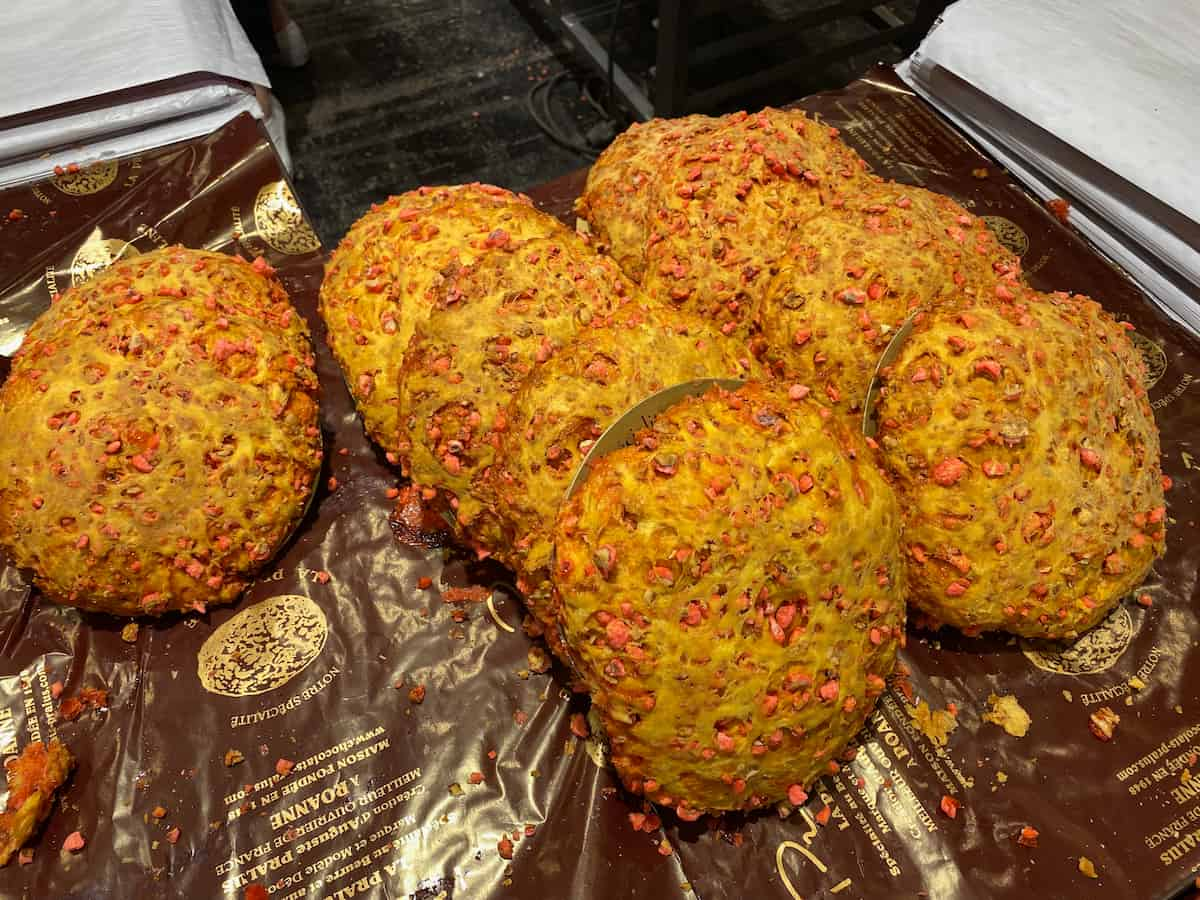 What are Lyon's Pink Pralines?
No trip to Lyon should miss a taste of the city's most famous sweet speciality: pink pralines. Around since the 19th century, they are everywhere to be found in bakeries and pâtisseries. Our favourite is to walk along the historic Rue Saint Jean in the old town and see them lined up in the windows.
Pink Pralines (pralines roses) are simply coated almonds in pink coloured sugar. Although you can eat them tel quel (as they are), they're traditionally used as a main ingredient in pink praline brioches (Saint Genix). They are also just as delicious in Pink Praline tarts (Tartes aux pralines rose), again seen all around the city's bakeries in all sizes.
Les Bugnes de Lyon
These flat, rectangular fritter-like-doughnuts are light (but fried) and crispy, covered in powdered sugar. What's more, they're rather addictive. Try eating one without it being messy! Particularly popular at Carnaval time (Mardi-Gras), they were cited as early as 1532 by Rabelais in his book, Pantagruel as a Lyonnais speciality - we saw this at the Rabelais museum in the Loire - article coming.

Pralus
No gourmet Lyon trip can be complete without a taste of the famous Praluline invented by August Pralus in 1955.
Today François Pralus continues to make this sumptuously sticky Saint-Genix brioche filled with the famous pink pralines. It rises in another league, using almonds from Valence and Piémont hazelnuts to create the most compact pink praline buttery brioche in the city.
After working at Bernachon, François Pralus also makes his own chocolate from bean to bar - and makes some of the best macarons in France.
Lyon's Best Chocolate & Macarons
VALHRONA - As this world-famous chocolate producer is only an hour's drive south in Tain-l'Hermitage, it's no surprise that Lyon's chocolate shops are well covered (and coated - groan). I recommend a visit to the Valhrona Cité du Chocolat and factory chocolate shop. Here there are tons of chocolates to try and buy - each time my husband goes in I have to drag him out like a little boy!
(Wine-lovers - nearby finish up with wine-tastings at the famous local wineries of Chapoutier and Jaboulet to complete the chocolate tasting.)
BERNACHON has been a family business since the 1950s and specialise in making their own chocolate from bean to bar. Their legendary "Président" is the house speciality, created in 1975 for president Valéry Giscard-d'Estaing on giving chef Paul Bocuse the award of Légion d'Honneur. It's a chocolate hazelnut praline ganache with candied cherries. For their Grand Cru chocolate bars, don't leave Lyon without trying their Chuao 55% Venezuela with its taste of dark fruits and toasted almonds.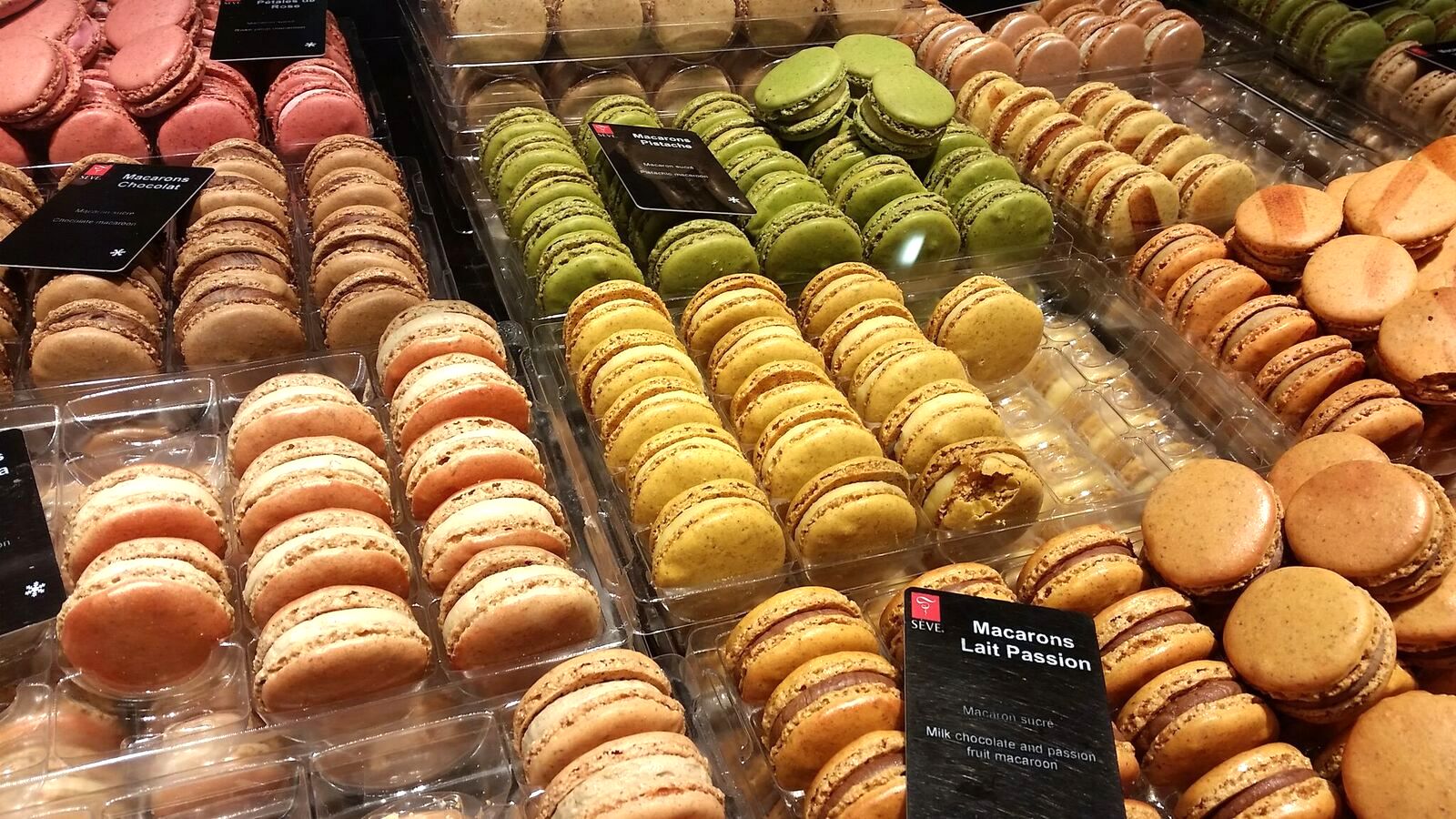 RICHARD SÈVE - award-winning chocolatier who makes chocolate from bean to bar. Also pâtissier, part of the prestigious group of Relais Desserts (and an extremely modest, genuine person too - see my article on French Yule Logs by Relais Desserts).
Did you know that Richard Sève was the first to come up with savoury macarons? His first savoury macaron was with foie gras, a world first! I was inspired - see chapter of savoury mini macaron recipes in my first book, Mad About Macarons.  He now has a chocolate museum (MUSCO), which opened in October 2017.
Other award-winning chocolatiers to visit: Philippe Bel, Bruno Saladino, Bernard Dufoux, to name a few plus Sebastien Bouillet's Chokola - see below.
Lyon's Top Candy Specialities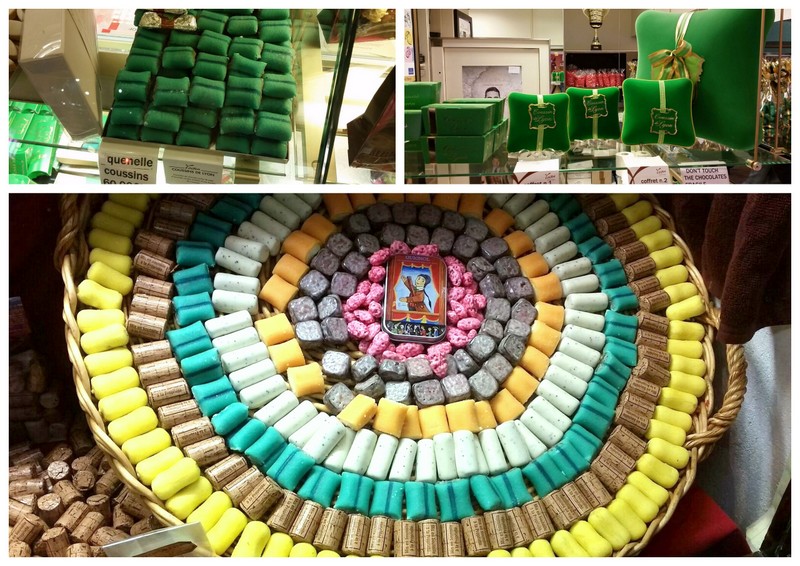 VOISIN - Since 1897, Voisin has been roasting not only chocolate beans but also coffee beans. They are particularly famous for inventing the Coussin de Lyon, made a patrimonial French speciality in 1960. It's not difficult to spot, as bright turquoise with chocolate ganache covered in  Curaçao marzipan. They also come in pink and purple as well as the traditional turquoise coussins.
However, there are more Lyonnais confections, such as le Bouchon (a cork), les quenelles (white chocolate coated cylinders of praline and cacao) and Le Cocon resembles a silk worm, in homage to the famous Lyonnais silk-workers.
For more, see my article on French regional confectionary.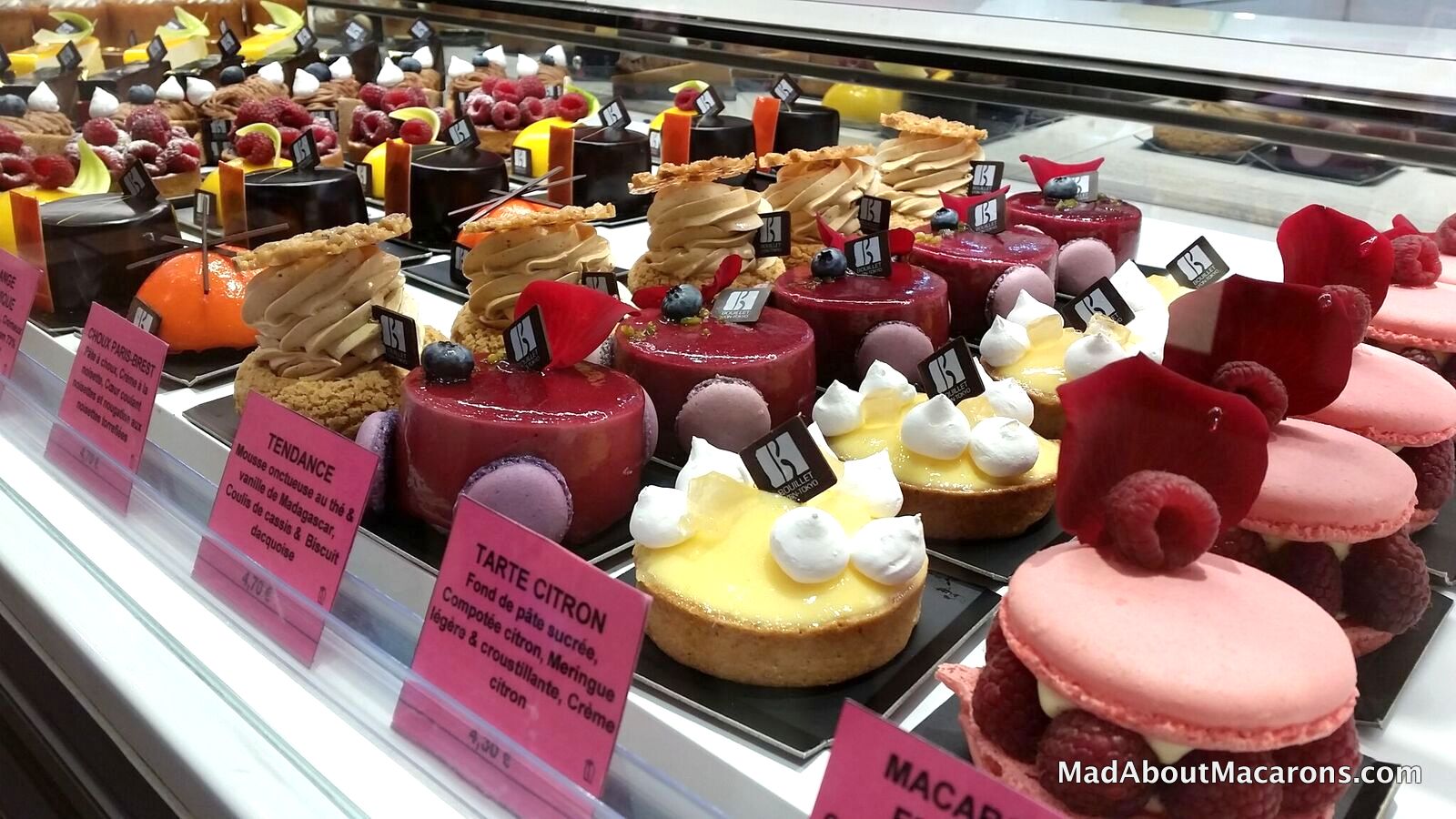 Best Pâtisseries in Lyon
For delicious bread plus three varying types of the local doughnut-like speciality, bugnes lyonnaises (angel wings), head to Ô Fournil des Artistes (next to the Maison de Canuts). En route via the Grande Rue de la Croix-Rousse, try more pink pralines at Alain Rolancy, MOF.
MAISON PIGNOL - The family business, run by Meilleur Ouvrier de France, Jean-Paul Pignol, is a veritable gourmet oasis in such a gastronomic capital, covering traiteurs (delicatessens) to brasseries to restaurants - and his original love of traditional patisseries, from Paris-Brest to the Baba au Rhum. You'll particularly love to stop at his patisserie in rue Emile Zola for a taste of macarons and 50 varieties of pastries and cakes. Try his speciality, la Tarte Ecossaise (Scottish Tart).
SEBASTIEN BOUILLET - Taking over from the family reigns in 2000, he is quite the star of Lyon with boutiques proliferating around the city to Tokyo. Fans of the mesmerising chocolate wall fountain, make for his chocolate concept store Chokola. What's more, just around the corner is his pâtisserie (Place de la Croix-Rousse) where you'll also see chocolate lipsticks, cakes and macarons. His Maca'Lyon was the first of its kind before it was copied over: a caramel macaron completely dipped in chocolate. All of his cakes are incredible and each year, he produces the most nostalgically inspired yule log, such as a carousel. If there's only one you should try, it's the Tarte Saint-Honoré.
Moreover, to be totally Bouillet-ed, right next door is his popular nostalgic bakery, Goûter, since 2015.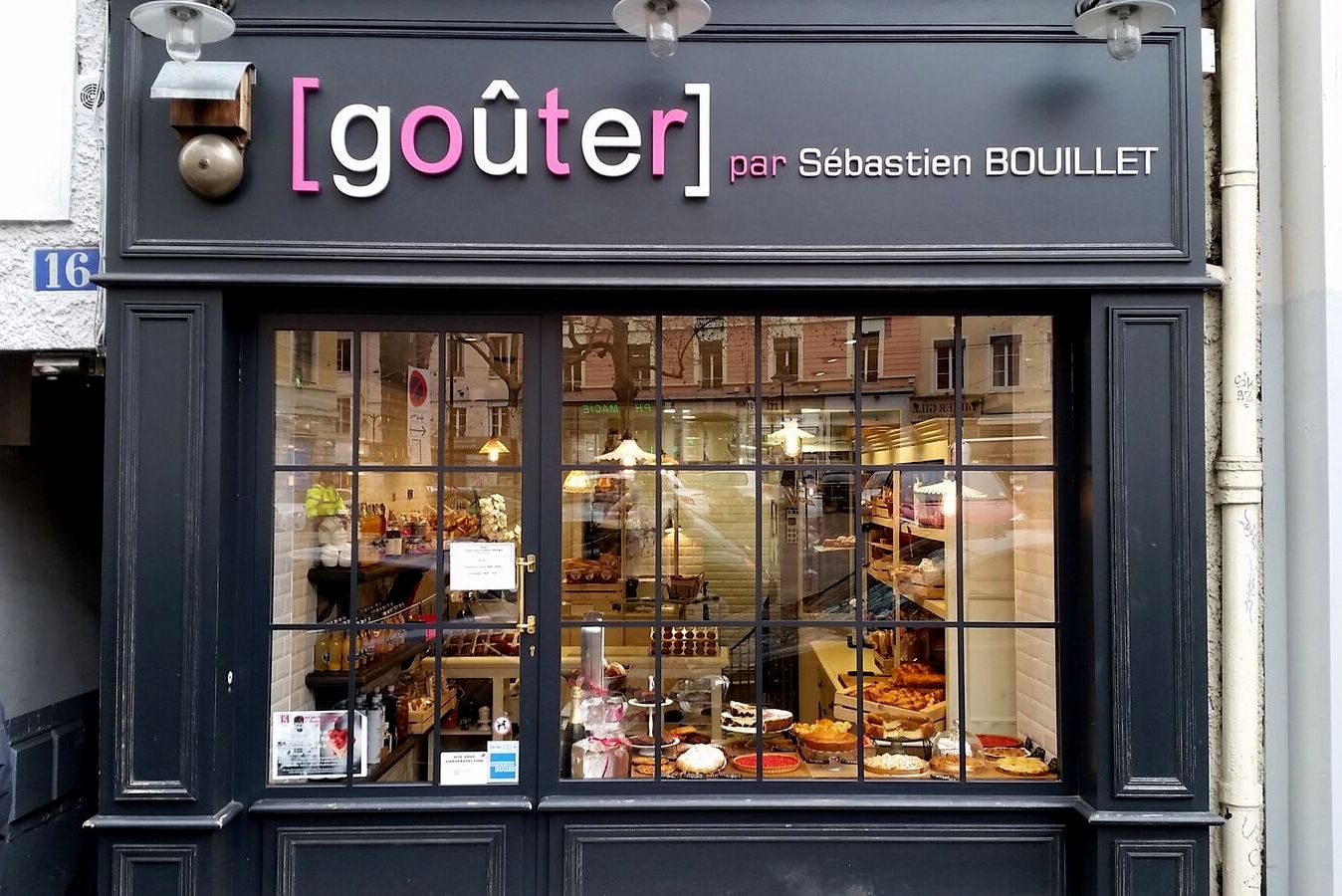 Goûter - Here, cakes and tarts are sold by the metre. Brioche is sold by the weight and cut to size. Imagine asking for half a meter of Tarte Tatin?
As if that's not enough, giant buttery financiers and scalloped madeleines are designed to share. As they're both freshly baked on the premises each day, there's no wonder they tempt us further at the counter. Goûter has been so popular, Sebastien Bouillet opened yet another boutique in the Monplaisir area in 2020.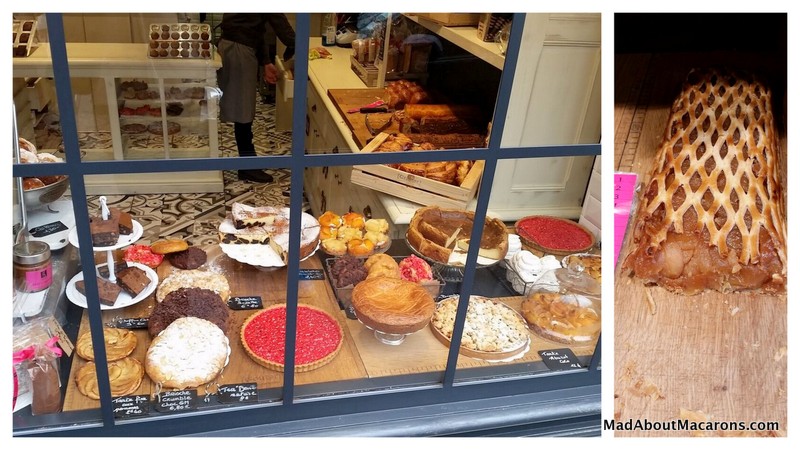 RICHARD SÈVE - Although also a chocolatier (as above), don't forget his talents as a patisserie chef. Along with Gaëlle, his artist trained wife from les Beaux-Arts, the duo make pretty as well as delicious cakes. Try the Tarte aux Pralines, worth special mention.
À LA MARQUISE -  in the historic Saint Jean area, head to this institution for pink praline tarts and also the traditional Bugnes. These powdered sugar doughnut-like treats are seen in most bakeries but particularly worth a mention here.
DORNER FRÈRES - Since 2019, brothers Gauthier and Maxime Dorner excite the tastebuds without giving us too much sugar. Their contemporary take on French classics are sublime. Try their variation of a theme on a Tarte Tropézienne with a Brioche Feuilletée. They now have a tasting area like a Parisian coffee shop to try their seasonal specials - try their artisanal range of ice creams and sorbets.
MAISON JOLIVET (père et filles) - First, it's difficult to look past their excellent range of traditional rustic breads in their shop in the historic Croix Rousse area. Try Le Kraken aux fruits, rye and buckwheat with hazelnuts, pistachios, raisins, dried apricots and confit guava/papaya. Pink praline tartlets are a must, as is the speciality, Le Merveilleux de la Croix-Rousse with its meringue, vanilla buttercream and nougatine. Their latest pastry (May 2022) is a macaron base with chocolate and caramel.
MAISON FLOCHON - Guillaume Flochon loves chocolate and it oozes deliciously around his boutique on rue Masaryk in the 9th. From pastry classics such as a great lemon tart, we love his BB'Choux (mini choux buns - particularly salted caramel, chocolate or praline) and range of macarons. His speciality are Perles de Vaise, chocolate domes of cocoa butter, filled with a variety of succulent flavours.
Lyon's Best Tea Salons
Alas, our favourite Lyonnais institution of La Maison Debeaux closed its doors 31 December 2018. However there are plenty more addresses to choose from, such as:
Kaova Café - a wonderful coffee salon with a great choice of teas too. Although open all day for breakfast to savouries for lunch, their pâtisserie is made daily on the premises according to season. For house classics, try their Paris-Lyon (based on a Paris-Brest praline choux pastry) and seasonal fruit tarts.
Piece of Cake (rue d'Aguesseau, 69007 Lyon). For cheesecake lovers, this is a must address in Lyon. With an emphasis on Anglo-Saxon treats (carrot cake, scones) and Japanese pâtisserie
Anticafé (9 rue du bât d'Argent, near the Opéra & City Hall). Like its sister in Paris, this is a co-working café where you pay by the hour. So sit back and relax for 5 euros with free included beverages or drinks and nibbles while you work or meet-up and, although not advertised, they did tip me the wink that they don't mind if you bring your own doggie-bag of pastries from local bakeries.
A Taste of Lyon in Paris
If you can't get to Lyon, then you can still find Voisin's Coussins de Lyon in Paris in speciality chocolate shops: for example De Neuville and at Le Bonbon au Palais.
For a taste of the Praluline, pink praline brioche, Pralus is in rue Cler - around the corner from Rue Saint-Dominique near the Eiffel Tower.
---
This post is not at all sponsored. As always, all opinions are my own. Although this post was first published 19 September, 2017 it has been updated 6 September 2022 to continue to help you plan your trip.