The best French Yule Logs in Paris. 20 top pastry chefs from Relais Desserts show their French Christmas bûche creations.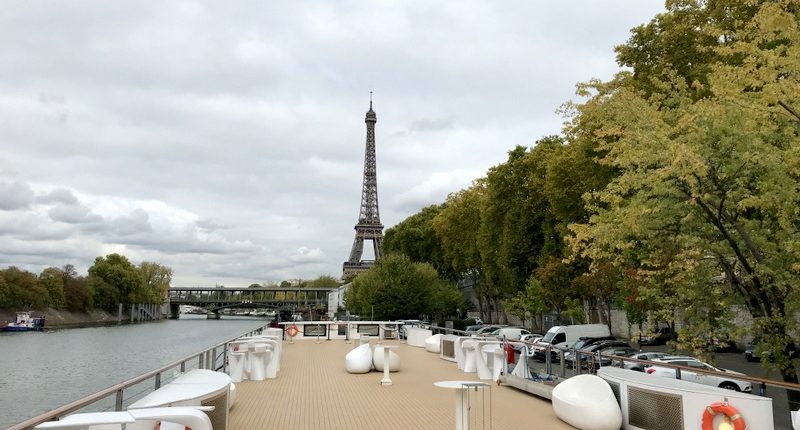 Although this article was written in 2017, it gives the reader an idea of the prestige given to the top yule logs each year. Presentations are always made in September for Christmas.
The elite group of top pastry chefs had us floating on the Seine for their annual Relais Desserts Yule Log presentation of Bûches de Noël. You'll remember me talking about the Relais Desserts group here before, as they organise the charitable event, the Fête du Macaron or French Macaron Day each Springtime.
Even the boat's pristine top deck looked covered in shiny festive glaze with seats of whipped meringues. Meanwhile, I was already in a daze to get started  downstairs: there was a LOT of patisseries to get through and their stars of pastry to meet. So, ready for a bumper gourmet edition? Grab a cup of tea and join me on the sweet voyage.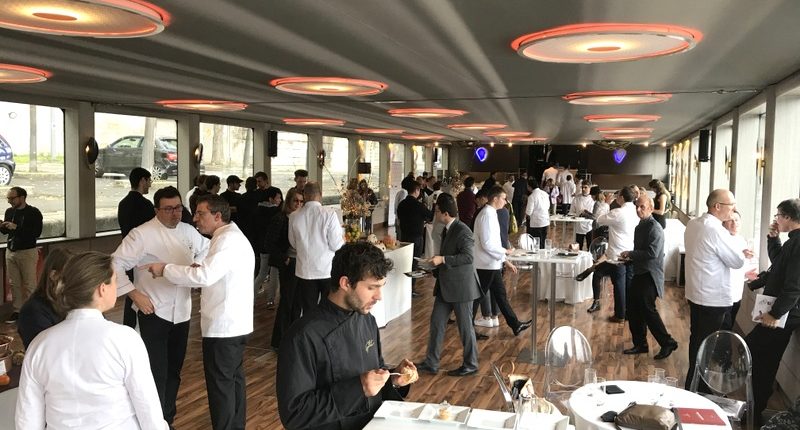 Presided by Frédéric Cassel on the left below, Relais Desserts invited us to taste the bûches/yule logs, meet the chefs behind each creation, ask questions and enjoy the tasting notes.  As I do in my patisserie recipe books, each creation suggests how to serve it: either chilled or, as in most cases, to take out of the fridge for 15-30 minutes beforehand in order to appreciate all the flavours and textures.  Recommendations for the perfect drink to accompany them are also given, although this one is easy for a festive meal if you like bubbles.
Each yule log was presented by collection. Have you ever seen chocolate paper before? This listing was printed on paper made by 45% of recycled cacao shells.
I'm a sensitive cookie. If you're like me and an obsessed gourmet, can you imagine walking in to one long room filled with the most outstanding French pastry chefs in one spot? I was overwhelmed yet bubbling to discover each creation.
Dried Fruit & Nuts Collection (Fruits Secs)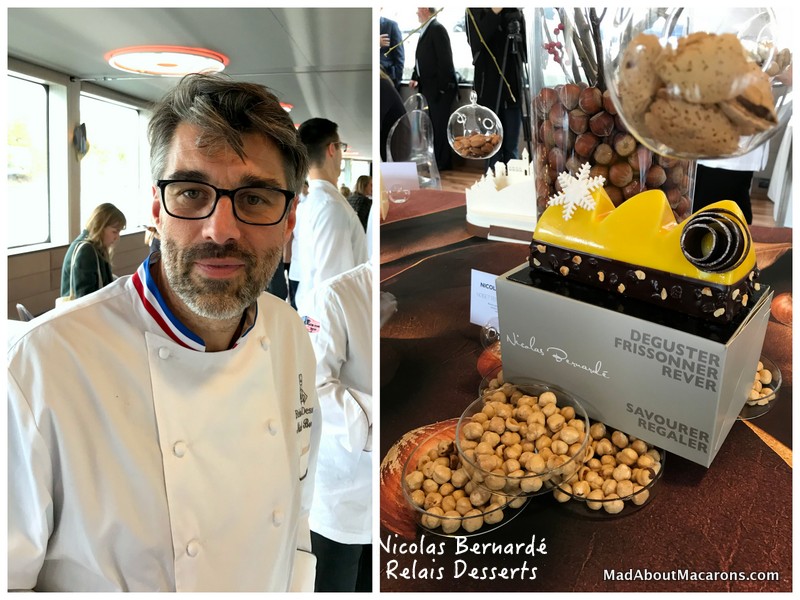 Sporting the renowned collar of a Meilleur Ouvrier de France, Nicolas Bernardé doesn't give a name to this yule log but certainly provokes the goose-bumps, just thinking of the flavours: NOISETTES-MANGUE-PASSION.  It's a mountain of hazelnut sponge, mango-passion fruit compote with a passion fruit cream, crunchy hazelnuts from Piemont and a Gianduja crème légère. Enjoy it with Earl Grey tea.
The beaming smiles of Mercotte and Christophe Roussel were in full tasting swing. Mercotte - France's wonderful answer to Mary Berry - is TV presenter of La Meilleur Pâtissier, patisserie blogger at La Cuisine de Mercotte, and on the jury for Christophe Roussel's prestigious Amateur annual pastry challenge, Le Défi Patissier, of which I was most flattered to join them as guest on the jury last year in La Baule.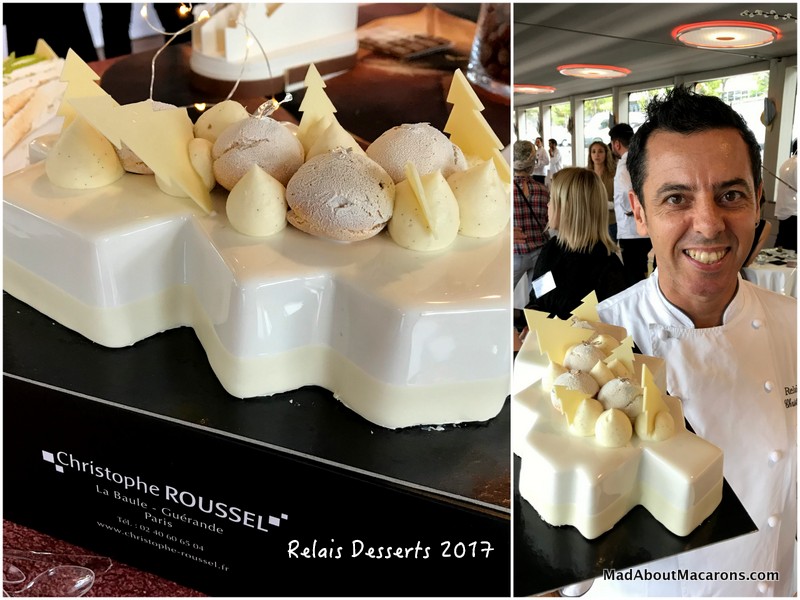 Far removed from a traditional yule log, Christophe Roussel, also the star of La Baule and la Guerande, evokes icy snow with his ICEBERG. Served chilled, it's a most refreshing end to any festive meal. Topped with glistening choux buns, break into creamy vanilla, toasted hazelnuts from Piemont with a zesty touch of orange.
Jean-Philippe Darcis 's ALESSANDRIA (top left below) is best served with a good pure Arabica coffee, to accompany the Gianduja mousse, Ristretto cream with a cappuccino marshmallow, hazelnut sponge and chocolate-hazelnut crunchy crumble. Attention: it's a limited edition, with 300 examples for Christmas.
Jean-Christophe Jeanson prefers to keep his UNE SURPRISE Bûche secret. Made for Lenôtre Paris, even the packaging evokes a mysterious snowy forest in Lapland.  I wonder if Laurent Duchêne was asking if he could reveal it?
Again on a snowy and marshmallow note, Nicolas Boucher's KUKLA (bottom right) is for Dalloyau Paris. Its  chocolate cover evokes a matryoshka doll, revealing a variation on a theme of a pavlova: an almond meringue base with confiture au lait with a financier heart of mango-passion fruit compote and vanilla cream.  Glazed in white chocolate, this frozen bûche is surrounded with a citrus marshmallow. Recommended with a mature dark rum.
Chocolate Yulelog Collection
I managed to catch an enigmatic smile from Pierre Hermé, as he looked on to his GÂTEAU DE NOËL ÉCORCES. Together with artist Sylvianne Lüsher who designed the clay base, it's an ephemeral piece of art - and at only 20 examples being made for Christmas, it's a cracker of a limited edition!
A log within a log, encompassing Viennese chocolate sponge, dark chocolate and raspberry Chantilly, raspberry compote with dark chocolate salted butter shortbread. Three out of the four portions are dark chocolate: one is raspberry red to give the artistic finish.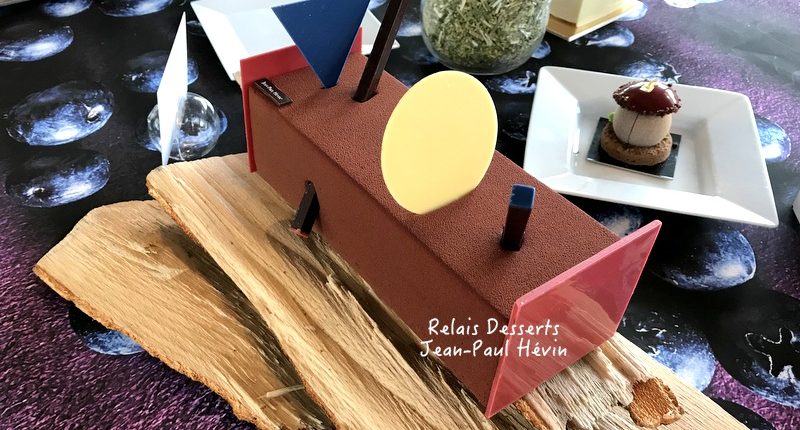 Following on from Hévin's French Touch collection, Jean-Paul Hévin has been inspired through time, paying homage to designer Gerrit Thomas Rietveld with his GÉOMETRIK.
A crunchy almond praline with poppy seed base is topped with a Peruvian Grand Cru chocolate mousse smoked with pine, topped with a hazelnut sponge and caramelised laurel-infused mousse.
A special tip for clean-cutting this Christmas is to cut the yule log with a warmed knife.
Marc Ducobu's MERVEILLEUX NOËL brings the classic chocolate yule log from Belgium with new notes based on meringue, Chantilly, Caribbean chocolate ganache, with different chocolate crispy textures.
Vianney Bellanger (above right) brings his chocolate CAROUSSEL from Le Mans, evoking childhood with a crunchy chocolate crumble, plus the more rare criollo cacao variety in a chocolate mousse from the Dominican Republic. It comes with a chocolate crème anglaise (light custard) with crunchy pearls.
Jeff Oberweis concentrates more on after Christmas when the traditional yule log changes time to New Year's Eve, known here as SAINT-SYLVESTRE.  Inspired by Salvador Dali's melting clocks, it's ticking with Madagascan dark chocolate mousse with a Gianduja crunch, plus a Brazilian milk chocolate cream topped on a chocolate almond sponge.  I think it's about time we visited Luxembourg with only 2 hours by TGV from Paris. After having lived in Guatemala, he knows a thing or two about chocolate!
Spicy Collection (Épices)
Jean-Paul Pignol's BELLECOUR pays homage to the silhouette of Lyon's famous square and his Madeleine de Proust of childhood memories: devouring clementines from under the Christmas tree.
The warming hint of spices are in a soft sponge, a crackling nutty contrasting texture with a Peruvian chocolate mousse which is interlaced with the most deliciously acidic note of clementine marmalade and confit. After discussing macarons and Lyon with Chef Pignol, I have to return soon: on my last gourmet trip to Lyon (see my post on Lyon's patisseries) I didn't even try his speciality, La Tarte Ecossaise!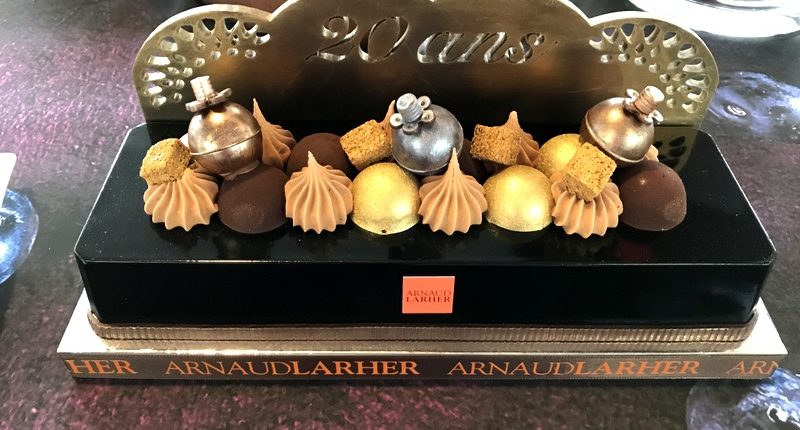 Arnaud Larher is already celebrating 20 years' anniversary since opening his first boutique in Montmartre, 1997.  With a mixture of nostalgia and his favourite recipes comes ÉPICÉA.  It's a yule log filled with 66% dark grand cru chocolate and gingerbread mousse, orange marmalade on a gingerbread base and all topped with a glaze and 80% dark chocolate Chantilly cream.
Citrus Yulelog Collection (Agrumes)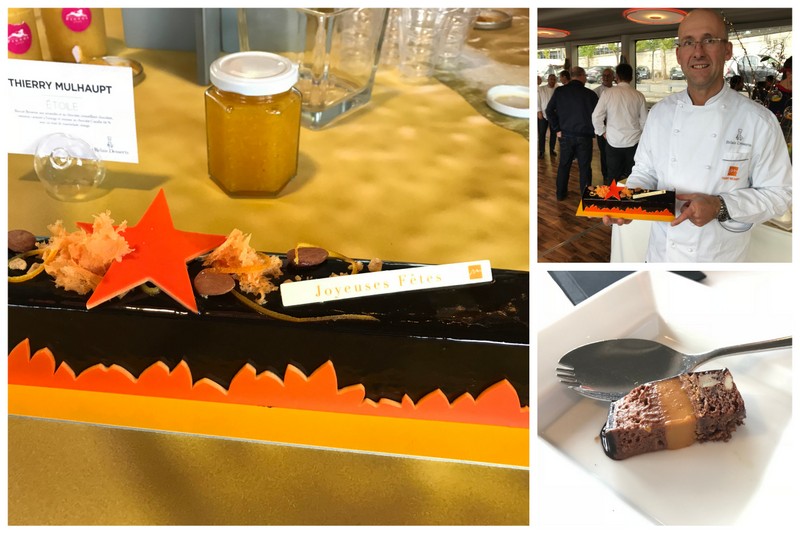 Thierry Mulhaupt brought this dazzling ÉTOILE from Strasbourg and Colmar to take the chocolate brownie to new heights. An almond brownie is topped with the most succulent Maltese orange caramel and topped with a 66% dark chocolate mousse with orange marmalade.
He also makes a savoury bûche (salmon, lemon, broccoli as a starter) and has just published a new book on Bredeles Salés, filled with savoury recipes for aperitif nibbles.
Luc Guillet must have been inundated with fans since I couldn't find him before I had to run off.  To celebrate his first Christmas in the family business, his CÉSAR is inspired by his Asian travels, with fragrances of yuzu, black sesame, chocolate and caramel.
Also hailing from Lyon, Sebastien Bouillet brings on a touch of circus fun with his CHAPITEAU. Toasted popcorn and 44% milk chocolate mousse with hazelnut are topped with a beautiful yuzu cream and yuzu jelly that tickles all the senses. For more on chef Bouillet's pâtisserie boutiques in Lyon.
Yulelog Fruit Collection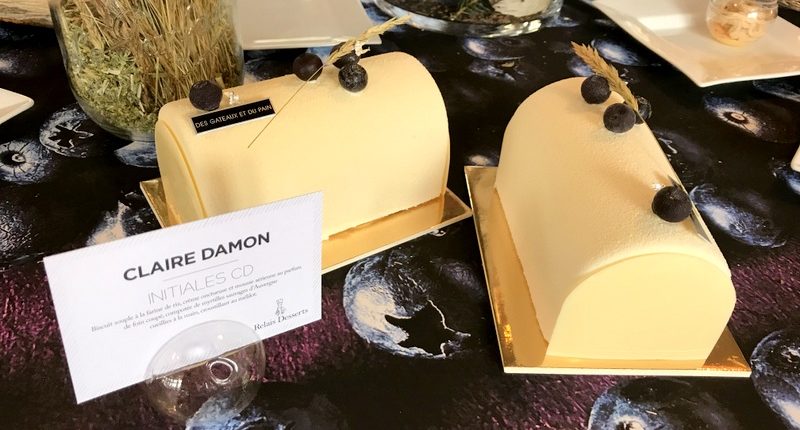 Claire Damon, the only woman chef in the group, has logged herself with a self-portrait in INITALES CD.  Evoking her childhood memories of freshly cut hay at the end of spring, she evokes a taste of summer on the plate this Christmas. Be transported with a compote of handpicked wild blueberries from Auvergne, a light sponge of rice flour and an airy mousse fragranced with cut hay. There's even a touch of crunchy wild clover. She healthily suggests a modest glass of still water to accompany it.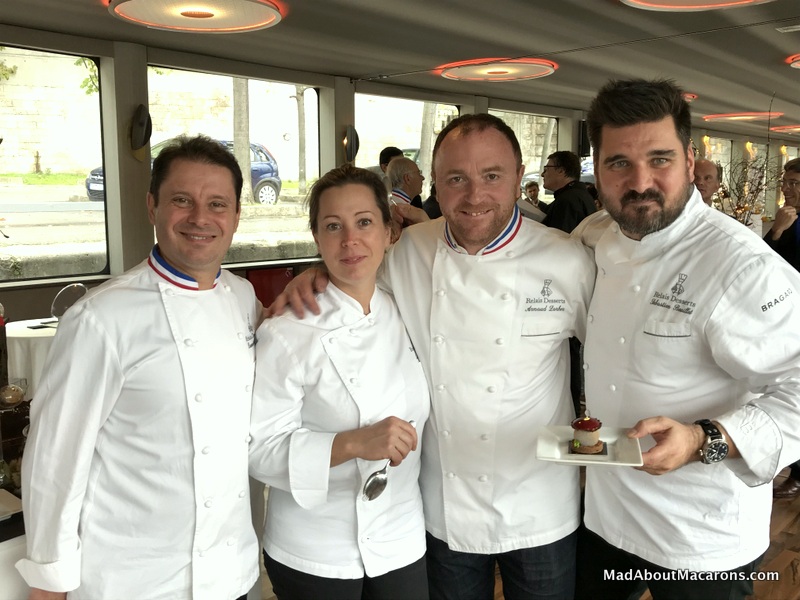 It's the famous Black Forest Gateau that inspired Laurent Duchêne this year with his SOUS BOIS FORET NOIRE. The fun visual of being in the woods mixed with the legendary ingredients are taken to new heights with a light chocolate sponge, Tanzanian 75% dark chocolate creamy mousse, griotte black cherry confit and a Madagascan vanilla Chantilly.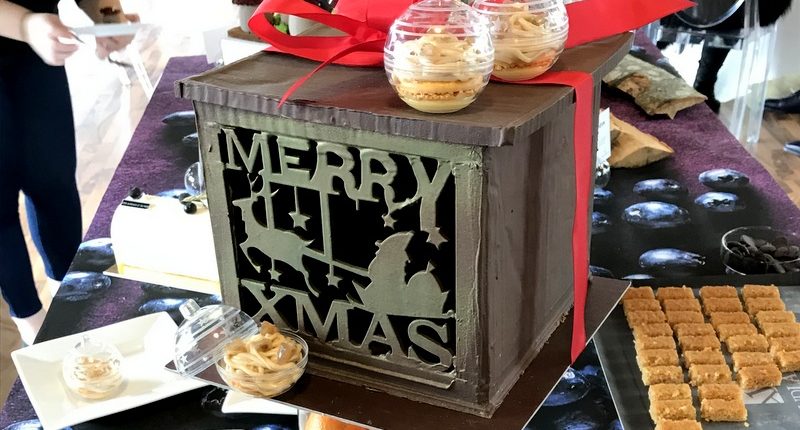 Frédéric Cassel continues the tradition of exchanging gifts, and his BOITE CADEAU continues the charm with 14 Christmas boules garnished with all sorts of delicious speciality surprises from his patisserie in Fountainbleau. It's a limited edition, with 100 examples available this Christmas.
Called Royale, referring to the royal burgh of Saint-Germain-en-Laye where Michel Pottier ran the Pâtisserie Grandin on rue du Pain (quite aptly named as the original bakers' street to King François I's château, just around the corner).
Bonus: As I live in this area, check out my day trip info to Saint-Germain-en-Laye from Paris and a DIY Chocolate & Pastry tour in his royal town.
Serve chilled, Royale's lime and raspberry mousses nestle between an almond sponge, topped with toasted meringue with a fresh raspberry coulis or sauce. I like the mini macarons as a slice guide, so there's no cheating.
Richard Sève beckoned me over with a square of red chocolate. I felt like Charlie in a chocolate factory. It's no surprise, then, that he's due to open a new lab and chocolate museum in Lyon at the end of this month.
He made the chocolate using whole fresh strawberries without any added sugar to continue the pleasure of summer over the Christmas table. His COLIBRIS, referring to the exotic birds that feed off the rare nectars of tropical fruits and flowers, adds the most intense yet light natural strawberry ganache with a compote of mango and passion fruit to an airy sponge.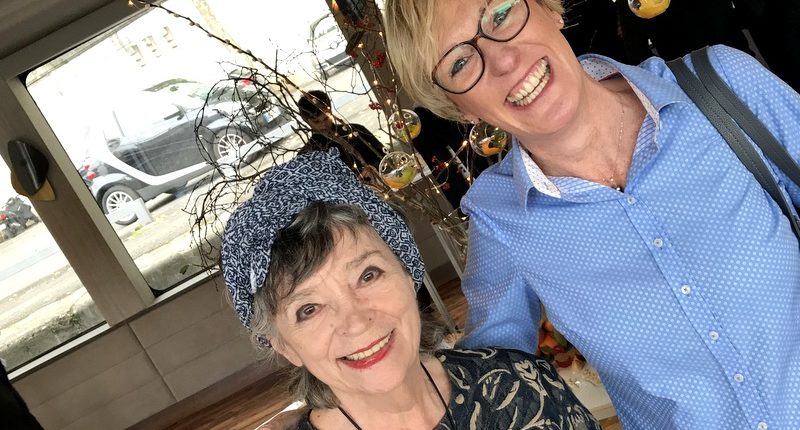 To finish off my early festive log, meet the talented Coco Jobard, food stylist and recipe editor for the association's new forthcoming book, Haute-Pâtisserie for Relais Desserts, due to hit the bookshelves on 26 October. You mean - there's more?
So, after all that, am I the only one to have this inexplicable urge for Champagne?