The best French sweet or candy shops in Paris, including le Bonbon au Palais, which has the most famous artisanal confectionary from all regions in France under one roof.
As chocolate star, Denise Acabo at l'Etoile d'Or took retirement recently from her legendary chocolate and candy store in Montmartre, we have all been pretty sad at losing such an address. Take heart - the old fashioned, artisanal French bonbons (sweets/candies) can still be found on rue Monge. Jar upon apothecary jar - at literally, the Candy Palace. Plus even more addresses are below.
The Best Pick of Artisanal Candies in Paris
This is not your average pick 'n' mix of highly coloured sweeties or candies you find in supermarkets. This is a collection of handmade specialities of France's best confectionary from all regions.
While there are many more candy stores around Paris (Swedish Karamell, La Cure Gourmande, Confiserie en Gros Dupleix), I'm concentrating on the artisan shops. Here is where old fashioned sweets are presented like a candy museum.
For chocolate candies, head to the oldest sweet shop in France, À la Mère de Famille, with the original boutique in rue du Faubourg Montmartre (there are many). Try 'les toucans' - chocolate praline cylinders with various seeds (sesame is top), mendiants, les rochers, orangettes and chocolate covered marshmallows.
So let's get into some of the most popular candies in France at le Bonbon au Palais.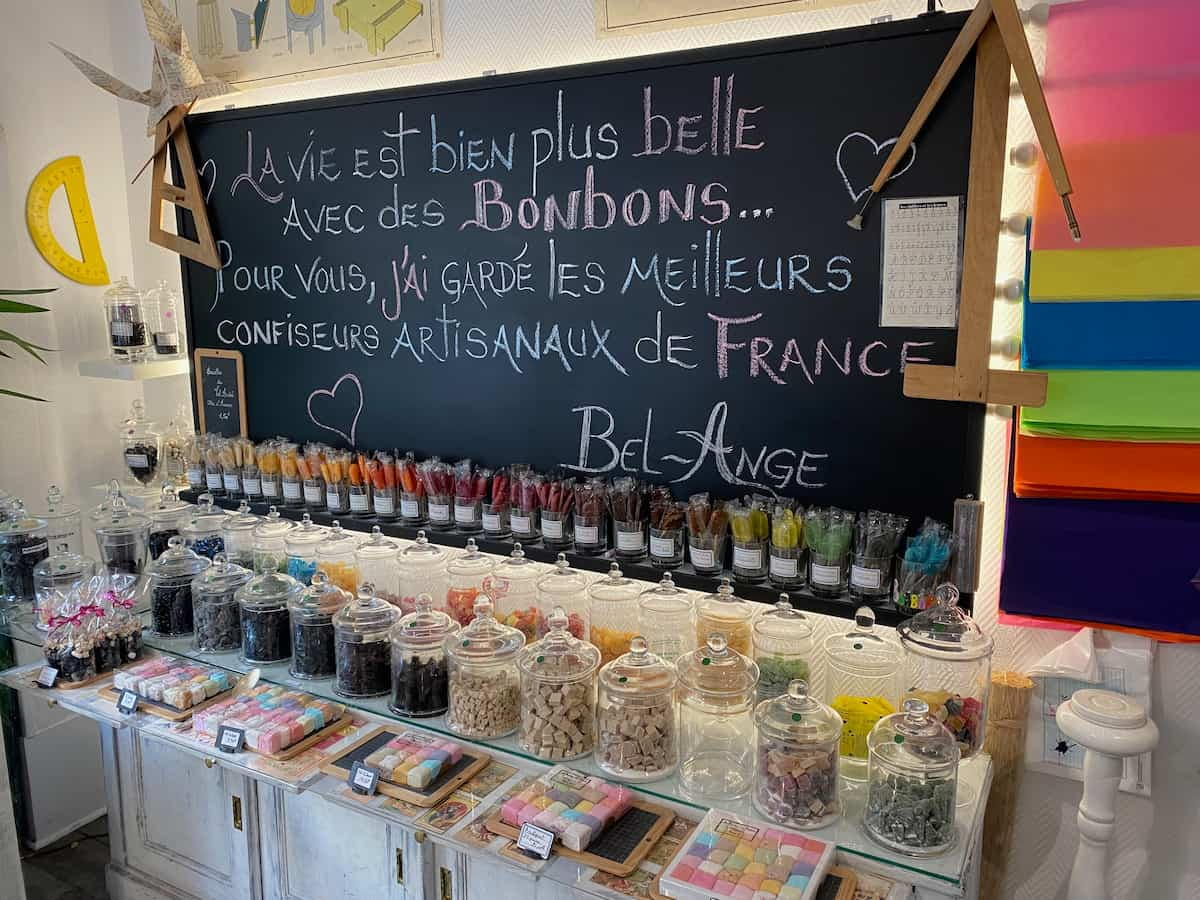 What is the Best French Candy?
I used to get this question on my chocolate walks in Paris. It's hard to say and like all things, how can you say it's best? It's of course, subjective. However, I'll give you a little taste of some of the best below.
I first literally stumbled into the Bonbon au Palais sweet shop years ago in Paris's 5th Arrondissement after a blustery walk down rue Mouffetard. I was speed walking to the metro at Châtelet, but instead my umbrella had other ideas. Catapulted downhill on rue Monge, my track was halted with the sudden sight of glistening jars filled with chocolates, lollipops and bright pastel marshmallows.
The previous owner, Georges, proudly presented his range of the best regional and artisanal sweet delicacies from around France all under one roof. As he opened several giant apothecary lids, he explained his favourite delicacies. Bliss! Today the jolly atmosphere wasn't quite the same when I visited but the sweets are still there. As Bel-Ange continues Georges' tradition, it still says on the giant blackboard:
"Life is much more beautiful with sweets or candies. For you, I've kept the best artisanal confectioners around France."
Let me show you some of the candies, starting with the oldest French lollipop to Queen Margot's nipples.
France's Oldest Lollipop
The Pierrot Gourmand signature of the Comedia dell'Arte's Colombine displays France's oldest lollipop, or sucette.
Georges Evrard created the Pierrot Gourmand company in Paris's Marais in 1892. It's not until 1924 that he invented the very first lollipop. The wooden mould is in the shape of a feather has an added little stick - the idea of eating something so sweet without getting the fingers sticky.
It was also one of the first companies to envelope lollipops in printed paper. The milk caramel was the original flavour, nicknamed 'Pégé' for P.G. The recipe has remained unchanged since 1924. Pierrot Gourmand now sells over 140 million lollipops each year and its popularity has now spread to China.
What is Lyon Famous For?
One of Lyon's famous specialities is le Coussin de Lyon made by Voisin. It's easy to spot these confectionaries with their bright shade of turquoise. Literally translated as 'cushions', their soft chocolate ganache is enveloped in almond paste with their characteristic blue colour, perfumed with bright curaçao liqueur. These are my personal favourite.
Here you'll find not just the well known turquoise coussins de Lyon but they also come in pink framboise (raspberry) and purple myrtille (blueberry) versions.
It doesn't stop there. The coussin's bright yellow sweeter cousin is Le Cocon de Lyon. The cocon (meaning cocoon) resembles the silk worm's cocoon, paying homage to the silk-weavers of Lyon. There's also the Quenelle de Lyon, white chocolate covered pralines - their name in homage to the savoury quenelles so popular in Lyon's bouchons - plus les orangettes, dark chocolate covered candied orange peel.
For more on the silk history and Lyon's food specialities, see my article on Best Value Gourmet Lyon in 3 Days.
Perhaps their most famous speciality are the pink pralines roses. Here you can find the real McCoy used to make the famous Praluline of Pralus. Use them to decorate and throw inside my French fluffy brioche.
For more on the French gastronomic capital's sweet specialities, see my article
Lyon's pâtisseries, sweets and chocolates.
Barley sugars, jellies and fast emptying jars of salted caramels from Normandy and Brittany line the pristine, glossy white shelves. Talking of caramel and salt ...
Tas de Sel
These Tas de Sel from the Loire are literally translated as salt stacks. These are pretty addictive due to the touch of salt from the Guérande. Inside a thin casing of white chocolate studded with sugar crystals is a chocolate ganache with salted caramel.
For salted caramel fans - have you tried this salted caramel macarons?
Les Anis de Flavigny
Love little collectable tin boxes? The characteristic oval gems are the famous sweets of various flavours, les Anis de Flavigny®.
Their history goes back as far as 812, when Charlemagne orders that aniseed be grown in the monasteries and convents. So it the monks and nuns who come up with coating aniseed in syrup and making these little sweets? In any case, the bonbon candies took off and became a real hit with the French monarchy, including Anne of Austria and the Duke of Condé in Dijon.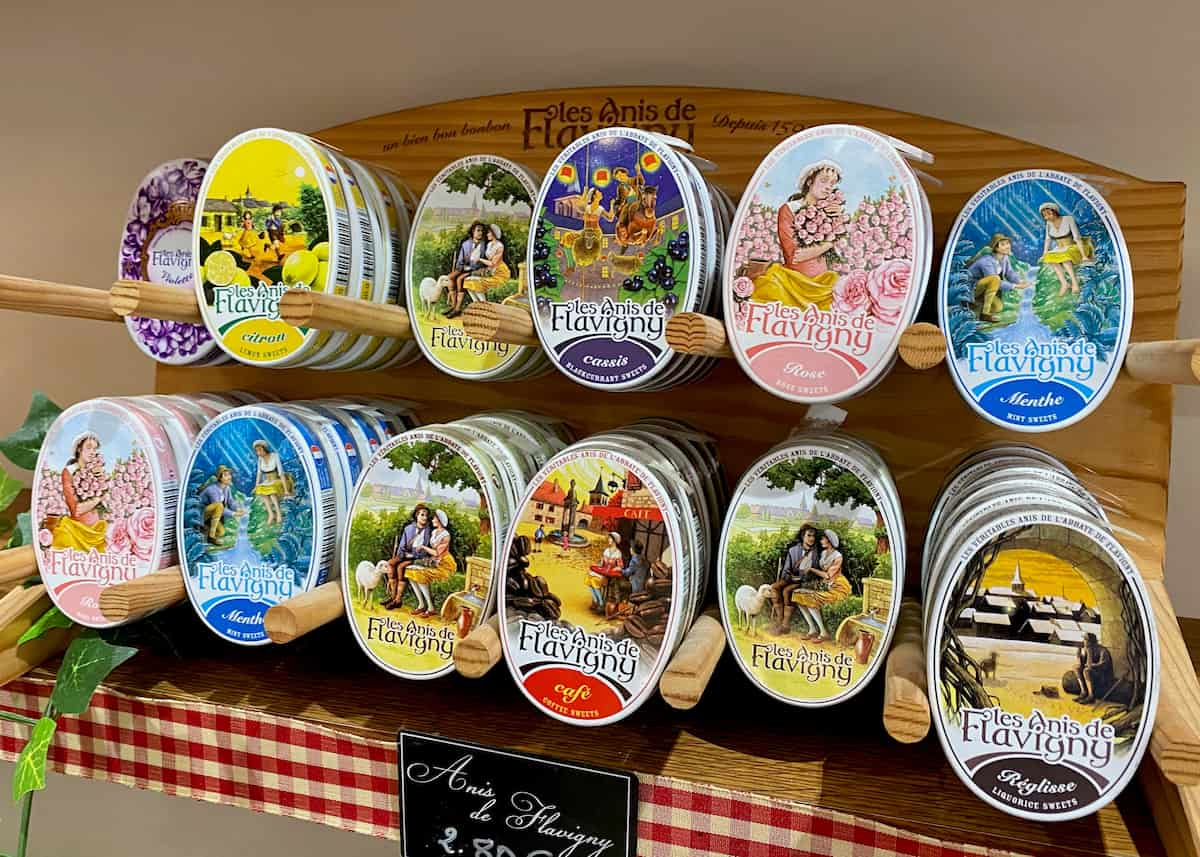 Typical flavours are liquorice, mint, violet, rose and blackcurrant (cassis). The French are particularly sentimental, however, about the popular poppy flavour, coquelicot.
If you're in Bourgogne, I thoroughly recommend their visit around Flavigny-sur-Ozerain - including the beautiful Benedictine Abbey and more about their story and bonbons.
If you're visiting Dijon, a visit to Flavigny can also be arranged by the Dijon tourist board - seen on our last visit. For more about the Gourmet town, see my article on Dijon - more than Mustard!
Les Calissons de Provence
Touch of sunny Provence with marzipan? Les Calissons d'Aix are losange shaped bonbons with a base of rice paper topped with almond paste and topped with a royal icing.
It's interesting to taste also le calisson de St Rémy de Provence. What's the difference between the more popular, brighter yellow oval Calisson cousin? The St. Rémy calisson is less sweet since it's made with different almonds.
My French Parents-in-law live in the Vaucluse but we have never tasted the Piments végétariens. These bright red spicy sweets are sensational! Ideal if you love strong sensations.
Incidentally, more famous from the Vaucluse are the traditional candied fruits (fruits confits) from Apt. I normally stock up there at the factory shop by the kilo and make desserts with the candied ginger like this chocolate ginger fondant cake.
For more about the candied fruits of Apt in the Vaucluse, see my market page on cherries.
White Chocolate - La Dent de l'Ours
The Bear Tooth or la Dent de l'ours is for fans of white chocolate. Although there is a filling of almond paste with pistachio and melon and topped with a chocolate almond, I get mainly white chocolate.
This would be lovely as a decoration for this white chocolate mousse with rose.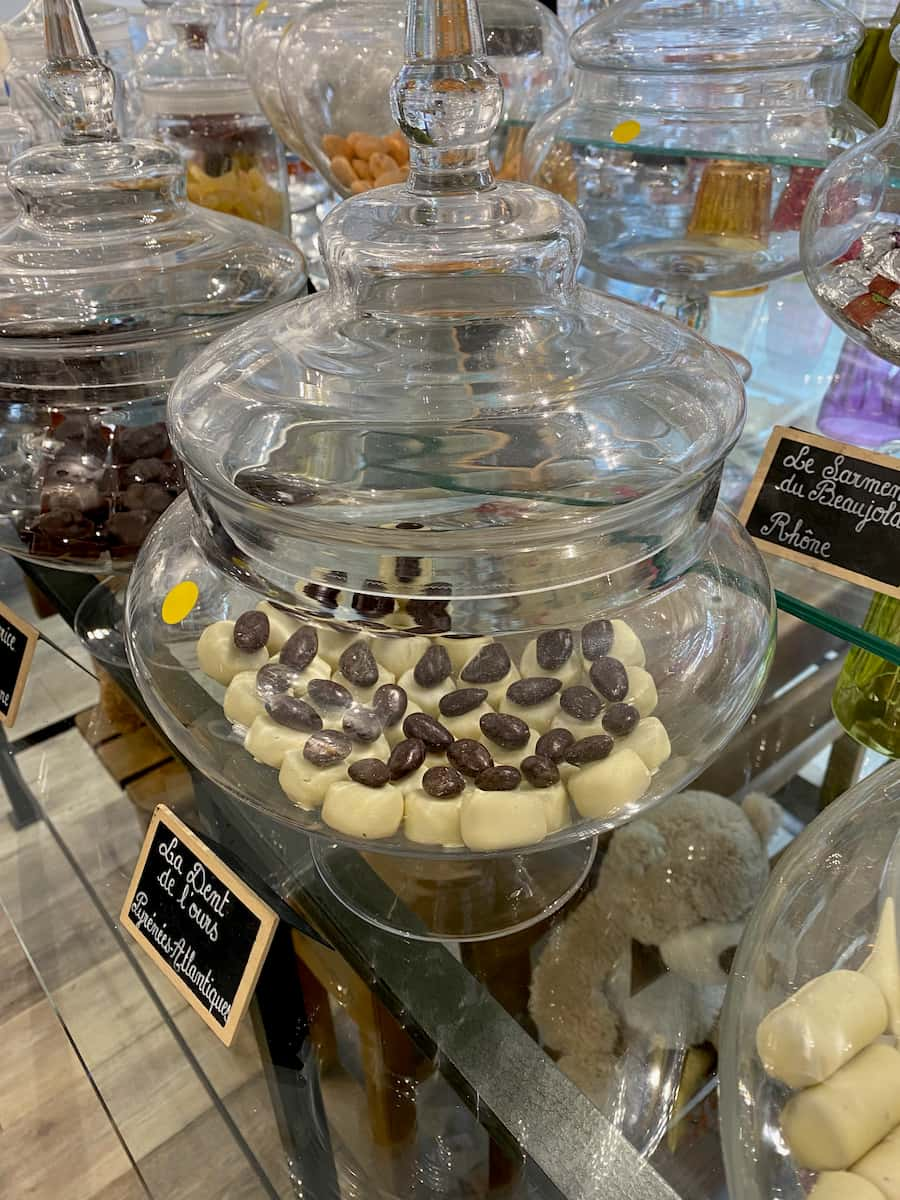 Queen Margot's Nipple
Definitely one of my favour-tit nibbles - and that's not just because of their fun name in French, le téton de la reine Margot but for its crunchy praline.
Don't be fooled by the outer white chocolate coating: it's very fine. The main flavours that come through are the almond and milk chocolate praline inside, its lace crepe which gives it the crunch and a touch of orange from Grand Marnier.
Why the name? Apparently Marguerite de Valois (aka Queen Margot, first wife to Henri IV, 1589-99) was such a French beauty. Provocative with it, she lured in many lovers with her low necklines. So low, that it was said her nipples could be seen.
So it's thanks to Francis Miot, who invented this sweet in 1985 in the Aquitaine region. French chocolatier, Jean-Pierre Richard took it to new heights in 1990 with his Meilleur Ouvrier de France savoir-faire.
Incidentally, La Reine Margot was born in our local château de Saint-Germain-en-Laye in 1553.
How Long do the Sweets Keep for?
These specialities can keep for up to 6 months. So all the more reason to keep them to savour on the palate (notice the play of French words with palet/palate and palais/palace) - as in the name of the shop.
I just need to nipple on another of Reine Margot's hum, candied bijoux, just to ensure my chocolate palate gets the taste of orange. Definitely for secret, special, oh-là-là moments.
Now that I've given you a few ideas of what to ask for, it's now over to you. Plus I haven't even talked about the guimauves (marshmallows) or other hard candies. Well - you don't want me to spoil the complete discovery, do you?
Le Bonbon au Palais
19, rue Monge
75005 Paris
Metro: Cardinal Lemoine
Not sponsored.
This post was first published 19 February 2014 but is now completely updated to reflect the new sweet stores in Paris.