A taste of the best pastries in St Remy de Provence and discovering some history and more shops in Van Gogh's beautiful Provencal town.
What? You've never been to St Rémy de Provence? Valérie plopped frozen raspberries instead of ice-cubes in her refreshing homemade citronnade. She always has brilliant ideas. Would we just stay by the pool and chat during our long-awaited Bastille holiday weekend visit, or should we venture out in this heatwave and have a bit of culture next morning?
I felt embarrassed. How could I have visited the parents-in-law in their village of Saignon since 1992 and not even discover one of Provence's most picturesque villages just south of Avignon?  But, in our defence, when we visit family in the south we don't do the touristy things – except go to the market in Apt. We do what the family does: either sit around the house and chat, watch the Tour de France in the cool indoors, take "kid-naps" or have rustic picnics around the Mont Ventoux.
So before we knew it, Antoine and I were whisked off to the town where Van Gogh spent the last year of his life in 1889, painting his blockbusters like Irises and Starry Night while at the psychiatric centre at the Monastery Saint-Paul de Mausole.
There are no cars in the centre of the town, which makes walking around an extra relaxing pleasure.  Street names are in Provençal, with the town's coat of arms.
A must stop is at the fountain of Michel Nostradamus, celebrating the famous astrologer, apothecary and seer born here in 1503. His world predictions are best known in his publication, Les Propheties, which has rarely been out of print since the first edition came out in 1555.
I wonder if he predicted that his home town would be filled with some kind of curiosity shop around many a corner?
Or ice cream shops too?
Or restaurants serving typical provençal dishes with a base of tomatoes, garlic, olive oil and served with the local chilled rosé during the summer?
Valérie predicted that I'd be making for Michel Marshall's pâtisserie in the heart of town, in Place Joseph Hilaire.
Michel Marshall's exquisite artistic pastries were disappearing fast. No wonder – this talented pastry chef has worked previously with Pierre Hermé at Ladurée and with Philippe Conticini at Le Pétrossian before eventually opening his own boutique, just like the others. Had Van Gogh been around, I wonder if he would have painted them? In any case, I'd say that Michel Marshall is the Van Gogh of Pastry here – and predict more boutiques opening.
Overheard in the shop was a guide taking around American visitors – just like I did on my chocolate and pastry walks in St Germain-des-Prés for years. Valérie encouraged me on, otherwise I was in danger of pretending I was in the group and tasting like the others – especially as I had my eye on a savoury pastry.  My hand must have been shakily excited too as the photo was terrible so I'm afraid you'll just have to imagine that the artistic topping was a giant basil leaf.
Then I found myself lingering around another pastry shop. This time with over-sized lemon meringue tarts, giant macarons, and violet Réligieuses: one bite-sized choux puff placed on top of a bigger one and filled with fragranced pastry cream.  Recipes for all of them are in Teatime in Paris.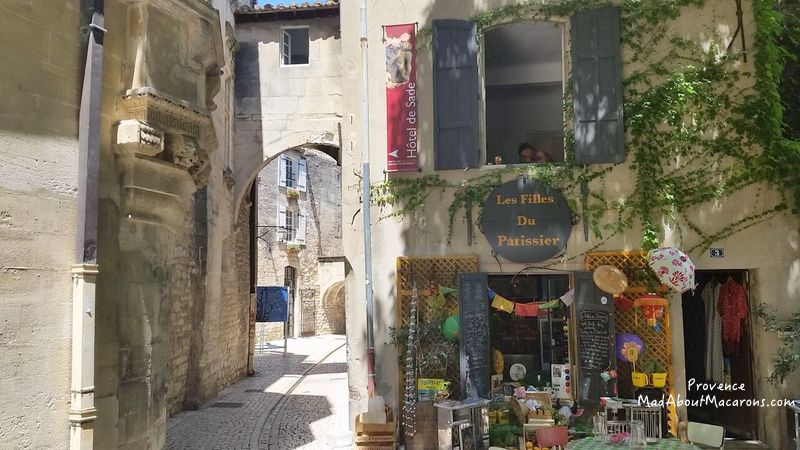 Stumbling on another boutique, named so prettily, "The Pastry Chef's Daughters", it was more of a curiosity shop. Although, don't show that you're too curious; the shiny-muscled pastry chef was looking rather suspiciously from the window above as he was tucking into his lunch.
Sounds are also pretty different in Provence.  Above the trickling of the fountains, it's sometimes deafening to hear the cigales or ciganes singing rhythmically screeching in the trees.  I took a video of it and will share it with you next time.  Over them, we listened to a busker playing in the shade of the plane trees.
Window boxes are remarkably sweet in the town hall square.  This is when I lost the others while getting carried away taking photos. Does that often happen to you too?
They had already headed towards the chocolate shop.  Join me then on the rest of our walk in St Rémy de Provence, to discover chocolate!