A taste of the best French pastries and chocolate in Saint Rémy de Provence in the south of France. What is St Remy known for? It's not just a beautiful Provençal town near Avignon: it's the birthplace of Nostradamus and where Van Gogh voluntarily committed himself to an asylum at the end of his life.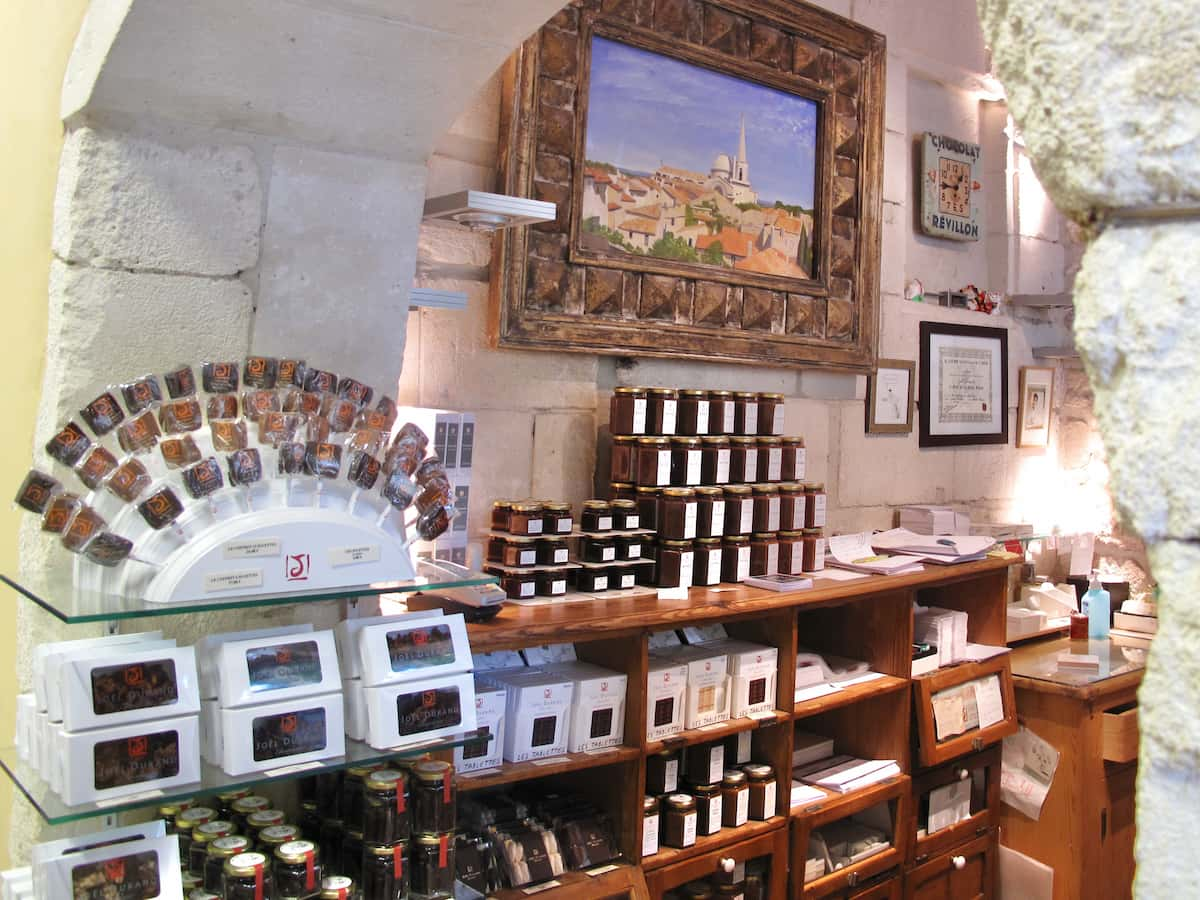 Van Gogh in St Remy de Provence
Did you know that St Remy de Provence is where Van Gogh lived (along with Arles) in the South of France? It's here he spent the last year of his life (May 1889 to May 1890) before ending his life in Auvers-sur-Oise, north of Paris. St Rémy is where he painted Irises and Starry Night while he voluntarily committed himself to the Monastery asylum of Saint-Paul de Mausole after cutting off his ear in Arles.
Vincent was fascinated by the enormous plane trees here; they're dotted all around town, providing welcome shade in the summer heat. There are also Van Gogh boards in key places explaining more about the painter's connection here.
There are no cars in the centre of the town, which makes walking around an extra relaxing pleasure.  Street names are in Provençal, with the town's coat of arms.
Nostradamus - Visionary & Jam Maker
Another famous celebrity seen around St Rémy is Michel Nostradamus, the famous astrologer, apothecary and seer born here in 1503. His world predictions are best known in his publication, Les Propheties, which has rarely been out of print since the first edition came out in 1555.
Did you know, however, according to Larousse Gastronomique, also in 1555, he published an original book filled with recipes? The first half is devoted to perfumes and eaux de senteurs (scented waters). The second half on how to make jams: "Traité à la confection des confitures" made with sugar (a luxury at the time), honey and sweet wines (See my Provençal inspired recipe for Apricot & Lavender Jam). It's also thanks to this book, that Jacques Genin found inspiration for his famous fruit jellies in Paris. For more, see my article on Rue du Bac.
He includes recipes for massepains (tiny marzipan-like confections) like Calissons, candied lemons and oranges, all specialities that continue today at Lilamand Confiserie in St Rémy de Provence.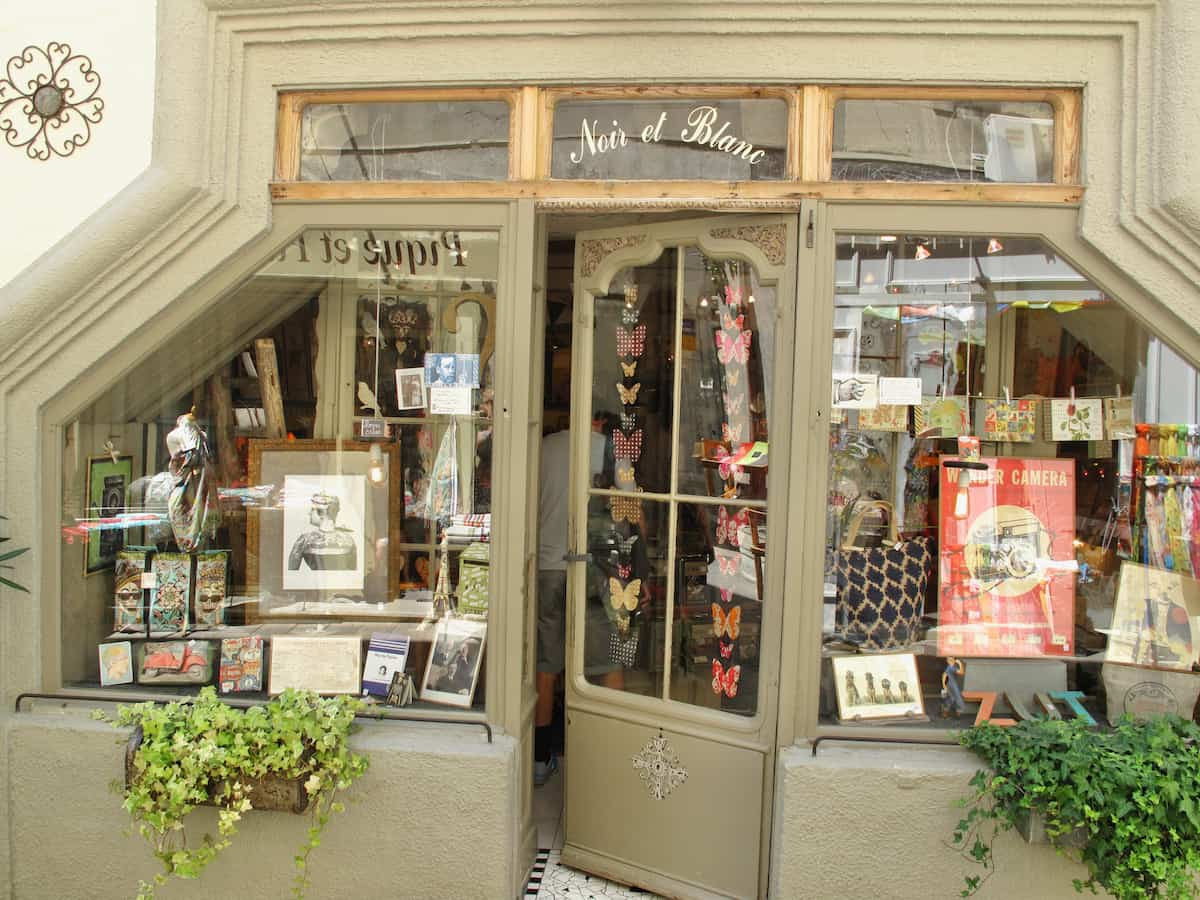 It's a wonderful town to meander past many curiosity shops and restaurants oozing out tempting fragrances of garlic. Each were serving typical provençal dishes with a base of tomatoes, garlic, olive oil. All served with  the local chilled rosé but I digress. I was making for Michel Marshall's pâtisserie in the heart of town.
Michel Marshall Pâtisserie
Michel Marshall's exquisite artistic pastries were disappearing fast. No wonder - this talented pastry chef has worked previously with Pierre Hermé at Ladurée and with Philippe Conticini at Le Pétrossian before eventually opening his own boutique on Place Joseph Hilaire. Michel Marshall is the Van Gogh of Pastry here.
All of his pastries are simply divine with seasonal produce, such as fresh raspberry and strawberry tarts, and roasted figs on top of éclairs in summer. However, at any time of year, try his Paris-Saint-Rémy based on the classic Paris-Brest of chou pastry, a praline cream with hazelnut centre and toasted almonds.
Les Pâtisseries d'Olivier
Oliver Sauvageau is another delicious address on avenue Albin-Gilles in St Rémy. This time with over-sized lemon meringue tarts, giant macarons, mille-feuilles and violet Réligieuses: one bite-sized choux puff placed on top of a bigger one and filled with fragranced pastry cream.
Try his Couronnes des Rois (traditional Provençal version of la Galette des Rois normally served for Epiphany) made with local candied fruit from their neighbours in St Rémy, Confiserie Lilamand.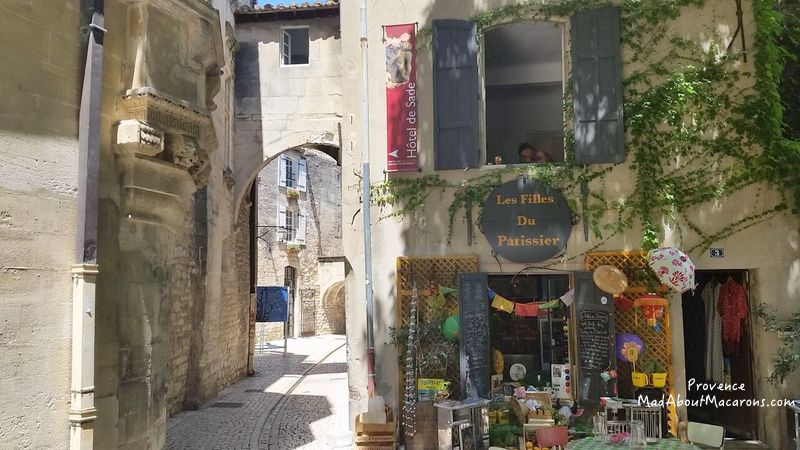 False alert. This gorgeous view wasn't a pâtisserie, but a curiosity boutique called, 'The Pâtissier's Daughters'.
Sounds are also pretty different in Provence.  Above the trickling of the fountains, it's sometimes deafening to hear the cigales rhythmically screeching in the trees. It's time for chocolate!
Joël Durand Chocolate
We were heading to the most exquisite chocolate shop in boulevard Victor-Hugo.  I'd heard of Joël Durand as a chocolatier (seen in La Grande Epicerie in Paris), so when I saw this sign at the entrance of his boutique, I was confused. Parfumeur?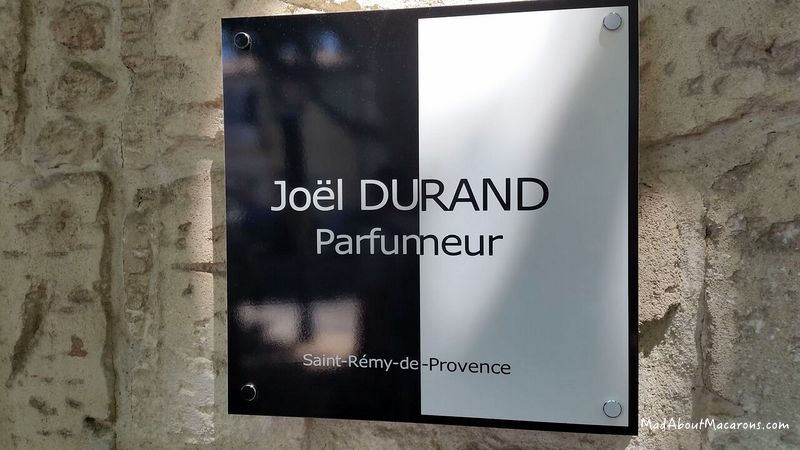 Joël Durand not only makes his signature Chocolate Alphabet (l'Alphabet des Saveurs), in which each letter represents the most delicious concoction of dark or milk chocolate perfumed with spices, provençal herbs, flowers or fruit to name a few, but he also creates a chocolate Eau de Toilette and scented chocolate candles.
His ice creams are also welcome during these soaring summer temperatures. The day's specials were chocolate with violet, white chocolate with mint, chocolate with a liquorice stick.
Joël Durand also honours the local cigales in the form of milk chocolate lavender or dark chocolate with rosemary. I'm also looking forward to tasting his Coriscan cédrat marmalade, salted caramel, plus some vanilla coated almonds on return from our travels but right there on the spot, we tried out a selection of Joël Durand's alphabet chocolates.
Perfect Chocolate Tasting A-Z
Just next door was the perfect solution to have a chocolate tasting: a wine bar (21 Chai d'Oeuvre) with tables in the shade of more plane trees and leafy vines, as we realised the chocolates would melt in a matter of minutes in temperatures approaching 100°F/ 38°C!
A platter of charcuterie and cheeses just hit the spot with some chilled local Equinox rosé wine before tasting a selection of Joël Durand's chocolates from the alphabet.  With V for Violet, we watched our Ps and Qs: P for Provence (almond pralines with black olives from the Baux valley) and Q for Châtaigne (milk chocolate with chestnut liqueur from the Ardèche - or should that be the Q-Ardèche?).
My favourites were G and L: G for Guyane with 41% milk chocolate, crunchy nutmeg and cinnamon with a slight hint of lemon zest; and L for Lavender and 41% milk chocolate.
Y, O, Y didn't I get all the way to Z? I'll try out the rest on my next trip to La Grande Epicerie in Paris.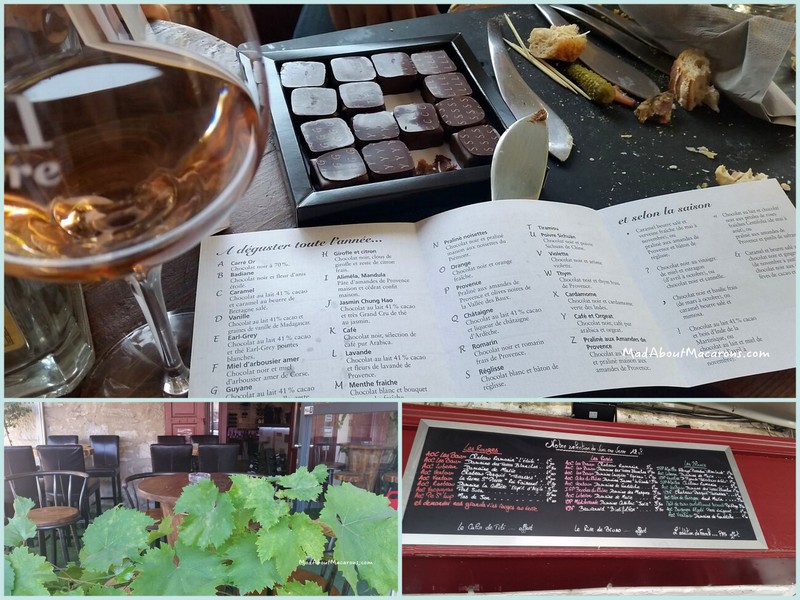 3 boulevard Victor-Hugo
13210 Saint Rémy de Provence
Tel: 04 90 92 38 25
Although this post was first published 19 July 2015 this has now been updated 8 July 2022 to help plan your trip.