A l'Etoile d'Or – meaning "At the Golden Star" – you may just see stars yourself, as Denise Acabo entertains royalty and celebrities when they're in search of France's best chocolate and candy all under one roof in Paris. But the real golden star that shines is Denise Acabo.
Surfacing out of the Paris Blanche metro station, the Moulin Rouge cabaret signals Pigalle, the border between the 9th and 18th arrondissements.
Before being lured up the hill to visit Montmartre, a visit to Denise Acabo's tiny boutique awaits just 5 minutes' walk away in the other direction in the 9th.
Chocolate Shop in Rue Fontaine
A l'Etoile d'Or is tucked away on the left in Rue Fontaine. Together with my curious chocolate-loving French friends from the south, we excitedly study the shop window.
It's filled with cello-taped press reviews since Denise Acabo opened A l'Etoile d'Or in 1993 plus, amongst porcelaine cups and a chocolate pot (moussoir), tempting concoctions of chocolate quotations from famous personalities since chocolate became fashionable; to today's researchers and doctors.
Is Chocolate an Aphrodisiac?
My girlfriends and I gravitate towards the alluring advice pinned by Denise in the window.
It's by Italian Sex Doctor, Salonia Andrea:
"Chocolate is an aphrodisiac; women with a weakness for a daily dose of the black square (of chocolate) have a more and satisfying sex life."
All of a sudden, already in full swing, Paris's Golden Star of Chocolate, Denise Acabo, comes flying outside the door to welcome us inside. She looks ready to dance a Scottish Ceilidh in an extra-long kilt or plaided skirt with cleverly comfy shoes. As David Lebovitz aptly puts it in his "Great Book of Chocolate":
"The sign on the door should read 'Beware of flying pigtails".
Paris Chocolate Golden Star Denise Acabo
No wonder there are so many articles already written about this Parisian star of chocolate. Denise Acabo leads us in, apologising for the loud music and asks her charming assistant to turn the volume down. "I adore listening to music," she confesses. We unanimously urge her to keep it playing as it is.
Hm. Verdi's Requiem. Are we at the Golden Star to experience a form of death by chocolate?
Madame Acabo's Infectious Love for Chocolate
Denise Acabo buzzes around, wondering where to start first, speaking French at 100km an hour (this is when I wish I could compare it to words a minute had I listened to Mum trying to teach me shorthand).
Down-to-earth banter is interspersed with her passion for each chocolate in store and a constant cheeky humour. Don't be fooled by the schoolgirl attire: she isn't shy at using more adult and familiar French words and refreshingly tells us what she thinks.
We're smitten.
Every centimetre of her shop is groaning with French gourmet magazines and books, plus fun facts and anecdotes to accompany her personally selected treasure trove of France's top chocolate and confiserie.
Bernachon trusts only Madame Acabo to sell their exquisite hand-made chocolate (made from scratch, from bean to bar) outside Lyon, and the delights from France's gastronomic capital (read my article here) are well represented with not only their chocolate tablets and filled chocolates, but also les Coussins de Lyon – literally soft velveteen green 'cushions' filled with curaçao liqueur.
It's not just Bernachon: she also stocks Bonnat chocolate bars, Henri Le Roux's famous 'CBS', Caramel au Beurre Salé (salted caramels – more about this in my book, Teatime in Paris) plus Jacques Genin's flavoured soft exotic caramels.
Plaid Chocolate
Madame is proud to tell us she's now 82 years old, adores people and has always sported her plaid uniform look. "Before I used to wear the tartan cravates et tout," she says. "Now I'm a little more décontractée" (relaxed). Is it since she got over the gas explosion in the building and then re-opened in 2015?
We don't even mention it: there's so much to talk about what's in those glass jars of chocolates and bonbons.
French Chocolate Sauternes Raisins & Meryll Streep
She presses some innocent-looking chocolate raisins in our hands.
Silence.
I bite through the outer coating of dark chocolate that crashes into a soft, explosive golden raisin with a warming glow of Christmas. "Oh My God!" my mouth utters, taking me completely by surprise.
"That's exactly what Meryll Streep said!" says Denise and tells us that a princess (whom shall remain anonymous here) picks up her order by the hundred kilo weight.
I was seeing stars with such a light but distinct taste of Sauternes wine coating the mouth, the chocolate not overpowering the flavour.
More Confections
We're already wondering how the sugared violets or rose petals will stand up to the day's walk around Montmartre later – especially as she's gone to all the trouble to accept only the unbroken, perfect petals. She wraps them with bubble wrap and we continue around our walk dreaming of each petal (or crumb?) topped with Champagne.
Denise Acabo takes us back in time with the golden stars such as Louis XIV's favourite barley sugar bonbons, various flavours of Les Anis de Flavigny from Burgundy, traditional oblong iced marzipan Calissons from Aix-en-Provence, soft or hard nougat with toasted nuts, pralines, Amandes de Sicile.
Asked what were her own personal favourites in store, she replies with a simple "I love absolutely everything here, as I've chosen each individual chocolate or bonbon carefully. I only stock what I truly love."
Nobody can sway her gut decisions what are the best products in her opinion.  She tells us she constantly receives chocolate samples and yet only a small fraction of them are accepted into her boutique. Many of them are just awful, she exclaims with wide, sparkly eyes.
Traditional French Cartoon Paper
Look carefully around the shop and you'll see that each and every chocolate and candy is gift-wrapped in special brightly-coloured French cartoon paper. It's collectionable paper that goes back to the end of the 18th Century.
Denise explains that she is the only shop in France that continues this tradition of using les Devinettes d'Épinal and has been using it for 47 years. Update 2021: Alas, since writing this post, these cartoons are no longer produced.
The cartoon-style images are What-am-I guessing games, full of colour. Even different producers of the images approach Denise Acabo, asking her to take on their devinette paper.
"But just look at this," she exclaims, as she takes out a giant, creased and folded cartoon paper. It's sporting far too much white and not enough colour or devinettes.
"Pfah!" and she throws it back into the wooden drawer.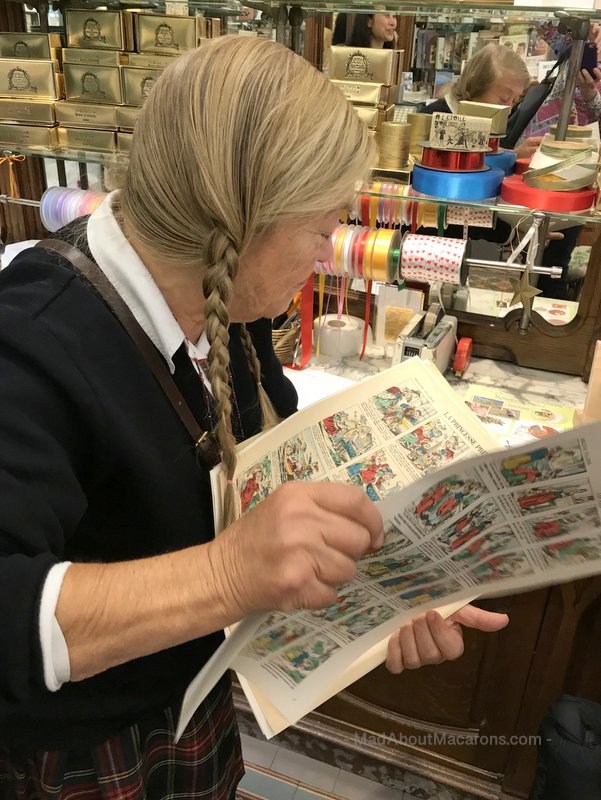 Corsican Candy Specialities
I spy a Corsican corner, eyeing my favourite tastes from my husband's Island of Beauty: jams with Corsican clementines, plus chestnut honey and confiture d'Angélique (angelica jam).
Explaining I'm an ECORSSAISE (she liked that – merci Emmanuelle!), I wonder if she can find a Scottish and Corsican speciality using les Ecorces de Clementines Corse or something?
Whether she's on the case or not, we're steered to the health virtues of angelica, thanks to Monsieur Thonnard who produces the exceptional Angelique de Niort.
We're off again, as she tells us that Angelica is an excellent fortifiant… As early as the middle ages, angelica was given to weaker children to suck on and give them strength.
Did you know that in the 14th century, angelica was grown in Monastery gardens to prevent the plague (la peste), but these days it's also known to help cure respiratory problems and digestive troubles?
Madame Acabo shows us the same healthy angelica beckoning underneath a thin coating of delicious chocolate. We guess she's taking this on a regular basis, with such energy, enthusiasm and character.
Meanwhile, back on the golden stars, my mind and eyes wander to Meryll Streep's favourite Perles de Lorraine (caramel with mirabelle plum liqueur), hoping to bump into her for a rendition of Abba in flares and avoid questions like what it was like to film with Clint Eastwood – or does she wear Prada?
One word of advice: ensure you give yourself time to visit A l'Etoile d'Or, as anything under 20 minutes is just not realistic if you want to discover the stories behind the chocolates and candy – not to mention have the urge to buy most of the shop's contents!
Denise Acabo oozes such contagiously cheerful chocolate-induced endorphins that you'll most likely leave elated and be planning your next trip for a taste of more.
A l'Etoile d'Or
30, rue Pierre Fontaine
75009 Paris
Tel: 01 48 74 59 55
Metro: Blanche (line 2)