À l'Etoile d'Or (meaning "At the Golden Star"), it was the French chocolate institution in Paris. Denise Acabo entertained devoted star celebrities, tourists and locals when they were in search of the best French chocolate and candy in Paris.
We are all sad that Denise has now retired and closed the shop
26 September 2022 after 46 years of business.
However, I am keeping this post as Denise is still a legend in Paris.
I last wrote about this incredible woman in 2018. However, following the nearly disastrous lockdowns over a couple of years, it was a relief to update my news that Denise was welcoming clients again with chocolaterie door wide open when I last saw her in April 2022. Even in spite of back problems, her spirits were still shining.
Chocolaterie in Rue Pierre Fontaine
Not much has changed since before the lockdowns. Surfacing out of the nearby Paris Blanche metro station, the Moulin Rouge cabaret signals the border between the 9th (Pigalle) and 18th (Montmartre) arrondissements.
Before being lured up the hill to visit Montmartre, a visit to Denise Acabo's curiosity chocolaterie awaits just 5 minutes' walk away in the other direction in the 9th. À l'Etoile d'Or is tucked away on the left in Rue Pierre Fontaine with its wooden-panels, dating from 1903.
First study the shop window filled with cello-taped press reviews of À l'Etoile d'Or. Amongst porcelaine cups and a chocolate pot (moussoir) are historical chocolate quotations from famous personalities to today's researchers and doctors. It's all fascinating.
Did you know that just above the shop was one of 3 apartments on the same street where painter Henri Toulouse-Lautrec lived? Lautrec also lived at N°19bis, where Degas had his workshop - although didn't get the chance to exchange with the more illustrious artist at the time.
Is Chocolate an Aphrodisiac?
This question has us gravitating towards the alluring advice pinned by Denise in the window:
"Chocolate is an aphrodisiac; women with a weakness for a daily dose of the black square (of chocolate) have a more and satisfying sex life."

Italian Sex Doctor, Salonia Andrea
All of a sudden, already in full swing, Paris's Golden Star of Chocolate, Denise Acabo, comes flying outside the door to welcome us inside. My French friends are in awe before even going in. She looks ready to dance a Scottish Ceilidh in an extra-long kilt or plaided skirt with cleverly comfy shoes.
"The sign on the door should read 'Beware of flying pigtails".

Great Book of Chocolate by David Lebovitz
A French Play of Music and Chocolate
No wonder there are so many articles written about her. Denise Acabo leads us in, apologising for her usual loud music and asks her charming assistant, Mayumi to turn the volume down. 'I adore listening to music,' she confesses. We unanimously urge her to keep it playing as it is.
Hm. Verdi's Requiem. Are we at the Golden Star to experience a form of death by chocolate, we jest?
She isn't the only one to love music. She is so proud of her family and explains that her granddaughter, Louise Acabo, is a virtuoso piano and harpsichord (clavecin) player in Strasbourg. An article on her winning the international prize in Rouen at only 19 sits pride of place between books and magazines of famous French pâtisserie chefs and chocolatiers.
The Japanese Chocolate-Loving Corner
This time I'm with Lucie, my 19-year old daughter (half Corsican, half Scottish) who is excited to continue her studies in Japan this year. So, before leaving this month, we're here to find ideal French chocolate gifts to take to Lucie's teachers in Kobe. Denise certainly has plenty of France's specialities to choose from.
As if by magic, Mayumi, Denise's only assistant for the past 15 years, is the perfect ambassador for chocolate in Japan. Mayumi is from Kobe and the cherry in the chocolate? She chats away to Lucie in Japanese. While I'm lost, I check out the Japanese corner. It's piled high with Japanese chocolate guides featuring Denise's shop in Paris.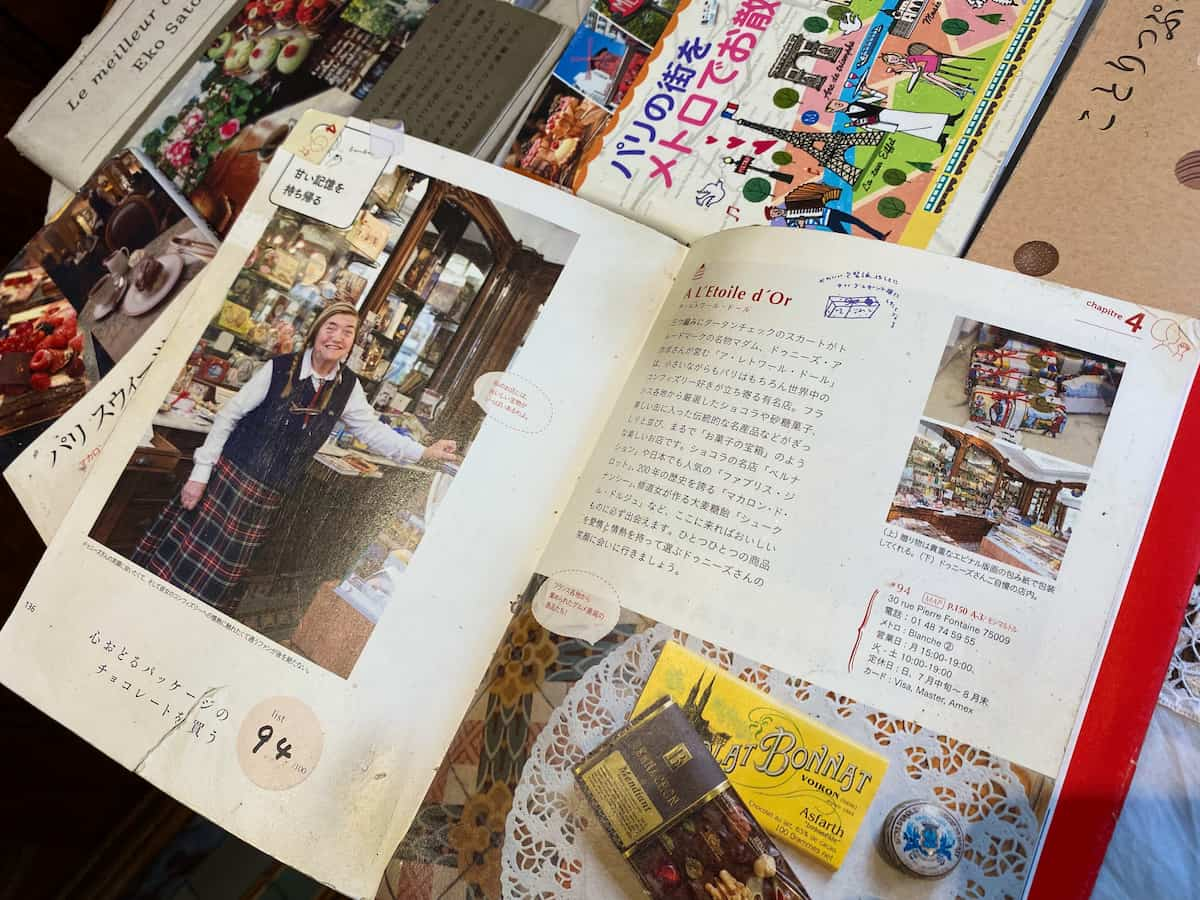 Denise's Background
So where is Denise? She recently put her back out and is suffering in her apartment upstairs. Suddenly the phone rings. It's Denise, who asks Mayumi to send us upstairs to see her. We're speechless. What? Chez elle? What a surprise welcome! She can't bear to miss an opportunity to see clients and speak chocolate.
Things haven't changed much. She still speaks French at 100km an hour and this time talks more of her background, while sitting on her bed - assorted with her sunshine yellow outfit. This is when I feel a film starting on her life as she tells us the story.
She was born in Tunisia in 1936 to Italian parents. Her mother was a busy chef from Piemonte, sending her to be brought up by nuns for most of her childhood until 1958, when the war in Algeria made them urgently move to Bordeaux, France. It's there in Bordeaux she marries an Italian she met in Tunis, father to her two children, Martine and Pierre, who have just taken her to the doc about her back. Her voice wavers, talking about her husband's tragic car accident in the 1970s and how she was hurt too. It's in 1976 she buys the shop.
'See that chair downstairs? Michou, known as the Blue Prince and Parisian cabaret director, spent hours sitting there on that cushion. We'd discuss everything', she says fondly. He died in 2020 and that chair and his signed photos are cherished like so many of the memorabilia on show.
Despite being in pain with her back, she insists on showing us the historical building behind her apartment. 'It was frequented by Napoleon III and Empress Eugénie and also Alexandre Dumas', she beams.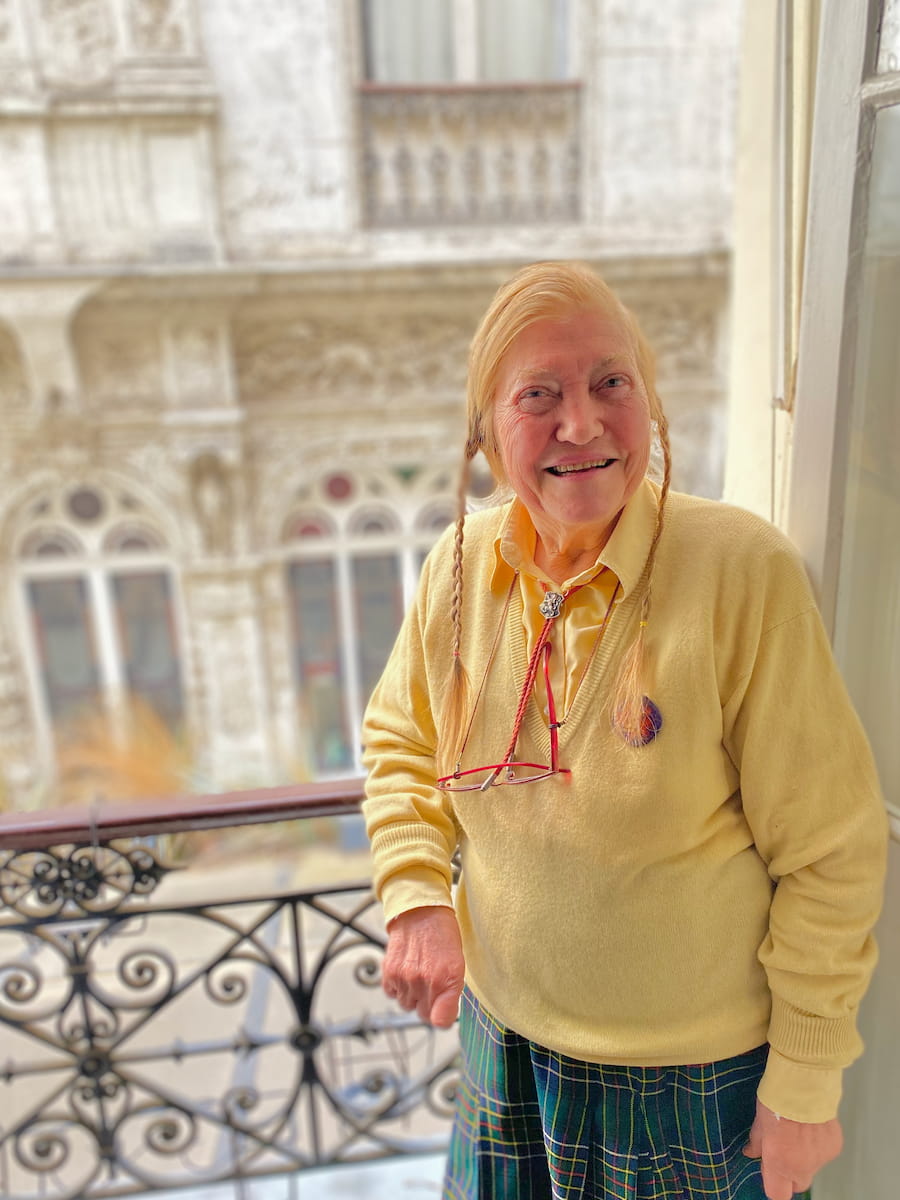 Denise Acabo's Passion For Chocolate
Down-to-earth banter and refreshing cheeky humour is interspersed with her passion for each chocolate and candy. Even outside her shop, she's still there. Lucie is now completely smitten too.
'Did you take the Santa Lucia clementines?' We're proud to confirm that these half candied chocolate clementines are in the bag. 'And the Berger bar of Corsican Clementine? It's difficult to find - c'est vraiment une délice'. Oops-a-daisy. We didn't add that one but will do on going back downstairs. Zut. I somehow feel we've failed the chocolate connaisseur test.
Bernachon trusts only Madame Acabo to sell their exquisite hand-made chocolate outside Lyon (made from scratch, from bean to bar), and the delights from France's gastronomic capital of Lyon are well represented with not only their chocolate tablets and filled chocolates, but also les Coussins de Lyon - literally soft velveteen green 'cushions' filled with curaçao liqueur.
It's not just Bernachon: she also stocks Bonnat chocolate bars, Henri Le Roux's famous 'CBS', Caramel au Beurre Salé (more about it in my recipe for salted caramel sauce) plus Jacques Genin's soft exotic caramels.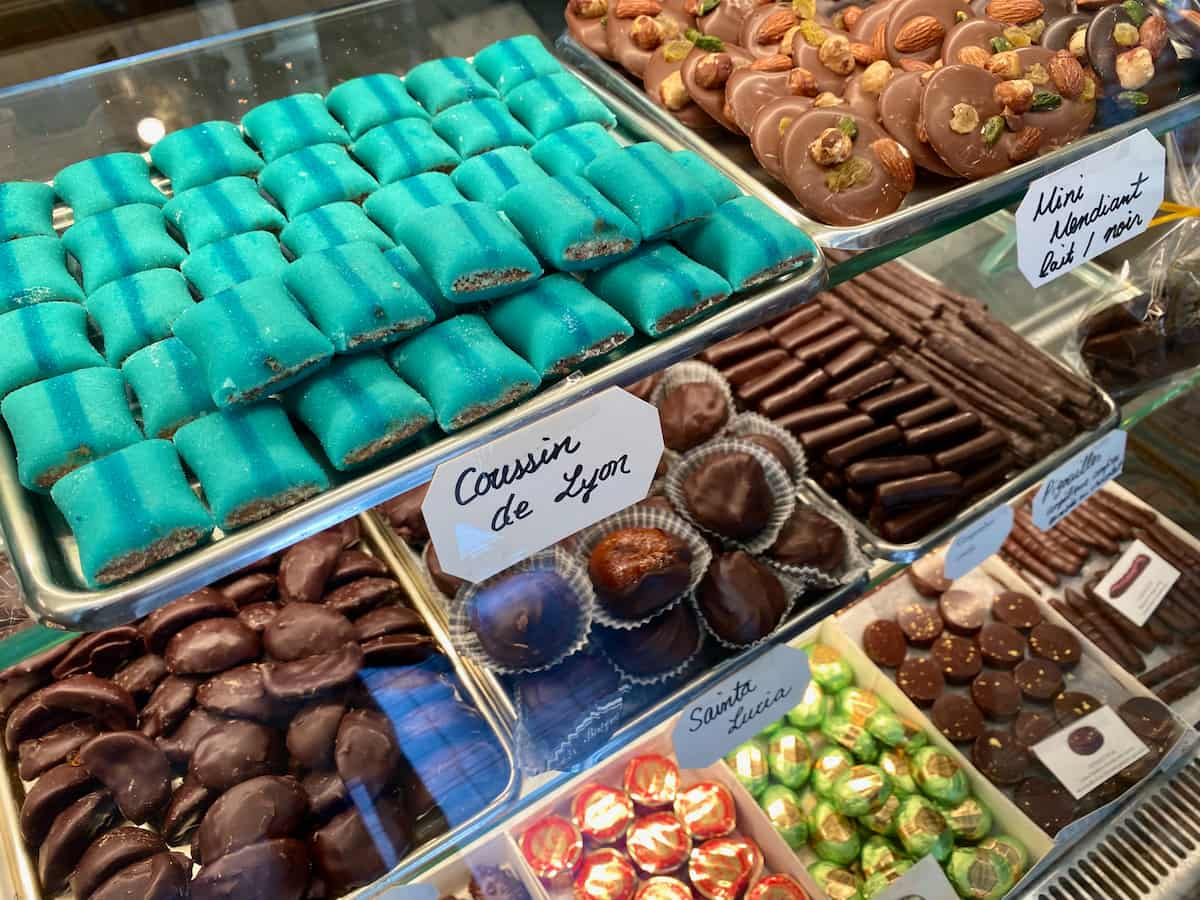 A Dose of Chocolate A Day
Even at 86 in April 2022, Madame Acabo has no intention of retiring. 'This shop is my life. I live to come downstairs to the shop, to see old and new customers and tell them all about France's incredible chocolate. It was horrible during lockdown. Nobody was around and nobody was eating chocolate. Today I'm blessed to be here and see clients again.'
She adores people and has always sported her plaid uniform look. 'Before I used to wear the tartan cravates et tout,' she says. 'Now I'm a little more décontractée' (relaxed). Is it since she got over the gas explosion in the building and then re-opened in 2015? She describes in sheer disbelief how she miraculously avoids a wall falling on top of her as mirrors explose around her. 'I thought I was going to die.'
Let's talk about something lighter. Denise keeps her youth by taking her daily dose of 5 chocolate disks (palets) each morning, much like Queen Marie-Antoinette did in the days when chocolate was provided and prescribed by pharmacists. Today it's medicine indeed. Avec modération, bien sûr.
French Chocolate Sauternes Raisins & Meryll Streep
As we'd stocked up on the packs of raisins, it reminds me of the last time. She had pressed some innocent-looking chocolate raisins in our hands.
Silence. As I bite through the outer coating of dark chocolate, it crashes into a soft, explosive golden raisin with a warming glow of Christmas. "Oh My God!" my mouth utters, taking me completely by surprise.
'That's exactly what Meryll Streep said!' enthuses Denise and tells us that a princess (whom shall remain anonymous) used to pick up her order of them by the hundred kilo weight.
I see stars with such a delicate, distinct taste of Sauternes wine coating the mouth, the chocolate not overpowering the flavour. These are meant to be eaten one by one, as they are particularly special - known as les Raisin Dorés® from La Maison Verdier. I wonder if that's how the boutique got it's name?
Traditional Royal French Confections
She carries tradition by stocking Louis XIV's favourite barley sugar bonbons, various flavours of Les Anis de Flavigny from Burgundy (read about these on my article on Dijon), traditional oblong iced marzipan Calissons from Aix-en-Provence, soft or hard nougat with toasted nuts, pralines, Amandes de Sicile. Love Champagne with something different? Add one of the sugared violets or rose petals.
Asked what were her own personal favourites in store, she replies with a simple, 'I love absolutely everything here, as I've chosen each individual chocolate or bonbon carefully. I only stock what I truly believe to be the best.'
Nobody can sway Denise's gut decisions what are the best products. She constantly receives chocolate samples and yet only a small fraction of them are accepted into her boutique. 'Many of them are just awful, to put it mildly.' she exclaims with wide, sparkly eyes.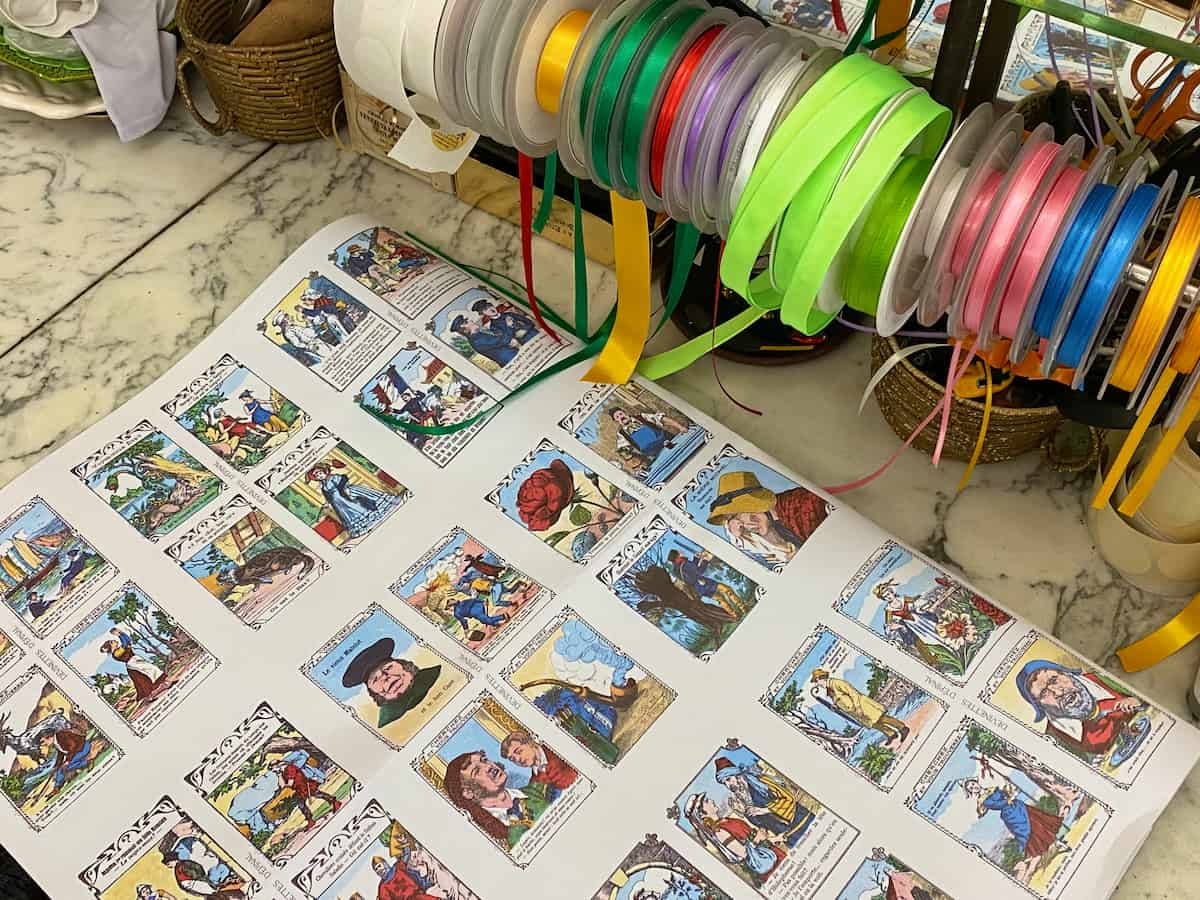 Traditional French Cartoons, Devinettes d'Épinal
Look carefully around the shop and you'll see that some chocolate and candy is gift-wrapped in special brightly-coloured French cartoon paper. It's a collector's paper from the end of the 19th Century. The cartoon-style images are 'What-am-I?' guessing games that can be turned upside down and are in full colour.
Denise explains that she is the only shop in France that continues this tradition of using les Devinettes d'Épinal and has been using it for 50 years. Alas, since 2019, these cartoons are no longer produced but she continues to have them printed especially for the shop.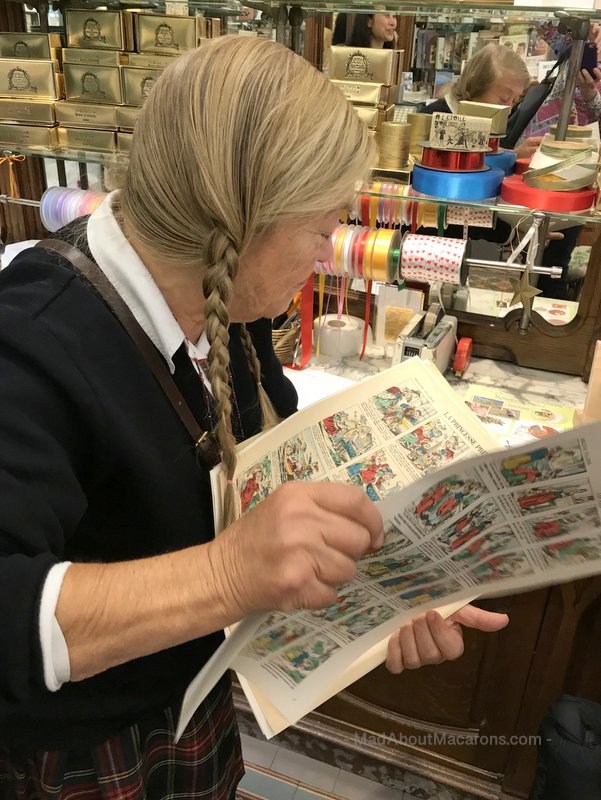 Corsican Candy Specialities
There's also a Corsican corner, eyeing my favourite tastes from my husband's Island of Beauty: jams with Corsican clementines, plus chestnut honey and confiture d'Angélique (angelica jam).
We're steered to the health virtues of angelica, thanks to Monsieur Thonnard who produces the exceptional Angelique de Niort.
Angelica's Strengthening Properties
Her notes explain that Angelica is an excellent fortifiant... As early as the middle ages, angelica was given to weaker children to suck on and give them strength.
Did you know that in the 14th century, angelica was grown in Monastery gardens to prevent the plague (la peste), but these days it's also known to help cure respiratory problems and digestive troubles? I love these previous images of Denise in full action.
Madame Acabo shows us the same healthy angelica beckoning underneath a thin coating of delicious chocolate. We guess she's taking this on a regular basis, with such energy, enthusiasm and character.
Meanwhile, back on the golden stars, my mind and eyes wander to Meryll Streep's favourite Perles de Lorraine (caramel with mirabelle plum liqueur), hoping to bump into her for a rendition of Abba in flares and avoid questions like what it was like to film with Clint Eastwood - or does she wear Prada?
Ensure you give yourself time to visit A l'Etoile d'Or, as anything under 20 minutes is just not realistic if you want to discover the stories behind the chocolates and candy - not to mention have the urge to buy most of the shop's contents!
Denise Acabo oozes such contagiously cheerful chocolate-induced endorphins that you'll most likely leave elated and be planning your next trip for a taste of more. Moreover, the good news is her back is so much better.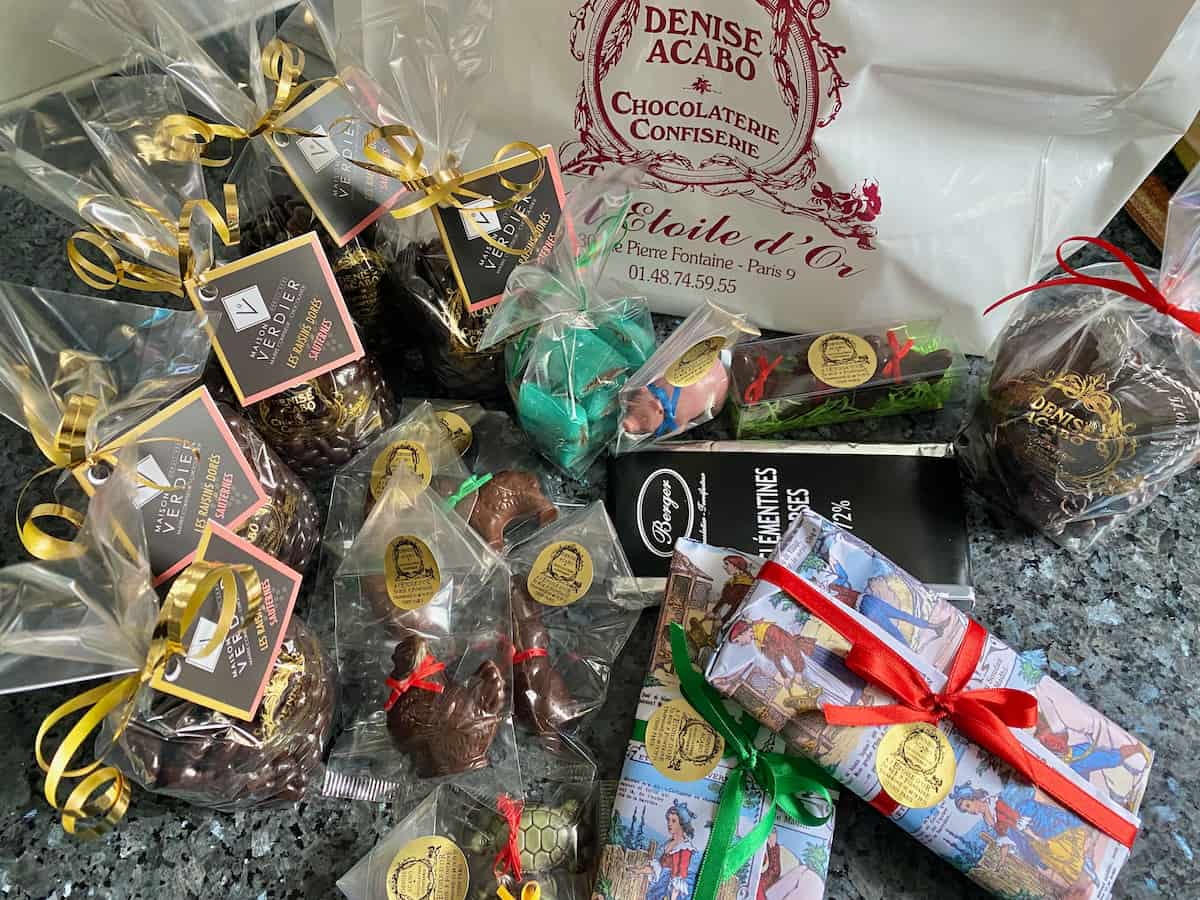 Madame Acabo didn't see what we bought in her shop, so she'll be happy to see that we did get many of her favourites, which will no doubt be appreciated in Japan. Here's to Denise and her contagious enthusiasm for all things chocolate and candy!
À l'Etoile d'Or is now sadly closed. However, for the best artisanal French traditional candies, see the best Candy Shops in Paris.
This post was first published 12 October 2018 but is now updated with her latest news and additional new images. Even in September 2022 with the shop closed, I'm keeping this post as Denise Acabo has been such a legend to promote the best artisanal French chocolate.