Three puzzled faces stared as I announced Lyon as our destination. While most French families take off to the ski slopes in the February mid-term school holidays, we chose our destination centred around food - driving 4 hours south of Paris to discover the best value gourmet Lyon in 3 days.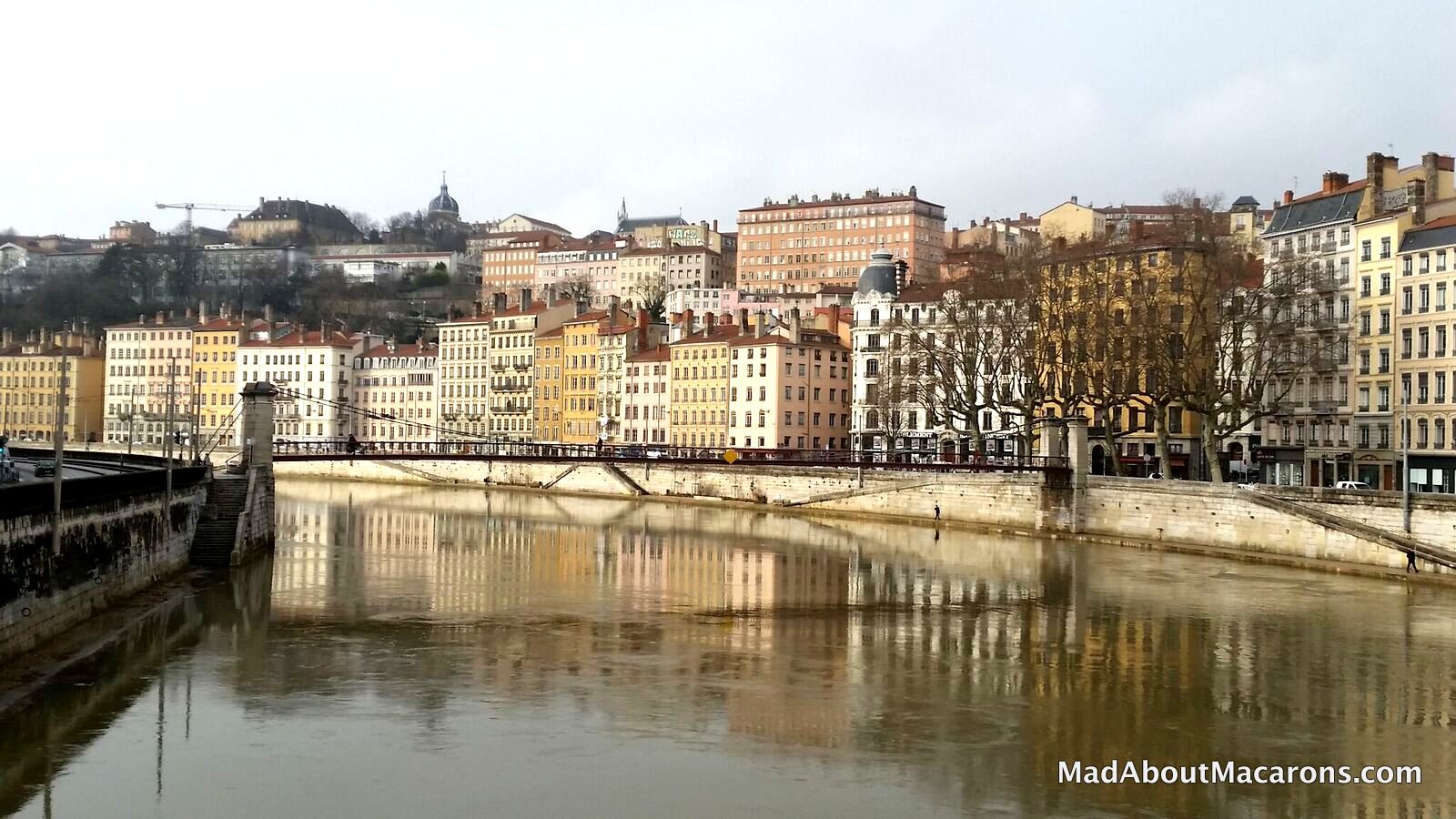 Why Lyon?
Why Lyon? It may be the third largest city in France after Paris and Marseille but since 1930, it continues to earn its reputation as THE French Capital of gastronomy.
Ever since the Romans originally settled here in 43BC (known as Lugdunam until the Middle Ages), Lyon has been a strategic crossroads between the North and South of Europe. Built around the Rhône and Saône rivers, it's almost squashed together with its tall buildings to compensate for the two imposing Fourvière and Croix-Rousse hills. Historical echoes of commerce ring throughout the City, as we imagine crammed sailing boats vying for trades in wine, spices and especially local silk fabrics, an industry that has flourished since the 15th Century.
Old Lyon
We started with a visit to the Medieval Vieux Lyon, on the Rive Gauche (left bank), made up of Saint Georges, Saint Jean, and Saint Paul. Directly under the towering Fourvière Basilica, on a beautiful clear day the panoramic view of the city is (literally) breathtaking after the climb to the top.  As Lyon's Wintery February met us with wind and rain, we'll leave that for our next visit. Museums were our answer, such as the Musée Miniature et Cinéma which shows props, realistic miniatures and special effects; and the Guignol Workshop Theatre, which not only highlights Lyon as the birthplace in 1808 of the Guignol puppets (much like Punch & Judy) but Damien Wels is the only Meilleur Ouvrier de France (best craftsman) in this domaine as sculptor and puppet-maker.
What are Traboules?
If you're like me and fascinated by historical French doors, you're in for a treat. Behind many of them are secret passageways, called Traboules. The Traboules in Lyon are unique in the world and date back to the Renaissance. Coming from the Latin for "passing through", there are 350 of these secret narrow passages in the city. They were created as direct paths for the local silk workers (les Canuts) to transport their fabrics protected from the rain - so to avoid weaving in and out (sorry, can never resist an opportunity for a terrible pun) between their workshops and the crowded streets.
Like any of the locals, our friend, Jean-Paul who owns a gorgeous little gift shop in Rue Saint Jean, is familiar with the traboules. There are 24 of them in Rue Saint Jean alone! He led us to Number 7 as a short-cut to get to our restaurant that night: instead of walking around a couple of maze-like streets, we were directly led to Number 7 right on the Quai Romain Rolland.
It was our first experience of trabouling - yes, apparently it's a French verb, to Traboule: so, j'ai traboulé! Avez-vous traboulez?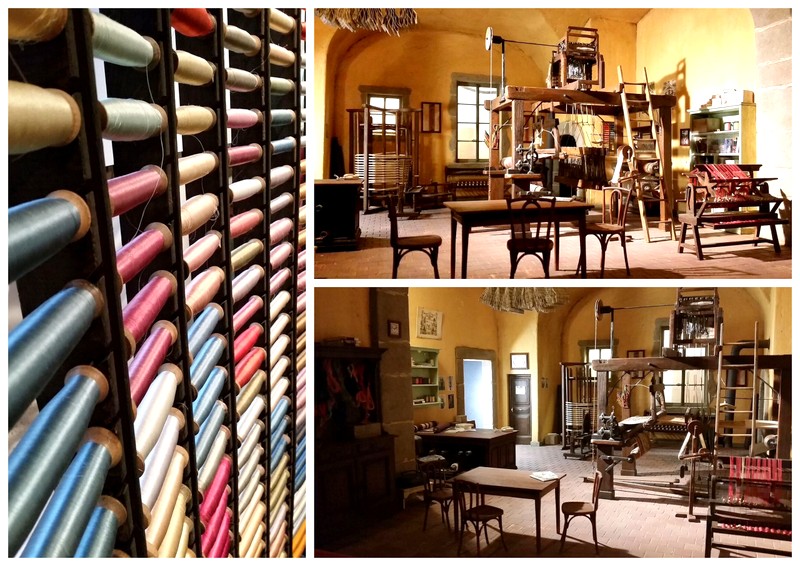 A History of Silk
For a better idea of Lyon's main industry, we headed up the "hill that worked" of the Croix-Rousse to visit the silk weavers' museum. The Maison des Canuts (rue d'Ivry) demonstrates how silk was made using Jacquard looms and depicts the deplorable living and working conditions (the workplace was also their living quarters), leading to many uprisings from the 1830s, also penned in Hugo's "Les Misérables".
To get to the museum, we walked from our hotel - assured by Antoine that it was "just up the road". Up was the word, bracing the steep pente or hill of La Montée de la Rochette to the Croix-Rousse plateau (note the lovely word plateau when you get to the top!)  If you have a step-tracking app or bracelet, you'll be proud of such a condensed 10-minute climb to merit a taste of the local specialities!
The good news is that there are plenty of wonderful bakeries in the neighbourhood to satisfy your savoury or sweet tooth. There are so many, I've written a separate post, on Lyon's patisseries.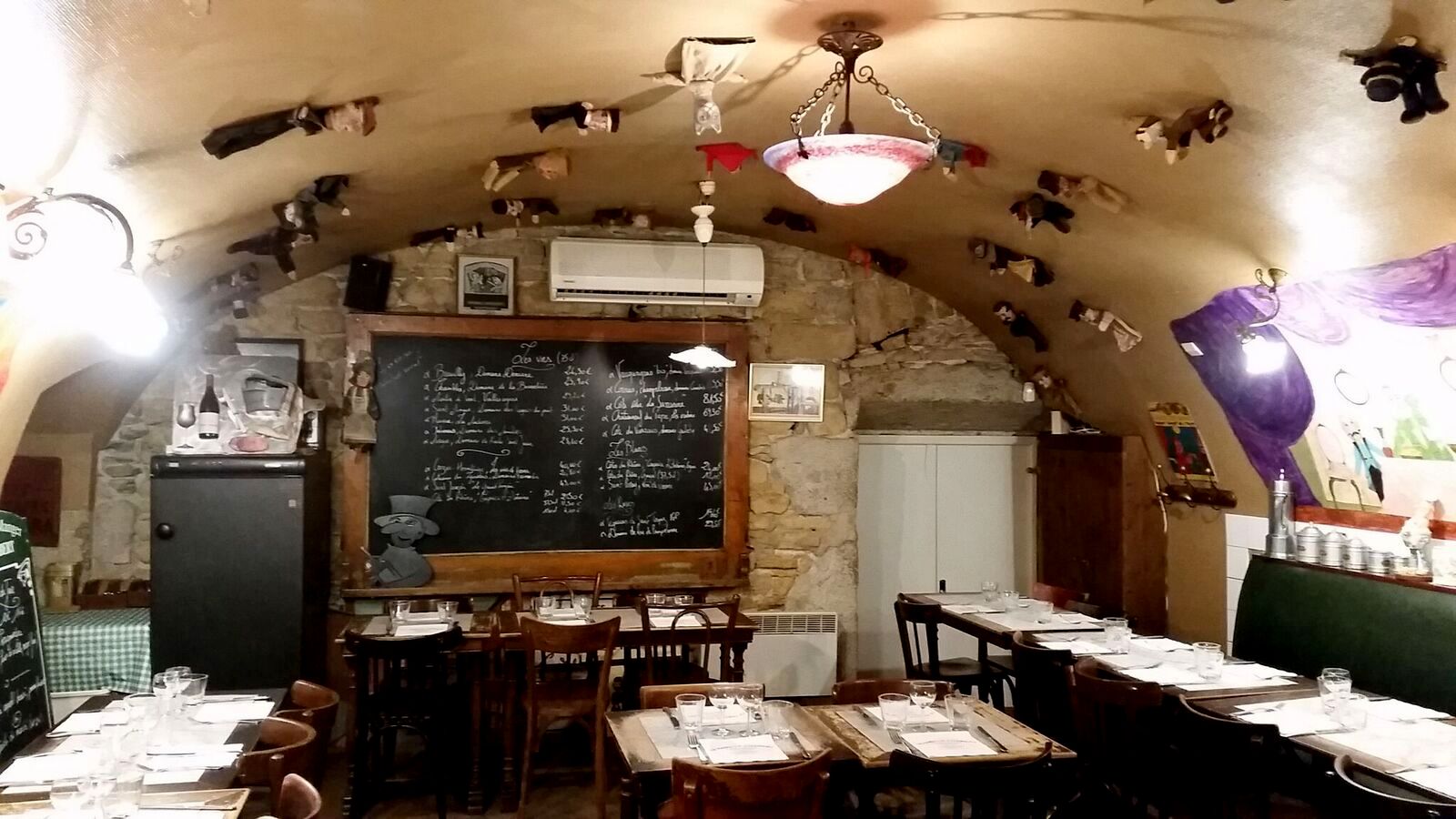 What are the Bouchons Lyonnais?
Most important are Lyon's restaurants, of which the lively Bouchons Lyonnais are famous worldwide for the local cuisine and friendly ambience. Catering initially to the early-rising exhausted silk workers with a Mâchon Lyonnaise (8-10am) around a hearty pre-lunch meal mainly of tripe, the bouchons arrived thanks to the Mères Lyonnaises in the early 20th Century. These strong-willed "mothers" created their own restaurants or bouchons serving "simple yet refined" cuisine at a time when the bourgeois families they worked for could no longer afford to keep them, especially after World War I.
La Mère Fillioux was the first to gain a reputation for her cooking; La Mère Brazier went on later to learn Mme Fillioux's culinary tricks, popularising her Poularde de Bresse Demi-Deuil (truffles lined under the chicken skin). Mère Brazier then opened a second restaurant, passing on her tricks to a certain legendary Lyonnais chef Paul Bocuse. Moreover, in 1933 she was the first woman to be awarded THREE Michelin stars - and simultaneously for both restaurants!
A traditional bouchon is a cosy, welcoming home-from-home, almost as if sitting in someone's own dining room filled with memorabilia, trinkets - many decorated with Guignol puppets. Wine is good quality, even if served in simple pots (small bottles) with mainly Beaujolais or Côtes du Rhône.  The food is real terroir (local cooking from-the-land) using quality products.  If you love pork and bacon, you're in for a bonus treat.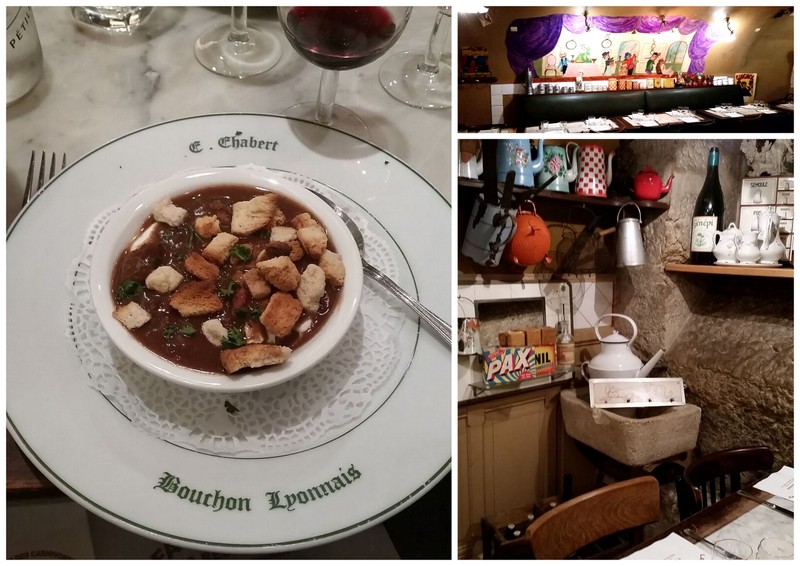 On my previous trip to Lyon, I headed for Chez Hugon. This time we tried out two more  - of which Chabert & Fils (11 rue des Marronniers; open on Mondays) was our favourite: a real down-to-earth, jolly evening around an popular, typical kind of menu.
Typical Bouchon Menu
What's a typical Bouchon Menu? Expect a bowl of grattons, fried and seasoned pork fat with your apéritif drink (take this as a warning, as this is rather an acquired taste!)
Typical entrées (first course, starter) include saucisson sausages or the popular sausisson brioché with salad (lettuce leaves), Salade Lyonnaise (lettuce, bacon, croutons and more); I pounced on my absolute local Bourgogne favourite Oeufs en Meurette (photo above: poached eggs cooked in Burgundy red wine, onions and topped with croutons).
The most typical main dish (plat) is the Quenelle, formed into a sausage shape but made with bread and either chicken or veal, but the most proposed is the Quenelle de Brochet, made of pike and served in a Nantua sauce.  It looks pretty dense but you'll be surprised how airy it is.
Dessert usually comes in some kind of pink form, with Pralines Roses as main feature: from Tarte aux Pralines, with a sticky pink garniture of pralines roses melted with cream. But the real classics that were served by the Mères Lyonnais were good old French tarte aux pommes, île flottante (floating meringue in vanilla custard), and a boozy Rum Baba - even if this was invented by Stohrer in Paris but when booze is concerned, I'm not complaining.
Best Value Gourmet Lyon Bistros
Lyon's traditional bouchons aren't the only great restaurants in town. There are many discrete Michelin-starred establishments around, with Paul Bocuse the ultimate star.  This time we wanted to try smaller bistro-style addresses with up-and-coming young chefs. These are excellent value for money - but note that they offer LIMITED CHOICE MENUS. Smaller menus are perhaps not suited for particularly fussy eaters but it's fun to try dishes you wouldn't normally think of ordering, if you're open to new tastes and ideas.
Do remember we were only here for 3 days and so we need to return to try out more to complete the list!
Le Jean-Moulin (22 rue Gentil, Lyon)
Young chef Grégoire Baratier was awarded "Les Toques Blanches Lyonnaises 2017" amongst an impressive line-up of around 50 like-minded creative chefs and Meilleurs Ouvriers de France just in Lyon alone. Although he learned the ropes from local chefs such as Paul Bocuse and Anne-Sophie Pic, his cuisine bursts with his own personal style.
Seating is limited to a cosy 40 covers so booking is essential. I went for the 29 euro evening menu of starter, main and dessert - although confess to stealing tasting part of Antoine's beautiful local Marcellin fromage plate too from his 4-course menu. A helpful bonus was an accompanying list of allergens of each menu item. Don't miss the signature dessert: an iced vin jaune parfait, topped with crackling brûlée and surrounded by a light cèpe mousse. Yes, you heard me, mushrooms for dessert? Don't worry, it's so subtle yet intriguing.
Arsenic (132 rue Pierre Corneille, Lyon) didn't initially convince us by its name, somehow.  We were imagining all sorts of weird and wonderful dangerous potions appearing at the table, smoking through bowls under some molecular gastronomy spell.
Instead, Arsenic is more of a concept that highlights the latest talents of young chefs making waves in Lyon's gourmet world. Having gone through the ranks with Christian Têtedoie (Meilleur Ouvrier de France - another great restaurant with a view of Lyon from the top of the hill), we loved the surprising dishes from Benjamin Milliard when we visited - even the amuse-bouche of cauliflower and Jerusalem artichokes was sublime.  Cod and pear? Why not? He pairs them both beautifully too. With a great wine list, there's some good value for money treats too.
Les Halles de Lyon Paul Bocuse
This was our last stop to stock up the car with local goodies before our drive back to Paris. There are 40 markets in Lyon but you can't come to the gastronomic French capital without a visit to Les Halles de Lyon - Paul Bocuse.
It's the crème de la crème of best producers under one roof,  highlighting local specialities from charcuterie, pâtés, poulet Bresse free-range chickens, and rows and rows of cheese; freshwater fish and quenelles; to chocolate, bonbons and patisseries from the finest Lyonnais pastry chefs and chocolate makers. Don't despair if you don't have room to bring anything home: stop for a bite at one of the welcoming stalls for a plate of oysters or quenelles.
Where to Stay in Lyon?
We stayed at the Hotel Metropole. Although many reviews say that it's a bit out of town (Caluire-et-Cuir), we found it so easy just to jump on a 40 bus that whisks you into the centre of town (Bellecour) in about 15 minutes. Tickets can be purchased directly from the driver or better still, buy a carnet of tickets at any metro station in the centre of town.
By renting a couple of studios for 2, we purposely didn't have breakfast at the hotel, so we were free agents to organise breakfast with Lyon's traditional pastries and sweet treats from Lyon's best bakeries and pastry shops.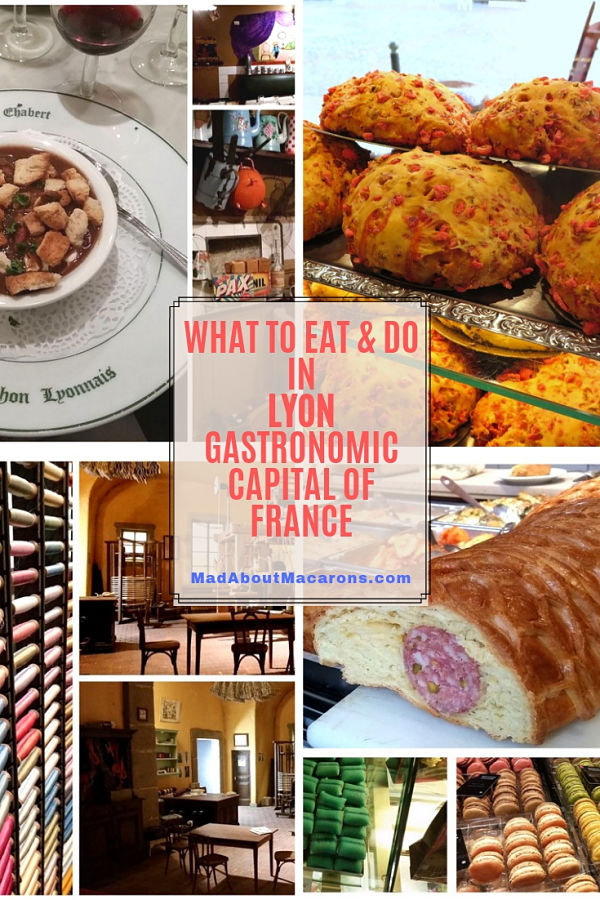 ---
This post was not sponsored in any way. After writing this earlier this year, a UK magazine wanted to publish it this Autumn but has not gone to print since my images were not good enough, taken on a simple telephone. So, here it is finally for you to enjoy free on le blog, without the glossy fancy images.