Who has a packet of semolina sitting in the pantry? It's just waiting to be transformed into a delicious family classic dessert, French Semolina Cake (Gâteau de semoule) served chilled and topped with caramel.
French Inspiration
If you have less glamorous memories of semolina pudding, then put them aside and make this! Moreover, if you have some jam handy, just dribble over a few spoonfuls of warmed jam for the ultimate comfort pudding – more ideas below.
How many of us earmark a recipe book and put it aside thinking, "I must make that one day"…?  The time came this week when that pack of semolina jumped out at me as I was tidying out the pantry, taking stock of what we actually had.
Turning to page 283 of Bernard and Dominique Loiseau's recipe book, 'Cuisine en Famille', I always fancied the look of this Gâteau de Semoule – even if there are no pictures.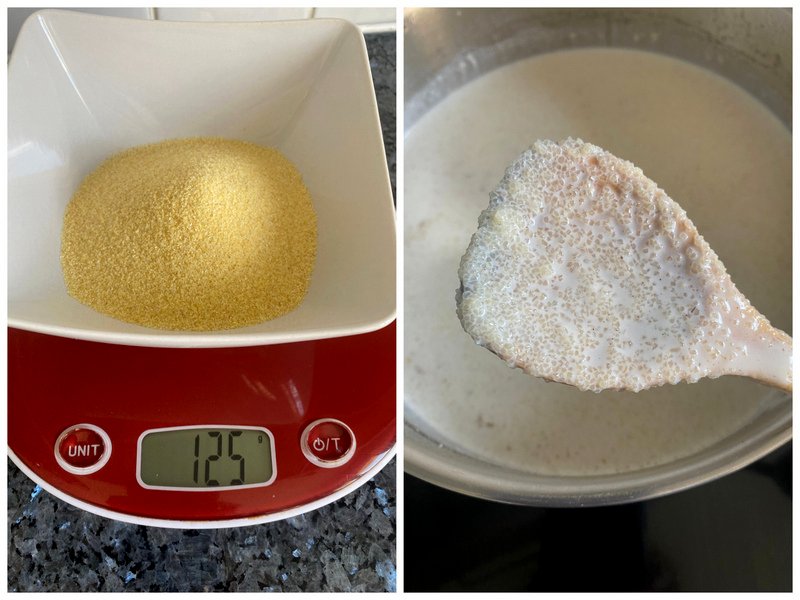 As stated in the book, there's no need to make the caramel. Just dribble over some warmed  homemade jam or a fruit coulis.
Semolina Pudding vs Semolina Cake
How many of you remember hot Semolina Pudding from the 1970s and 1980s? While some don't consider them fond memories, I do. Delicious family memories of Mum and Dad serving this as one of our most comforting winter desserts, as my brother and I were growing up in Scotland.  We'd enjoy it scalding hot in large, purple-rimmed bowls with a blob of strawberry jam on top.
Sheer Bliss.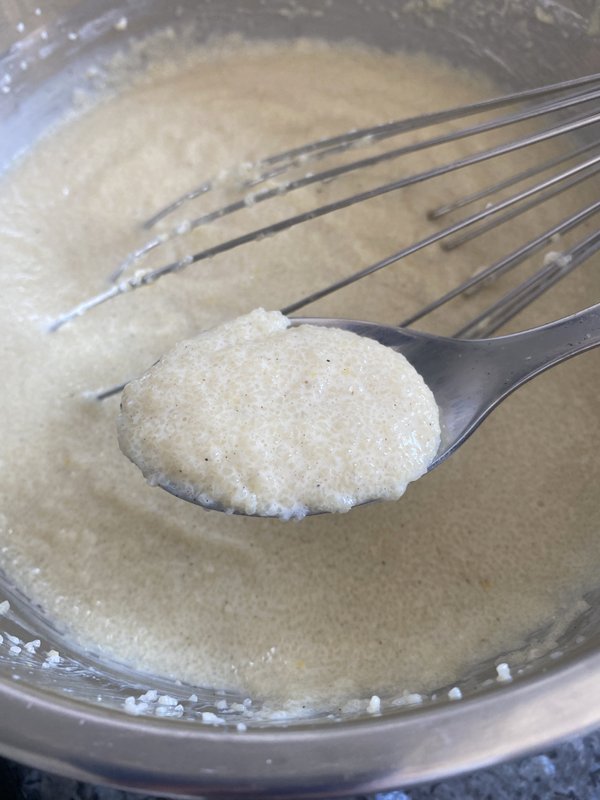 At this point in the recipe – before even adding the eggs – I leaned in for a taste. Semolina pudding; my Madeleine de Proust. Happy memory taste indeed but this time it doesn't stop there!
Even without that jam, I couldn't help myself from taking a spoon, then another spoon, a larger spoon – until I had to stop to continue this recipe! Needless to say – at this point you could serve the semolina pudding just like this, without the rest of the recipe.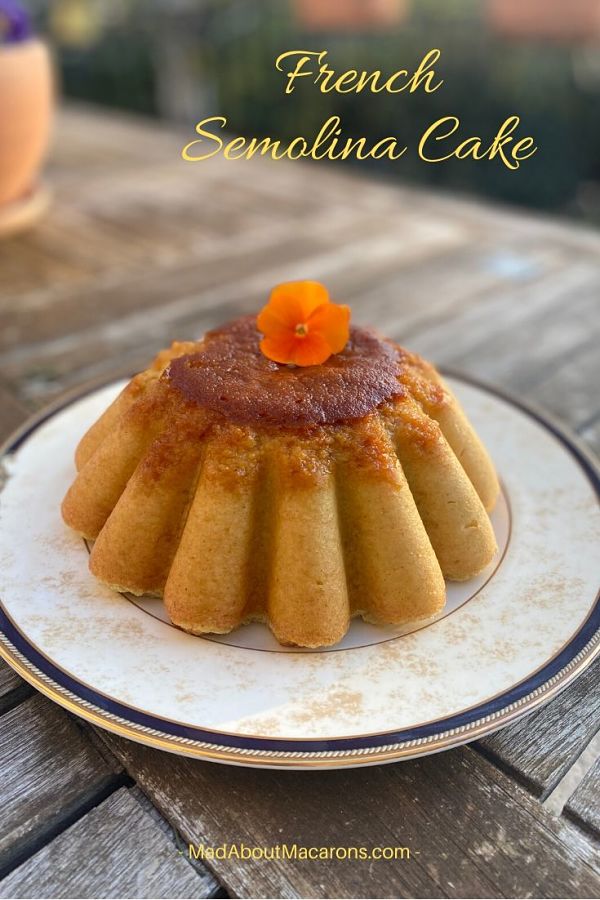 So, to continue – I made it! Willpower can be tough.
NOTE: if you don't have fresh milk, UHT milk is ideal – or any other nutty or oat milks of your choice. Likewise, no vanilla? Grate in the zest of an orange.
Just whisk together the sugar and 2 egg yolks until light and creamy then add to the hot, creamy semolina.
For Caramel Lovers
Meanwhile, caramel lovers prepare the bubbling caramel.  It's rather therapeutic to watch it bubble for a few minutes until it turns beautifully brown and the smell wafts around the kitchen. Pour the caramel immediately into a non-stick cake mould of your choice.
I used a fluted brioche mould, turned upside down to resemble a large jelly mould. I can just imagine it as being the shape of a dessert that Alexandre Dumas would have created in his demure up the road from us in Port-Marly, at his residence of the Château de Monte Cristo.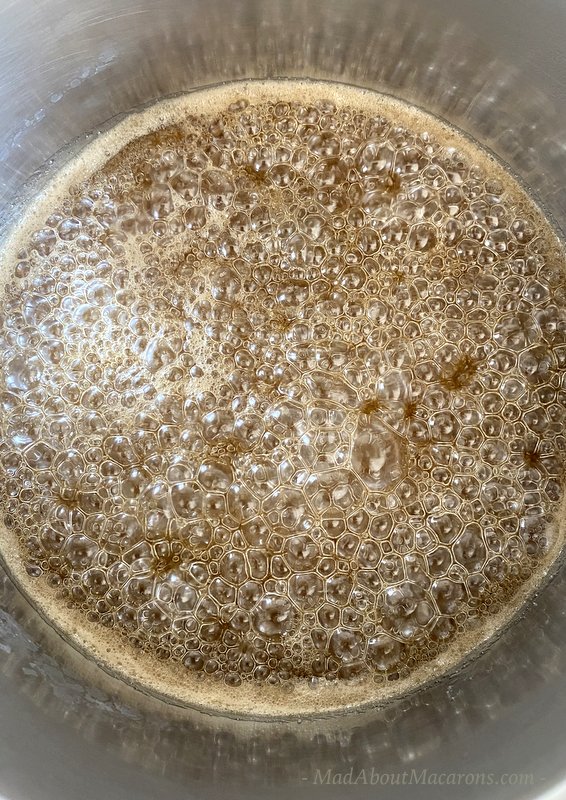 Whisk up the egg whites, adding to the semolina then pour on top of the caramel and bake. Leave to cool then upturn the mould on to a serving plate.
How to Serve French Semolina Cake
French Semolina Cake is best served chilled or at room temperature.
Dessert Topping Ideas
Here are some ideas for toppings:
Top with fresh or tinned fruit and/or with a fruit coulis sauce. (The good news is that fruit coulis sauces have a long shelf life and so it's handy to keep in store);
Warmed jam or marmalade of your choice;
Chilled Crème Anglaise, thin French custard sauce. See my recipe for a spiced Chai Tea Crème Anglaise sauce;
Fried apples in vanilla sugar and butter (thanks, Martyn!):
Roasted rhubarb: roast chunks in orange juice with a sprinkling of sugar in 180°C/160°C fan oven for 10 minutes;
Spoon over this refreshing rhubarb & hibiscus (or ginger) compote;
Antoine thinks this looks like a French 'Flamby', so why not flambée with Grand Marnier and orange juice or rum? Let's make a festive pudding out of it!
French Semolina Cake (Gâteau de Semoule)
French Semolina Cake (Gâteau de Semoule)
---
Description
Our family favourite adapted by Bernard Loiseau's recipe: semolina pudding given a French cake makeover, topped with caramel and served with fruit coulis, fresh (or tinned) fruit or just a topping of warmed jam for the best comfort dessert
Ingredients
1

litre (1.75 pints)

Milk

(or your milk of choice)

125

g (4.5oz)

Semolina

fine or medium

1

vanilla pod/bean

Cut horizontally (or 1/2 tsp vanilla powder/extract)

1

tbsp

orange blossom water

(optional)

2

organic eggs

(separated)

110

g (4oz)

sugar
Caramel
150

g (5.5oz)

sugar

3

tbsp

water
Instructions
Cook the Semolina:
In a large saucepan, boil the milk with the vanilla pod or extract (plus orange blossom water, if using). Rain in the semolina and stir constantly with a wooden spoon until thickened for about 10 minutes.

If using a vanilla pod, remove it to scrape out the seeds and add them back into the milk (discard the rest of the pod)

At this point the semolina pudding can be eaten hot with a spoonful of jam. However, to carry on with the recipe - in a large bowl, whisk together the 2 egg yolks with the sugar until light and creamy. Add the hot semolina to this mixture and whisk or stir until well combined. Set aside to cool and stir now and again to prevent a skin forming.
Caramel:
Meanwhile, prepare the caramel by placing the sugar and water in a saucepan over a medium heat. Once boiling, leave it to bubble without touching it and keep an eye on it for about 5 minutes. The caramel should turn brown and smell beautifully of caramel. Take it off the heat immediately and pour into the bottom of the mould.
Cook the Semolina Cake:
Preheat the oven to 200°C/180°C fan/400°F/Gas 6

Whisk the egg whites separately in another bowl using either an electric hand whisk or stand mixer. Stir into the semolina mixture until well combined.

Pour into the mould over the caramel and bake for 25-30 minutes, covered with aluminium. Leave to cool on the counter then upturn the mould on to a serving plate.
Notes
Serve either chilled or at room temperature with either a topping of fresh (or tinned) fruit, fruit coulis (sauce) or warmed jam of your choice. Also good with a chilled Crème Anglaise sauce. Perfect for dessert but also good for breakfast.
Alternatively, grate in the zest of an unwaxed orange or lemon to replace the vanilla, adding to the milk at the beginning of cooking.
Jill Colonna
MadAboutMacarons.com