Ever wondered how to cook monkfish? Then cook up this easy recipe for classic French monkfish stew: cooked in tomatoes, garlic, onions, white wine, Cognac and served with rice. Perfect for entertaining, it's deliciously healthy and easy to prepare in advance. No bones about it!
Although monkfish is popular in France, this recipe also works well with any other white meaty fish such as Mahi- Mahi.
French Monkfish stew is a classic and often served on special occasions, as it uses top ingredients yet is so easy to make for entertaining. However, it's known in France as both Lotte à L'Américaine and Lotte à L'Armoricaine - although refers to the same dish. I'll tell you why below.
I love this easy monkfish recipe and each time I make it, the family ask why we don't have it more often. That's coming from my eldest daughter who doesn't even like white fish!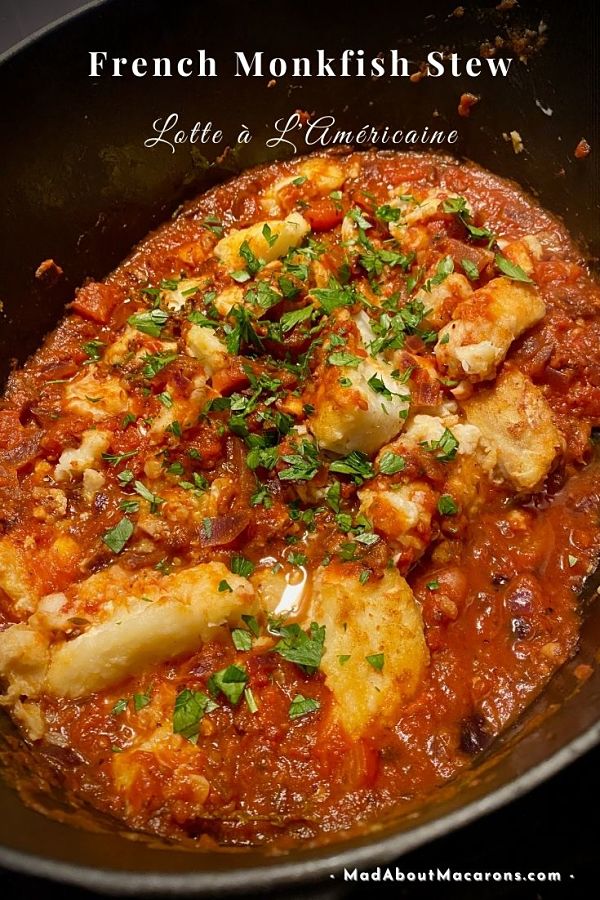 A Popular French Fish Stew For Special Occasions
When first starting out in Paris in 1992, I remember being bowled over by this dish cooked by Antoine's friends. It's a regional speciality of Brittany: a chic yet simple French Monkfish stew, Lotte à l'Armoricaine is cooked in white wine, garlic, onions and tomatoes with that extra French touch of being flambéed with Cognac.
It was the first time we were served fish for the main course at a French dinner and boy, did it leave a delicious mark on me. The fish was firm and tasty and somehow the fish hadn't disintegrated into the sauce. It was so good, that I eventually managed to persuade them to tell me the recipe and, over the years, I've made it in this way. I add more garlic and a hint of Cayenne pepper to give it that intriguing and subtle kick.
I often read in French cookbooks that the best way to serve monkfish is either roasted or grilled. However, served as this popular classic French monkfish stew, you'll discover just how a simple fish dish can be taken to another level.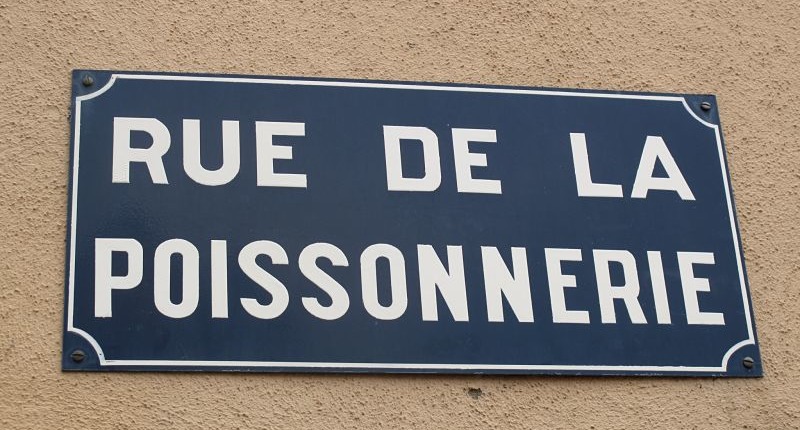 Lotte à L'Américaine or Lotte à L'Armoricaine?
Later, I discovered this monkfish dish on some Parisian restaurant menus as Lotte à l'Américaine. Had they made a mistake? No. In our French gourmet dictionary, Larousse Gastronomique, it has another French name for this dish: Lotte à L'Américaine.
Both names refer to the SAME dish, although the Breton Armoricaine version adds a touch of crème fraîche at the end of cooking.
Let me tell you the story of the two names, although it's a bit rough around the edges and can't find any more on the subject.
The sauce à l'Armoricaine is a traditional French recipe from coastal Brittany where it is most commonly prepared with shellfish, or used to flavour firm white-fleshed fish such as La Lotte or Monkfish– otherwise known as poor man's lobster.
The story dates back to the end of the 19th century when it was created by French chef Pierre Fraisse, originally from Sète who had returned to Paris from working in the USA. A group of clients arrived in his restaurant, Peter's, and he realised all he had was tomorrow's lobster: so he rustled up a lobster dish in a tomato sauce, reminiscent of his native South with Breton overtones. When prompted for the name of the recipe, he called it Lobster - with an American Sauce.
Monkfish: No Small Bones
Monkfish, or la lotte in French, is one of the most popular fish in France. It's normally presented on our fish stalls without the ugly head - I've rarely seen it here hence I have no photos but if you look it up, you'll see it's a specimen that would be the bad guy in a film like Nemo! Hence why it's also known as "sea-devil" (diable de mer) or "frog-fish" (crapaud).
How many times have you been served fish and you're trying to filter out the bones in your mouth while juggling polite chit-chat at the table?
Once the large central bone is removed, there are NO OTHER BONES in sight - making it perfect to serve for special occasions.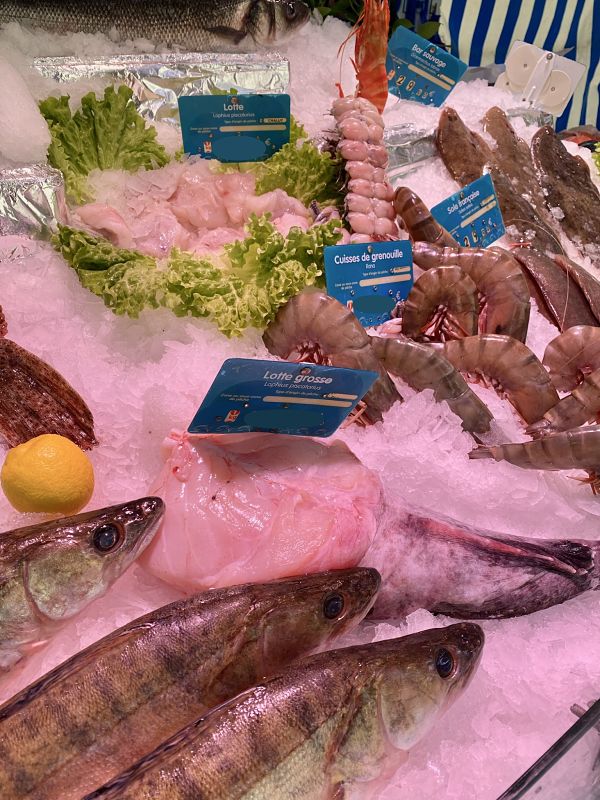 Does Monkfish Taste Like Lobster?
The monkfish taste is also around its texture. All the monkfish meat is in the tail (queue de lotte) and I say 'meat' as it's a firm, 'meaty' fish. Also referred to as "Poor Man's Lobster", monkfish does indeed taste like lobster, as it has quite a sweet taste to it.
Moreover, monkfish is cheaper than lobster and to top it, there's no need to crush claws or wear bibs at the table!
Monkfish - Perfect for Cooking
My daughter, Julie, says it outright. She just doesn't like fish, especially white fish and yet will eat monkfish - only if done this way with such a delicious, thick tomato sauce. What's more, it's healthy too.
Monkfish is perfect to cook in a stew as it doesn't break up during cooking (as long as you follow the instructions below). The secret is to remove the fish after initially browning it on all sides. Take it off the heat and keep aside while making the sauce.
Add the fish back in to the pot 10 minutes before the end of cooking. That way the fish is beautifully cooked. As fish is quite expensive, I like to respect it: overcooking will just turn the fish medallions into bullets, so please don't leave the fish to cook all during the recipe.
Do I Need to Make Fish Stock?
I used to make a fish stock for this recipe but over time I have become rather lazy and honestly don't see a difference in flavour with this version. See video demonstration for Monkfish stew for details.
If you really want to make your own fish stock, ask your fishmonger for the skin and bone to be packaged separately to make your own fish stock (see note below).
Fish Stock Tip: as you're leaving the fish stock to cool, tell anyone lurking around the kitchen what it is: the first time I made this as a student, my Dad poured my precious hard-worked fish stock down the sink thinking it was dirty water! Another reason why I don't bother today!  See the recipe below.

Jill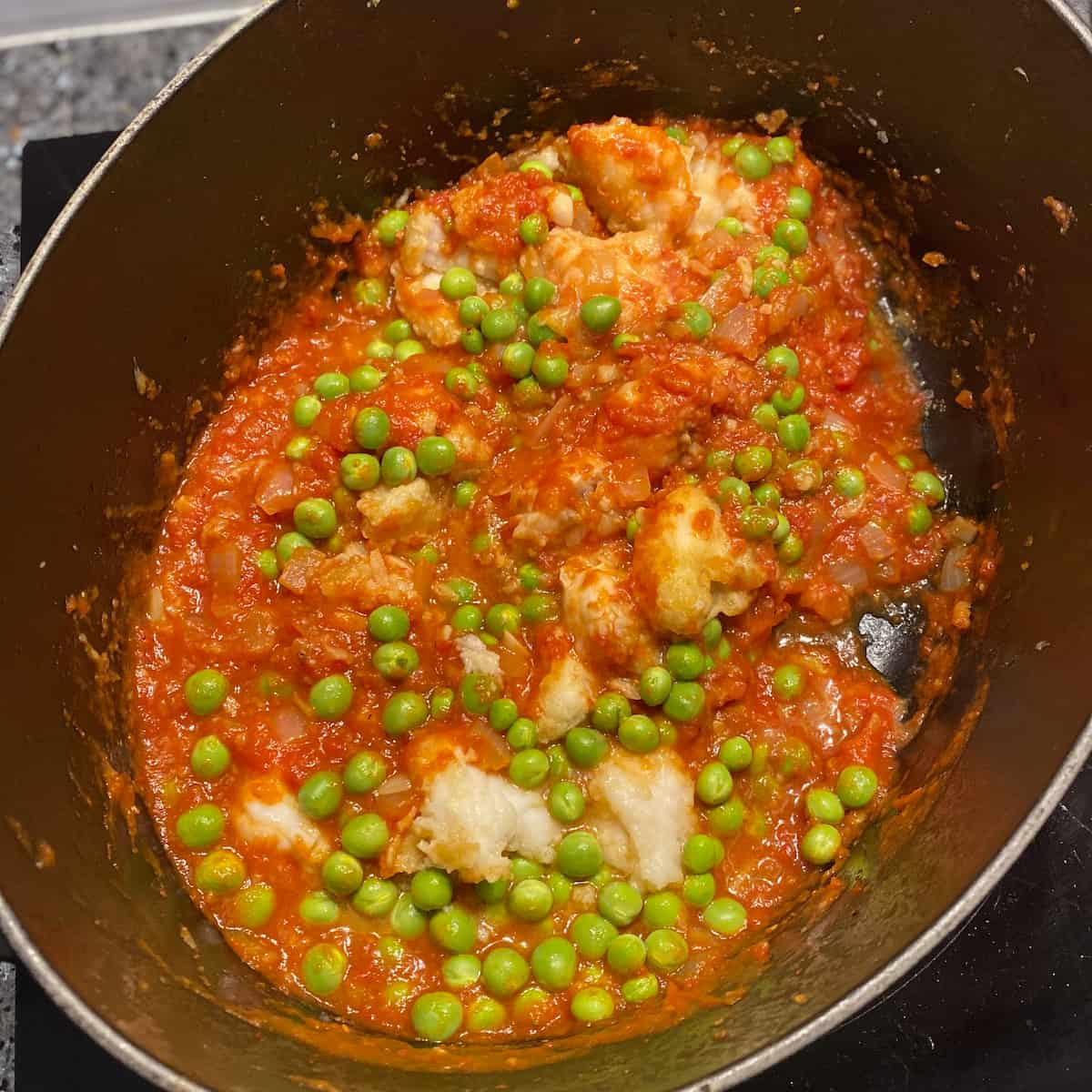 How To Serve French Monkfish Stew
Whether dishing this up for family or for a dinner party, I love to serve this directly from the cooking pot at the table.
Serve with fluffy rice and green beans; for stress-free entertaining, I prepare the green beans in advance until just cooked, then plunge into chilled water (to stop the cooking process) then drain and keep aside until ready to serve.  At the last minute, I sauté the beans (haricots vert) in olive oil with finely chopped garlic and fresh parsley.
This dish is also perfect for serving outdoors. Serve with a chilled rosé and plenty of laughter with lively conversation.
Looking for another stew with seafood? Try a Californian Cioppino Italian-American Seafood Stew (at Christina's Cucina).
Monkfish Stew on Video
(Lotte à L'Américaine/Armoricaine)
For more easy dishes that we make 'en famille', see our family's favourite Classic French dishes.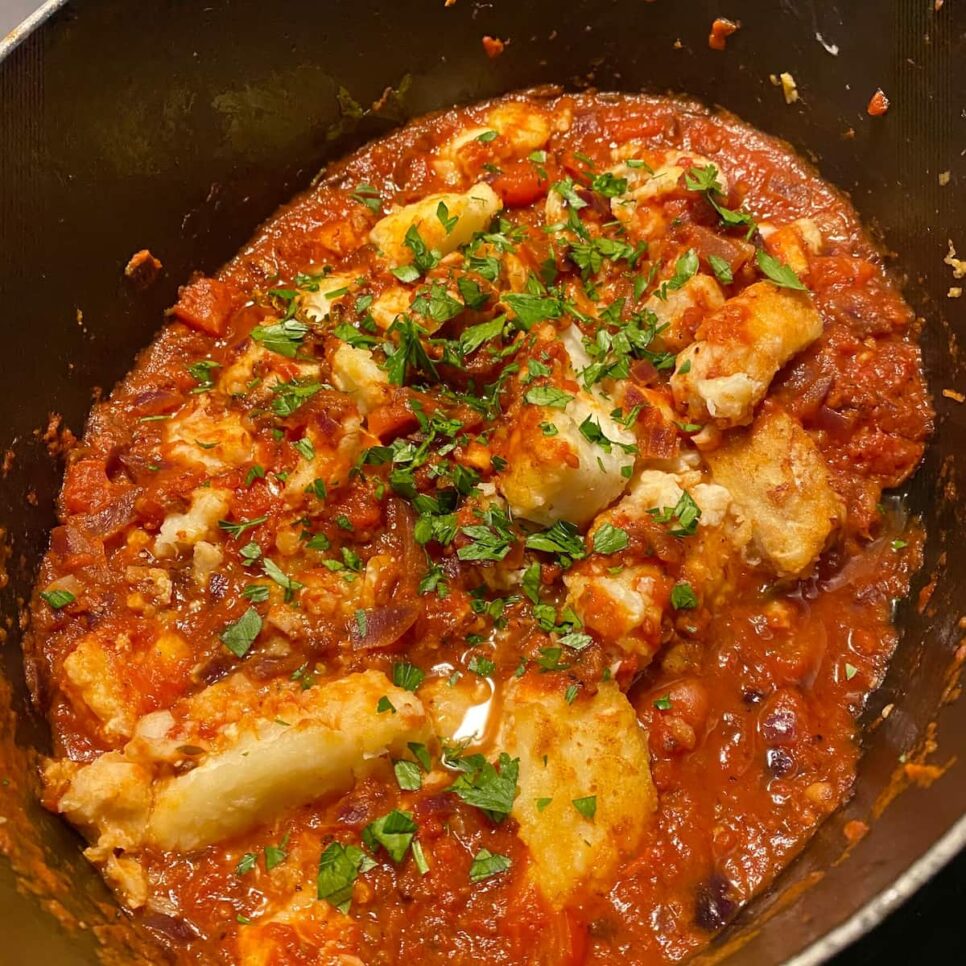 French Monkfish Stew (Lotte à L'Américaine/Armoricaine)
A healthy classic French fish recipe (works well with Mahi-Mahi or other meaty white fish) cooked in tomatoes, garlic, onions, white wine, Cognac and served with rice - an easy make-ahead dish for special occasions.
Ingredients
2

kg (5lb)

Large monkfish tail fillets

(Mahi-Mahi or other meaty white fish)

4

tablespoon

plain flour

50

g (2oz)

butter

(unsalted)

4

tablespoon

olive oil

4

tablespoon

Cognac

(if no Cognac, use Whisky)

3

cloves

garlic

finely chopped

1

large

onion

finely chopped

1

can (400g)

peeled tomatoes

(good quality Italian)

3

tablespoon

tomato purée

(concentrate)

400

ml (14 floz)

white wine

¼

teaspoon

Cayenne pepper

2

bay leaves

1

branch

fresh thyme

2

tablespoon

fresh parsley

finely chopped

salt/pepper

to taste

2

tablespoon

crème fraîche

(optional)
Instructions
Cut the monkfish tail fillets into large medallion chunks.

Coat the fish lightly in the flour on a large plate.Heat the butter and olive oil in a heavy-based crockpot (dutch oven) and once slightly bubbling, add the fish. Lightly brown on all sides then add the Cognac. Take the pan off the heat and flambé off the alcohol (consequently if you're worried about doing this, just add it into the pan and boil it off).

Using a large spoon, place the fish medallions aside on a plate along with their juices.

Meanwhile, in the same pan, gently fry the onion & garlic back on the heat in a little olive oil until translucent, then add the tomato, purée, wine, cayenne, bay leaves, thyme and pour in the juices from the removed fish.

Bring to a boil then leave to simmer and reduce (uncovered) for about 30 minutes.

Return the fish to the pot and heat through for just a further 10 minutes but be careful not to cook for much longer, otherwise the fish will turn into bullets!

Add the fresh parsley and a few turns of the salt and pepper mills to taste and, if using, stir in the crème fraîche.
Notes
To Serve: enjoy with fragrant rice, fresh green beans and extra parsley.
Although authentic with monkfish, other meaty fish such as mahi-mahi can be used.
*I used to make this with fish stock but now just drain the juices from the removed fish (see VIDEO demonstration for Lotte à L'Armoricaine)
For purists who prefer with homemade fish stock, here's an express recipe: Put the skin and fish bone in a large pan with a carrot, onion, fennel bulb, 2 bay leaves, sprig of thyme, 5 peppercorns and add just enough water to cover. Boil, remove any scum, then cover and simmer for 20 minutes. Strain and cool.
Wine Matches: a fruity and sunny ample white such as Crozes Hermitage, Meursault, Savennières or Alsace Riesling; or a rosé such as Bandol, Côtes de Provence; or a red Sancerre.
Nutritional Information: 488 Calories per serving; 64g protein, 13g lipids.
Have you made this recipe and enjoy it? Please leave a rated review below - it means so much to have your support.
This recipe was originally published on 19 July 2016. Now updated to include a printable recipe card, a video and more about the history of this French dish.