Historic tour of the Shangri-La Palace Hotel Paris, followed by a light French-Asian lunch with dessert at the Bauhinia restaurant that also does a wonderful afternoon tea on weekends.
When I heard about the sublime Teatime at the Shangri-La in Paris, I knew it would be special - but I had no idea just how interesting a tour of the historical side of the palace would be too.
It's much more than just a hot-spot for photographers on Instagram, getting the perfect shot with a balcony view on the Eiffel Tower. Originally built in 1896 for Prince Roland Bonaparte, known as the Palais d'Iéna, this French Historical Monument is worth a visit in itself. Let me give you a tour to whet your appetite followed by lunch at La Bahuinia restaurant with a taste of dessert and their teatime pastries.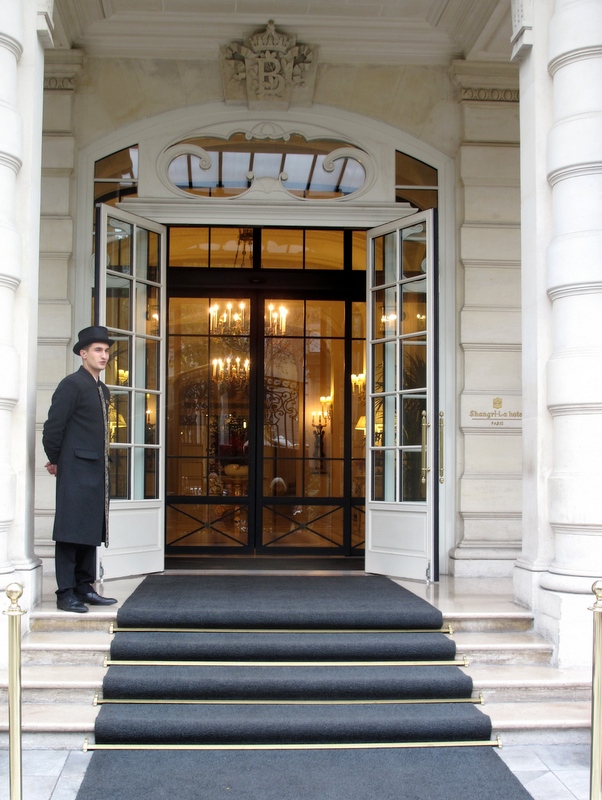 Parisian Palace Renovations
As soon as you walk into the welcoming lobby of the Shangri-La Hotel, it's evident that it's one of the most elegant Palace hotels in Paris. It was a palace. Step back to 1896 when Prince Roland Bonaparte (1858-1924), the grand-nephew of Napoleon Bonaparte, moved in to his residential home, the Palais d'Iéna after four years of construction.
Today, thanks to the Shangri-La Hotel - who bought the palace from the French Centre of Foreign Trade in 2006 (it previously belonged to the Suez Canal Bank Company from 1925 amongst others) - the palace opened in 2010 after a mammoth four-year renovation project respecting its French heritage and, since 2009, much of the building is listed as a National Historical Monument.
Chantilly Inspired French Staircase
The Palace retains its mix of 17th and 19th century eclectic styles plus is given a clever, contemporary luxury feel with all the comforts of a modern Palace hotel.
It's no coincidence that the main grand Staircase of Honour looks so regal: it was designed by the Moreau brothers of the Château de Chantilly. The bronze statue of a child holding a torch leads us upstairs to the residential salons.
On the first floor with its giant reception rooms, the original marble continues throughout, as does renovated, original wooden flooring and stained glass.
Grand Salon, Shangri-La Paris
The impressive main reception or banquet space is the Grand Salon, decorated in Louis XIV style. Across the landing is yet another terrace looking over at the Eiffel Tower. It's enough incentive to get married again, even to the same husband!
This trumeaux mirror reflects yet another mirror which previously framed a large portrait of Prince Roland's Grand Uncle, Napoleon I (his brother was Roland's grandfather, Lucien Bonaparte).
Bonaparte Family's Signs and Symbols
Imperial signs of Prince Roland are reminders of the Bonapartes, with eagles and bees of the first and later second empire in the architecture throughout the palace.
Look out for golden bees around the Chimneys - and you'll see them flying around many lush curtains and other furnishings. Incidentally, Josephine Bonaparte had silks with bees in her residence in Reuil Malmaison, west of Paris.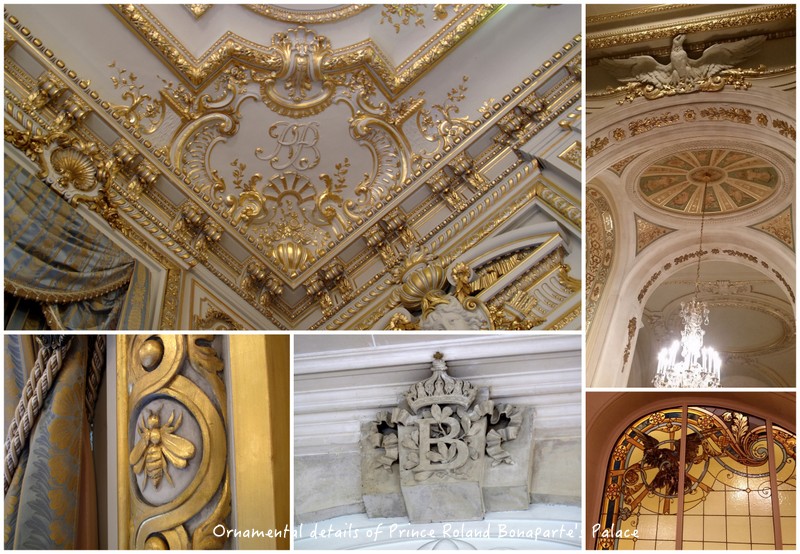 Who Was Prince Roland Bonaparte?
Prince Roland was the last male descendent of the Lucien Bonaparte line but he was foremost an explorer, geographer and botanist. He was named president of the Geographical Society in 1910 - a position he held until his death in 1924 at age 66 - plus nominated President of the Scientific Academy.
Forced to abandon a military career due to new legislation in 1886 banning the relations of French rulers to serve in the armed forces, Prince Roland was primarily a botanist. He cultivated the world's largest private herbarium (2nd largest in France and 7th in the world), comprised of more than 2.5 million samples: about 300,000 herb and fern species. They were eventually moved to Lyon as there wasn't enough space within Paris' Natural History Museum!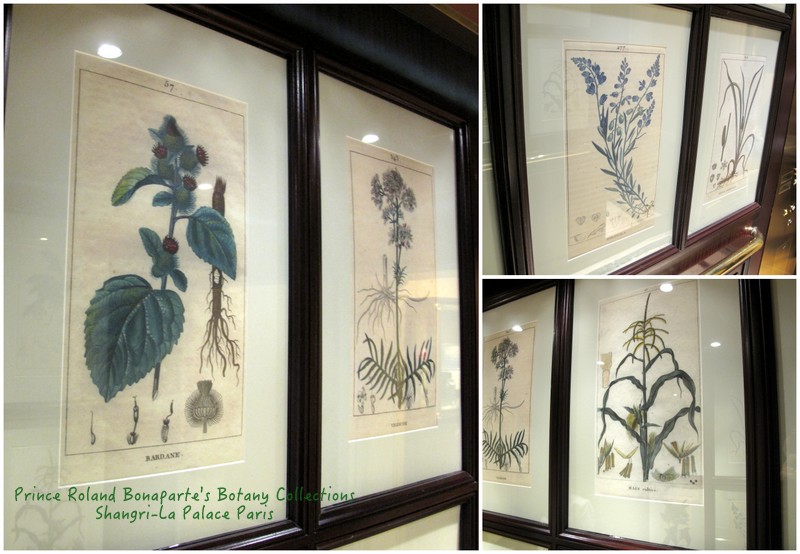 Examples of his botanical collections are showcased in the lifts taking us to the 65 hotel rooms and 33 suites - many of them with unique views of the Eiffel Tower.
I was given a sneak peek at the spacious and bright Chaillot Suite, called after the Chaillot Hill upon which the hotel is located, and is the smallest of the three signature suites. That would do me fine, imagining myself as Julia Roberts sitting elegantly on this wrap-around balcony enjoying the Paris skyline sipping on something festive when the sun goes down and the City of Lights sparkle. But I dreamily digress.
Room With a View on the Eiffel Tower or Asian Guimet Museum
Prince Roland wasn't keen on the new Eiffel Tower built for the World Fair in 1900. So his private apartments (now the Suite Impériale, listed Monuments Historiques) are on the other side of the building.
Is it coincidence that his apartments instead face the Guimet Museum? Guimet houses one of the largest collections of Asian art in Europe.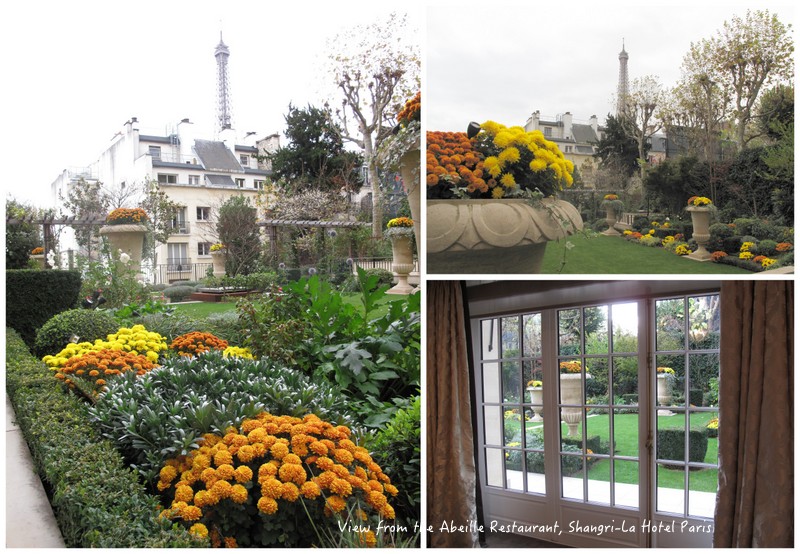 Their other restaurant, the Shang Palace, is the only Cantonese restaurant in France with a Michelin Star. But for teatime and for a light lunch or dinner, the social hub venue is here at La Bauhinia.
La Bauhinia Restaurant
What is La Bauhinia?
La Bauhinia takes its name from the iconic five-petalled orchid flower that graces the Hong Kong flag.
This is a contemporary restaurant with a 1930s-era vibe. Executive Chef, Christophe Moret offers French and South-East Asian cuisine on the savoury side.
Murano Chandelier Inspired by the Eiffel Tower
Even during the darkest of French winter days, the Murano chandelier shines natural light directly from the dome above.
During the courtyard renovations, this glass/steel Eiffel Tower inspired dome was discovered completely by surprise, designed by architect Maurice Gras. It was found behind a false dropped ceiling put in place by the building's former corporate residents. But who would want to hide that?
Menus at La Bauhinia, Shangri-La Paris
In summer, La Bauhinia restaurant serves outside on the terrace. It's in the courtyard hidden away with the Eiffel Tower looking on in the back. To celebrate Lucie's birthday (2021), we had an exotic Thai salad as a starter, served with a scrumptious passion fruit vinaigrette and toasted peanuts.
I couldn't resist a glass of Bandol Rosé from Tempier - difficult to buy in boutiques due to its popularity but easier in French hotels. It's one of the few fabulous French rosé wines that ages well and not the kind of rosé you'll want to add ice cubes!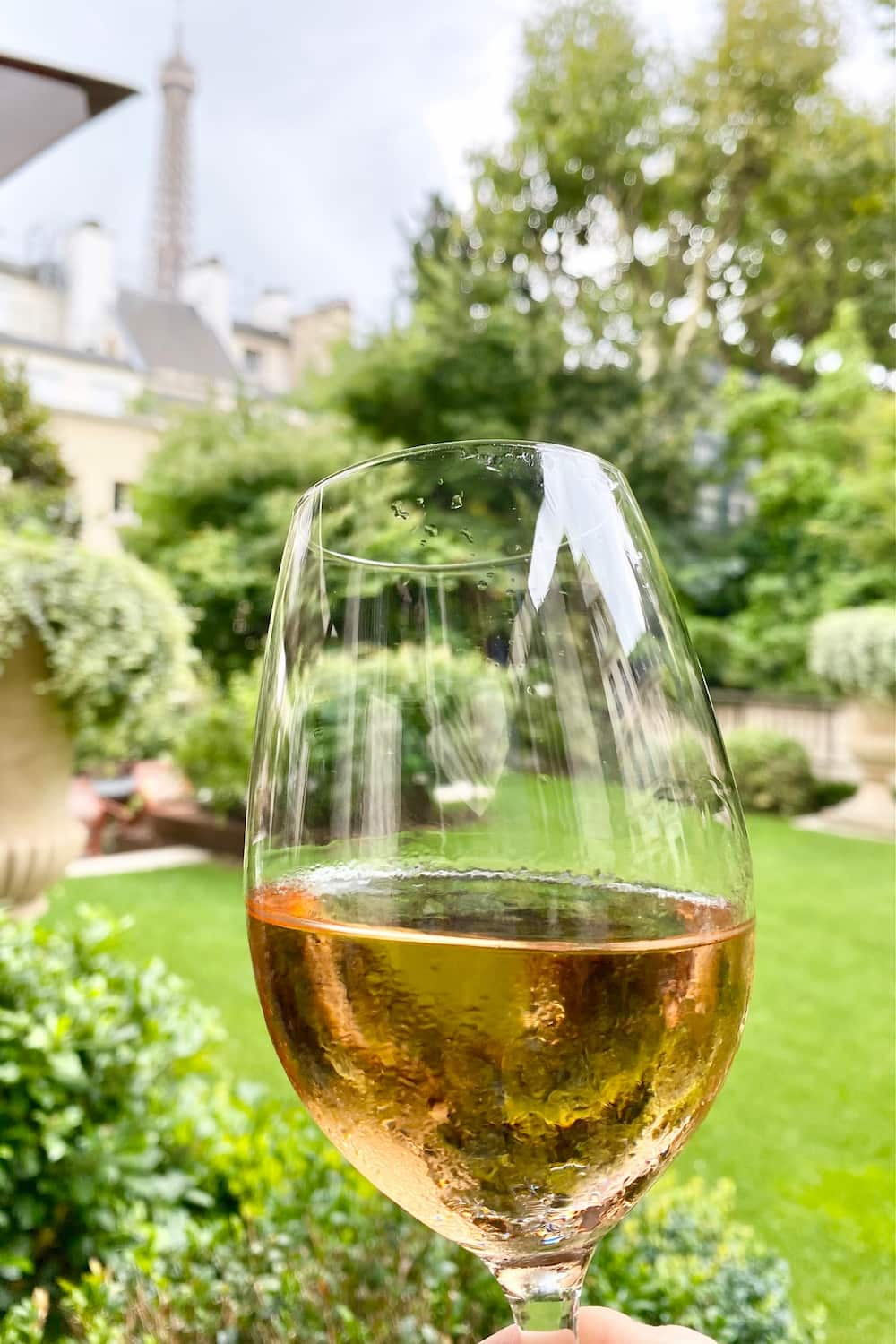 Calling all Pad Thai fans! This is a staple on the menu and one of the more spicy offerings. It's not served on a banana leaf boat like I had in Bangkok but I'll let them off! This time I enjoyed a lighter main for lunch, chicken satay with lots of vegetables.
That way I could still have a little room for dessert.
Shangri-La Parisian Pastries for Dessert & Teatime
Pastry chef, Maxence Barbot serves up the lightest, seasonal French pastries for dessert.
Teatime is now on Saturdays and Sundays (3-6pm), when an iconic 3 tiers of cakes and savouries is served.
To be honest, 3 tiers of cakes and savouries for teatime in the afternoon is just too much for me. Instead, like the French, I prefer a light lunch followed by a pastry and pot of tea like this.
So, from the dessert menu, and also from the teatime cake stand, is the Fraise mara des bois et Calisson mousse. The Calisson is the speciality of Aix-en-Provence: oval iced marzipan confiseries.
Chocolate fans plunge in to L'éclat chocolat. I'll leave you with the cross-section view of my daughter, Lucie's choice, which was served for her 19th birthday cake with a candle. Quick snap before it was all lovingly demolished.
Beautiful with a pot of blue tea or thé bleu, served with some soft, chewy nougat - a speciality from Montélimar.
Vive la France, its heritage and cheers to the French art of living! From Prince Roland's palace. Cheers! Looking for more tea nearby? Stop off at my favourite historical tea shop of Theodor near Paris's Trocadero.
Shangri-La Palace Hotel Paris
La Bauhinia Restaurant
10 Avenue d'Iéna
75116 Paris
Disclaimer: I was not given compensation for this post and all writings and views are my own. With sincere thanks to the Shangri-La Paris for the tour of the hotel. Our meal, however, was paid for by myself.