Some of you saw the live videos on my social media so I've been itching to tell you in much more detail about this exceptional pastry and chocolate weekend! To start, I was bowled over to be invited by Christophe Roussel to join the French jury for his Annual Pastry Competition Final in La Baule (Loire-Atlantique) on France's west coast.
Open to budding amateur pastry chefs, five talented finalists were chosen in September via their tantalising patisseries and descriptions on Facebook, all based on this year's défi (challenge), first announced in July.
As the event wasn't open to the public, I feel duty-bound to share this with you, patisserie and chocolate lovers.
What was the Défi Patissier's CHALLENGE this second year?
TO REVISIT an OPÉRA cake, using the famous Fleur de sel de Guérande as an imposed ingredient and during the final, include Christophe Roussel's new signature Bahiana® chocolate from Brazil. Sounds easy? An Opera pastry has to be one of the most difficult in the French pastry repertoire.
With the competition's early morning start, Christophe and Julie generously helped relieve any night-before stress by hosting a welcome dinner on La Baule's beach. Dessert was, of course, by Christophe himself. If anyone had forgotten his style and needed to tweak their dessert next day, now was the time. The desserts set the tone...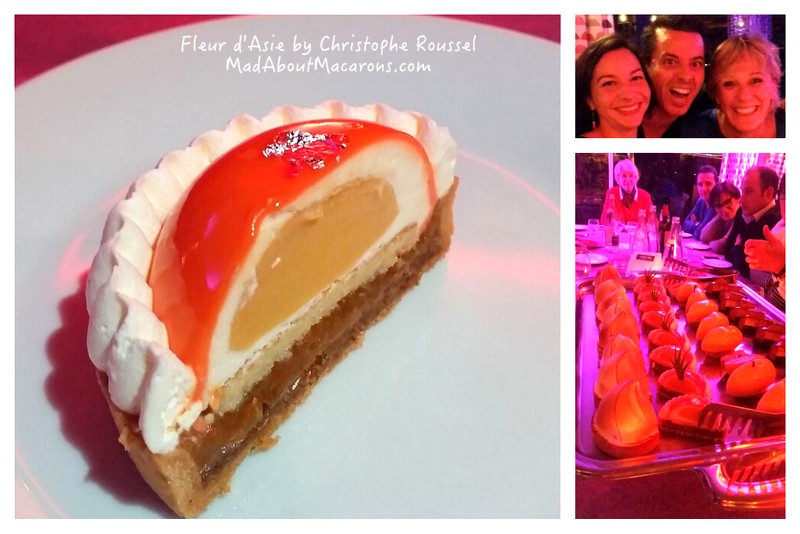 Luckily I had lovely Lucie by my side who works with Christophe, so she could suggest two out of the FOUR desserts! The Fleur d'Asie, or Asian Flower, is a delicate combination of apricot and the Asian Osmanthus (Devilwood) plant which has scents of apricot and peach. I love his hidden Fleur de Sel which gives that unexpected crunch - fantastic!
A First in France: Signature Chocolate
Chocolate-lovers will love the Fleur de Bahiana, the upcoming Bûche de Noël (festive yule log) made with the new signature Brazilian dark chocolate (69%), Bahiana®. It's from the Pêtrolina cacao farm in the Bahia region, a family-run plantation, and made exclusively for Christophe Roussel in partnership with Valrhona - a first in France.
Intense in chocolate with floral and fruity notes, I found it so warming, almost like tasting a chocolate-vanilla pastry version of a velvety hot chocolate with playful textures. To top it, it wasn't overly rich but left a lovely round satin touch on the palate.
But I digress - back to the competition!
Meet the Finalists
From left: Catherine Brug (Besançon: Opera-Cube), 18-year-old Laurie Lacoviz (Saint-Maur: Opéra Rock), Anne-Sophie Donnard (Montmorency: Comme un Air d'Opéra), Émilie Chrysostom, (Paris, Min'Op), and Arnault Buisson (Luxemburg, Opéra Spirit).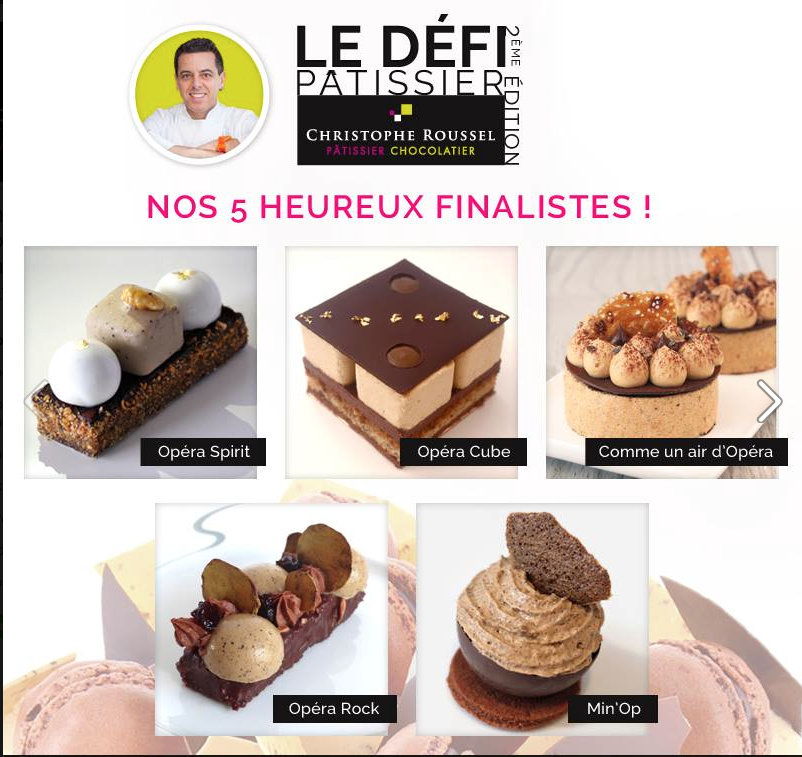 Meet Christophe Roussel
Ever since I walked into Christophe Roussel's welcoming boutique when it opened 5 years ago in Paris's Montmartre, it was special. As I say in my book, Teatime in Paris, Chef Christophe must be one of the most genuinely friendly and approachable pastry chefs in France. His credo is sharing, pleasure and a little bit of madness - and add to that an incredible generosity.
After setting up his first pâtisserie in La Baule in 2004, he decided to steer away from the traditional route of adding a boulangerie and instead devoted the rest to chocolate-making. Now with an impressive business with around 44 employees and 7 trainees, Christophe Roussel, part of the prestigious Relais Desserts group, is the star of the French west coast with two boutiques in La Baule, Guérande, Pornichet, Paris, and has just opened another in la Pornic. Together with his wife, Julie (pictured far right below), they make the perfect duo créatif.
Only the HIGHEST QUALITY PRODUCTS are used to create his gourmandises, notably sourcing local produce - one of which is the famous salt, the Fleur de Sel de guérande, just a few kilometres from his laboratory in La Baule (pronounced la-bowl).
The Jury
Meet the rest of the jury with Christophe Roussel. You can imagine why I was so honoured to be a part of such a prestigious line-up!
Thierry Bamas MOF (Meilleur Ouvrier de France) and world champion for frozen desserts, he's the star of pâtisserie based in the Basque region, between Biarritz and Bayonne. Like Christophe, he runs pastry and chocolate-making classes.
Cyril Carrini, winner of the last 2015 Meilleur Pâtissier on French TV's M6 Channel (The French equivalent of the Great British Bake Off), and winner of the best of the winners. He's a policeman near Bordeaux who also runs pastry workshops.
Mercotte is to France what Mary Berry is to the UK. A most adorable, down-to-earth TV celebrity for the Meilleur Pâtissier on M6, and The French Patisserie Blogger at La Cuisine de Mercotte, with four recipe books.The Pastry & ChocolateLAB
The Lab
Hitting the starting block at 7.30am, the finalists cracked on with their 3-hour pastry challenge. As it was the early stage, we had the opportunity to visit the immense lab.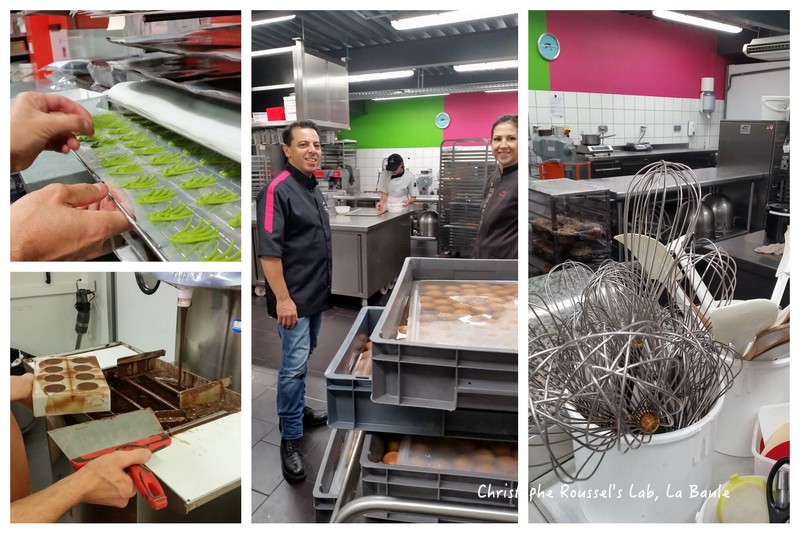 What an Ali-Baba maze! It was hard to resist a peek into these enormous vats of babas steeping in rum syrup as we explored each chocolate and pastry-making workshop. Everyone was quietly and dynamically working on each creation: from chocolate moulds of Peppa Pig, Calimero, and chocolate kisses destined to be exported to Japan, to his assortment of macarons - of which about 25 tons are produced a year. There's even a room assigned to edible decor - spot his pastry signature above (top left).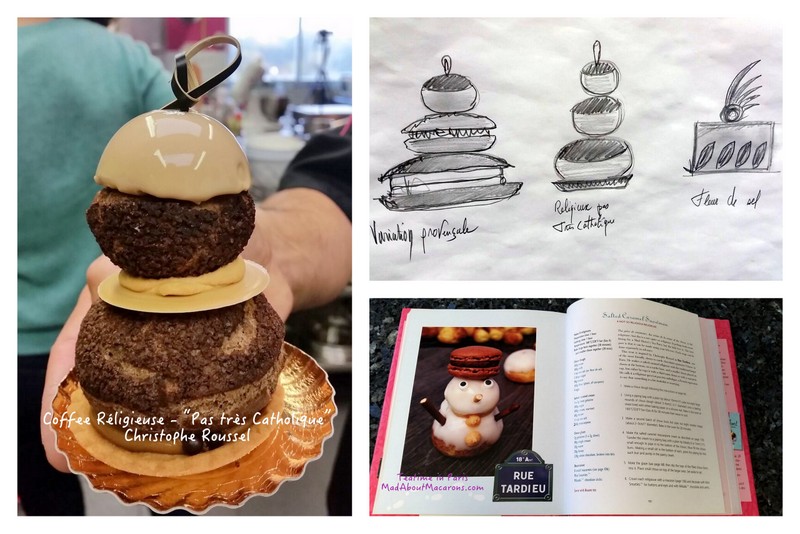 Back to the buzzing competition room, just to keep us going, we taste Christophe's Coffee Réligieuse - Pas Très Catholique (meaning a bit doubtful), with lively notes of two different coffees and a chocolate craquelin crumble topping for le crunch. Incidentally, this was the inspiration behind the recipe for the salted caramel choux snowman in Teatime in Paris!
THE Challenge
The classic Opéra isn't an easy pastry ... and on top of it, personal variations made it a particularly interesting challenge. Cubes, balls, discs, giant spheres, logs, tuiles ... they'd all thought it out so well.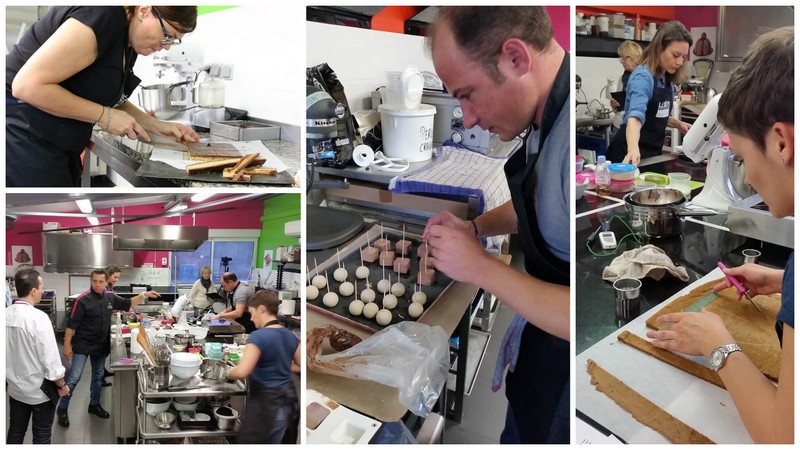 All aspects were taken into consideration: such as respect to the classic recipe (e.g. right dosage of coffee coming through, enough chocolate, right textures; their interpretation; clean workspace; no waste (Christophe made frequent bin inspections), respect to time, visual aspect, and so on.
While all was being filmed on camera, we were additionally going around filming and snapping shots on our phones: everyone was spontaneously interviewed on Facebook Live by the bubbly Mercotte (we were all impressed with her mega battery!). Apparently I speak French like Jane Birkin, ahem... Thierry Bamas and Cyril also caught the online interviewing bug as the stress and COUNTDOWN started.
Discussions behind the finalists didn't put them off - and although there was the odd hand trembling towards the finishing touches, everyone showed their talent of being calm and collected, plus it was a good team spirit if someone needed to borrow equipment from each other. Not every competitive spirit is prepared to do that.
5, 4, 3, 2, 1 ... and STOP! Et Voilà: their finished results. Now we could think of the visual aspect. Great job - and totally resembling what they submitted online.
By now finished, the finalists took off their aprons for a well-earned break.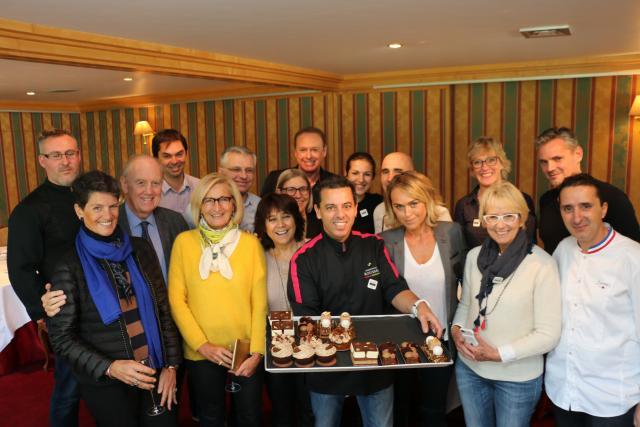 Salon du Chocolat, La Baule
Meanwhile, we were given the added job of tasting our way through 3 different themes of chocolates over at the Castel Marie-Louise, as part of the Salon du Chocolat in La Baule, hosted by the Casino Barrière. Our challenge was to pick the best in each category before announcing the winners - including the pastry challenge - at the Salon later.

Our group tasted 12 chocolates on a dark chocolate and citrus almond paste theme. The unanimous winner went to Vincent Belloir (Goût du bonheur, La Roche-Bernard). It was best for the visual sheen on the chocolate, the clean cut without losing it's shape, the smooth texture, the bouquet on ze nose, and of course, the taste!
Olivier Grimault (Créat-shop, Les Sorinières) won the chocolate bar category with dark chocolate and Matcha, ... and winner of the third category went to Christophe Roussel for his dark chocolate and pink peppercorn! Also congratulations goes to Amélie Giraud for her chocolate sculpture, who is also part of Christophe Roussel's team!
A few glasses of water later - and all before lunch ....!
Pastry Competition Tasting & Verdict
This is when I appreciated when Mercotte took me under her wing. Although the group agreed on the same issues and were discerning on each aspect, my marking was slightly too high for each finalist - so now I can put it down to experience!
Pastry Competition Winners!
Our winners were also announced on Saturday evening at the Salon du Chocolat.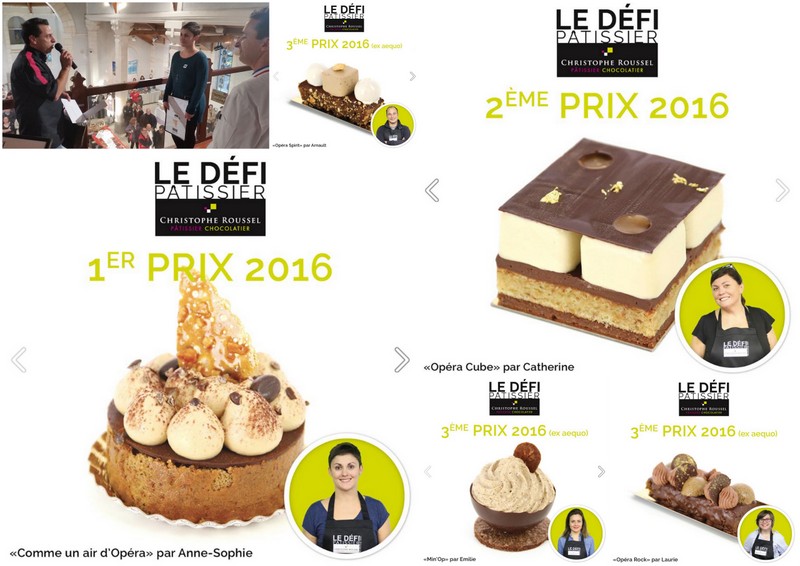 Congratulations to the winner, Anne-Sophie, a school teacher and French pastry blogger at SurprisesetGourmandises. She wins a Gourmet Luxury Weekend in La Baule and a day of pastry-making with Christophe Roussel.
Bravo to Catherine Brug who came a close second, and a huge round of applause to Arnault, Emilie and Laurie. Each of them were not just great bakers but lovely, sensitive souls too.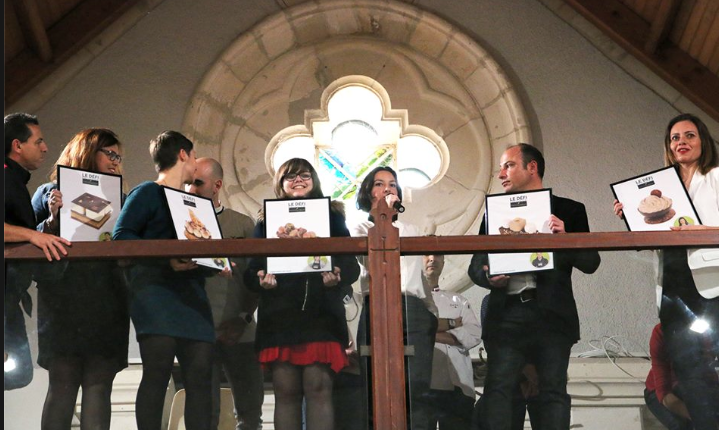 Lucie Henaff, thanking everyone, even prepared framed momentos of their Opéra creations, a lovely keepsake of their tremendous talent.
A Gourmet yet Light Weekend
After all the excitement, the chocolate, the opera cakes, lunch, more various dessert tastings, there was ... another gourmet dinner!
For everything we ate, however, all was impeccably light. Spoiled by Eric Mignard, Michelin-starred chef for 30 years at the Relais-Châteaux Castel Marie-Louise, he took us through local seafood and fish menus, including a memorable dish of tartar scallops with passion fruit, pineapple, daikon, and salsifis chips with grilled almond oil. I'd need another few pages to discuss the rest!
On to the DESSERTS, all prepared by Christophe Roussel, each one was immaculate. They're airy, full of surprising textures (he has fizzy chocolates too) and each ingredient has its own punch to say, "Taste me - I'm here too!". The finale - made especially for the occasion - of Tahitian vanilla mousse with mango and that nesting ball on top is full of exploding salted caramel. It was the closing firework display to an exceptional weekend.
Christophe Roussel Pastry Competition
Do keep an eye out for the 2017 competition on Christophe Roussel's Facebook page. If you or anyone you know is a real fan of making French pastries, then you'll have witnessed that this is an extremely special competition indeed. I hear there will be even more surprises for next year's Défi challenge. How can you beat that?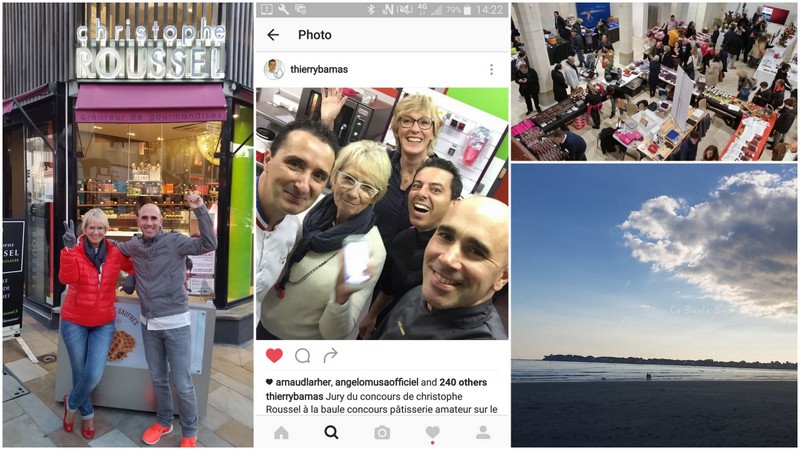 I'll finish with Christophe Roussel's popular chocolate kisses from La Baule and say a big Cheers, Santé to you, Chef! Bravo to such an extraordinary and successful weekend, the opening of your new boutique in La Pornic, the new signature Brazilian chocolate, for such a wonderful, dynamic team you've inspired - and, above all, for your generosity.
Christophe Roussel Duo Créatif
6 Allée des Camélias
44500 LA BAULE
5 Rue Tardieu
75018 PARIS