If you love rhubarb, you'll fall in love with this French Rose Rhubarb Orange cake.  It's on the same lines as this easy sticky almond and lemon cake yet made extra moist with a little rhubarb pre-roasted in fresh orange with a subtle hint of rose.
The welcome timing of rose and rhubarb season is also perfect for celebrating Easter and Mother's Day.
Rhubarb & Rose Recipes
By now, you may have noticed I adore rhubarb and rose together. I even wear a French perfume of the two together – it's glorious. To taste the two, have you tried this rhubarb and rose sorbet or this rhubarb, rose and hibiscus jam?
It doesn't just stop at roses: in my second book, 'Teatime in Paris', I also have a recipe for Rhubarb and Poppy macarons. Poppy is a particularly French sentimental flavour, associated with French childhood bonbons or sweeties (you'll find the extract in speciality stores, such as Deco Relief in Paris.) I loved discovering that it totally worked with rhubarb.
Prolong Rhubarb Season
For fans that find the rhubarb season FAR TOO SHORT, make batches of this delicious rhubarb compote and freeze it in jam jars.  I often make it without the ginger, infusing a fruity hibiscus teabag in it to pink it up and add a touch of rose water. So, when rhubarb is well out of season, omit the roasted rhubarb step in this Rose Rhubarb Orange Cake and serve it with your defrosted rhubarb compote – it's the best combination ever!
What's more, this cake is pure heaven served with rose macarons, lemon or almond macarons (recipes in Mad About Macarons) – or sublime with rose and orange blossom macarons (recipe in Teatime in Paris).
While developing the recipe, I based it on the lines of a French financier style teacake (also in Teatime in Paris) but reduced the butter and added egg whites to lighten it up a bit for a bigger cake. It's also reduced in sugar as much as I dare but, of course add a little more, if you do prefer it slightly sweeter.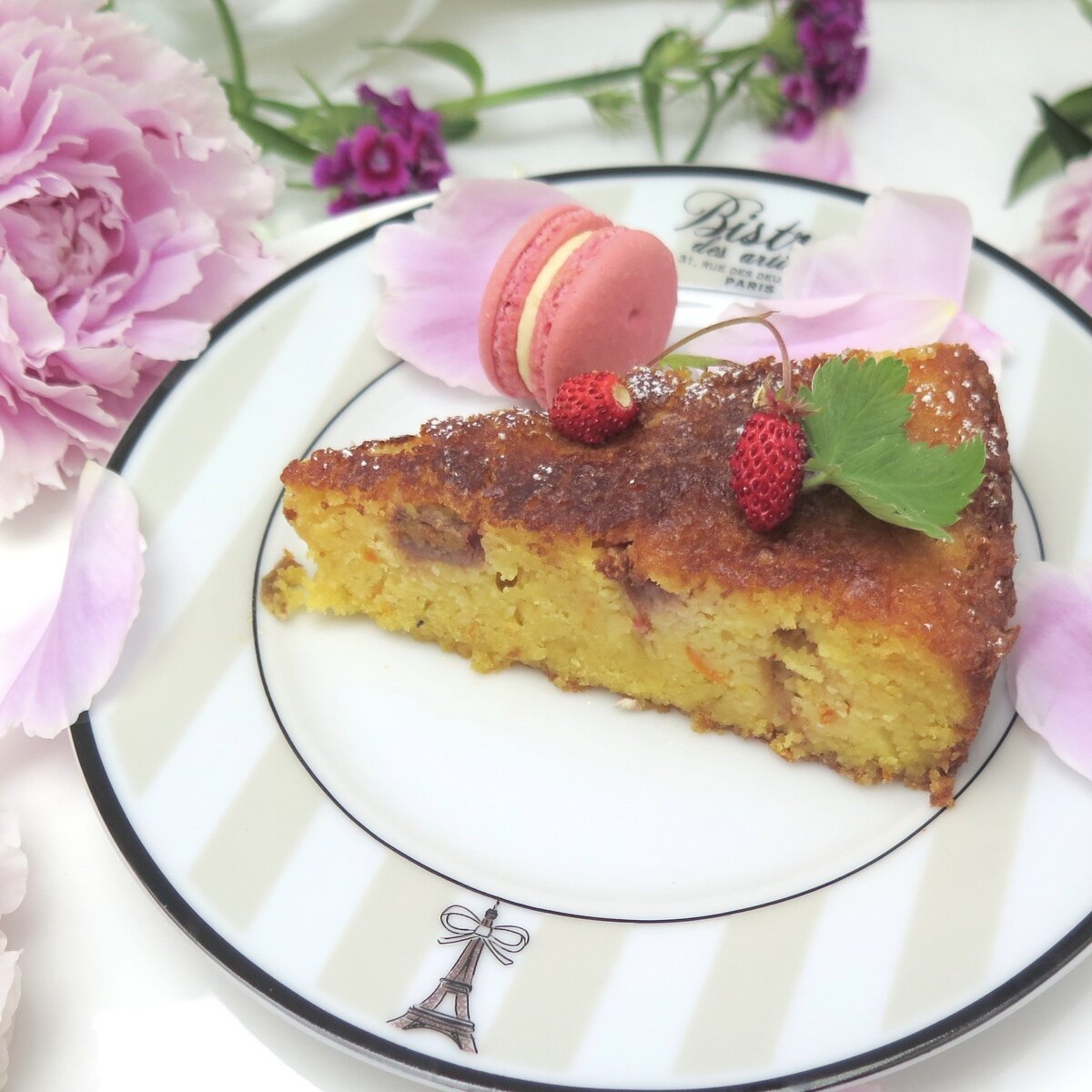 More Rhubarb Recipes
My Grandpa's favourite pudding was Rhubarb and Custard and there's nothing much to beat it, especially with delicious memories of growing up in Scotland.  We loved putting ginger with rhubarb, from jams to compotes, but the various combinations or just pure rhubarb on its own is fabulous.
Check out my UK blogger friends' rhubarb recipes too – they also write out their recipes by weight (grams/ounces):

Rose Rhubarb Orange Cake
Rhubarb, Rose and Orange Cake
---
Description
Celebrate rhubarb and rose season with this financier style rose rhubarb orange cake, an easy French teatime treat with reduced sugar, making it also ideal for breakfast or brunch - or dessert served with rhubarb compote and some rose macarons.
Ingredients
Roasted Rhubarb with Rose and Orange
2

sticks

rhubarb, cut into small pieces

1

large unwaxed orange, juice

(organic)

1

tsp

rose water

1

tsp

of the grated zest (below)

2

tbsp

cane sugar
Almond Cake
110

g (4oz)

butter, softened

(unsalted)

100

g (3.5oz)

sugar

zest from 1 large unwaxed orange

organic

2

large

eggs

organic

75

g (3oz)

egg whites

(from 2 eggs)

200

g (7oz)

ground almonds (almond flour)

35

g (1.5oz)

plain flour

(all-purpose)

1

tsp

baking powder

slivered almonds, for sprinkling

(optional)
Instructions
Roasted Rhubarb
Preheat oven to 180°C/160°Cfan/360°F/Gas 4. Line a 23cm non-stick cake tin with parchment paper.


Wash rhubarb, cutting off the extremities and cut into 5cm sticks. Place in a non-stick roasting tin with 1tsp of the orange zest and all the juice. Add rose water and sprinkle over rhubarb with cane sugar. Roast until soft for 10 minutes. Set aside to cool.
Almond Cake
In a large bowl, cream together the butter and sugar until pale and fluffy - either using a ballon whisk o mix together in a mixer.

Gradually whisk in the orange zest, eggs, whites, ground almonds, flour, baking powder until mixed together.

Place the roasted rhubarb in the bottom of the cake tin and top with the mixture. Sprinkle over the slivered almonds, if using, and bake for 25-30 minutes until golden.

Leave to cool in the cake tin for 10 minutes then remove and cool on a wire rack. Brush over the rhubarb, orange and rose juices from the roasting tin onto the cake.
Notes
Store in a cool, dry place. Can keep for up to 5 days and also good for freezing.  Excellent served for breakfast or teatime with rhubarb and strawberry compote.
NUTRITIONAL INFORMATION: 270 Calories per portion; 6g protein; 17g carbohydrates; 20g fat.
Are you on Pinterest? Then pin this for later. Sending you sweet wishes and peony roses from Paris!