French style rhubarb cake, made with ground almonds and a touch of rose and orange. Perfectly moist with quick roasted rhubarb and reduced in sugar.
Rhubarb & Rose Recipes
By now, you may have noticed I adore rhubarb and rose together. I even wear a French perfume of the two together - it's glorious. To taste the two, have you tried this rhubarb sorbet or rhubarb, rose and hibiscus jam?
The welcome timing of rhubarb and rose season is also perfect for celebrating Mother's Day with this French style rhubarb cake.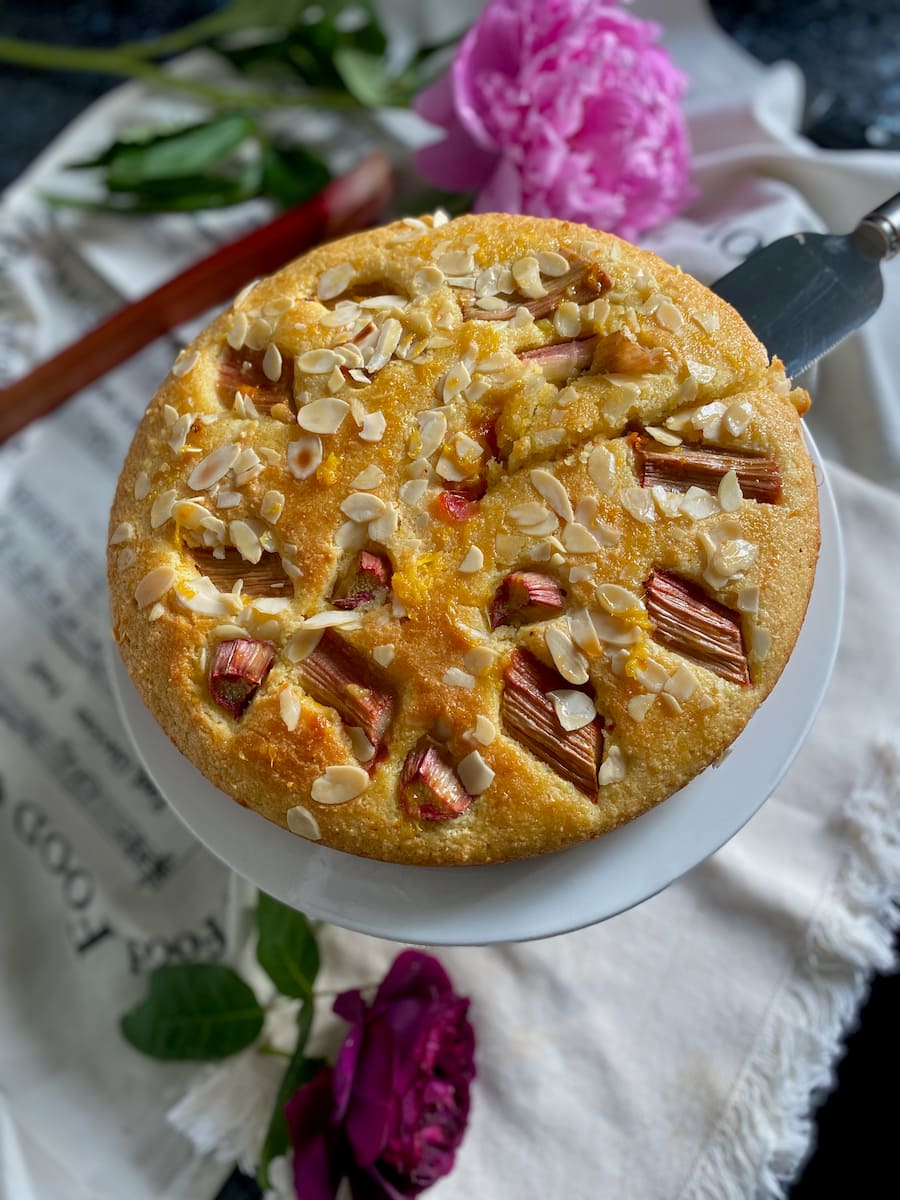 Moist Rhubarb Cake
This rhubarb cake is on the same lines as my easy lemon and almond cake. I basically took my favourite recipe for the French financier cake, then developed it for a bigger cake by reducing the butter and adding more egg whites to lighten it up.
To make it extra moist, rhubarb is roasted in the juice of a freshly squeezed orange and a little rosewater or syrup.
Although pre-roasting is an option, the benefits of this method gives extra moisture and flavour. The resulting syrupy juices are used to brush over the rhubarb cake.
Should Rhubarb Be Cooked Before Baking?
I have experimented with both raw and pre-cooked rhubarb in this recipe.
It's interesting in that the rhubarb doesn't really need to be cooked before baking this cake.
However, my family taste-testers agreed that the raw rhubarb version was slightly tart. So my preference is to pre-cook it for a quick 10 minutes. This intensifies the orange and rose flavours and creates a little glaze to brush on the cake afterwards.
Also, when rhubarb is well out of season, using frozen rhubarb is good too - as long as it is pre-cooked as in the recipe. Adding frozen rhubarb directly to the cake will make the cake stodgy so invest in these extra 10 minutes of cooking it before baking.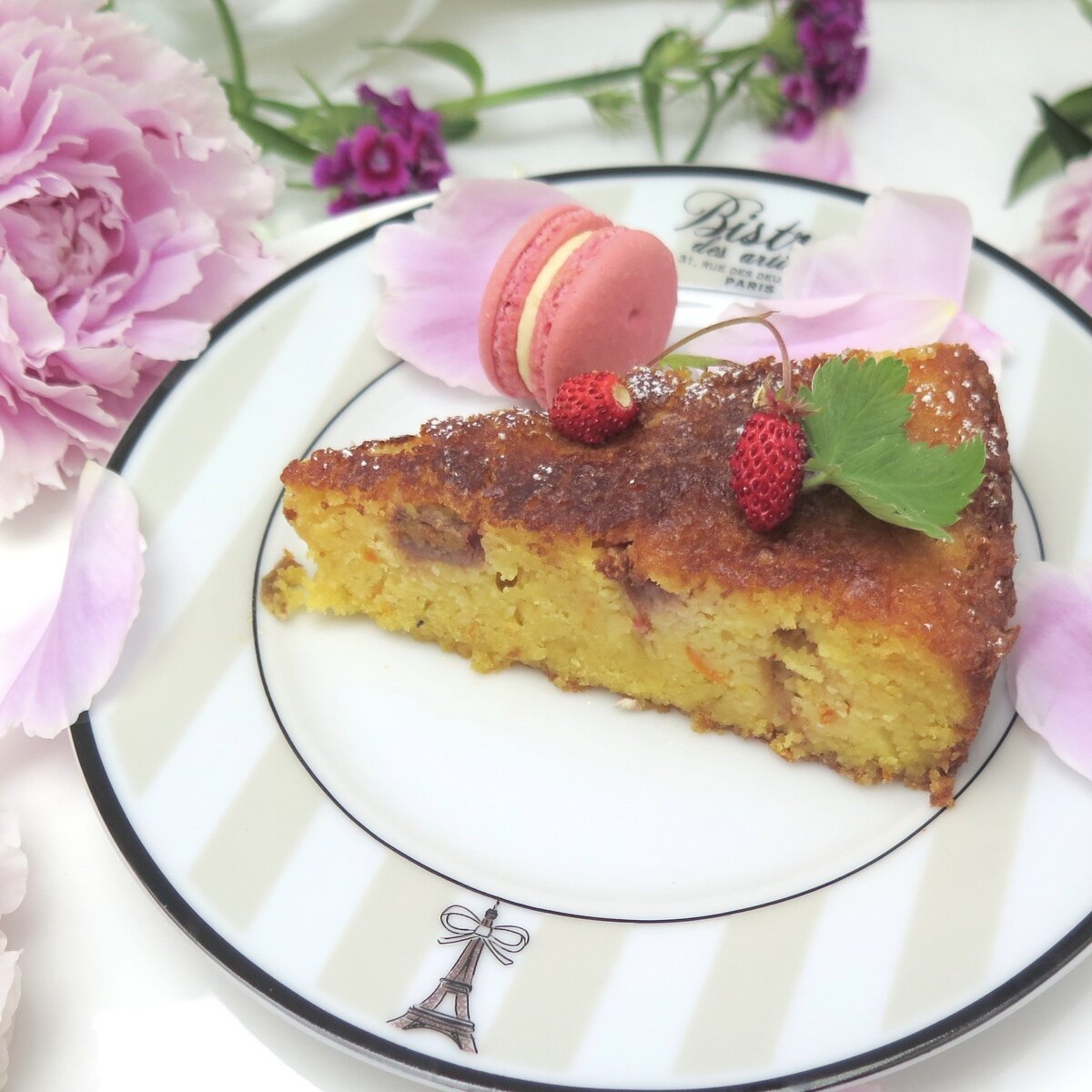 What Does Rhubarb Taste Like in a Cake?
So, it depends if you pre-cook the rhubarb or not. In this recipe, using raw rhubarb can be a little acidic (if that's what you like) but the pre-roasted in the orange juice and rose just adds a subtle flavour that complements the rhubarb well.
This recipe is reduced in sugar compared with most rhubarb cake recipes - it uses only half cup sugar. It's not just healthier, but we can taste the rhubarb and other delicious ingredients so much better as a result.
How to Make a French-style Rhubarb Cake
This recipe is simple and no need for any fancy toppings or fillings as it's so moist. Prepare and measure your ingredients in advance and you're all set to go.
Not sure how to line a cake tin? See my easy instructions in Baking Tips and FAQs - How to Line a Cake Tin.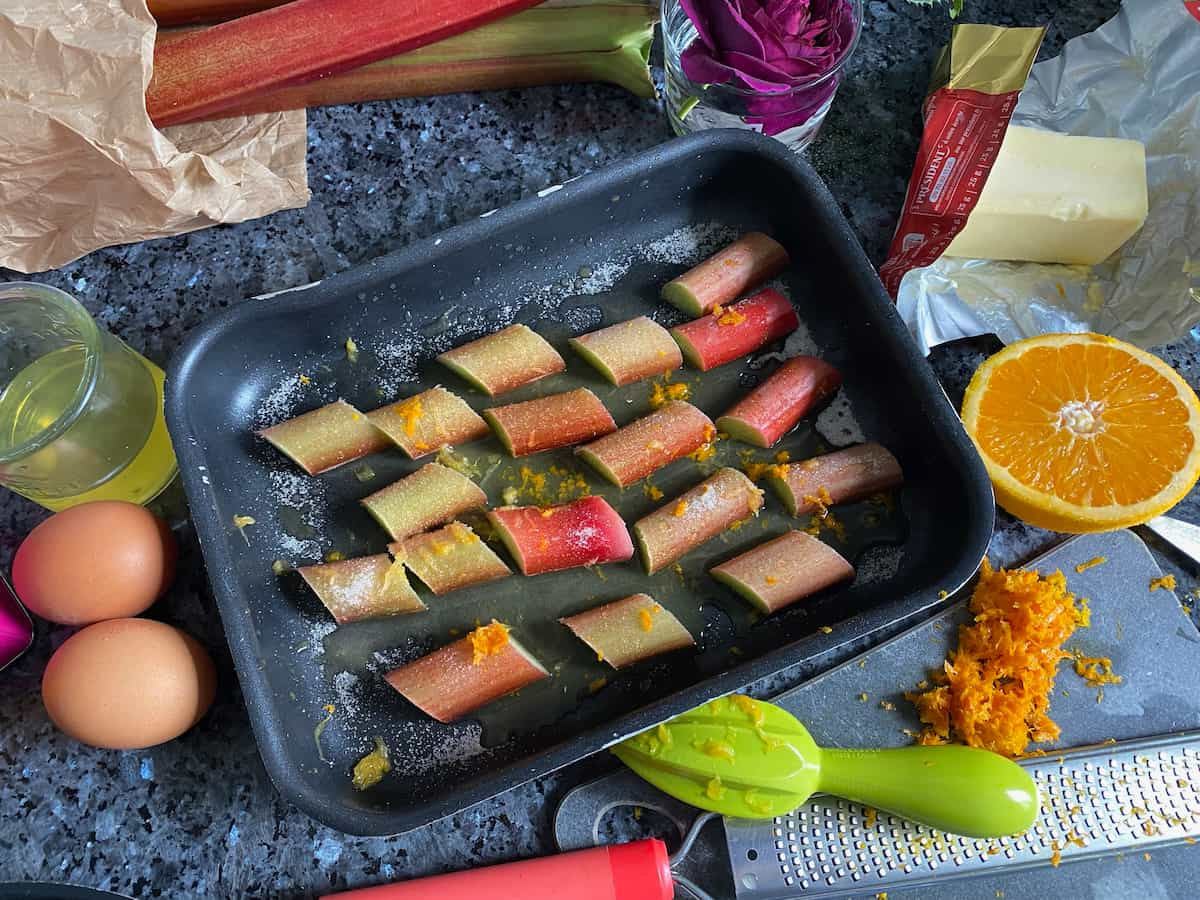 First finely grate the zest of an unwaxed orange (ensure it's organic - otherwise wash thoroughly in warm water).
Wash and cut up the rhubarb, add a little orange zest, a little sugar and rose water and roast for no more than 10 minutes. Set aside.
Cream the butter and sugar in a mixer with a paddle attachment (or by hand using a wooden spoon).
Gradually mix in the ground almonds, flour, baking powder, salt, orange zest, eggs and egg whites.
Once all mixed well together, spread over half of the mixture into the cake tin. Add half of the rhubarb.
Top with the rest of the cake batter and rhubarb then sprinkle over the flaked almonds.
Bake in the oven for about 40 minutes or until golden. I only need 35 minutes in a fan oven but you may need longer (about 50 minutes).
Leave to cool slightly in the tin for 10 minutes.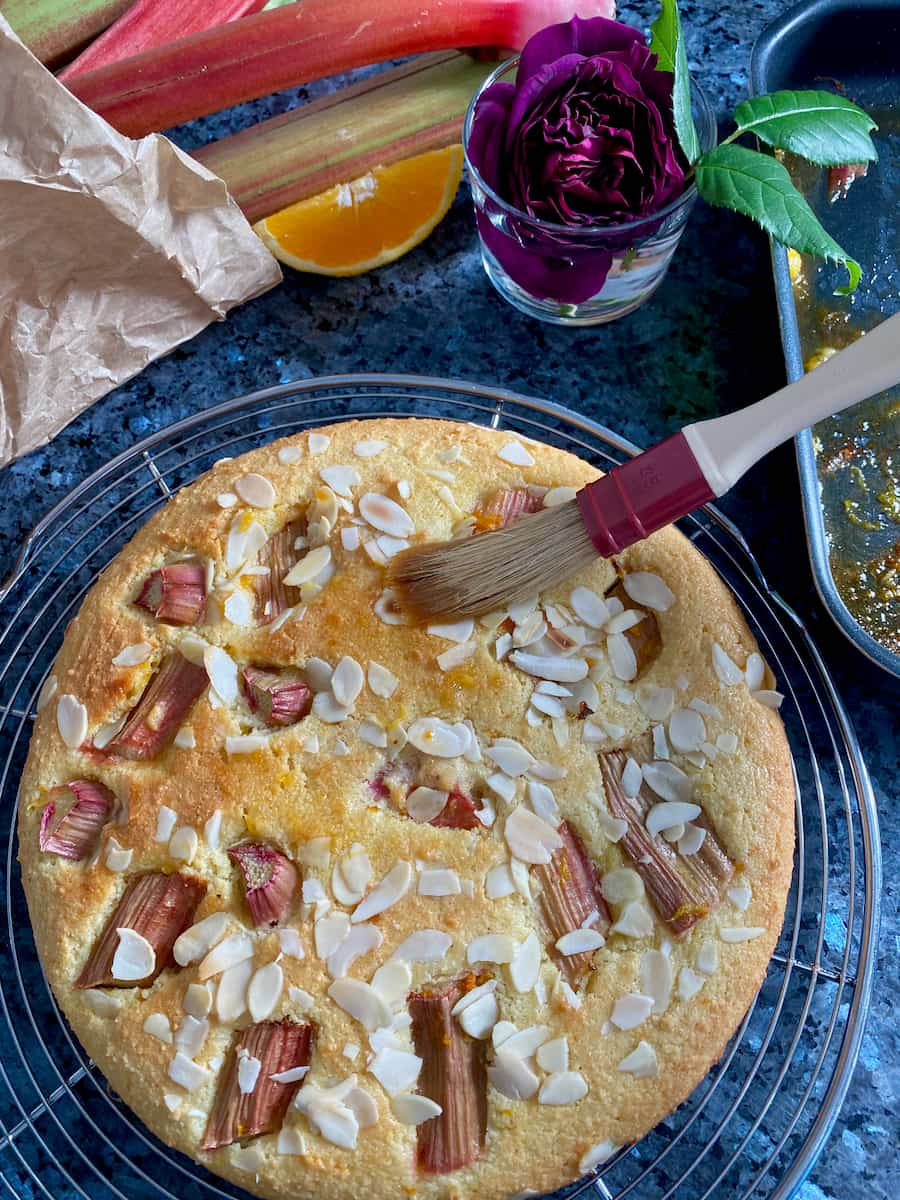 Remove from the tin and leave to cool on a wire tray.
Brush over the rhubarb, orange and rose juices from the roasting tin for a natural cake glaze.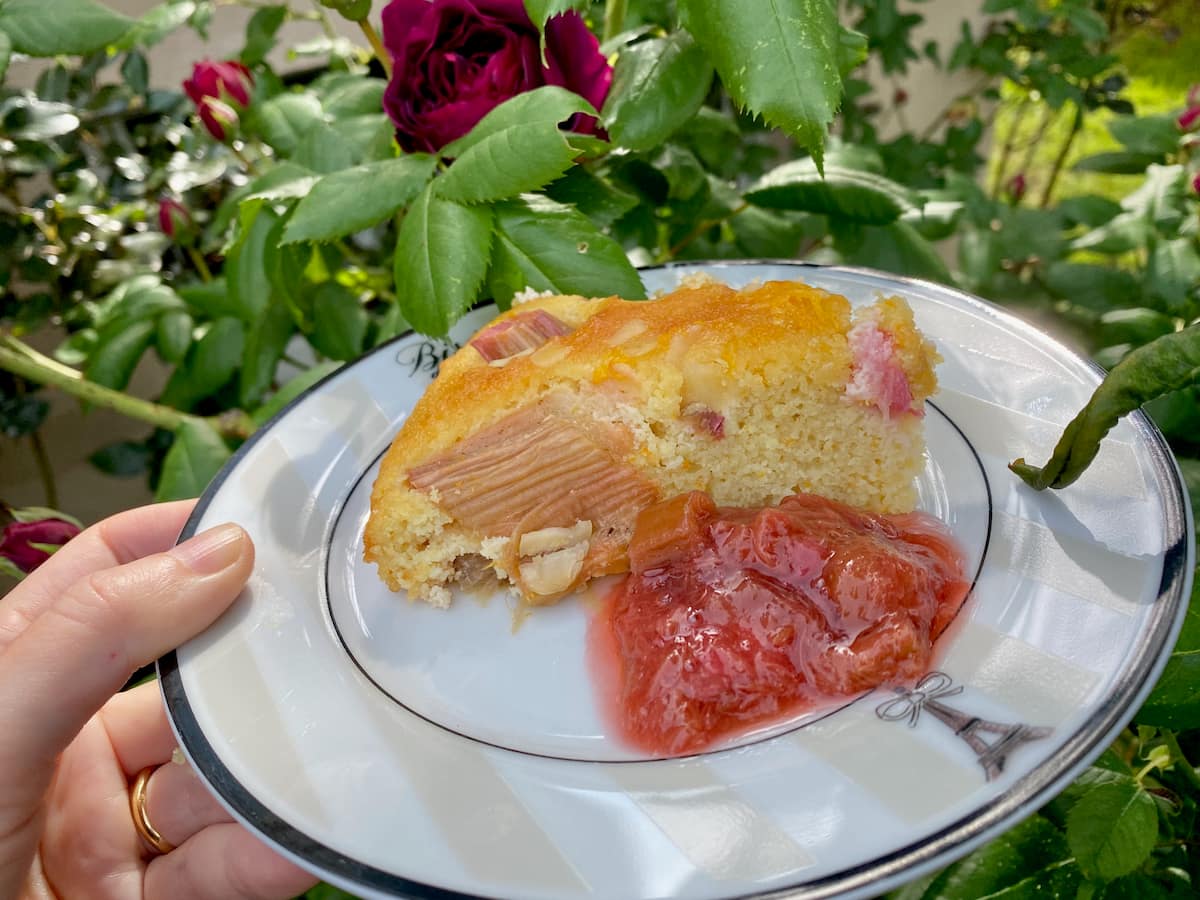 What Can I Serve with Rhubarb Cake?
Rhubarb cake is delicious with the following:
rhubarb compote (also on video). Like this cake, it's reduced in sugar and adding a dollop of it on the side is rhubarb heaven. Great for breakfast or brunch.
rhubarb sorbet with rose - great for dessert to bring out the rose in the cake.
with rose macarons, lemon or almond macarons (recipes in Mad About Macarons) - or with rose and orange blossom macarons (recipe in Teatime in Paris).
More Rhubarb Recipes
My Grandpa's favourite pudding was Rhubarb and Custard and there's nothing much to beat it, especially with delicious memories of growing up in Scotland. He could eat it raw just dipped in a little sugar. (Just thinking of this makes my mouth pucker!)
Here are many more inspiring recipes if you have tons of rhubarb this season:

Rhubarb Cake with Rose and Orange
French style rhubarb cake, reduced in sugar. Made with ground almonds, orange and a hint of rose. Perfectly moist with quick pre-roasted rhubarb.
Equipment
23cm/9 inch (x 5cm/2 inch deep)

non-stick cake tin
Ingredients
Roasted Rhubarb with Rose and Orange
2-3

sticks / 500g

rhubarb

cut into small chunks

1

unwaxed orange, juice and 1tsp zest

keep aside remaining zest for cake below

2

tsp

rose water

see notes

2

tablespoon

cane sugar
Almond and Orange Cake
110

g (4oz/ 1 stick)

butter, softened

(unsalted)

100

g (3.5oz/ ½ cup)

sugar

1

tablespoon

zest

from remaining orange

2

large

eggs

organic

120

g (4oz)

egg whites

(from 4 eggs)

200

g (7oz/ 2 cups)

ground almonds

(almond flour)

35

g (1.5oz/½ cup)

plain flour

(all-purpose)

2

teaspoon

baking powder

1

tablespoon

slivered almonds

for topping
Instructions
Roasted Rhubarb
Preheat oven to 180°C/160°Cfan/360°F/Gas 4.  Line a 23cm non-stick cake tin with parchment paper.

Wash rhubarb, cutting off the extremities and cut into 5cm sticks. Place in a non-stick roasting tin with 1tsp of the orange zest and all the juice. Add rose water and sprinkle over rhubarb with cane sugar. Roast until soft for 10 minutes. Set aside to cool.
Almond and Orange Cake
In a large bowl, cream together the butter and sugar until pale and fluffy - either using a wooden spoon or mix together in a mixer.

Gradually whisk in the orange zest, eggs, egg whites, ground almonds, flour, baking powder until mixed together.

Place half the batter on the bottom of the tin, add some roasted rhubarb and top with the rest of the mixture. Top with remaining rhubarb and slivered almonds. Bake for about 40-45 minutes or until golden (see notes).

Leave to cool in the cake tin for 10 minutes then remove and cool on a wire rack.  Brush over the rhubarb, orange and rose juices from the roasting tin onto the cake.
Notes
Oven time: with a fan oven, I only need 35 minutes in the oven but you may need longer - 40-50 minutes until golden and a knife tip inserted comes out clean.
Store in a cool, dry place. Can keep for up to 5 days and also good for freezing.  Excellent served for breakfast or teatime with rhubarb compote.
Rose Water/Syrup: If using rose syrup, omit the cane sugar to pre-roast the rhubarb.
Nutritional information: 270 Calories per portion; 6g protein; 17g carbohydrates; 20g fat.
Measures: Please note that all my recipes are best made using digital kitchen scales in precise metric grams. Both ounces (and cups) are given as an approximate guide. 
This recipe was first published 11 May 2019 but is now completely updated.