Indulge in a Ritz Paris teatime for the ultimate luxury French afternoon tea, where you'll discover Proust's favourite Madeleines and biscuits in his salon.
Tea in the Salon Proust
Winter in Paris is perhaps the best time to indulge in the ultimate French afternoon tea. It takes place by the fireplace in the salon given homage to Marcel Proust, under his watchful portrait's eyes.
Author Marcel Proust came to the Ritz's opening party in 1898 and chose it as his second home. He apparently took to the corner spot right next to the fireplace, finding endless inspiration for his novels using the hotel's elegant surroundings and intimate salons of the literary and aristocratic elite.
Here he felt that "nobody would push you around".
As soon as 2.30pm chimes, the loaded silver Champagne bucket beckons at the entrance to the open-curtained, cosy salon. Would you pick a flute of Reserve Barons de Rothschild Blanc or Rosé to add even more sparkle to the occasion?
The shiny marble table mirroring the impressive floral display is suddenly hidden, groaning with golden-framed glass boxes containing a whole range of biscuits, petits fours and cakes from yesteryear (les biscuits d'Antan).
Marcel Proust looks on wide-eyed, swooning over his childhood favourite sweet treats on overflowing tiered plates. He no doubt would have loved what's to come from the talented head pastry chef, François Perret.
"It is a journey through the flavors of my childhood memories which I grew up with and which developed by taste buds."
Chef François Perret insists, too, that he doesn't use sugar to excess. This is my kind of pastry chef!
Exceptional teas from the TWG Tea Company in Singapore are given pride of place over pages and pages in the menu. The tea sommelier has picked out black, green and white teas, including semi-fermented, fermented teas and herbal infusions. I would recommend the Ritzy Earl Grey with added cornflowers. Non- tea drinkers are also spoiled for choice with the likes of hot chocolate, five different coffees, as well as iced and cold drinks.
A Right Ritz Paris Teatime
Afternoon Tea at the Ritz is distinctly French in the Salon Proust. There are no patisseries or pastries as such; instead typically refined biscuits and petits fours from yesteryear plus mini tarts and cakes.
It's the scalloped, humped madeleine teacake that takes centre stage from start to finish, as made famous by Proust in his novel, "In Search of Lost Time" (A la Recherche du Temps Perdu). Even the tea service evokes a golden madeleine motif: Chef Perret helped to design the French white limoges porcelain made by Haviland.
Service is immaculate and convivial, as each element of this Parisian teatime is given a touch of relaxed ceremony. A mini madeleine arrives in a bowl for starters, then sumptuously immersed in lemon-infused milk – we're asked to leave it to infuse for a minute to enjoy the experience at its best.
Three tiers of treats arrive, competing for centre stage: we're introduced to each layer in order, starting with a quirky teacup as top tier. They're all biscuits and petits fours that would have traditionally been served in the brasseries of the time: sponge fingers with cocoa nibs, Russian cigarettes, Florentines.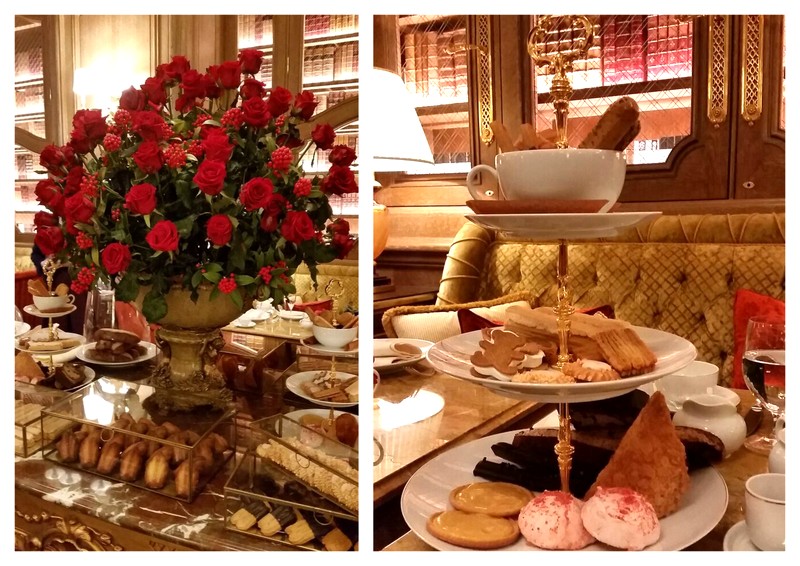 The second tier highlights biscuits such as Spritz, buttery Pailles au framboises (nothing like the French packet ones!), airy allumettes of egg whites and lemon, marshmallow bears. The bottom tier is devoted to tarts and cakes, with the lightest sugar tarts on a brioche base (I hear they're now serving old-fashioned lemon tarts), pink praline meringue, marble cake and giant tuiles.
A most memorable treat is perhaps the "Pain au Chocolat". Not at all appearing like the classic viennoiserie that we see in Parisian boulangeries, Chef Perret has played with the simple French childhood goûter (after-school 4pm snack) of a baguette sandwich filled with a couple of chocolate squares, cleverly transforming it into cocoa-nib-covered dark chocolate breads served with a platter of cocoa butter, coconut butter, whipped cream, and jam.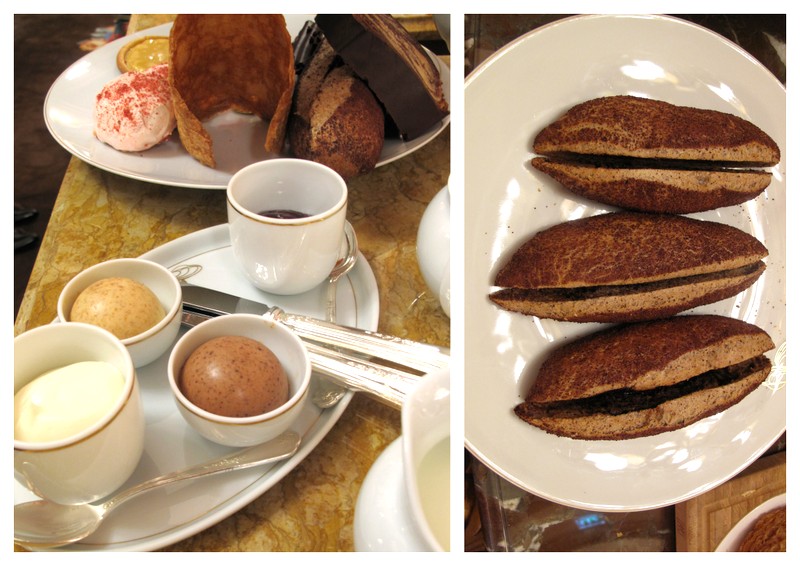 The Madeleine du Ritz arrives hidden under a bell, unveiled as delicately perfumed with orange blossom and lemon-glazed. So not to completely ruin your surprise, they change the flavour combination every now and again.
Recipes for madeleines and tuiles are included in my second book, Teatime in Paris, just in case you'd like to recreate a ritzy teatime at home.
With all that tea, even a trip to the restroom was discrete ceremony, where the tap water glides from golden swans.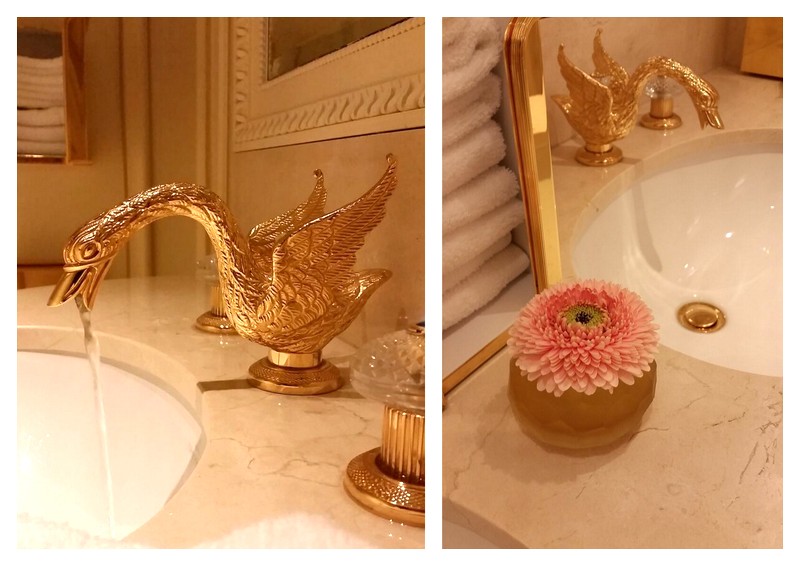 I'd missed the bill arriving, which was yet another wonderful touch (their discretion, that is – not that I'd run off to the bathroom!); elegantly and discreetly placed at page 46 inside an old edition of A la Recherche du Temps Perdu, where Proust describes that perfect taste of a childhood memory through a Madeleine and some tea.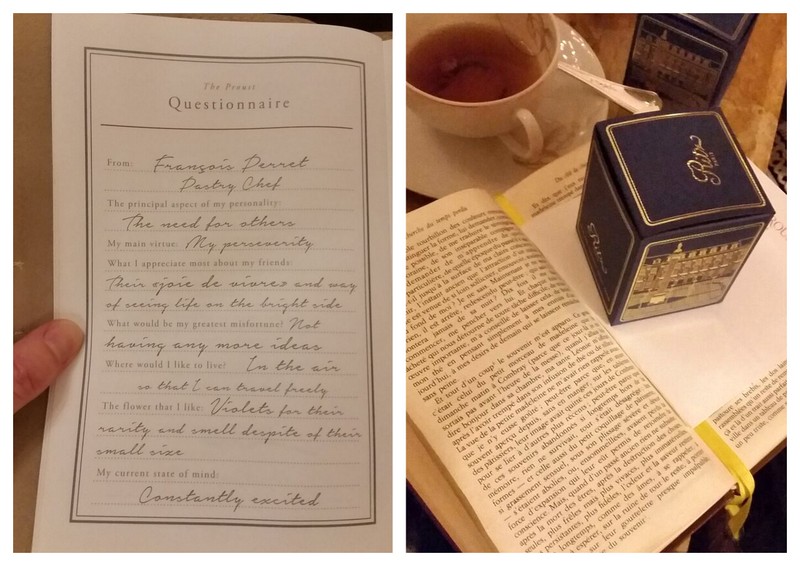 Don't be fooled by all the light biscuits and mini cakes: it's just not possible to finish everything that's presented (well, without needing a golden crane option at the end to lift us out). A box of untouched goodies are yours to take home, plus yet another finale: the most exquisite tiny tea caddy containing a Rooibos and yuzu tea with precise instructions to infuse 5g for 400ml at 90°C for 3-4 minutes, s'il vous plaît.
After such a Ritz Paris Teatime, it's quite easy to take a stroll indoors and lose yourself in the sumptuous corridors leading to the Hemingway Bar. To access the bar, temptations continue with this elegant shopping gallery.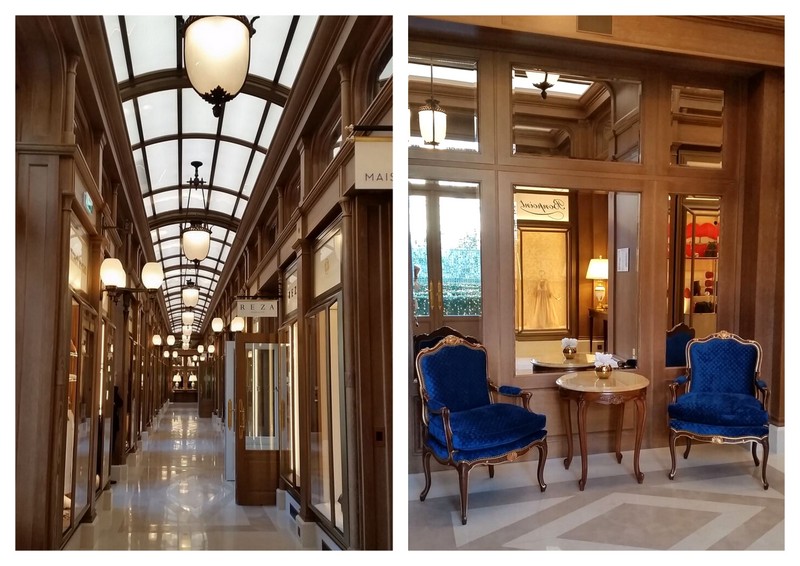 With teatime starting at 2.30pm, by the time you've enjoyed an afternoon of it by the fire in such lush surroundings, it's extra magical in Winter to come out to the sparkling lights of Place Vendôme.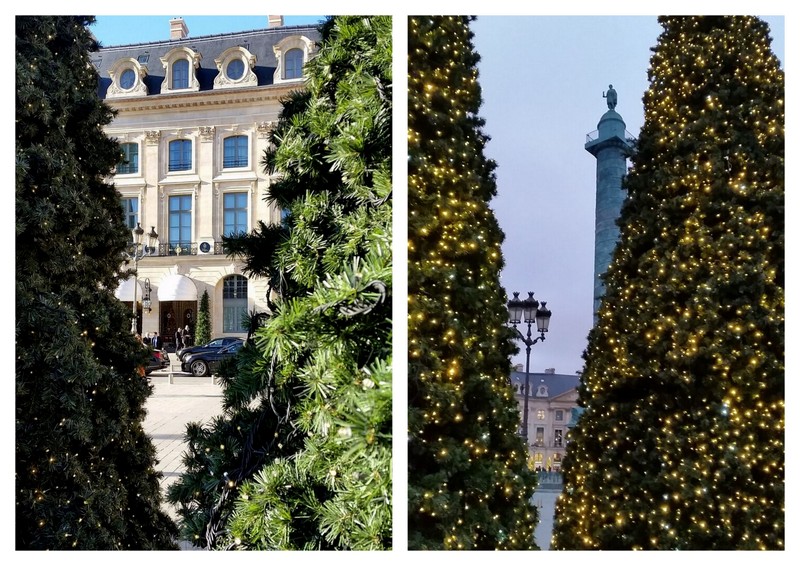 Open every day: 2.30pm-6pm
French Teatime (Thé à la française): €65; Champagne Teatime: €85
Salon Proust
Ritz Hotel Paris
15 Place Vendôme, 75001 PARIS
Tel: +33 (0)1 43 16 33 74
Metros: Opéra or Tuileries
Alas, this post is not sponsored.