Remember Brandy Snaps, the retro British crispy caramel wafer-like tubes filled with light whipped cream? They're a lot easier to make than you think. Find out how to store them, fill them and stop them from getting soft or chewy. Authentic recipe but with a Mojito change for the traditional filling.
What Does a Brandy Snap Taste Like?
This recipe came about when I was flicking through Classic British Bakes in my old edition of the Be-Ro Flour Home Recipes. I stopped at what they called Ginger Snaps. Do you remember these?
They were more popularly known in Scotland as Brandy Snaps. When I saw the rather retro recipe, a waft of nostalgia hit, as I recalled my parents going mad for Brandy Snaps when they'd see them stacked up at one of our favourite bakeries in Edinburgh's Stockbridge.
That taste is like slightly burnt caramel and, after experimenting with various different ingredients, the flavour must come from the golden syrup. Without it, it's just not the same - likewise, that little hint of Brandy does make the authentic taste. They're incredibly brittle and crispy too but the velvety cream filling is a perfect balance of textures.
Do Brandy Snaps Have Brandy In Them?
The classic Brandy Snap recipe uses just a teaspoon of Brandy in the cylinderical tubes. If you prefer them without the alcohol, I've experimented without and it works well too.
Most of the alcohol is in the whipped cream filling. This, of course, is a matter of taste. In this recipe, I've made a Mojito variation with rum, lime and mint instead of Brandy
We could call them Mojito Snaps - although it doesn't quite sound the same. However, they're not just good but easy to make too! With the rum, they are strictly for adults only. However, the alcohol can easily be omitted and the recipe still works well.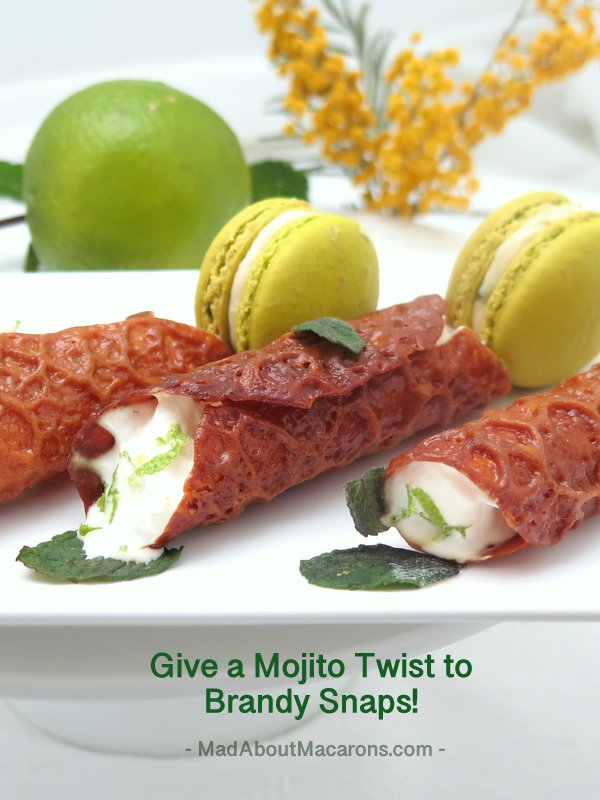 Why is it Called a Brandy Snap?
You can just imagine why they're called snaps. They snap into the most messiest of delicious pieces, cream getting everywhere. It just isn't possible to eat one without it snapping into delicious little bits and leaving gorgeously messy fingers.
As for the Brandy part of its name, it's apparently not referring to Brandy at all. Instead, the name refers to them being branded, as in burnt, according to John Brockett's Glossary of North Country Words (Newcastle, 1846).
Brandy Snaps vs Cannoli
These little fragile caramel rolled tubes perhaps look a bit like Cannoli in that they're rolled and stuffed with cream. However, the mixture for making the cannoli tubes isn't at all the same.
Like Brandy snaps, cannoli tubes are also made up of butter, sugar and flour.
Conversely, cannoli tubes add Marsala, egg, cocoa powder, and a touch of vinegar. Instead, Brandy snaps add Golden Syrup, a little baking powder and a tiny amount of Brandy which is optional.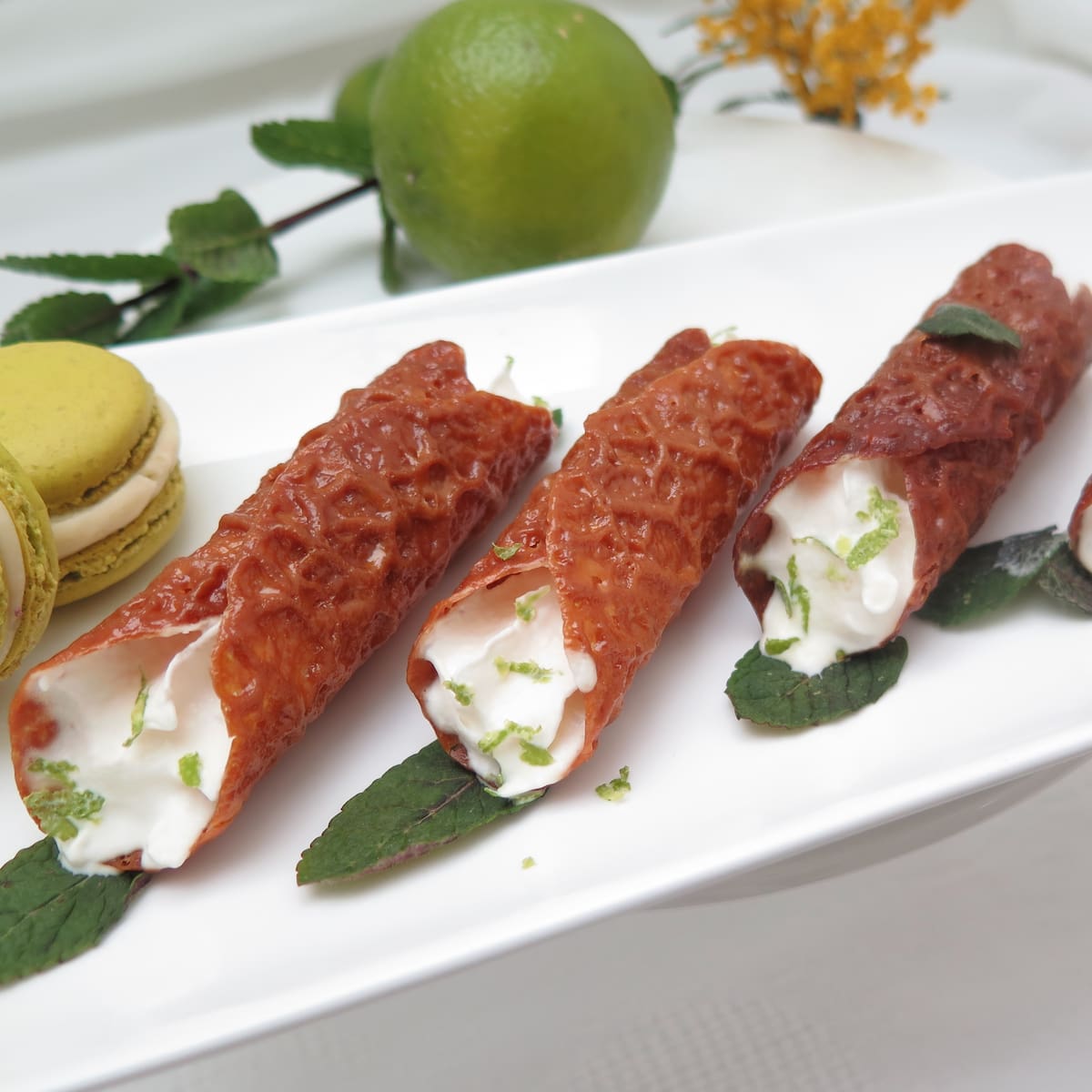 Inspired by Mojito Macarons (Lime and Rum)
While sticking to a Mojito theme, I made a batch of Mojito macarons (one of my favourite recipes in my book, Teatime in Paris) which are particularly boozy.
So, like these Brandy Snaps, are strictly reserved for adults only.
Imagine a soft whipped cream with lime zest, fresh mint and a bit of rum. It's a Mojito twist to brandy snaps!
What Can Be Substituted for Golden Syrup?
Golden Syrup is from the UK. It's an inverted sugar syrup and general substitutes are light corn syrup or brown rice syrup in the USA. However, both honey or maple syrup can sometimes be used as an alternative, but it depends on what kind of recipe you need it for.
So after experimenting using other syrups and honey with this recipe, the result still looks the same but the taste is nothing like what it should taste like.
As a result, I don't recommend any substitute other than Golden Syrup if you want the genuine taste of Brandy Snaps.

How to Make Brandy Snaps - The Tubes
The recipe instructions look long on the recipe card below but I've just spent more time explaining each step in detail. They're easy peasy!
Why not make them for Mother's Day or Father's Day for a touch of nostalgia? I get the same reaction when serving trifles - such as this Macaron Berry Trifle.
Once you've prepared the batter by melting the butter, flour and golden syrup then added the other ingredients, you're ready to spoon them out.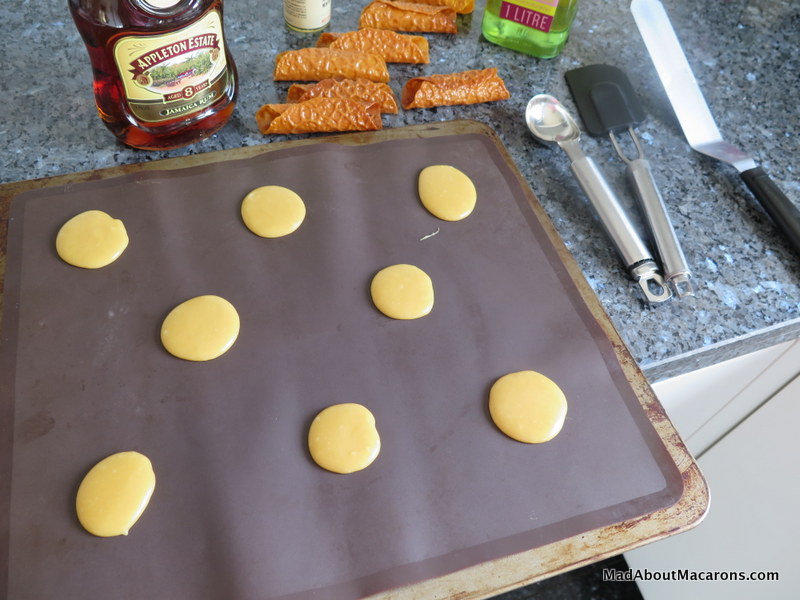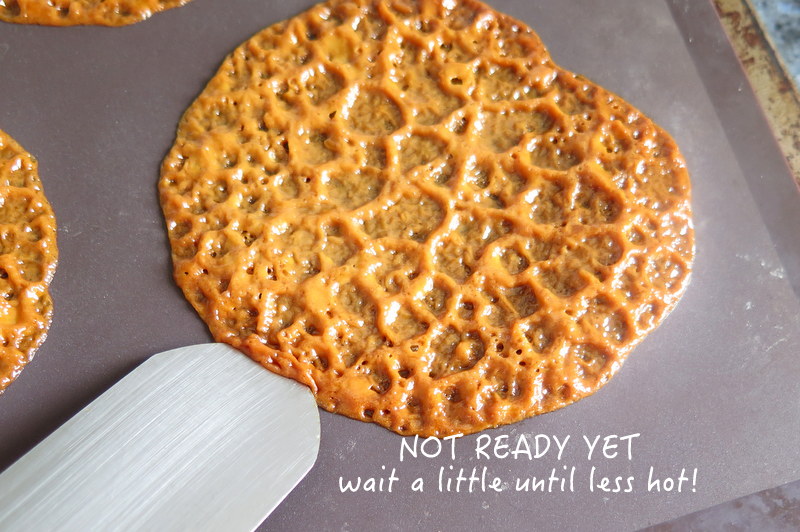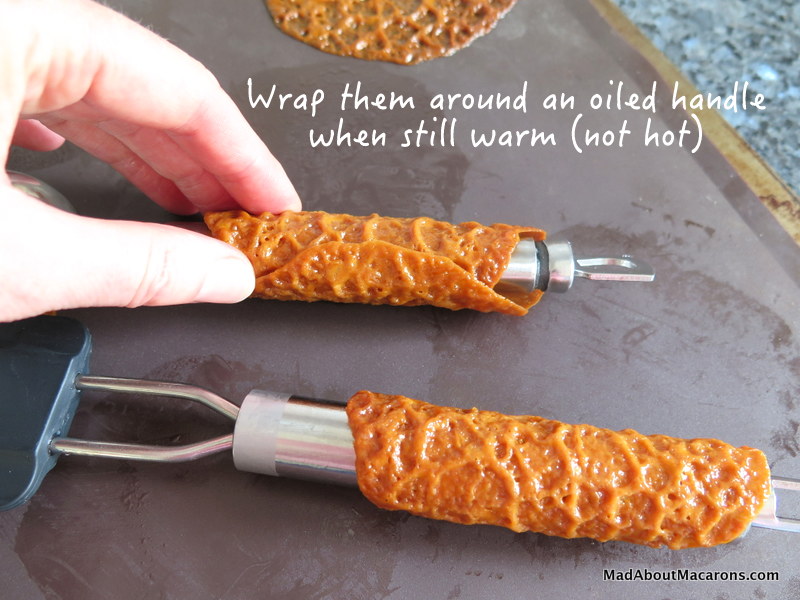 How to Fill Brandy Snaps
Before serving, whip up the cream in the chilled bowl using an electric whisk to firm peaks. Add the zest, mint extract (if using) and rum and whisk together for a few more seconds.
To fill each cavity with the whipped cream, either use a small spoon (although this can be messy!) or better still, with a piping bag and plain tip. The latter makes it sound difficult, but it's so much easier this way. Alternatively, spoon the whipped cream into a ziplock bag, seal then snip off a corner and press into the tubes. It's just as easy!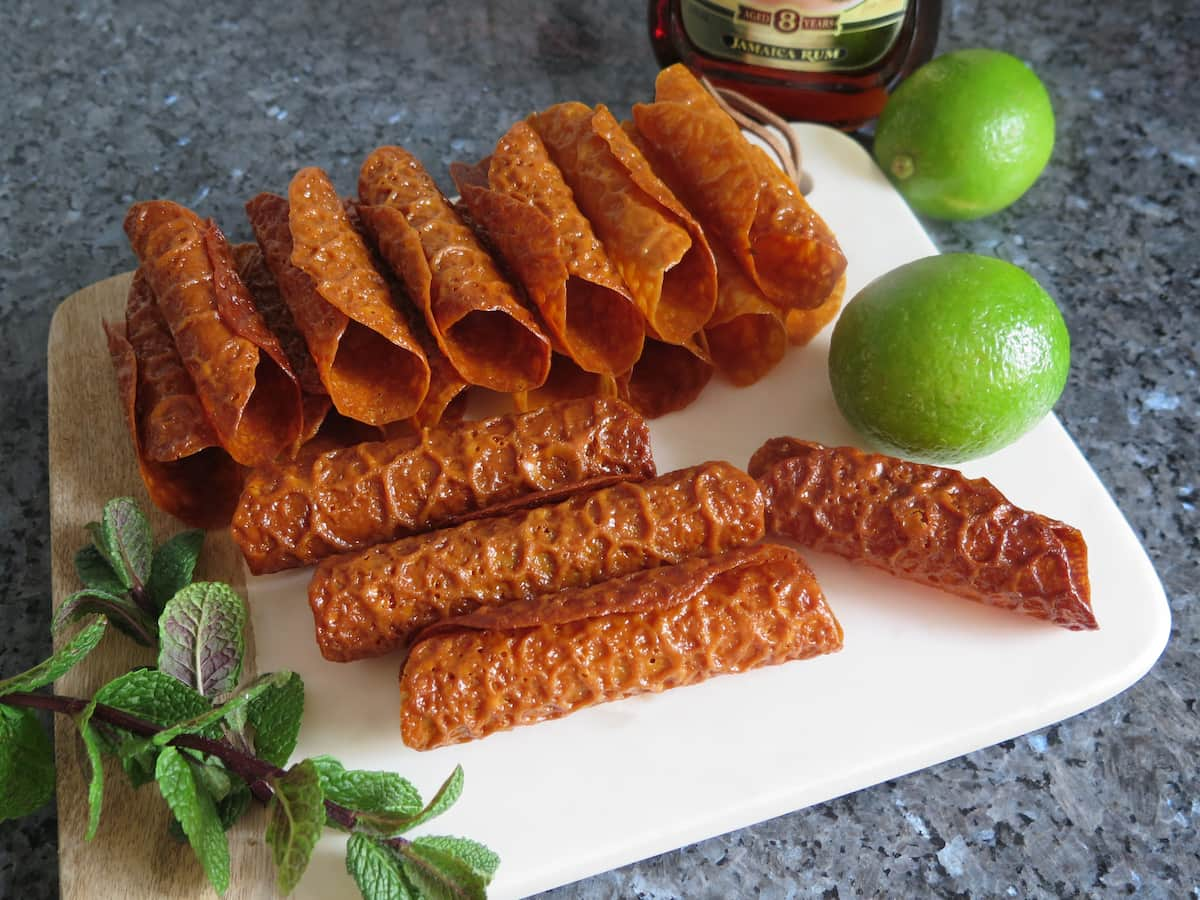 How Long Can you Keep Brandy Snaps?
These brandy snaps can easily keep for up to 3 days in an airtight container (I prefer a biscuit tin box) lined with baking parchment. That is, the tubes only can keep without any cream filling. Prepare the cream and fill them just before you plan to serve them to enjoy them at their best.
As they are brittle, handle them gently. Likewise, they can be frozen for up to a month so they're an ideal make-ahead dessert for entertaining.
How do you Keep Brandy Snaps from Getting Soft?
They also hate humidity, so line the airtight tin with greaseproof paper to avoid them sticking together. That's it!
The secret is to keep Brandy Snaps as little as possible out in the air. So keep them in the airtight tin until the last minute before serving, if possible. That will avoid them from becoming chewy.
Oh, and when you open up that airtight container, get these wafts of nostalgia flooding in. I often just stand with the lid open and sniff their distinctive perfume from the box. It's my Madeleine de Proust, that nostalgic return to a delicious childhood moment via your favourite foods. Do you know what I mean?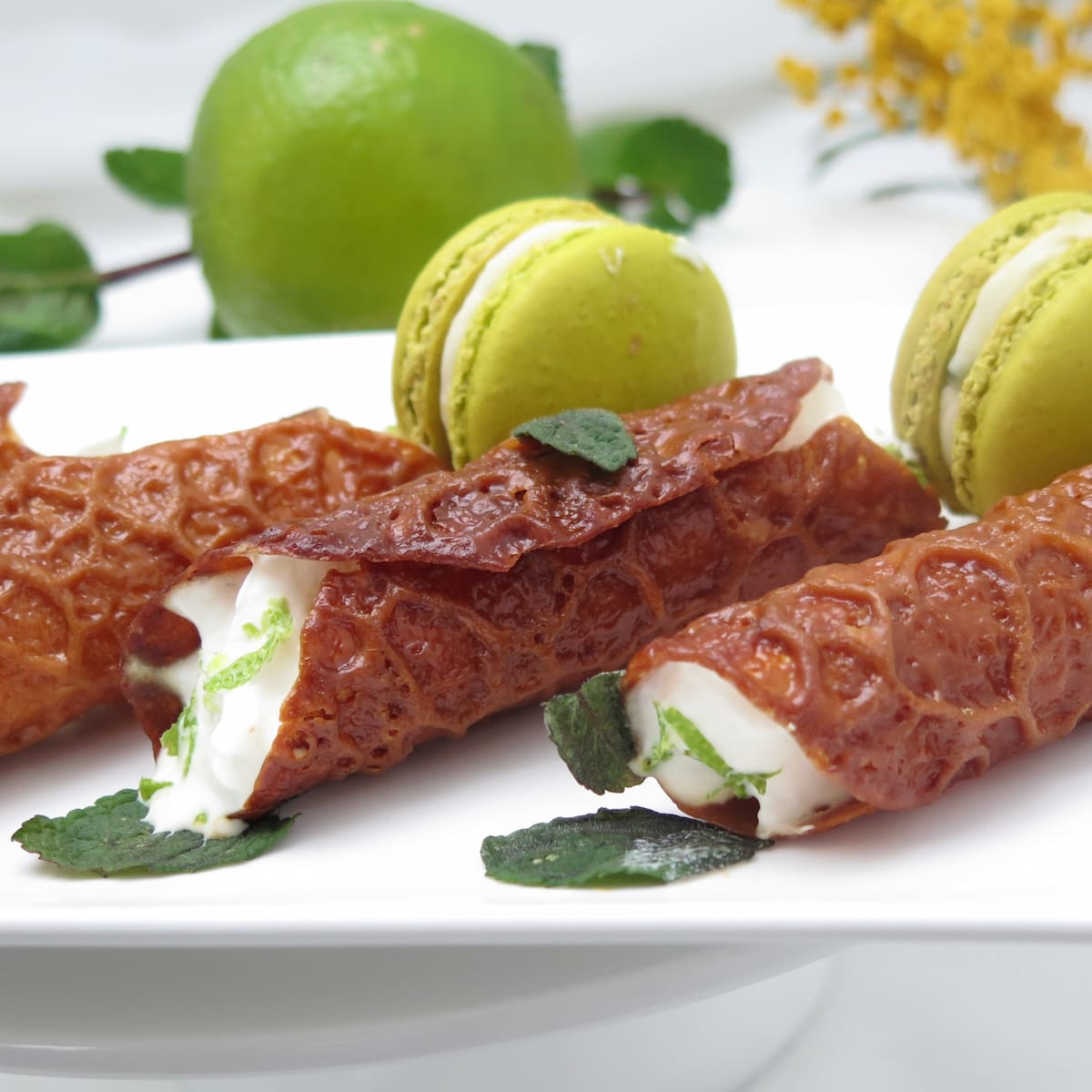 Brandy Snaps with a Mojito Cream Filling
Retro Brandy Snaps, caramel tubes filled with whipped cream given a mint, lime and rum twist to the party to make Mojito Snaps.
Ingredients
Brandy Snap Tubes
50

g (2oz/ 3½ tbsp)

Butter

unsalted

40

g (1.5oz/ 2½ tbsp)

Sugar

2

tablespoon

Golden Syrup (Lyle's)

No substitutes! See NOTES

50

g (2oz/6 tbsp)

Plain flour

(all-purpose)

¾

teaspoon

Baking powder

1

teaspoon

Golden rum or Brandy

(optional)
Whipped Cream Mojito Filling
300

ml (10.5fl oz/ 1¼ cups)

Whipping Cream (30% fat/heavy cream)

chilled

2

drops

Mint extract

(optional)

1

tablespoon

Golden rum

1

teaspoon

lime zest (from one untreated unwaxed lime)

1

tablespoon

fresh mint leaves

finely chopped
Instructions
To make the Brandy Snap Tubes
Place a bowl in the fridge for the whipped cream.

Preheat oven to 180°C/360°F/160°C fan/Gas 4. Either lightly grease a (non-stick) baking tray or even better, top the baking tray with a silicone mat. Lightly oil 2 metallic handles of a spatula, ice cream scooper or the likes, or a wooden spoon.

In a saucepan, melt together the butter, sugar and Golden Syrup.

When melted together, remove from the heat and stir in the remaining ingredients. Leave to cool for a couple of minutes so that it's easier to spoon the mixture out.

Using 2 teaspoons to push out the batter, place small heaps on the baking tray, ensuring each is spaced WELL APART (they spread a lot during cooking), ideally about 8cm/3 inches apart.

Bake in the oven for 8-10 minutes, keeping an eye on them towards the end, as it all depends on your oven. I found 7 minutes was too short, as they were not brown enough and 8-9 minutes was just right. Another minute, they would start to burn around the edges, which is to be avoided.

Leave to cool them slightly still on the tray. Using a spatula, check when they're ready by testing on the side. If the batter moves, then they're still too hot so wait another minute or two. Ideally they're perfect WHEN STILL WARM.

Gradually lift each snap off the tray and, using the oiled handle(s), roll each completely around them still directly on the warm tray. As the others will harden quickly making it too hard to roll, just place them back in the oven for about 30 seconds to reheat.

Prepare another baking sheet repeating steps 4-6 until finished.
Mojito Cream Filling
Before serving, whip up the cream in the chilled bowl using an electric whisk to firm peaks. Add the zest, mint extract (if using) and rum and whisk together for a few more seconds. Fill each cavity with the whipped cream, either using a spoon or better still, with a piping bag and star tip.

Garnish each snap with the chopped fresh mint and serve immediately. Makes about 16.
Notes
Brandy Snaps Without Brandy: Although I add just a teaspoon of rum or brandy in the recipe, they can be made without and the end result is still good.
Golden Syrup: I've experimented using other syrups with this recipe and don't recommend any substitute other than Golden Syrup if you want the genuine taste of Brandy Snaps.
Cream Filling: If you have a siphon (which I regularly use for this kind of quick cooking and it's handy to make whipped cream in advance), then place the cream, mint extract and rum into the siphon, close it inserting the gas canister. Shake and refrigerate until ready to serve. Fill each cavity with the cream and add the zest afterwards.
Storage: The brandy snaps (without the filling) can keep for up to 3 days in an airtight container lined with greaseproof paper so that they don't stick together and can be frozen.
NUTRITIONAL INFORMATION: 220 Calories per serving of 2 Brandy Snaps.
This post was first published 15 March 2017 but is now updated with text easier to read and updated images.