Rose Panna Cotta, a make ahead Italian dessert recipe with white chocolate and a spiced cherry and cardamom French coulis. Serve for parties in shot glasses or upturned in moulds for an elegant Italian-French dessert.
What is Panna Cotta Made Of?
What I love about the Panna cotta dessert is it's so simple. It's not a French dessert but from Italy.
Meaning 'cooked cream' in Italian, it's just made with cream, sugar and set with gelatine and left to cool in the fridge.
What's more, it's the kind of chilled dessert you can prepare quickly a couple of days in advance. Just add the fruit coulis topping on the day you're ready to serve.
Once you have the basic recipe you can make all sorts of flavour combinations – even savoury.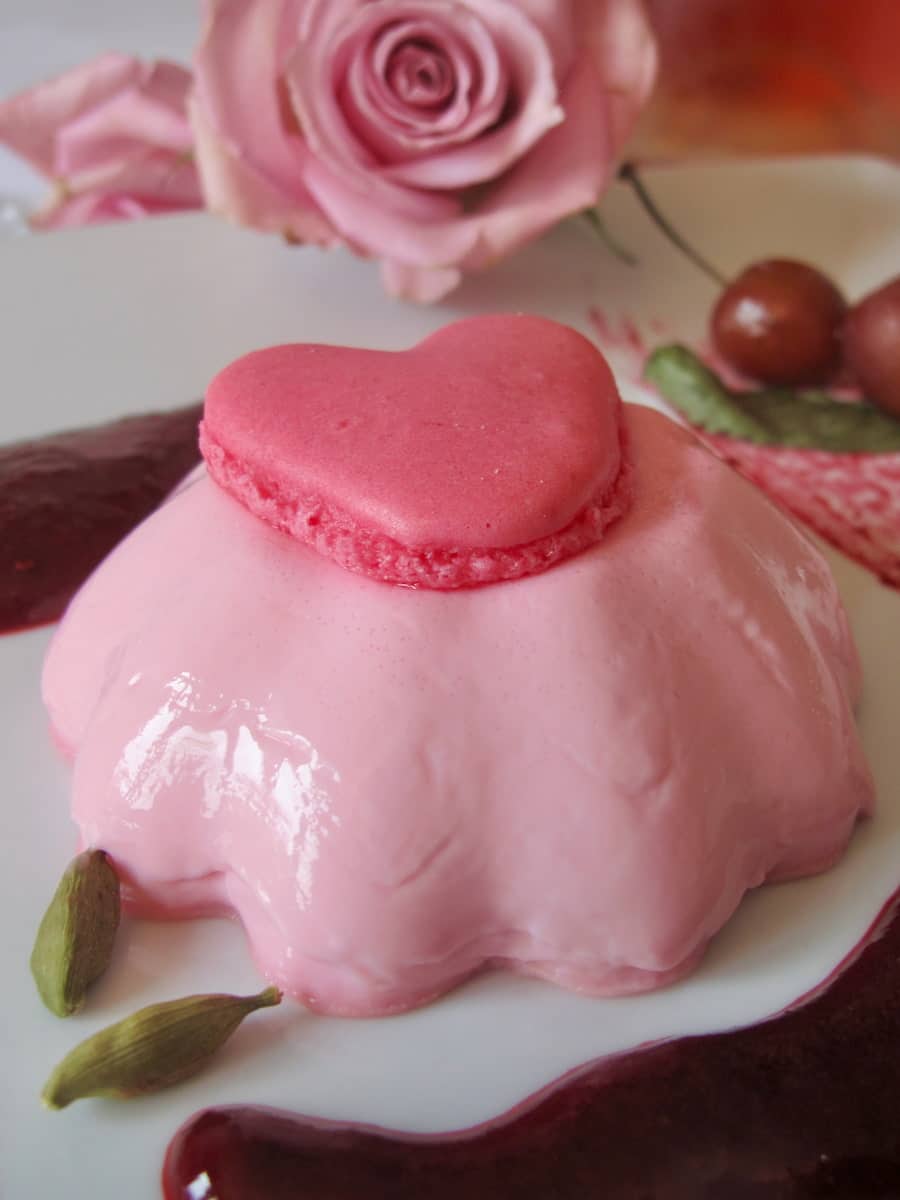 What is Panna Cotta vs Flan?
As mentioned above, the panna cotta is a cooked cream with gelatine. Unlike a flan or a French crème caramel (flan aux oeufs) which is cooked in an oven bath (bain-marie), the panna cotta is simply heated cream in the saucepan with added gelatine then chilled.
So, although both desserts are chilled, the French flan and Italian panna cotta are not the same.
Panna Cotta - What Does this Taste Like?
For this original rose panna cotta recipe, I have played around with the traditional ingredients and instead of adding sugar have used white chocolate. This not only helps to set it well but it's already sweet enough without any other sugar added.
The resulting taste is still creamy but the hint of white chocolate and rose is so delicate. I was inspired by the flavours I had already put together in this white chocolate mousse with rose and orange blossom. However, the texture is different in that is more set. It's just a cooked cream with subtle rose flavours that has been set and chilled.
The cherry and cardamom coulis is so good together with it. It adds a little tartness from the cherries and depth of flavour with the subtle spice for added intrigue.
How to Serve Rose Panna Cotta
Panna Cotta desserts are great for parties and dinner parties because they can be made a couple of days in advance. Serve chilled in cute little yogurt pots or party shot glasses topped with some fruit or purée. Here I made them along with the strawberry panna cotta with pistachio.
To serve for an elegant dinner on a dessert plate, fill the cream mixture into silicone moulds. Simply turn them out on serving plates surrounded with a fruit purée and be creative on decor.
For a touch of Parisian elegance, add a rose macaron and serve with pink Champagne or a Kir Royal. It's also so good served with a palet Breton (French butter biscuit) or almond tuile cookies - both recipes link to my videos.
Talking of bubbles, I needed a flute of pink Champagne just for the sake of a romantic shot.  In the end, the bottle and flute stem are barely visible.  I tried to get the Champagne in view but the angle was wrong; drank some more to see if a lower level would work.  No use. Drank the whole lot and it still didn't show.  Oh, the things I do for this blog!
How Long does it Keep?
Great news. These are perfect make-ahead desserts for a dinner party or for a crowd. They will keep in the fridge for up to 5 days (they can keep for longer, but I prefer them eaten sooner, as the flavours keep better.)
Just ensure that they're stored in an airtight container so not to take on any other fragrances from the fridge.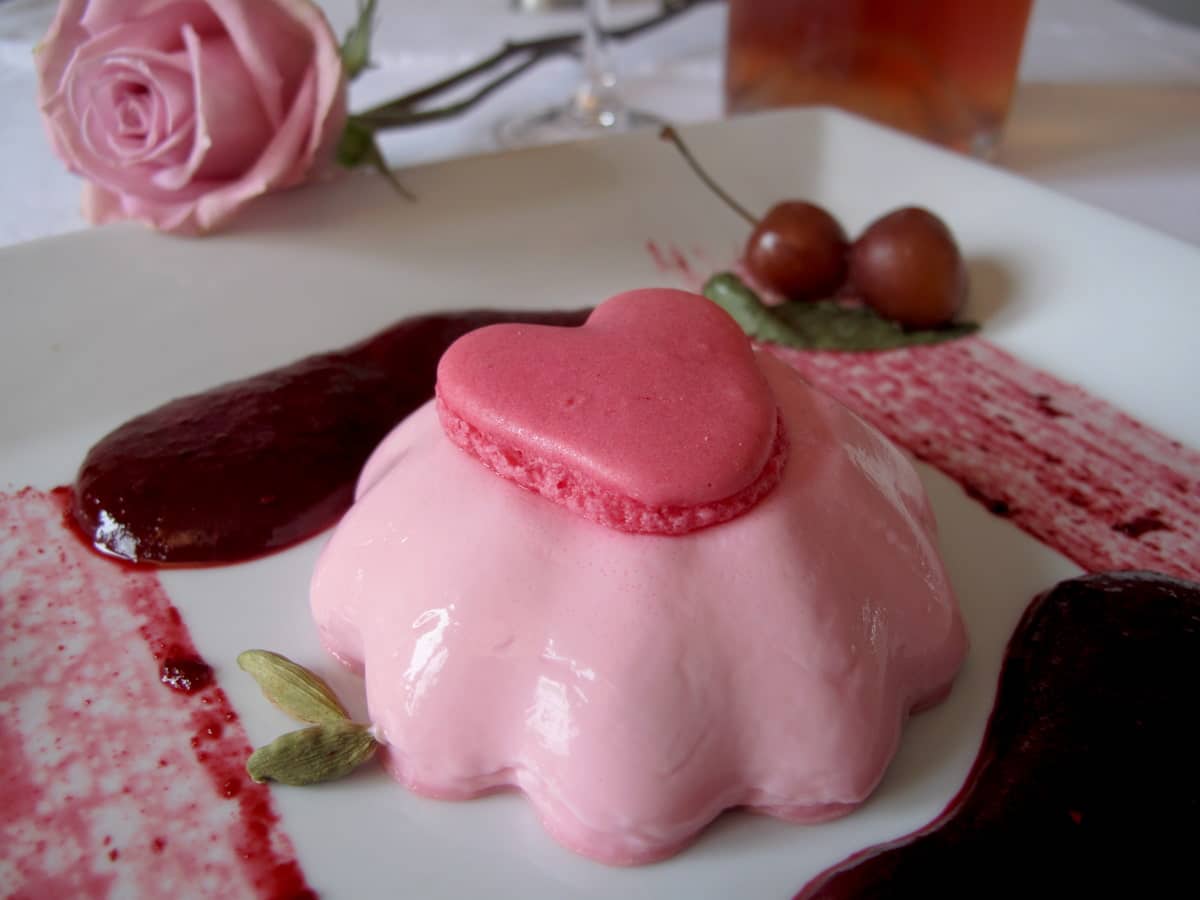 Just one of our favourite desserts to serve for St Valentine's Day - see my top 30 Valentine's Desserts.
Rose Panna Cotta with Cherry Cardamom Coulis
Rose Panna Cotta, a make ahead Italian dessert recipe with white chocolate and a spiced cherry French coulis. Serve for parties in shot glasses or upturned in moulds for an elegant Italian-French dessert.
Ingredients
Rose & White Chocolate Panna Cotta
3

@2g

gelatine leaves

soaked in cold water

400

ml (14fl oz/ 1 ⅔ cup)

whipping cream (30% fat)

75

ml (2.5fl oz/ ⅓ cup)

whole milk

15

ml (1 tbsp)

rosewater or rose syrup

* see NOTES

85

g (3oz / 1 cup)

white cooking chocolate

2-3

drops

pink food colouring

optional
Cherry Coulis with Cardamom
300

g (2 cups)

cherries

pitted

2

tablespoon

water

45

g (3 tbsp)

caster sugar (superfine)

2

pods

green cardamom

seeds only
Instructions
Rose & White Chocolate Panna Cotta
Soak the gelatine in cold water for 5 minutes.

Heat together the cream, rosewater* and colouring (if using) in a saucepan and gradually melt in the white chocolate. Stir until smooth. Squeeze in the gelatine and stir to dissolve into the warm cream.

Pour into non-stick silicone moulds. Here I used briochette moulds but you could use muffin moulds.

Leave to cool in the fridge for at least 2 hours.
Cherry & Cardamom Coulis
Place the cherries in a saucepan with water (no need for water if your cherries are frozen since not in season), sugar, lemon juice and the cardamom seeds.

Cook for about 10 minutes until the cherries are soft. Transfer to a blender and blitz to a smooth sauce.

When ready to serve, run the underside of the moulds briefly under hot water then carefully turn them out directly on to the serving plates and pour around the coulis.
Notes
Serve rose panna cotta desserts chilled.
Rosewater: I normally use half litre bottles of light rosewater from North Africa that I get in France.  In Scotland, I could only find small 60ml bottles, which was so much more concentrated.  I would suggest the smaller the bottle, the smaller the dose needed. Ideally it should be water with essence of rose no more than about 6%.
Serves 4 as a larger dessert (576 calories for 4 people) or 8 portions in shot glasses (288 calories for 8 portions).
This recipe was first published 16 February 2011 but has now been completely updated