Planning to make dessert for Valentine's Day? Here are my Top Ten Light Valentine Dessert Ideas – well, 12. All can be made in advance and are easy to make for your romantic dinner for two at home. Whether it's individual desserts, mini desserts, fine dining, with strawberries, with or without chocolate – I have you covered.
Add that extra wow factor by serving them with your own homemade macarons from my books.
Light Valentine Chocolate Desserts
Passion Fruit Chocolate Mousse without Cream
These extra light passion fruit chocolate mousses are ideal for an easy, make-ahead dessert.
We love a light, fluffy chocolate mousse without cream. However, on experimenting with the recipe further, I added passion fruit and used just egg whites – then topped each pot with some caramel nougatine.  The extra nougatine can keep days longer to linger on delicious moments.
Chocolate Fondant Lava Cakes (Moelleux au Chocolat)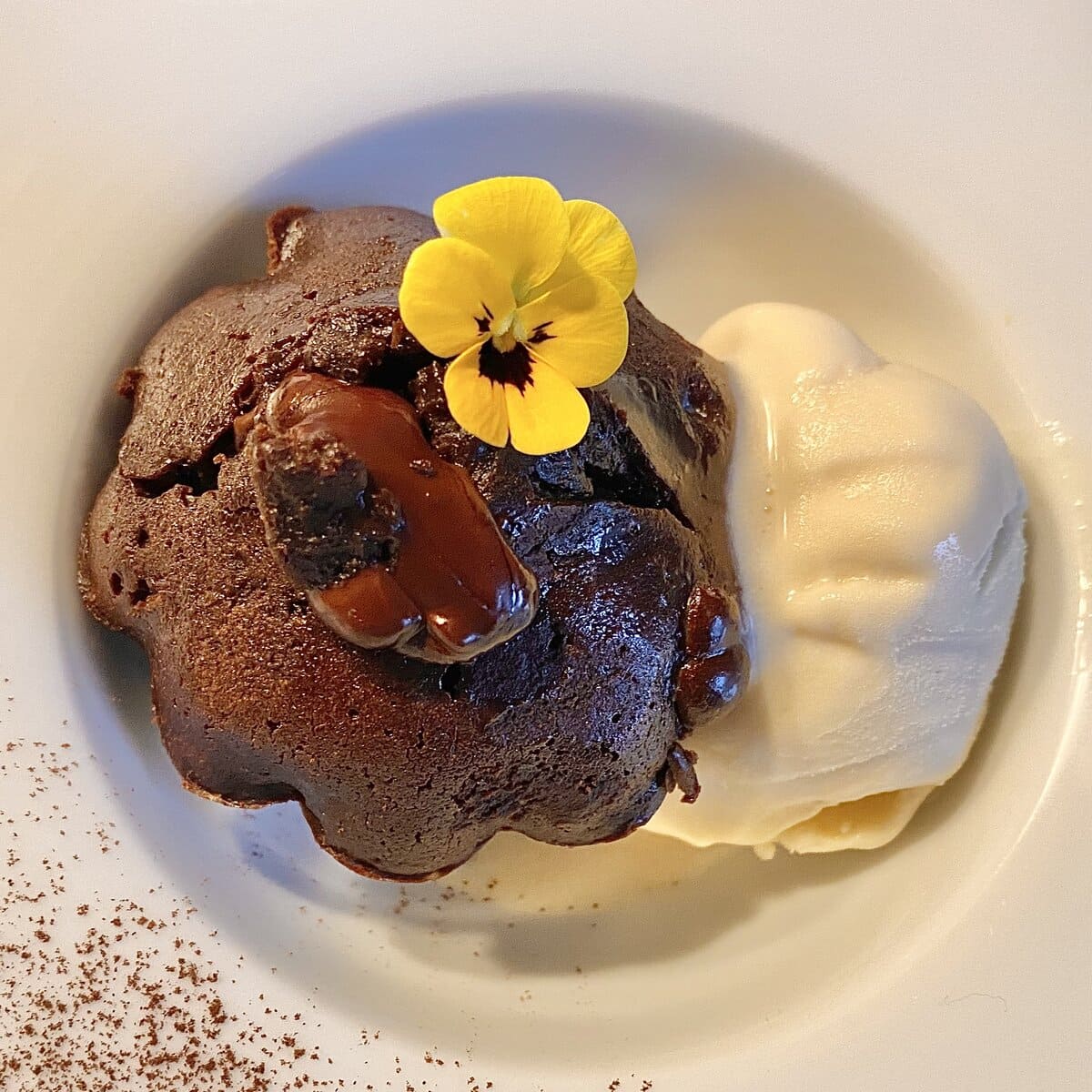 For a melting heart of chocolate, make these easy Runny Chocolate Lava Hearts (moelleux au chocolat).
Made in just under 30 minutes!  If "You've lost that loving feeling; Woah-woh-oh…", add a warming glow of ground or candied ginger to these classic lava cakes.
Halve the recipe quantity (for 6) if you're wanting dessert for two – with one left to share. Prepare the batter and have them ready in the moulds just before dessert. When ready to serve, bake for no more than 8 minutes.
Mini Rhubarb, Rose & White Chocolate Mousse Crumbles
I'm not a white chocolate fan – but when I experimented with this billowy, fluffy dessert you'll discover that this white chocolate rose and orange blossom mousse makes a deliciously light and refreshing dessert.  There's not too much and just enough white chocolate to make it sweet without adding any sugar.
Then take it to another couple of levels by adding a layer of rhubarb & strawberry compote and top with a crunchy, toasted oat crumble. What do you get? Mini Rhubarb, Strawberry & White Chocolate Mousse Crumbles. No rhubarb? Then cheat and use good quality rhubarb compote (Bonne Maman do a good one). Serve with strawberries and tuiles.
Black Forest Creams
Individual German chocolate creams. Easy, make-ahead desserts are topped with cream and cherries soaked in Kirsch. They're delicious served with macarons with a chocolate cherry ganache.
Rose & White Chocolate Panna Cotta with Cherry & Cardamom Coulis
Love pink and roses at Valentines? Then this is more fine dining with Rose and White Chocolate Panna Cotta with a Cherry and Cardamom Coulis. This makes a change to the classic raspberry pairing with rose we see so often in Paris.  Here I cheated with frozen dark cherries as they're not in season but the partnership is wonderful. Add a heart-shaped macaron or two to add the perfect finale to this gluten-free dessert. Here's a quick tutorial how to pipe out macaron hearts.
Love rose desserts? Then try these mini Rose, Raspberry & Lychee Trifles, inspired by the Parisian Ispahan.
Poached Pears with Vanilla & Coffee
I thought poaching pears was difficult and fussy when I first came to Paris, but this Poached Coffee with Vanilla Pears dessert (gluten-free) couldn't be easier. Have you tried coffee and pears together? They make a great couple. Serve in large bowls to catch the lovely poaching juice and have fun decorating the sides with a large paintbrush.
Although the dessert is without chocolate, I like to decorate the bowls with melted chocolate and serve with chocolate or mocha macarons. Don't have chocolate macarons? Make these French chocolate mendiant disks with dried fruits (they last a few days).
Prefer without chocolate? Serve with coffee or vanilla macarons – or Palets Bretons (irresistible salted butter biscuits from Brittany).
Valentines Desserts Without Chocolate
Crème Caramel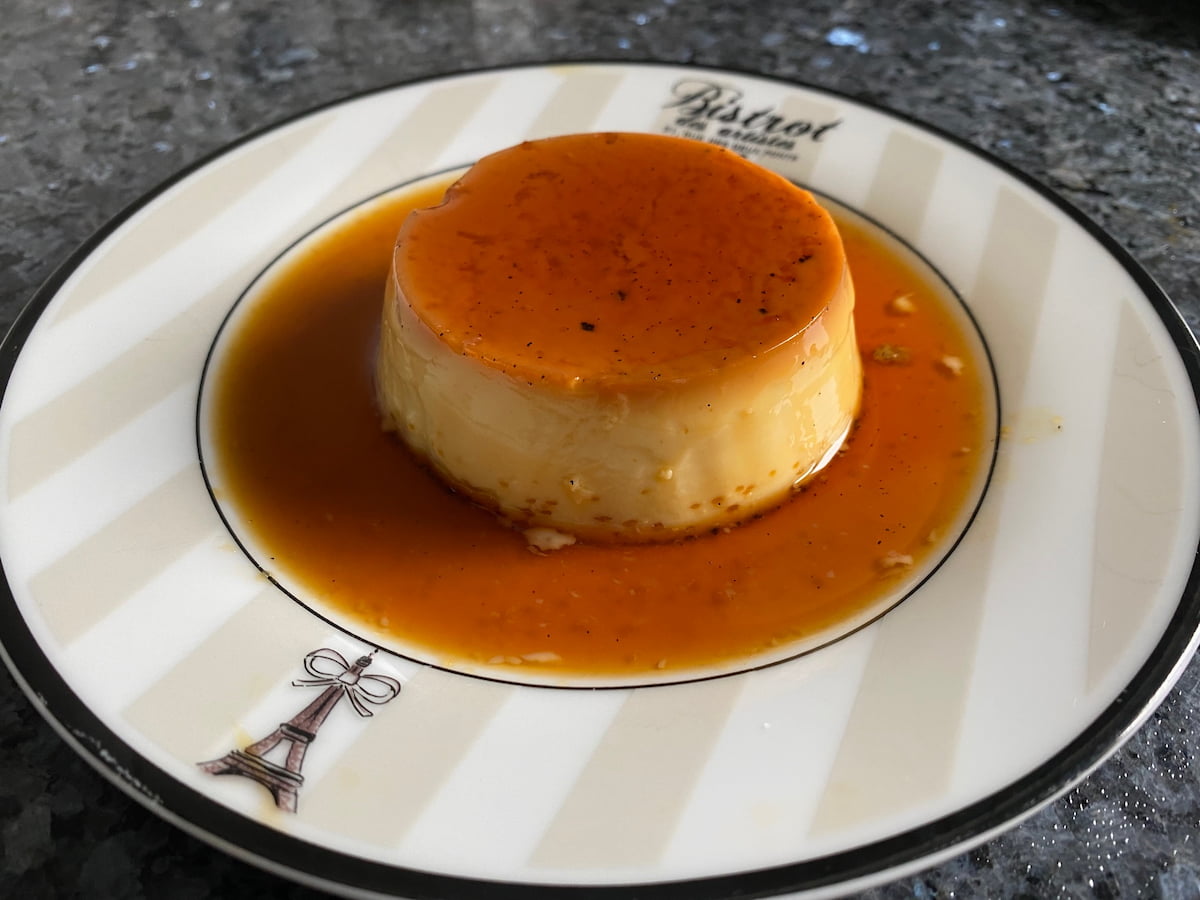 You can't go wrong with a classic French crème caramel – served in so many brasseries around Paris. This easy recipe is ideal to make a day or two in advance and is particularly light, as it uses whole milk, not cream. Moreover, it's lighter on the sugar than many classic recipes, as the caramel is sweet enough. Perfect recipe for two.
Like the French, serve on its own, with palets bretons or with a couple of strawberries.
French Blueberry & Lemon Bavarois (with roasted coriander)
This Blueberry and Lemon Bavarois is made with fresh blueberries – but can also be made using frozen berries.  A very light gluten-free recipe, it's also an easy no-bake French dessert. Similar to an Italian Panna Cotta, the French make it with fruit purée and less cream. Add a touch of roasted coriander to bring out their subtle flavours and get that extra oh-là-là! The recipe is for 4, so just halve the quantities for a romantic dessert for 2.
Top with edible flowers, such as winter pansies or violas, and if you have some lemon macarons, it's a speed-dating trick that works.
Love blueberries and lemon? Then enjoy this Blueberry & Lemon Clafoutis and serve by the slice.
Caramelised Pineapple Riz Condé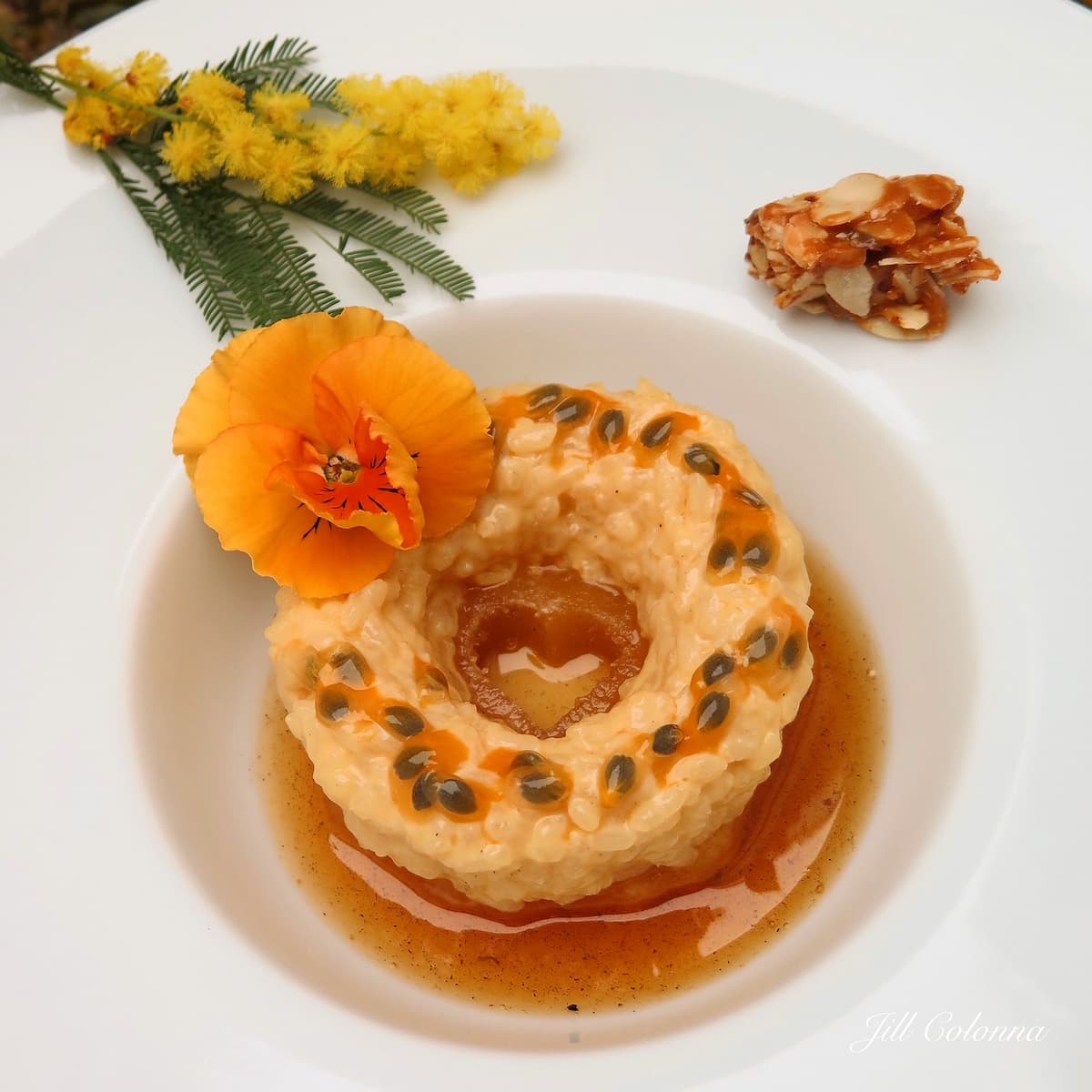 As it's pineapple season, cut out heart shapes in the middle of each pineapple slice to make individual caramelised pineapple riz condé. Shape the rice pudding around the pineapple rings and serve it in the vanilla caramel sauce used to roast the pineapple.
Lemon & Praline Filled Meringue Snowballs
Surprise your Valentine when cutting into these individual Lemon & Praline Filled Meringue Snowballs.
Inside is the most delicious combination of tart lemon and a layer of roasted hazelnut praline and finished off with a vanilla and chestnut cream. The meringue is hollow so it's easy to fill and prepare each stage in advance.
Iced Cranachan Honey & Whisky Parfaits with Oat Praline & Shortbread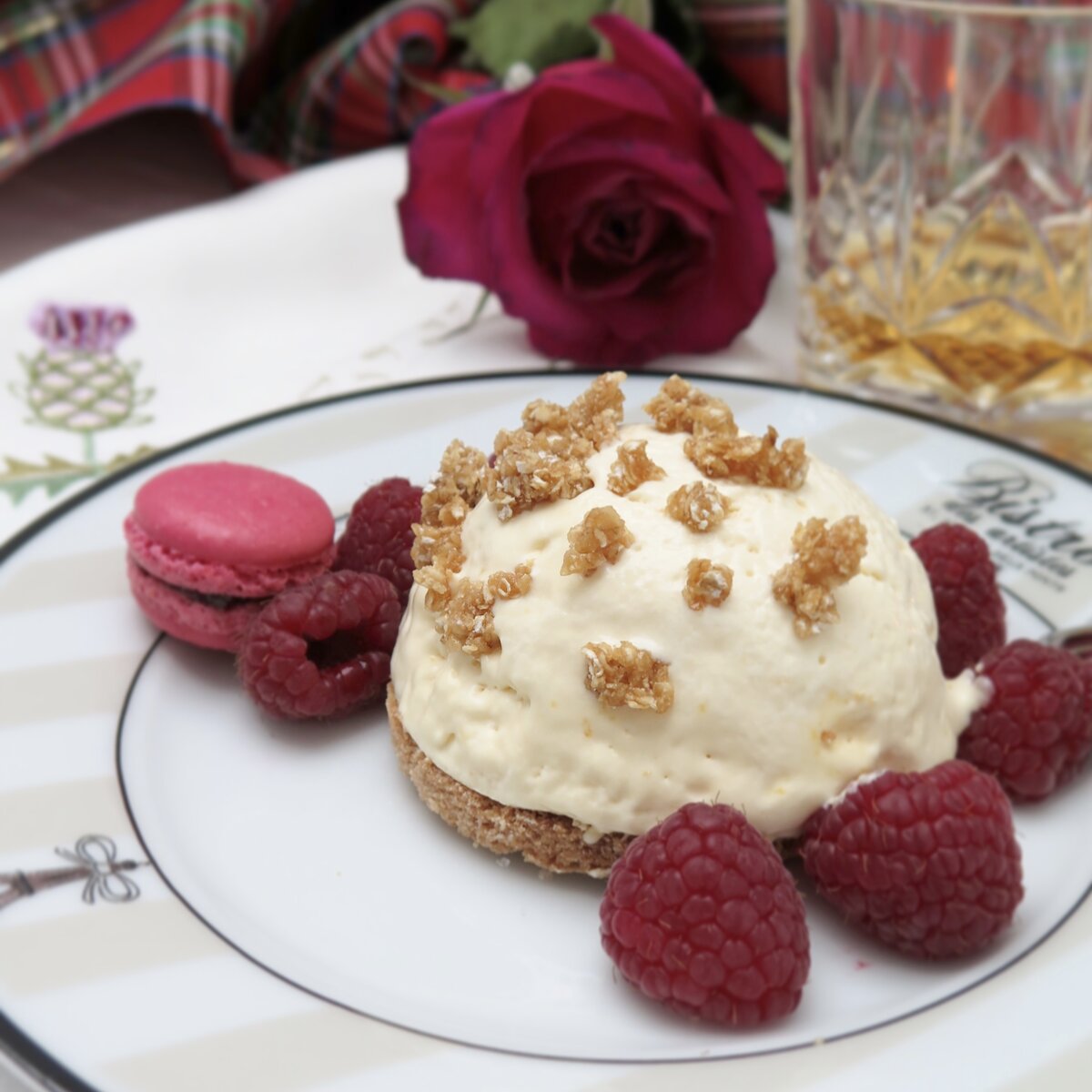 I love making a French twist on a classic dessert. This is based on Cranachan, the simple Scottish layered dessert of raspberries and cream with honey, whipped cream and oats, often served with shortbread (see the classic Cranachan at Christina's Cucina – approved by Sam Heughan from Outlander). So turn all the ingredients around and prepare these Iced honey and Whisky Cranachan Parfaits in advance. Simply serve on top of the shortbread and top with an oat praline – everything is included in the recipe.
If you're lucky enough to find raspberries at this time of year in the northern hemisphere, that's wonderful. Otherwise, serve with a raspberry coulis or gently heat a couple of spoons of raspberry jam and brush it on the plate as colourful decor. For more raspberry inspiration, serve these individual mini macaron Ispahan trifles – perfect for afternoon tea.
Creamy Lemon Ice Cream (with Strawberries)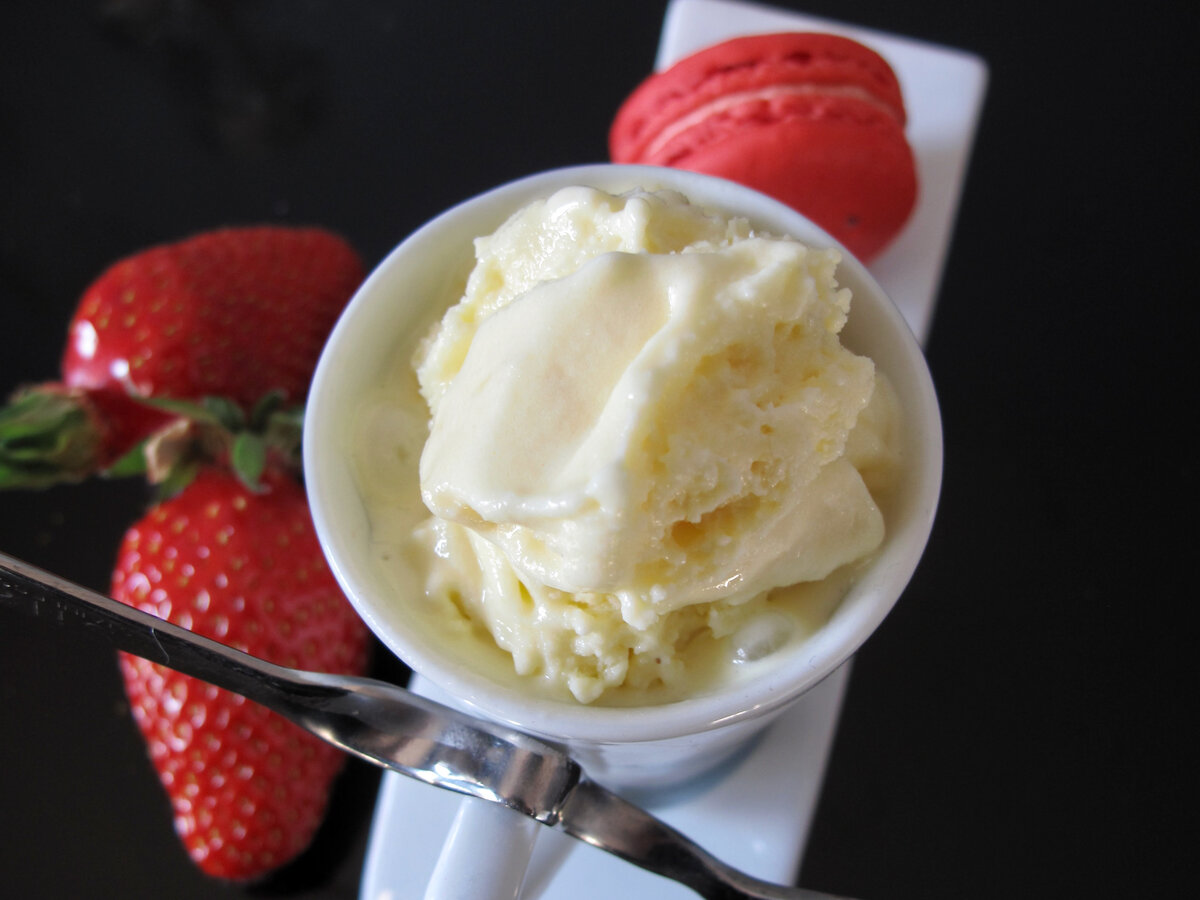 Don't churn down the idea of ICE CREAM in February! (Pun groan…)
Perhaps you need to cool down your hot Valentine with this Creamy Lemon Ice Cream. Serve with strawberries and if you don't have macarons, serve with French tuiles (made with the leftover egg whites).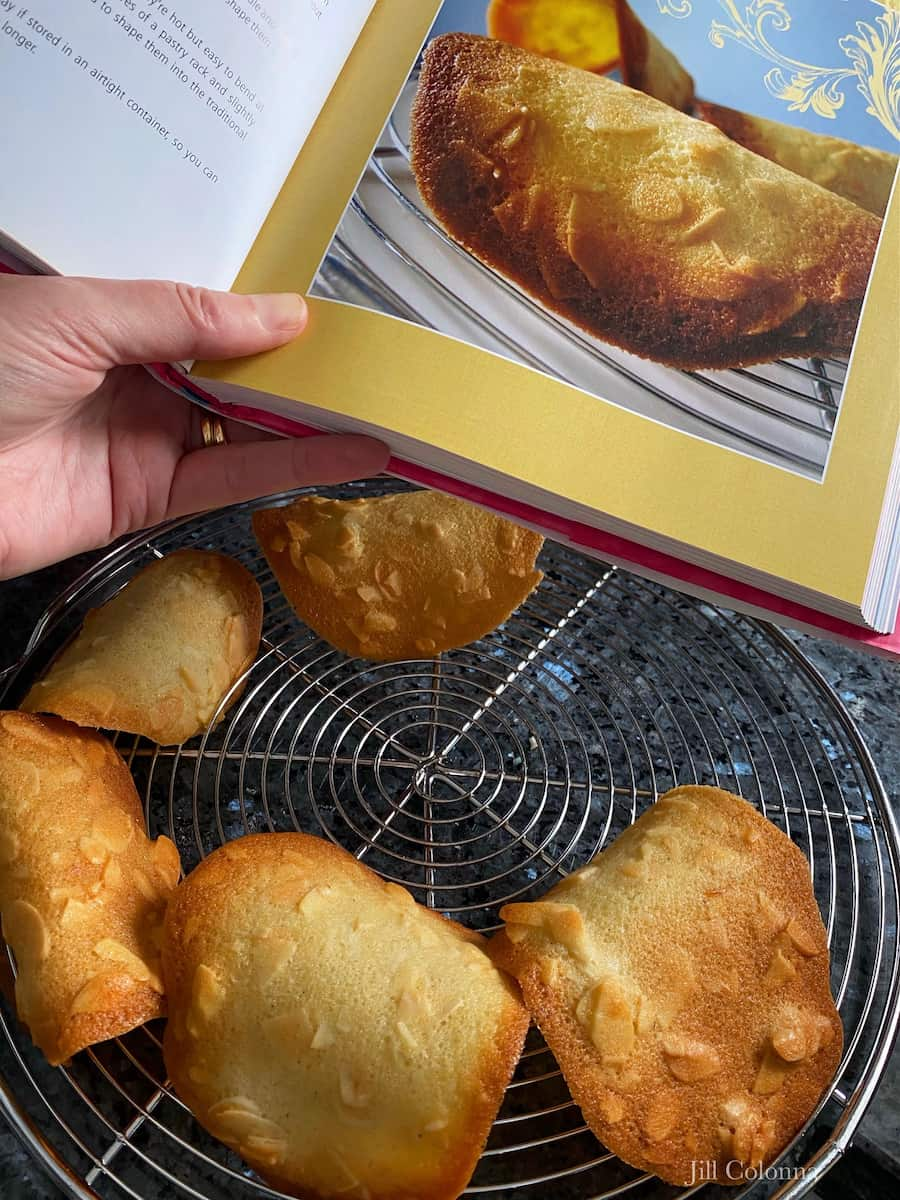 I've given you the recipes above from le blog – but don't forget that the step-by-step macaron and pastry recipes are in my books, Mad About Macarons and Teatime in Paris!  And at the bargain price of each book, you can bring Parisian tarts, éclairs and much more to your own kitchen with a recipe tour of the best pâtisseries thrown in…
Have a very Happy Valentine's from Paris x
This post was originally published 11 February 2016 but is now completely updated to include more recent recipes from le blog.