Berry Crème Brûlée is a quick and light French summer recipe - made with fresh berries, topped with an elderflower sabayon and toasted under the grill. An elegant dessert that can be whipped up in 30 minutes.
Berry Crème Brûlée with Fruit Bottom
Although I call this a Berry Crème Brûlée as it's more popularly known, this is more of a sweet gratin. Rather than fruit being served as a decor on top, they are placed on the bottom of the gratin dish. Gratins are not just reserved for savoury dishes with bubbling cheese in France (such as Gratin Dauphinois, Gratin Savoyard, Butternut & Walnut Gratin) but turned into a dessert too.
So it's a lighter version of a classic crème brûlée. Instead, this gratin dessert highlights the fruits - with mainly fresh strawberries and raspberries. What's more, it has a more liquid form of custard, rather similar to a Crème Anglaise rather than set for a a much shorter cooking time.
That's why it's a handy summer recipe to have if you don't want the oven on too much during a heatwave.
Do I Need a Torch for Crème Brûlée?
If you prefer to serve yours more like a classic Crème Brûlée topped with more sugar, then be my guest. Normally the top is sprinkled liberally with sugar and is toasted (literally burned) to form a hard crunchy layer on top. However, I like to keep this version lighter with half the amount of sugar. It's just lightly toasted in order to highlight the fresh berries.
The level of crunch of a crème brûlée comes from the amount of sugar. Many people ask how long you should torch a crème brulée. Whether using little sugar or more, the method is the same:
Either place for just 2 minutes or until toasted under a hot grill; or
Toast the sugar topping using a blowtorch until it bubbles and 'burns'. The sugar will instantly set.
Can Berry Crème Brûlée Be Made in Advance?
Yes, this can be made ahead of time on the day of serving. However, only add the final sugar to toast just before serving.  If you prepare this part and place in the fridge, the sugar will just dissolve and melt.
Reduced Sugar Dessert
Although I say 'sweet', this French berry gratin isn't too sweet. There is just enough sugar added but not too much to overpower the natural sugars in the fruits.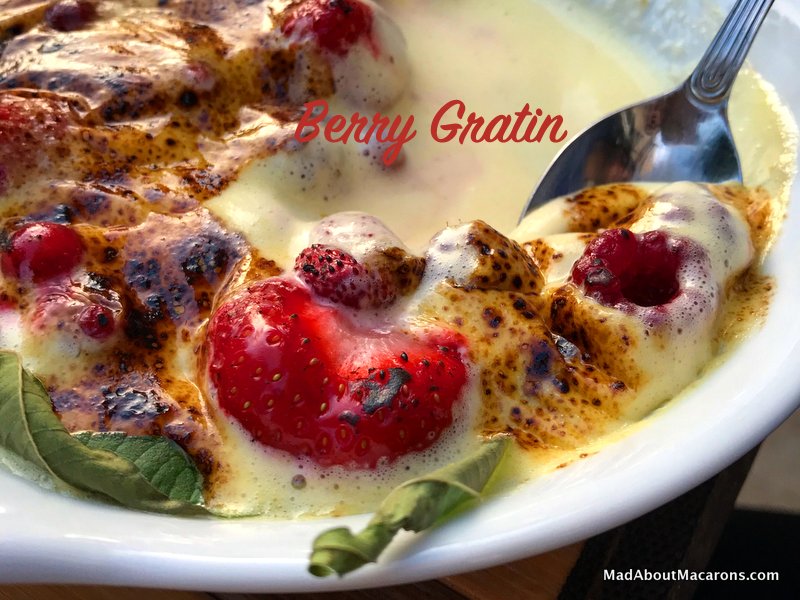 Elderflower Syrup, Cordial or Liqueur
I'd normally make this using a vanilla pod/bean but this time I felt like some elderflower to highlight the strawberries.  If you've tried my Strawberry Eclairs with Elderflower Cream recipe in Teatime in Paris, you'll know what I'm talking about.
As I'm not lucky enough to have elderflowers around, I cheat with a little cordial (Ikea have one) or syrup (Monin is good). However, if you have Elderflower liqueur such as Saint Germain, then that's great too!
If you're not into elderflower, then infuse this cream with some lemon verbena or lavender (see my post on fresh aromatic herbs). So many variations are possible.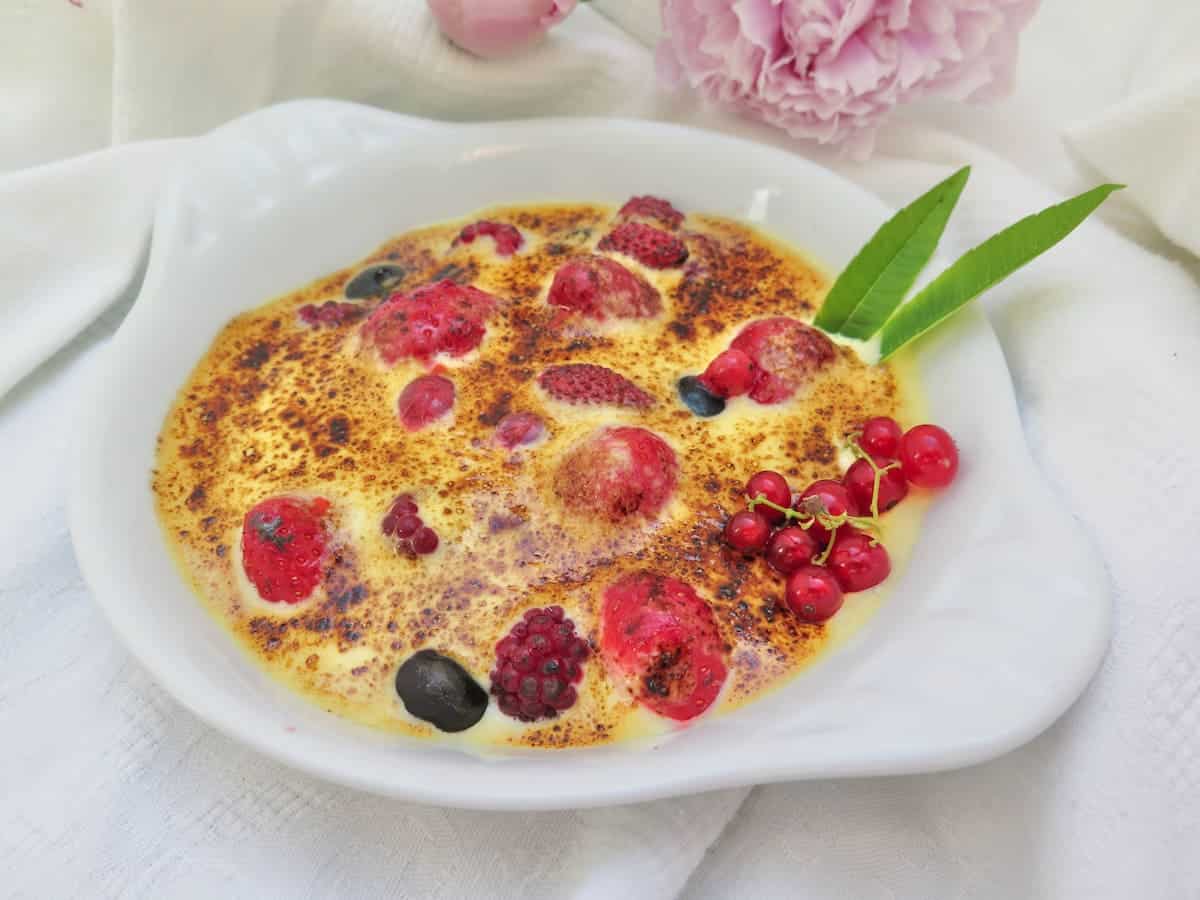 Berry French vs French Beret
Speaking of a French 'Berry' dessert, ever since Netflix showed 'Emily in Paris', I have never seen so many French berets on sale around Parisian tourist spots.  Suddenly cafés and bars are full of Americans dressed in berets, taking photos on social media for the Parisian look.
It's amazing how somebody can start a trend and it takes off.  Before they were more popular with French men showing they were from the Basque country!
Berry Crème Brûlée with Elderflower
Berry Crème Brûlée is a quick and light French summer recipe - made with fresh berries, topped with an elderflower sabayon and toasted under the grill. An elegant dessert that can be whipped up in 30 minutes.
Equipment
4 ovenproof ramekins or gratin dishes
Ingredients
400

g (14oz)

mixed fresh berries

organic

3

egg yolks

50

g (1.75oz)

sugar

good pinch

vanilla powder (or ½ teaspoon extract)

2

tablespoon

elderflower cordial or syrup

(or Saint Germain liqueur)

100

g (3.5oz)

whipping cream
Instructions
Divide the mixed berries between 4 ovenproof dishes and spread them out in a single layer.

In a bowl, whisk together the yolks, sugar and vanilla until light and creamy (about 5 minutes). Continue to whisk, adding the cordial/syrup and the cream until well mixed.

Pour over the fruits and place under a hot grill for just 2 minutes until the cream is toasted but not burned.  You could also use a blowtorch instead.

Serve immediately -  or prepare a couple of hours in advance, chill then reheat in a warm oven at 140°C for about 5 minutes.
Notes
Elderflower Replacement: There are countless floral variations to this recipe: replace elderflower cordial/syrup with violet or rose syrup. Or replace the syrup with 25g more cream and infuse with lavender or lemon verbena (see my post on fresh aromatic herbs for more).
This recipe was first published 18 July 2018 but is now updated with clearer text and new images.
If you love the classic dessert, I have a recipe in my book, Mad About Macarons. Chocolate fans should try this Milk Chocolate and Passion Fruit Crème Brûlée - it's from another planet!