French Berry Gratin, a quick yet elegant summer fruit dessert with fresh berries in an elderflower sabayon and toasted under the grill.
A fruit gratin is popular in France – probably because it not only showcases the sweetest of seasonal fruits, but it's also such a quick yet elegant French dessert to whip up in under 30 minutes.
A Summer Fruit Gratin Dessert
This kind of gratin isn't to be confused with a Crème Brûlée, where the top has a thick layer of sugar and is burned to form a hard cracking layer on top. I have a classic recipe in Mad About Macarons, but try this Milk Chocolate and Passion Fruit Crème Brûlée – it's from another planet!
Instead, this gratin dessert highlights the fruits; it's lightly grilled without the crunch and it has a more liquid form of custard, rather similar to a Crème Anglaise rather than set.  That's why it's a handy summer recipe to have if you don't want the oven on too much during a heatwave.
Reduced Sugar Dessert
Although I say 'sweet', this French berry gratin isn't too sweet. There is just enough sugar added but not too much to overpower the natural sugars in the fruits.
It's on the same lines as this Rhubarb and Strawberry Gratin – have you tried it yet?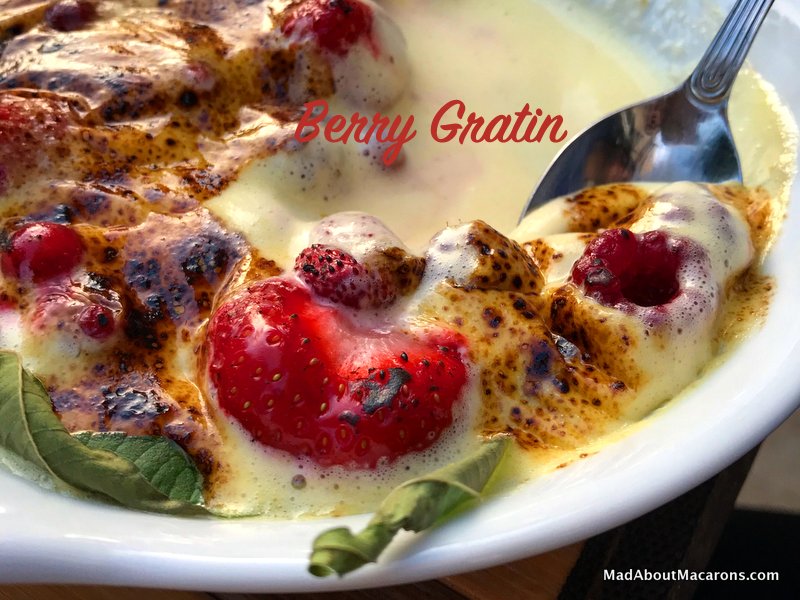 Elderflower Desserts
I'd normally make this using a vanilla pod/bean but this time I felt like some elderflower to highlight the strawberries.  If you've tried my Strawberry Eclairs with Elderflower Cream recipe in Teatime in Paris, you'll know what I'm talking about!
As I'm not lucky enough to have elderflowers around, I cheat with a little cordial (Ikea have one) or syrup (Monin is good). However, if you have Elderflower liqueur such as Saint Germain, then that's great too!
If you're not into elderflower, then infuse this cream with some lemon verbena – so many variations are easy to dream up for this berry gratin recipe.
Have a lovely summer, wherever you are! Speaking of a French 'Berry', don't forget to wear a hat or French beret!
French Berry Gratin Recipe
Berry Gratin with Elderflower
---
Description
French Berry Gratin, a quick yet elegant summer fruit dessert with fresh berries in an elderflower sabayon and toasted under the grill.
Ingredients
400

g (14oz)

mixed fresh berries

organic

3

egg yolks

50

g (1.75oz)

sugar

good pinch

vanilla powder (or 1/2 tsp extract)

2

tbsp

elderflower cordial or syrup

(or Saint Germain liqueur)

100

g (3.5oz)

whipping cream
Instructions
Divide the mixed berries between 4 ovenproof dishes and spread them out in a single layer.

In a bowl, whisk together the yolks, sugar and vanilla until light and creamy (about 5 minutes). Continue to whisk, adding the cordial/syrup and the cream until well mixed.

Pour over the fruits and place under a hot grill for just 2 minutes until the cream is toasted but not burned. You could also use a blowtorch instead.
Serve immediately - or prepare a couple of hours in advance, chill then reheat in a warm oven at 140°C for about 5 minutes.
Notes
There are countless floral variations to this recipe: replace elderflower cordial/syrup with violet or rose syrup. Or replace the syrup with 25g more cream and infuse with lavender or lemon verbena.