French chocolate mousse with passion fruit, topped with a nougatine for an easy make-ahead dinner party dessert. Made extra light with egg whites, no egg yolks and without cream. The extra nutty caramel topping can keep for more chocolate, caramel or vanilla desserts.
Fluffy French Chocolate Mousse with Passionfruit
It happened that cold winter evening. Excitement set in as this French Chocolate Passion Mousse was a simple experiment that worked.
It's based on this classic French dark chocolate mousse without cream. However - I didn't have enough egg whites and so experimented by adding - PASSION FRUIT juice. Then I experimented further and omitted egg yolks: so it just uses egg whites and passion fruit juice. So, it's extra light, fluffy and airy.
It lightened it up even further, the taste was sensational and so I was rather excited about it. Those of you that heard me on Instagram stories will agree that I sounded really excited.
Saying I'm Excited in French like 'Emily in Paris'
Don't tell the French you're excited. It's not new as a cliché that was brought up in 'Emily in Paris'.
Mention that you're 'excité' in French and oh-là-là - your friends will tell you to take a cold shower.  Being excited just doesn't have the same meaning here.
These days, however, the French are becoming more international and more accepting of the word.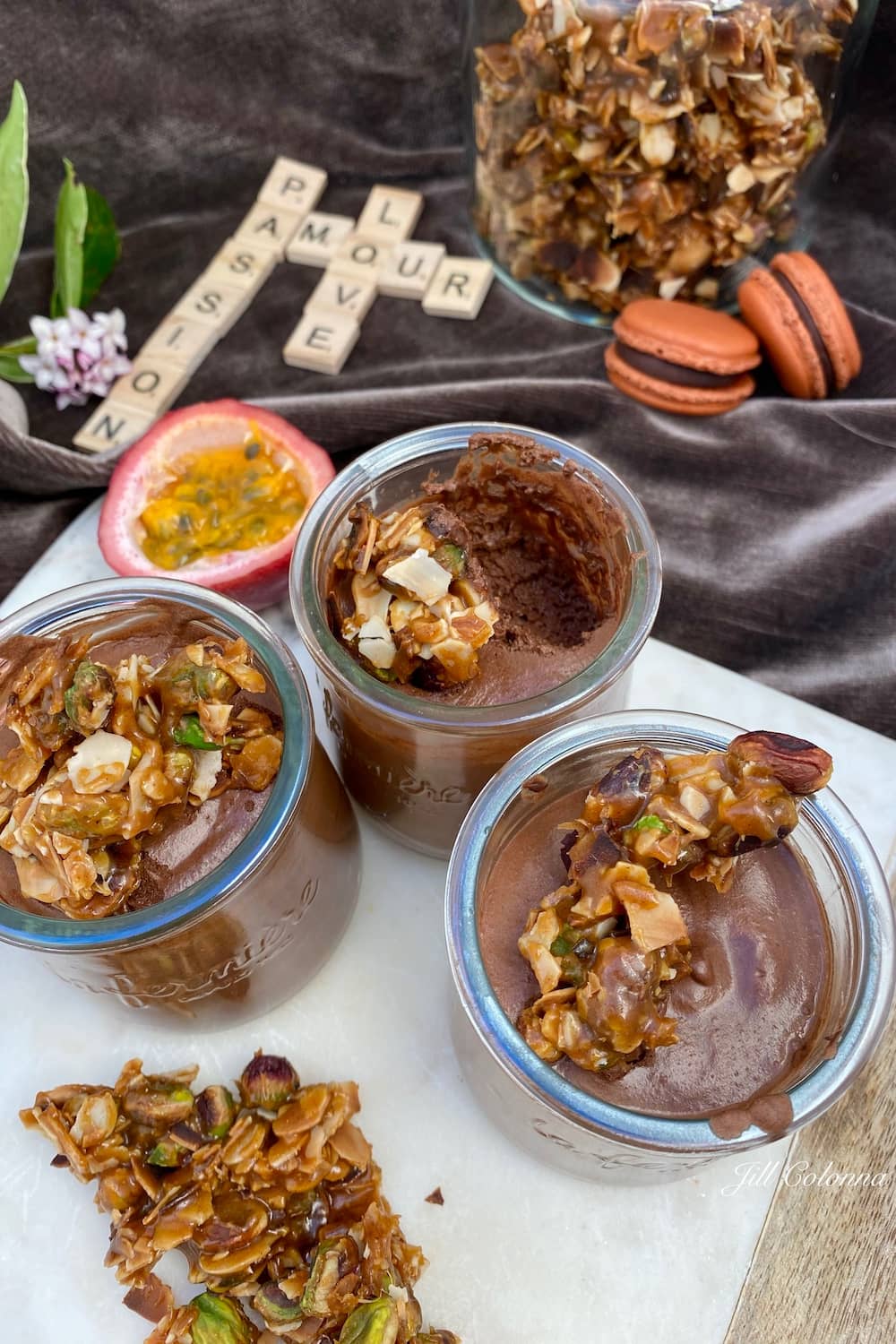 What to say in French for Being Excited
So the answer to my predicament? The French don't have a real equivalent of saying that they're excited about something.  They are more likely to shrug their shoulders and say, 'C'est cool', or 'C'est chouette". They don't become as bubbly and enthusiastic as we do - in fact, it's seen as slightly childlike.
I don't care these days. I'll forever be a bubbly-sounding kid, 'excited' in the kitchen watching macaron shells rise in the oven... So, when there's a jam jar filled with leftover egg whites from the ever-growing collection of egg yolk recipes on the recipe index, I still become excited.
Either I could make a batch of homemade macarons - or I could make this light and fluffy French dark chocolate mousse - now with this passion fruit in it!
Soft Caramel Nougat Recipe
For nutty caramel lovers, I added a rather addictive Almond-Pistachio Nougatine. All because it's February. Amour, love, chocolate, caramel and passion is in the air!
It's based on this easy nougatine recipe, inspired by the famous Parisian rice pudding topping of chef Stéphane Jégo of l'Ami Jean restaurant in the 7th. I encourage you to try it - and if you can't finish it all, ask for the famous Riz au Lait Doggy Bag!
This version is so quick and easy to make.  Unlike the original that uses 4 different kinds of nuts, I've cut it to my 2 favourites: almonds and pistachios (or use walnuts), use just organic cane sugar and good, French President butter.
This nougatine is excellent on its own but try it topped on these winter desserts:
French Chocolate Mousse with Passion Fruit & Nougatine
Join me on Pinterest! Or choose from more chocolate recipes.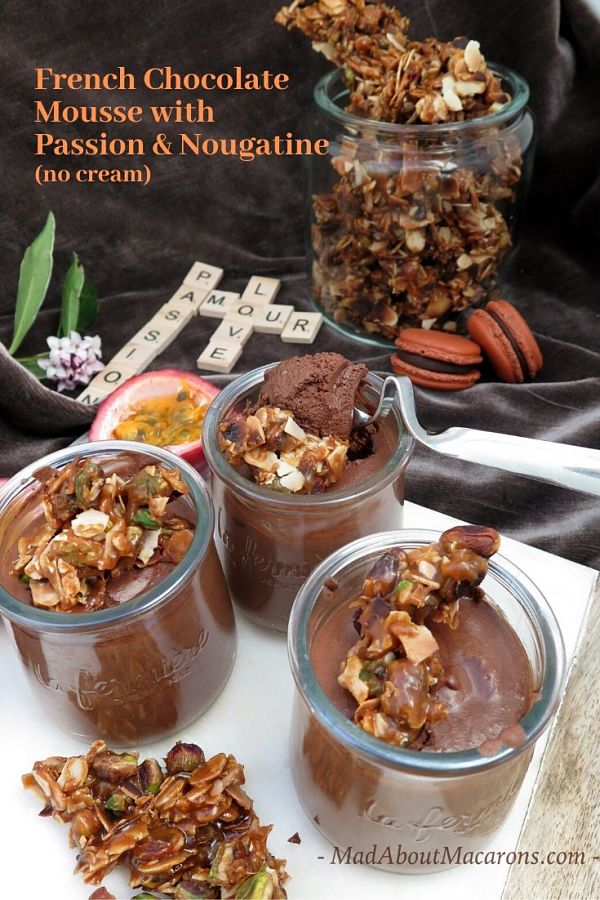 French Chocolate Mousse with Passion Fruit and Nougatine
Light French chocolate mousse with passion fruit, topped with a nougatine of almonds and pistachio in caramel for an easy make-ahead dinner party dessert
Equipment
Electric hand whisk or stand mixer
Ingredients
Chocolate Passion Fruit Mousse
170

g (6oz)

dark chocolate

(I use 72% cacao - use only good quality)

15

g (0.5oz/ 1 tbsp)

unsweetened cocoa powder

(I use Van Houten)

210

g (7.5oz)

egg whites

(from 6 fresh organic eggs)

30

g (1oz/ 2 tbsp)

caster sugar

2

passion fruits

juice sieved off, seeds removed
Almond-Pistachio Nougatine
140

g (5oz/ 1 cup)

slivered almonds

100

g (3.5oz/ 1 cup)

unsalted pistachios

(or a mix with walnuts)

50

g (1.75oz/ ¼ cup)

butter

unsalted

140

g (5oz/¾ cup)

organic light brown cane sugar
Instructions
Dark Chocolate Mousse
Melt the chocolate and cocoa powder together in a bowl over a pan of simmering water ('bain-marie'), taking care not to overcook the chocolate (don't have the water at a rolling boil; simmer gently). As soon as the chocolate is easy to stir, switch off the heat and stir until smooth, keeping the bowl over the pan to keep warm.

Meanwhile, sieve out the seeds from the passion fruits. In a clean bowl, whisk the egg whites (using a stand mixer or electric beaters) with the sugar until soft peaks form. Gradually add the passion fruit juice to the whites and continue to whip until firm.

Fold the chocolate into the whites using a spatula.

Divide the mousse into 6 serving dishes and chill for at least an hour.
Almond-Pistachio Nougatine
Place the nuts in a single layer on a non-stick baking sheet and lightly toast them under a hot grill for a couple of minutes. Keep your eye on them and don't move away from the grill, as this happens quickly and you do NOT want them to burn (any burning will make the nuts bitter).  Toasting them lightly brings out their natural flavour. When toasted, set them aside to cool.

In a heavy-based saucepan, melt the butter on a medium heat. As soon as it's melted, add the sugar. Using a wooden spoon, initially stir the sugar and butter together, then wait about 5 minutes until the mixture starts to form a  liquid and a caramel forms.  As soon as this happens, stir until smooth and it's light brown (not dark brown, otherwise bitter), add all the nuts.

Stir in the nuts until they're all well covered and sticky in the caramel. Turn out immediately on to a patisserie mat (Silpat) or directly on to a clean, marble surface.

Leave to cool on the counter for about 10 minutes or until the caramel hardens. Store in an airtight tin or jam jar and eat within a month.
Notes
This recipe is gluten free.  Top with the nougatine or serve with extra passion fruit. The mousse can be made in advance, chilled overnight and is excellent served next day. See my short video of how to make a plain French chocolate mousse recipe.
Also delicious served with chocolate or exotic fruit macarons (see macaron recipes in both my books, Mad About Macarons and Teatime in Paris)
Measures: Please note that all my recipes are best made using digital kitchen scales in precise metric grams. Both ounces (and cups) are given as a guide.