For those of you who love all things pink. From aesthetic pink macarons for a baby shower, pink October inspiration - or just wanting to know what flavours there are? Discover a selection of classics - even savoury macs - to tickle the tastebuds.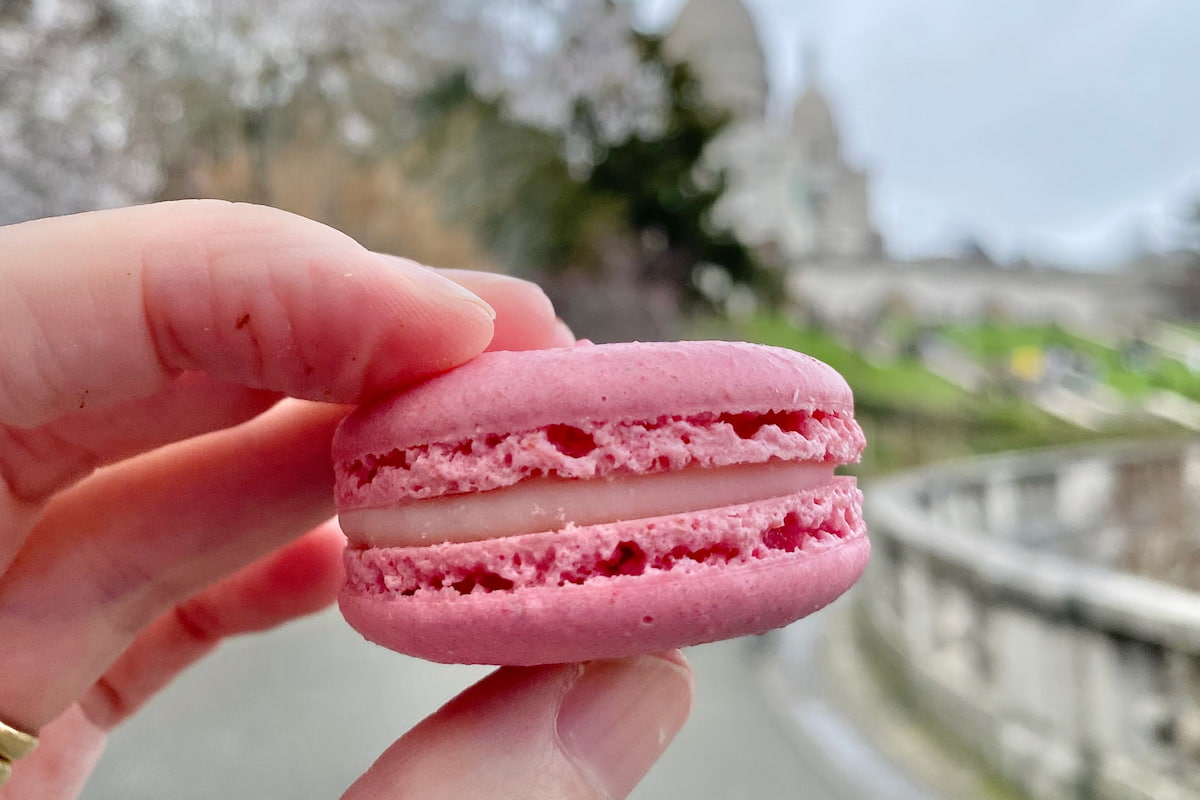 Baby Pink Macarons
It's easy to spot these delicious baby pink macarons around Paris. For a start, I have you covered in my Top 20 Macarons in Paris, to these ones by Christophe Roussel, one of the best macarons in Montmartre.
However, it doesn't stop there!
Pastel Rose Macarons
Perhaps the most famous French rose macarons were created by Pierre Hermé when he worked at Ladurée with the Ispahan. It's still popular in his own boutiques - it's a combination of rose, raspberry and lychee.
Plain rose (or Pétales de rose as Ladurée calls it) is one of our favourite homemade ones and popular around Mother's Day. It's not just women who adore this flavour. My Antoine and my Dad both adore rose macarons.
Although rose is popular around Paris, the beauty about making your own is you can experiment with flavour combinations such as rose-matcha, rose-chocolate, rose-raspberry, rose-geranium and rose-orange blossom (see below).
Homemade macarons means you have an empty canvas to play with. Here I topped these with a sprinkling of pink metallic food lustre.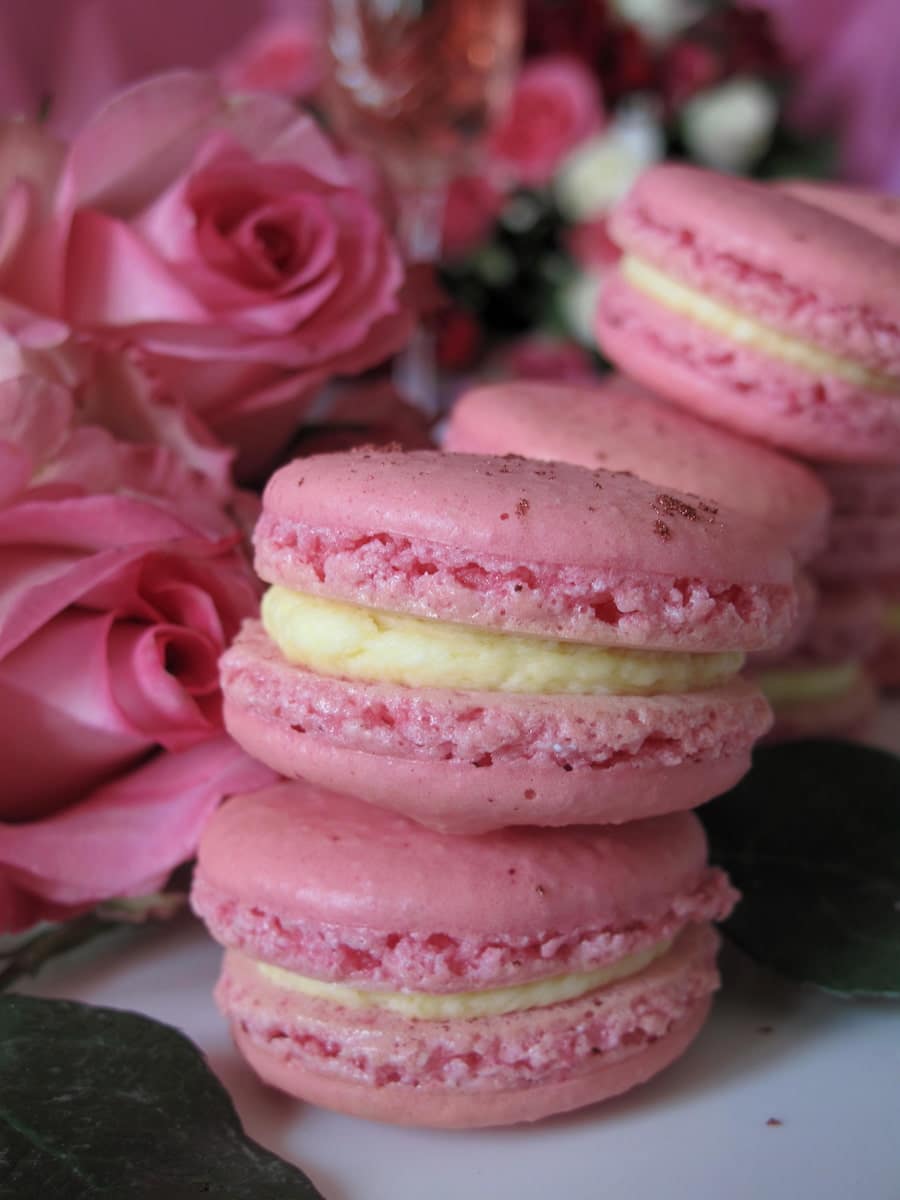 What Do Rose Macarons Taste Like?
Have you tasted a rose petal? They are edible and so there's nothing to worry about when eating one. Likewise, the taste of a rose macaron is - or should be - much like this. It's subtle in perfume and sweeter.
One word of warning - not all rose macarons are subtle in flavour. Some are downright overpowering and could be disappointing (read, like biting in to perfume). It is, of course, subjective, as not everyone loves its taste. I recommend sticking with reputable macaron boutiques.
They are also delicious served to enhance strawberry, rhubarb and/or raspberry desserts.  Try them with a simple white chocolate mousse (with added rose and orange blossom). Also with this Moist Rhubarb, Rose and Orange Cake (just so happens to be gluten free).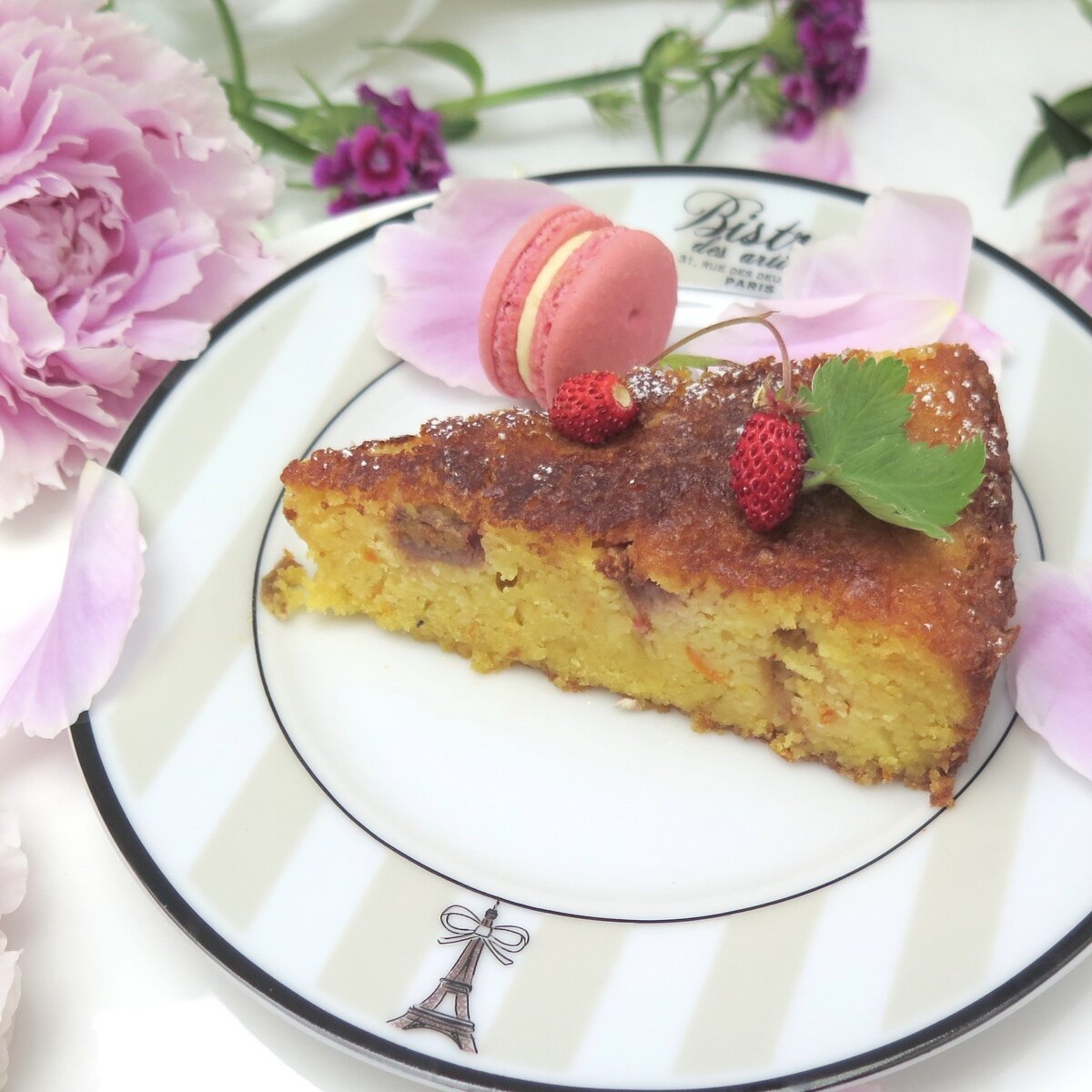 Pink Macaron Love-hearts
For macaron love-hearts and step-by-step instructions, see how to make pink love-heart macarons.
They're great for decorating desserts too, such as this rose panna cotta with a cherry and cardamom coulis.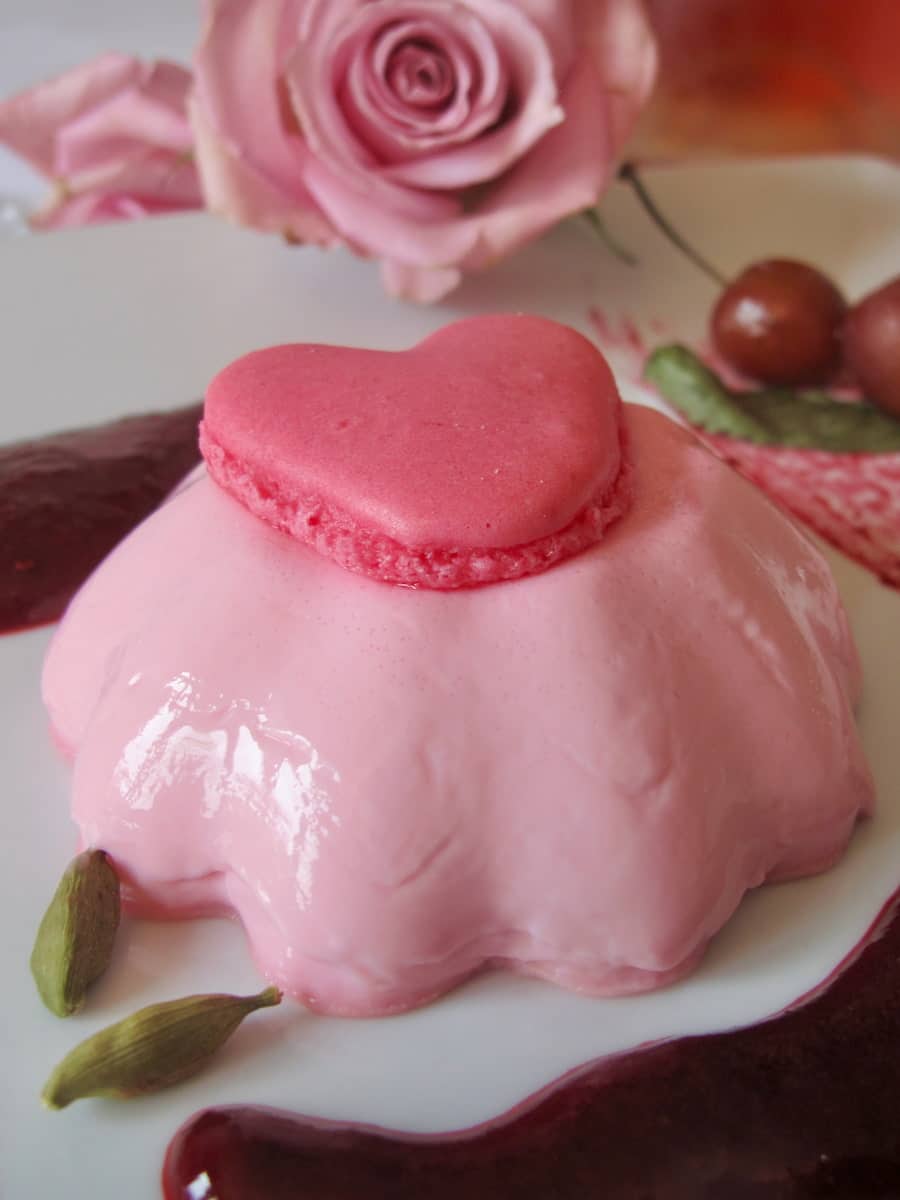 Pink Raspberry Macarons
Raspberry is also one of the most classic macaron flavours in France and come in a deeper shade of pink. They are usually sandwiched together with a raspberry jam-like filling.
Another possibility is to make pink plum macarons and fill them with this spiced plum jam.
Raspberry macs are great with all kinds of raspberry desserts.
As a French/Scottish lass, I created this Scottish Cranachan flavour (recipe in Mad About Macarons) of raspberry, honey and Whisky. Serve with Cranachan Iced Parfaits (honey and Whisky ice cream on shortbread).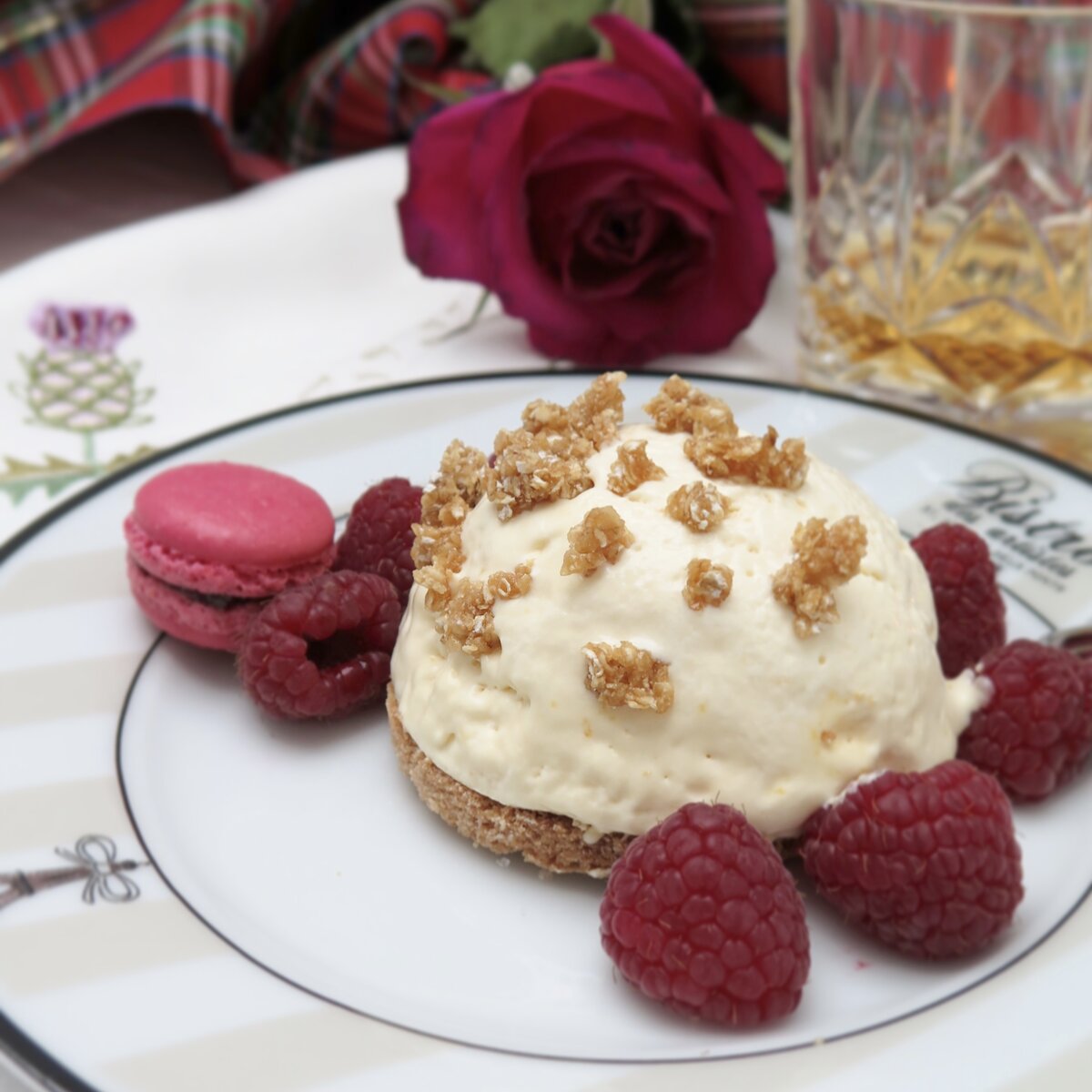 Raspberry macarons with rose are another favourite.
Enjoy this raspberry macaron filling made with fresh raspberries (add some redcurrants if you like yours tart) with a touch of rose. It's made voluptuous with a white chocolate ganache rather than any sugar added.
Mini French Macarons
Did you know? Macarons are not only gluten free but make a batch of shells, freeze them then defrost when ready to fill them.
It's like money in the bank. Especially mini French macarons. They are so handy for adding French elegance to all sorts of desserts.
That way they're ready to be filled. Even better, mini shells are great for decorating desserts.
Decorate raspberry or strawberry desserts, such as this raspberry and lemon verbena clafoutis.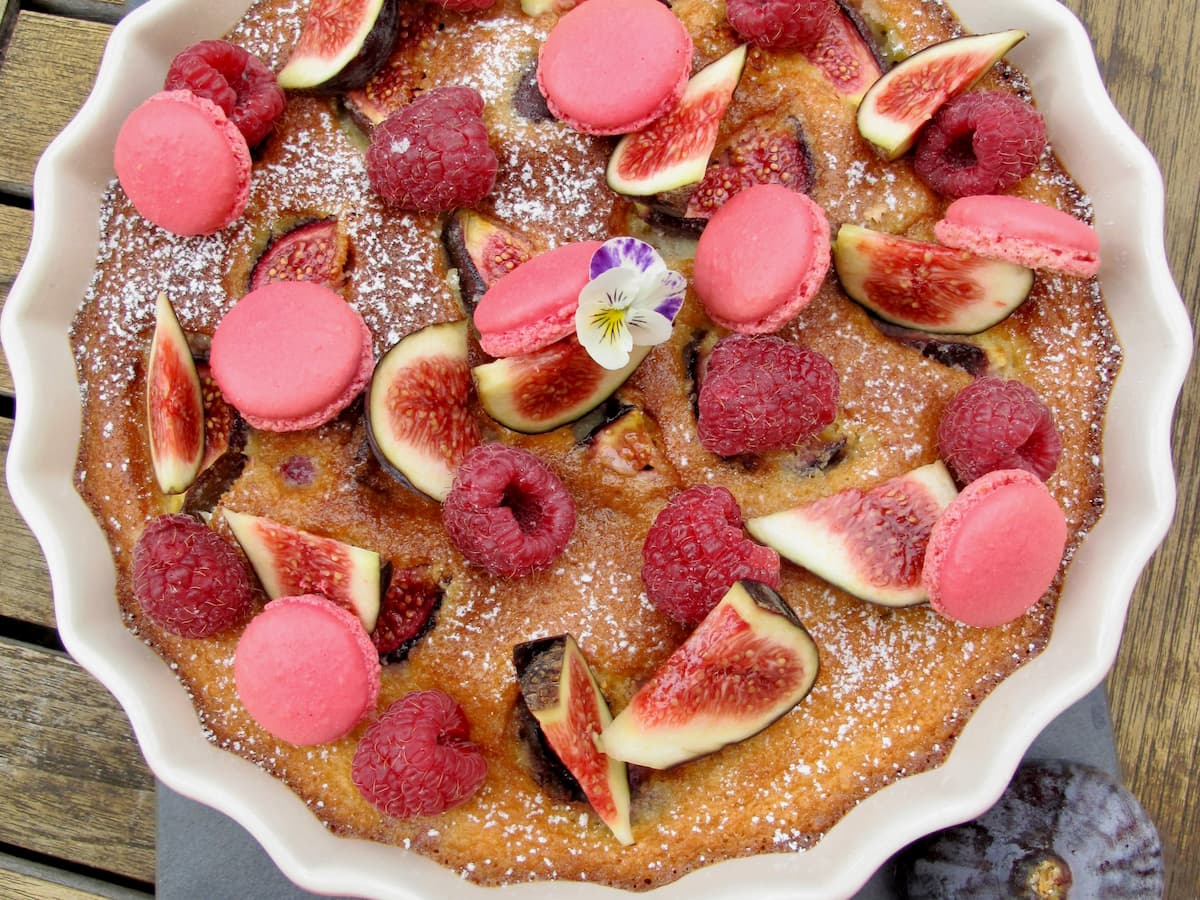 Raspberry Vegan Macarons
I also made some pink vegan macarons, sandwiched together with raspberry jam infused with lemon verbena. Instead of egg whites, aquafaba was used to make the French meringue.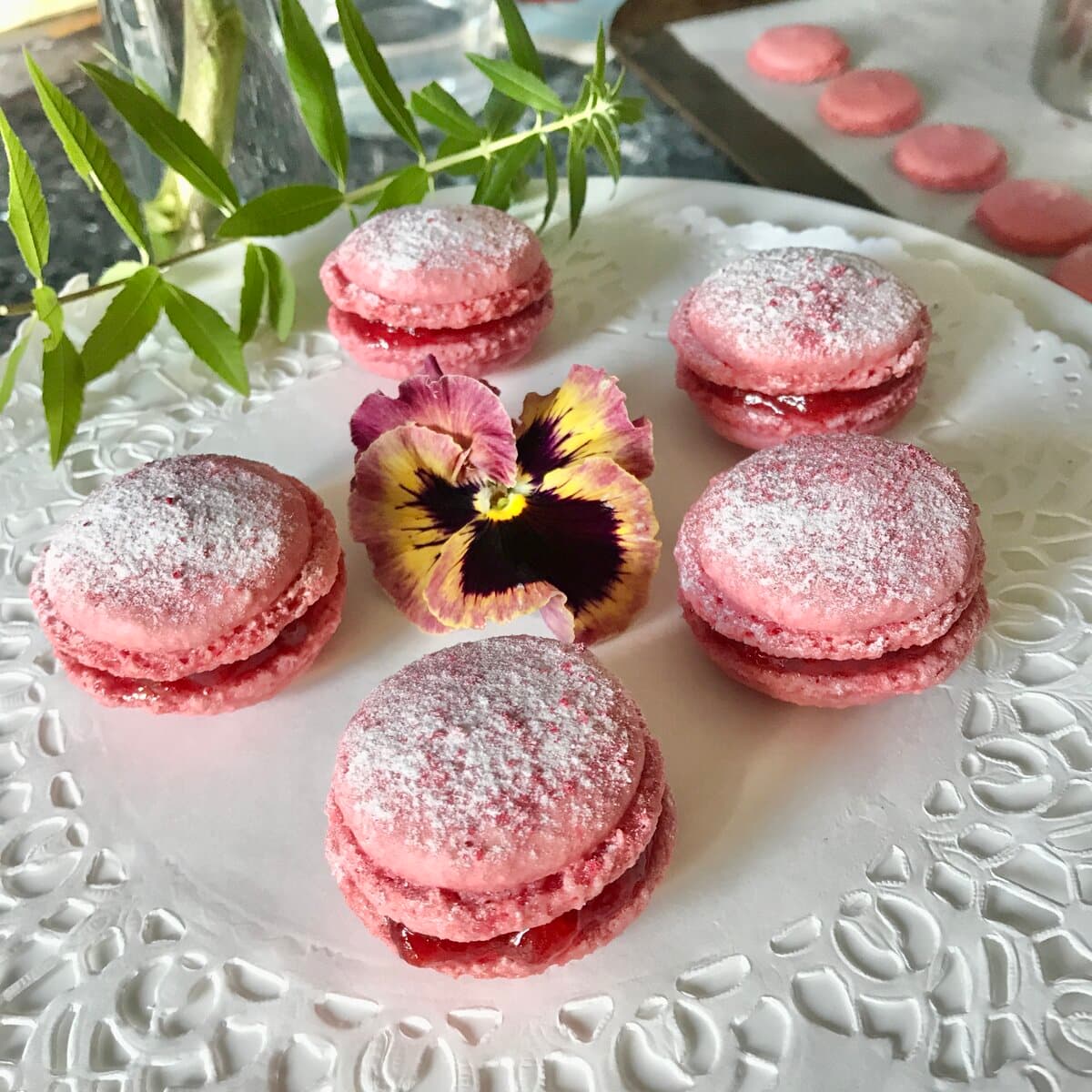 How Do You Add Colour to Macarons?
If you're making macarons, choose good quality powdered colouring - and it's easy to choose the shade. I personally love the food colouring powders from DecoRelief (available online or in Parisian stores on rue Montmartre).
Raspberry? They're sold as raspberry (framboise) colour - likewise for rose. There are also more natural colourings that use beetroot/beet - just ask for these at your speciality baking stores. Now it's possible to buy small quantities (as that's all you need for homemade quantities rather than for making them on a bigger scale) but if you can only find bigger tubs, I suggest buying raspberry colouring and use less powder (on the tip of a knife, so just a pinch) for rose macarons.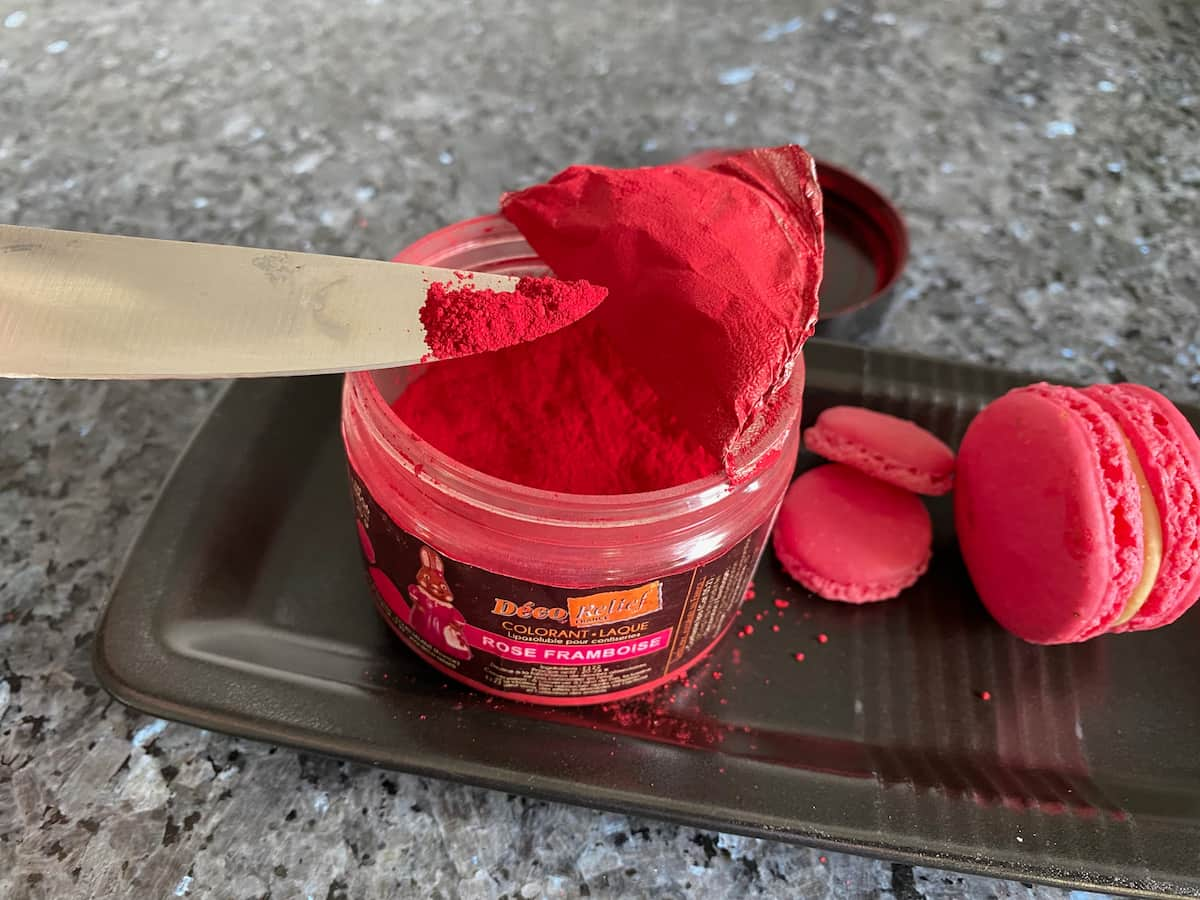 Always start with a very little amount before adding colouring to your whipped egg whites. Once it has been added you can't substract it!
Surprise Flavour Macarons
Then there are macarons that are coloured pink but the surprise is that the flavour plays with our minds. We associate different shades of pink with rose, raspberry and even strawberry.
So I was inspired on seeing pink Haribo liquorice sweets (bonbons) like Basset's Liquorice Allsorts. Remember the pink, white and black striped cubes?
I added another of the children's favourites - Haribo's liquorice bootlace coils. Put the two together and you're in aniseed playground.
Using the recipe in my book, Mad About Macarons for liquorice macarons (p74), I changed the colour of the shells for some pink fun - topping it off with a bit of liquorice in the middle of the filling.
Add a touch more ganache on top of the dry liquorice, so that it penetrates completely into both of the shells for the perfect chew.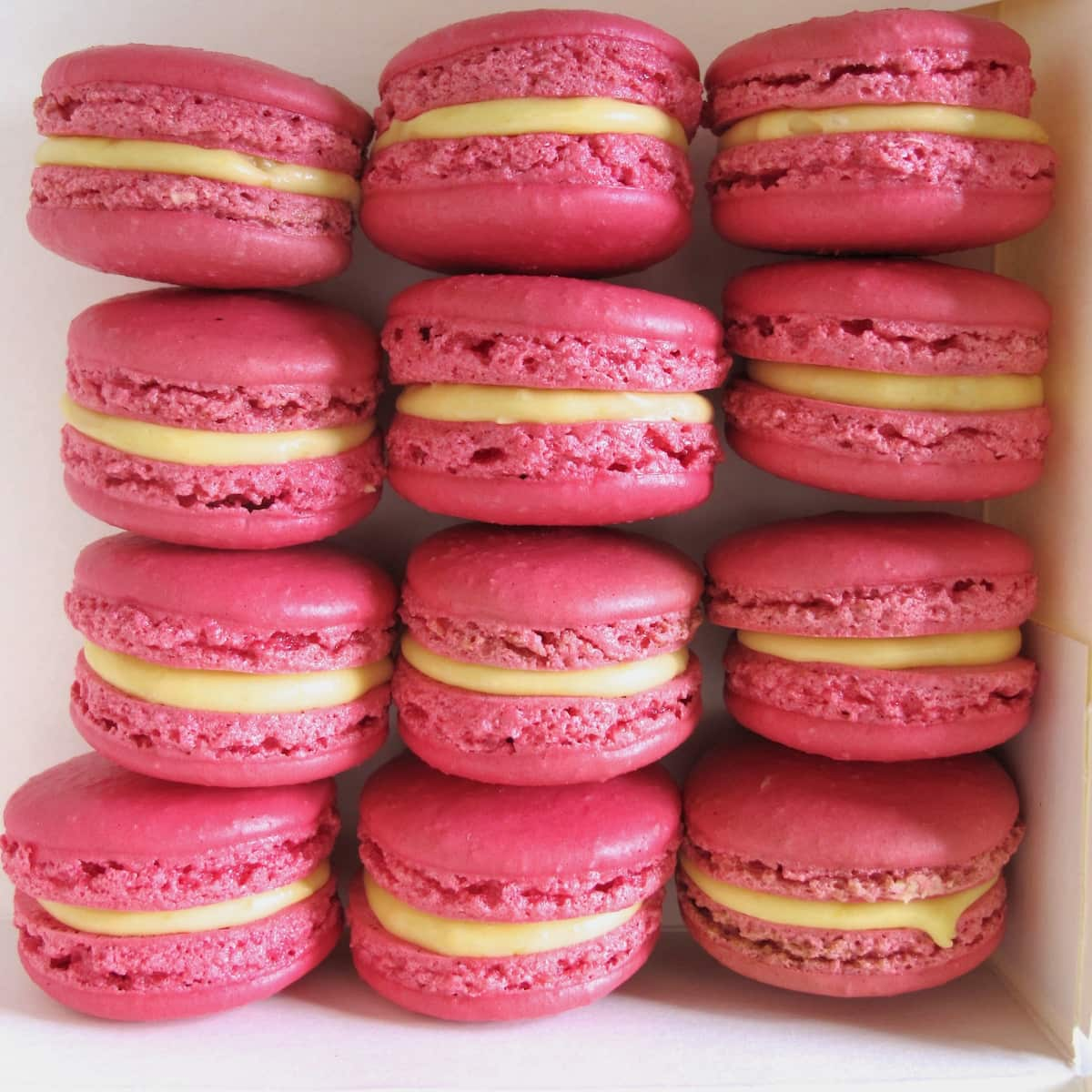 Alternatively, fill bright pink raspberry macarons with a surprise twist of creamy, lush lemon. Inspired by Jean-Paul Hévin in Paris, I love to add raspberry to a chocolate ganache. Just add a couple of tablespoons of raspberry jam to the ganache.
Have you tried Nature Addicts' raspberry sticks? Just cut these up and add a little square to each macaron on top of the plain chocolate ganache. While the ganache is doing its magic over 24 hours before eating them, the raspberry oozes into the filling and it's wonderful!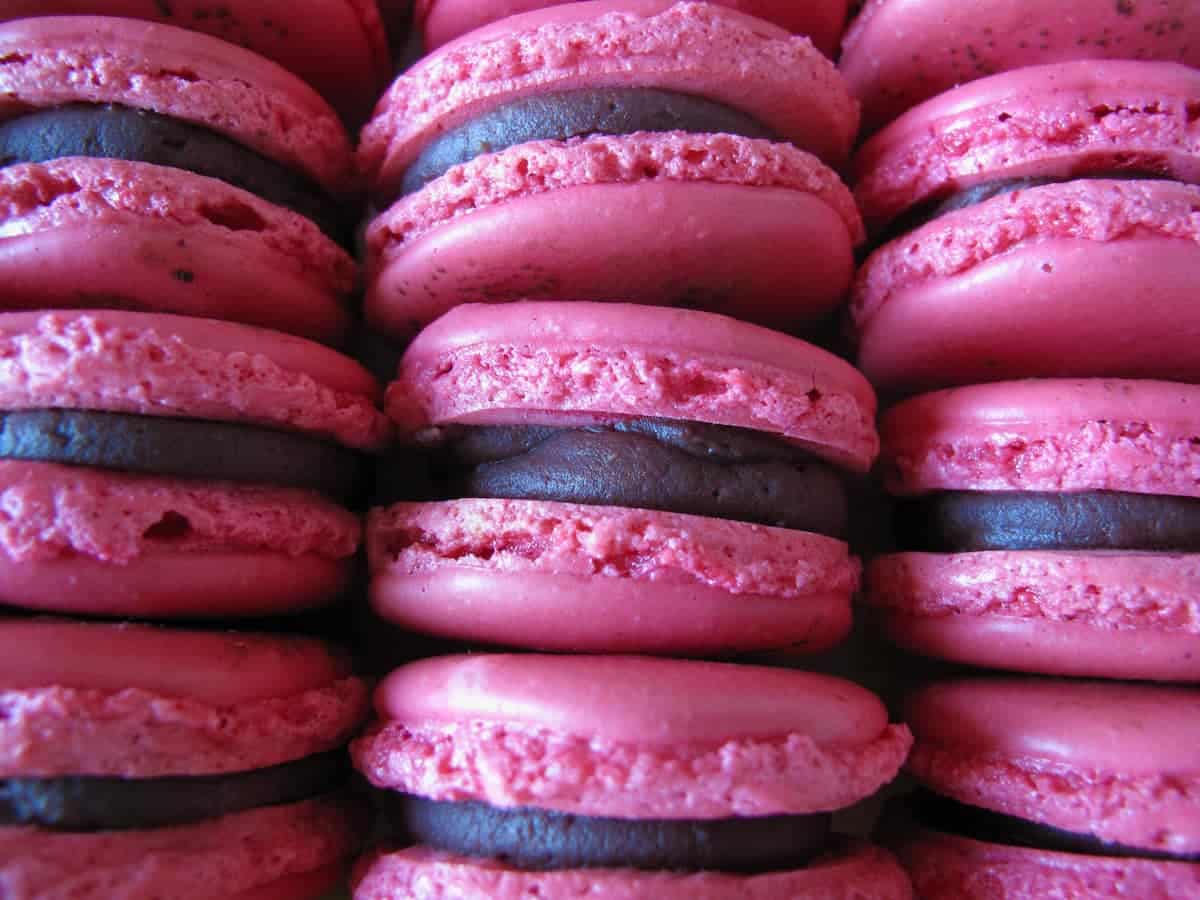 A more subtle pink perhaps, with rose and orange blossom? These are one of my favourites - recipe in my book, Teatime in Paris.
Pink Drinks
What would I suggest you drink with any of these pink macarons? An off-dry pink Champagne or a Kir Royal with either framboise (raspberry) or mûre (blackberry/bramble).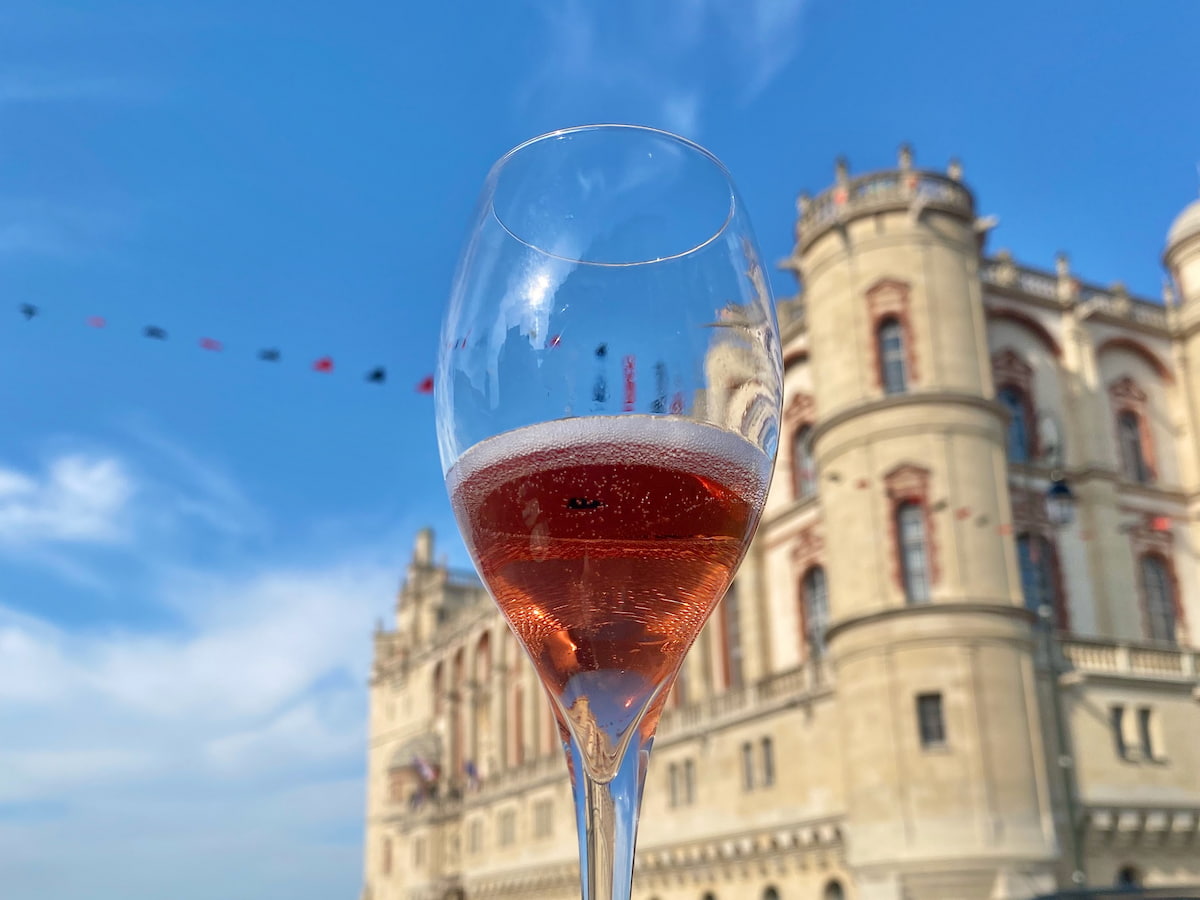 Savoury Macarons in Purple
Looking for an extra deep pink to purple colour? Then why not have fun with making these beetroot and spicy horseradish mini macarons? Taken from the savoury mac chapter in my first book, they always get some amazed reactions when served with starters, such as this beetroot risotto or a Corsican Charcuterie plate.

Pink in October
Don't forget that wearing pink ribbons and supporting pink happens in October to represent Breast Cancer Awareness Month. In Paris, the Eiffel Tower is lit up in pink on 1st October, to promote awareness.
With 60,000 new cases per year in France, breast cancer remains the number one cancer for women and the deadliest. When detected at an early stage, 9 in 10 women recover within 5 years, hence the huge importance of prevention.
Pink Ribbon Foundation website
So let me leave you with more pink macarons and desserts to remind all women to get themselves checked. Please visit your doctor and get a mammography.
Did I mention that there's also a whole chapter in Mad About Macarons devoted to large dessert macarons (pipe out in spirals)? This one is filled with vanilla pastry cream and finished with berries.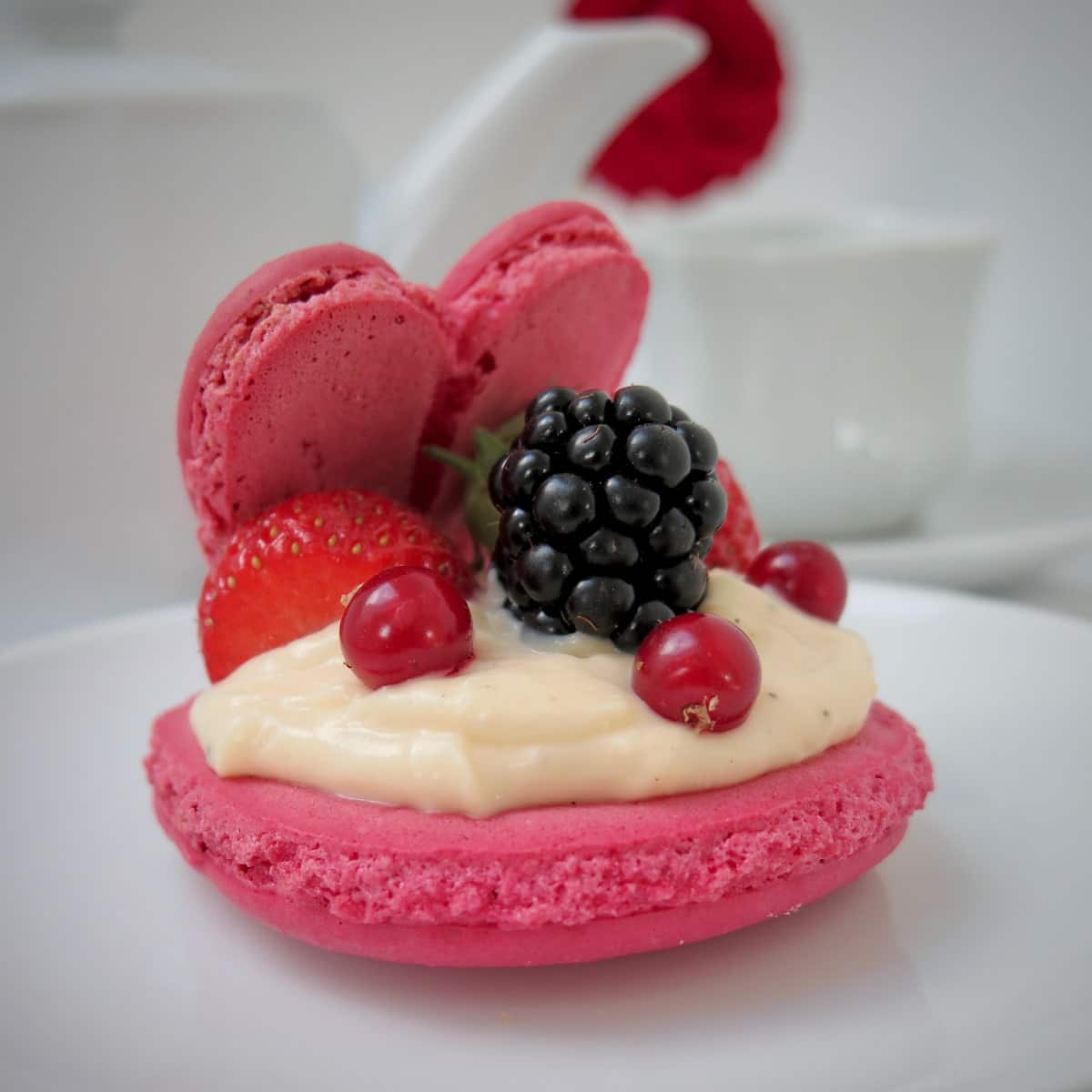 Plus, don't forget that my pâtisserie book of easy recipes, Teatime in Paris: A Walk Through Easy Pâtisserie Recipes is the perfect pink present. Just tie it with a pink ribbon.
This post was first published 17 October 2011 but is now updated with fresh images and new text