Fresh sardines are roasted with a stuffing of fresh herbs, breadcrumbs, garlic and lemon. A delicious taste of the Mediterranean and budget friendly too.
What Type of Fish is Sardines?
According to my Larousse Gastronomique, (French gourmet dictionary), sardines are small fish, cousins of the herring with a blue-green back and silver abdomen.
The Greeks called them 'Sardiné' as they caught so many of them off the coast of Sardinia.
They're pretty small in spring but by July-August they reach a maximum of 25cm. These bigger ones are known as Pilchards or Royans, as Auguste Escoffier refers to them in his Guide Culinaire.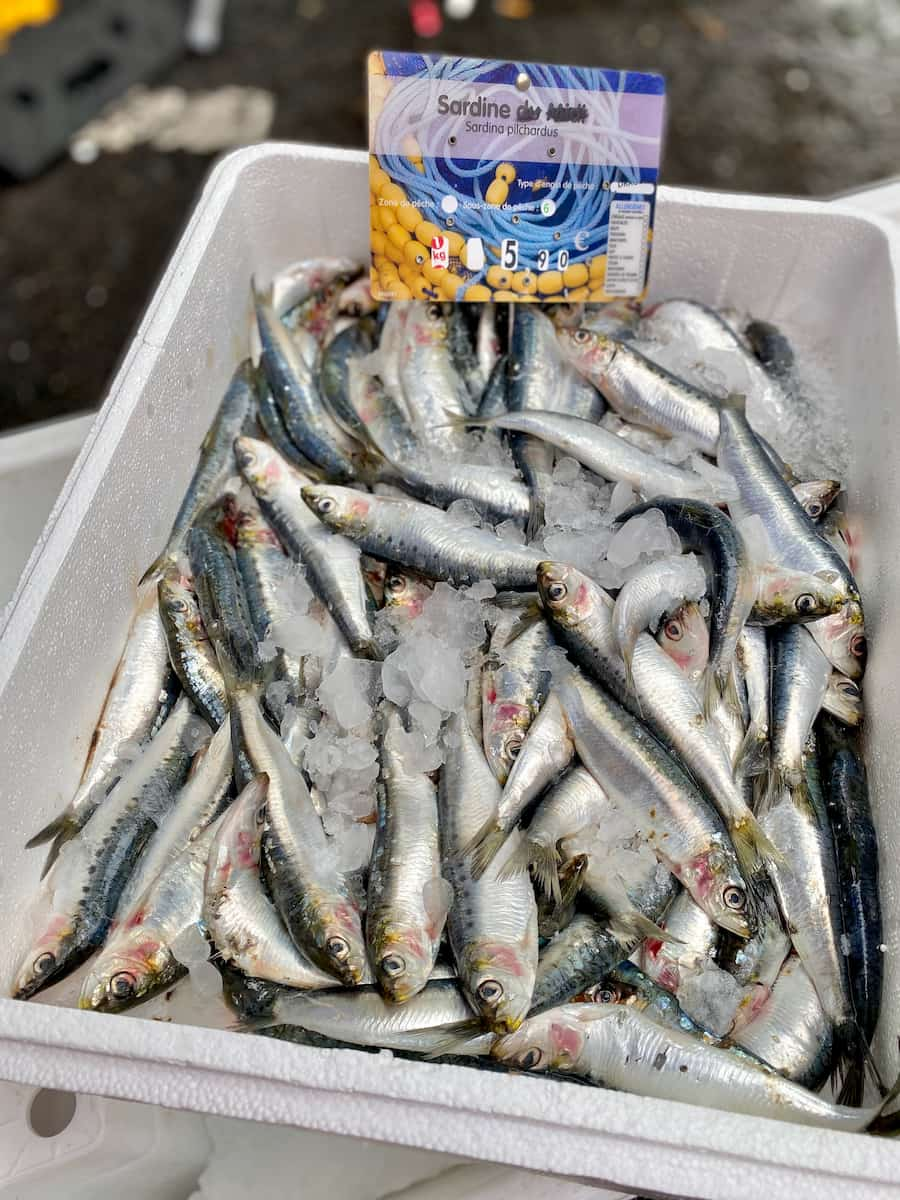 Fresh vs Tinned Sardines
We love tinned sardines. Served on toast with a few chopped fresh parsley leaves, a squeeze of lemon and that's lunch sorted.
What's more they're healthy. When I had thyroid problems and needed to up my intake of calcium and vitamin D, my doctor even suggested I ate more oily fish such as mackerel, anchovies and sardines.
Tinned is convenient, stronger in flavour and good for you. They still contain beneficial Omega-3 fatty acids but fresh have the edge with even more B vitamins, minerals and antioxidant properties.
If you can't get fresh sardines then tinned can work for this recipe - as long as they're quite large and in brine, not conserved in oil or flavoured.
How to Eat Fresh Sardines - French Style
Raw sardines, however, have always scared me at the market - until we took a trip to the southern French coastal town of Bandol. I discovered a house speciality dish of freshly caught sardines farcies at a wonderful family-run restaurant, la Caravelle, right on the sea-front.
They were so fresh and simply prepared - plus complimented their famous local Bandol rosé wines (highly recommend a visit to Tempier) so well that I returned a few nights later for more. Roasted sardines were stuffed with herbs and breadcrumbs then lightly gratinées with some cheese.
So on our return home, fresh sardines were suddenly my new discovery at the market. The bonus? They're inexpensive too. Use fresh sardines the day you buy them to enjoy them at their best.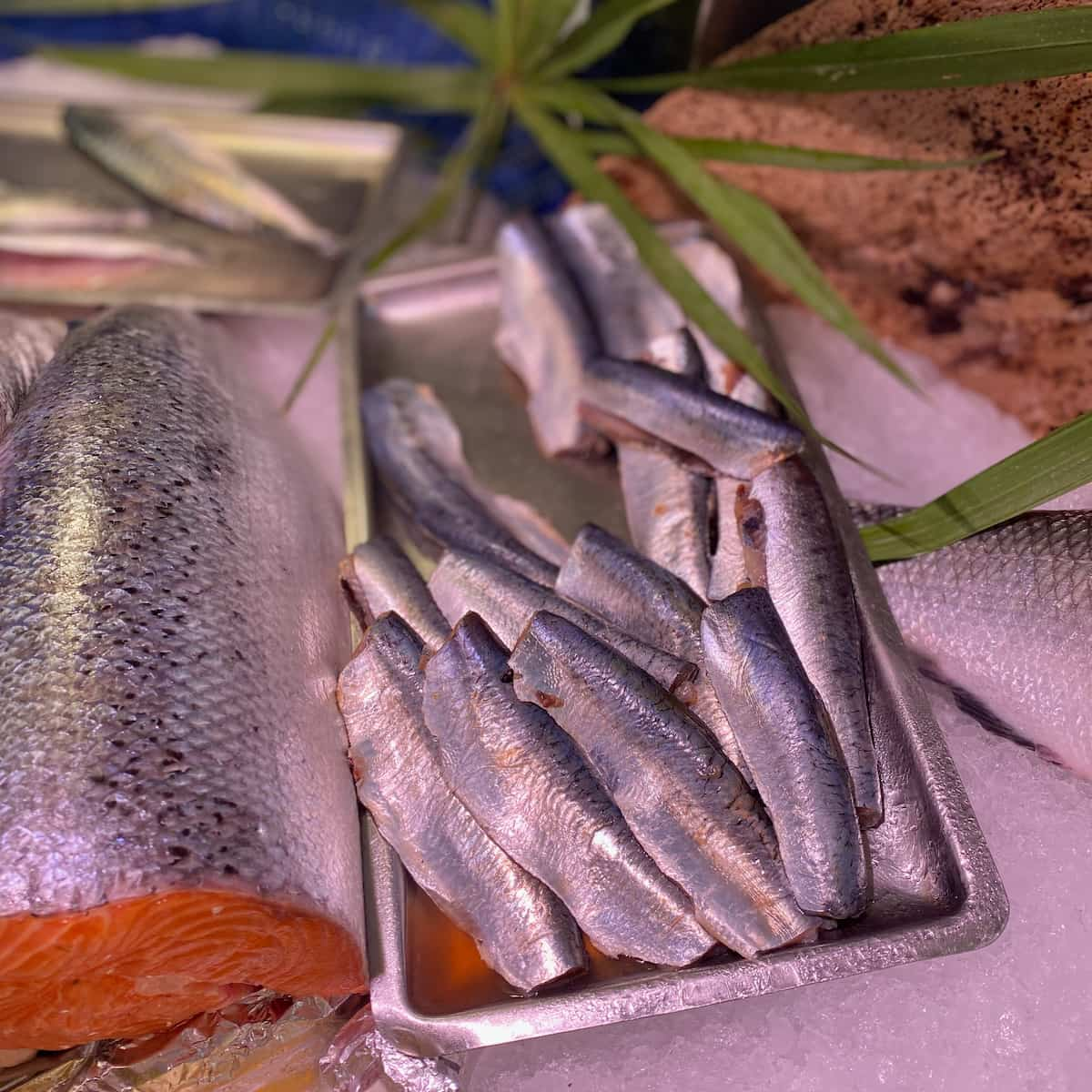 Can you Eat All of a Fresh Sardine?
Matthieu, our poissonier at two of our local markets, (3 days a week - he's literally given me an internship with all his knowledge), prepares fresh sardines for us but you can do this easily at home.
First remove any excess scales by scraping each side using the blunt side of a knife. Using the sharp side, cut off the heads and remove the central part. It's easy to whip out the bone and intestines just with the thumb.
Either cut off the tails or keep them on for show at the table. Then you're all set.
The rest is deliciously edible, including the skin and smaller bones that are slightly visible but so fine, can be eaten no problem.
If their heads are removed first, sardines don't smell when you cook them.

Tip from my French fishmonger, Matthieu (Hirondelle de Mer)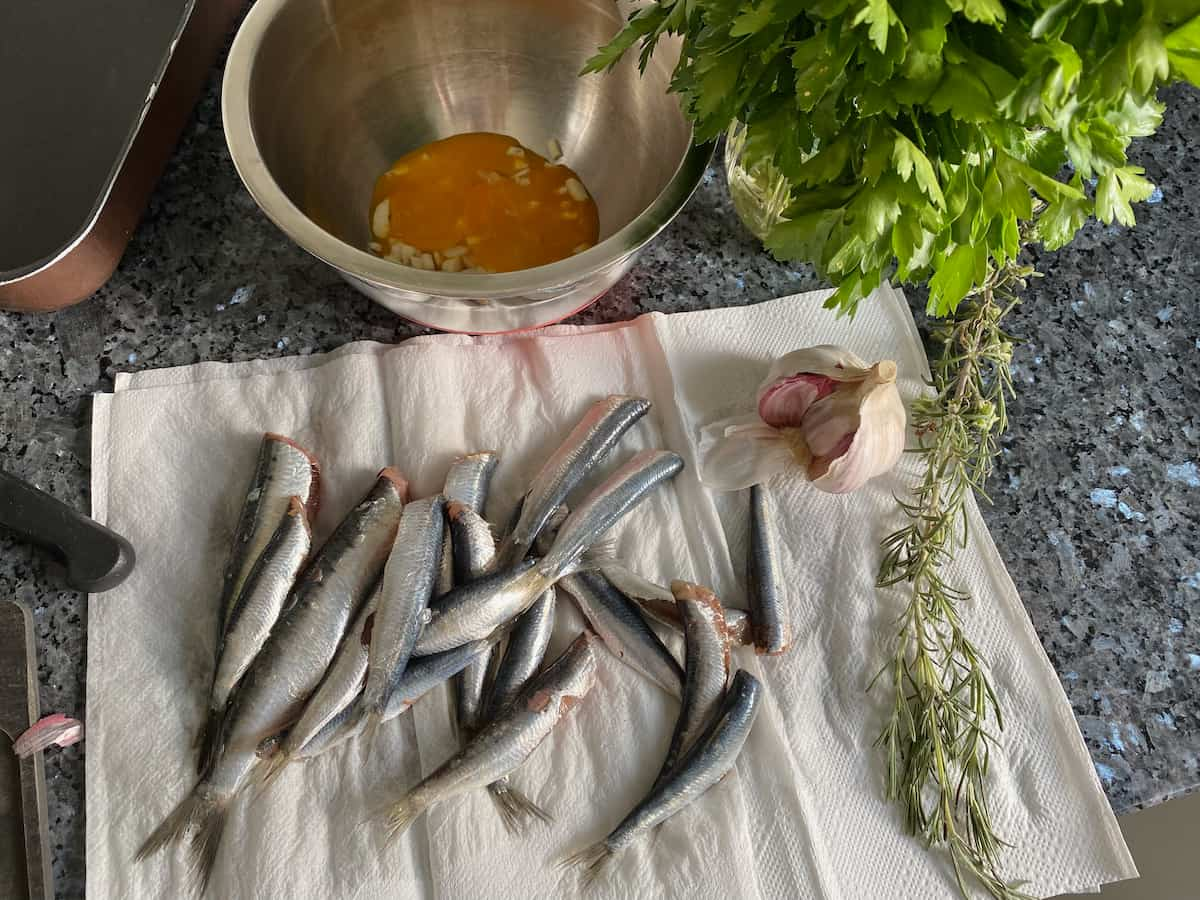 What to do with Fresh Sardines
Back home, I remembered the flavours of these stuffed sardines farcies. Frankly, these were the best way to prepare fresh sardines and so I wanted it no other way.
Flicking through Escoffier's culinary bible, he has dozens of stuffed recipes but they all seemed rather complicated with more fish added to them and too many 'cheffy' steps.
Et voilà ! Just like the restaurant's version without the cheese, I found a simple recipe in my oldest cookbook I had as a student in Scotland, dreaming of the sunny French Riviera. Stuffed Sardines, Antibes Style from 'A Mediterranean Harvest' (1987) by Paola Scaravelli and Jon Cohen. It doesn't have any pictures but it's full of wonderful recipes around olive oil, garlic, fish and seafood.
Lemon juice is added to a garlic and fresh aromatic herb mixture, bound together with breadcrumbs and egg yolks. The chef in Bandol kept the tails on - so it's up to you on their presentation. Whether they're small or the big boys like these below, place the mixture between two sardine filets like a sandwich.
I also added the zest of the lemon, which adds a lovely freshness to it. So here are my re-created Roasted Stuffed Sardines, Bandol style.
How to Make Roasted Sardines
As mentioned above in more detail, prepare the sardines first or get your fishmonger to do this for you. Ideally this recipe works with the biggest sardines you can find.
Oil a roasting dish with a tablespoon of olive oil and mix the stuffing ingredients together: olive oil, breadcrumbs, the juice and zest of an unwaxed lemon, egg yolks, milk or wine, chopped garlic, thyme, rosemary, parsley, salt and pepper.
Note that for the ingredients, it's best to use fresh as the flavour is far better. Please avoid powdered garlic: it's not at all the same Mediterranean taste as chopped fresh garlic.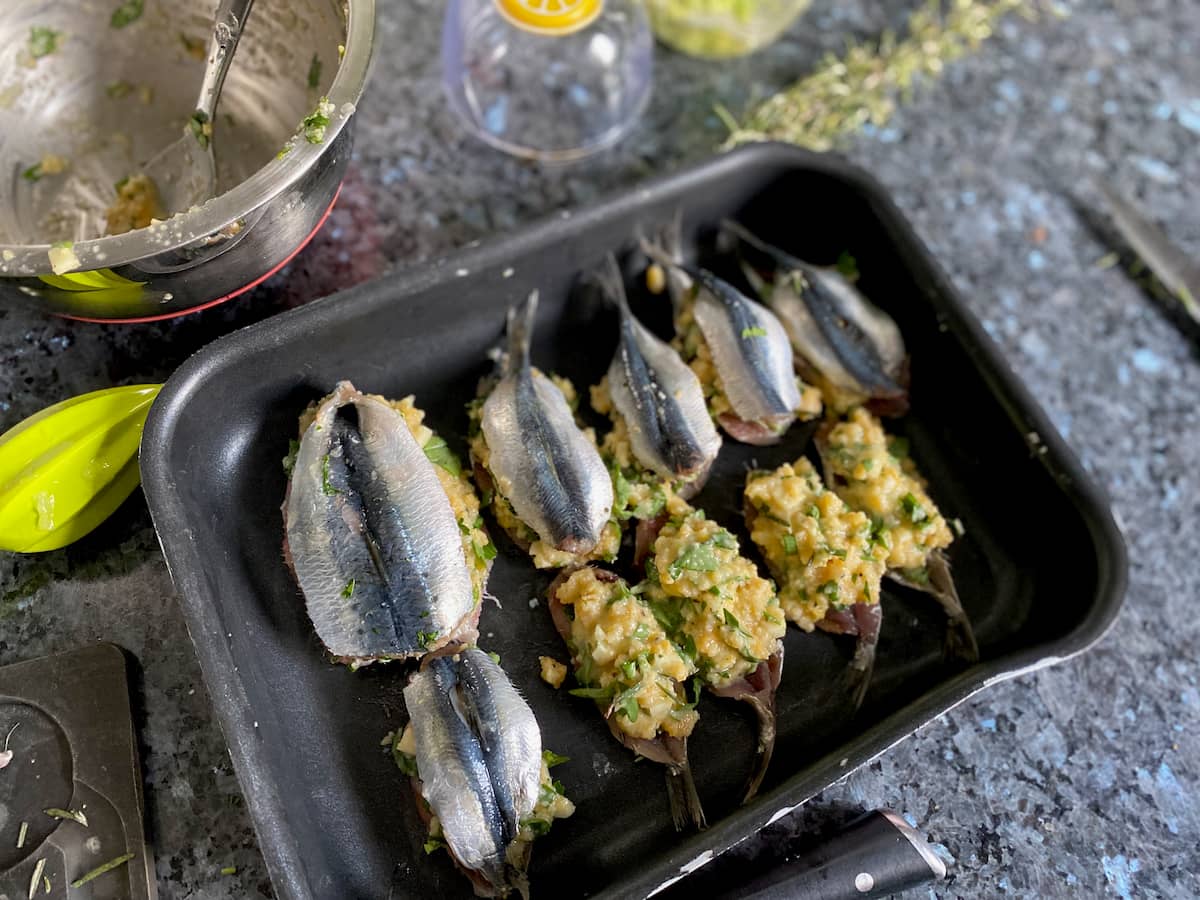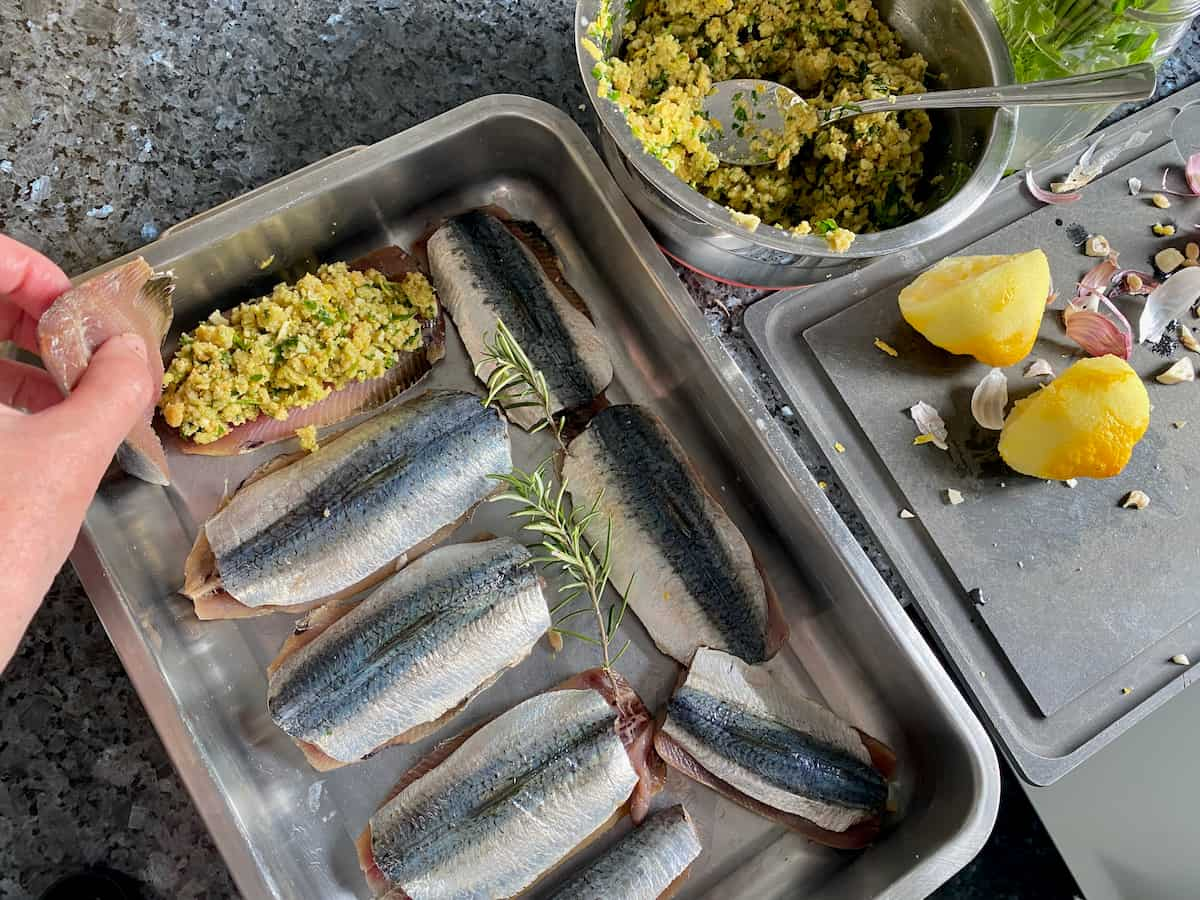 Spread a tablespoon of the stuffing on top of each sardine directly in the dish. Make a sandwich by pressing gently another sardine on top.
Drizzle over a little of the remaining olive oil (1 tablespoon) and sprinkle with extra breadcrumbs if you fancy. Bake in a hot oven for 15 to 20 minutes.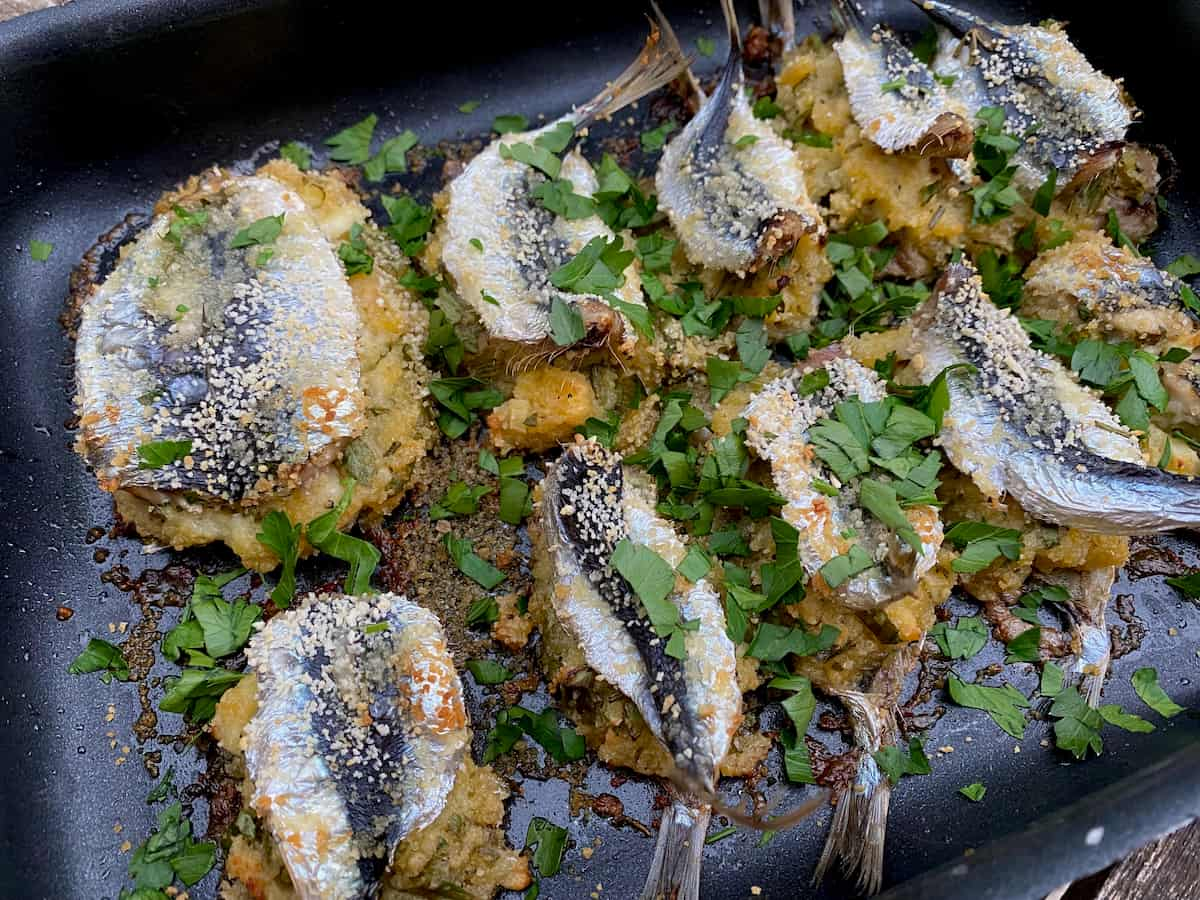 For slightly smaller sardines, bake for only 15 minutes. For the big sardines bake for 20 minutes.
Enjoy them crispy with visible breadcrumbs toasted and serve with extra chopped fresh parsley.
Serve sizzling hot directly from the dish at the table.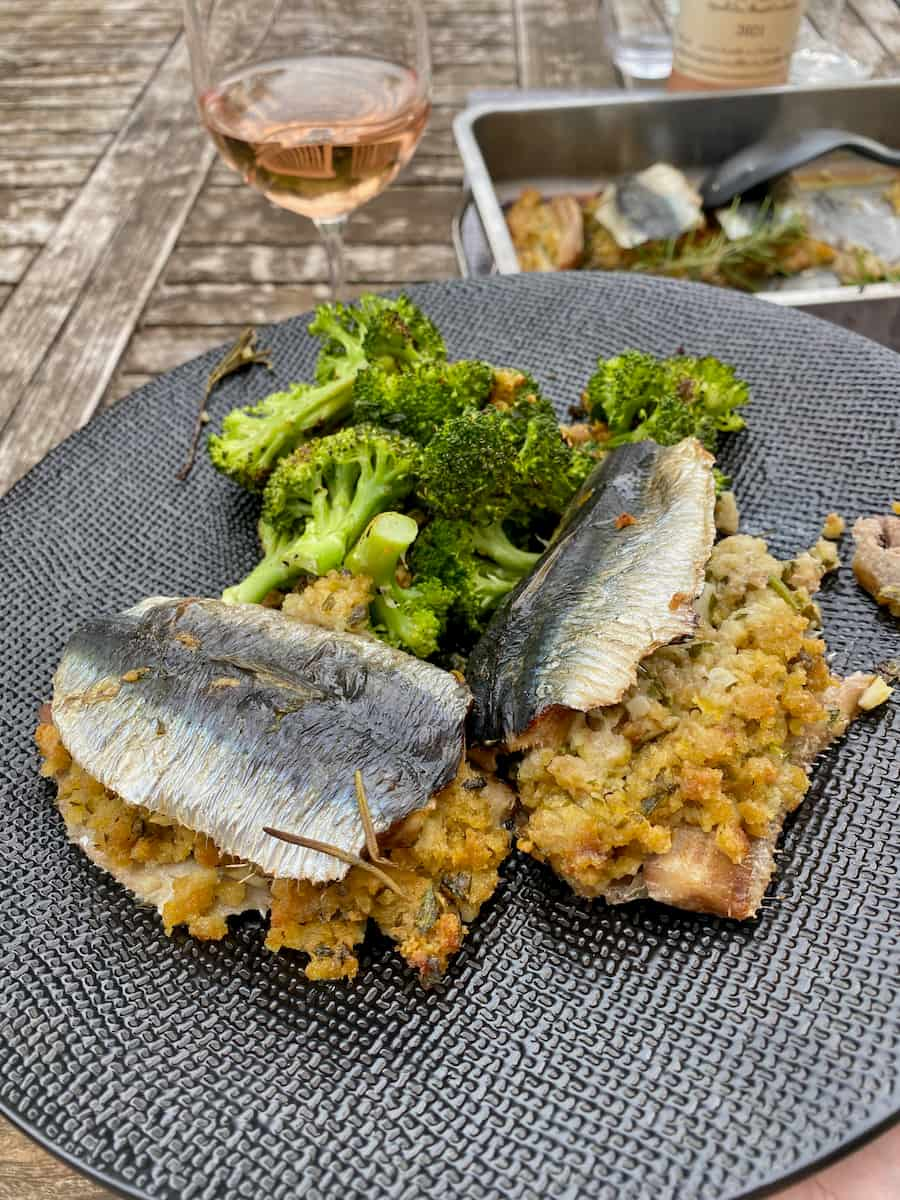 What to Serve with Roasted Sardines
In the restaurant, the sardines were served with ratatouille, rice and a little tomato sauce. As this is a simple dish, serve with a tomato salad, greens such as broccoli or green beans (delicious with extra toasted breadcrumb stuffing) and an extra wedge of lemon.
To match with wines, serve with a chilled French rosé from Provence. Even better, with a quality Bandol rosé wine to conjure up the taste from this fabulous French town. Its elegant, powerful blend of Mourvèdre, Grenache and Cinsault grapes balance the sardine flavours.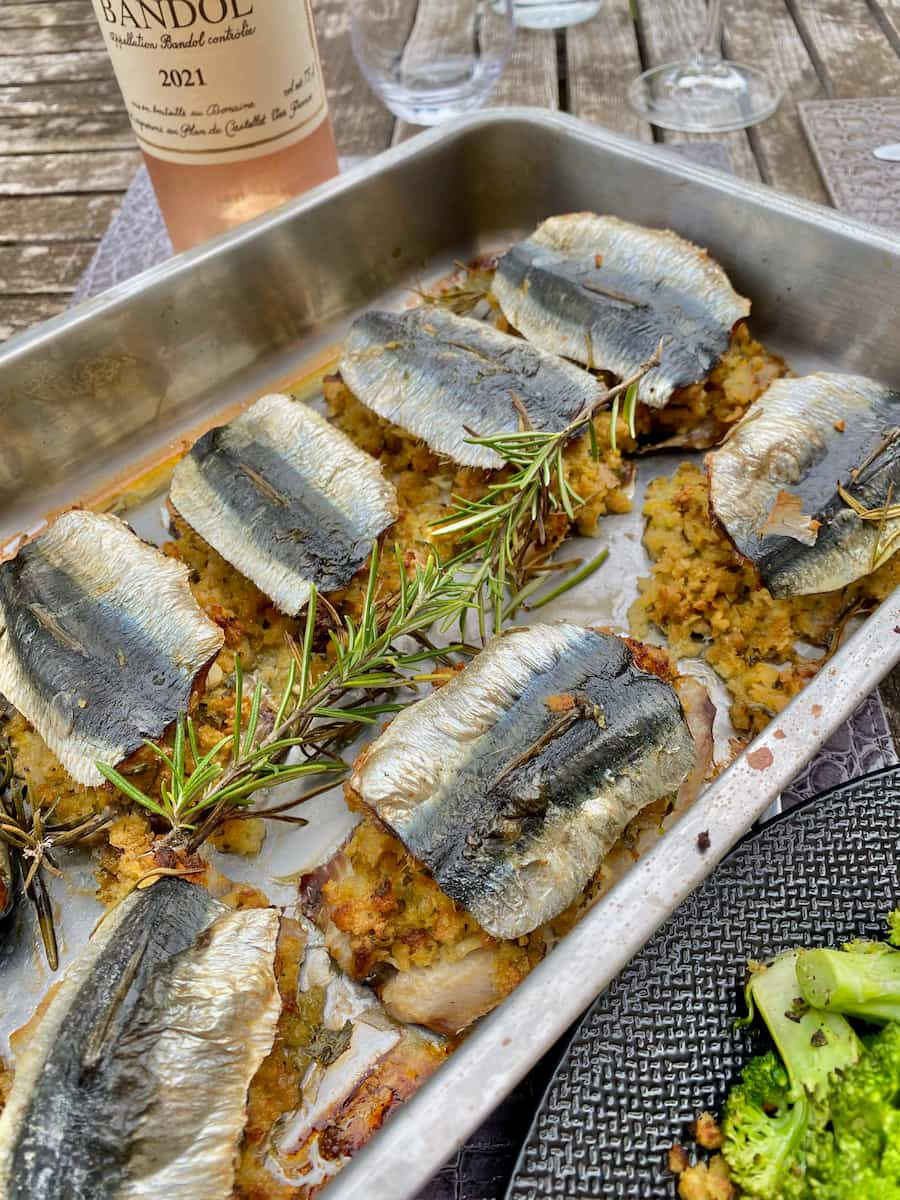 Roasted Sardines with Herb Stuffing
Fresh sardines roasted with a stuffing of fresh herbs, breadcrumbs, garlic and lemon. A delicious taste of the Mediterranean and budget friendly too.
Ingredients
1

kg (2¼lb)

fresh sardines

cleaned and dried on kitchen paper

4

tablespoon

olive oil

100

g (8 tbsp)

breadcrumbs

or panko

2

egg yolks

organic

2

tablespoon

milk

or wine

1

lemon, zest and juice

unwaxed/organic

5

garlic cloves

finely chopped

1

teaspoon

fresh thyme leaves

or ½ teaspoon dried

1

teaspoon

rosemary leaves

½

teaspoon

crushed black pepper

¼

teaspoon

salt

(fleur de sel, Maldon flakes or celtic salt)

4

tablespoon

fresh flat parsley

finely chopped
Instructions
Preheat oven to 230°C/210°C fan/450°F/Gas 8. Oil a large roasting dish with a tablespoon of the oil.

Prepare the sardines (otherwise get your fishmonger to do this).

With the blunt part of a knife, run over each side to remove any scales then rinse. Using a sharp knife, cut and discard the heads. Slit open the stomach and discard the insides using your thumb. Depending on their size, keep the tails or remove. Rinse well and pat dry.

In a small bowl, combine 2 tablespoon of the olive oil with the rest of the ingredients. Spread a tablespoon of the stuffing on top of each sardine directly in the dish. Make a sandwich by pressing gently another sardine on top.

Drizzle with the remaining tablespoon of oil and bake for 15-20 minutes, depending on their size, until the visible breadcrumbs are well browned and the rest is sizzling.
Notes
Serve immediately with a wedge of extra lemon, a side of green vegetables or salad and a glass of chilled French rosé.  Nutritional Information: 37g protein; 23g lipids; 13g carbohydrates based on 230g per person.
See more recipes that use 2 egg yolks.