Looking for some of the best bakeries near the Eiffel Tower? Let me show you in this quick online guide in just 3 blocks on Paris's rue Saint-Dominique.
Antoine and I lived next door in rue Bosquet for 5 years in our 2nd Parisian apartment. Although it feels long ago after 25 years living on the west outskirts of the City of Light, it's a street I visit often.  So let's stroll with the Iron Lady watching us, enjoy a French pastry or two, chocolates or caramels, and finish with a chestnut latte or cuppa in a cosy tea salon.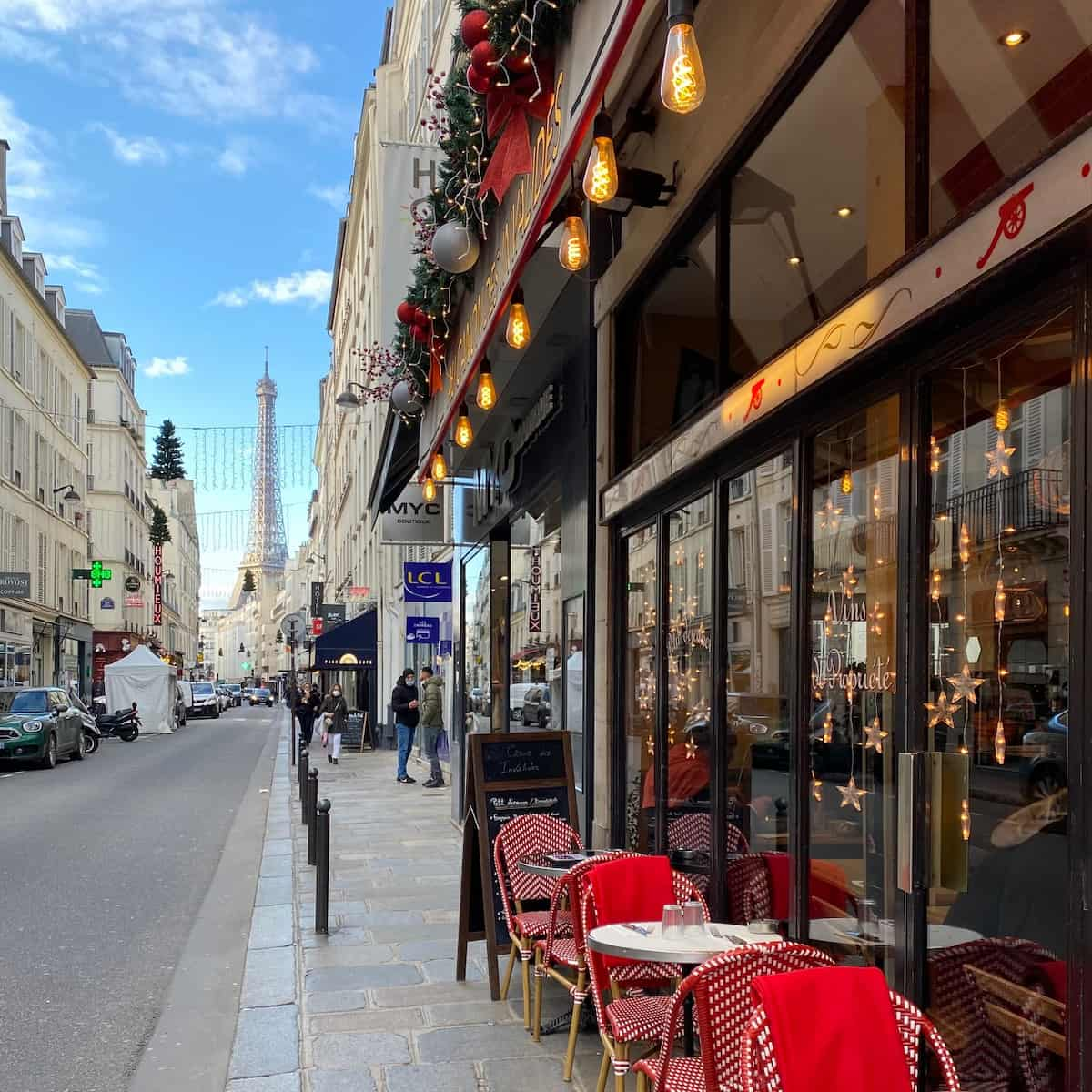 This post was first published on 28th June 2017. As many boutiques have recently changed, this post is now updated to list the latest bakeries, pâtisseries and chocolate boutiques on rue Saint-Dominique.
Best Bakeries Near the Eiffel Tower
You'll find rue Saint Dominique in Paris's bougie 7th. We're starting this online sweet tour at the intersection with rue Saint-Dominique and Avenue de la Bourdonnais - walking with the Eiffel Tower behind us. Please do check exact opening times directly from the bakeries' and chocolatiers' websites, since times are subject to change.
Ready? Let's taste some of the best French pastries in Paris near the Eiffel Tower.
Cacao et Macarons - Gregory Renard
Gregory Renard's signature macarons are easy to find on rue Saint-Dominique. Spot the macaron towers and a macaron Eiffel Tower and you know you've come to a paradise of great chocolate and macarons. My personal favourite is the salted caramel macarons but there are so many more to choose from. 
Cacao et Macarons, 120 rue Saint-Dominique, 75007 Paris
For more, see my article on my Top 20 Best Macarons in Paris
Maison Bergeron Boulangerie
Arrive around lunchtime and expect to queue, as their bakery lunch menus lure in the locals and tourists alike. Boulanger, Laurent Bergeron makes a mean apple tart: in 2022 he was top 10 prizewinner of the Best from the Councours Ile de France de la Tarte aux Pommes. Huge choice of more patisseries but don't leave before trying any of their incredible artisanal breads - I adore their baguettes aux céreales. 
Closed Sunday.
Maison Bergeron, 112 rue Saint-Dominique, 75007 Paris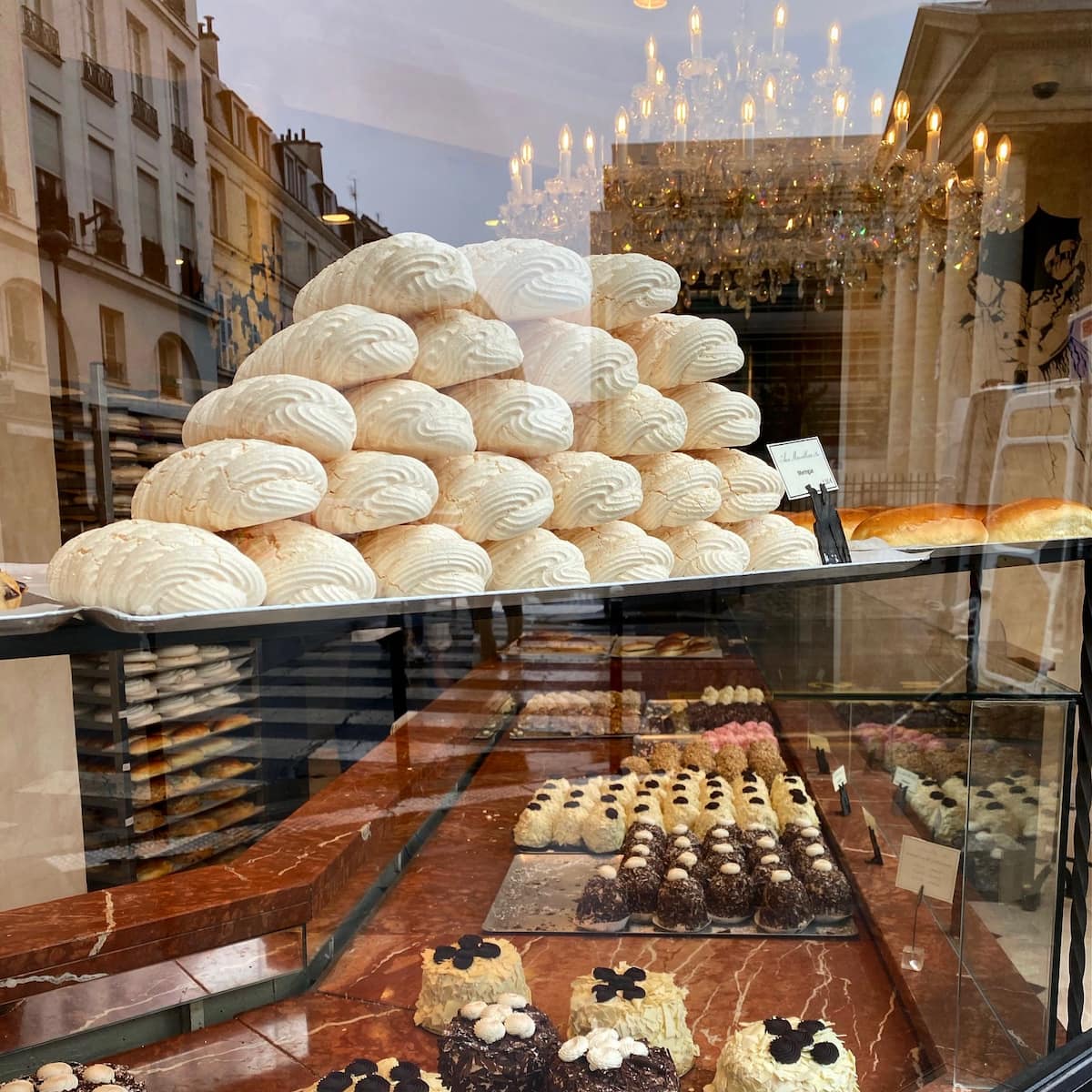 Aux Merveilleux de Fred
If you have a particularly sweet tooth, this is your address. On the corner of the Church of Saint-Pierre du Gros Caillou, marvel at the Merveilleux meringue-and-Chantilly-cream domes - or les gaufres fourrées (vanilla and rum waffles). All are freshly prepared in the window, which gathers window-shoppers too.
With its door always open, it's not difficult to be lured in to this chandelier-clinking bakery. It's where Frédéric Vaucamp has brought us  back to 18th century specialities of Northern France and Flanders.
Each Merveilleux meringue cake comes in large, individual or mini, and each take a theme from French society. Cinnamon lovers will enjoy the Incroyables (cinnamon speculoos cream), or why not try the Unthinkable (the Impensable) with its crispy creamy coffee meringue?
My personal favourites are the Cramiques for an extra sticky brioche-style breakfast.
There are 3 kinds: either studded with juicy raisins, 'plain' with sugar pearls, or densely packed with dark chocolate chips.
For more, read my complete guide to Aux Merveilleux de Fred.
Aux Merveilleux de Fred
94 rue Saint-Dominique, 75007 Paris
Tuesday-Saturday 9am-8pm
Sunday 9am-7pm (Closed Monday)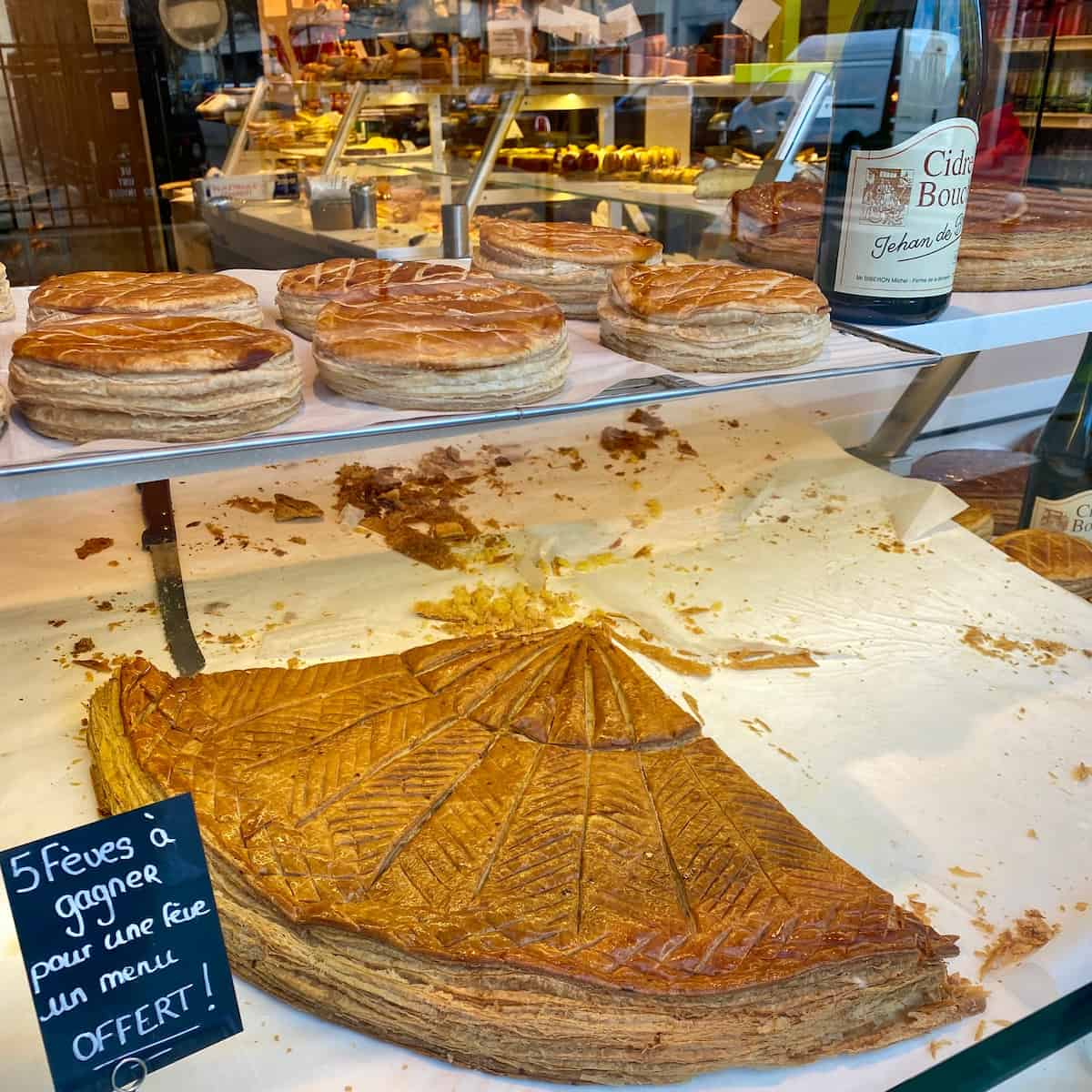 Maison Othon (Boulangerie et Pâtisserie)
Christophe Othon's popular artisanal bakery sits on the corner of rue Saint-Dominique and rue Cler. 
Every January, his galettes des rois are king. Especially as he makes one giant one so for those who have the fève (trinket). As a result, they're not just king or queen for the day but have a special deal too.
For savouries, they have a wide range of delicious salads and sandwiches. Taste the Pan Bagnat, a sandwich speciality of Nice: a round bun filled with tuna, mayonnaise, tomatoes and lettuce. It's a must when it's done so well on fresh bread like this. In winter, taste their special Pain à la Chataîgne (chestnut bread) and spread thinly with Bordier butter (demi-sel) - or some fig jam.
On the sweeter side he makes a cake called Riz au Lait but something incredibly different to the classic rice pudding we know. Flaky puff pastry is filled with creamy vanilla riz au lait, topped with crunchy pearls. For a more traditional style riz au lait, it's served in glass verrines along with many other dessert temptations. Try the classic baked fruity custard, the clafoutis. More pastries include a Saint Honoré, Fôret Noire, seasonal fruit tarts and dacquoises. 
111 rue Saint Dominique, 75007 Paris
Closed weekends.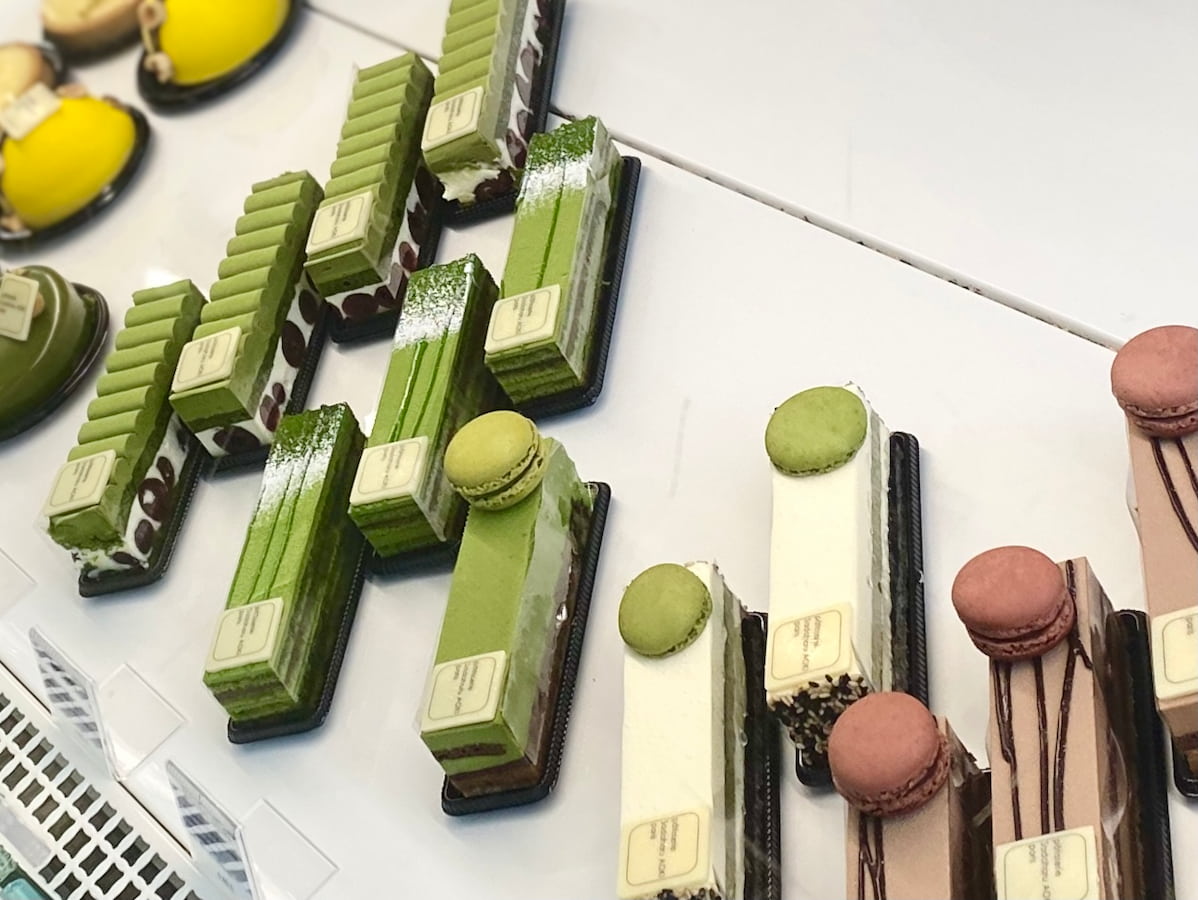 Sadaharu Aoki Pâtisserie
Award-winning pastry chef, Sadaharu Aoki has been amazing Parisians with his distinct Japanese influences on French pâtisserie since he arrived in Paris in 1991. Previously teamed up with Jean Millet, this chic boutique with its quiet tearoom at the back was completely taken over by Chef Aoki as of May 2017.
The window is often loaded with Matcha Green Tea croissants and colourful macarons. Step inside and be prepared for a museum-like experience with his range of exquisite pastries - many decorated with his signature mini macarons - chocolates and rolled Japanese sponge cakes. Pastries are relatively expensive but for this high-end level, c'est normal.
Many macarons are tea-infused with Hojicha grilled Japanese tea, and Genmaïcha, a green tea combined with roasted brown rice plus with sophisticated tones of white and black sesame (try my recipe for black sesame ice cream).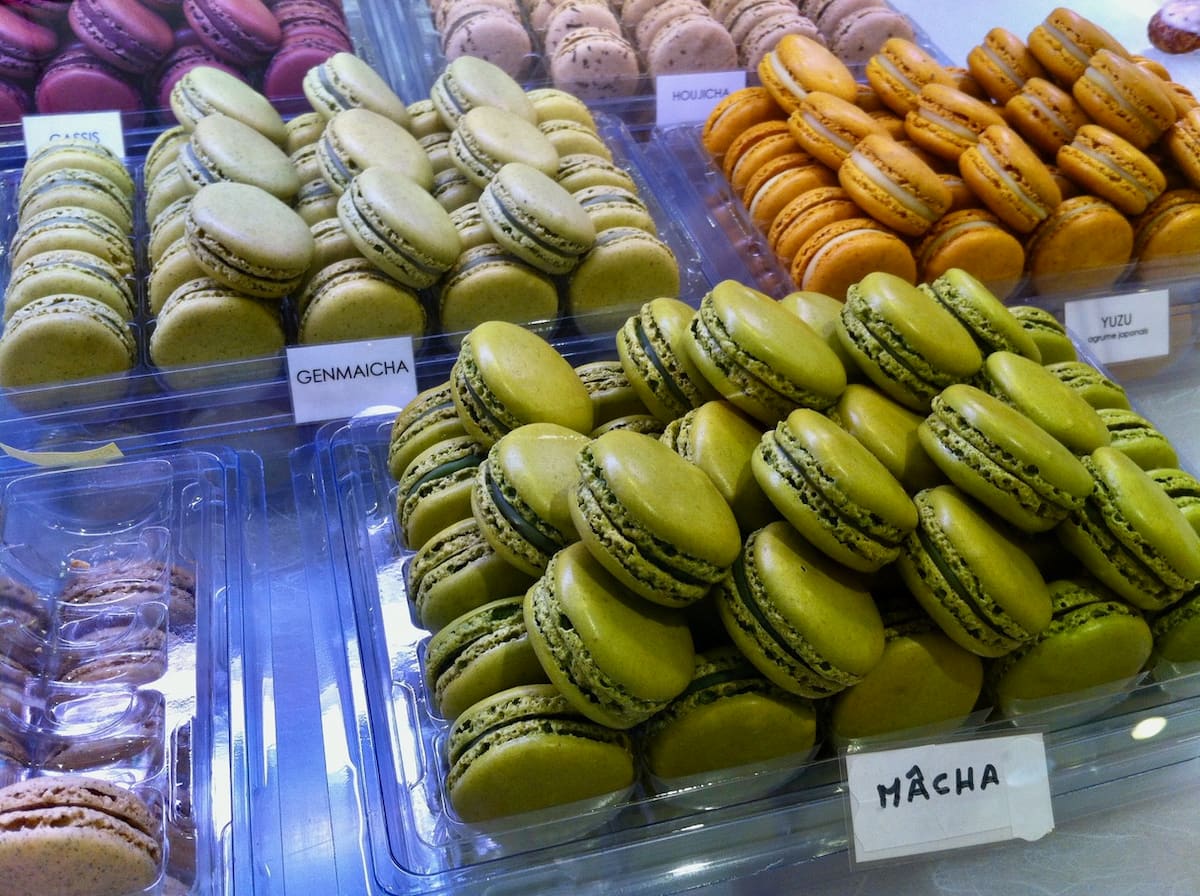 Green tea is given another voice with his popular pastry, le Bamboo. It's Chef Aoki's Japanese take on the classic Parisian Opéra cake, with each delicate layer consisting of joconde biscuit, buttercream, chocolate ganache, syrup and glaze (glaçage). The traditional coffee syrup is replaced with Matcha green tea and a splash of Kirsch liqueur, adding that special nippon note to the French opera 'base' (sorry, can't resist a pun). See more of Aoki's pastries.
To top it off, his lemon cheesecake and tartlets are sublime: tart lemon or yuzu or pistachio. I've tried them all over time and still don't have a preference. 
Sadaharu Aoki
103 rue Saint Dominique, 75007 Paris
Tuesday-Saturday 11am-7pm
Sunday 10am-6pm (Closed Monday)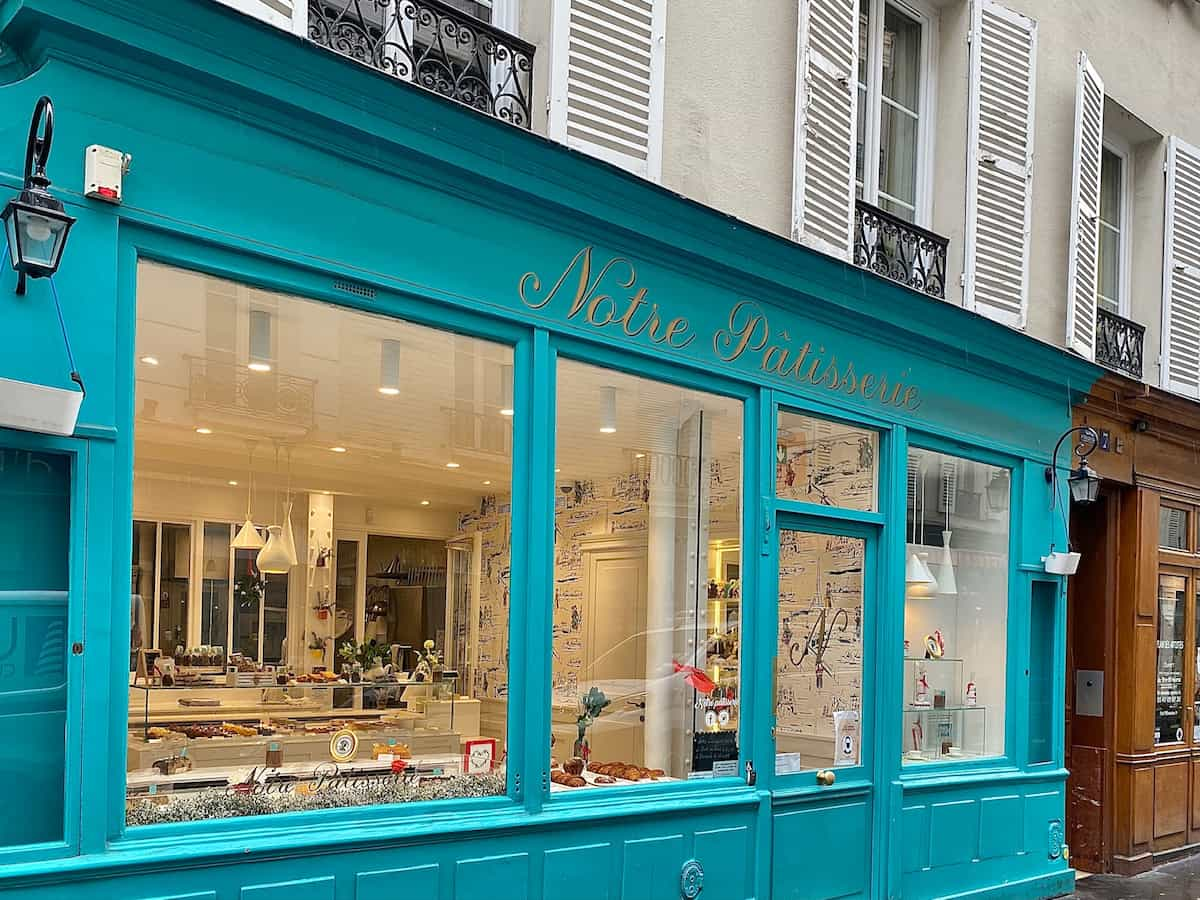 Notre Pâtisserie
Don't visit rue Saint-Dominique without turning right into Rue Amélie. Notre Pâtisserie is one of the best bakeries in Paris with best value for such quality - and just happens to be near the Eiffel Tower.
The stylish turquoise storefront makes it easy to spot, decorated with cakes and goodies according to season.
Another highlight of coming here?  Everything is made here on site (sur place), so the fragrances wafting of fresh brioches, tarts and croissants is divine. Watch from the lab behind the counter Francesca and her team of pastry chefs in full swing where they produce picture perfect pastries, macarons, cakes and viennoiseries.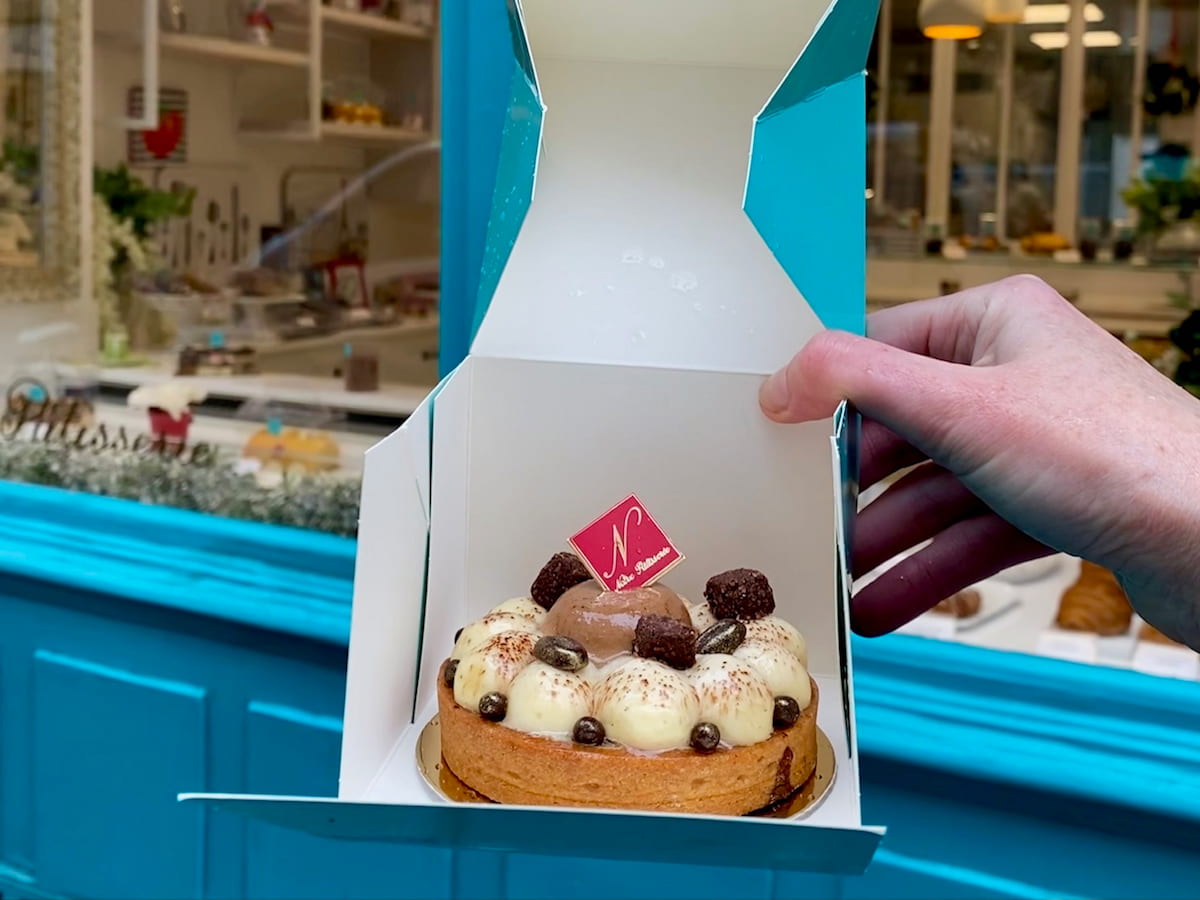 Francesca adds an Italian touch to her pastries. Try the Fleur de Cappuccino, the creamiest coffee layered tartlet. Simply sublime - and value for money? You can't get much better than this in Paris! Other patisserie which are our family favourites? Infiniment Chocolat, Croquant Noisette, Notre Tatin, Plaisir Chocolat Caramel (can you tell we like chocolate, caramel and nuts?). For winter, the exotic fruit tarts and pastries are also simply stunning - here's their cake menu, just to whet your appetite. 
Additionally a great choice of savoury with pizza slices, salads, savoury cakes and gratins. I particularly love their quiches or tarts as their crispy pastry bases remain incredibly light.
What's more, don't be distracted by the gorgeous Parisian wallpaper. Look carefully at the (now white) original steel frames, kept to remind us of the location's history. Did you know that this address originally housed the workers of the Eiffel Tower in the 19th Century?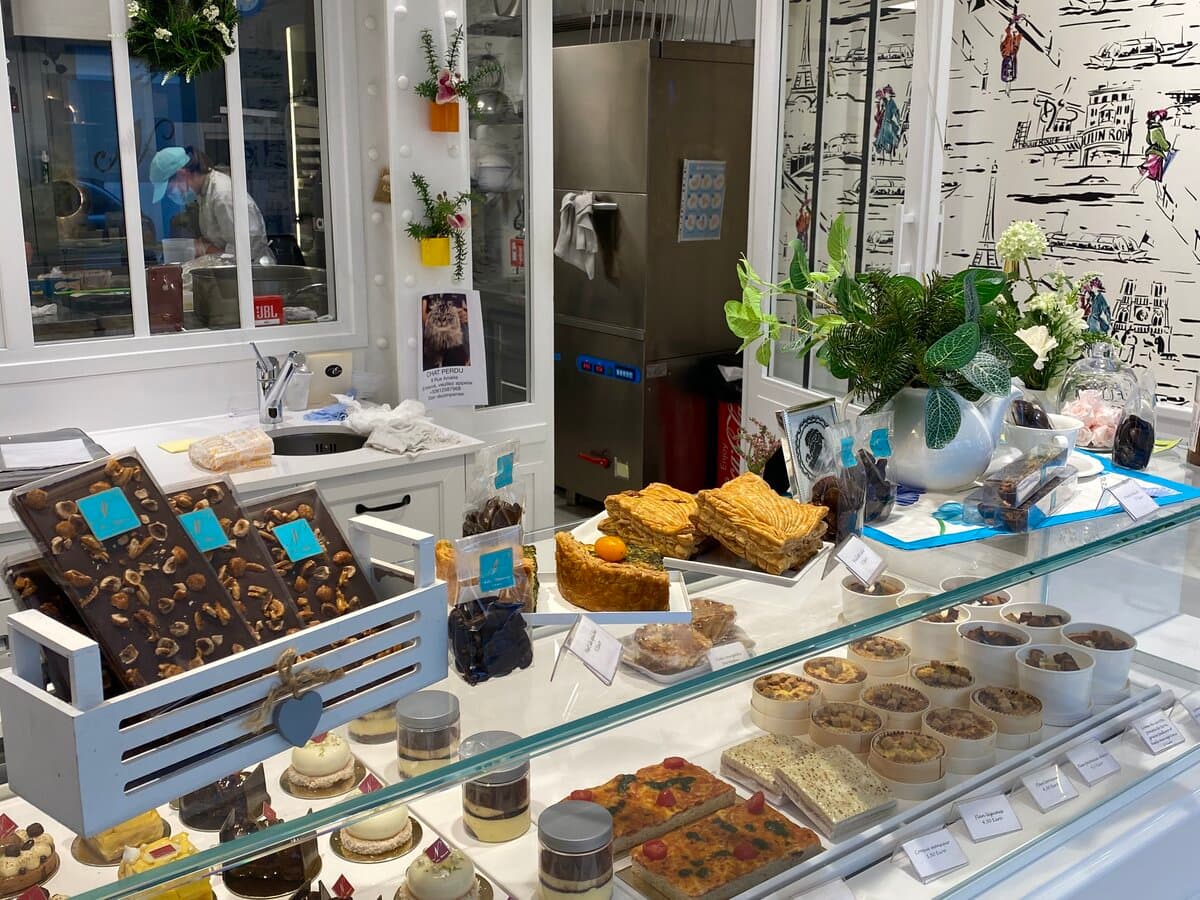 They also supply their beautiful pastries to the famous café in the Jacquemart-André museum. It's no wonder: enjoy edible art amongst the Italian Tieppolo ceiling and tapestries. See more in my List of Best Paris Tea Salons.
Pastry classes and cake orders on request.
Notre Pâtisserie, 7 rue Amélie, 75007 Paris
Closed Monday & Tuesday
Trendy Cafés Near the Eiffel Tower
Looking for a quick coffee or a drink? Malabar is a trendy café near the Eiffel Tower where you can sit in or outside and watch the world go by, as locals are shopping. They also do breakfast, brunch, lunch - you name it.
If you're looking for a typical French brasserie and restaurant, Thoumieux is further up, across the road. Most of the French restaurants on rue Saint-Dominique are to be found in the other block, closer to the Eiffel Tower. They include Café Lignac (previously Café Constant), Les Cocottes, Bistro Saint-Dominique and La Fontaine de Mars.
Nelly Julien Boulangerie
Nelly Julien took over this artisanal bakery, Douceurs et Traditions and has since bagged many prizes. In 2018 and 2017 won first prize in Paris for their Galette des Rois. In 2019 won second prize for their éclair au chocolat, however, the last couple of times I've tasted them they have not been prize worthy, in my humble opinion.
Previous prizes have been for their baguettes, buttery croissants and pains au chocolat, which is what I prefer here.  They're particularly popular with their fresh sandwiches so queues are inevitable at lunchtimes.
Boulangerie Nelly Julien
85 rue Saint Dominique, 75007 Paris
Lemoine (closed)
Looking for Lemoine, with their macarons and speciality Canéles, a speciality from Bordeaux? Sadly they closed their doors on rue Saint-Dominique. You'll find canélés in many other bakeries here.
To make your own, get my foolproof recipe in my 2nd patisserie recipe book, Teatime in Paris - see my sample recipe here for Canéles or Cannelés de Bordeaux.
Le Moulin de la Vierge (Boulangerie et Pâtisserie)
This popular artisanal Parisian bakery (boulangerie and pâtisserie) is listed as a Historical Monument.
The shiny black Art Nouveau storefront says it all: "Pains sur levain; Viennoiserie - Tout Au Beurre".
Rows and stacks of organic sourdough bread (pains sur levain) plus all kinds of assorted deliciously crusty bread, flutes and baguettes wink at customers behind the cosy lamps on the glass counter. Don't forget to ask for their organic speciality, the Paresseuse baguette (meaning lazy), also made in their wood fire oven.
Taste their Viennoiseries, the delicious umbrella word for buttery, flaky croissants, pains au chocolat, pains au raisin, apple chaussons to name a few - typically eaten for breakfast. However, perhaps not every day - the French tend to eat fresh baguette with butter or jam, called a tartine.
Everything with butter! More buttery cakes come in the form of little Financiers (friands) teacakes, plus their selection of traditional pastries and macarons. They also offer soup and sandwiches to either take out or sit in at a few tables at the back to taste and gaze up at that pretty ceiling.
Le Moulin de la Vierge
64 rue Saint Dominique, 75007 Paris
Liberté Boulangerie et Pâtisserie
Now one of 6 of their chain to open in Paris, this is their popular bakery in the shadow of the Eiffel Tower.
Liberté in the 7th by Noa Katz is also popular for its sandwiches, Croque Monsieur and stuffed croissants and so has queues at lunchtimes. Their breads are particularly good, including a charcoal baguette and a hazelnut and fruit loaf. However, I did also try the cheesy ham stuffed croissant and found the croissant too sweet for the savoury filling. 
Excellent choux buns (pistachio, chocolate, vanilla) and a Paris-Brest, a chocolate babka, plus many French 'cakes' (pistachio, chocolate, lemon).
Liberté Boulangerie et Pâtisserie
58 rue Saint Dominique, 75007 Paris
Closed Sunday
Henri Le Roux - Original Caramels and Chocolates
Who would have known that salted caramel is a recent discovery? Not only is this one of the top chocolate shops in Paris but Henri Le Roux is also known as Caramélier.
Fans of salted caramel have Henri Le Roux to thank. He created the CBS® (Caramel au Beurre Salé) in 1977 in Quiberon, the location of his first chocolate shop in Brittany and where salted butter is added to many local specialities. Since then, salted caramel has been world famous, so he wisely registered it in 1981.

So, don't leave Paris without a taste of the CBS®: dark and soft half-salted caramel with crushed walnuts, hazelnuts and almonds. Choose from dozens more flavours, including a subtle Japanese-inspired Sakura Spring cherry blossom caramel.
His range of chocolates are impressive (including one with truffle). Try the caramel (Caramelier) and chocolate (Bonsoncoeur) spreads that are a special luxury on crêpes - or just smothered on a baguette!
Maison Le Roux
52 rue Saint Dominique, 75007 Paris
Closed Sunday
---
Alas, one of my favourite tea salons and patisseries, Karamel, closed its doors in 2020. The good news? Breton pastry chef Nicolas Haelewyn is now executive pastry chef at Ladurée.
Le Jardin de Mademoiselle (Tea Room)
This charming tea shop and tea room is perhaps very small but incredibly sweet, run by Aline and Floriane. With very little tables (there were only 4 when I last visited), there's no room for prams or trotinettes but that's also why we like it – including with fluffy cushions and cute nicknacks.
Teatime offerings have a more British ambience: scones (sweet with cream and jam), carrot cake, pecan pancakes and a cookie of the day. However, there are more French offerings with chocolate fondant, financiers and a gâteau du jour. 
Tea fans will love the huge selection but also a great choice of coffee with speciality lattes and hot chocolates. Moreover, for fans of chestnuts, this is your address - as they love making chestnut versions of their fondant cake, as a latte and hot chocolate.
Ensure you book for their brunch on the first Saturday of the month.
Le Jardin de Mademoiselle
69 bis, rue Saint-Dominique, 75007 Paris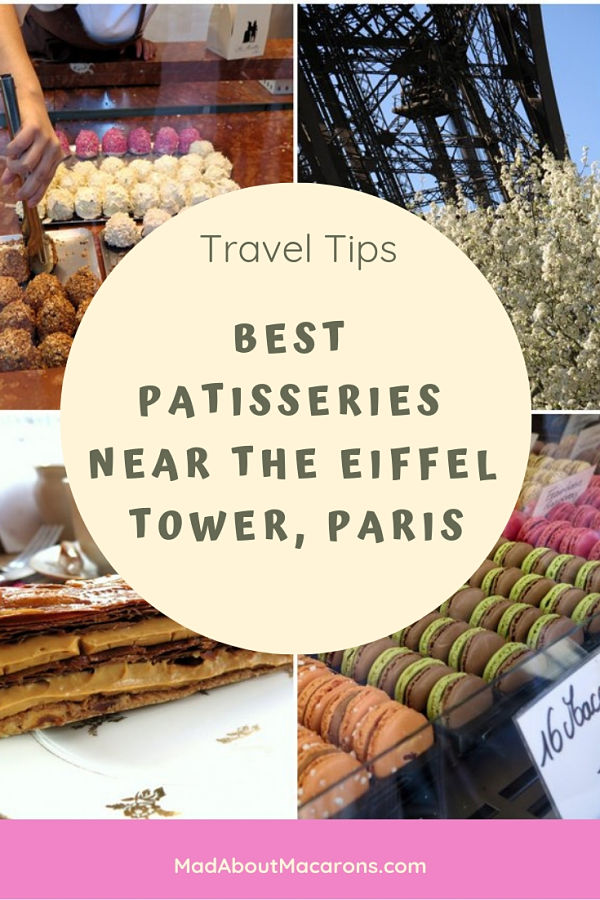 Disclaimer: None of the establishments mentioned above are sponsored and all views and opinions are entirely my own.  Please note that tasting the specialities at the above bakeries are done over time. It is not intended to be presented as if eaten in all one tasting!
For much more, see First 5 Ways to Eat Like the French on Lifestyle.