Pear Belle Helene (Poire Belle Hélène), a classic Parisian dessert invented in Paris by Chef Escoffier on hearing the first performance of Offenbach's Belle-Hélène opera bouffe in 1864.
So what's its key? Good ingredients: pear williams, dark chocolate sauce and good vanilla ice cream.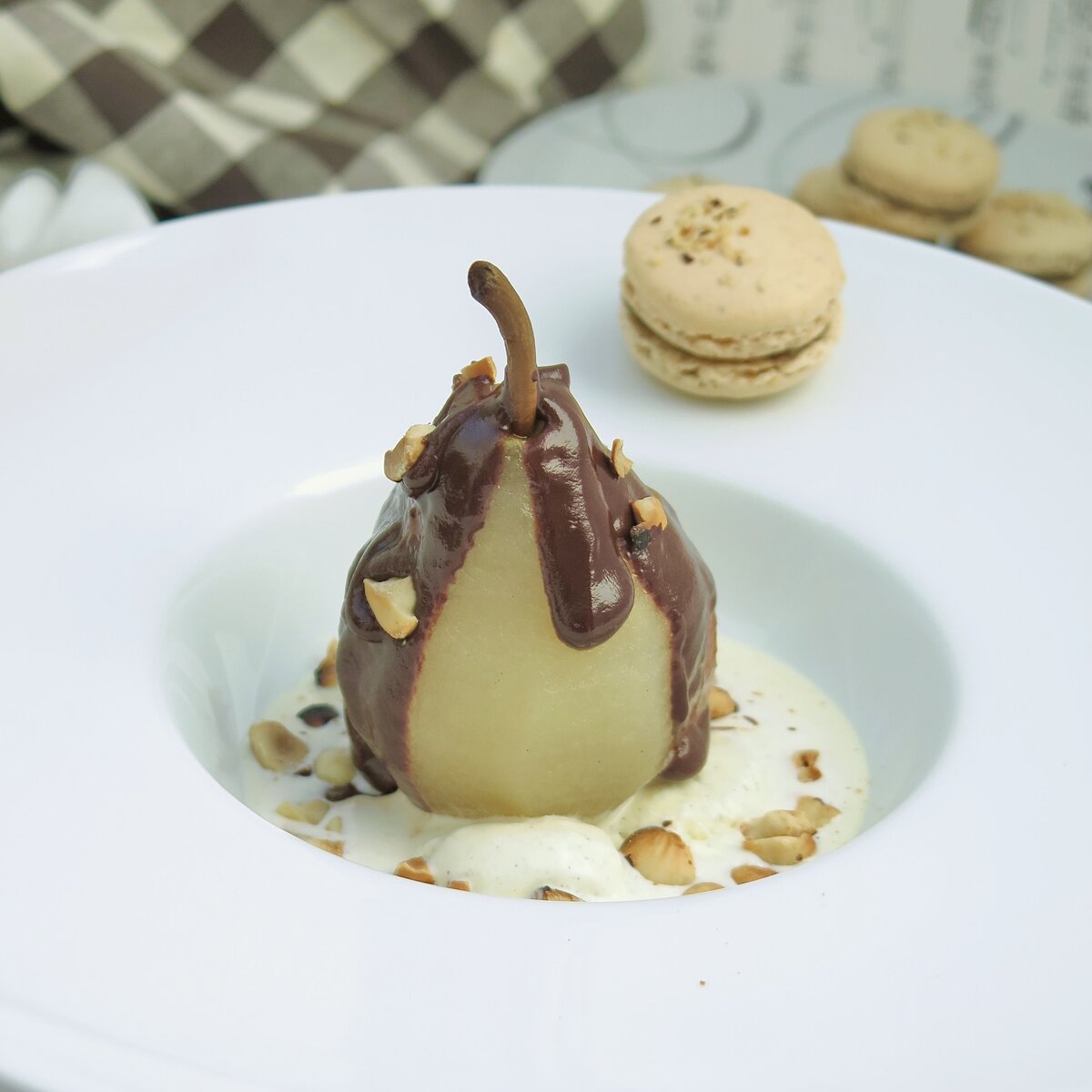 What is La Belle-Hélène?
The scrumptious musical inspiration happened in Paris, 17 December 1864 at the Théâtre des Variétés on Boulevard Montmartre. The French soprano, Hortense Schneider (known as la Snédèr) was singing the title role of Helen of Troy (or Sparta) in the first performance of Jacques Offenbach's opera bouffe, La Belle-Hélène.
Funnily enough, the soprano was originally turned down by the Théâtre des Variétés when she came to Paris from Bordeaux. It's thanks to Offenbach who invited her to the Théâtre des Bouffes Parisiens in Passage Choiseul, which the composer founded in 1855 for the performance of his operettas and opera bouffes. From then on, Hortense Schneider became a real Parisian celebrity - even if she was renowned for being a bit of a Prima Donna.
Chef Escoffier's Creation on Helen's Beautiful Pear
Captivated by Schneider's silky smooth voice as the beautiful Helen at that first performance, the young chef, Auguste Escoffier - who would be a mere 18 years old - dreamt up this symphony of flavours: a pear poached in vanilla syrup, served with vanilla ice cream and topped with the silkiest smooth French chocolate sauce. Could the soprano have been a bit pear-shaped?
Here was chef Escoffier's creation of Helen's 'Beautiful Pear' (pun totally intended!) or Poire Belle-Hélène. Somehow it sounds so much better in French, doesn't it?  Like a good tune, it's all in the mixing of simple, good ingredients.  So, please use GOOD QUALITY CHOCOLATE for the sauce, good fresh pears (Pear Williams: ripe but firm; not turnips, either!) - and if you don't use homemade ice cream, then use good quality which uses vanilla beans/pods rather than just an aroma.
The Most Intense Chocolate Sauce
As you can see from some of the photos, the chocolate sauce thickened as it became cool in taking these pictures.
If you prefer your sauce to be more liquid, then add just a little more cream before reheating.
Hazelnuts Crack the Top Note!
Normally the Pear Belle-Hélène dessert is garnished with grilled flaked almonds but, as I adore chocolate and hazelnuts together, toasted broken hazelnuts add a cracking crescendo to a delicious finale (or toasted walnuts).  A chocolate hazelnut macaron adds a fabulous Encore (recipe in Mad About Macarons)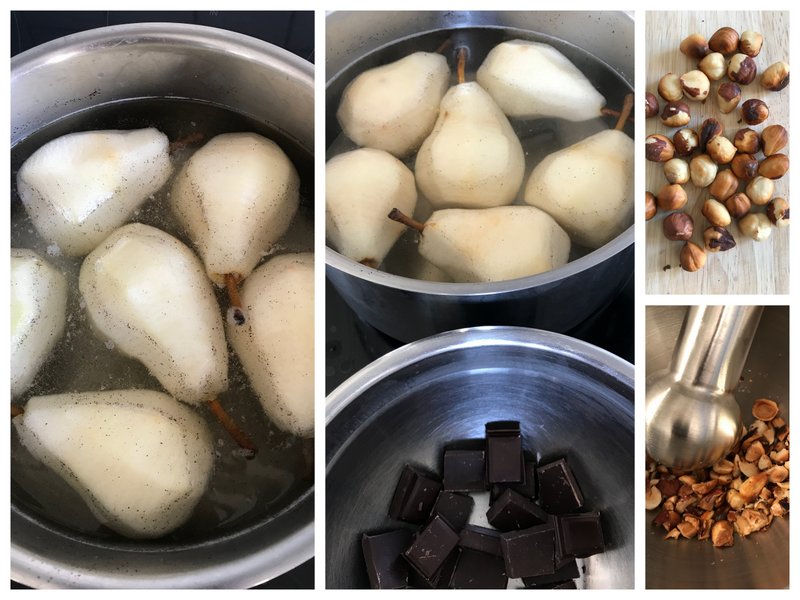 What Can I serve with Pear Belle-Hélène?
To bring out the tasty crunch of the toasted hazelnuts, serve with Hazelnut and Chocolate Chip Cookies - another perfect duet that sings along with Hortense's interpretation of Offenbach and a Poire Belle-Hélène dessert!
Poire Belle Helene Dessert
The Classic Parisian dessert of a poached pear, vanilla ice cream and thick French chocolate sauce was invented by legendary chef, Auguste Escoffier, after hearing the French soprano, Hortense Schneider, sing the title role in Offenbach's Belle-Hélène in Paris, 1864.
Ingredients
250

g (9oz/ 1¼ cups)

sugar

500

ml (18fl oz/ 2 cups)

water

¼

teaspoon

vanilla powder or extract

(optional)

6

pears (Williams, ripe but firm)

peeled, stalk and core left intact

1

litre tub

vanilla ice cream

40

g (1.5oz/ 2 tbsp)

broken hazelnuts, grilled

(for garnish)
Chocolate Sauce
100

ml (3.5 fl oz / ½ cup)

double / heavy cream

(Crème fleurette 30% fat)

50

ml (2fl oz/ ¼ cup)

whole milk

125

g (4.5oz/ ¾ cup)

dark chocolate

bittersweet (at least 64%)
Instructions
In a large saucepan, boil the water and sugar to form a syrup. Add the vanilla powder, if using.

Peel the pears, leaving the stalk and the core intact. Ensure the pears are covered by the syrup by placing parchment paper on top and cover with a lid.  Poach in the syrup for about 30 minutes until tender.

Remove the pears from the syrup and finely cut the ends off so that each pear can stand up right without falling over.

Chill in the fridge until needed.
Chocolate Sauce:
Heat together the cream and milk over a medium heat until nearly boiling. Break the chocolate into a bowl, pour over the hot cream and stir until the chocolate sauce is smooth.
Assembly:
In each serving dish, serve 2 scoops of ice cream, top with a pear and pour over the sauce. Garnish with grilled or toasted hazelnuts and serve immediately.
Notes
Serve with chocolate or chocolate-hazelnut macarons or with chocolate hazelnut cookies.
It's best to use pears that are just ripe (not over, not under). If slightly under, then allow for slightly more cooking/poaching time.
Nutritional Information: 238 calories per serving; 4g protein; 12g fat; 29g carbohydrates.