Stuffed Mini Pumpkins are so versatile for parties, side-dishes, as a starter or even main. Often presented as decorations, those little Jack-be-Littles are totally edible and delicious too. Stuff with mushrooms and other basic ingredients or adapt this basic recipe to your own creativity. For non-vegetarians, add some bacon.
Can You Eat Mini Pumpkins?
Of course you can. Don't just use the little mini pumpkins to decorate the table. Those mini pumpkins are edible and taste so good! So, if you're looking for mini pumpkin recipes, here's one that's so tasty, quick and simple to prepare. My vegetable man at the market explained it to me years ago. Ever since, I've played with the basic idea - and it's easy to adapt this recipe to your own creativity.
Unlike regular big pumpkins, the minis are so quick to prepare. Just 4 minutes in the microwave is all it takes to cook them - and so easy to scoop out the seeds, leaving a cavity ready to fill with goodies. Then, when ready to serve, top with a little cheese and finish them off in the oven for just a few minutes. C'est très simple !
These mini pumpkins are great as a side-dish, as a main dish for vegetarians or fun party food. It's good for Thanksgiving or on festive end of year menus as a no-turkey treat! Moreover, I've noticed that everyone adores having their own personal little pumpkin on their plate. The bonus is that they're healthy too.
What are Mini Pumpkins Called?
These mini pumpkins are called Jack-be-Little.
In France, they are also known as Pomarine, although they originated in Colorado, USA. Like Potimarrons or Red Kuri Squash, once cooked, the skin is edible and they're so easy to stuff. Their cute size means they're great as a side-dish for Autumn, Hallowe'en parties, Thanksgiving or end of year menus.
I didn't give them enough justice on my creamy lemon sauce recipe for roast chicken or turkey, and realise they need their own recipe post - so here's the most easy recipe to make 'Jack Be Little' Stuffed Mini Pumpkins.
See the market pages for much more about pumpkins and squash.
Can I Prepare Them in Advance?
If you're preparing mini pumpkins for a party, it couldn't be easier. Just prepare them in advance earlier in the day and when ready to serve, simply finish them off under the grill or bake in a hot oven for 10-15 minutes.
I wouldn't recommend chopping the garlic and mushrooms in advance, as they'll lose their flavours and vitamins. Instead, prepare the stuffed pumpkins completely cooked and leave the last grilling part to last.  This way, the pumpkins are heated under the grill, topped with more cheese which is deliciously melted and toasted and ready to serve.
How to Stuff Mini Pumpkins
So here's what my local market's vegetable man told me to do with them years ago.
Simply cook them first in the microwave. They only take 4 minutes! Leave them to cool to make it easier to slice off their tops.
Scoop out the seeds (keep aside to toast them - either with salt or plain to use as an ingredient in homemade maple granola), then stuff the cavity with this delicious filling.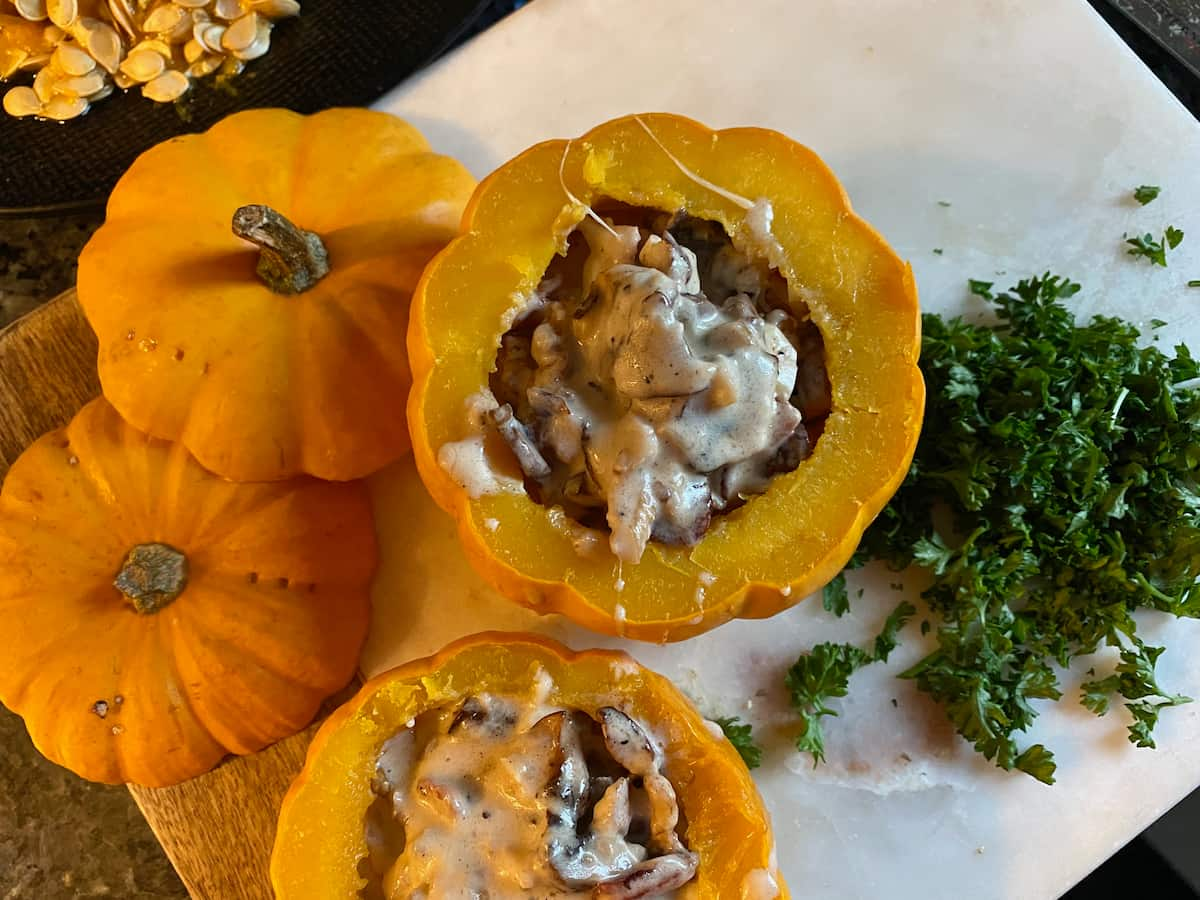 Just before ready to serve, finish off for a few minutes under the grill.  It's as simple as that!
Love mushrooms with pumpkin?
Then make either our favourite chestnut flour, pumpkin and mushroom tart or this butternut, walnut and mushroom gratin.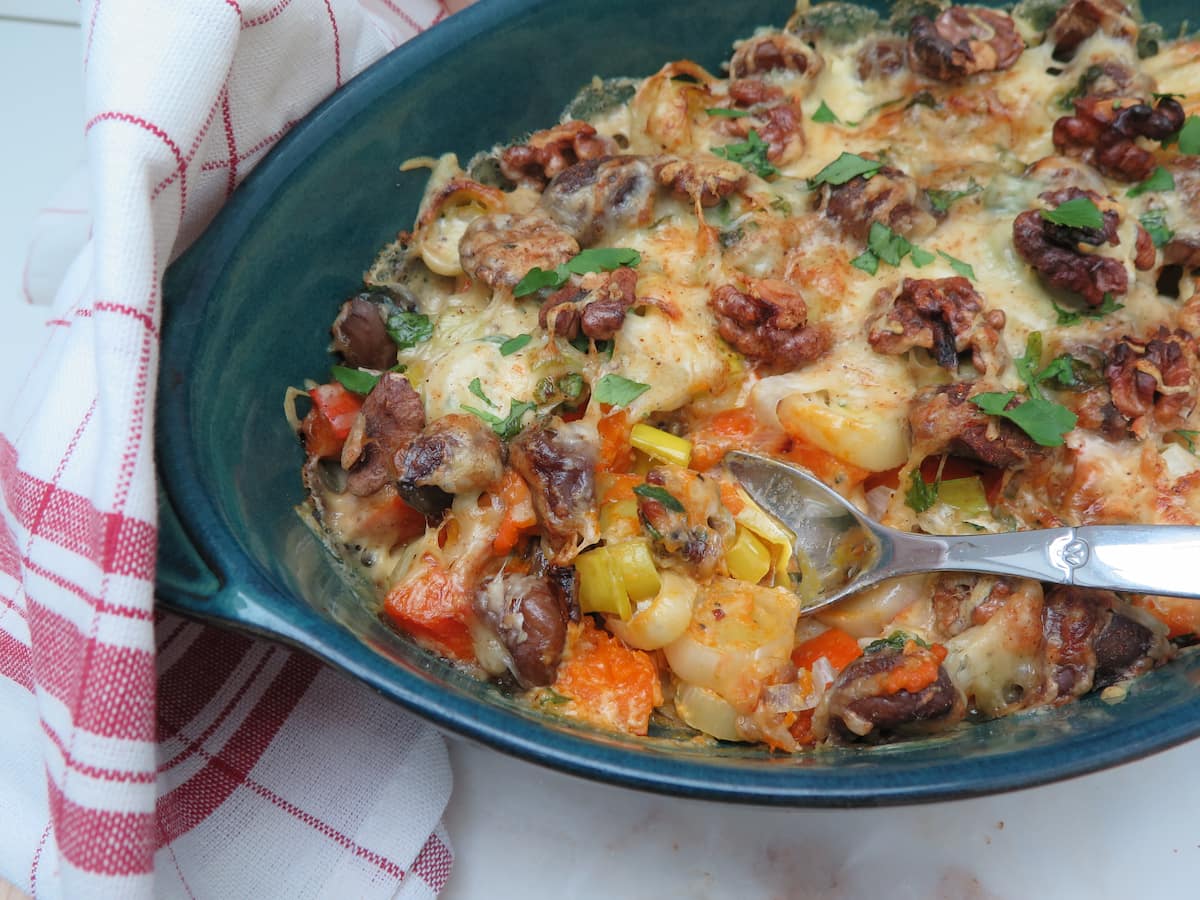 How to Serve
Either serve them on their own or as a main dish, as a side. Stuffed mini pumpkins are delicious served with chicken or turkey.  Here I served it with chicken fillets in a mushroom sauce. Fabulous with a buttery Chardonnay white wine.
If you prefer red wine, go for French fruity reds such as a Pinot Noir from Alsace, Burgundy or a gamay Beaujolais Cru such as a Morgon, Chiroubles or Brouilly.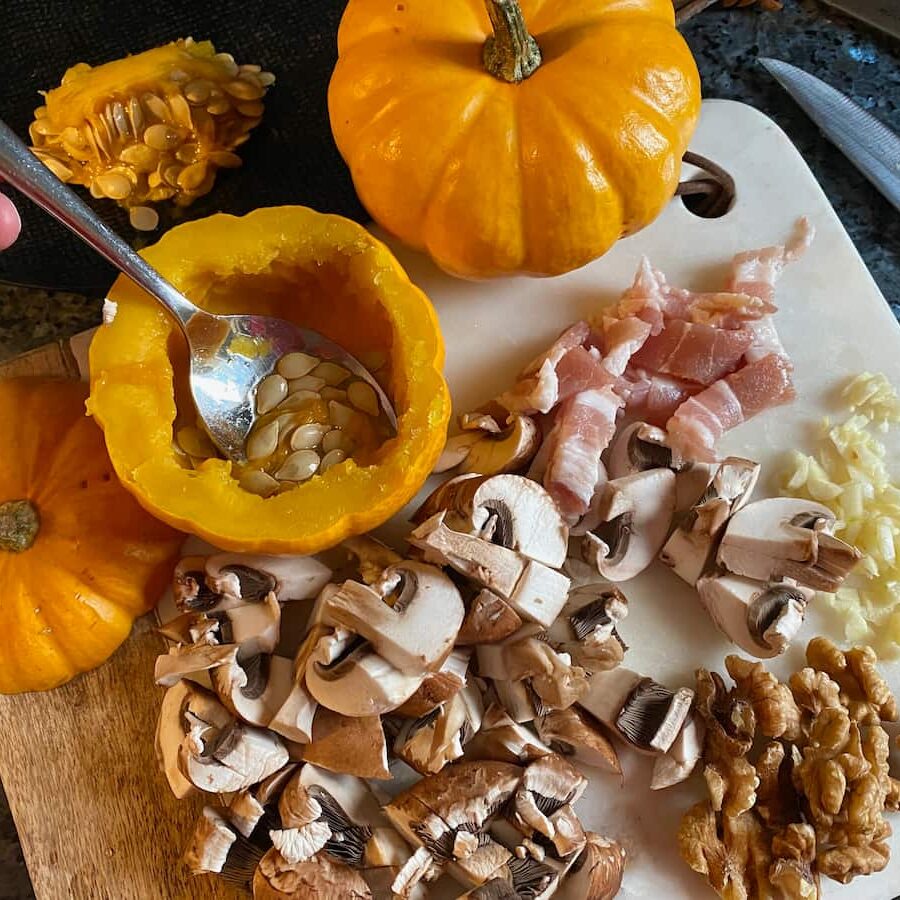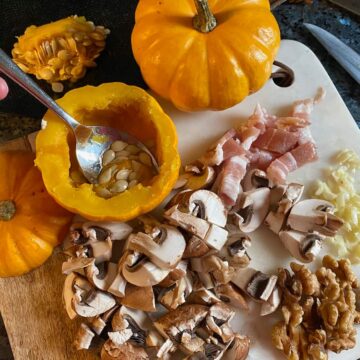 Stuffed Mini Pumpkins
Enjoy stuffed mini pumpkins as a side-dish, a light lunch or main dish. What's more, they're tasty, quick and easy too! Use the recipe base as a guide to your creativity.
Ingredients
4

mini pumpkins (Jack-be-Little)

washed and dried

1

tablespoon

olive oil

12

mushrooms

chopped

2

garlic cloves

finely chopped

60

g (2½oz)

walnuts

(or pre-cooked chestnuts)

¼

teaspoon

smoked paprika

(or bacon rashers, chopped)

4

tablespoon

crème fraîche

half fat (or Greek yoghurt)

2

tablespoon

fresh flat leaf parsley

finely chopped

100

g (4 tbsp)

cheese (Emmental, Comté, Parmesan, or Cheddar)

grated (keep half for grilling at the end)

¼

teaspoon

freshly milled pepper & pinch fleur de sel
Instructions
Prick each mini pumpkin with a fork and cook them on plate in the microwave for 4 minutes. (If you don't have a microwave, then roast them in the oven for about 10 minutes at 200°C/180°C fan/400°F/gas 6.)

Set them aside to cool. Meanwhile, in a pan, fry the mushrooms, bacon (if using) and garlic in a little olive oil for about a couple of minutes or until cooked.

Take the mushroom mixture off the heat, adding all the other ingredients and stuff the mixture into each mini pumpkin cavity.

(At this point, you can set them aside in advance preparation and simply finish them off in the oven before serving.)

Slice off the mini pumpkin tops and scoop out the seeds. (Either discard or toast the seeds later with salt.) This leaves a hollow cavity to fill.

Keeping the tops aside for decoration only, place each stuffed pumpkin in a baking dish. Top with the rest of the grated cheese and place under the grill for 5-10 minutes or until golden brown and toasted.
Notes
Serve with extra chopped fresh herbs either on their own or with chicken or meat.
For non vegetarians, add half a chopped rasher of smoked bacon to each mini pumpkin. 
For vegans: simply replace the cheese and crème fraîche with cooked quinoa or rice and add nuts of your choice for a no-turkey Thanksgiving or Christmas dish.
This recipe was first published 4 November 2017 but has now been completely updated.