Angelina's new yule log for Christmas this year will certainly grace any elegant festive table for a traditional French bûche dessert. And for fans of their famous African Hot Chocolate and Mont Blanc, there are more surprises in store.
The highlight for me was not just being invited to taste and share Angelina's new yule log with you, but I was equally bowled over to be able to talk with the pastry chefs themselves.
Angelina's New Yule Log, the Paon Blanc
Created for Angelina by head pastry chef, Christophe Appert, the Paon Blanc (white peacock) takes pride of place for this year's festive centre-piece. The rare and beautiful white peacock was particularly chosen as an artistic symbol of the Belle Epoque era, echoing the style of the famous tearoom in Rue de Rivoli since 1903. For more about the background of Angelina, see my article here.
Angelina's new yule log is sheer elegance on a plate, the Paon Blanc fanning out delicate notes of citrus and the exotic with passion fruit, mango and coconut. As light as the peacock's feathers, this is always appreciated after a festive meal and its perfect play of not too much sugar encourages the delicate fruity notes and white chocolate to shine through.
Let's look at its sophisticated layers: underneath the white peacock's coat of coconut and white chocolate and golden powdered feathers, lies a crisp crumble base finely topped with coconut butter/white chocolate.  The heart of the yule log contains layers of joconde almond biscuit (sponge) interspersed with three different jellies: orange, passion fruit and mango.
It's all covered in an airy vanilla mousse – and my favourite part is the circular, surprising zing of a lemon and lime cream which I'm so glad that Chef Appert added after his first few drafts, as for me it's the winning touch! I have to add that I'm not a white chocolate fan – but this is so fine with a perfectly dosed overall balance that the white chocolate, although present, is a wonderful background suggestion.
Gourmet Advent Calendar
The traditional Advent Calendar evokes chic illustrations of the tearoom in Rue de Rivoli, with a surprise behind each window. Each day discover the likes of milk chocolate almonds, white or dark chocolate pralines,  Napolitains and Giandujas (chocolate-hazelnut).
The advent calendar is on sale as of 16 November.
Gift Boxes (Coffrets)
Angelina have thought of everything this Christmas, and their selection of gift boxes includes the new white-peacocked festive edition. Fans of Angelina's famous African Hot Chocolate are spoiled with a festive edition with added cinnamon, a box of 19 chocolates, and a jar of chestnut paste to continue their Mont-Blanc theme.  A new Christmas tea (Thé de Noël) from China and Sri Lanka is also given the white peacock treatment with orange peel and flavoured with gingerbread and flower petals.
More Yule Logs
Angelina's new yule log still has it's traditional bûche family alongside it: the Choco Intense, The Tentation Passion and the Mont-Blanc.
Did you know that the emblematic Mont-Blanc pastry was created by Angelina pastry chefs in the 1910's based on a popular hairstyle that women wore at that time: a short bob?
Saturday 17 December
Mark your calendars if you'd like to surprise your loved ones with a personalised note around the festive white peacock theme. A Calligraphist will be at both stores to write something for you with her plume on an Angelina card. Free event.
Boutique in Rue du Bac: 11am-3pm
Tearoom in  Rue de Rivoli: 3.30pm-7pm
Spotlight
Meet Florent Martinot, pastry sous-chef, who joined Angelina in June 2015. Originally from the gourmet Capital of Lyon, a town where he grew up around delicious confection specialities and where he realised his vocation after falling and saving a pain au chocolat rather than his teeth as a youngster. He's worked with Sebastian Bouillet, Dalloyau (specialising in chocolate), Hermé (managing the opening of a new chocolate shop in Alsace), then finally Hugo & Victor (R&D) before his calling to Angelina.
Sous pastry chef, Florent Martinot
Christmas Macarons
Last but not least, are the macarons!  This Christmas, there's nothing plain about their vanilla macarons which are coated in gold powder to top off the White Peacock theme with panache – not ganache.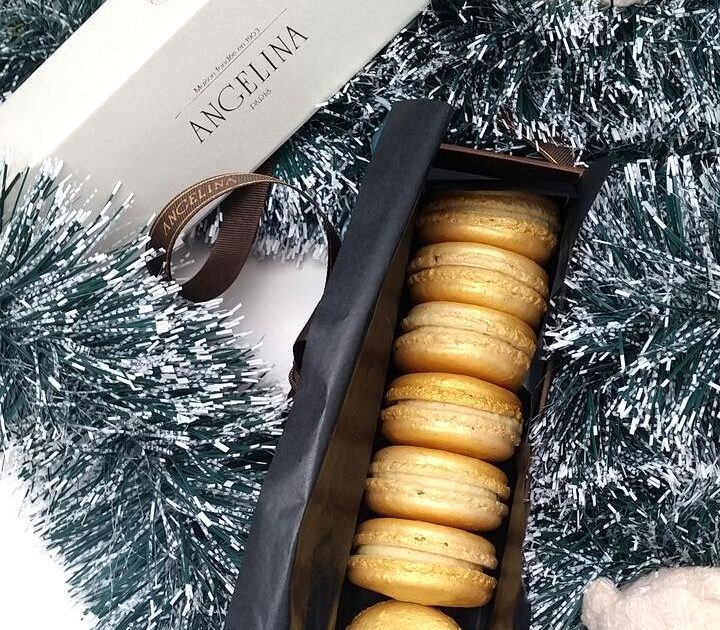 With thanks to the pastry and press teams at Angelina for a wonderful festive tasting and for trying so hard to evoke a Christmas ambience in sweltering 30°C + temperatures of our Indian Parisian Summer in September! The Christmas collection, including the limited edition Paon Blanc, is available as of 26 November.
Angelina
Rue de Rivoli
75001 Paris
---
P.S. Let me show you this beautiful illustration of Angelina's Paon Blanc bûche by a newly discovered artistic friend, the talented Isma of MesArticlesduJour. This conjures up the feminine, light touch of Angelina, don't you think?